Mr Smith goes to new heights: How Bailey Smith copes with rising fame and being on billboards
There's AFL fame, and then there's being shirtless on seemingly every billboard in town. Bailey Smith keeps his feet firmly on the ground as he talks contracts, footy and his growing mainstream popularity.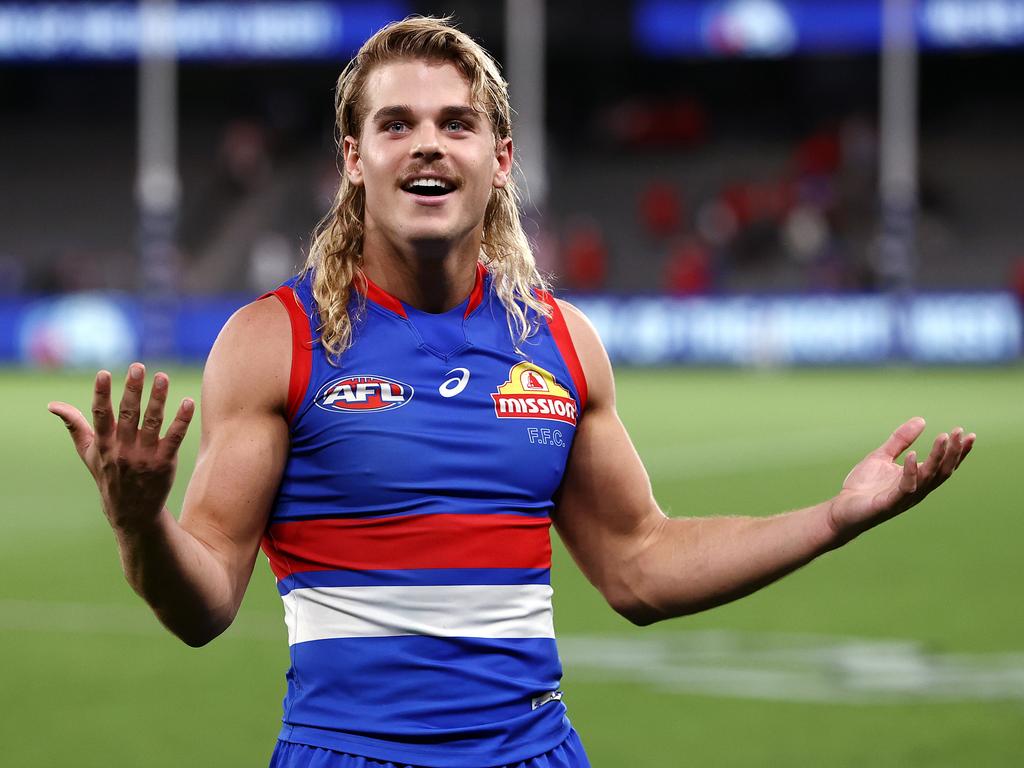 Bailey Smith is keeping himself grounded. Picture: Michael Klein
There is the level of fame that comes with being on an AFL list, the level of fame of being an AFL star, and then there is driving past billboards around Melbourne featuring an image of your shirtless abdomen.
If fame was the aim, Bailey Smith would have already beaten the game by the age of 21.
By the start of 2022 he'd catapulted to the top of the AFL's list of most followed players on Instagram, well before he was averaging 33 disposals per game this season.
For the record, that Instagram tally had moved to 366,000 by this week.
Yet for Western Bulldogs midfielder Smith, whose star has skyrocketed into a stratosphere few Australian sportspeople ever traverse, mainstream popularity is only the by-product of what happens on the field.
And that is itself only a result of the hard work done before he was an AFL player, and now, during the week, through levels of dedication that have bordered on obsessional and at times had to be kept in check.
But with his luminous blue eyes, flapping blond mullet and cheese grater physique, Smith is hyper-marketable, enough that Cotton On has paid thousands of dollars to put pictures of the scarcely-clad Bulldog up around the city.
Smith seems increasingly comfortable with his name, or more to the point, his body, being put up in lights, laughing at the absurdity of it all.
"It's funny. My girlfriend's dad drives past it every day. It's hilarious... It's interesting but I don't pay too much attention to it. I try not to. I just focus on my footy, because that's what comes first, and all those other rewards with Cotton On and Monster come after that," Smith says.
"As long as I keep trying to perform and work hard during the week all those other fruits and exciting things come."
Being such a recognisable public figure does have its challenges. Smith knows that if he heads out, he is likely to be stopped regularly for photos, if not mobbed. People bait him for reactions. Even other celebrities flock to him. It seems everyone wants to be graced by the Smith halo effect.
So, is it hard to go around town being Bailey Smith?
"At times," Smith says.
"It's all right though. I just don't put too much weight to it, I like chatting to people. If I go out and someone asks me for a photo with them I don't mind it. It's all right.
"I try to focus on the things that matter, which are my footy, my family and my loved ones."
Part of the Smith appeal is his vulnerability. He has been open about his struggles with panic attacks and anxiety, taking time away from the club late last year. He insists he is now in a good place.
"I've been feeling really good, and it's just a credit to the group making me feel amazing. I've been working hard on that, and the rest of it is just taking care of itself," Smith adds.
And it means he empathises with others at Whitten Oval who have battled hardship in recent times, including wingman Lachie Hunter, away on personal leave, along with forward Mitch Wallis and assistant coach Travis Varcoe, both of whom dealt with family bereavements in April.
"Obviously we feel for the boys who have had some issues off-field. But at the end of the day we love and we support them, and it just brings us closer together and we put our arms around them," Smith says.
"It drives us to go harder, and gives us a purpose when we run out. Say for Hunts, to perform as well as we can for him so that when he comes right he just slots straight back in."
Bailey Smith sympathises for teammate Lachie Hunter, who is away on personal leave. Picture: Michael Klein
While the Dogs have teetered their way to a 3-4 record, Smith's game has largely gone from strength to strength. He has polled 24 coaches' association votes through six games this so far, relishing playing a more central role.
"It's been fun so far," he says.
"It's been a privilege to play more time in the midfield compared to previous years. I'm just so geared up, soaking it in, and I'm just grateful for each week that I pull on the jumper and perform alongside the boys in the middle."
The connection between the Bulldogs' midfield and forward line remains a work in progress, but Smith is buoyed by the improvements in last Sunday's win over Essendon.
"Up forward of the ball we've had lots of personnel changes, it's been hard to adjust to that. It's a challenge that every team has to face, and it's just having the maturity of the younger players that get called up to believe that they can play at this level, and you've got to take a lot of ownership and have the confidence in yourself to do it," he says.
"It's just that constant balance of when to kick, handball, use your legs a bit more. That's probably when we're at our best, when we take ground and fight through that first tackle.
"We haven't been doing that the last couple of weeks, we've been transferring pressure through our hands. Trying to use our legs, and when we're out, not being afraid to kick to a one-on-one. It doesn't need to be perfect every time, we can embrace that scrappy side of the game."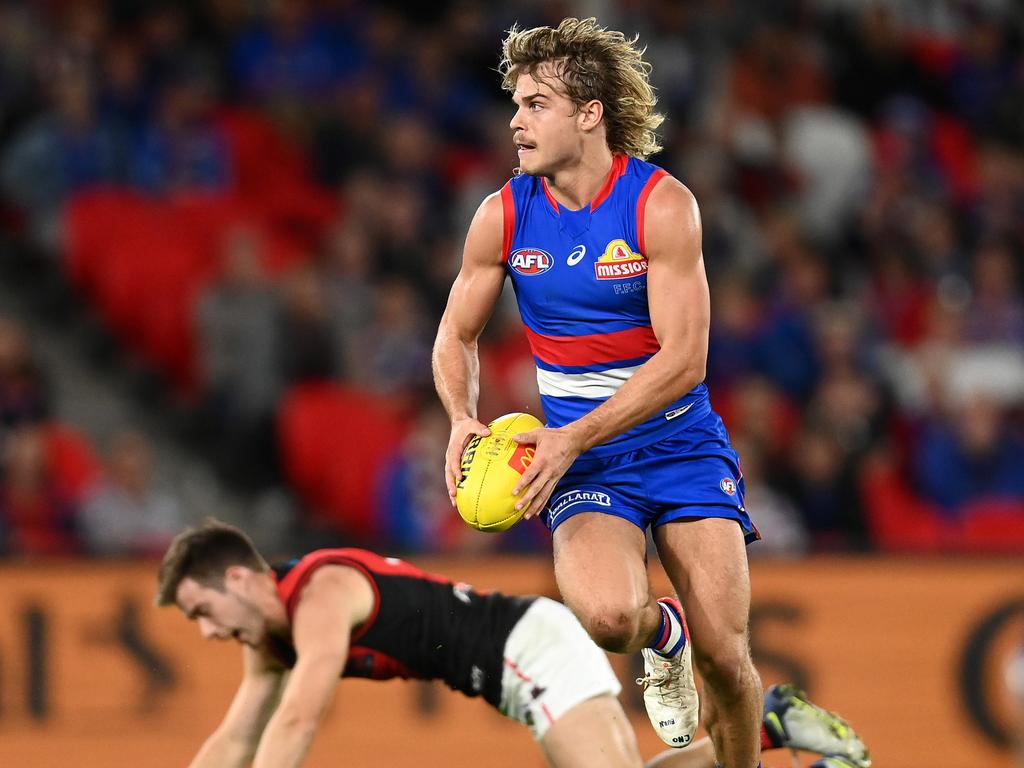 Bailey Smith says a new deal with the Bulldogs is only a matter of time. Picture: Quinn Rooney/Getty Images
Smith is out-of-contract at season's end, and his value is hard to quantify, with on-field excellence clearly only part of the package. But Smith says Bulldogs fans have nothing to worry about.
"It's out of my hands. I let my manager take care of it. They're talking. I don't want to go anywhere, so it's just a matter of time really," Smith says.
A product of the Sandringham Dragons and Xavier College, Smith credits another rising star, albeit one much lesser known, for much of his success. Jackson Kornberg is not a name many footy fans would know, but he was appointed Gold Coast's VFL coach late last year, at just 28, having been part of the Dragons for a decade.
Smith says no one has had a greater impact on his footy than Kornberg.
"The amount (of training) we did one-on-one, off days, it was just that person who was there, and even off-field. He's been a massive influence. I don't know what I would have done without him," Smith says.
"Now it's his time to shine up on the Gold Coast, and hopefully he can do his thing.
"He's been such a big influence on me.
"Hopefully he can keep thriving and go from strength to strength, because he's such a good coach and will do anything for the players he looks after."