AFL 2022: North Melbourne denies making another approach to West Coast coach Adam Simpson
North Melbourne has reached out to West Coast amid speculation surrounding Adam Simpson as David Noble's first test under adviser Geoff Walsh has been revealed.
North Melbourne adviser Geoff Walsh will spend Saturday night in the GMHBA coaches box as part of his fact-finding mission into David Noble's performance.
The Roos on Friday denied any of their senior figures had directly approached West Coast premiership coach Adam Simpson about joining the club next year.
Chief executive Ben Amarfio clarified with Eagles chief executive Trevor Nisbett that the club was not in a position to offer Roos premiership player Simpson a job.
And Noble had to be placated that the Roos were not going to the market for his role despite him having no security in a rolling contract arrangement.
Watch every blockbuster AFL match this weekend Live & Ad-Break Free In-Play on Kayo. New to Kayo? Try 14-Days Free Now >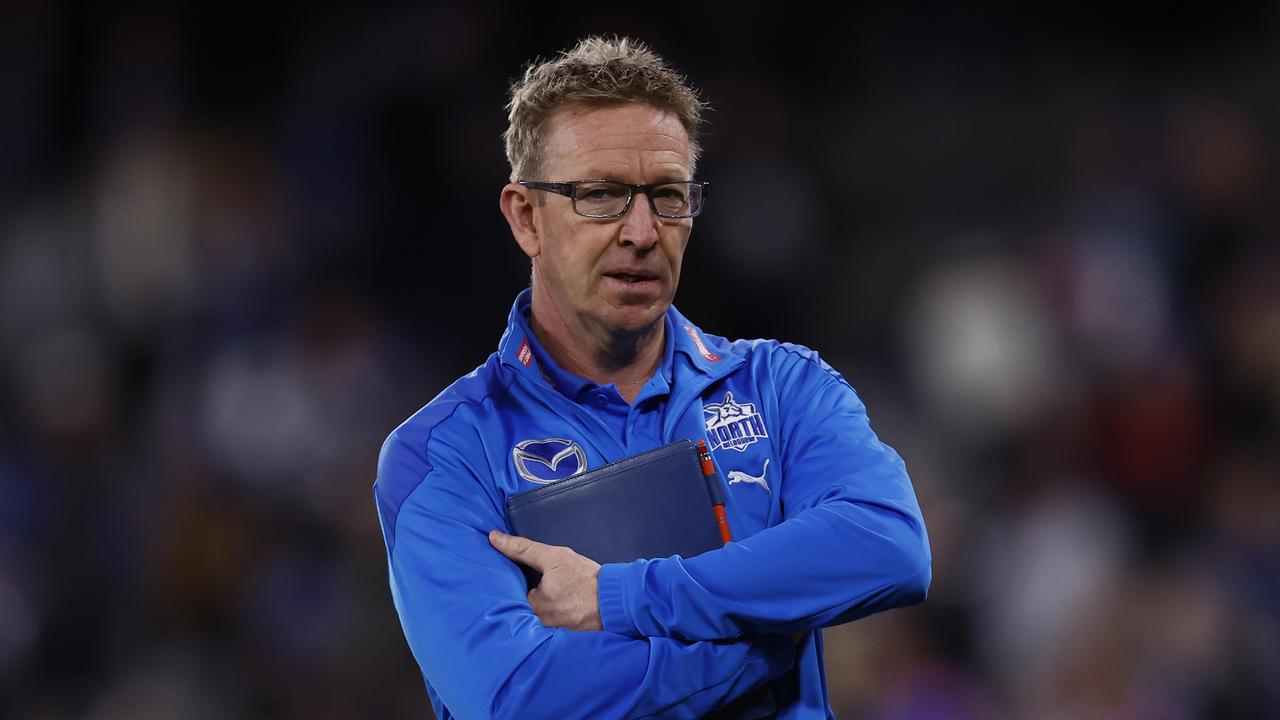 AFL Rd 13 - North Melbourne v GWS
For the second time in two years a return for Eagles coach Simpson is believed to have been raised in an informal setting with one of his former Roos teammates not officially linked to the club.
Those discussions were then relayed back to the Eagles, but Amarfio and president Sonja Hood were not involved and gave no authorisation for an approach.
Director and club legend Anthony Stevens is not officially the club's football director so is also not authorised to make contact.
The Roos would not make Hood available, with the awkward reality for Noble that the club's hierarchy will clearly have to assess available coaching options before they consider sacking him in eight weeks.
Last week's debutante Jackson Archer was withdrawn from the side on Friday with hip soreness and was replaced by Atu Bosenavulagi ahead of the clash with Geelong.
Former Roos official Walsh has spent the week at Arden Street interviewing key officials and taking the temperature as part of his top-to-bottom review of the football department.
North Melbourne will be desperate to snap a 12-match losing streak that involves 11 losses of over 47 points.
The Roos are likely to have the No. 1 overall selection in the national draft but believe they have enough recruiting talent despite the loss of three members of the recruiting department.
The club's general manager of strategy and legal James Gallagher is helping Brady Rawlings work on talent, with one of the club's part-time staff upgraded to full time.
Roos sound out Simpson
— Mark Duffield
North Melbourne have launched another bid at poaching West Coast coach Adam Simpson.
The West Australian understands the Kangaroos, who had previously approached Simpson before appointing Rhys Shaw ahead of the 2020 season, had sounded him out again recently.
It is understood the Eagles are aware of the approach but expect the 2018 premiership coach to remain with them.
"Adam would normally tell me most things. In the end he has a contract and we are really happy with him," West Coast chief executive Trevor Nisbett said.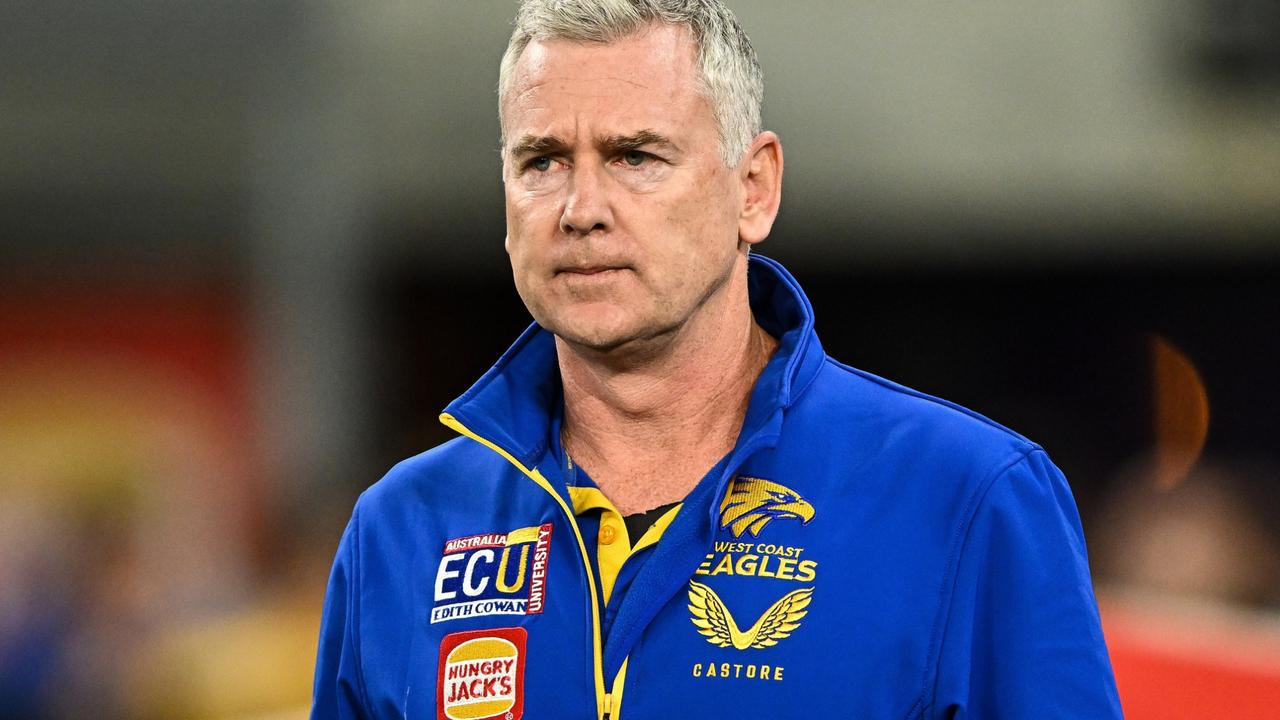 North Melbourne is believed to have approached Adam Simpson for the top job again.
West Coast and Simpson have been adamant that he would remain with the club to honour a contract that expires at the end of the 2024 season despite a horror run earlier this year when the Eagles won just one game before the mid-season break.
The team has shown improved form since then and chalked up a second win against Essendon at Optus Stadium on Friday night.
Simpson began this season with a 63 per cent win-loss record at West Coast, which has dropped to 59 percent off the back of a 2-12 win-loss record so far this year. But he has credits in the bank at the Eagles having coached the team in 196 games since taking the reins in 2014 for 116 wins and 79 losses with one draw.
Simpson has also led the Eagles into finals in six of his eight completed seasons with grand final berths in 2015 and 2018 when Dom Sheed's goal a minute from the end won the club its first flag in 12 years.
He also took a substantial pay cut in 2020 to enable the club to address financial issues around the pandemic and meet heavy cuts to soft cap spending.
Simpson also has strong history at North Melbourne where he played 306 games including the 1996 and 1999 premierships.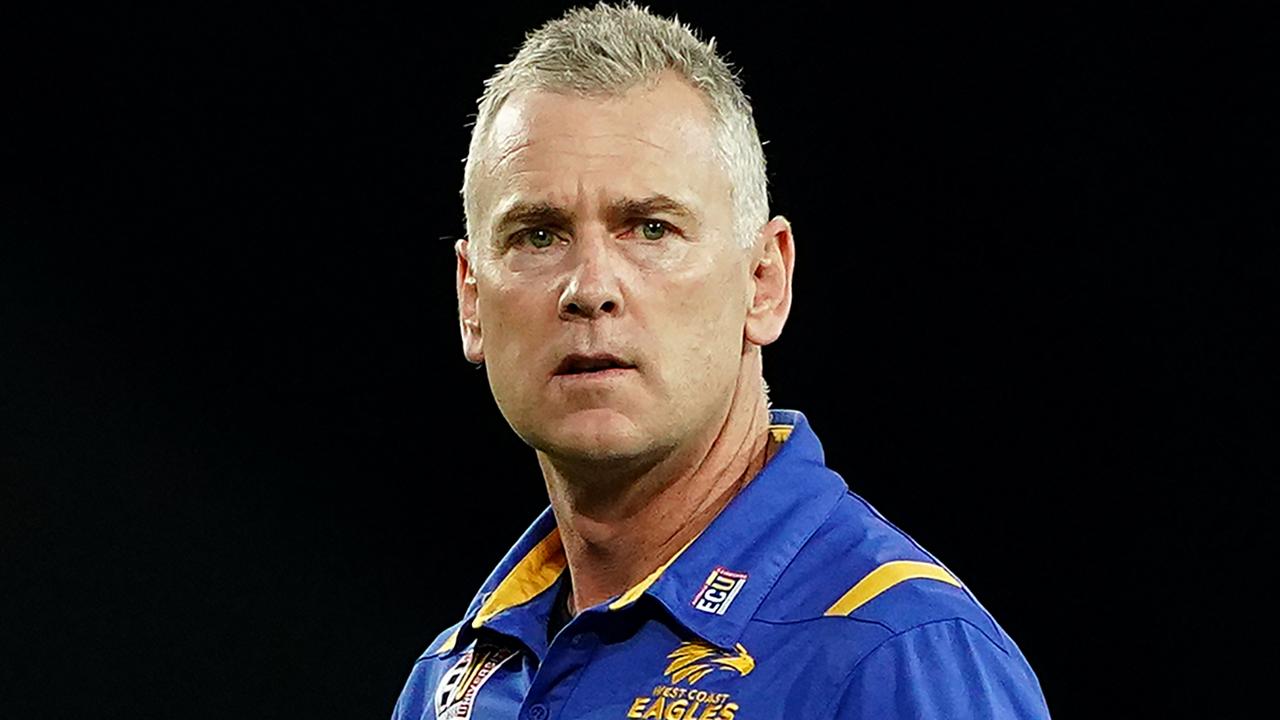 Simpson by his own standards has endured a tough year with the Eagles but has one more year remaining on his contract.
He captained the club for five seasons from 2004 until the end of 2008.
Pressure is mounting on North and coach David Noble. The Roos finished second last under Shaw in 2020 and won the wooden spoon last year Noble.
They Kangaroos slumped to last place on the ladder after West Coast's win against the Bombers and face Geelong in Geelong this weekend. Last week they appointed former club chief executive and veteran administrator Geoff Walsh to review the besieged football department.
Nisbett said Simpson was the man for their rebuild.
"He has got a big job ahead of him and he is looking forward to the challenge. That's the last conversation I have had with him," he said.
'I'm really comfortable': Noble weighs in on review
By Nick Smart
North Melbourne coach David Noble says he has not sought any assurances regarding his future and declared he does not feel threatened by the club's newly announced review under former Kangaroos boss Geoff Walsh.
The Kangaroos sit on the bottom of the ladder after just one win from 14 games.
They've lost their past 12 straight matches – in which they've conceded 100-plus points in all but one game – by an average losing margin of 59 points.
Kangaroos president Sonja Hood this week described reports chief executive Ben Amarfio had not been informed about Walsh's advisory role as "categorically untrue".
Hood said in a letter to members Walsh would spend the next month embedded in the football department after "no discernible improvement" from the early stages of the Roos' season.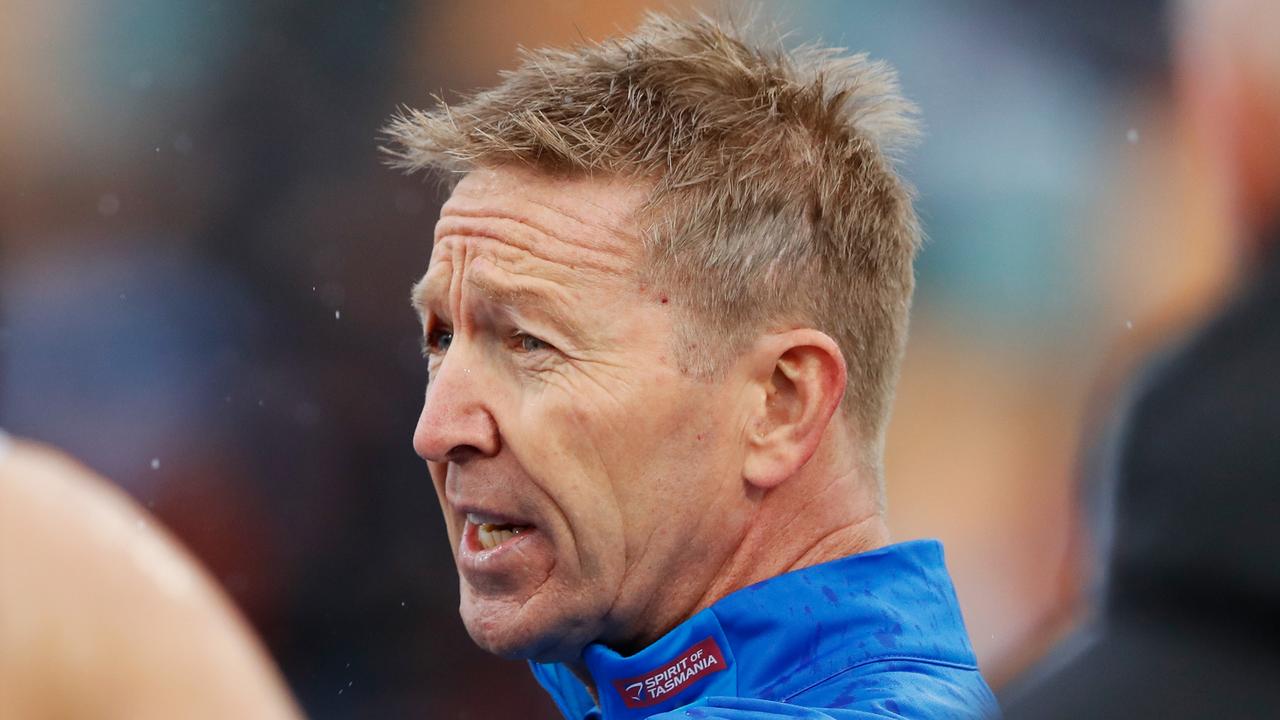 David Noble is under increasing pressure to keep his job at North Melbourne. Picture: Getty Images
When asked if he had sought any assurances about his future or if he intended to given his unique rolling contract, Noble said on Wednesday:
"No, I don't believe I need any to be honest with you.
"I'm really comfortable, I've got ongoing conversations with the board.
"I've spoken to Sonja and I meet with Ben regularly.
"I'm not comfortable with where we're at as a footy team, but I've said all along we have a clear direction we want to take,
"We understand that rebuilds are very difficult and you do have those periods of ebbs and flows, and at the moment it's ebbing and not flowing very well.
"They're difficult periods so you just need to be united, stay together and stick to the plan."
Noble said he did not feel blindsided when the review was announced.
"Being around for a while you understand that the circumstances of where we are brings with it additional interest," he said.
"So from that side of things it wasn't overly surprising.
"I certainly didn't feel threatened and welcomed the opportunity to continue to make us get better, to be honest."
Noble said he'd met Walsh for only '10 minutes' to 'said g'day' since the arrival this week of the man who was previously chief executive of the Roos.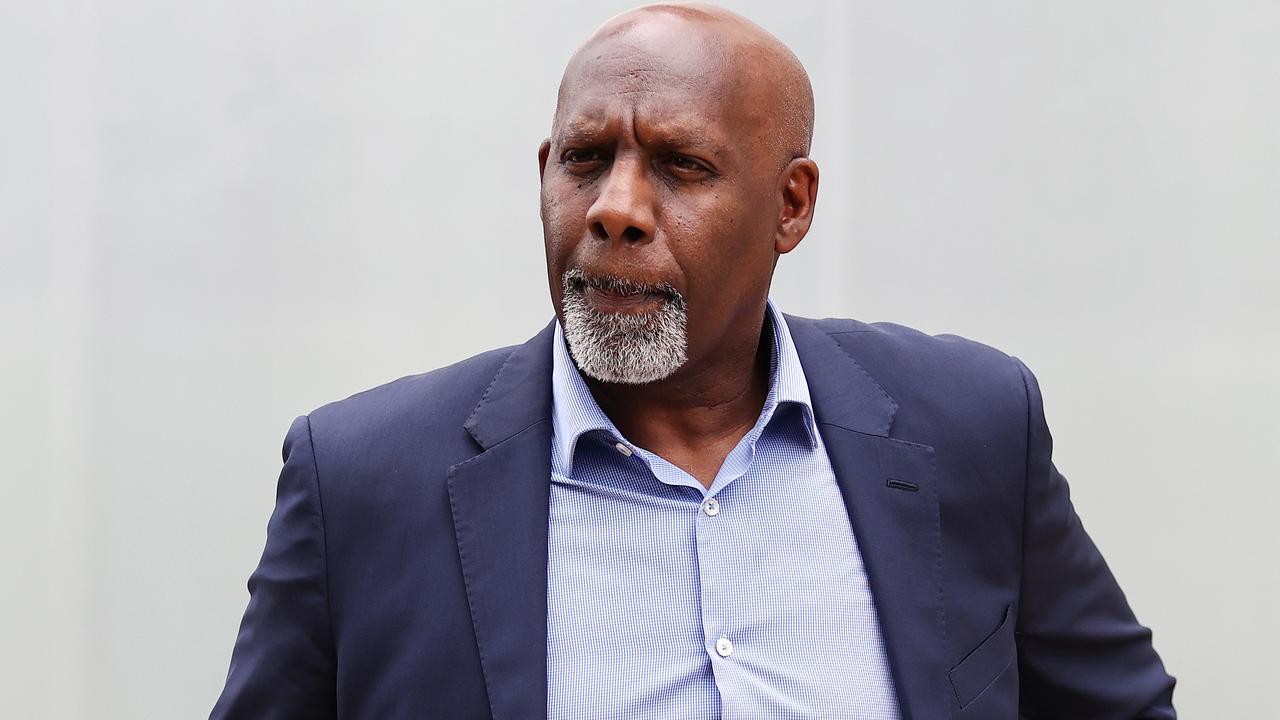 North Melbourne CEO Ben Amarfio. Picture: Michael Klein
"All reviews should have some outcomes, shouldn't they?" Noble said.
"They should have an ability for you to assess where you're at.
"Ben's been working pretty hard on some direction where we're going next year, so it's not like we're not doing anything or not reviewing as we go.
"We're taking a temperature as to where we're at mid-season, as I think most clubs would probably do in that bye period."
The Kangaroos face the Cats in Geelong this weekend, and it is not yet known whether Tarryn Thomas will play.
"He's back today so I haven't had the chance to catch up with him yet but he's here to train so we'll wait and see what that looks like in the next 24 hours," Noble said.
WHO WILL SURVIVE WALSH'S REVIEW?
Jon Ralph
North Melbourne will leave the door open for Tarryn Thomas to play against Geelong as the club starts the review that is likely to put significant pressure on David Noble's tenure.
The club's president Sonja Hood described reports chief executive Ben Amarfio had not been informed about former administrator Geoff Walsh's advisory role as "categorically untrue".
Hood said in a letter to members Walsh would spend the next month embedded in the football department after "no discernible improvement" from the early stages of the Roos' season.
"We always knew this year would be hard, but the extent of our losses is deeply concerning," Hood wrote.
"There has been a huge amount of change in the football department over the past few years, both personnel and structure.
"Geoff has been tasked with helping us to understand where that change is working, and where it is not.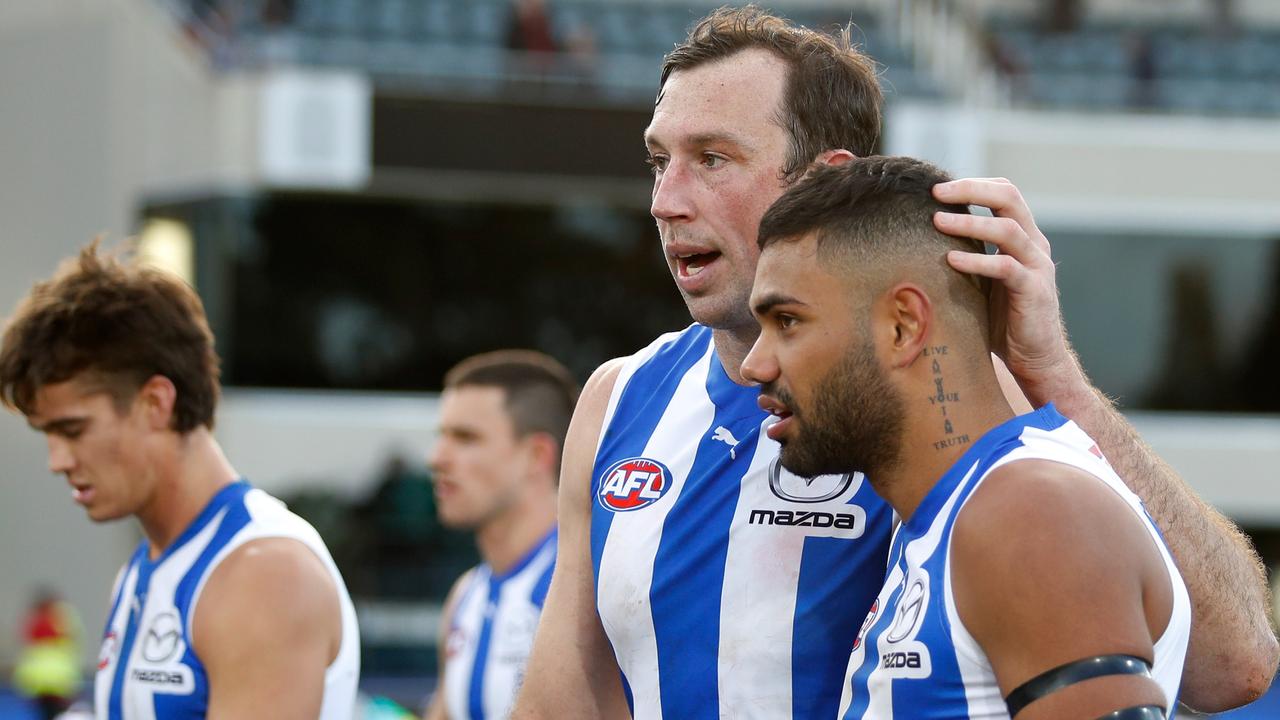 Tarryn Thomas had a tough day against Adelaide. Picture: Getty Images
"He'll bring 30 years of industry experience and will provide objectivity and deeper analysis of our operations while those in the football department go about completing their day-to-day roles."
And amid a heavy Blundstone Arena loss to Adelaide, Thomas followed his three-possession performance by responding angrily to a fan on Instagram only minutes after the game.
As former Roos CEO and football boss Geoff Walsh begins his month-long top-to-bottom review of the football department the strong expectation is coach David Noble will struggle to survive the intensive review process.
Noble has not been able to muster competitive performances from the team, but has improved his relationship with players after apologising earlier in the year for a post-match spray.
What will hurt him is the general lack of positive relationships around the club, highlighted by the departure of a trio of recruiters in late May.
Walsh is expected to speak to people at every level of the club to assess the morale, direction and levels of expertise in the football department.
The Roos were adamant on Monday chief executive Amarfio had been fully briefed by president Hood on the board's plans to bring in Walsh as an adviser.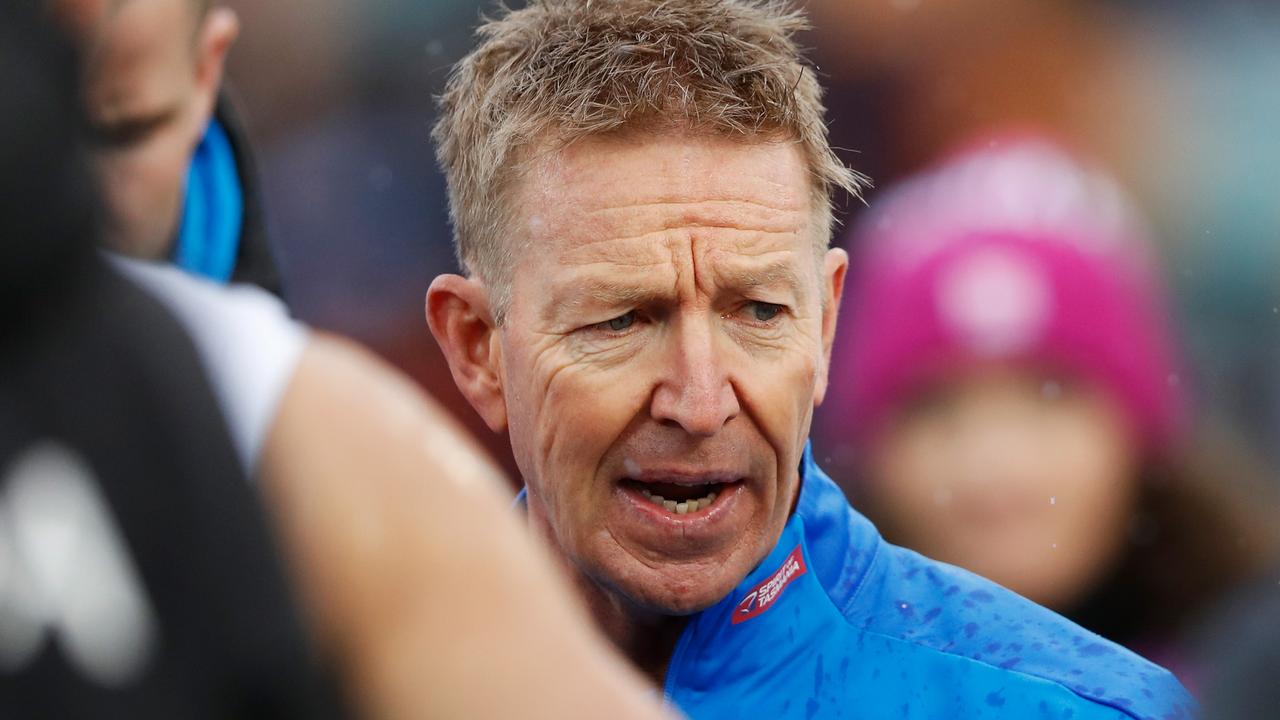 David Noble is under serious pressure to keep his job. Picture: Getty Images
A North Melbourne spokesman said Hood had made clear to Amarfio the decision to bring Walsh on board before she approached the veteran football administrator.
Amarfio's tenure has also been speculated on publicly but Hood is seen to be a strong supporter of Amarfio, who has helped put the club in a strong financial position.
Highly-paid leadership adviser Paul Roos is in America as he seeks to secure a green card as a permanent resident so has been unable to travel to Australia or that process will be restarted.
If Noble was moved on it would not cost the club financially given a rolling employment contract but they would need to hire their fourth coach since May 2019.
Amarfio has made clear he is backing in Noble but commissioning an audit of the club's football department is the perfect way to get to the bottom of underlying issues and give the club a mandate for new ideas or changes.
Top-ten draft pick Thomas is in Sydney for his grandmother's funeral after her passing last week and likely needs some time away from the club this week to grieve with his family.
But it will be left to him to consider whether he wants to return for the club's main training session and play against Geelong.
Thomas had made clear to coach Noble he was keen to play in his nan's honour but looked flat and uninterested, with his body language particularly poor.
In hindsight the decision to play him was incorrect but he had been especially keen to take to the field.
Originally published as AFL 2022: North Melbourne denies making another approach to West Coast coach Adam Simpson