Why Adelaide Crows defender Tom Doedee is destined to make a difference
He's a disability advocate, cinephile, NFL-obsessed and AFL defender. The many sides of Tom Doedee make a man who won't back down from a challenge, writes COURTNEY WALSH.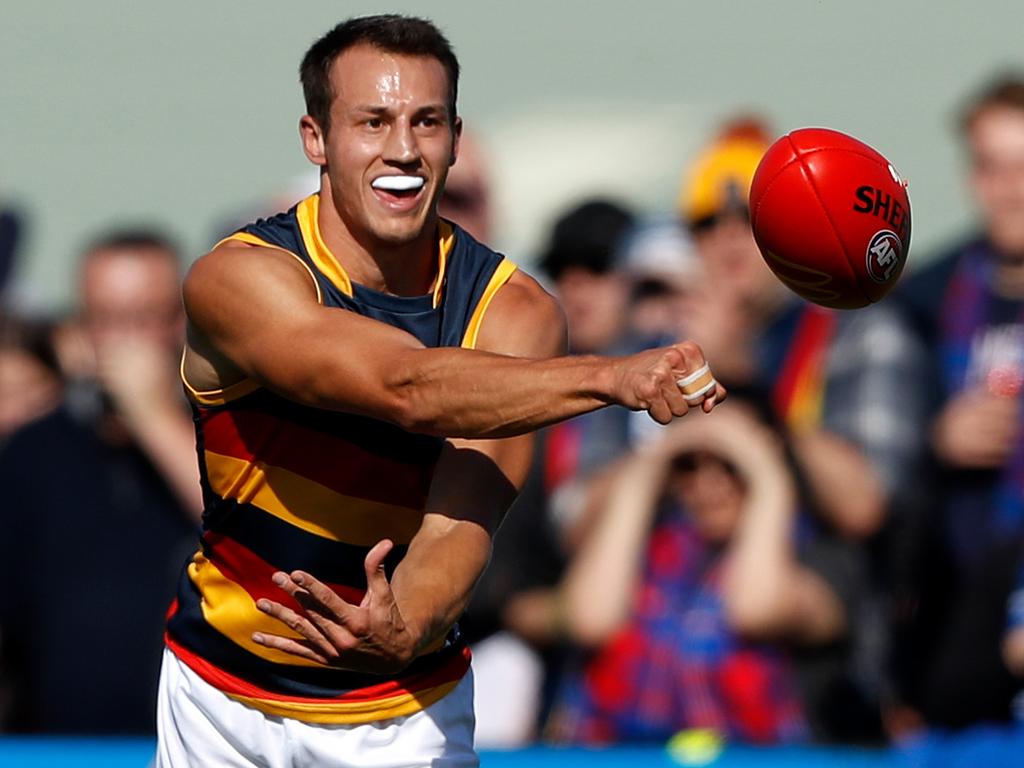 Tom Doedee never takes an opportunity to compete for granted. Picture: Dylan Burns/AFL Photos via Getty Images
After a training session at Adelaide Oval in May, Crows defender Tom Doedee stepped in front of his teammates and spoke in depth about the profound impact of living with disability.
The 25-year-old spoke with the authority of someone deeply invested in the area, but also with a sensitivity that comes from detailed personal experience.
To be clear, Doedee is in the rudest of health and continues to shine on the football field.
It is said around Adelaide that the defender would rather die than lose a contest, so competitive is his nature when he crosses the white boundary line.
But from the time he was in kindergarten, the former basketball prodigy has befriended or been thrust into relationships with people close to him who have been affected by disability.
There have been touches with tragedy, with plenty of tears shed, but many more moments of triumph to celebrate and enjoy.
Doedee is an authority figure within the Crows group. Picture: Matt Roberts/AFL Photos/Getty Images
A worldly traveller, Doedee is far from a zealot when it comes to this area.
Sit with the Crow for an hour and the conversation ranges from his in depth interest in the NFL, to his love of the United States and to the silver screen industry that blossomed on the west coast of America. Yes, Doedee is a cinephile.
Toss the name of a film up and there is every chance he can reel off the director, the lead and any hidden meaning behind a script.
Sitting in an Adelaide cafe, with plans later that day to view Everything Everywhere All At Once for a second time, he jokes that he probably sounds like a wanker when discussing the cinema.
In truth, his enthusiasm for the subject is beguiling.
Could he see a future after footy in film? Maybe.
But only if he is not shaping as a punter for a college team or in the NFL.
And only after his career in footy is complete, with Doedee considered a contender to captain the Crows whenever Rory Sloane hangs up the boots.
Then there are his family ties and also his involvement with Bedford, a South Australian group helping people with disability, to consider.
Doedee is driven by a desire to help the Crows return to the finals and push for their first premiership since the 1997-98 double in the near future, but after that?
His path in life could be as variable as the bounce of the footy.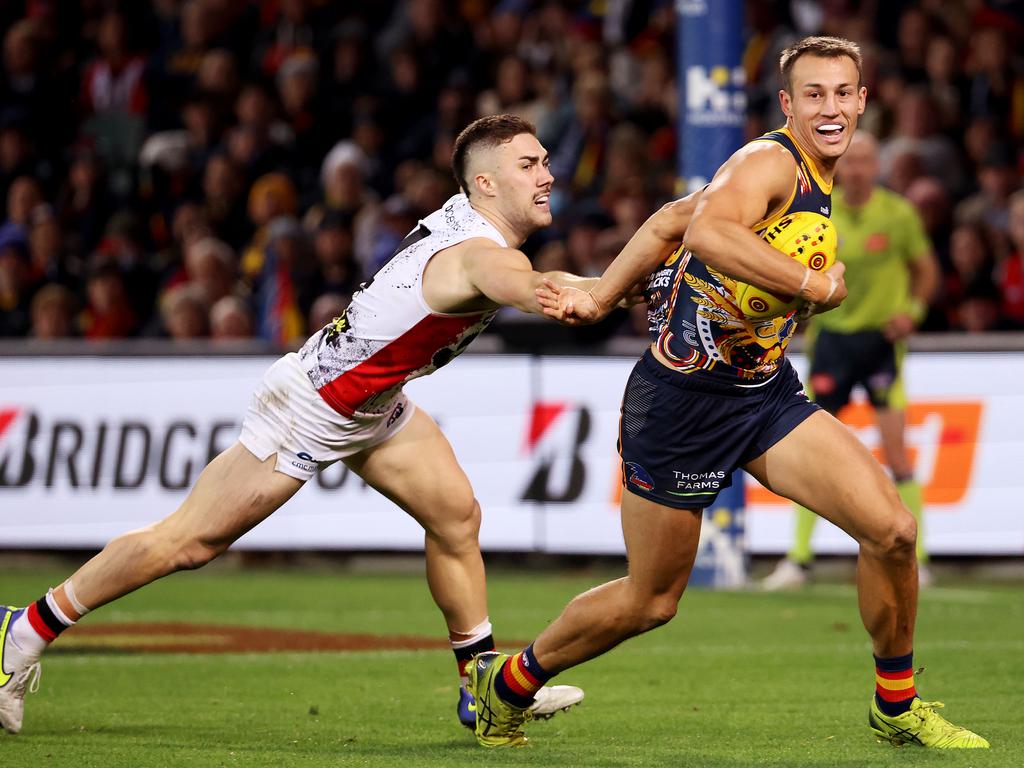 Doedee is determined to get the Crows back to the finals. Picture: James Elsby/AFL Photos via Getty Images
*****
Son of Cheryl and Steve, and a younger brother to Harley and Jack, Doedee grew up in Geelong born with a ball in his hands.
While he has excelled with the Sherrin as an adult, playing 64 games in a five-season career interrupted early on by a serious knee injury, it was as a basketballer that he first flourished.
His junior career is filled with representative form from the state to national arena and it is here that his passion for US sports and America in general first flared.
His dad Steve was a Boston Celtics and Pittsburgh Steelers fan. They had the Dream Team doco on regular rotation at home. Basketball cards spilt out of his pockets at school.
Doedee was all in on his dream of pursuing a basketball career in the States, so much so that he based his secondary school studies around sitting the SATs, the education staple for every American team with college aspirations.
"Pretty much, since I was 11 or 12, I was introduced to college basketball and I was hooked. That was all I wanted to do," he told CodeSports.
"That was the dream, to get to America, get to college, live there for four years and try to live my very best life. I was that much into it that I knew exactly what I needed to do.
"I have been to 12 or 13 states now, been to the big dogs in California and New York, the big colleges, but I have also been to Ohio and been down to Nashville, things like that, so I would honestly have been happy to go anywhere.
"It wasn't until I was 16, when I picked up footy, that I realised there was an alternative to life, that I might be able to do something else."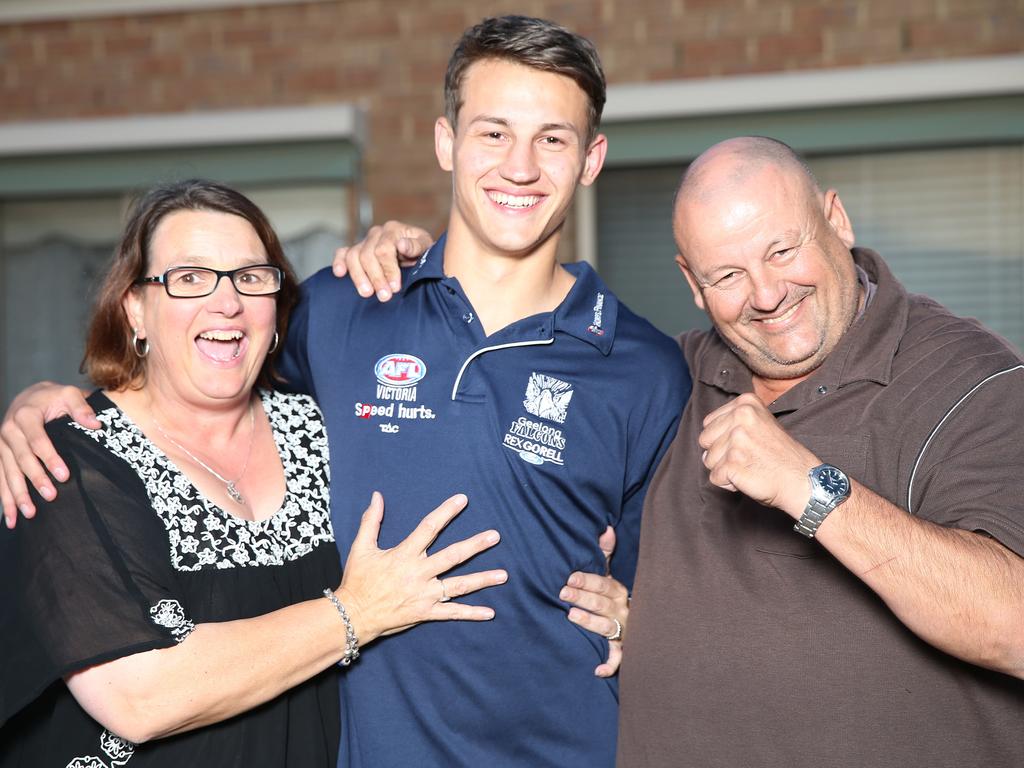 Cheryl and Steve with Tom after he was drafted to the Crows. Picture: Peter Ristevski
A decade ago Doedee travelled to the US with a national under-age team.
They played in Los Angeles and the Carolinas and shot hoops in Kentucky, staying with American families and even attending school for a day with their rivals.
A visit to Caesars Palace Casino in Las Vegas, where Doedee was struck by dozens of mannequins featuring the helmets and jerseys of every NFL side, spurred a new passion.
"I remember being blown away by how cool that was and by all of the stories about the NFL which were on the TV," he says.
"I followed both (the NBA and NFL) for a bit but once I started playing football, I moved away from basketball and quit playing it altogether in 2018.
"But I'm still full on with the NFL. On Monday mornings, I'll get up at 3am and 4am in the morning and watch it all the way through.
"Take all that into where I am now and I will gladly, if I could go over to America and be guaranteed a punting job … I would definitely look into that."
He has been to Pasadena to watch a Rose Bowl with his dad, watched the Green Bay Packers play the Trojans, caught games at The Coliseum in LA, headed to Ohio to watch the Buckeyes, knocked off the big stadiums in New York and Boston and even headed to the Red River Showdown to watch Oklahoma play against Texas.
Does Doedee's NFL insight help his footy?
One thing he is certain of is that his interest helps him detach from the intensity that comes with living in a two-team town where footy is a religion.
The difference between the codes, with the NFL's "stop, start and linear versus the 360 degrees of our game", dilutes any tactical nous that might be gleaned from his forensic approach to watching American footy.
But mindful that the smallest bit of information can turn a contest, Doedee is intrigued in watching the film of rival forwards and identifying how he might beat them.
"I probably would not have picked up as much without the NFL, because I know those guys do so much more," he says.
"For me, it is more the centre bounce structure, the inside 50s, whether they are more a hit-up team and then the forward's patterns, about whether they run hard into goal, or whether they are more likely to float up the ground. If it gives you a slight edge, then you have to take it."
*****
A youth spent pursuing sporting fandom might seem indulgent, but Doedee has reason for understanding the importance of making the most of every day.
From the time he first started playing basketball in Geelong, the Doedees befriended a young boy named Jake, whose mother Maria was a family friend.
About the same age as his brother Jack, who is two years older than the Crow, Jake was born with congenital myotonic dystrophy, which meant that he could not walk or talk and had trouble using his hands.
He was a regular visitor to the Doedee household until his death aged 13 and, Doedee said, not only was Jake a good friend, he also shaped his approach to life.
"My mum is probably the most generous human being I have ever come across and my old man is very understanding and has never had any prejudice," he says.
"This introduction to Jake for me was more along the lines of making sure you treated everyone the same, because we are all the same."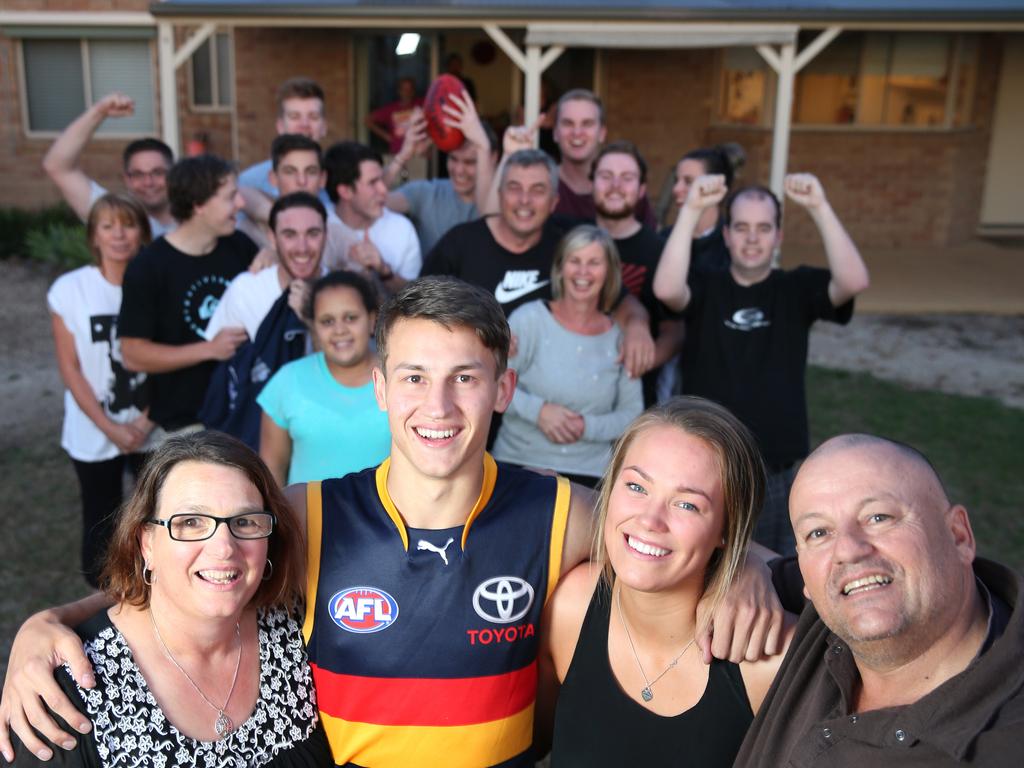 Doedee has been shaped by his strong family values. Picture: Peter Ristevski
*****
About the same time a tragedy struck even closer to home.
Doedee was away at a basketball tournament when news came through that his elder brother Harley had crashed his car during a driving lesson with a family friend.
Initially Tom and his brother Jack were told Harley had broken a leg and smashed a knee cap.
In truth, they were shielded from the full extent of the injuries experienced by Harley, who ended up spending more than 100 days in an intensive care unit at The Alfred Hospital.
"It was pretty hectic. I learned a lot about the strength of parents in terms of what they can do. They hid a lot from us," he says.
"He was in a coma (when we first visited) and they did not show us any of the burns or wounds, so we were naive to the fact it was worse than what it was.
"We found out a lot later that his lungs collapsed six times and he could not breath on his own. About the bacteria spreading. He was close to death a lot."
Harley, who now lives in Portland with his partner Kate, initially had his left foot amputated at the ankle.
Harley Doedee. Picture: Tony Kerrigan
He subsequently required further surgery to remove the limb below the knee, with his right leg also amputated from the top of the shin as a result of the spread of bacteria.
"It was a pretty traumatic time for us, even if we did not know exactly what was going on," Doedee says.
"I can remember walking past a guy who had burns to 98 per cent of his body every time. He was bandaged all over and only had his eyes out. Then with my brother, you could see the belly where the skin grafts were. That was pretty heavy to see as an 11-year-old."
The village surrounding the Doedees rose to the occasion as his parents spent their time at the bedside of his brother Harley in Melbourne.
Doedee remembers his middle brother Jack assumed responsibilities with the attitude and aplomb of a 30-year-old, while the Geelong Supercats family rallied to offer help.
Resilience has been another lesson Doedee has learnt from his older brother.
After a promising debut season in 2018, Doedee ruptured an anterior cruciate ligament in the opening round of the 2019 season.
He did not have to search far for perspective or for inspiration.
Although I wish his accident never happened, my brother Harley's recovery and resilience gave me a perspective on life I'm forever grateful for.
Here's a little insight into the work I do with @BedfordGroup and why disability care and services is so important to me.@Crocmediapic.twitter.com/yVFHbWyvF1

— Tom Doedee (@TDoedee31) May 28, 2019
"Harley has a tattoo now that says 'Life Goes On' on his left arm," Doedee said.
"Once when we were sitting in the hospital room talking to him, he was not giving us a lot back, because he could only point to the cards (at that stage), so he was just watching and listening.
"Then this stench came through the room. And then you see Harley put his hand up and he types 'Ha, ha, ha'. Even when he had a thing in his throat, and could not breath on his own, because he was on a ventilator, and his legs were burned and he was a double amputee, he was still able to find ways to stitch us up.
"It is another example that, even when life is going bad, there are still other people in a more unfortunate position. He would say the same thing. He still has a great family around him.
"He is not walking anymore because of how badly the amputations were, but he has a lot of good people around him. He likes to do his own thing with his partner Kate, who is his rock and a wonderful person."
*****
The third person who has driven Doedee's desire to make a difference when working with Bedford is Maggie, the younger sister of his long-term partner Emily.
Doedee met Emily aged 15 while playing in a basketball tournament and was soon introduced to Maggie, who was born with Down syndrome and Alopecia.
"Little Maggie May is turning, I think, 21 this year and she is the most incredible human ever in terms of her ability to bring light to every room," he says.
"She came into my life when I was about 16 and I am just extremely grateful. To herself, she is the greatest thing in the world. It is not an arrogance thing.
"Maggie is a reminder regularly that you can be positive. She is always reminding us that we are not just lucky to have her in our life, we are lucky to be who we are."
Covid put paid to Doedee's visits to Bedford, the second-largest employer of people living with a disability in Australia.
But with pandemic restrictions easing, he is delighted to have been able to return to the fold this year.
In a city where people tend to be either a Power fan or a Crow, the reception he receives when visiting workplaces can be mixed.
"The main thing with Bedford is that it is providing people with limited disability, who aren't able to go into the regular workforce, an opportunity to have a job and have a regular sense of purpose," he said.
"When you go in there, you smile all day, because you can see the good it is doing and you realise how important it is. Some are Crows fans and they will come over and say hello, but then say, 'Sorry Tom. I have to get back to my job'. They love their footy.
"Everyone at Bedford feels like they achieve something every day. I was passionate from when I walked in and that is what has made me."
*****
A lifetime of experiences fit for the silver screen? Perhaps if the Crows can win another premiership during Doedee's tenure. That would prove a bestseller in Adelaide.
If not, there is a possibility Doedee might one day be working behind the camera, dictating what is happening on-screen the way he helps marshall the troops in the Adelaide backline.
Doedee, who has captained the Crows on occasion in Sloane's absence, fell for film as a kid.
He loves the Coen Brothers. Tarantino was an early inspiration, but the rabbit hole he fell down soon took him on a path leading back to the Hitchcocks and DeMilles of the cinematic world.
Doedee is mindful that should he pursue that avenue, he will start later than others, but it is an area that fascinates him.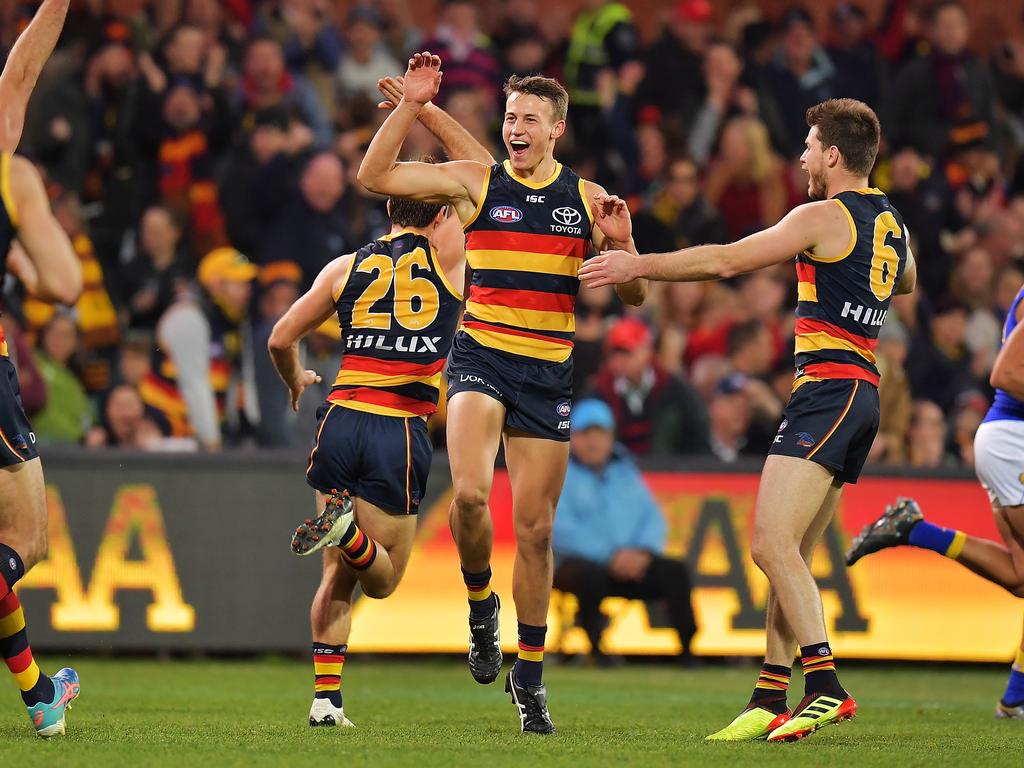 There's no questioning Doedee's leadership ability. Picture: Daniel Kalisz/Getty Images
"I understand that I sound like a flog when I talk about movies, because a lot of people just want to go to watch a movie for two hours and not have to think about it, and I love that. As much as I understand that it sounds like a flex, I just love movies. I could just talk movies all day," he says.
"I have been on set for Mortal Kombat, which was filmed over here, and they basically took three hours to set up a single shot. They got the shot after two takes and then that was it for the day. They had to wrap because of timing and the union. And that side of it intrigues me, the production side of it.
"Being in and around the production side of it, networking with people and using that to get funding for something or what not, it could be something. It could be well worthwhile."
*****
Talking footy? Do we have to? Well, it is Doedee's day job, so it is also worth exploring.
For the record, while he loves assessing the star forwards he opposes, the Crow is not an avid viewer of other games.
Having debuted with the Crows the season after they played off for the 2017 premiership, Doedee has seen some tough times at the club.
The knee injury, in particular, was testing to deal with but he was able to pursue his passion for other elements of his life during the rehabilitation period.
"I love to play footy … so to have that taken away for a whole year hurt, but all I had to do was to call Harley and say, 'How you are going? What are you up to?' and he would tell me he was getting a ramp built to his house because a grant was not funded, or that a tradie did not turn up," he says.
"I obviously wish it had not happened, but in terms of moving on, it gave me so much more time to get to Bedford and do things, to coach young blokes, to give back to the community."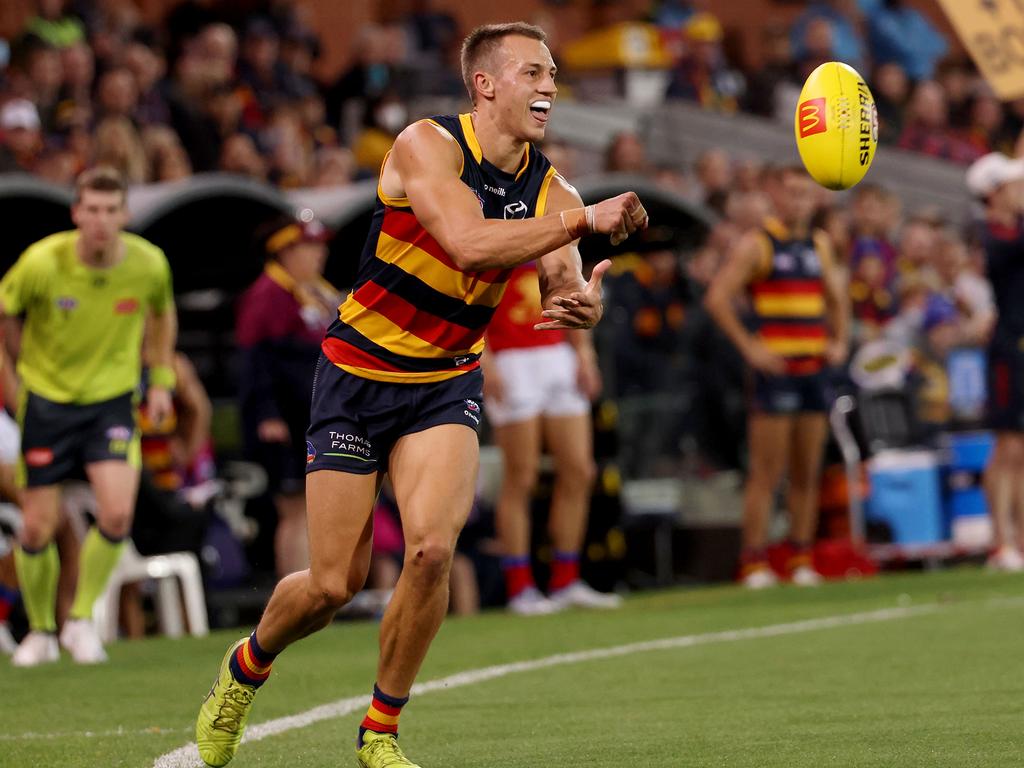 Doedee's footy career to date has been hampered by injury. Picture: James Elsby/AFL Photos via Getty Images
A serious hamstring injury ruled him out of the second half of the abridged 2020 season but Doedee has since played with the distinction that saw him selected in the best 22 under-22 team in his first year in 2018.
As to the assessment he would rather die than lose a contest, Doedee does not downplay his competitive nature.
"I like to relax and chill away from it, but when I get on the footy field, I play with a looseness that allows me to go at any contest and throw my body at the contest and not really care about the consequences," he says.
"I have broken bones, had concussions, and I pull up every game with bruises and cuts and stuff, but it has never been a conscious thought of mine.
"I am just watching the ball and I want that ball. The only way I have seen sport is to win games and whatever I can do to win, I'll try it."