Will Schofield: Mock match committees were a feature of my AFL career – here's my West Coast and Fremantle teams
Mock match committees were a regular round 1 feature of WILL SCHOFIELD's career. He gives an insider's view of the tense process, and names his West Coast and Fremantle line-ups.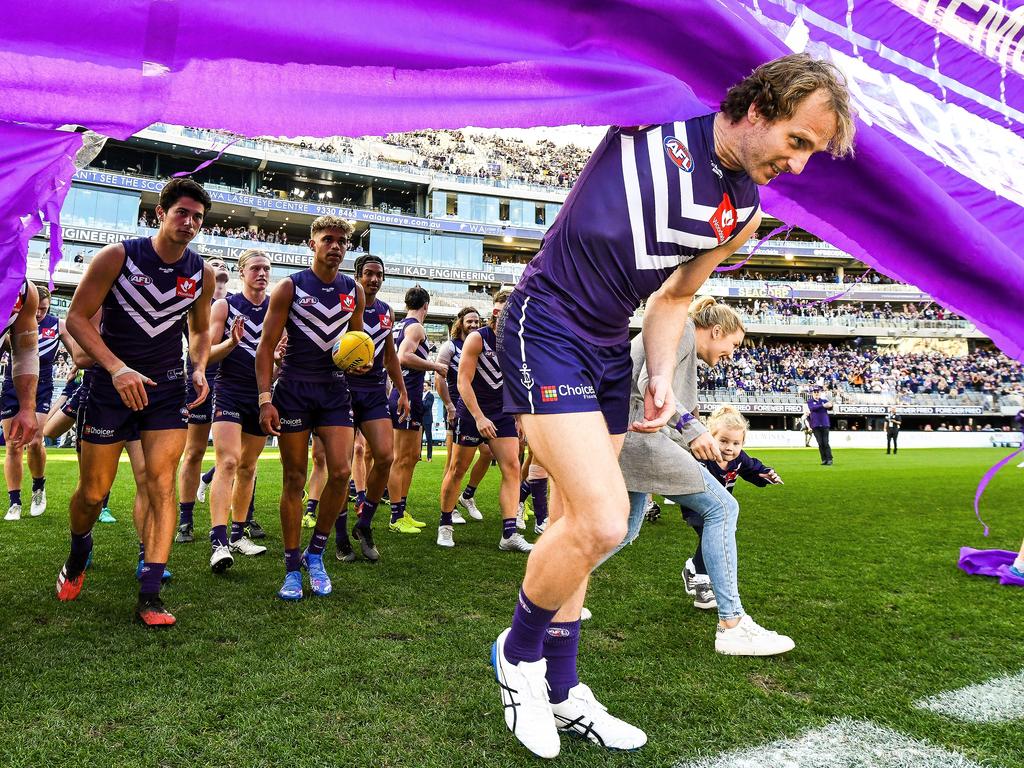 Fremantle will start their 2022 campaign full of optimism. Picture: Daniel Carson/AFL Photos via Getty Images
This time of year is an abnormally anxious time for most players.
If we look at it realistically, of the almost 45 players on an AFL list, 14 are probably guaranteed to be selected for round 1.
At every club there are players who are walk-up starts in the senior team. These are your household names and their magnets do not move – if fit, they will play.
But for every one of these walk-up starters, there's a player fighting for selection.
For a squad with good depth and a healthy list, the remaining eight spots are fought for by up to 20 players.
For those 20 players, selection for the season-opener may feel like the most important moment of their career, sometimes their life.
For me, round 1 selection meant a lot. I was one of those fringe players for most of my career and playing games in the senior side was a huge personal driving factor.
Getting in the team to start the season was always a huge boost. Picture: Cameron Spencer/AFL Photos/Getty Images
If used the right way, the goal of playing round 1 can be an incredible driving force. It makes players train harder, provides focus and brings out the very best in them. However, if you allow selection to cloud your thoughts and actions – it creates pressure. This pressure, which can turn to obsession, can bring out the worst. I've seen players crumble under it.
Under Adam Simpson at West Coast, a mock match committee conducted by players was a yearly ritual. Not far from round 1 – maybe a week out – players would split into small cross-sections of the playing group and participate in team selection.
What often made it harder was the peer element. When it came down to a decision around two players for one position, what methods did you use to put one in front of the other?
Was it their pre-season form? Did one deserve it due to their consistency over a long period of time? Was one a better on-field leader than the other? What did the balance of the team look like? Was the team too tall or not tall enough? Does one player provide more flexibility than the other? As a player electing the team – could you differentiate between friends and teammates?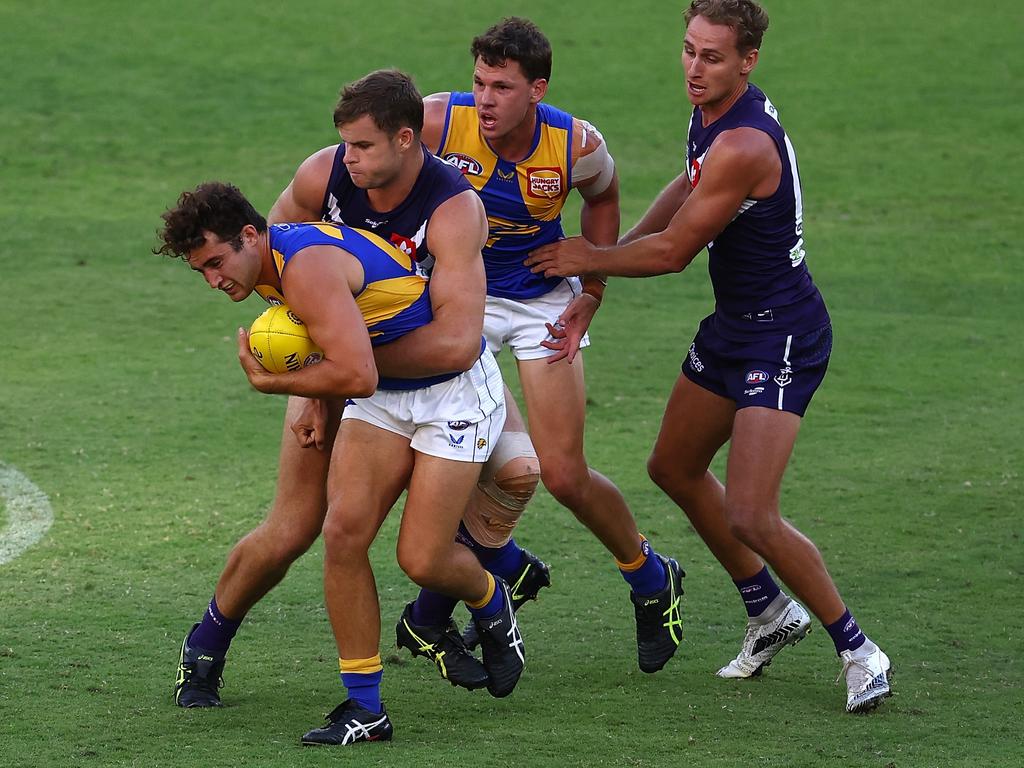 Pre-season matches are heavily scrutinised to find the right balance before round 1. Picture: Paul Kane/Getty Images
How did I fare in these player driven sessions? Put it this way, sometimes I wished it was the players selecting the team and not the coaches.
I'm currently sitting in the top four players of all-time for most career VFL/AFL games with five or fewer round 1 appearances (Barry Mitchell 221, Damien Hardwick 207, Jarrad Schofield 206, Will Schofield 194). It didn't always go well for me come selection time at the beginning of a season.
The mock match committee exercise was an extremely good one. It showed how difficult a coach's job was, especially before round 1, and it provided an environment to critically assess your teammates.
But it was only an exercise. In the end, the final call comes down to the match committee.
It's clear round 1 selection didn't always go the way I'd hoped for throughout my career, but I still managed to play almost 200 games of AFL. The moral of the story here is – no matter how important you think it is at the time, round 1 selection is only a moment in time. It doesn't define you as a player. Round 2 is only a week away!
Unfortunately, it won't go that way for some players. The disappointment and pressure they place on themselves to be selected to start the season will become too much, and they won't be able to bounce back.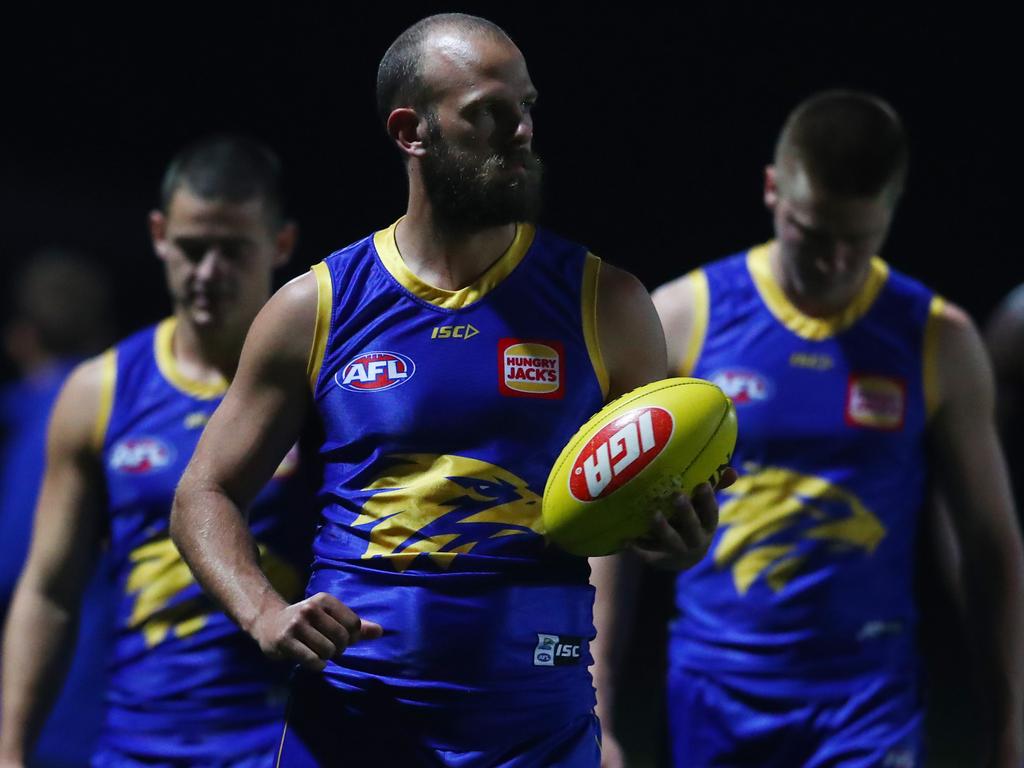 It can be a hard feeling working tirelessly at training only not to get selected in round 1. Picture: Chris Hyde/Getty Images
Among other things – such as talent and a fair bit of luck – the ability to deal with adversity and to critically assess your own shortcomings are crucial in an AFL team environment.
If you hope to stay in the AFL system for a long time and have a successful career, being able to move on quickly to either the next decision, contest or moment are all characteristics players must hold.
Round 1 selection is right around the corner, with some teams already named.
In keeping with Adam Simpson's yearly ritual of mock match committees, I thought I'd take my own stab at the West Coast and Fremantle round 1 teams.
West Coast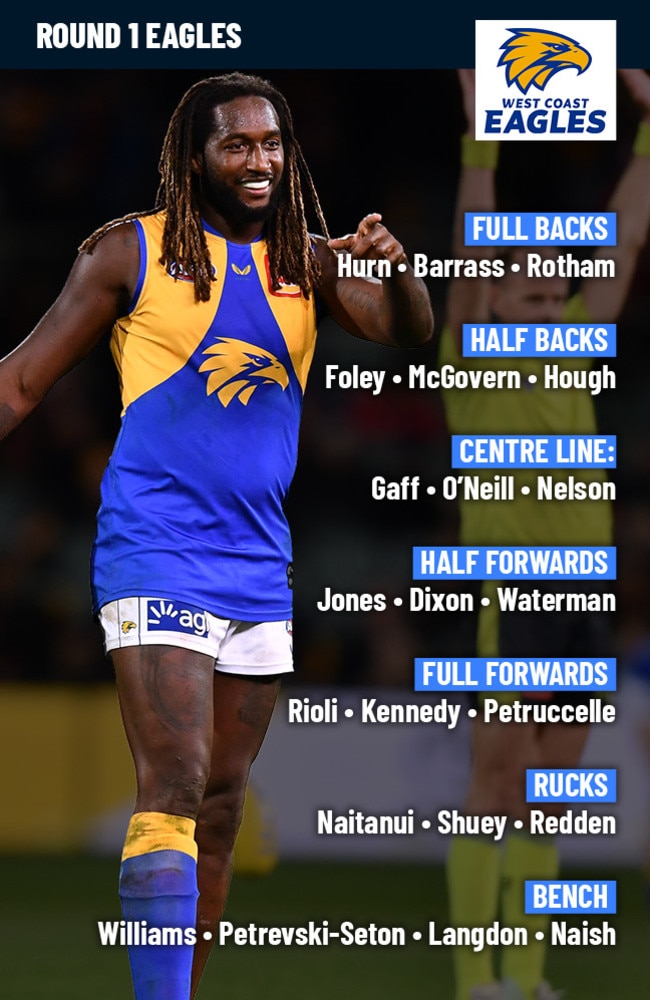 Schofield's predicted West Coast team for round 1.
Not a lot to pick from here. West Coast's list availability is unprecedented to start an AFL season. It would not surprise me to see WAFL listed top-up players playing for the Eagles early in the season.
Notable omissions: Liam Ryan, Tim Kelly (both Covid-19 related). Harry Edwards, from all reports, has had a great pre-season and will play a lot of footy this year – match-ups v Gold Coast will be a problem for his selection for round 1.
Fremantle
Schofield's predicted Fremantle team for round 1.
With close to a full list to pick from, compared to the team up the road, they are in an enviable position at the selection table. There will be a lot of unlucky players at Fremantle to start the season.
Notable omissions: Lloyd Meek would be a great one-two punch with Sean Darcy, but I think they go with a more dangerous small forward-line set up this week. Mitch Crowden has been impressive all summer and may still find a way into the team, but he was unfortunately first to miss out this week in my team. Travis Colyer is in the same boat. He'll play a lot of footy this season, but will maybe just miss this week. Ethan Hughes the unlucky defender to miss with team balance.