Will Schofield's final SuperCoach squad for 2022
After many hours of research and a lot of second guessing, Will Schofield has locked in his final SuperCoach side in his bid to make the top 1000. Did Nic Naitanui make the cut?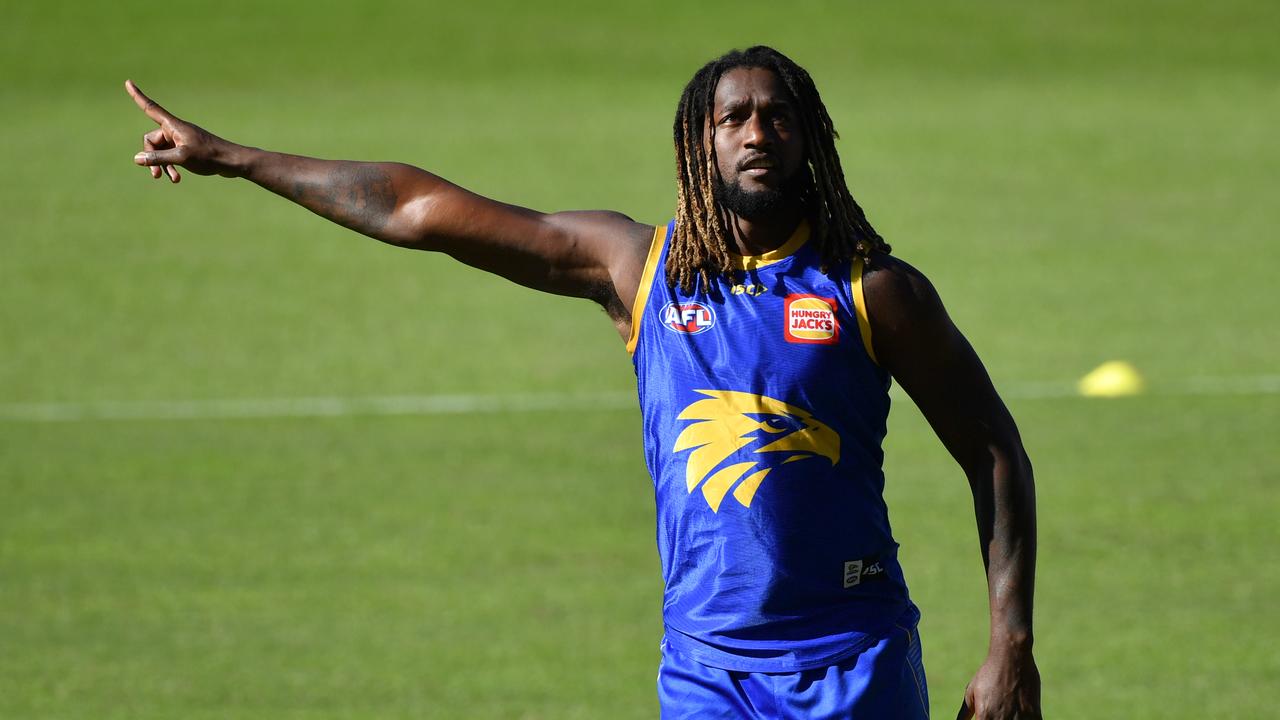 Did Nic Nat make Will's final SuperCoach cut? Scroll down to find out.
Like any fantasy coach around the country, I am finding it difficult to concentrate.
Simple tasks feel suddenly beyond me.
I have more tabs open on my computer than a day trading stock trader.
My team has changed more times than I can remember in the past 24 hours.
There is a countdown clock that is running my life.
So much pressure, so much riding on that final team composition.
With round one starting in just hours, don't worry – the pain will all be over soon.
It's not too late to get that team in though, If I can do it, trust me so can you.
Once the first bounce goes up at the MCG on Wednesday evening, that's when the real fun starts.
Team management, ins and outs, injuries, captaincy calls, loopholes, rookie upgrades, premium downgrades.
It's all ahead of us, but first you must get your round 1 team selection correct.
Enter a team here: JOIN SUPERCOACH
I first started my foray into SuperCoach land with an auto-filled side last month.
You can read all about my first team here.
Quite honestly, I didn't know what I was doing.
But it gave me a good base to work from with some structural elements helping set a good side.
That was almost four weeks ago, my final side has changed a lot since then.
In Defence

I've gone with a 3-1-2 set up – three premiums (Jack Crisp, Jayden Short, Lachie Whitfield), one mid-priced option (Hewett) and two rookies (Josh Gibcus and Paddy McCartin).
Crisp being the only remaining player from my original line-up, I think his role this season is too good to pass up.
Short and Whitfield should have free reign in their respective sides, both impactful players, for good teams.
I wanted only one of James Sicily, George Hewett and Wayne Milera – landing on Hewett due to his midfield role.
Let's hope with Sam Walsh's imminent return, that midfield role doesn't turn into a dreaded role-playing forward line one.
Rookies on the bench are as good as I can do at this stage (Sam De Koning and Jordan Boyd), but these are subject to change once we have team sheets for round one.
Midfielders
My auto-filled side wasn't too bad in the mids. I'll go in with a 4-1-3 line up. Four kings (Jack Macrae, Jack Steele, Christian Petracca, Lachie Neale), one mid-priced player (Matt Rowell) and three cash cows (Jason Horne-Francis, Nick Daicos, Josh Ward).
I'm paying up for the two most expensive players in the game – Jack Macrae ($699,900) and Jack Steele ($685,800).
Yes, it's a hefty price to pay, but they are expensive for a reason.
They are the best in the business and will be locked in for the season.
Darcy Parish and Lachie Neale are high midfield minute types, at a discount to their value in my opinion, so they are in.
Other options here are Christian Petracca and as a point of difference Ben Keays, with no Rory Laird at Adelaide to begin the season.
Matt Rowell could move his way back into elite status with an uninterrupted season.
He's a must-have at his price ($342,900).
He's also the reason I went Steele over Touk Miller.
I think an improved Rowell eats into Miller's effectiveness and contribution this season in the Gold Coast midfield.
The on-field rookies are just about the same in everyone's team – Jason Horne-Francis, Nick Daicos and Josh Ward – so I'm playing the percentages there.
No point in reinventing the wheel.
Bench rookies are all pending selection again, but of the three (Dylan Stephens, Caden MacDonald and Brady Hough) I think Hough has the best chance of locking down a spot this season, given West Coast's current injury issues.
Rucks

My auto-selected side had Nic Naitanui in it, and as excited as I was to have him there, he and Brayden Preuss make way for the two ruckmen I think will be the best in the business in SuperCoach this season.
No need to go out on a limb with something exotic here – Max Gawn and Brodie Grundy.
Get 'em in and worry about the rest of the team for the year.
Hugh Dixon on the bench currently, the only other consideration I have here is Sam Hayes from St Kilda.
Dixon should see plenty of opportunities early, but when Jack Darling re-enters the conversation, he may be struggling to get a game.
The Forwards

My forward line set up looks very different to my first go at it.
Five premium forwards and three of them being Western Bulldogs (Josh Dunkley, Adam Treloar, Tim English) were auto picked and just wasn't going to work, so I've made some alterations.
I've settled on a 2-3-1 set up – two premium forwards (Dunkley and Zak Butters), three mid-range options (Stephen Coniglio, Mitch McGovern, Tristan Xerri) and no, I'm not that happy about so many mid-priced forwards, with just the one on field rookie (Josh Rachele).
Dunkley and Butters would be as close to complete locks as I have in my team – roles, talent, good teams – it's all there.
Plus, Dunkley is a fantasy favourite of mine, starting in my round one team for about the past six seasons.
Coniglio? You've got to have him. The hope is that he returns to one of the elite midfielders in the competition – something that is certainly not beyond him.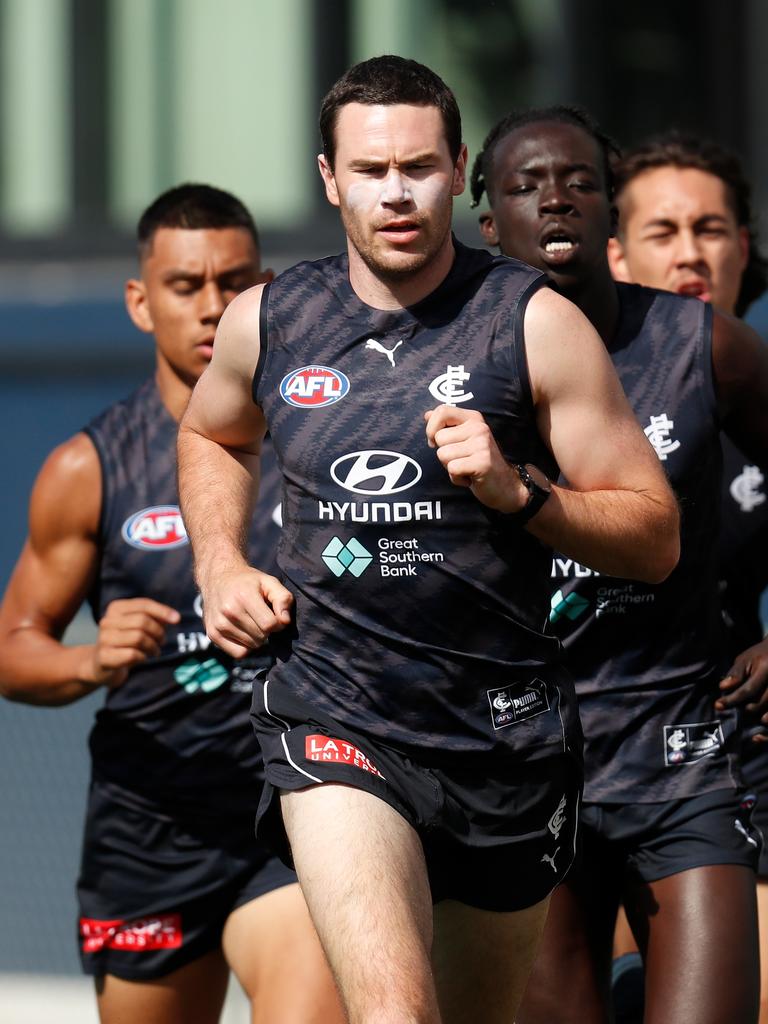 Mitch McGovern of the Blues. Sometimes you need to take risks. Picture: Getty
McGovern is risky. He played an epic game in the lead up pre-season clash with Melbourne, but he's touted as having a similar role to his brother at West Coast as an intercept defender.
High ceiling but low floor for mine. It could go either way.
Xerri is etching out a role in a young North Melbourne team that may win more games than you think in 2022.
Rachele, my only on field rookie, is a staple of most teams this season. He will be picked every week but just needs to score.
My bench rookies are sketchy in the forward line.
I haven't seen any footy from either Jed McEntee or Nick Martin, so fingers crossed they won't throw too many cats among the pigeons for me at selection.
I have $13,100 remaining salary cap to hopefully fix any selection related issues.
I've got to be honest. A little bit more cash would be nice going into the season.
As a good friend in fantasy land tells me – it's all luck anyway.
Maybe. Maybe not.
Good luck.