Will Schofield's Weekend Insider, AFL round 6: Inside the rooms, burning questions and player power rankings
West Coast Eagles premiership player WILL SCHOFIELD takes you inside the weekend of footy: what's being said in the team rooms, burning questions from each game and his updated player power rankings.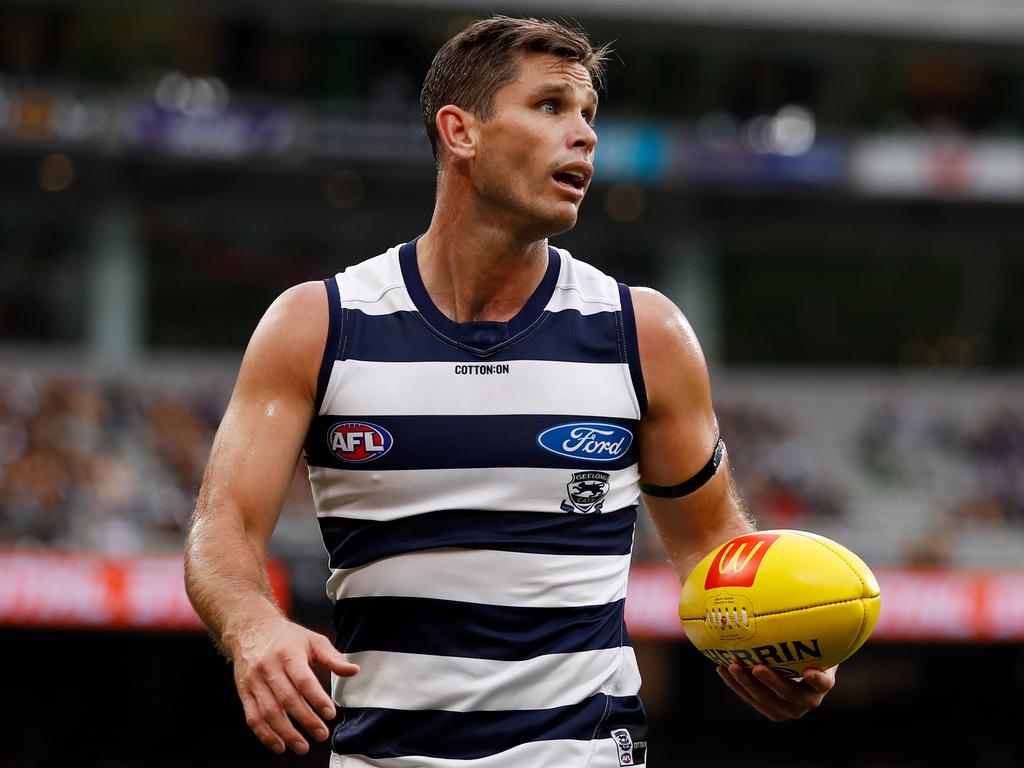 Geelong veteran Tom Hawkins is currently the No.1 forward in the AFL in Will Schofield's updated power rankings. Picture: Dylan Burns/AFL Photos via Getty Images
What are the coaches saying behind closed doors? What are players thinking after their respective wins and losses?
What are the burning questions from round 6? And who are the guys that fellow players would love to run out with?
West Coast Eagles premiership player WILL SCHOFIELD takes you inside the weekend of footy.
Inside the rooms
Here's what I think would have been said, or thought, in certain rooms and match committees over the weekend.
Collingwood defeated Essendon by 11 points:
Collingwood: The biggest game of the year for our club and potentially the league, and we did ourselves and members proud. In the end we won the game, and made the most of our opportunities in front of goal. We were beaten in a lot of major indicators on the day, but won the most important stat - four points.
Essendon: The biggest game of the year for our club and potentially the league, and we did ourselves and members proud despite the result. Effort and pressure around the ball was what we expect. While we don't win the game, our performance should be a baseline for the season going forward.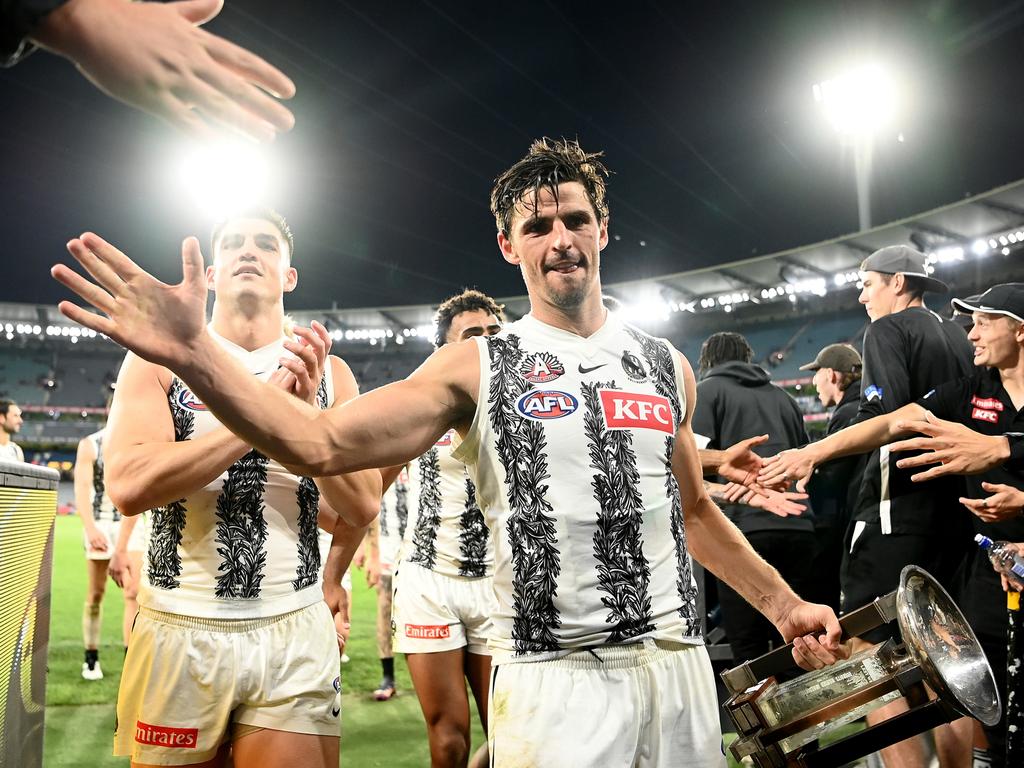 Collingwood edged Essendon in a classic. Picture: Quinn Rooney/Getty Images
Sydney defeated Hawthorn by 41 points:
Sydney: We were really challenged today. Great signs as a group that we were able to fight through the early barrage from Hawthorn. Our mids got better and better as the day went on. Having a 250-game veteran (Josh Kennedy) sitting on the bench, ready to come on when the match was on the line, was a luxury.
Hawthorn: We challenged the group to start aggressively and we did. We kicked the first five goals of the match and looked unbeatable. This is still a young group and we will take plenty from the effort. Disappointing to drop away late, but we know this Sydney team is a top four side – we aren't yet.
St Kilda defeated GWS by 17 points:
St Kilda: Great win, away from home. A big three weeks coming up against Port, Melbourne and Geelong. A disappointing side note is Jack Hayes' ACL injury; thankful that we have Paddy Ryder returning next week.
GWS: A game we could have won, but we didn't. The most troubling thing from these first six weeks is our inability to score. Toby Greene can't do it all but he needs to find his mojo quickly if we want to turn our season around.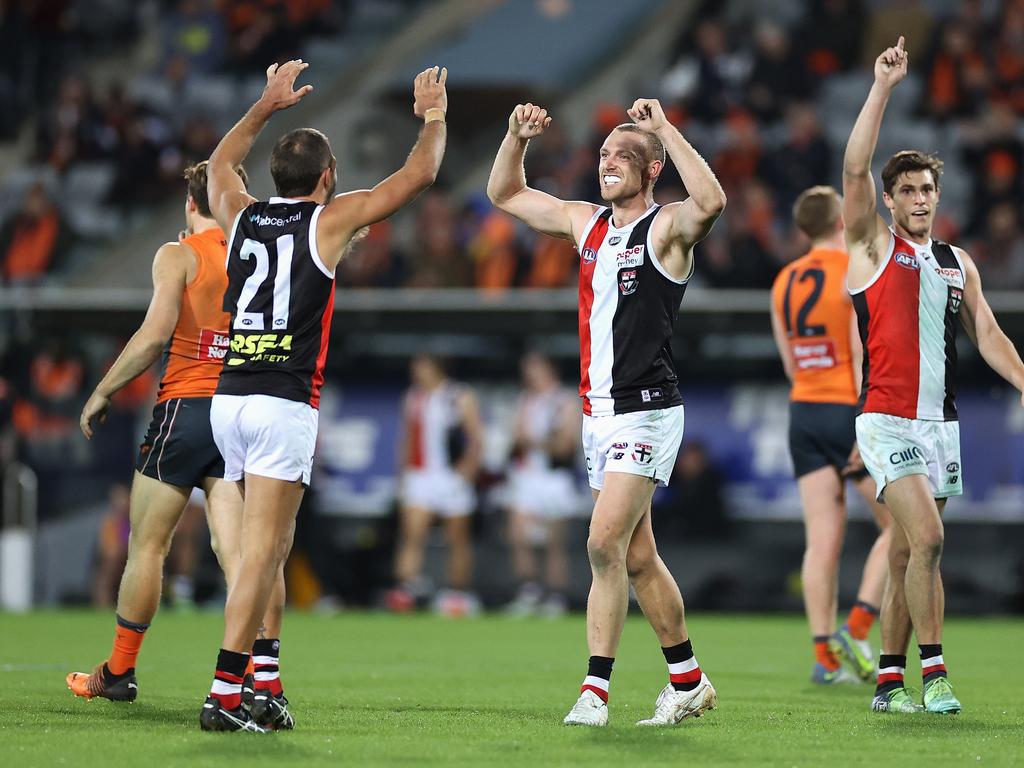 St. Kilda overcame GWS to record their fifth win of the 2022 season. Picture:

Cameron Spencer/AFL Photos/Getty Images
Adelaide defeated Western Bulldogs by 1 point:
Adelaide: For our young group, some terrific lessons in a tight game. To walk away with a victory makes it even better. We've got to sell that win as a great one against a good opponent. We'll enjoy the victory but realistically, we know the Western Bulldogs aren't playing like a finals side right now.
Western Bulldogs: What on earth is happening? With the list and personnel we have, two wins so far this season is unacceptable. The Bont forward experiment failed and our midfielders aren't getting the job done. Lots of holes to plug both on and off field this week, but we need to right the ship – quickly.
Port Adelaide defeated West Coast by 84 points:
Port Adelaide: Gee, we needed that. An easy kill in the end, but still a victory that we needed as a group. Looked like the boys enjoyed their footy this week. Perhaps some recent changes we made to the daily routine will stay in the schedule going forward. You've got to enjoy your footy.
West Coast: We still can't quite admit it publicly, but the time has come to start playing our kids. We need to find out what we have and give some youngsters an opportunity to play senior footy. Not much has gone right to start the season, need to focus on the positives moving forward. It starts with instilling some confidence with a few fringe players, making sure they know they won't be dropped for a period of time.
After a tough start to the season, the West Coast Eagles must focus on the positives and consider playing their youngsters. Picture: James Elsby/AFL Photos via Getty Images
Geelong defeated North Melbourne by 60 points:
Geelong: We needed to beat North well, and we did. The review will be quick on Monday, with an up-and-about Fremantle Dockers clash at home this week. Time to remind the competition who the wily veterans are and why we are real contenders again this season.
North Melbourne: Honestly, we didn't expect to win this game. We need to continue to get games into our young midfield. It's important that we all learn something when we play experienced sides like Geelong. Today, we did.
Fremantle defeated Carlton by 35 points:
Fremantle: The off-field build we have embarked on over the last three seasons is finally coming to fruition. We can't let the players, coaches and fans get ahead of themselves, though. Need to keep building on what has been a terrific start to the season. But internally, this is what we always believed we were capable of.
Carlton: It was always going to be a challenge coming to Perth against a flying Fremantle. We were out-muscled a little around the ball, which is concerning, but something we can work on during the week. Cripps back and playing seemingly unhindered just a week after a hamstring injury is a huge positive.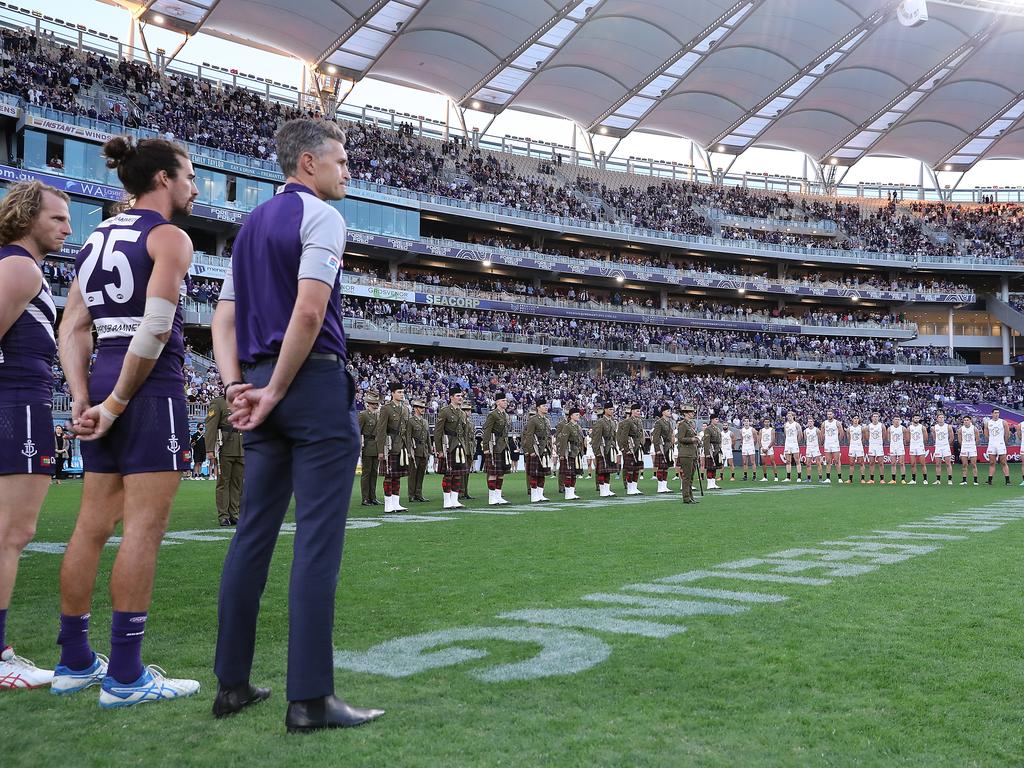 Fremantle's three-year rebuild is starting to pay off - the Dockers blitzed Carlton by 35-points during the ANZAC Appeal Round. Picture: Will Russell/AFL Photos via Getty Images
Brisbane defeated Gold Coast by 52 points:
Brisbane: Bigger fish to fry than the Gold Coast, but always good to remind the little brother who is boss. Overall, pleased with the even contribution of the group, especially in the forward line. We have multiple scoring avenues, which makes it hard for opposition clubs to prepare for us.
Gold Coast: We kicked ourselves out of the game during the third quarter. Several two-goal turnarounds, when we missed and they scored, cost us any momentum and eventually the game. A disappointing loss, given we were right in it at stages.
Melbourne defeated Richmond by 22 points:
Melbourne: We are mature enough now to weather the early storm. We know our fitness is unmatched across the competition, all we need to do is be within reach and we'll back our system. On to the next one.
Richmond: We set ourselves up to ambush the new kings on the throne. Just couldn't do enough, for long enough. The scoreboard in the end was complimentary, given the number of scoring shots at the end of the game (31 shots to 14).
Player you want to run out with
Essendon v Collingwood:
Alec Waterman: One of the best set shots in the league. If you needed a man kicking for your life, Waterman would be it. Another four set shot goals on the day, as he did everything he could to keep the Bombers in it.
Hawthorn v Sydney
Nick Blakey: 'The Lizard' was at his slippery best in the second half. I'm super impressed with his development – he has made one of the biggest leaps in terms of output for his team in the entire AFL. He will be a star, both hard and highly skilled. He is only getting better with each game he plays.
St Kilda v GWS
Josh Battle: Driving to the game, the last thing on Battle's mind would have been playing in the ruck. But that's exactly where the 193cm utility found himself. Pardon the pun, but he battled hard, made the ruck contest a scrap and ensured the Saints went on to win the game.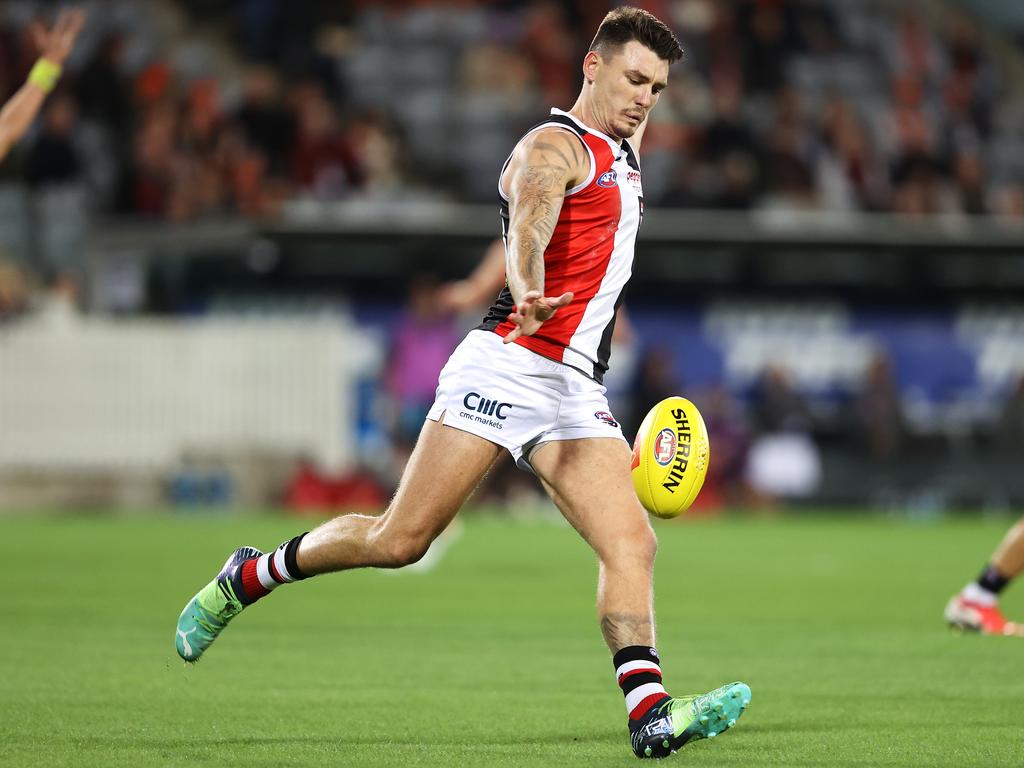 St. Kilda utility Josh Battle put his body on the line against GWS. Picture:

Mark Kolbe/Getty Images
Western Bulldogs v Adelaide
Billy Frampton: Frampton has been around for a while. He may lack experience at an AFL level – having played only 22 games across eight seasons – Frampton showed plenty of ability in Round 6. Ten intercept possessions – exactly what you need from a key backman in today's game. Adelaide may have their very own mature aged upstart.
Port Adelaide v West Coast
Karl Amon: Dropped after a ten tackle effort the week prior, in a team that isn't going that well, Amon could have been excused for dropping his head. But with a late change, Amon found himself back in the line up Saturday and he took the opportunity with both hands. Breaking lines, ball use, work rate – Ken Hinkley would find it difficult to leave him out next week.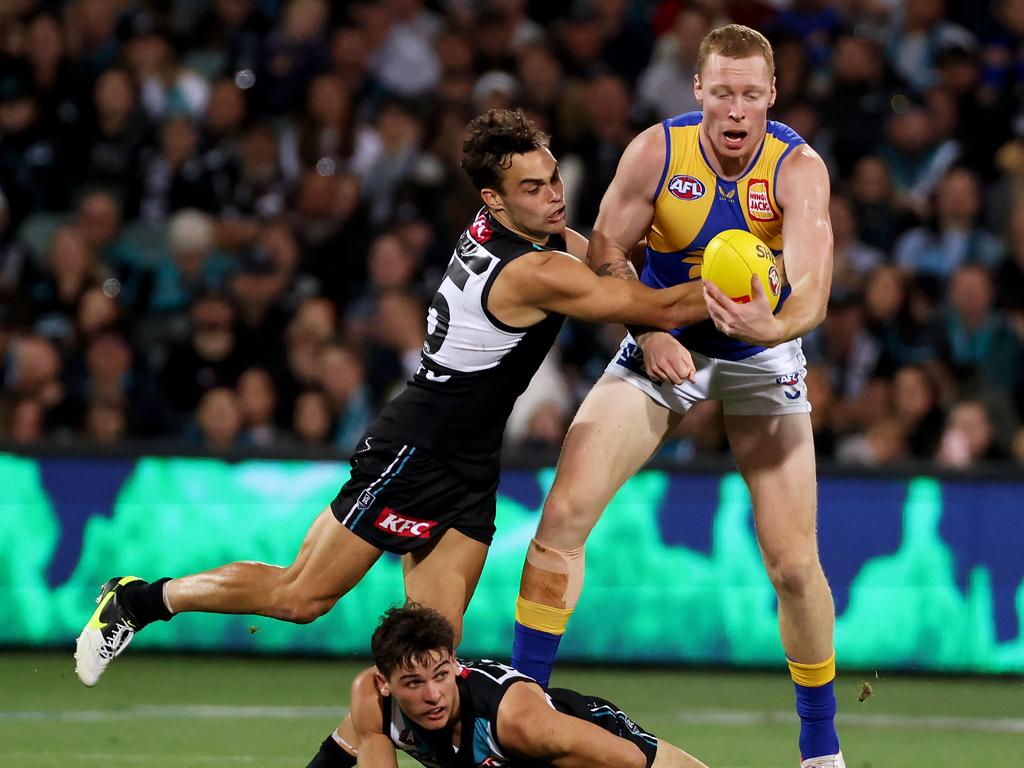 Port Adelaide star Karl Amon's performance against the West Coast Eagles was impressive enough to warrant team selection next week. Picture: James Elsby/AFL Photos via Getty Images
Fremantle v Carlton
Brennan Cox: Playing a starring role in one of the league's best back lines, Cox spent the early part of his career as a forward. Now, he has well and truly found his home in the back six. Cox's ability to intercept has catapulted him into the upper echelon of defenders across the league.
Geelong v North Melbourne
Oliver Dempsey: Had to squeeze this in, purely for the lads on the fence. First game, a goal and plenty of score involvements. Looked at home at the top level, expect Dempsey to be around this group for some time to come. But what about his mates? Just loved everything about the boys on the fence!
Brisbane v Gold Coast
Marcus Adams: Playing the perfect supplementary role to Harris Andrews, Adams' strength in the one-on-one contests allowed Andrews to play his game as quarterback of the Brisbane Lions backline. It's a great partnership, with Adams getting the big jobs week in, week out.
Richmond v Melbourne
Alex Neal-Bullen: Showed why he is so highly valued within Melbourne Football Club. Late in the game, even when everything was done and dusted, Neal-Bullen was still chasing, tackling and pressuring the opposition, deep inside the opposition forward line. Plays a high half forward role – one of the toughest positions on the field, but no one rises to the challenge like Neal-Bullen.
Burning questions
Essendon v Collingwood: Was the biggest game on the calendar played with the Anzac spirit?
Quite simply, yes it was. It was a great game to watch. Both sides had their chance to win it, with the Pies eventually breaking the Bombers down. It had it all. Great skill, high marks, accurate goal kicking, end-to-end footy as a spectacle for our great game. This was what the day deserved. Well done to both clubs.
Hawthorn v Sydney: Does anyone enjoy each other's on-field company more than Sydney?
When the game got tough, this young group lifted their output and intensity across the ground. They enforced their will at stoppage and put their foot on the throat. But, what was most evident was the love and enjoyment on display from the players. They've taken a leaf out of Melbourne's book and successful teams gone by. You can visibility see the enjoyment they are having playing the game. Great to watch.
St Kilda v GWS: Are Saints the real deal?
After their fifth win in a row, the answer to that question is a resounding 'yes'. The side we all thought we'd see in 2021 is here. Lacking the star power of other teams, St. Kilda's strength is their ability to contribute as a team. No standouts, players just performing their role each week – and that will take them a long way. Just imagine if Max King kicked straight!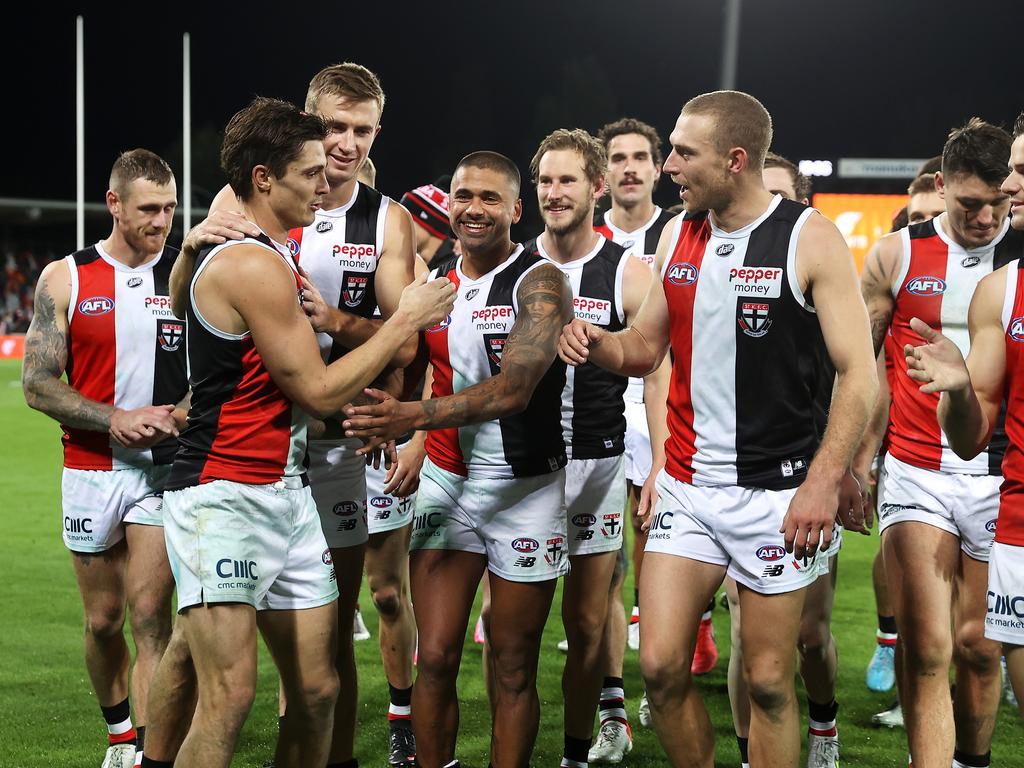 St. Kilda were all smiles after their fifth win on the trot. Picture: Mark Kolbe/Getty Images
Western Bulldogs v Adelaide: Who's in the doghouse?
Something doesn't seem quite right at the Western Bulldogs. Despite featuring in last year's grand final and having a list full of stars, their performances have been wildly inconsistent with the team that we'd all learnt to love watching. Luke Beveridge may have to throw some magnets around at the selection table this week. The season is far from over, but they aren't in a good spot.
Port Adelaide v West Coast: Is it rebuilding time at the Eagles?
An incredibly successful club both on and off the field, West Coast aren't used to things not going their way. Not much has this season, which leaves them staring down the barrel of a full rebuild. It will be interesting to see the messaging from the club this week, but they'll be hoping to unearth some talent soon to help push the club forward.
Geelong v North Melbourne: Are Geelong still looking for consistency?
This group knows exactly what is required to perform week-to-week during an AFL season, but they've been somewhat inconsistent in 2022. Their focus will be on Fremantle early this week, with not a lot to be taken from beating up on a young North Melbourne side. The fortress that is Kardinia Park will be tested this week – a very prepared Geelong will be waiting for the up-and-coming Dockers in the match of round 7.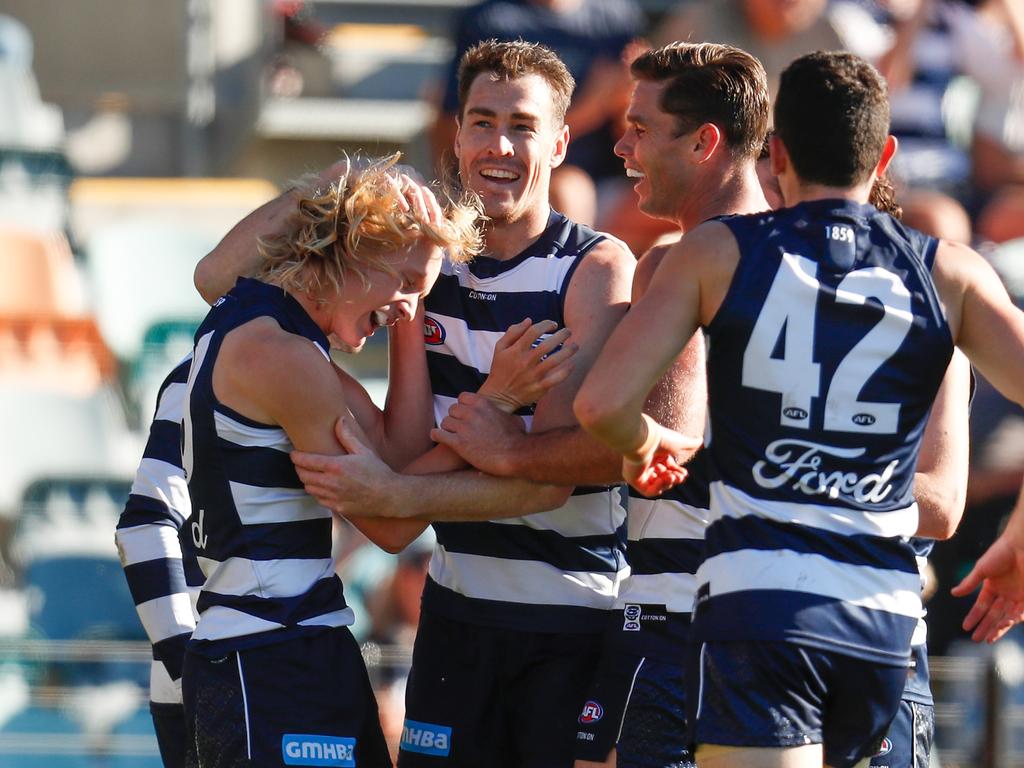 Geelong has plenty of experience, but they'll be looking to find consistency over the coming rounds. Picture: Michael Willson/AFL Photos via Getty Images
Fremantle v Carlton: Can Fremantle capitalise on their own success and the Eagles demise?
Fremantle will rule the West this year. With West Coast struggling and the Dockers flying, they should have a monopoly in the footy space in Western Australia. Fans need to get around the team, sell out games and help the football club capitalise financially in what could be a huge year for them on the field. Over to you, purple army.
Brisbane v Gold Coast: Is the Q Clash even a rivalry?
How long will it take to build a list and culture that will truly challenge the Brisbane Lions (and the competition)? The Suns looked dangerous at times on Sunday, but in the end, they were miles away from the Lions. The rivalry is non-existent and the Suns will ultimately walk away embarrassed by the way they fell away late to lose by almost 9 goals.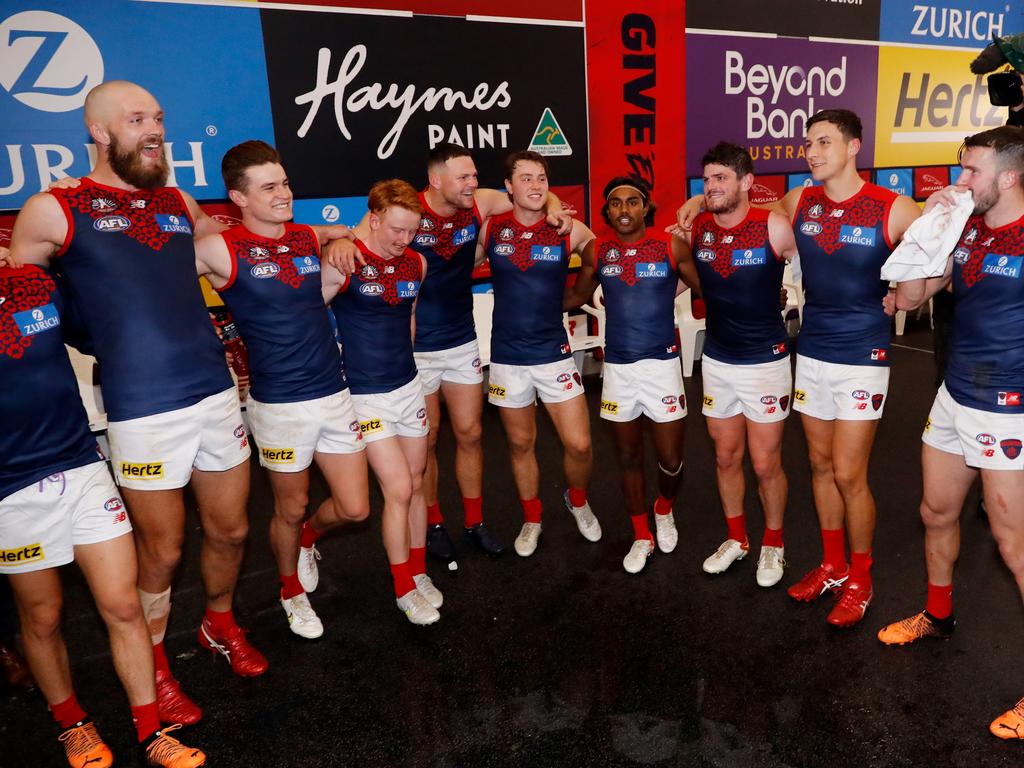 The reigning premiers are undefeated for now, but they'll likely be challenged by Hawthorn and St. Kilda over the next two weeks. Picture: Dylan Burns/AFL Photos via Getty Images
Richmond v Melbourne: How do you challenge the Demons?
There aren't a lot of teams in the competition capable of challenging Melbourne this season. They are fit, hungry and connected as a group. If possible, they look even better than last year. Richmond dug in early, but ultimately were outclassed. The Demons face Hawthorn and St. Kilda over the next two weeks – perhaps one of those sides will step up. Perhaps not. This Melbourne team looks dynasty level already.
Power rankings - Round 6
After six rounds of the AFL season, the best of the best are starting to identify themselves.
Here are the best players in the league, power ranked by position. This isn't a Brownlow Medal betting guide or a reflection of career achievements. Form and stats matter but so do intangibles like the importance to their team, impact on the game and acts of outstanding leadership. It is based on current form, too, so players will slide in and out as the season goes on.
BACKS
1. Steven May (unchanged from last week) – Melbourne
2. Tom Stewart (+6 from last week) – Geelong
3. Sam Docherty (new) – Carlton
4. Jacob Weitering (+3) – Carlton
5. Jayden Short (-3) – Richmond
6. Jack Sinclair (new) – St Kilda
7. Harris Andrews (-3) – Brisbane
8. Jeremy McGovern (-5) – West Coast
9. Alex Pearce (new) – Fremantle
10. Nick Vlastuin (new) – Richmond

Dropped Out: Jake Lever, Tom McCartin, James Sicily, Dougal Howard
Steven May is the No.1 back in the AFL. Picture: Dylan Burns/AFL Photos via Getty Images
MIDS
1. Lachie Neale (unchanged) – Brisbane
2. Andrew Brayshaw (+1) – Fremantle
3. Patrick Cripps (+5) – Carlton
4. Callum Mills (+6) – Sydney
5. Clayton Oliver (unchanged) – Melbourne
6. Christian Petracca (-2) – Melbourne
7. Bailey Smith (-5) – Western Bulldogs
8. Ben Keays (-2) – Adelaide
9. Travis Boak (new) – Port Adelaide
10. Jack Steele (new) – St Kilda

Dropped Out: Jack Sinclair, Jack Macrae
RUCKS
1. Max Gawn (+1) – Melbourne
2. Tim English (-1) – Western Bulldogs
3. Jarrod Witts (new) – Gold Coast
4. Reilly O;Brien (new) – Adelaide
5. Luke Jackson (-1) - Melbourne
Dropped Out: Oscar McInerney, Sean Darcy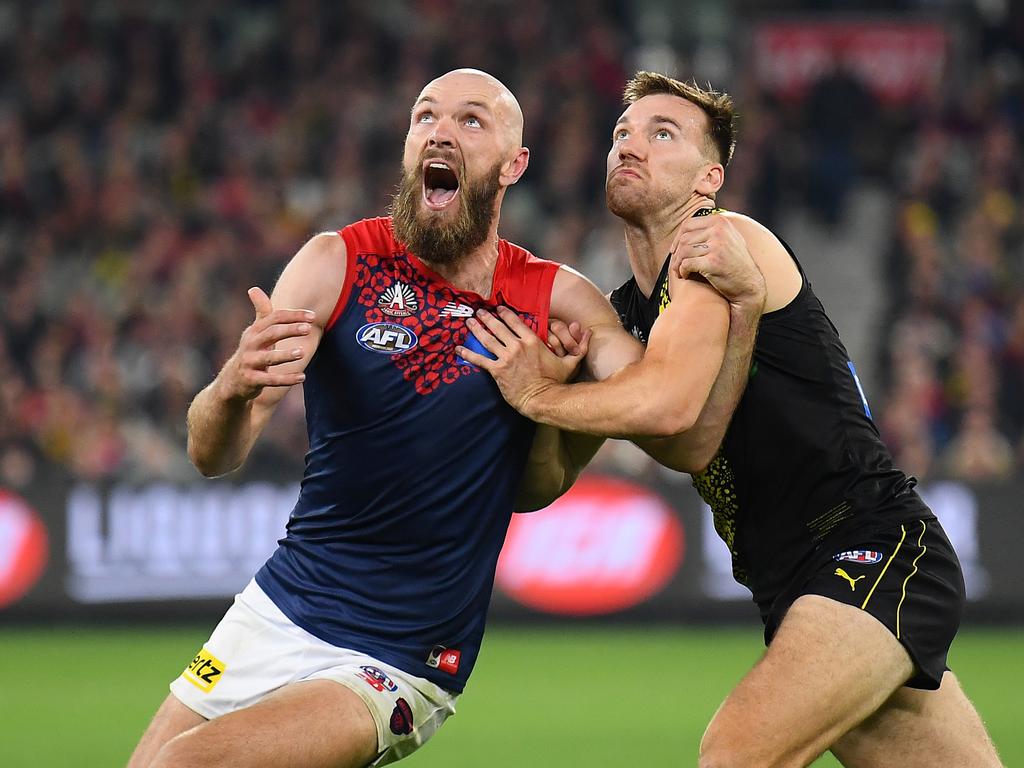 Max Gawn climbs to the top of our power rankings for rucks. Picture: Quinn Rooney/Getty Images
FORWARDS

1. Tom Hawkins (+3) – Geelong
2. Isaac Heeney (-1) – Sydney
3. Taylor Walker (new) – Adelaide
4. Jeremy Cameron (new) – Geelong
5. Joe Daniher (-2) – Brisbane
6. Max King (-4) – St Kilda
7. Zac Bailey (new) – Brisbane
8. Charlie Curnow (-2) – Carlton
9. Aaron Naughton (unchanged) – Western Bulldogs
10. Jack Higgins (new) – St Kilda
Dropped Out: Harry McKay, Josh Rachele, Jade Gresham, Matt Taberner
RISING STARS (must be eligible for nomination to win NAB Rising Star.)
1. Nick Daicos (unchanged) – Round 3 nomination – Collingwood
2. Josh Rachele (unchanged) – Round 4 nomination – Adelaide
3. Nic Martin (unchanged) – Round 1 nomination – Essendon
4. Jake Bowey (+1) – Round 2 nomination) – Melbourne
5. Jai Newcombe (new) – Round 5 nomination – Hawthorn (new)
Dropped Out: Heath Chapman