Will Schofield's Weekend Insider, AFL round 7: Inside the rooms, burning questions and power rankings
West Coast Eagles premiership player WILL SCHOFIELD takes you inside the weekend of footy: from what's being said in the team rooms to burning questions from each game and updated player power rankings.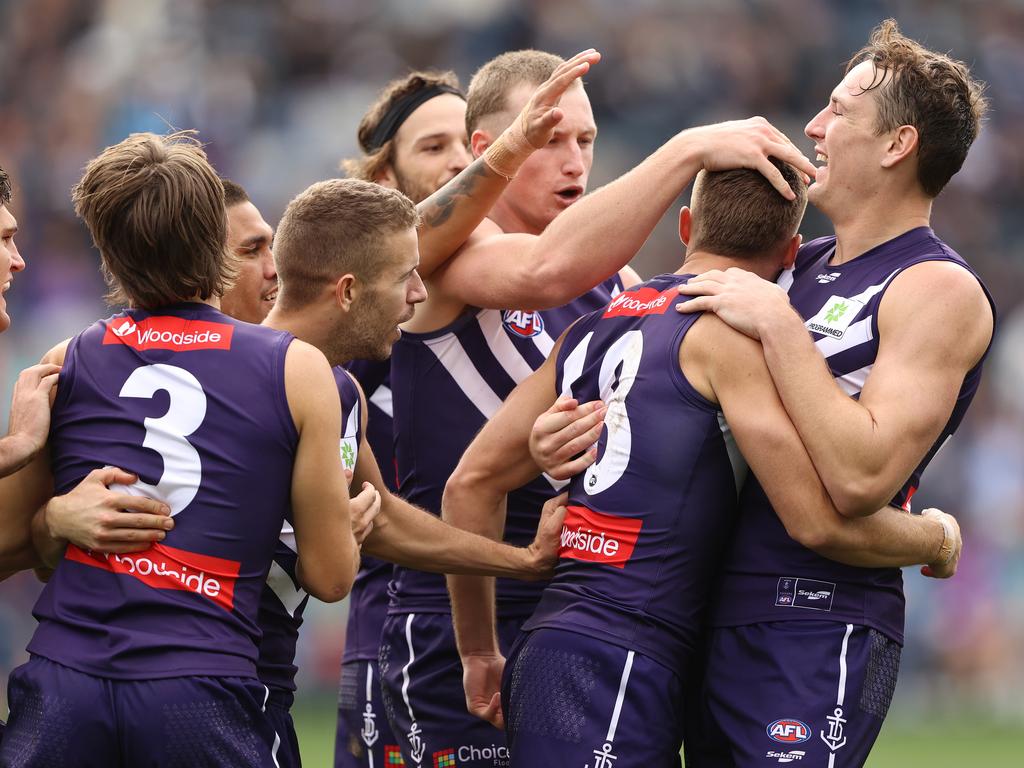 Questions around Fremantle's top four credentials were answered during the Dockers' gutsy three point win over Geelong on Saturday. Picture: Robert Cianflone/Getty Images
Covering a regular Friday to Sunday round of AFL for the first time in 2022 only meant that I was in the den for three days, instead of four or five.
After watching every minute of every game, I will try to take you inside the four walls of each club this week.
What are players thinking after their respective wins and losses?
What are the burning questions from this week of footy?
And who are the guys that fellow players would love to run out with?
Let's take a deep dive into round 7.
What the players are thinking
Here's what I think players from each club are thinking, but not saying, after their performances over the weekend.
Richmond defeated West Coast by 109 points:
Richmond: We played like the Richmond of old tonight. Pity it wasn't against a better opponent. We'll take a win in Perth though – it's always been tough there for us.
West Coast: There is no light at the end of the tunnel. We hope it gets better, but right now, we can't see how it possibly could.
Fremantle defeated Geelong by 3 points:
Fremantle: We knew it was a big game, but weren't quite sure whether we could actually win it. We have true belief now – our system works, no matter who plays or where they play. Got to make sure we keep a lid on the confidence. We can't get ahead of ourselves.
Geelong: A close loss, but we were outplayed for most of the day. Right now, we aren't the team that we've been in previous years. That said, we still have the experience to regain some momentum.
Fremantle now sits third on the AFL ladder after a tough win on the road against Geelong. Picture: Robert Cianflone/Getty Images
GWS defeated Adelaide by 59 points:
GWS: We don't listen to the noise outside the club. But we also knew that if we lost today, we might have lost our coach as well.
Adelaide: Scoreboard was flattering in the end. A big comedown from the highs of our win last week against a good team. A bit of a reality check for us.
Melbourne defeated Hawthorn by 10 points:
Melbourne: At this point, we're genuinely hoping to get challenged – and we were certainly challenged by the Hawks. Had some important players unavailable too, so winning this one felt good.
Hawthorn: Another big challenge against a top four side. Didn't fall away like last week, but these missed opportunities are mounting as the season continues. Close, but not close enough.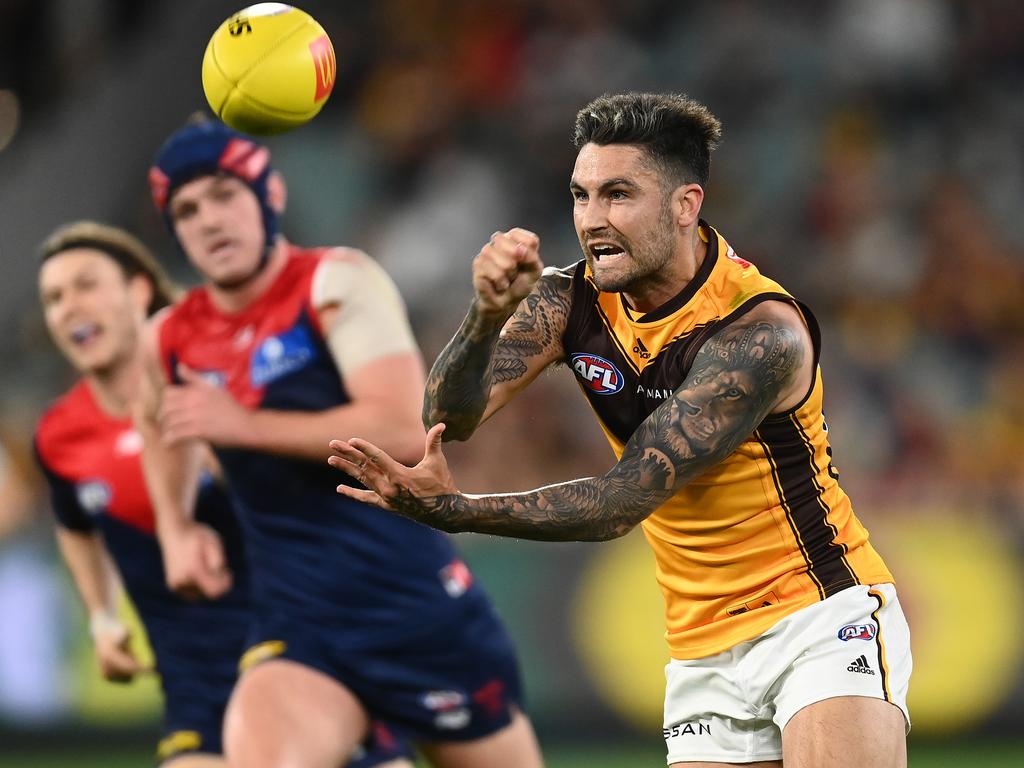 While Chad Wingard and the Hawks asked questions of Melbourne, they were unable to overcome the reigning premiers. Picture:

Quinn Rooney/Getty Images
Port Adelaide defeated St Kilda by 1 point:
Port Adelaide: Well that was lucky.
St Kilda: We have no one but ourselves to blame. Couldn't take our opportunities in front of goal, losing like that hurts more than losing by ten goals.
Carlton defeated North Melbourne by 50 points:
Carlton: We expected to win and we did. Important for us, after a disappointing loss against a real challenger last week in Perth. Good to be back on the winners list.
North Melbourne: We know we are young and developing, but so are Carlton. Another uncompetitive game is hard to take, especially against a club with a similar list profile to ours.
Collingwood defeated Gold Coast by 25 points:
Collingwood: Happy to keep winning, but Gold Coast aren't offering a lot. Moving on pretty quickly after this one. Bit of a nothing game.
Gold Coast: Same old, same old. We were good in patches but had big lapses in concentration. We were never in the game.
Collingwood celebrates after Jack Ginnivan scores a goal during the club's round 7 victory over the Gold Coast Suns. Picture:

Robert Cianflone/Getty Images
Western Bulldogs defeated Essendon by 32 points:
Western Bulldogs: Needed that one badly. We are experienced and good enough to still play finals. Need to keep building on that win if we're a chance this year. Still confident that we can do it.
Essendon: OK, it's been confirmed. We definitely aren't anywhere as good as we thought we were. Expectation is hard to deal with.
Sydney defeated Brisbane by 24 points:
Sydney: Beaten by a good side. Review Monday will be a big one. They always are, when you play good teams.
Brisbane: We rate Sydney highly, set ourselves for a big performance away from home and we delivered. It's not the Q-clash, but this is our real rivalry – a clash against the other big dogs from the other non-AFL state.
Burning questions
Richmond v West Coast: How do West Coast get better?
There is no short answer to this question. The Eagles have been non-existent three games in a row, uncompetitive across all aspects. Skill execution let them down against Richmond, which is a mental attitude, not a physical skill deficiency. They might be inexperienced, but they're not a young side and seemingly have a void of high-end young talent coming through. A lot of work ahead for the club and change won't come quickly.
Fremantle v Geelong: Are we all paying attention now?
Questions around Fremantle's top four credentials were still rumbling around late last week – questions that have now been answered. Geelong in Geelong is the toughest road trip in the league and quite frankly the Dockers should have won by more. Their game is built on defence and pressure, with goals coming from turnover and transition play. It's a good base to have, given that arguably their three most important players, Darcy, Taberner and Fyfe were all missing. If you didn't believe in Fremantle before this win, you do now.
GWS v Adelaide: Does this win reinstall belief within the Giants that they are a good side?
Probably not, but they'll certainly take a lot of confidence from a win on the road against an improving Adelaide. Some good games to their prime movers (Josh Kelly 41 touches, Toby Greene 4 goals) may be the kickstart GWS needs to reignite their 2022 campaign. Just their second win of the season, sitting outside the top 8 still, they should play finals this year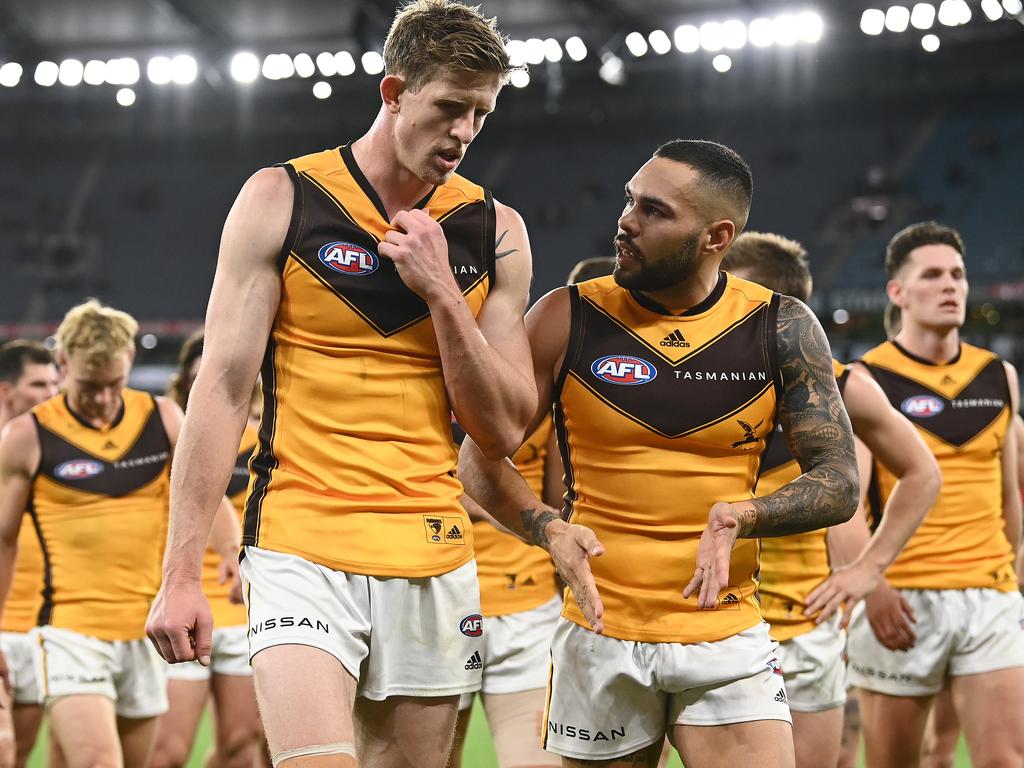 The Hawks look dejected after losing their round 7 match against Melbourne at the MCG. Picture: Quinn Rooney/Getty Images
Melbourne v Hawthorn: Will challenging teams, but not winning, haunt the Hawks?
The Hawks lost by one point to Carlton. They led Sydney until halfway through the last quarter and went on to lose by 41 points. Now, Hawthorn suffered a 10 point defeat to the best side in the competition. None of these losses are surprising, given the expectations placed on the Hawks before the season started. Yet, win one or two of these games, and suddenly the Hawks are well in contention. This group needs to believe they are good enough to win, not just challenge teams.
Port Adelaide v St Kilda: Is set shot goal kicking more mental or more skill?
For the second week in a row, and fourth time this season, the Saints kicked more behinds than goals. This week, they kicked themselves out of the game. Easy set shots within 20m from goal need to be kicked every time, just like contests need to be won or halved at the other end by defenders. By the way, it's almost 100% mental – get your head in the game St Kilda, not good enough.
Carlton v North Melbourne: Is Patrick Cripps the best midfielder in the competition right now?
He's very close to it. Despite missing a game with a slight hamstring issue in Round 5, he'd be close to leading the Brownlow Medal right now. It's clear he has been playing injured over the last two seasons, because the midfield juggernaut we have been missing is in full flight in 2022.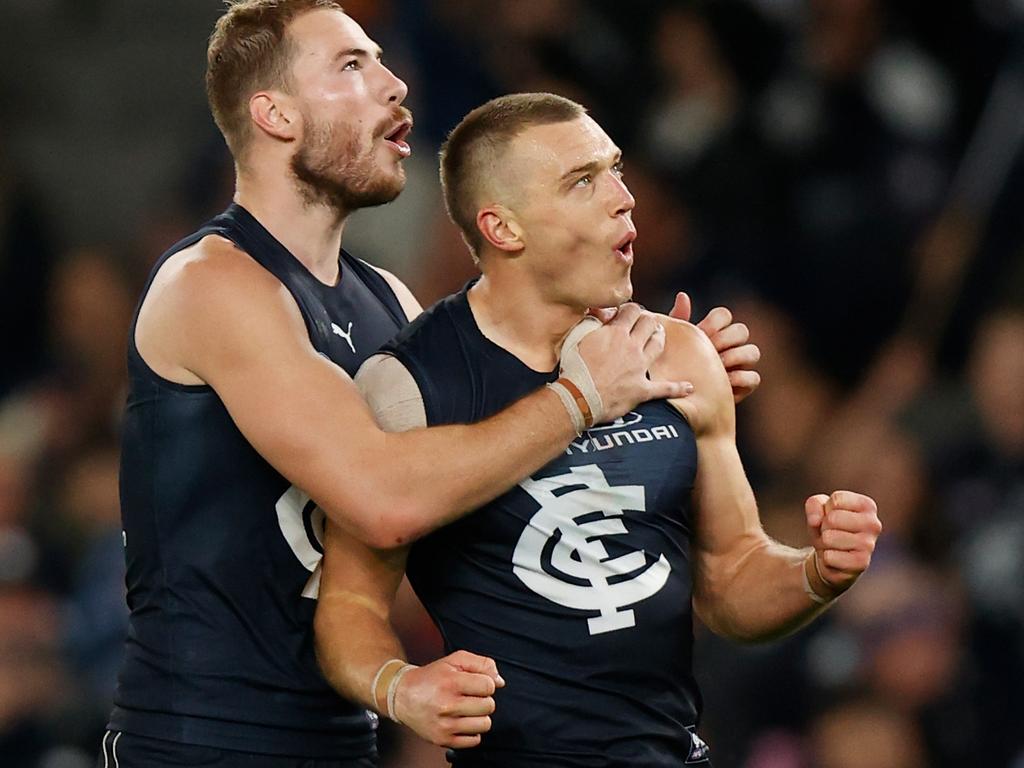 Carlton's Harry McKay and Patrick Cripps celebrate during a win over North Melbourne at Marvel Stadium. Picture: Michael Willson/AFL Photos via Getty Images
Collingwood v Gold Coast: Can Collingwood continue to challenge for finals without Brodie Grundy?
From the small sample size, the answer seems like a yes. Darcy Cameron and debutant Aiden Begg aren't a ruck combination that Collingwood has ever seen before, but it worked. Coming up against one of the league's best in Jarrod Witts, the Pies' ruck duo needed to be at least competitive, which they were. Collingwood should be able to continue their push towards finals footy on the back of these two young talls.
Western Bulldogs v Essendon: When does the pressure come on for Bombers?
After so much expectation, the Bombers have offered barely a whimper. They look outclassed, outskilled and outplayed by most oppositions they've come up against this year. Tipped by some to challenge for the flag – clearly that isn't happening. So, what is the best possible result for Essendon this year? Finals? Currently, they look nowhere near it and the weight of expectation looks too much for this group.
Sydney v Brisbane: Who is the No. 1 challenger to Melbourne this season?
Fremantle might have their hand up but, given the bodywork from Sydney and Brisbane over the last 12 months, the winner of this game was always going to be crowned prince. In a seesawing contest, the Lions just did the little things better than the Swans. Come season's end, however, there won't be too much separating these sides. Brisbane have been strong for a long time now – they know how to climb the mountain, they just need to put their flag on the summit.
The players you want to run out with
They might not be featured on newspaper back pages, but these are the players who you'd want in your footy team.
Richmond v West Coast
Josh Kennedy (WCE): There's not a lot of love you can give to the West Coast Eagles after the last three weeks, but this man deserves his fair share. A champion of the football club, he has built his game from work rate off the ball. Down by 100 points he was still working harder than any forward on the ground. A true champion.
Fremantle v Geelong
Griffin Logue (FRE): Dropped twice this season, he'd be forgiven for dropping his head. Played on Jeremy Cameron one-out, all day. Kept Cameron scoreless – just the ninth time in his AFL career. Logue is turning himself into a reliable defender. He can take on big jobs every week, in the best backline in the competition.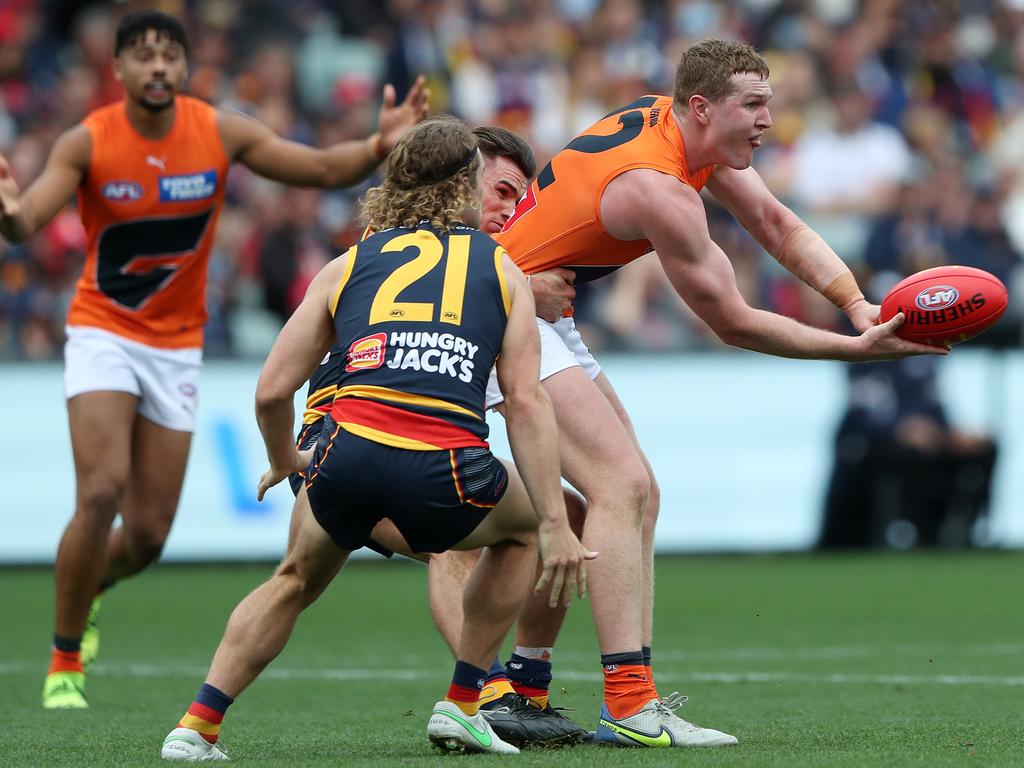 Tom Green's work at the contest allows fellow Giants Josh Kelly, Stephen Coniglio and Lachie Whitfield to run attack. Picture: Sarah Reed/AFL Photos via Getty Images
GWS v Adelaide
Tom Green (Giants): In just his third season in the AFL, Tom Green is having a season to remember. An inside contested beast, his work at the contest allows the outside run of GWS, which is their strength, to shine. Green's willingness to get his hands dirty each week allows Josh Kelly, Stephen Coniglio and Lachie Whitfield to do their thing on the outside.
Melbourne v Hawthorn
Finn Maginness (Hawks): Sometimes team roles aren't pretty in the AFL. For example, tagging a wingman out of the game won't win you a Brownlow Medal, but it will win the respect of your teammates. Maginness was sent to Melbourne's running machine Ed Langdon and restricted him to just 9 disposals – his lowest of the season. An important link in Melbourne's game plan, shutting down the space outside was a bold coaching move by Sam Mitchell and a well executed task by Maginness.
Port Adelaide v St Kilda
Dougal Howard (Saints): One of the most reliable key backmen in the competition, nothing could pass the big defender. Always seems to make the right decision and put himself in a position to at least contest. The problem for St Kilda wasn't in the backline, it was in front of goal.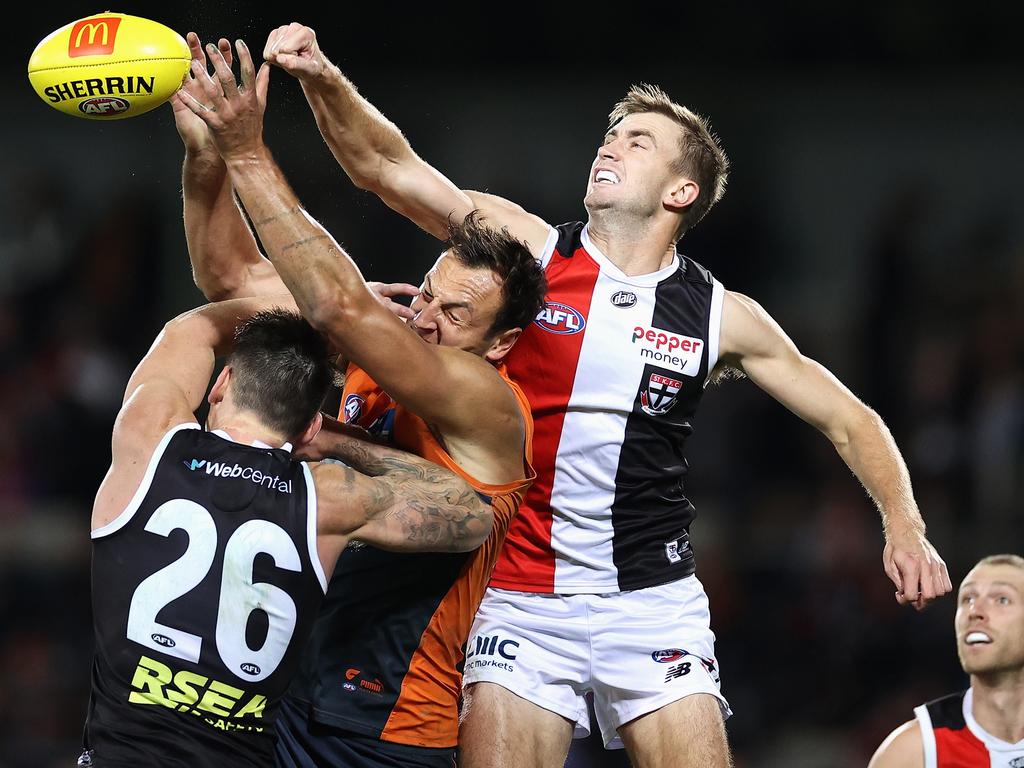 St. Kilda's Dougal Howard is always a handful in the backline. Picture:

Cameron Spencer/AFL Photos/Getty Images
Carlton v North Melbourne
Jacob Weitering (Blues): As a key backman, if it's been 1000 days between goals, kicking one after a 100m penalty is exactly how you want to break the drought. On the end of a free kick from a contest he wasn't involved in, and then two back-to-back 50m penalties from incidents that also had nothing to do with him, Weitering did what any goal-starved fullback should do. He slammed it straight through the middle.
Collingwood v Gold Coast
Darcy Cameron (Magpies): Thrust into Collingwood's main ruck duties, Cameron looked every bit like an AFL ruckman. With Brodie Grundy out for the foreseeable future, the Pies will be wrapped with this game. They'll also be pleased with Cameron's competitiveness, especially given he's had to play second and third fiddle throughout his AFL career so far.
Western Bulldogs v Essendon
Jordan Ridley (Bombers): Matched up on Aaron Naughton for most of the day, Ridley was undersized against a bigger opponent. Kept him to just one behind for the day and impacted the game regularly with his intercepting ability. If only the rest of his team showed the same heart.
Sydney v Brisbane
Daniel Rich (Lions): Has there been a consistently better kick in the competition over the last 10 years? Still a big part of what Brisbane does both defensively and offensively, the Lions backman always contributes, ever reliable and plays his role every week.
Power Rankings – Round 7
After 7 rounds of the AFL season, the best of the best are starting to identify themselves. The best players in the league, power ranked by position – this isn't a Brownlow Medal betting guide, form and stats matter but so do intangibles like importance to their team, impact on the game and acts of outstanding leadership. It is based on current form too, so players will slide in and out as the season goes on.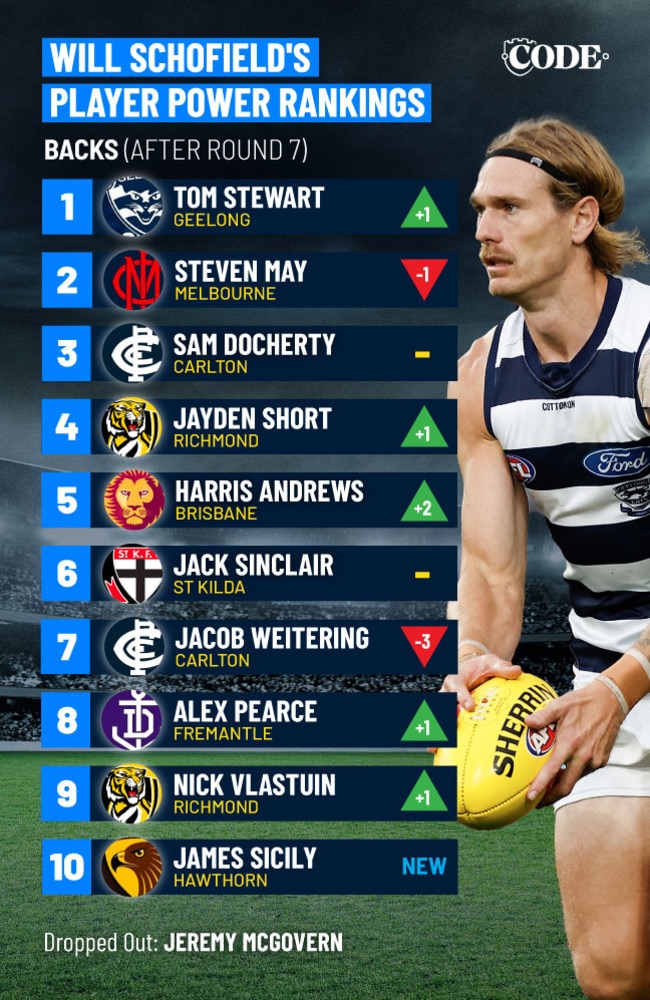 Backs power rankings R7.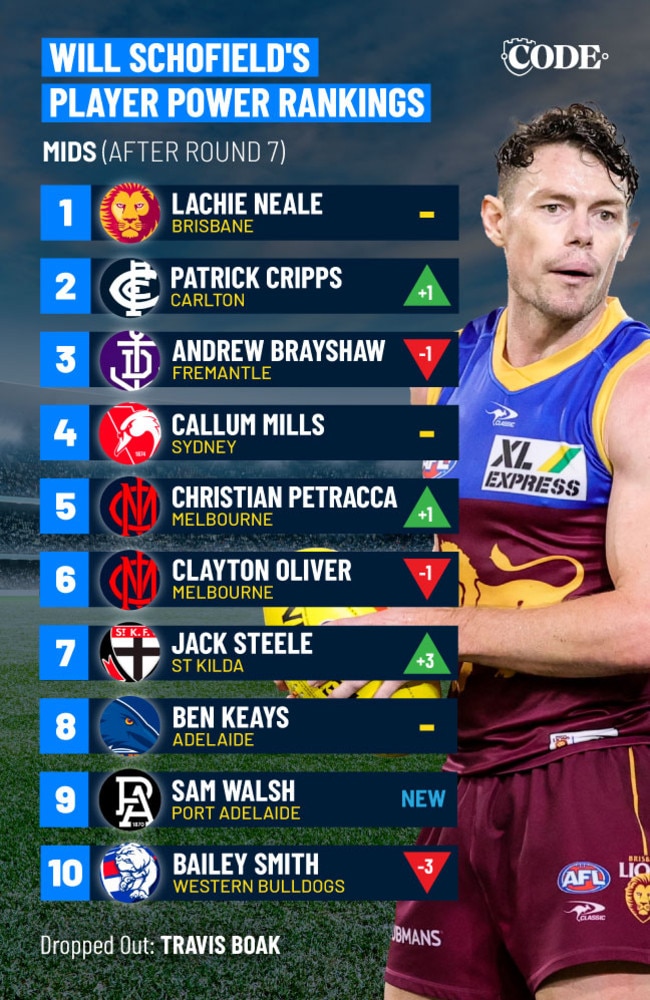 Mids power rankings R7.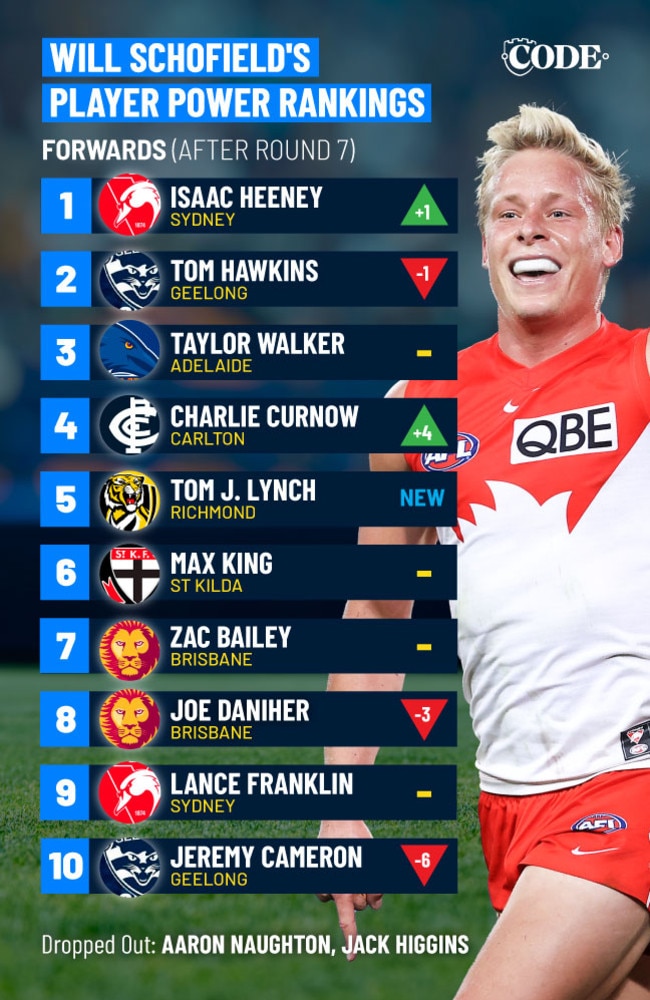 Forwards power rankings R7.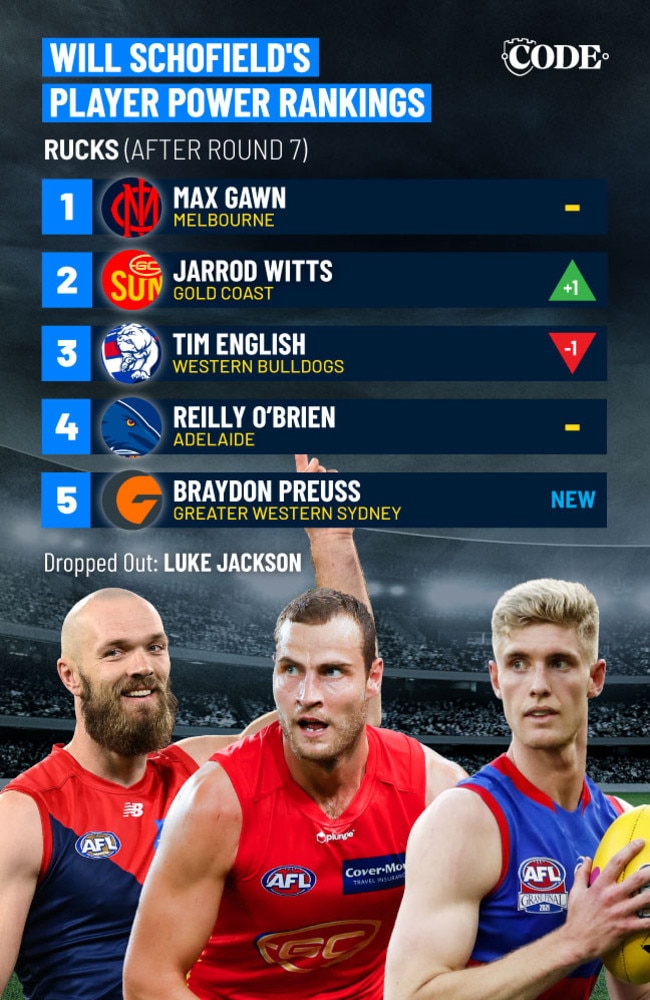 Rucks power rankings R7.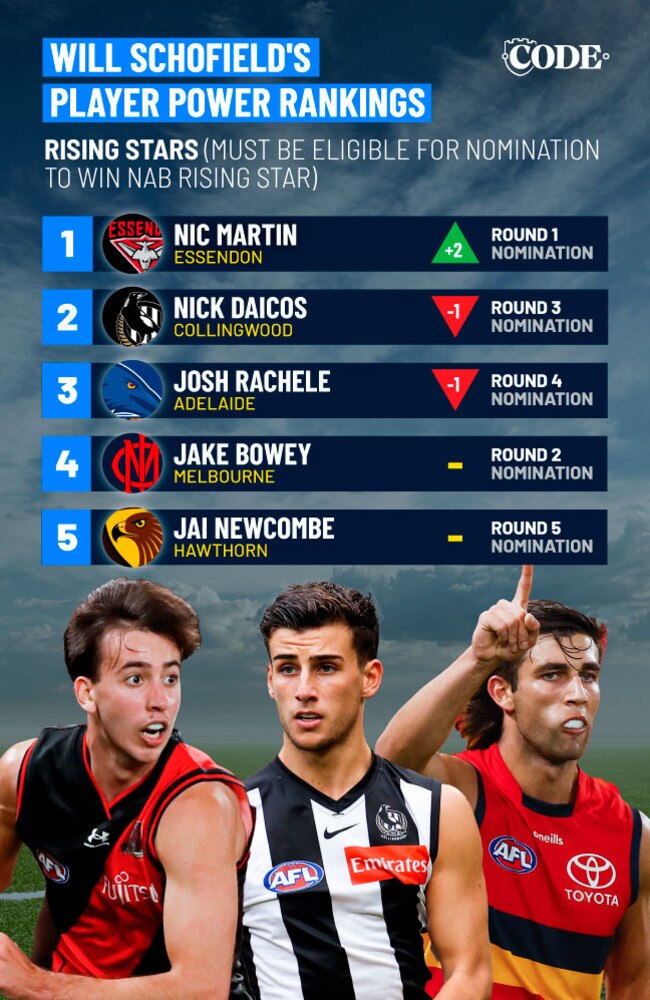 Rising Stars power rankings R7.