Will Schofield's Weekend Insider, AFL round 8: Inside the rooms, burning questions and power rankings
West Coast Eagles premiership player WILL SCHOFIELD takes you inside the weekend of footy: from what's being said in the team rooms, to burning questions and updated player power rankings.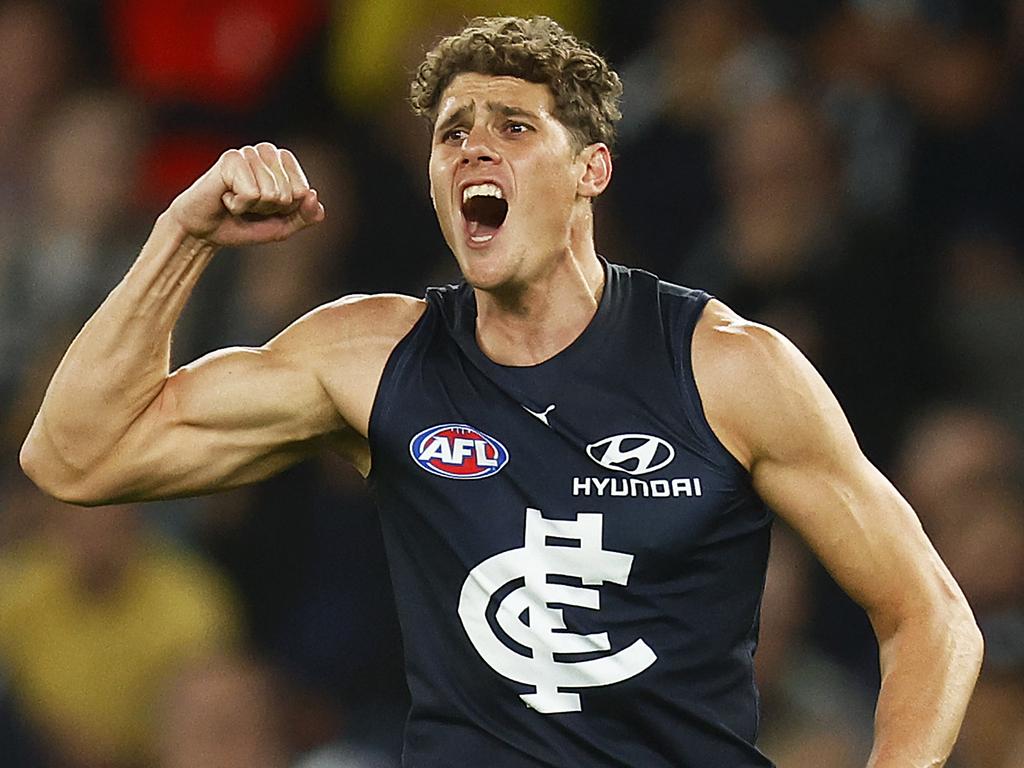 Charlie Curnow of the Blues celebrates kicking a goal against the Adelaide Crows at Marvel Stadium. Picture: Daniel Pockett/Getty Images
What are players thinking after their respective wins and losses?
What are the burning questions from this weekend of footy?
And who has gone up and down in the player power rankings?
Let's take a deep dive into round 8.
Inside the rooms
Here's what I think players from each club are thinking, but not saying, after their performances over the weekend.
Port Adelaide v Western Bulldogs
Power: I hope this means we are back in business, North next week should keep us rolling.
Dogs: It's not panic stations yet but things are not looking good. Injuries, form, connection – something doesn't quite feel right. Hope we can pull it all together, we have some very winnable games coming up (Collingwood, Gold Coast, West Coast).
Fremantle v North Melbourne
Dockers: This is the most enjoyable footy has ever been. Crowds are going nuts, Western Australia loves us, we're winning games. How good is this?
Kangaroos: Our list looks pretty similar to the Dockers in terms of age, why are we so bad and they're so good?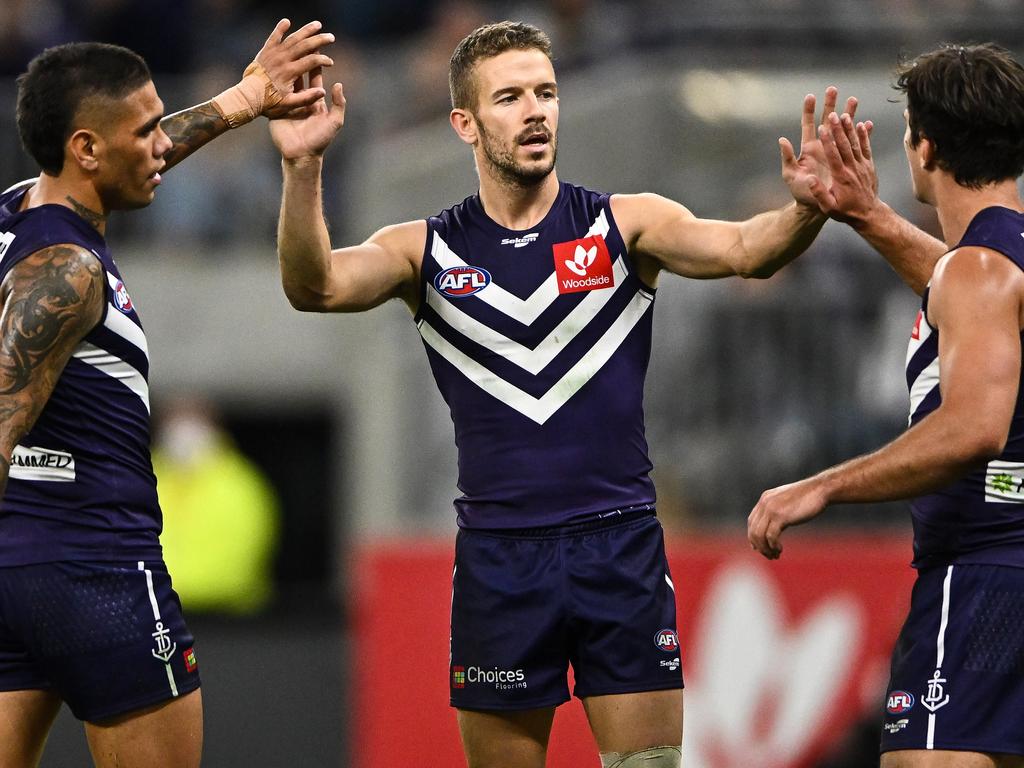 Sam Switkowski of the Dockers celebrates a goal during a win over North Melbourne. Picture: Daniel Carson/AFL Photos via Getty Images
Richmond v Collingwood
Tigers: Lucky we have Tom Lynch. Not saying we wouldn't have won without him but he is a true superstar.
Magpies: Playing big clubs at the MCG is hard work, we've got some work to do.
Sydney v Gold Coast
Swans: What is it about the Suns at home that we can't deal with? We simply didn't show up in the first and last quarters, which didn't help. If we are a true challenger this year, we can't just rock up and expect to win, teams are now hunting us.
Suns: The SCG is starting to feel like home. I wish we could play like that every week.
GWS v Geelong
Giants: Scoring 35 points in a game just isn't cutting the mustard. That's been our issue all year, we can't score. But why? If we had the answer, we would have fixed it by now.
Cats: Us old blokes can't keep doing this forever. Some youth and energy into the side was just what the doctor ordered. It actually makes it easier to play our roles when we have some genuine excitement in the group. We're still one of the best sides in the competition.
Brisbane v West Coast
Lions: We were just hoping to get through that game with no injuries or reports. It's sometimes harder to get yourself up to play a team out of form than it is against good opposition.
Eagles: We were asked to have more energy and support each other no matter what and we did that. Yes we lost, but our effort was better and we controlled what we could control to an extent. Hope we can win again soon.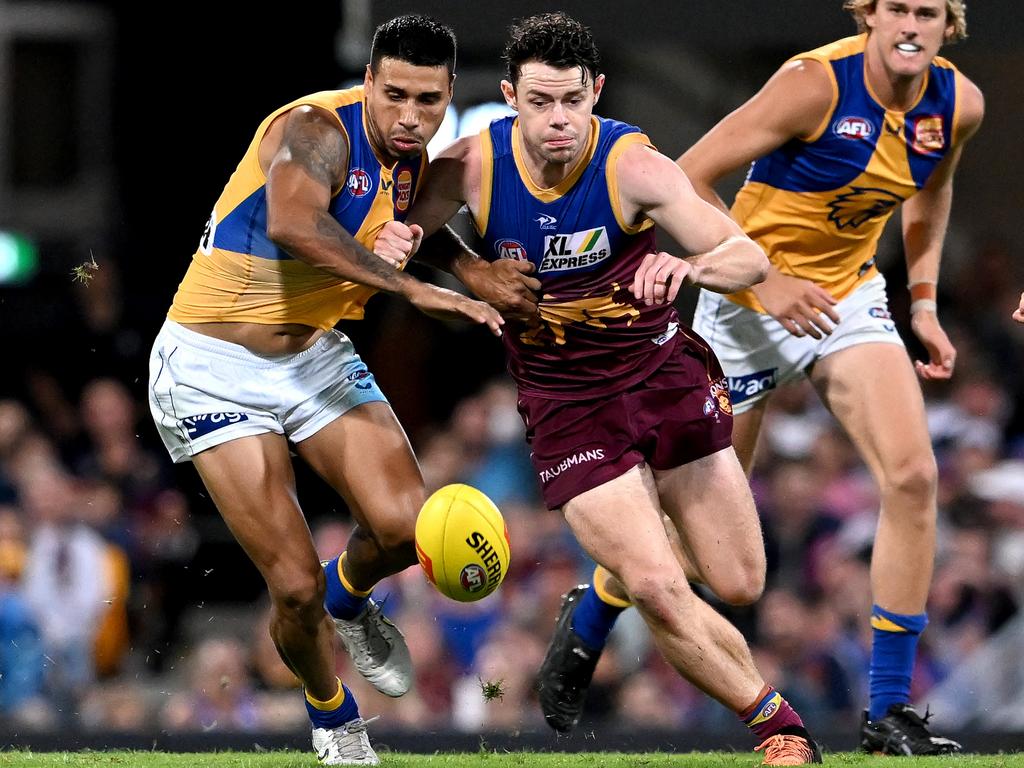 Tim Kelly and Lachie Neale go head to head for the ball in Brisbane v West Coast. Picture: Bradley Kanaris/Getty Images
Essendon v Hawthorn
Bombers: We need to get back to the footy we played in the last quarter and a half. We've tried the blue collar, defend first thing – it doesn't work. We need to hunt the ball, be daring and take risks. It's how our list is built.
Hawks: We just can't put a consistent four-quarter performance together. Momentum swings are killing us, but we won't learn without going through these tough times. Feel like we are getting better, just not good enough yet.
Melbourne v St Kilda
Demons: Knew St Kilda was a challenger, had to make sure we were on early to take away their confidence, which we did. Winning all the time is harder than being an average team – but it's a good type of harder.
Saints: Melbourne right now are just far too good. Yes, we thought we could challenge them, but the game was a good reality check for us. By no means is it season-defining, just a bump in the road. We learnt a lot.
Carlton v Adelaide
Blues: We've got some real belief in what we are doing as a side now. Win the ball at the contest and get it into our big power forwards. It's a simple game plan but fun to play in; role-driven and rewarded internally for getting the job done.
Crows: We've had some good wins this year, but we can't consistently deliver those performances. We know we are young and developing and won't challenge this year, but the up and down output is frustrating right now.
Burning questions
Port Adelaide v Western Bulldogs: Are Power back in business?
After a seemingly disastrous start to the season, losing their first five games in a row, Port Adelaide now sits just one game out of finals having won their past three. Just remember this team has won the most games in the AFL over the last two years; they just lost their mojo for a little bit.
Fremantle v North Melbourne: Do Freo have the best back six in the league?
There are not too many forward lines in the competition that will be able to challenge this group. They have lockdown defenders (Alex Pearce and Griffin Logue), intercepting players (Brennan Cox and Luke Ryan), plus skill and youth (Hayden Young, Heath Chapman and James Aish). Their backline is being ably assisted by great team defence, but we all know it's the back six that save the day.
Richmond v Collingwood: Is Tom Lynch in the form of his career?
A huge recruit to the Tigers in 2019, Lynch has always played his role in this team-orientated Richmond juggernaut. But after 7.5 last week and 6.1 this week, are we seeing the 32-year-old put this club on his back for yet another run at a flag? We won't know the answer just yet but he'd be a scary player to play on right now, that's for sure.
Richmond key forward Tom Lynch kicked another bag against Collingwood. Picture: Michael Klein
Sydney v Gold Coast: What is the deal with the Suns and the SCG?
With their win on the weekend, the Suns have now won four of their past five games at the SCG against the Swans. Given their home and away record over the same time period, that record is quite extraordinary. Whether they get themselves up specifically for Sydney or they like the smaller ground, they may need to adapt their SCG preparation for every game they play. They looked great.
GWS v Geelong: Where have the Cats been hiding their youth?
It seems like a never-ending broken record about the Cats' ageing list and lack of young talent. Yet Cooper Stevens and Mitch Knevitt (via medi sub) debuted in this game and both looked right at the level. That's on top of Oliver Dempsey debuting against North Melbourne, leaving the Cats' young stocks looking well and truly firing.
Brisbane v West Coast: Can you show improvement as a team when losing by 75 points?
The short answer is yes. Coming off losses of 109, 84 and 63 points, the Eagles' on-field performance hasn't been in great shape. Going down to the Lions by 75 points at the Gabba wasn't a great scoreboard either but there were signs of improvement. West Coast's intensity around the football was noticeably better; they fell away late but it was a step in the right direction for the bottom-of-the-ladder Eagles.
West Coast's Jeremy McGovern kicks out of defence against the Brisbane Lions. Picture: Russell Freeman/AFL Photos via Getty Images
Essendon v Hawthorn: Why can't Bombers play like they did in the last quarter all the time?
Put simply, it's difficult. Taking the game on like the Bombers did, down by 26 points midway through the third quarter, reminded the league of their best. But they were forced to play that way, given the state of the game and being significantly outplayed over the first two and a half quarters. Perhaps the results garnered from the quicker game style will jog some memories about how they best play their footy.
Melbourne v St Kilda: Will the real challengers please stand up?
This isn't a knock on St Kilda, it's as a tip of the hat to Melbourne. Entering the game on Sunday afternoon, pundits thought the Saints may be a challenger to the throne. Clearly not. This Melbourne unit is special, with only themselves to beat at this stage.
Carlton v Adelaide: Is the Curnow-McKay forward pairing the scariest in the league for opposition backlines?
Yes. Having played and been exposed by both, I can answer this question confidently. There are combinations at Geelong and Richmond that would give backmen sleepless nights, but the two-man attack at Carlton is at No.1 right now. With 36 goals between them for the year, opposition backlines would spend some time deciding who their best backman goes to – a great problem for Carlton to have created.
Round 8 power rankings
Reminder: this isn't a Brownlow Medal betting guide. Form and stats matter, but so do a player's intangibles, like importance to their team, impact on the game and acts of outstanding leadership.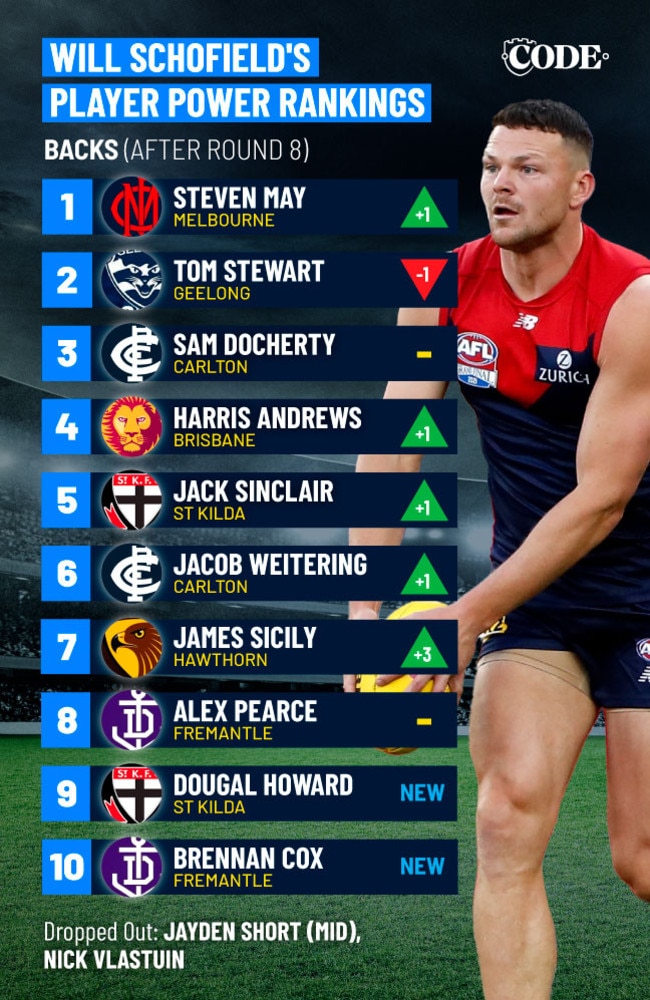 Backs R8 power rankings.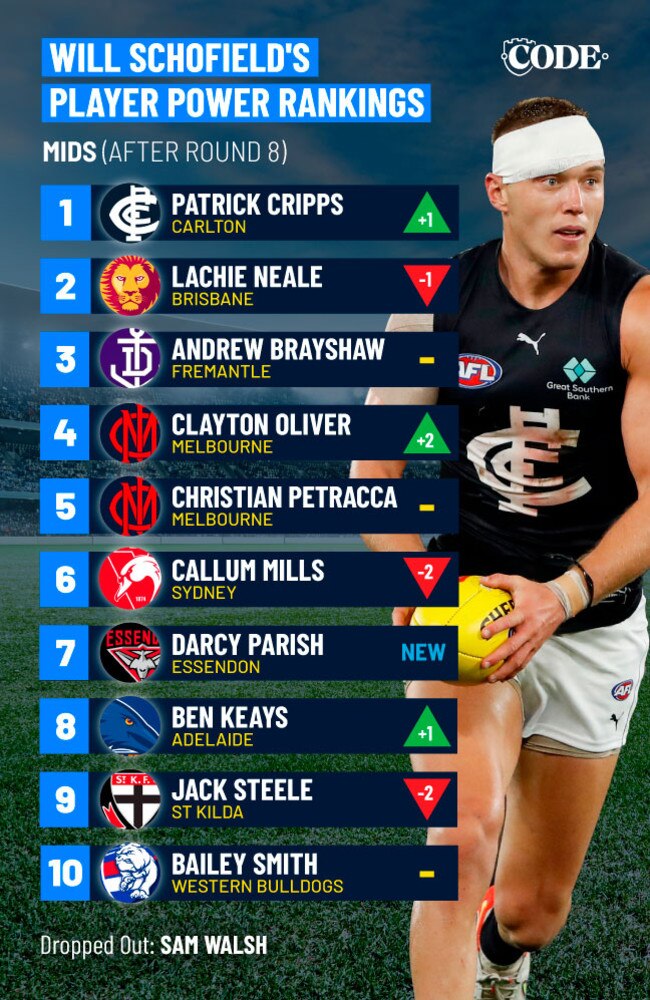 Mids R8 power rankings.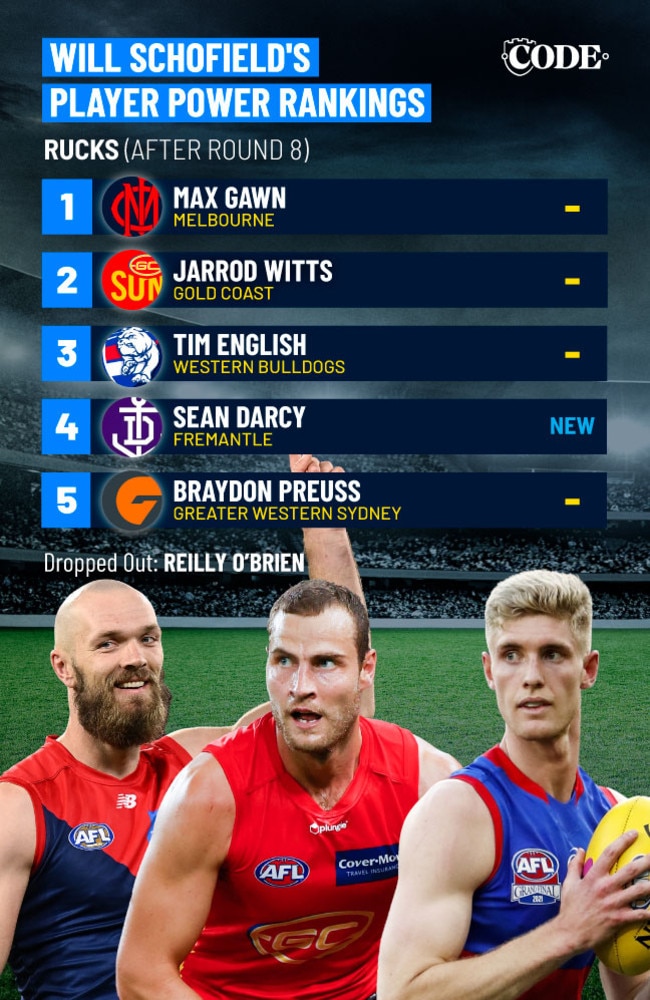 Rucks R8 power rankings.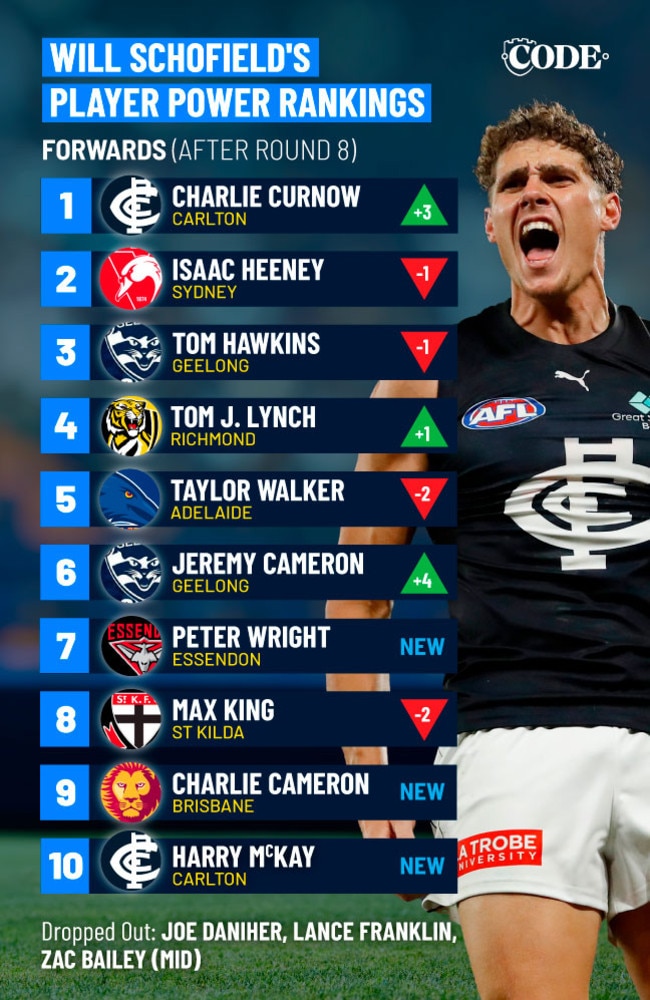 Forwards R8 power rankings.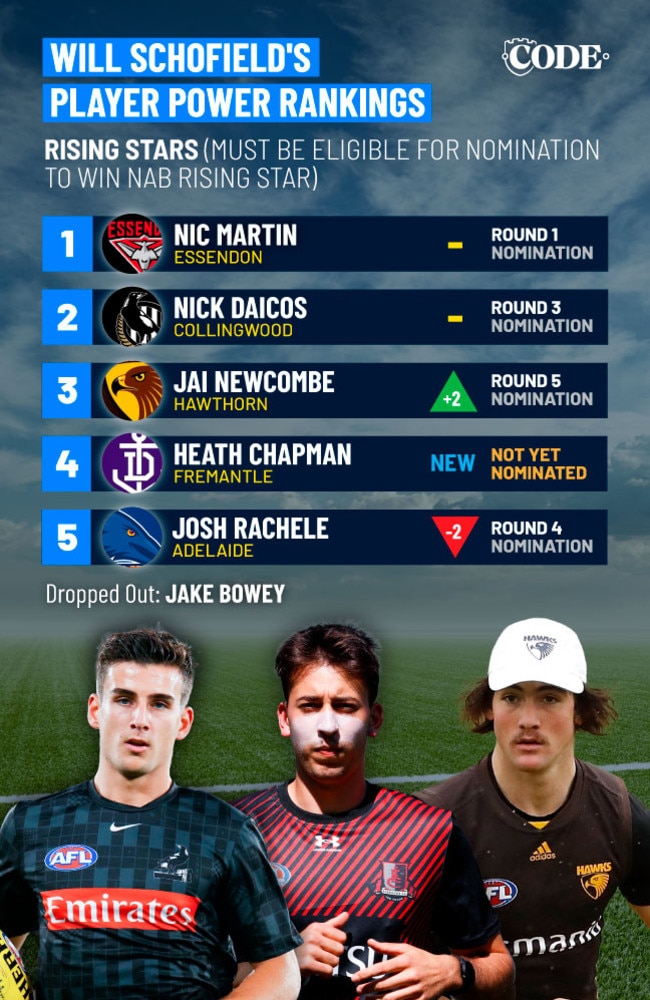 Rising Stars R8 power rankings.