'Would run through a wall for him': Vale Aussie Rules coach and player Peter Scheuffele
A master of all trades in the game of Aussie Rules, Peter Scheuffele left an indelible mark on the players he mentored, writes PAUL AMY.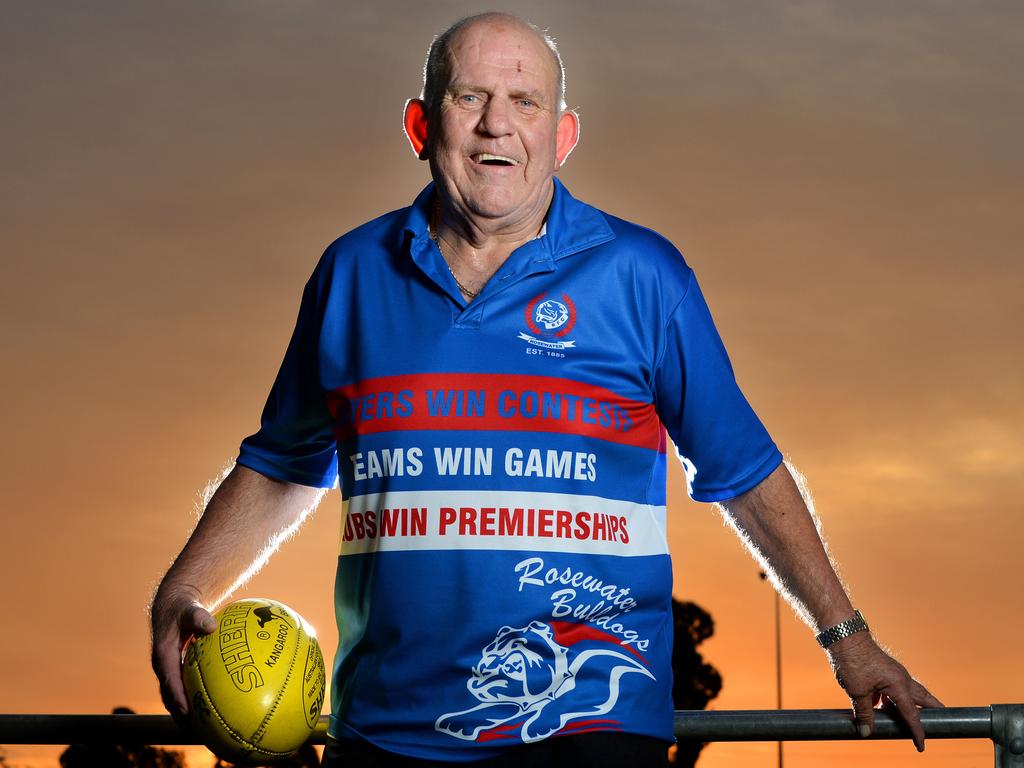 Peter Scheuffele's coaching career saw him oversee more than 630 games, and win 17 flags. Picture: David Cronin
His team three or four goals down at the last break, Peter Scheuffele worked a few changes on his board before slowly walking to the huddle.
It was the early 1990s and Scheuffele was coaching Keysborough in the old South West Gippsland league.
He was a big, strong man with a voice made hoarse by Marlboro Red cigarettes, and he could raise it when the occasion demanded.
When he reached the huddle he asked his players to look at the board and see how the side would be lining up for the final quarter.
"Do you think you can win?'' he asked them.
They roared that they could. Bloody oath they could win.
"Bet you 10 bucks you can't,'' he replied.
And with that he turned and headed back to the interchange bench with the casual air of a man walking down the driveway to check the letterbox.
What a show!
And, wound up by its wily coach, Keysborough got up to win the match.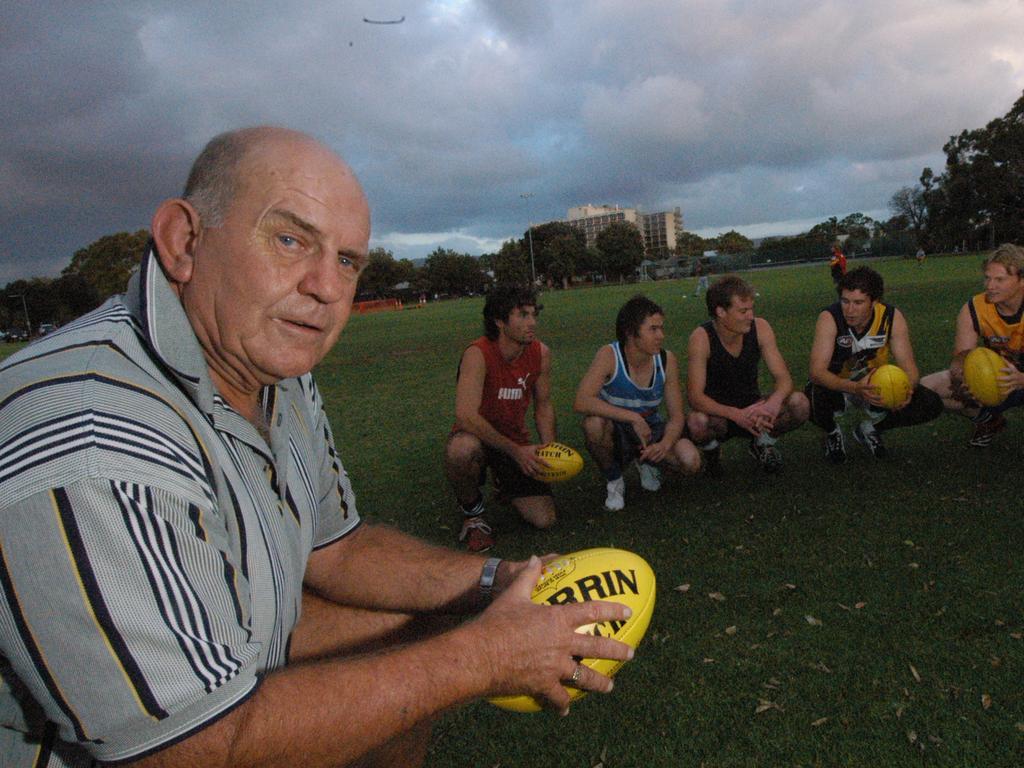 Scheuffele coached over 600 games of Aussie Rules. Picture: Neale Winter
Peter Scheuffele coached the club for only two years, 1994 and '95, but he made a big impression on the South West Gippy league.
He was so keen to promote it that he wrote a column for one of the local papers, dropping it off on Wednesdays at the Old Dandy Inn, where he liked a pot or two of Victoria Beer and to steadily fill an ashtray.
He quickly came to know the clubs and their histories, and appreciated the volunteers who helped them tick over.
Football was a great passion; he often called himself a "football nut''.
"He would have eaten a footy,'' his brother Robert says.
And he loved coaching. If he had his way, he said in 1995, he would coach "forever''.
His stint at Keysborough was a stop in a long journey in local football for Scheuffele, who has died after a long illness at the age of 76.
His time in the game took in more than 1000 matches as a player and coach.
He was still coaching senior football, at Rosewater, as he neared his 70th birthday, prompting an Adelaide newspaper to call him the 'Peter Pan of South Australian football'.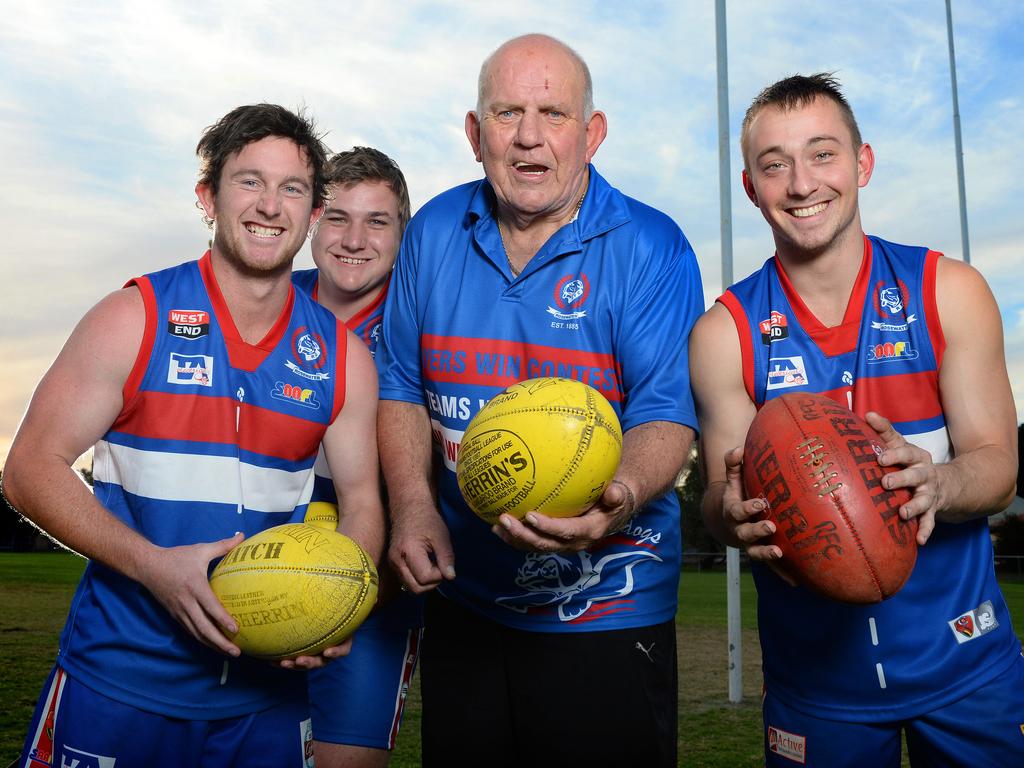 Scheuffele, at Rosewater, has been coaching since he was 18. Picture: David Cronin/News Corp Australia
*****
Peter Scheuffele – 'Sheff' for short – had achieved a lot in football by the time he joined Keysborough.
Raised in Bendigo, he had started playing with South Bendigo juniors in 1960 and went into senior ranks with White Hills at the age of 16.
"That was young but even then he was such a big bugger,'' Robert Scheuffele says of his brother, who became a schoolteacher and later a principal.
Teaching posts took him to Woorinen, near Swan Hill, where he was good enough to play in a strong interleague team, and Winchelsea, past Geelong, where he became a mainstay of the club.
His positions included assistant senior coach, senior coach, club captain, reserves captain/coach, secretary and delegate.
He was also on the steering committee that created the Bellarine league in 1971, serving on the executive, hosting a radio show and writing weekly reports for two newspapers. Life membership came to him in 1983.
Scheuffele transferred to Leopold in 1978, playing and coaching.
In 1987 he also linked with the Superules competition, representing Vic Country through to 1993 and becoming involved in the national administration.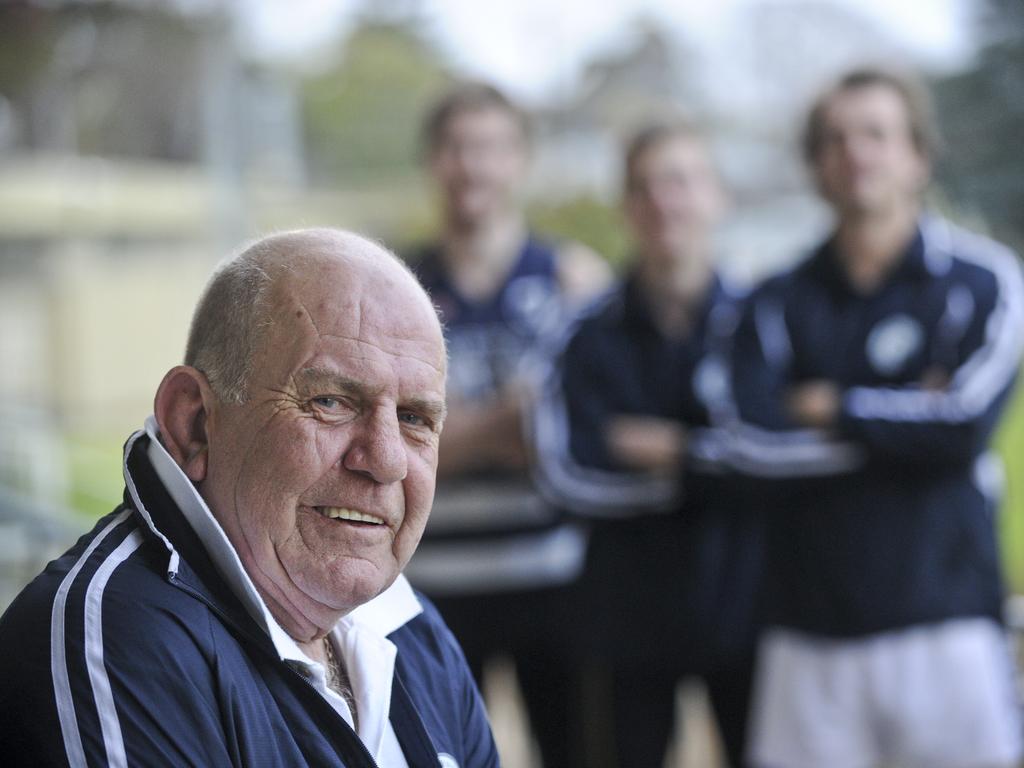 Sheff - the 'Peter Pan of South Australian football.' Picture: News Corp Australia
*****
In 1992, after relocating to Melbourne to become a school principal, Peter Scheuffele landed at Surrey Hills in the Eastern league.
He liked to talk about that "special'' year, recalling that the team had won only one game in three seasons before he took over.
And in his first match as coach it was thumped by 29 goals. It ended up winning the premiership six months later.
In 1993 he took charge at Waverley, leading it to the finals.
Former Victorian Football League general manager Martin Stillman was among the players he coached at Waverley.
Many years later Scheuffele flew over from Adelaide for a few days to support Stillman in his coaching endeavours at Forest Hill.
"He was a good communicator. You knew where you stood with him,'' Stillman says.
"When you gave everything you had to him, that's all he asked, that 100 per cent effort. He was pretty stern, very competitive, but he was fair. He made football enjoyable and I saw in him a genuine desire to make people better on and off the field. I think that's what made him special. He wanted to mentor and see young men develop in their lives.''
Stillman marvels at the fact that he played only one season under Scheuffele, yet 30 years later remembers it fondly and regards him as a great friend.
"Once you became a friend of his, you became a friend for life,'' he says.
Keysborough reached the finals in both years under Scheuffele, who late in 1995 decided on a change of scenery and state, accepting the senior position at Barmera-Monash Football Club in the Riverland Football League in South Australia.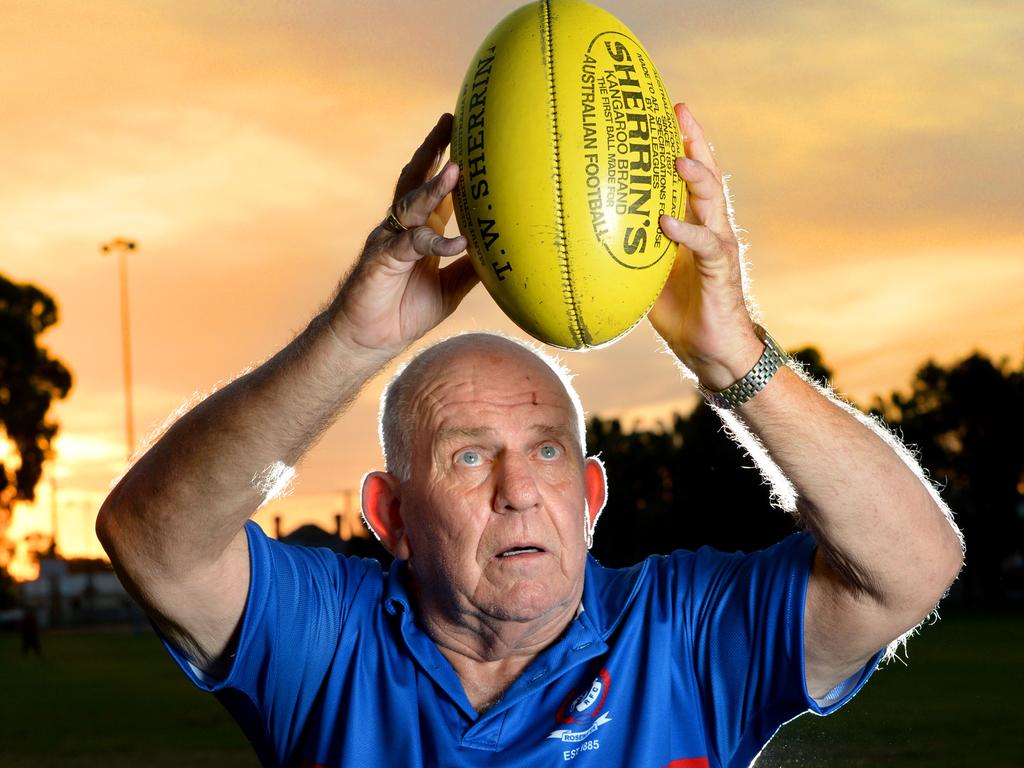 Communication and a competitive attitude were Scheuffele's keys to success from the sidelines. Picture: David Cronin/News Corp Australia
A carload of Keysborough players made the move with him, including big Brett Blackwell.
Blackwell ended up staying in the Riverland, marrying, having children and himself coaching.
He says he's thankful he came under Scheuffele's influence.
"He was an amazing coach. You could only run through a brick wall for the guy,'' Blackwell says.
"Obviously because of his size, he scared the shit out of me, basically … he got a response every time.
"When I coached I took all his attributes on – negative in the first little bit of a speech, talking about anything that was wrong, but then quickly changing it to what we can do to improve and finish it off with a bit of a rev-up. I even did the same drills and exercises 15, 20 years later, which is probably a bit old-school but there you go.''
Blackwell adds: "I've got to thank him for everything I've got today, because 26 years ago that man took a chance on me.''
After his stint at Barmera-Monash, Scheuffele moved to Adelaide and became a stalwart of the South Australian Amateur Football League, at Rostrevor Old Collegians, Glandore, Flinders Park, Walkerville and finally Rosewater.
He guided Glandore to successive premierships in 1998-99.
At Flinders Park he was A grade coach from 2000-2003, and his son Grant was part of the 2000 premiership team.
His nine-year stay at Walkerville, a club-record tenure, produced a Division 3 flag in 2009 and consolidation in Division 2.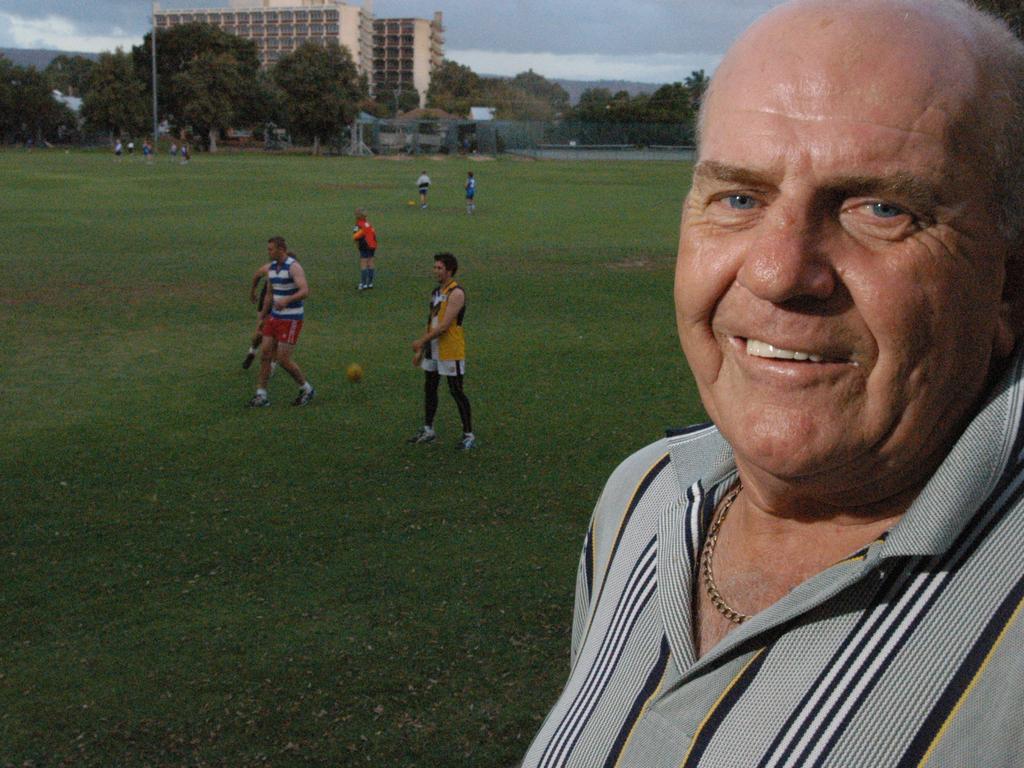 Scheuffele's 'true passion for the game' kept him coaching the sport for over four decades. Picture: Neale Winter/News Corp Australia
Flinders Park said in a tribute that Scheuffele had a "true passion for football and teaching the game, and a genuine love and care for those around him that would forge many unbreakable bonds".
In recent years he had returned to Flinders Park, where Grant and his family are heavily involved.
"He played an active role in advising and mentoring coaches and leaders in our football program, and he took a real interest in helping our players become the best footballers and people they could be,'' the club said.
"The impression he leaves on our current group is enormous and we will miss the sound of his booming voice supporting the teams on match days, and the wise words he would offer from his familiar position to the right of the club's front door on Thursday training nights.''
Peter Scheuffele's children Grant and Phillipa, his long-time partner Jan Schultz, and four grandchildren survive him.
A celebration of his life will be held at Flinders Park this Friday.