Lessons from teen baseball prodigy turned gun VFL assistant coach Rikki Johnston
Rikki Johnston signed a six-figure contract to play baseball with the Detroit Tigers when he was just 16. The now-Frankston assistant coach imparts wisdom from his unique career wherever he goes, writes PAUL AMY.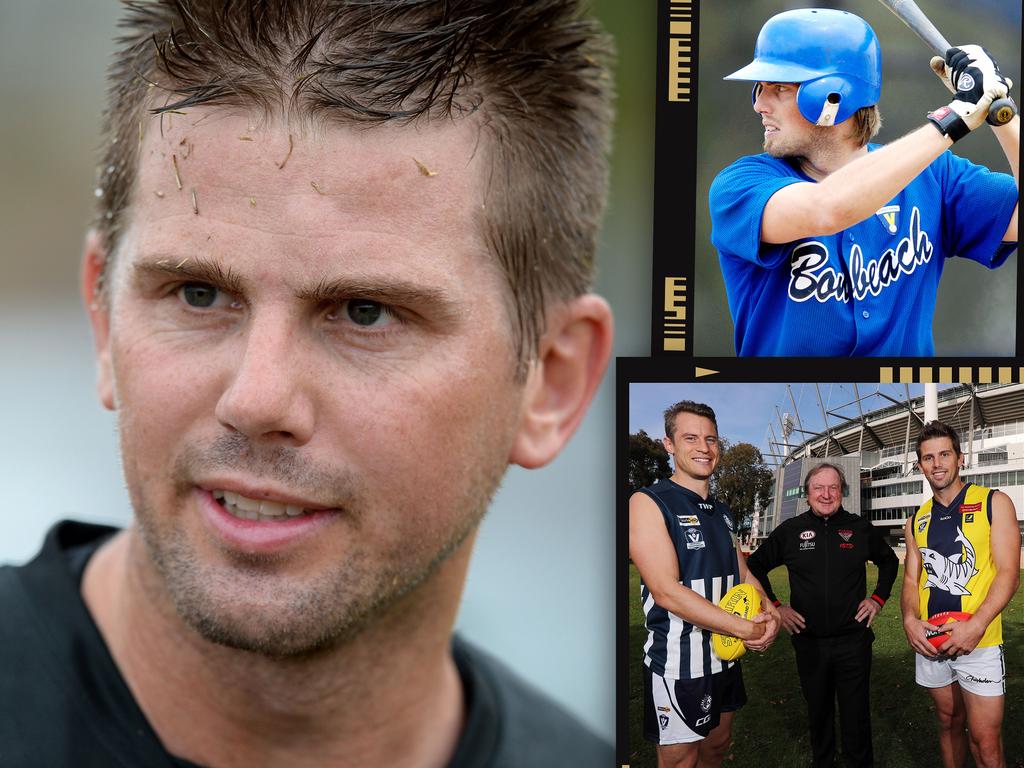 Lessons from Rikki Johnston: baseball prodigy turned gun VFL coach.
The Frankston Dolphins are at a juncture in their VFL season when they have to jump on planes.
The fixture sends them to Southport Sharks in round 14, the Gold Coast Suns in round 16 and the Sydney Swans in round 18.
For assistant coach Rikki Johnston, catching planes will be a breeze.
As a professional baseballer in the US, he rode the buses.
Johnston was 15 when he pitched for the Melbourne Reds in the Australian Baseball League.
He was 16 when he signed a contract with the Detroit Tigers, the act of pen hitting paper bringing him $750,000 (three years' worth of VFL salary caps!).
Rikki Johnston has bought his baseball knowledge with him to the VFL. Picture: Supplied
For six years he tried to cross the bridge from the minor to the major leagues.
It didn't happen, but when he returned to Melbourne and started playing local football, he quickly turned into a leading player at his club and in his competition.
The former Detroit Tiger became a star Dromana Tiger.
Now with the Dolphins, he's seen as one of the VFL's brightest and best coaching prospects.
Frankston head coach Danny Ryan believes Johnston, 40, is a senior VFL coach in waiting and that an AFL assistant's role is within his reach too.
"He's got big things in front of him, actually,'' Ryan says.
"He has a lot of relatability to the playing group, he has an elite sporting background – through his baseball he really gets what high performance is all about – and he's hardworking and a lot of fun. And he's invested to the Frankston Dolphins footy program.''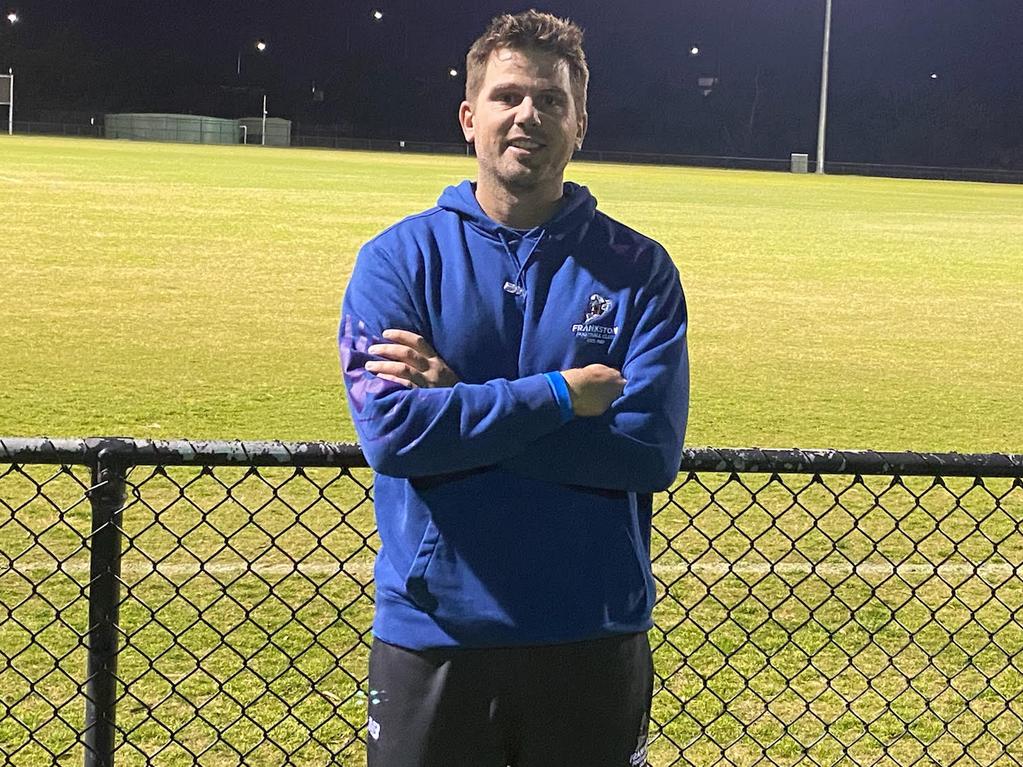 Johnston's experience at the top level has become key to success at Frankston. Picture: Supplied
*****
Rikki Johnston spent a lot of time on those buses in the US.
"Yeah, six or seven years straight, for six or seven months of the year … something like 150 games in 165 days,'' he says.
"Most of the leagues you play in over there have got teams that are 15 hours away and you do most of it on the road. Generally it's two or three home stands and then on to the next town.
"Looking back now, it was a great lifestyle for a young fella. Getting to see the countryside, doing it with young blokes who have shared interests, playing every day. You're living in hotels. You're on buses. You're playing card games. You're listening to music. You look back now and you think, 'Geez, the hardest thing I ever had to do was go for a bit of a run or go to the gym'. And I'd get to come home five months of the year, have summer at home.''
In the Detroit farm system Johnston played for the Gulf Coast Tigers in Florida, the West Michigan Whitecaps in Michigan and the Oneonta Tigers in New York.
During a year with the Colorado Rockies he was assigned to the Asheville Tourists in North Carolina.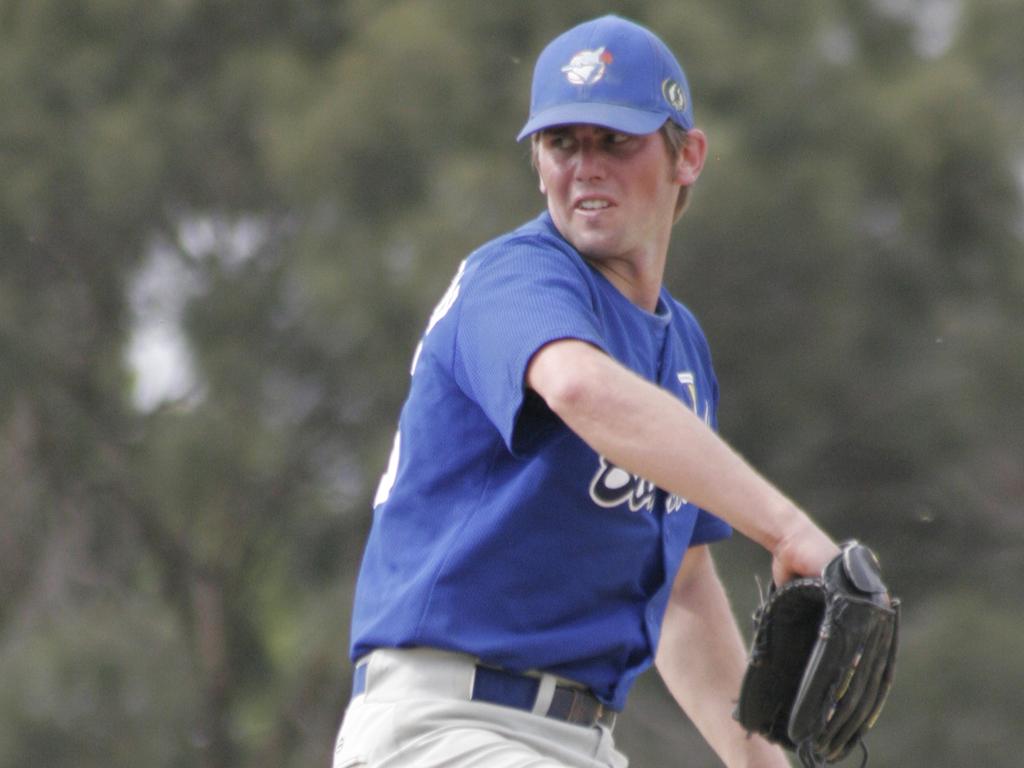 Johnston spent several years chasing his MLB dream across the United States. Picture: News Corp Australia
As a starting pitcher he was on a five-day rotation in the minors; on his off-nights he would sit in the stands pointing a radar gun or scribbling statistics. Even when he wasn't on the mound he was pitching in.
Those minor-league ballparks were a long way from Rosebud on the Mornington Peninsula, where Johnston grew up in a family devoted to baseball.
They would travel up the Nepean Highway to play with the Bonbeach Bluejays, where young Rikki showed exceptional ability as a left-handed pitcher.
He went through the ranks rapidly, being chosen in state and then national underage teams and landing a scholarship to the Victorian Institute of Sport.
Johnston was in Year 10 at high school when he was called up to play for the Reds in the 1996-97 season.
Twenty-five years later, it still seems surreal to him.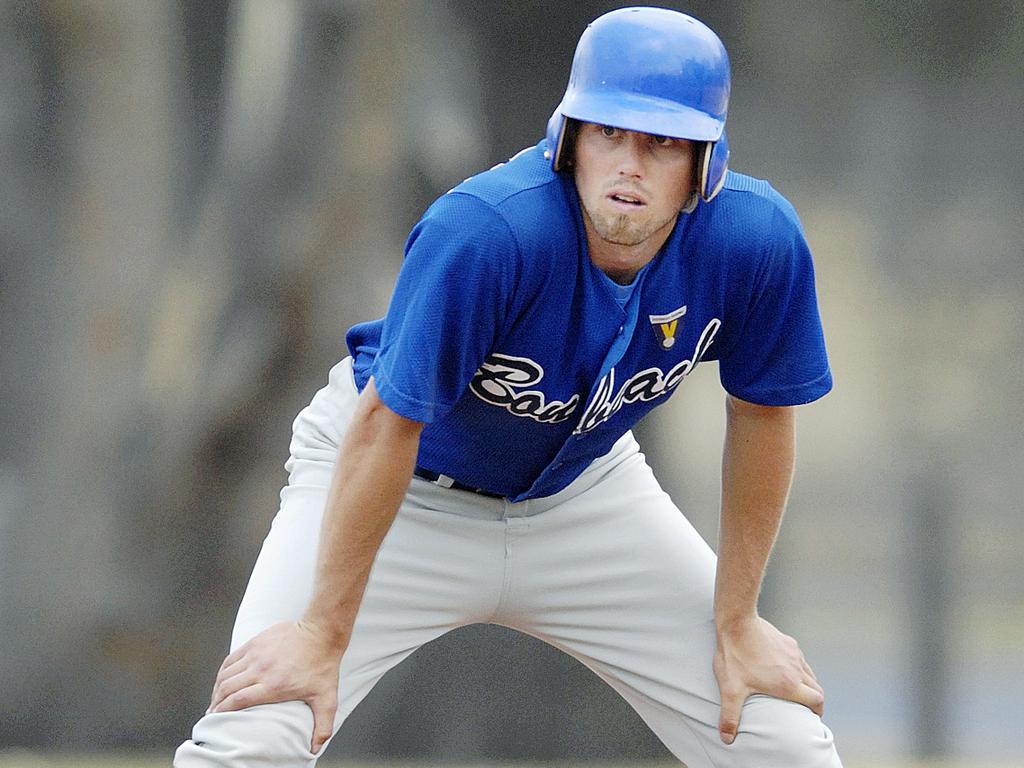 Johnston playing for the Bonbeach Cardinals. Picture: Mark Stewart
The Reds had invited him to train at their junior academy, where he pitched under the eye of two coaches attached to the New York Yankees (at the time the Reds had an affiliation with the Yankees).
Johnston threw a bullpen on a Thursday night.
Two days later he threw for the Reds at the WACA against ladder leaders Perth Heat.
He says with a laugh that it was a "bittersweet'' entrance; he had to forego tickets to a Michael Jackson concert in Melbourne that weekend.
His previous game had been for the Bonbeach Under 18s.
Earlier that year Johnston had played in the Under 15 junior world championships in Japan, where Australia defeated the US Scouts noticed him.
Another honour came in 1997, when he was named in the World Under 16 team after an outstanding series in Taiwan.
And early in 1998 he finished the national Under 18 titles with an earned run average of 1.54.
By that stage the newspapers were referring to him as the "teenage pitching sensation''.
Having turned 16, he could turn professional.
As it was, a few Major League Baseball clubs were keen on him.
"It went from if I can get a contract to having a choice of where I wanted to go,'' Johnston says.
After former Atlanta Braves third baseman Randy Johnson signed him to the Detroit Tigers and he had snaffled a six-figure sign-on, he had four weeks to pack and head to spring training.
"It was a very good time, exciting,'' Johnston says.
"That (the money) gave me a great start in life. I was really lucky to have great parents who are and were really supportive and pretty clued on to make sure the signing-on bonus lasted.''
Johnston had teammates with expensive cars and tastes.
He had his weekly allowance.
What an introduction to the ball club: He spent his first night in the US at the home of Tigers hall-of-famer Alan Trammell.
And over the new few years Johnston spent his time in the minor leagues, working on his craft as a pitcher who preferred to hit the corners with control rather than blast past bats.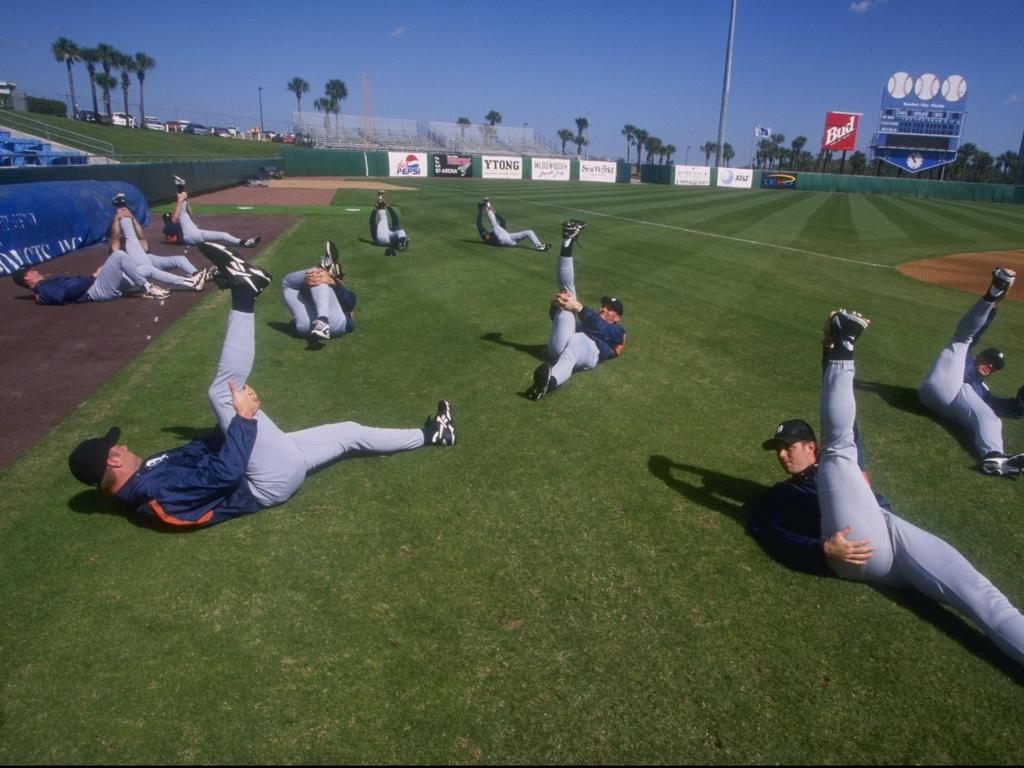 Johnston took part in spring training with the Detroit Tigers in 1998. Picture: David Seelig/Allsport
The hardest he threw was 94mph. He was more of a finesse pitcher, with a change-up and a curveball.
"It was absolutely cutthroat,'' he says of big baseball. "It's a little bit more involved than the AFL system.
"There are probably 100 players at each club and they're from all over the world. I remember getting out on the field as a 16-year-old and looking around and thinking, 'This is a pretty confronting scene here'. Some amazing athletes and players, and the best 22 get to play in the Major League clubs.''
Johnston pitched in a couple of pre-season exhibition games for the Tigers, but was let go without making it to "the show''.
The Colorado Rockies took him on. It was a humbling experience.
Detroit had made a large investment in him. In football terms, he says, he was a high-round draft pick and the club did everything to push him through.
He joined the Rockies "for no money and was right down the pecking order''.
By then he had no great hopes for his future. He could see his time in professional baseball was coming to an end.
"It was a good life experience to go there and see both ends of the spectrum,'' he says. "It also gave me that 12-month period to get my head around the fact that this may be it. I could start to think about what comes next in life.''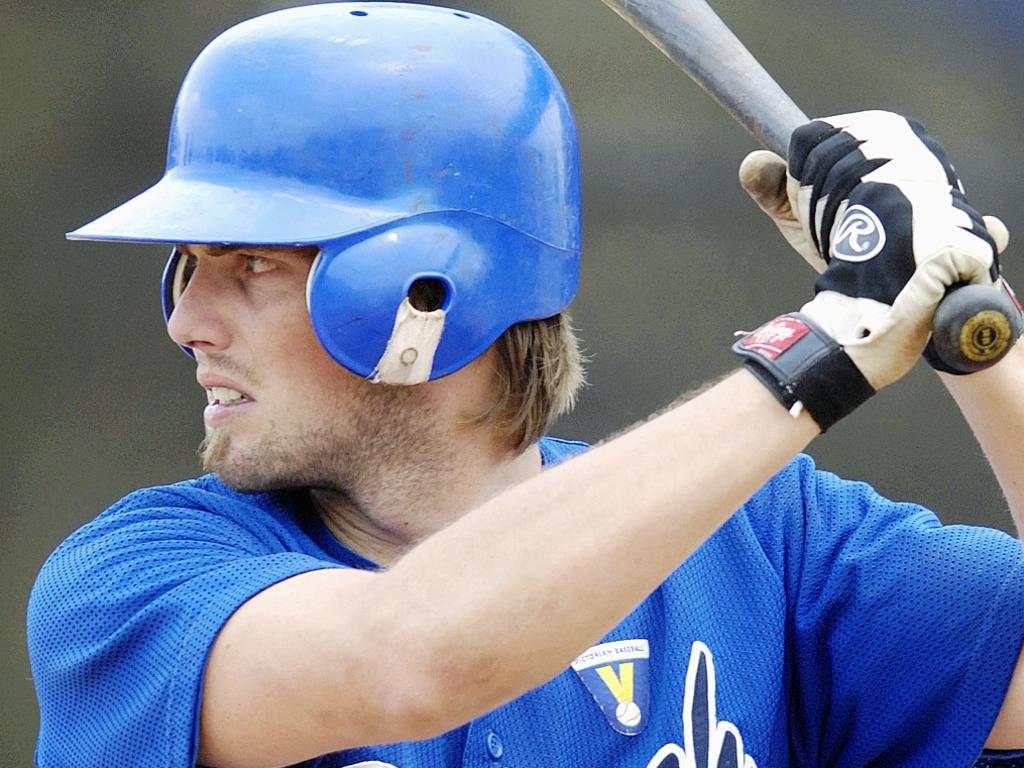 Johnston's time at the top of baseball taught him perspective and humility. Picture: Mark Stewart
*****
Rikki Johnston returned to Melbourne in 2003, but he was far from done with baseball.
He picked up at Bonbeach and, after undergoing elbow surgery, emerged as a hitter and outfielder, representing Victoria in the Claxton Shield and again gaining Australian selection.
Johnston had played one season of junior football for Mt Eliza before fixing his focus on baseball.
He started again with Dromana seniors in 2004 and quickly became one its best players, booting four goals in his first game, topping the goalkicking with 36 and earning the coaches' award. There was even talk that year of VFL club Springvale dispatching a recruiter to watch him.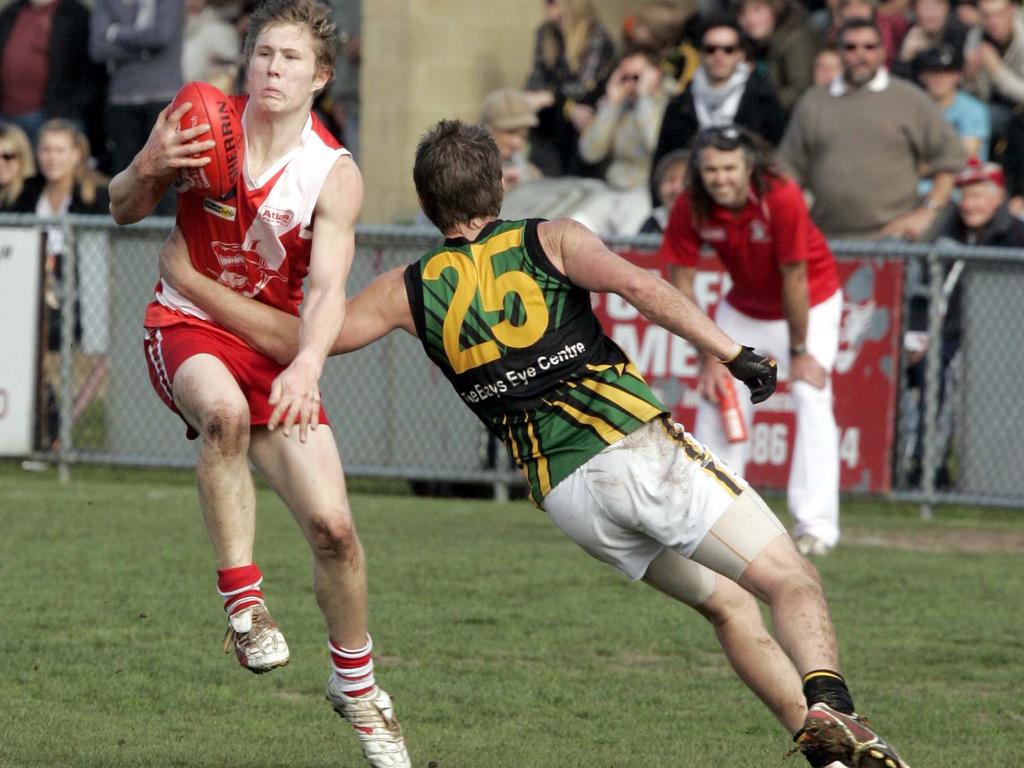 Johnston (No.25) picked up Australian rules, playing with Dromana in the Nepean FL. Picture: News Corp Australia
Dromana secretary Graham Stelling says Johnston was an instant star, recalling how he dominated a practice match from centre half-forward against Rye, which was so impressed that after the game it tried to recruit him.
In fact, he says Johnston was a "class above everybody'' at his first night at training.
Stelling believes Johnston could have played in the AFL had he not gone to the US.
"Without a worry in the world,'' he says.
For a time Johnston combined both sports, football in winter, baseball in summer.
"Through footy pre-season it was five-nights-a-week training. Kept me pretty busy!'' he says.
But football eventually earned his favouritism and focus.
Johnston won the first of his four best and fairests for Dromana in 2007.
He was a regular selection in Mornington Peninsula Nepean league teams of the year.
He won a league medal.
He was an interleague player.
He was a Country Vic pick.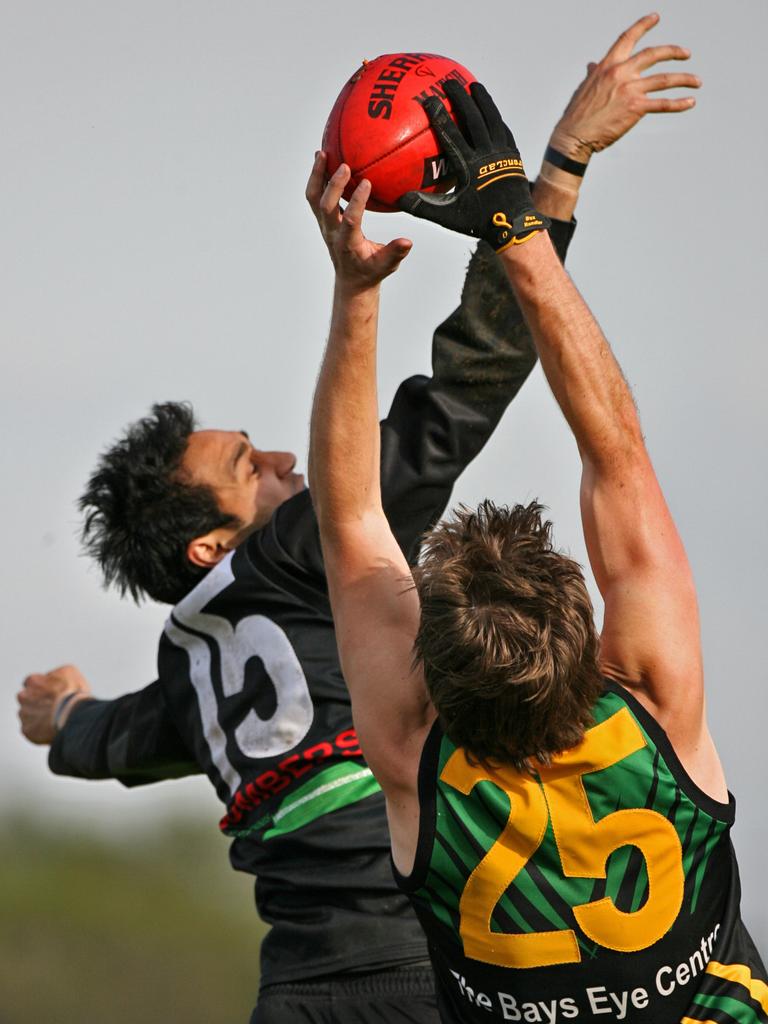 Football quickly earned Johnston's allegiance over baseball. Picture: News Corp Australia
He was, he says, "pretty lucky at Dromana … I went down there, some mates came with me and I picked it really quickly''.
"I was pretty fit and started doing OK and before I knew it I was hooked sort of thing.
"I feel like Dromana was a bit of a heaven-sent. Because coming back after you've finished your professional career can be a funny time in life. You can get a bit lost. I had really good support around me.
"But if you've sunk all of your time and energy and love into one thing and it doesn't work … Dromana was a nice landing platform for me to come back to normal, build some friendships, play some footy.''
In 2013 Johnston captained Dromana's senior premiership team, ending a 42-year drought for the club.
He spent the next two years at Langwarrin, then returned to Dromana as senior playing coach.
Under Johnston the Tigers won the Division 2 premiership in 2018. And they won the Division 1 premiership in 2019, spectacular for a promoted team.
"He did his homework, he was able to talk to the players at their level, he got the most out of what was a young side,'' Stelling says. "Genuine guy too. There are no pretensions about Rikki. They were really enjoyable years.''
Johnston had coached Bonbeach Baseball Club when he was in his early 20s.
He learned two things: It was tough to coach friends, but it was great to be a coach.
"That period helped me unearth the fact I was passionate about coaching and helping people,'' Johnston says.
"In the job I'm in now I'm working with local youth and trying to connect them with career pathways. And I really get a kick out of it. It's great to try to give back some of the wisdom that was instilled in me.''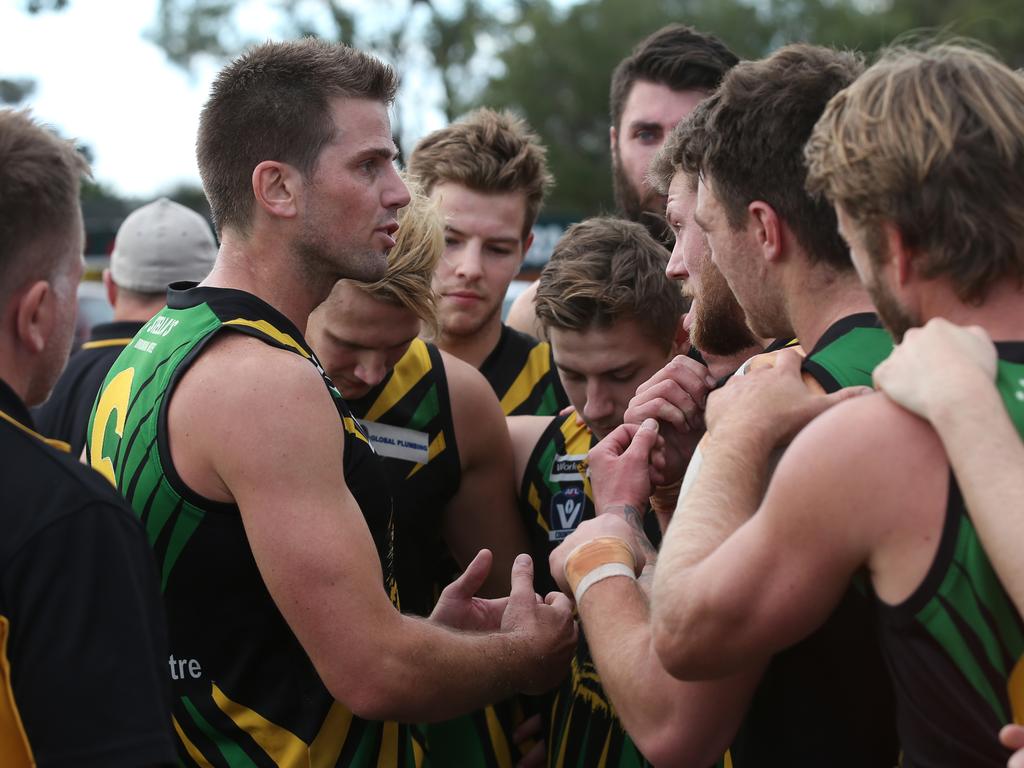 Johnston honed his football coaching skills while still playing with Dromana in the Nepean FL. Picture: David Crosling/NCA
*****
After Dromana's 2019 premiership, Johnston and his wife, Elizabeth, bought a caravan and planned to travel around Australia for 12 months with their four children.
Covid hit. The caravan didn't move.
Johnston took up a contract with the Brotherhood of St Laurence.
He also took an approach from Ryan to join Frankston's coaching team for 2021.
"I saw that as pretty exciting, that challenge to come up to a higher level and work with semi-professional athletes,'' Johnston says.
Eighteen months on, he says it's been "awesome'' and he's developed aspirations to "get to AFL land''.
"It's a tricky landscape. I've got four young kids – a 12-year-old daughter, a 10-year-old son, a six-year-old son and a two-year-old son – and a legend of a wife who is supportive of me chasing my dreams. So it will probably come down to whether it can work on the home front. But I'd love to get to an AFL club and I'd love to coach a VFL club.''
Johnston is now an assistant under Frankston coach Danny Ryan Picture:Rob Leeson.
His time as a baseballer, he says, ingrained in him a professionalism and level of standards that carries into his football coaching.
"Every sport you play, and even in the work space, relationships are everything.
"You can have all the knowledge in the world, you can know the game back to front, but it's no use if you can't relate well to people or connect to people. I feel I can quickly build a rapport and a trust with people and, footy-wise, connecting with players has come easily. I feel I can get the best out of them.
"I suppose you could say it's new-age coaching, where it's about understanding players, player welfare, making sure the environment is good for players, where they enjoy being. The game-style stuff, that all comes and I'm always learning it from 'DR' (Ryan). He's been great for me.''
Johnston says baseball is a game of inches and at professional level training is arduous and highly repetitious.
Similarly, he says, football offers "huge scope for improvement'' through the continual practise of skills.
He believes more local players could go to the VFL and do well if they were prepared to commit to higher standards of training.
*****
Most of the Frankston players are unaware of Johnston's foray into professional baseball.
One or two will bring it up from time to time, but that's about it.
"They all think you're an old bloke who's down here trying to teach them how to kick,'' he says.
When the Dolphins start catching planes for their run of interstate matches, Rikki Johnston might tell a few of them of his days of riding the buses to ballparks.