Brittney Griner sentenced to nine years in prison for bringing drugs into Russia
The U.S. is already pressing for the women's basketball star's release through a prisoner exchange, but Russia has said it would only negotiate in earnest after the conclusion of her trial.
U.S. women's basketball star Brittney Griner on Thursday was convicted of bringing marijuana with criminal intent into Russia in mid-February and sentenced to nine years in prison, an outcome that is expected to clear the way for negotiations over her release between two countries with frosty relations.
Ms. Griner's sentence was close to the maximum 10-year penalty for the charges of drug possession and smuggling that she faced, and was announced by Judge Anna Sotnikova in a courtroom outside Moscow, after Russian prosecutors had sought 9½ years. The sentence also includes a fine of 1 million rubles
Ms. Griner will immediately be transferred to a penal colony, the judge said, with the 5½ months she has spent in detention ahead of her trial included in her term.
However, the two-time Olympian, who was the No.1 overall draft pick when she entered American women's professional basketball for the Phoenix Mercury in 2013, is not certain to serve out the decade there.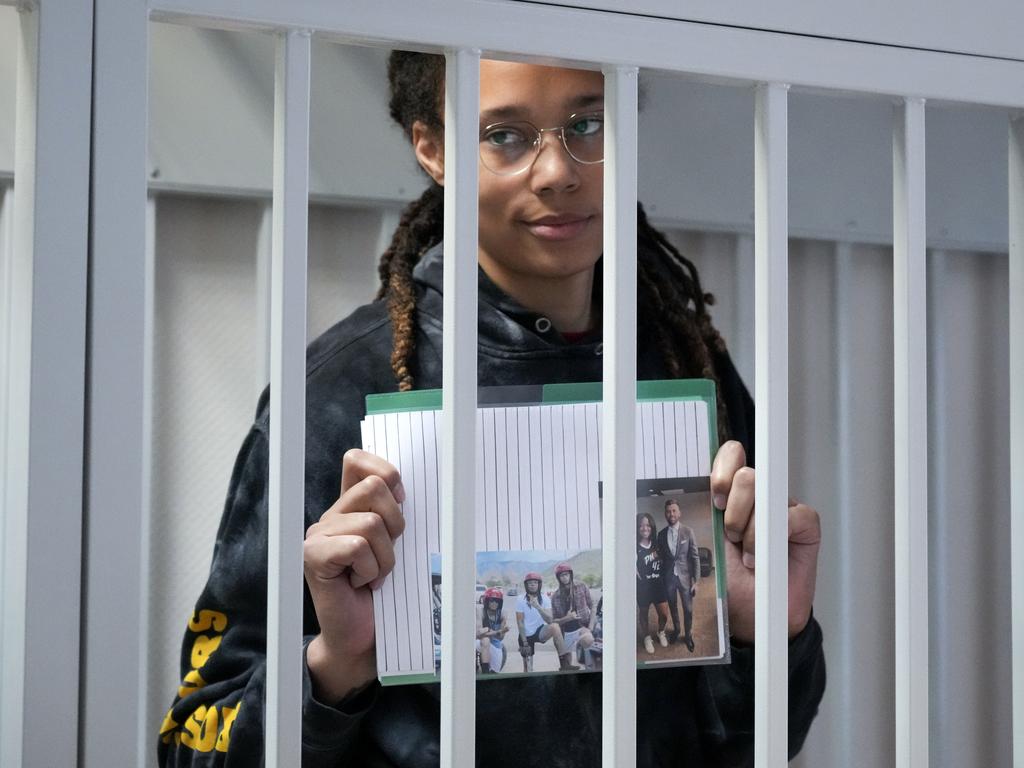 Griner's lawyers said they would file an appeal. Picture: Pavel Pavlov/Anadolu Agency via Getty Images
The U.S. has moved with unusual swiftness in declaring her to be wrongfully detained in Russia, and in another extraordinary move, openly pressed Russia to accept what it has characterised as a "substantial proposal" for her release and that of another American also deemed wrongfully detained in Russia, former Marine Paul Whelan, who was given a 16-year sentence for espionage in 2020.
People familiar with the matter say the proposal is to exchange the pair for the release of a Russian arms dealer held in the United States, Viktor Bout, who has five years remaining on a sentence he received in 2012.
On Thursday American officials quickly condemned the sentence, and pledged to continue their efforts to bring back Ms. Griner and Mr. Whelan.
U.S. Secretary of State Antony Blinken declared Ms. Griner "a political pawn", saying: "This step puts a spotlight on our significant concerns with Russia's legal system and the Russian government's use of wrongful detentions to advance its own agenda, using individuals as political pawns."
U.S. President Biden, in a statement, also said the sentence was proof that her legal case had been influenced by other considerations.
"American citizen Brittney Griner received a prison sentence that is one more reminder of what the world already knew: Russia is wrongfully detaining Brittney. It's unacceptable, and I call on Russia to release her immediately," he said.
Griner Merchas received a massive outpouring of public support, especially from the basketball community. All players wore her Phoenix No.42 in the WNBA All-Star Game last month. Picture: Stephen Gosling/NBAE via Getty Images
Later Thursday, White House press secretary Karine Jean-Pierre said, "I'm not able to share more publicly at this time, but we are willing to take every step necessary to bring home our people, as we demonstrated with Trevor Reed" a former Marine who had been detained in Russia since 2019 before being released in April as part of a prisoner swap.
Ms. Griner's Russian defence team had asked for the court to impose a minimal sentence, and characterised the verdict as "unreasonable," also noting that defendants typically receive a more lenient sentence for crimes like the one for which Ms. Griner was convicted.
They added that they would file an appeal within the 10-day deadline, and didn't rule out asking Russian President Vladimir Putin to pardon Ms. Griner, they said.
The Kremlin didn't immediately respond to a request for comment on Ms. Griner's sentence or a possible prisoner exchange.
Russian officials have long indicated that they would not engage in public negotiations, and have criticised Washington for what presidential spokesman Dmitry Peskov described as "megaphone diplomacy," particularly ahead of the conclusion of Ms. Griner's trial.
Behind the scenes, though, they had signalled that a two-for-one deal appeared insufficient, even before Ms. Griner's stiff sentence.
Griner's lawyers said they would file an appeal. Picture: Pavel Pavlov/Anadolu Agency via Getty Images
A U.S. official said that Russia deflected the Biden administration's initial offer to trade Mr. Bout for Ms. Griner and Mr. Whelan, demanding that the trade also include Vadim Krasikov, a Russian serving a murder sentence in Germany for the killing of a Chechen militant in Berlin.
Berlin officials said they had been informed by the U.S. government of a conversation last week between Mr. Blinken and his Russian counterpart, Foreign Minister Sergei Lavrov.
Experts from the German Justice and Foreign ministries advised against any exchange involving a convicted murderer on legal grounds, according to one Berlin official.
Earlier Thursday, Ms. Griner had made an emotional plea for leniency.
"I never meant to hurt anybody, to put in jeopardy the Russian population, I never meant to break any laws here," Ms. Griner said. "I made an honest mistake and I hope that in your ruling it, that it doesn't end my life here."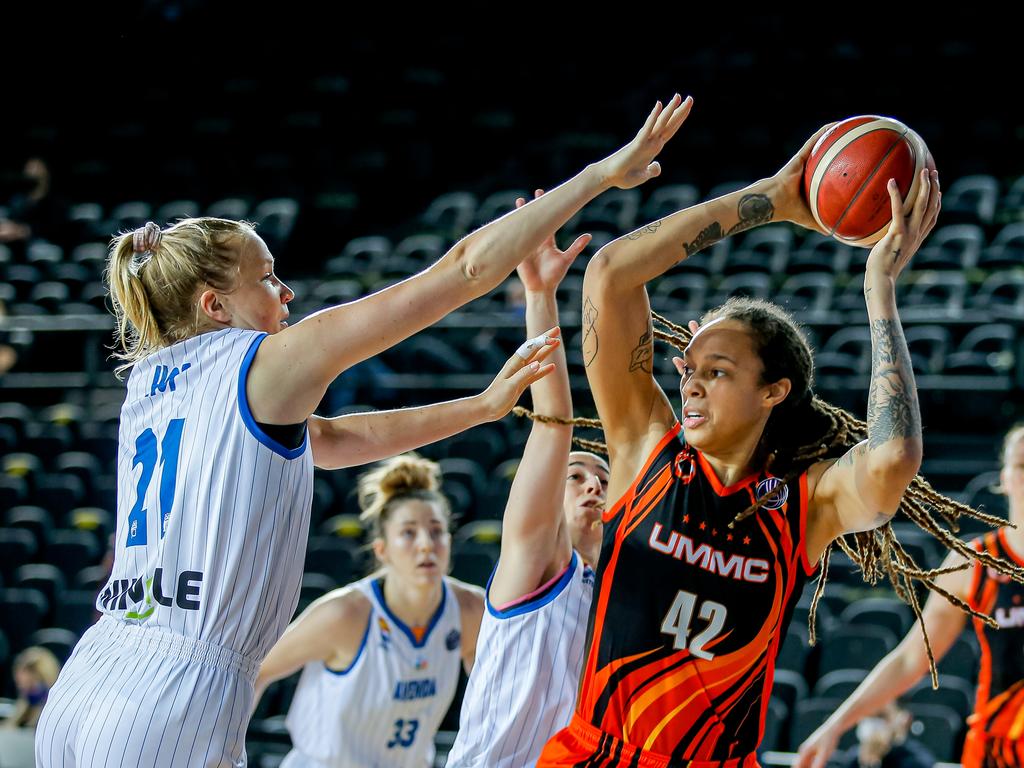 Griner has played five seasons with UMMC Ekaterinburg and helped take the team to back-to-back championships in the 2014-15 ans 2015-16 seasons. Picture: BSR Agency/Getty Images
Ms. Griner pleaded guilty last month to bringing marijuana into Russia but said she packed them by mistake and never intended to violate Russian law. She presented an Arizona doctor's prescription to use marijuana to treat pain.
She also offered character testimony from the captain and general manager of her Russian team, UMMC Ekaterinburg where like many American players, she has played for years during the WNBA off-season.
Like the State Department, Ms. Griner's agent, Lindsay Kagawa Colas, described her client as a "political pawn" in a statement.
"Bringing Brittney and Paul home is the sole objective, and as such, we should use all available tools. We must remain focused and unified. This is a time for compassion and a shared understanding that getting a deal done to bring Americans home will be hard, but it is urgent and it is the right thing to do."
Russian prosecutors had said that vape cartridges containing a total of 0.702 grams of hashish oil were confiscated from Ms. Griner's luggage when she arrived in Russia — one week before the invasion of Ukraine.
—Bojan Pancevski and Alex Leary contributed to this article.