Chris Anstey: How the Boomers finally won an Olympic medal, after a fateful night in Las Vegas
The Boomers harnessed a proud but painful history to finally win a men's Olympic basketball medal at the Tokyo Games. Former Australian player CHRIS ANSTEY explains how.
The Boomers history-making bronze medal at the Tokyo Olympics was a triumph of team culture thatwas fortified with a night out in Las Vegas.
I still remember Dad waking me up in the middle of the night when I was eight years old. He put me on his knee in front of the family television and we watched a yacht race.
Dad taught me about racing – well, as much as he could at 5am – and told me that we were about to watch a team attempt to achieve something for the very first time. He wanted to make sure I was awake to experience history being created.
Two hours later, we watched John Bertrand and his crew aboard Australia II defeat the United States to win the 1983 America's Cup, thus ending the longest winning streak in sporting history.
I have never forgotten it.
Thirty-eight years later, I put my six-year-old son Hunter on my knee just before 9pm, already an hour past his bedtime. I told him that the team in green was Australia – a team that Daddy had played on a long time ago – and they were trying to do something that none of his teams, nor those that came before or after, had been able to achieve.
I told Hunter stories about the Sydney Olympic Games, how amazing the Opening Ceremony was, how much it meant to play in an Olympics on home soil, and how we had come so close to winning a medal. I told him about Beijing, too, mostly about losing to Croatia in our first game and having to play Team USA in the quarter-finals.
But mostly I told him about Patty Mills, Joe Ingles, Matthew Dellavedova and the team we were about to watch.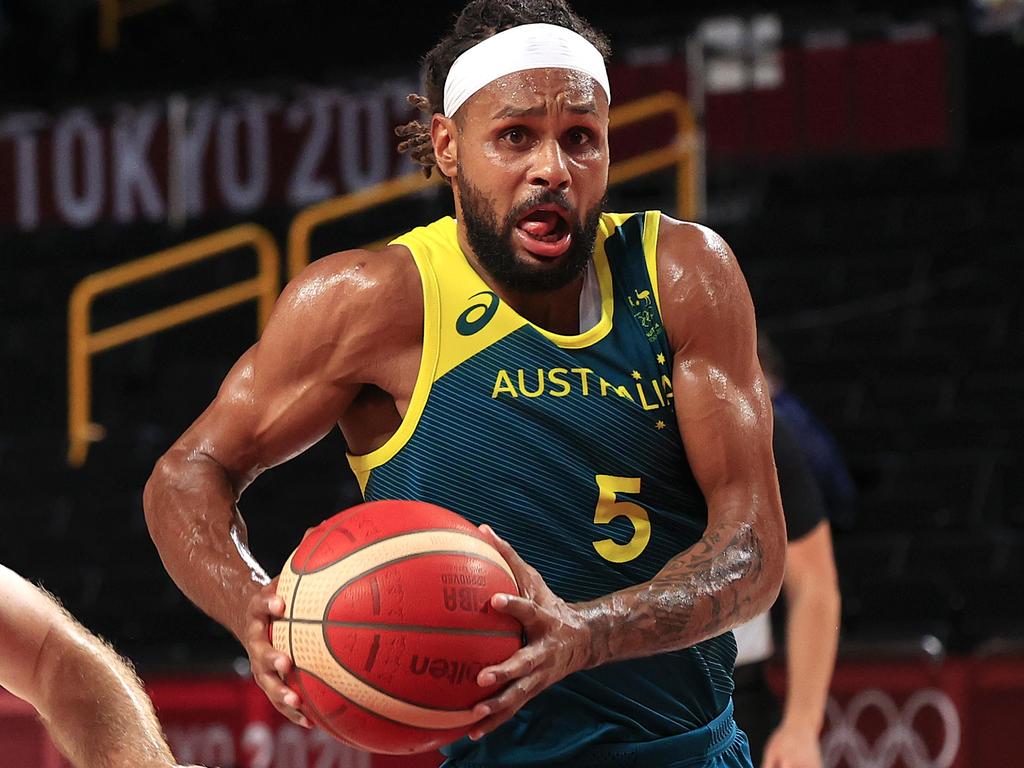 Boomers hero Patty Mills in action during the historic Australia vs Slovenia bronze medal game at the Tokyo Olympics. Picture: Adam Head
A generation of heartache
It had been 21 years since I walked into the Sydney Olympic Stadium as part of the Australian Boomers team.
We were among the very first of the Australian contingent to walk through the tunnel and follow our nation's flag-bearer and teammate, Andrew Gaze, in front of 110,000 of our countrymen and women at the venue. The murmur of the crowd began to drift over us as we took our last steps before entering the bright lights of Stadium Australia. Then came the loudest roar I had ever heard. It was an incredible moment.
This was what it felt like to represent Australia.
We believed, maybe for the first time, that we were genuinely capable of winning a medal. We did not consider ourselves to be 'punching above our weight', a line we had heard from coaches and Basketball Australia for years.
For the next two weeks, we wore 'MOB' shirts around the Olympic village as we fought our way into a semi-final. Those not in our inner circle assumed the shirts were a reference to a mob of kangaroos, but only we knew the true meaning of the acronym: 'Medal or Bust'.
Unfortunately, we busted. France beat us 76-52 to relegate us to the bronze medal game, then Lithuania beat us 89-71 to win the medal we craved.
Post-game, when our coach Barry Barnes was asked by the media the meaning of 'MOB', he told them it stood for Men's Olympic Basketball. That was a tough one to swallow. It felt like a cop out, a deflection from the fact that we had set a goal and failed.
Near enough could not be good enough for our national men's team anymore. We needed to transform into a heavyweight, like the Opals had already become.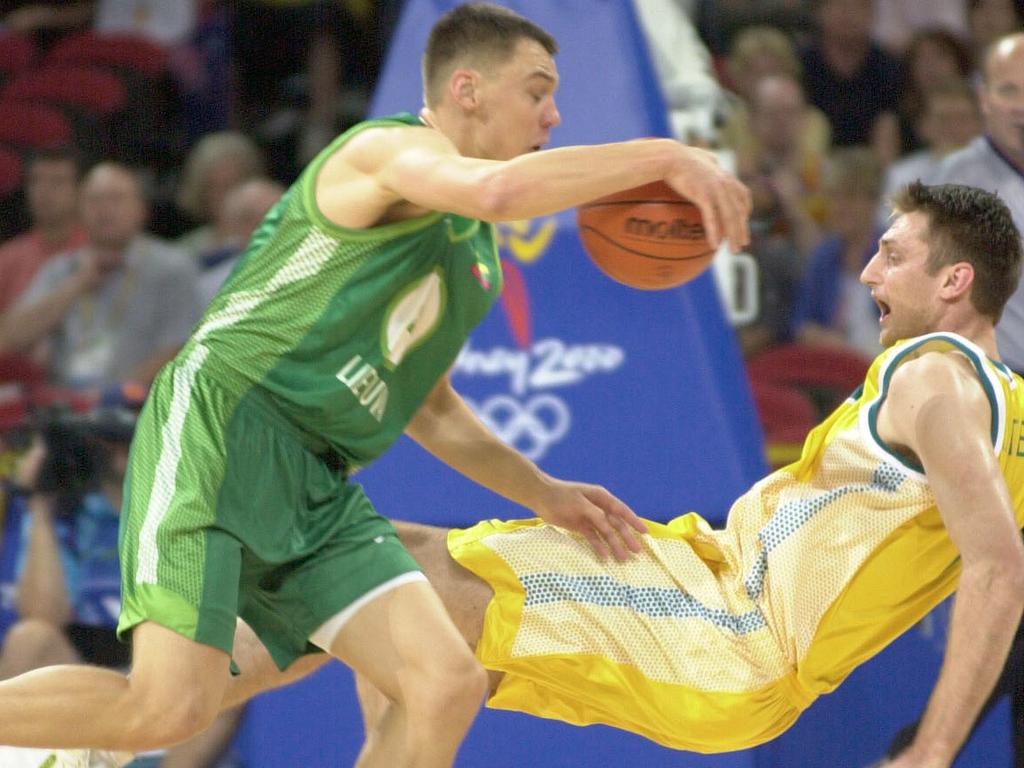 Lithuania's Sarunas Jasikevicius charges Chris Anstey during the Sydney 2000 Olympic bronze medal match, a devastating loss for the Boomers on home soil. Picture: Dean Lewins/AAP
The 2004 Athens Olympics represented a huge change in Boomers personnel. Shane Heal was the sole remaining Atlanta Olympian, and a new coaching staff, led by Brian Goorjian, was hired.
I was excited to play for the coach who got me to the NBA and into the Australian team to begin with. I was coming off the best two years of my basketball career in Russia, I knew how to play for Goorj, and we had defeated nations we had never beaten in the years between Olympic Games. We had another chance to do something special.
Weeks before the Olympics, having made the team, I went over on my ankle and needed surgery. I never made it to Athens, and to be honest, I cannot remember much of the tournament. I would not handle it the same way now, but I was so disappointed to miss out that I could not bring myself to watch every game. It hurt too much not being there.
The Boomers left Athens with a 1-4 record and a ninth-place finish. Surprisingly to many, the USA failed to win Olympic gold for the first time in the NBA era, losing to Argentina in the semi-final. The rest of the world was catching up.
By the time 2008 arrived, our national team had shaken the underdog tag. Andrew Bogut was the first pick in the 2005 NBA draft, and more than half of our team had domestic international experience. We had been immersed in different styles of basketball around the world and had a better understanding of how to be successful against those nations.
The Beijing Olympics also doubled as a coming-out party for two of our Boomers rookies, college junior Patty Mills and young South Dragons guard Joe Ingles. Throughout the lead-up to the Games, it was obvious to everyone that Patty and Joe were going to be special. There were also times our team was reminded just how young they were.
It is one thing to say that we expect to win every game we play in, it is often another for each team member to truly believe it. We got our chance to test our resolve in our final friendly against the USA in Shanghai just days before the Games.
Staying in the same hotel and travelling to the same basketball stadium as LeBron James, Kobe Bryant, Dwyane Wade, Chris Paul, Carmelo Anthony, Jason Kidd and co. is a circus. Security guards and police escorts battle to keep hundreds of basketball fans at a distance every time they set foot in public.
It turned out Patty and Joe were big fans as well – fans who now had access to NBA superstars. On the day we were gearing up to take a swing at Team USA, our two youngest players were loitering in the lobby to get photos with our soon-to-be opponents. It did not exactly instil confidence among the rest of us that we all believed we could beat Team USA later that evening.
Boomers Mark Worthington and Patty Mills support the Opals during their gold medal match at the Beijing 2008 Olympics, after their own exit in the quarter-finals. Picture: Colleen Petch
As it turned out, we didn't need to worry about confidence in our Olympic rookies. Although we lost 76-87, Patty took it right to the same players he had hours before been snapping photos with, scoring 13 points in 21 minutes as we stayed close enough to believe we could compete with anyone in Beijing.
Unfortunately, our tilt at an Olympic medal in Beijing faltered in our first game, losing to Croatia, whom we had beaten twice in the lead-up. After an honourable loss to eventual medallist Argentina, we hit top gear, beating Iran, Russia, and for the first time ever, Lithuania. However, even after our 31-point dismantling of the undefeated Lithuanians, our loss to Croatia meant a quarter-final crossover against the USA.
Again, we hung with the global powerhouse throughout the first half, but Kobe was just too much in the third quarter and the USA ran over us. Even in the significant loss, perhaps more significant were the impressive performances of Andrew Bogut and Patty, who looked right at home against the best basketball players in the world.
Bogut missed the 2012 London Olympics, and what followed was another defeat at the hands of the USA in the quarter-finals and a seventh-place finish.
Fast forward to the Rio Olympic Games four years later and the sadness and disbelief on each Boomers' face after another fourth-place finish, our fourth in history, was hard to watch. We had advanced through the qualifying rounds in scintillating form and entered the crossover games with the second-best record at the Games, losing only to the USA by 10 points after leading at halftime. We continued our recent dominance over Lithuania but fell just one point short of our first ever medal, losing to European powerhouse Spain on a dubious defensive foul called on Patty. Leading by one point with five seconds remaining the foul gifted Spain two points.
It hurt. As a team, as ex-Boomers, as a basketball nation, we were so close.
We felt robbed. We wondered if that was our shot, and we had missed it.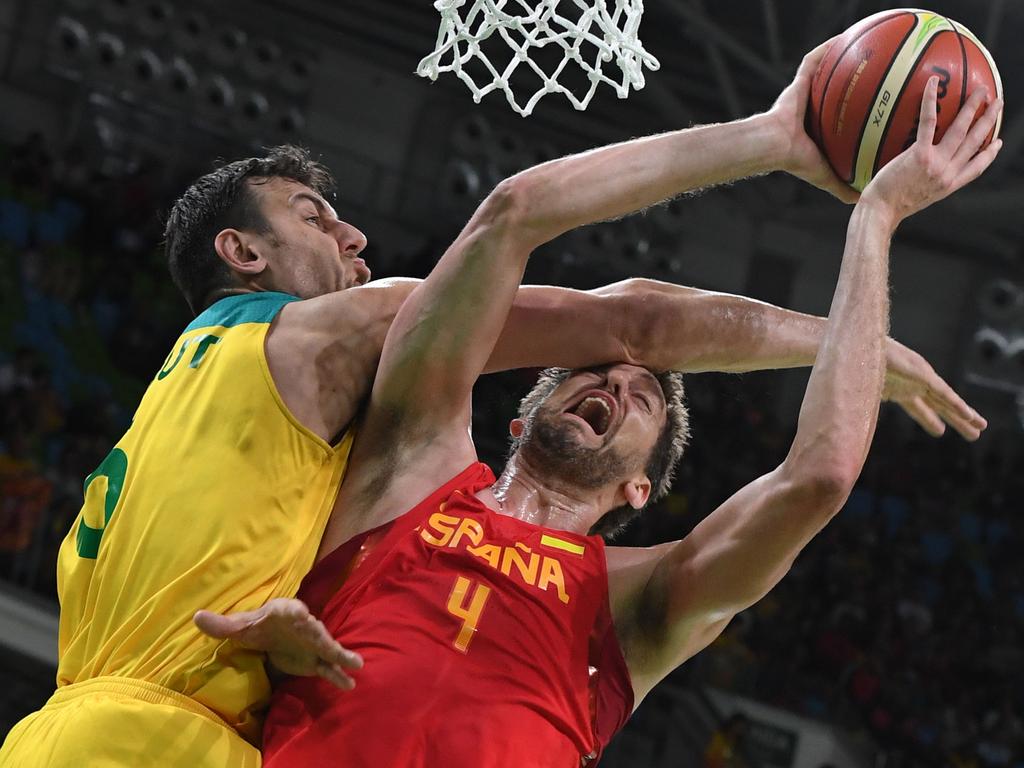 Spain centre Pau Gasol goes to the basket against Australia's Andrew Bogut during the bronze medal match at the Rio 2016 Olympics; another heartbreaker for the Boomers. Picture: Mark Ralston/AFP
The rebirth of the Boomers
There was no doubt, however, in the minds of the Boomers' Big Five – Patty Mills, Joe Ingles, Andrew Bogut, Matthew Dellavedova and Aron Baynes – that they would win an Olympic medal.
In the five years that followed the Rio Games, Aussie teammates scattered around the globe stayed in close contact, some of them even holidaying and training together in their off-seasons. Having come so close, the boys committed to investing even more, and that it would matter. Everything they did was framed around a single mindset: Gold Standard Only.
By the conclusion of the 2021 NBA season, the Boomers' culture had reached a new level.
Throughout that campaign, Patty, Joe and Delly invested significant time and expense into ensuring the Boomers were united and had no excuses. Mindful that Basketball Australia was only able to provide a week in Las Vegas to prepare for the Tokyo Olympics, they booked top-class accommodation and meals in Irvine, California to bring the team together a week prior. They then arranged to take over a private training facility and booked a private jet to fly them to Vegas for the official pre-Olympics camp.
No detail was overlooked, no expense spared. On court, the Australian, Aboriginal, and Torres Strait Islander flags hung side by side, trainers were bought in for non-NBA players who did not have one in the USA and Aussie music blasted from speakers whenever they were on court. And in the locker room, personalised lockers with freshly-laundered training gear awaited each player daily. The best shampoo, body wash and cologne were provided and only songs from Cold Chisel, John Farnham, Goanna, Rose Tattoo, and other Australian music icons played.
But the biggest impact the veterans imparted on the rest of the team and staff came via their newly-introduced Boomers Culture Night. It was an evening where the team came together to honour the past, touch the present and respect the future.
On a function room wall in the Mandalay Bay Resort on the Las Vegas strip, a list of every player's name to have ever represented the Boomers hung alongside a photo of the 1964 team that competed in Tokyo. The players learned about, paid tribute to, and read aloud the names of past-Boomers players – most of whom they had never known – while also understanding even more the historical significance of figures such as Lindsay Gaze and Ken Cole.
On the same night, each player was presented with an Akubra with a number reflecting their place in Boomer history. Akubras were made for every past Boomer with a pact made to personally visit and present them with it.
To this point, Matisse Thybulle, Josh Green and Duop Reath were unaware that a boomer was a male kangaroo that could only move forward and was featured on the Australian coat-of-arms as a symbol of national progress. Each player was then told that a kangaroo injured or displaced by the bushfires had been adopted in their names. They were handed a photo of it and a location of where that kangaroo now lived.
Towards the end of the night, a Boomers singlet was passed around the room. Each player's responsibility was to hold it, understand its significance and pass it on. It was a nod to the future. Each player has the privilege to wear the green and gold for only a short time and the responsibility is on them to pass on and move forward not only the singlet, but the culture.
The Boomers' Gold Standard applied on court, too. The extra week together in Irvine not only allowed Brian Goorjian and his coaching staff additional time to implement offensive and defensive strategies, but also to evaluate the squad over an extended camp to ensure they selected the right team. Additionally, it allowed the leadership group time to drive home the training, preparation and communication expectations that would become vital to winning Australia's first ever men's Olympic medal.
By the time the Boomers arrived in Tokyo, they had defeated Argentina and the USA in practice games, dodged a Covid scare in the USA camp and were as prepared as they had ever been. In a world dominated by social media, the team had adopted a hashtag to attach to any of their individual posts: #GVO. Gold Vibes Only.
Much has been written about the Boomers' on-court journey through the tournament, impressively defeating Nigeria, Italy, and Germany in the qualifying rounds before demolishing Argentina in the quarter-finals. Not as much has been said about the final minute of what would become Argentinian legend Luis Scola's final game of basketball.
In a moment the Boomers had invested so much into, Australia, led by Scola's long-time combatants Patty, Joe, Delly and coaches Matt Nielsen and John Rillie, stood and applauded one of international basketball's most successful players. The referees put their whistles away and allowed the applause to continue. It was a true sign of the Boomers' respect for the game, the present moment, and that the culture they were continuing to invest in was real.
That culture faced its toughest test in the Boomers' fifth semi-final in Olympic history. As quickly as Australia built a 15-point lead in the second quarter, the USA stormed back. Like Kobe 13 years earlier, Kevin Durant was unstoppable as he catapulted the USA past the Boomers in the third quarter and into another gold medal game.
Australia now held a 0-9 record in games where an Olympic medal was at stake, with megastar Luka Doncic and Slovenia standing between Australia and a historic medal. In the hours after the game, the team went to Goorjian's room. They wanted, more than ever, to put the ball in Patty Mills' hands to apply constant offensive pressure and they wanted to start Matisse Thybulle on Doncic and wear him down over the duration of the game. He may have already planned to do just that, but Goorjian agreed to his players' request.
A keen eye even picked up an immediate subtle change to the team's mantra: #RGVO.
Rose Gold Vibes Only. The team's mission to make history was still alive.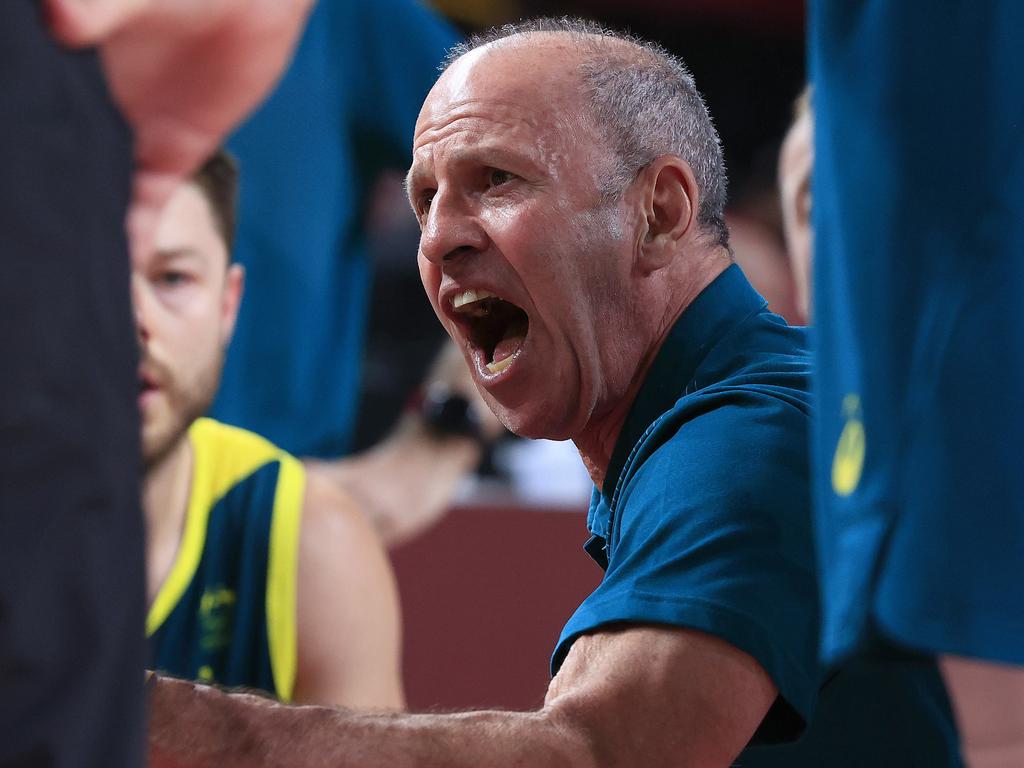 Boomers coach Brian Goorjian addresses his players during the Olympic semi-final between Australia and the USA in Tokyo. Picture: Adam Head
Connecting a nation
Two nights later, back in Melbourne, my son Hunter sat on my knee at 9pm as the bronze medal game tipped off. He was only there for a minute. I was on my feet when Joe Ingles drove to the rim to make the first basket of the game. Much to Hunter's amusement, I fist-pumped and paced my way through the opening minutes as Patty got going.
And get going he did. With the weight of history, the Australian basketball public, and his team on his shoulders, Patty produced 42 points and nine assists in the best single-game performance in Australian basketball history.
In the moments after the final siren went, Patty and Joe, Australia's longest-serving teammates and now bronze medallists, embraced at mid-court.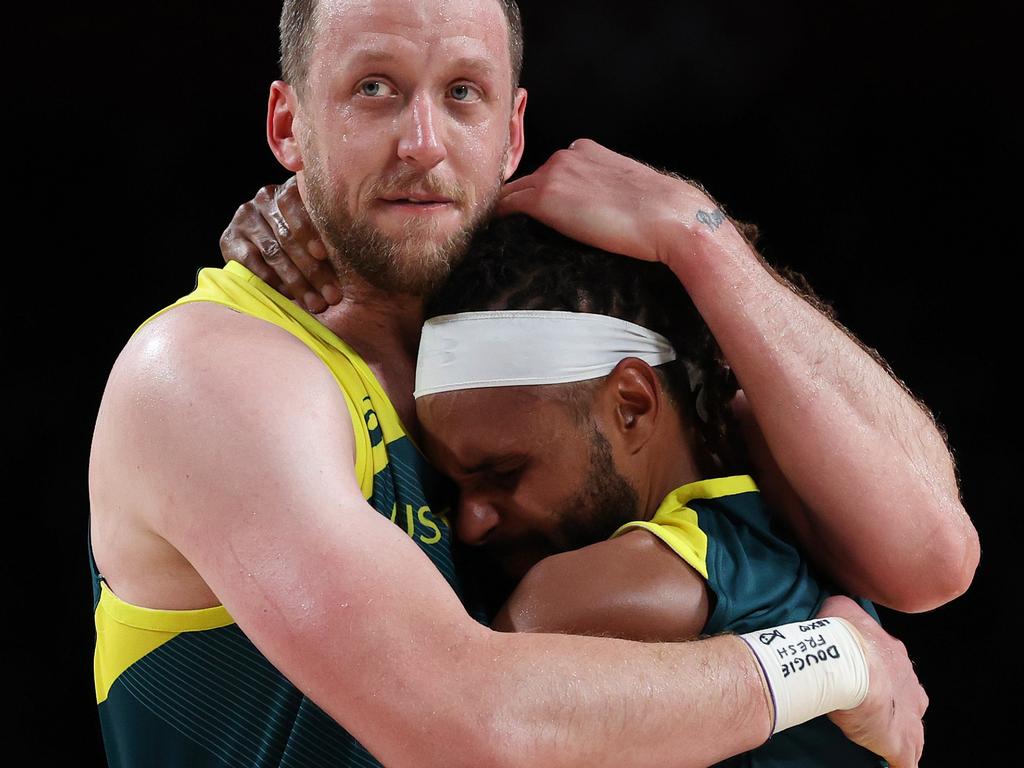 Joe Ingles and Patty Mills embrace after finally winning the first-ever Olympic medal for the Australian Boomers, having beaten Slovenia in the bronze game at Tokyo 2020. Picture: Kevin Cox/Getty Images
"That's the image right there," Mills said as he quarantined in a hotel room in Darwin days later. "That's the image of unity and the values of the Olympics, the values of our team, the values of my culture, the values of what we're trying to get to as a country, all in one image.
"In my heart of hearts, I believe that our Boomers culture and how strong it has become … carried us over the line at the end of the day. It's meaningful to us as a team, and when we play that can come pouring out.
"Standing on the podium for the first time in history for us, and you have Joe Ingles, myself, Matthew Dellavedova – a country boy – Matisse Thybulle, Josh Green, their backgrounds. Duop Reath, his background. Just look at our team and see how unifying that is. Matthew Dellavedova has an Aboriginal flag tucked into his pocket that he pulls out and someone else has a Torres Strait Islander flag ... and now we're standing on the Olympic podium with our medals, as diverse as we are as a team, with Australian flags."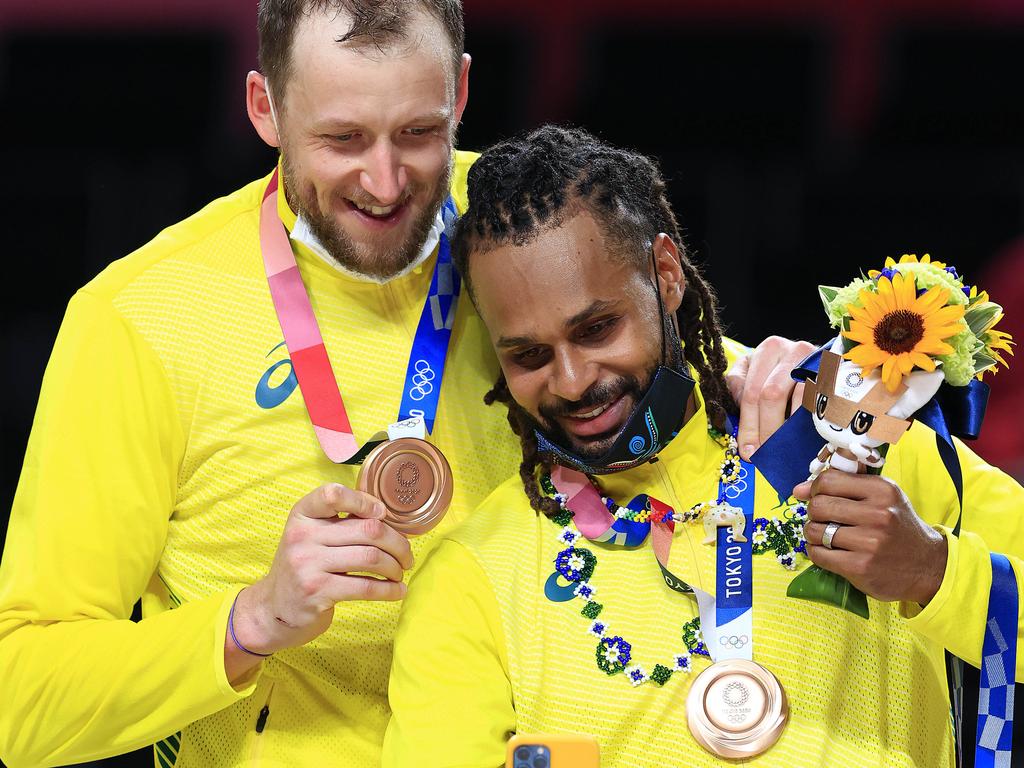 Joe Ingles and Patty Mills show off their Olympic bronze medals in Tokyo, after making history with the Australian Boomers. Rose Gold Vibes Only. Picture: Adam Head
Watching the Australian Boomers win an Olympic medal and achieve something so many of us had fought so hard for over so many years was surreal. The boys had done it.
Tears welled in my eyes as I hugged Hunter. I told him that he had just watched history being made and I wanted him to always remember tonight. As we watched the Boomers celebrate, I started texting former teammates to let them know I was thinking of them. Even as typed, the same messages began to appear on my phone.
Patty Mills, Joe Ingles and the Australian Boomers had not only connected with the past, present and future, they had reconnected an Australian basketball community in locked down homes around the country, and connected my own family with my journey, and that of the Australian Boomers, in mine.