Chris Anstey: Mitch Creek's shooting evolution offers path for Ben Simmons' revival
Millions have seen Mitch Creek's thunderous dunk this week. But that's not why Ben Simmons should be tracking down the Phoenix forward's number, writes CHRIS ANSTEY.
Ben Simmons' shooting woes have plagued his NBA career but as he begins the journey back to basketball, there's one Aussie player he should be seeking out advice from.
Mitch Creek has always been a fantastic athlete. He has always been a great defender and had the ability to bully the ball to the rim against less physical defenders. What I wouldn't have described him as early in his career though, was a natural shooter. His jump shot had very little fluidity to it, did not have nearly enough arc and was wildly inconsistent on the rare occasions he attempted to shoot the ball from outside the key.
As a coach, you have a much better chance of improving the defensive capabilities of your natural shooters and scorers than you do developing a non-scorer into an offensive weapon. Defence after all, is more about mindset and physical attributes than skill, while offensive craft requires talent, touch, timing and movement mechanics.
Non-shooters can easily become liabilities for basketball teams when opposing defenders are not required to close out to an opponent. To an extreme, you can effectively be a man up. The easiest defender to attack is an upright one, which shooters create by having defenders raise up to contest their shot. A defender who can stay down and wait on a drive, while at the same time clogging up space and providing additional help for other more competent scorers, is a weapon that coaches love to utilise.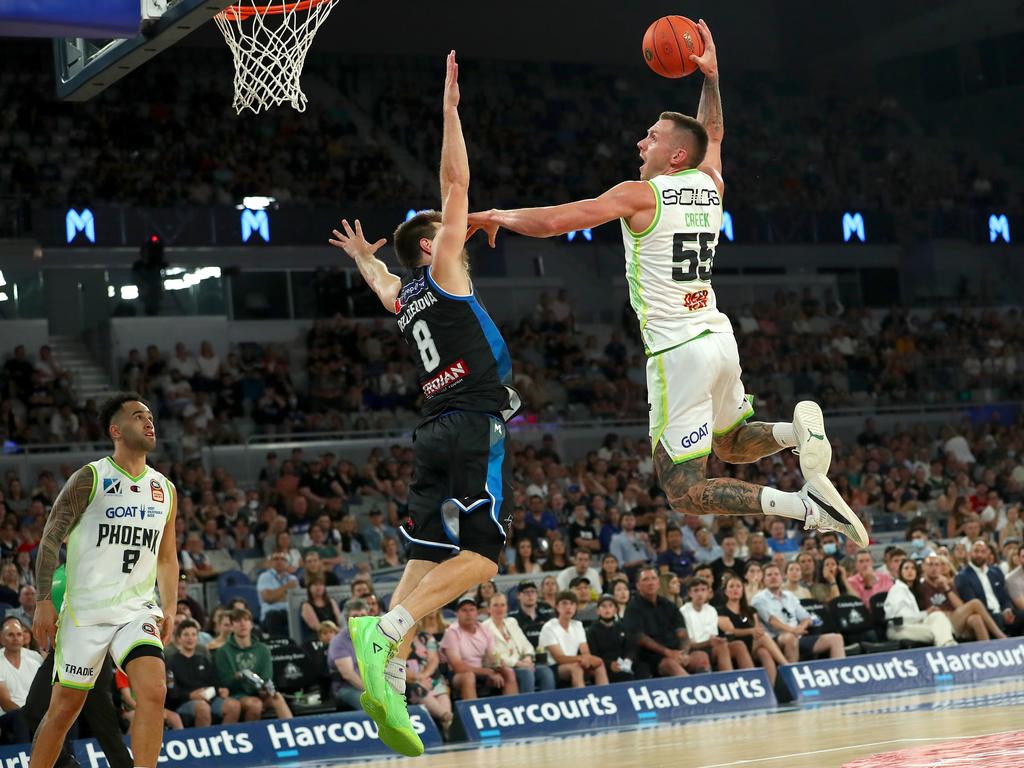 Mitch Creek has always had the athletic ability to be a good basketballer and now he's building the offensive game to match it. Picture: Kelly Defina/Getty Images
The first game I coached in the NBL was on October 7, 2012. We played a road game against Creek and his Adelaide 36ers. As much as I wanted to literally dare Mitch to take all the open jump shots he wanted and in turn keep the ball out of the hands of their scorers and him away from the rim, I wanted to send a message to our players, our club, and our fans that I trusted our team to defend any individual player in the NBL on his merits.
We got killed 84-61 as our traditional defence was not drilled well enough to stop Adelaide doing as they pleased. Three more losses followed to start my coaching career, before we finally got our first win of the season against Townsville in Round 5. In Round 6, we hosted Adelaide.
This time I coached in the manner I should have had the courage to in Round 1. Whoever was responsible for Mitch Creek had to have at least one foot in the paint at all times to clog up driving and passing lanes. Whenever Creek caught the ball on the perimeter, we stayed at the lane line, took away passes to his teammates and dared him to shoot it. Mitch has always been confident, and as expected, he shot the first open perimeter shot we presented to him. He missed. Badly. We came away with an uncontested rebound and easy stop.
For the remainder of that game, which we won 96-66, and for the remaining two contests against Adelaide, which we also won comfortably, we dared Mitch and other non-shooters around the league to shoot it. We knew he didn't want to, and we knew that his team didn't want him to. His shooting was a liability we were very happy to exploit.
That was then.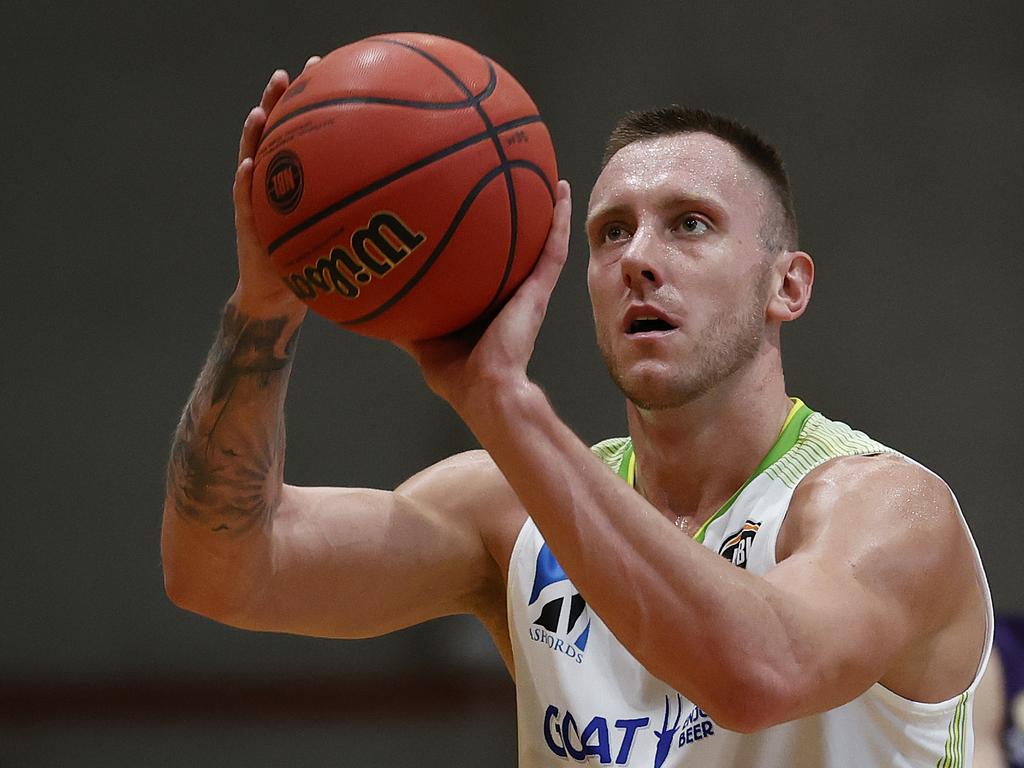 Creek's shooting hasn't always come naturally and it's clear how much work he has put into that side of his game. Picture: Zak Simmonds
In Round 2 of this season's NBL, I watched in admiration as Mitch Creek dismantled the New Zealand Breakers from everywhere on the offensive end. His career high 36 points came in all manner of ways, none more impressive than him making six of his seven three-point attempts. It wasn't just the numbers; it was the manner in which he accumulated them. Mitch hit early perimeter shots in transition, he came off screens and made threes on the move, he lined up defenders and knocked down shots in their faces. I watched defenders close out in the same way they do for great shooters, and I watched Mitch blow by them and finish on the rim.
It's harder to teach a non-shooter to shoot than it is a non-defender to defend, but Mitch Creek, and those he has worked with over the years, have done just that. He has added a lethal perimeter shot to his arsenal and in turn become one of the best players in Australia at both ends of the floor. I can't help but sit and admire a guy I used to dare to shoot the ball, hoping that he would, perform so fluently and successfully in one of the best leagues in the world.
I also can't help but think that Mitch Creek could very well be the answer to another Aussie's shooting woes. Ben Simmons.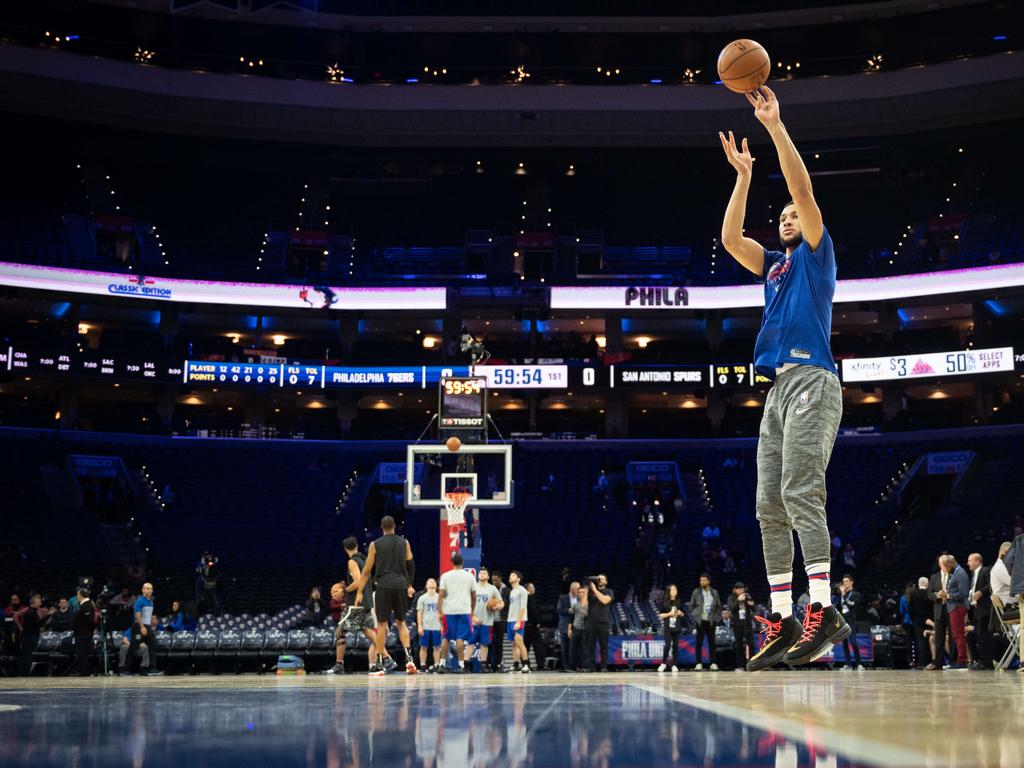 Ben Simmons' mid-range shooting has been a persistent issue throughout his career. Picture: Cameron Pollack/Getty Images/AFP
Think about it. Mitch and Ben are cut from the same cloth both on and off the floor. On court, they both shoot the ball left-handed, but prefer their right-hand hook. They use their size to bully smaller guards and their speed to beat slower big men. Both are multi-positional, tough, and defensively minded players who make any team they play on better.
Off the court, Mitch and Ben are both strong-minded individuals with chequered histories and messy break-ups from the clubs they started their professional careers with.
If Ben Simmons is genuine in investing in his jump shot, and further developing his offensive game, working with an established shooting coach who himself has great touch and has worked with countless great shooters might not be his best option. After all, most shooting coaches don't know what it's like to not be able to shoot because they've never experienced it. We learn many lessons in life from people who have walked the path we want to, and we feel like they understand. I feel like, of all basketball people in the world, Mitch Creek may very well understand what Ben Simmons is going through better than anyone.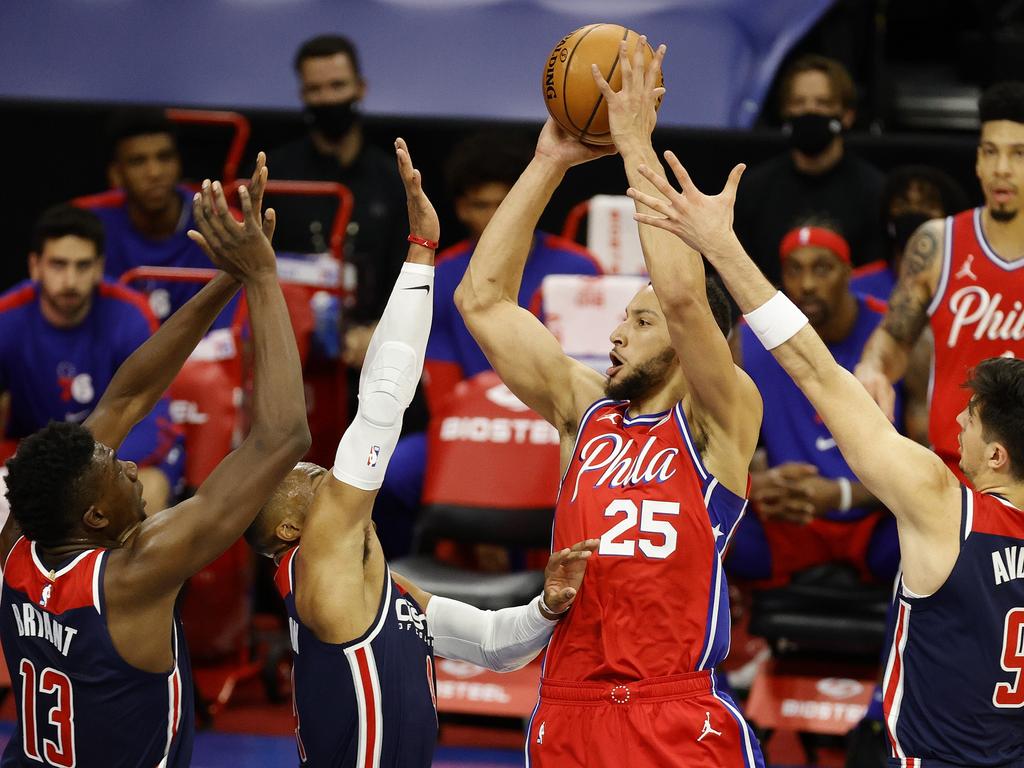 Simmons could take a lot out of the way Creek has developed his shooting in the NBL. Picture: Tim Nwachukwu/Getty Images/AFP
I have rarely been someone to offer unsolicited advice, so let's call this closing sentiment an idea wrapped up in a compliment:
Mitch, I marvel at the way you have been able to develop your game over the years. It is a credit to you and the work you've done. I still find myself shaking my head in amazement as I watch you lead the Phoenix. Ben, so much has been said about what you can't do well, and not nearly about what you are one of the best in the world at. I hope you land at a team that surrounds you in positivity, highlights your strengths and gives you the opportunity to continue to grow and develop. And when you do, why don't you give Mitch Creek a call?