Commonwealth Games 2022: Australia misses out on gold in controversial 3x3 basketball final against England
Australia's 3x3 basketballers were left fuming after accusing the referee of "swallowing their whistle" in a controversial finish to the first Commonwealth Games final.
Australia's 3x3 men were left shattered after a wild extra-time bucket killed their gold medal dream — in a chaotic game that crammed controversy, thrilling basketball and the pure crowd madness into 10 insane minutes.
Making its Commonwealth Games debut in Birmingham meant this was the first 3x3 final.
But it's going to be hard to top for unbridled drama, with Australia going down 17-16 in overtime following a two-point bomb from local boy Myles Hesson that stole victory from Australia's clutches.
Australia had every right to fume. They were hamstrung by fouls throughout the contest, but when it mattered most – in the dying seconds of regulation and in extra time, the referees "swallowed their whistle" according to a devastated Greg Hire.
Hire, who played with a torn groin, was involved in the final's most controversial moment when he got entangled with an England rival to push Australia past 10 fouls – which resulted in free throws and possession for the home team.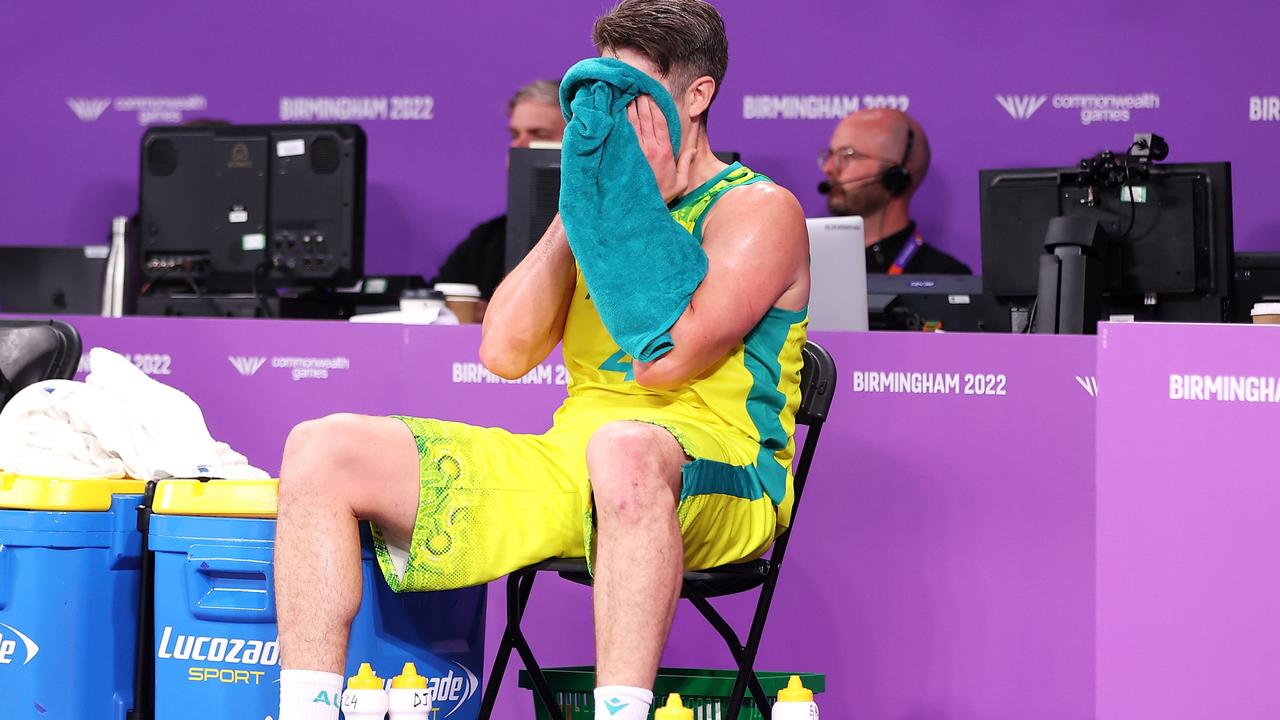 A shattered Greg Hire on the Aussie bench.
Hire had pointed words with the referee as he went to the bench. And then suddenly, with the game on the line and England's defence getting increasingly physical, the fouls disappeared.
"Obviously the ref swallowed their whistle towards the end of the game, which is a shame," Hire said.
"I'm an experienced 3x3 player and that's the first time we've seen 12 fouls happen in a game.
"They obviously changed it. I should not have spoken too much (to the referee), I think that hurt us in the end. That was a detriment to our team."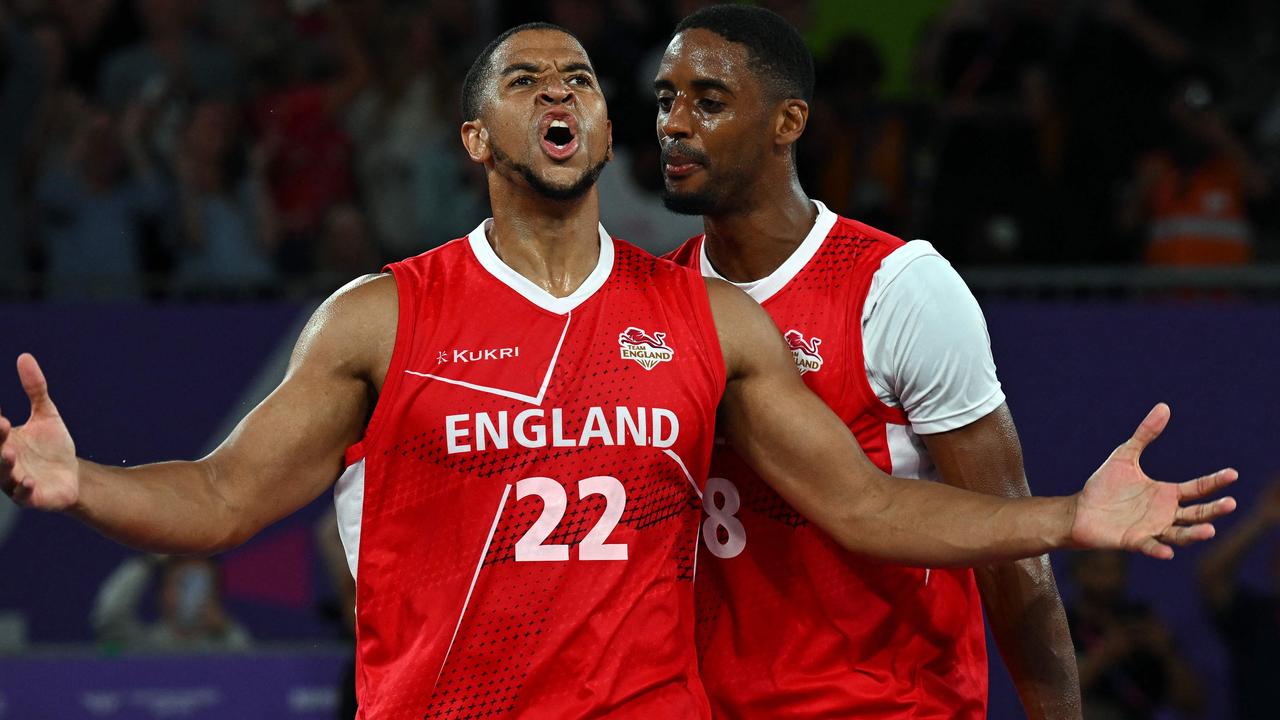 England's Myles Edward Sinclair Hessen (L) and Jamell Anderson celebrate.
The atmosphere at Smithfield – the temporary purpose-build multi-sport arena built on top of the Smithfield markets – has been fever-pitch all week.
For the final it was sent into overdrive, and then some.
Patriotic? You betcha. Boozed up? More than likely. Just loud as hell? 100 per cent.
Australia did their best to take the crowd out of the equation, skipping to an early 5-3 lead – on the back of a deep two-pointer from Tom Wright.
For the final five minutes of regulation, both teams were in the penalty – with every defensive foul resulting in two free throws.
It made an already chaotic game even more outrageous. Need more? When Australia reached ten team fouls, while up 9-8 with just under four minutes remaining, suddenly each foul not only resulted in England getting free throws … but also possession.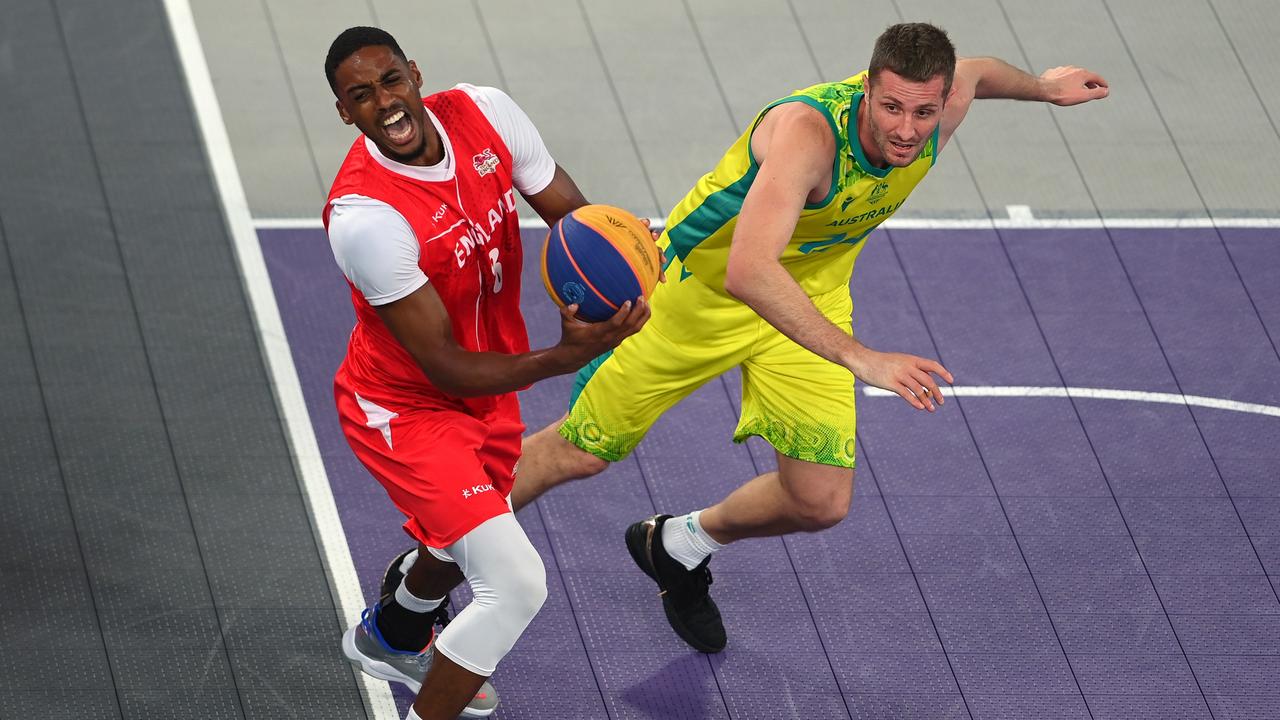 Jamell Anderson clashes with Australia's Jesse Wagstaff during the final.
Suddenly free throws became the game's currency. England's Jaydon Henry missed two. Australia's Daniel Johnson followed with misses of his own, as the game entered its final minute with scores locked up at 13-13, and the crowd going absolutely bananas.
Johnson forced overtime with 10 seconds to go and the crowd were introduced to a new rule.
Extra time? That means first to two points.
Wagstaff got the first – and Johnson fired a shot that dipped in and then out that would've sealed victory.
But instead, Hesson got the big one. And Australia were left with a silver medal around their necks.
"It was a hell of a game," said Wagstaff, who was gunning for a second Commonwealth Games gold, after winning with the five-a-side team on the Gold Coast.
"DJ had that shot and it was very close to going in. It goes out and they hit one. That's the way sport goes and sometimes you've got to eat it."
DEBUT SPORT BECOMES GAMES' HOTTEST TICKET
Will Swanton
The 3x3 basketball has hit the Commonwealth Games like a plank of 4x4. It's entertaining, quick and skilful, more popular than happy hour, the hottest ticket in Birmingham until the track and field begins or Ozzy Osbourne makes a comeback. A knockout.
Unfamiliar? Join the club.
There's a sawn-off court, one hoop, 12-second shot clocks, three on-court players and one sub per team. It's first to 21 points or whoever's leading after ten minutes.
The T20 version of traditional hoops is rocking and rolling through a mad schedule of in a makeshift arena that's packed every day and night in downtown Smithfield. One match finishes and another begins. Next!
I thought 3x3 was for blokes at the local courts who couldn't rustle up enough mates for a real game. Seems not. Australia's squad of Western Australia's Greg Hire and Daniel Johnson, the ACT's Jesse Wagstaff and NSW's Tom Wright are playing their first match against Trinidad and Tobago. It'll be over in only marginally less time than you need to run a Melbourne Cup. Australia triumphs 21-6 in five minutes and 50 seconds.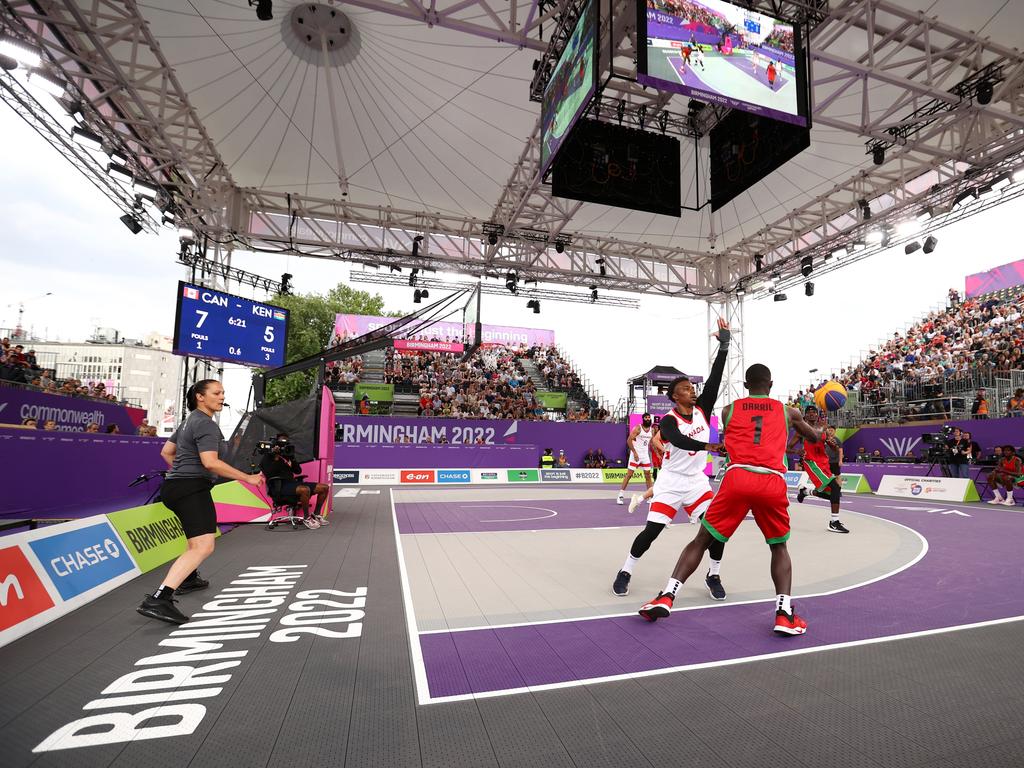 Kenya and Canada clash in the 3x3 basketball which is making its debut at the Commonwealth Games. Picture: Robert Cianflone/Getty Images)
"The atmosphere here is amazing," Jesse Wagstaff says.
"The beach volleyball is right next door, there's a lot of people around, there's music, I love playing it. We're in medal contention but there's genuinely a lot of other teams who can play – the home team, England, has invested a lot of money in 3x3 before these Games. Scotland and Canada and New Zealand – you've got a lot of good teams here with a lot of good players. We're not the only ones."
The 3x3 at the Tokyo Olympics was the best debut since Mark Waugh at Adelaide Oval. Smithfield is giving it all the bells and whistles.
No DJ in Birmingham is out of a job at the moment, and here's another one getting a gig at a Games venue.
There's a blinding lights show they seem to have pinched from Coyote Ugly nightclub and an MC could talk underwater at the Sandwell Aquatics Centre. All the fun of the fair.
Everyone knows the Boomers.
You blokes got a nickname?
"Not yet," Wagstaff says. "Well, we have one unofficially but we haven't brought it out yet. We'll see when it comes to light. Hopefully that first game was exciting to watch, hopefully we'll do well. It's fat and furious and action-packed so hopefully people back home will tune in. I don't think the time difference works out well? Hopefully they can wake up in the morning and watch a replay."
An arc halfway up the half-a-normal-court differentiates the scoring. You get one point for a basket in front of the arc. Two points from behind. Nothing for Steph Curry here. There's no threes in 3x3.? A funny old game.
Lauren Scherf in action for Australia against Kenyain 3x3 basketball. Picture: Robert Cianflone/Getty Images
The 203cm Wagstaff is a six-time NBL champion with the Perth Wildcats. He's an ex-Boomer who won Commonwealth Games gold on the Gold Coast in the 5x5 format.
He was MVP when Australia won the FIBA Asia 3x3 Cup last month.
"Any time you get to represent your country is incredible," Wagstaff says.
"Three on three is pretty new to me but what more could you ask for than representing your country at a Comm Games? We're not getting out and about a lot. That probably sounds pretty boring but Covid's still a risk so it's fairly low-key. Obviously everyone wants to compete and do their best. There's TVs on at the village and obviously we're watching the swimming a lot, I was watching some hockey and cricket and netball yesterday. It'd be a huge honour to get another medal here. It's such an incredible honour to see the flag go up and hear the national anthem played. There's a long road to go here but that's what we're going for."