Mangok Mathiang on his NBA and Boomers hopes after returning to basketball from the horror broken leg that almost ruined his career
Few Aussies can say Michael Jordan was their boss but, two years after injury nearly ended his career, Mangok Mathiang is back — and you're about to hear a whole lot more about him.
When Michael Jordan is your boss and you're playing in the biggest basketball league on the planet, life is pretty good.
But Mangok Mathiang, more than most, knows how quickly things can change.
CLICK FOR ALL THE LATEST NBL FREE AGENCY NEWS AND MOVES
A fateful moment on the practice court would force him out of the game for what felt like a lifetime after both bones in his right lower leg snapped.
Watch every blockbuster AFL match this weekend Live & Ad-Break Free In-Play on Kayo. New to Kayo? Try 14-Days Free Now >
"My tibia and fibula broke," Mathiang, 29, said.
"Both bones completely broken. The good thing, I guess, is it didn't come through the skin.
"I had surgery the same day."
His leg was held together by a mass of metal as Mathiang worked hard to put his body and his mind back together.
Just last month, he was finally back on the court, stepping out with NBL1 South club Casey for his first competitive games in more than two years.
A first step in a journey of rebirth he hopes will land him back in the biggest league on the planet — and that could be via the NBL.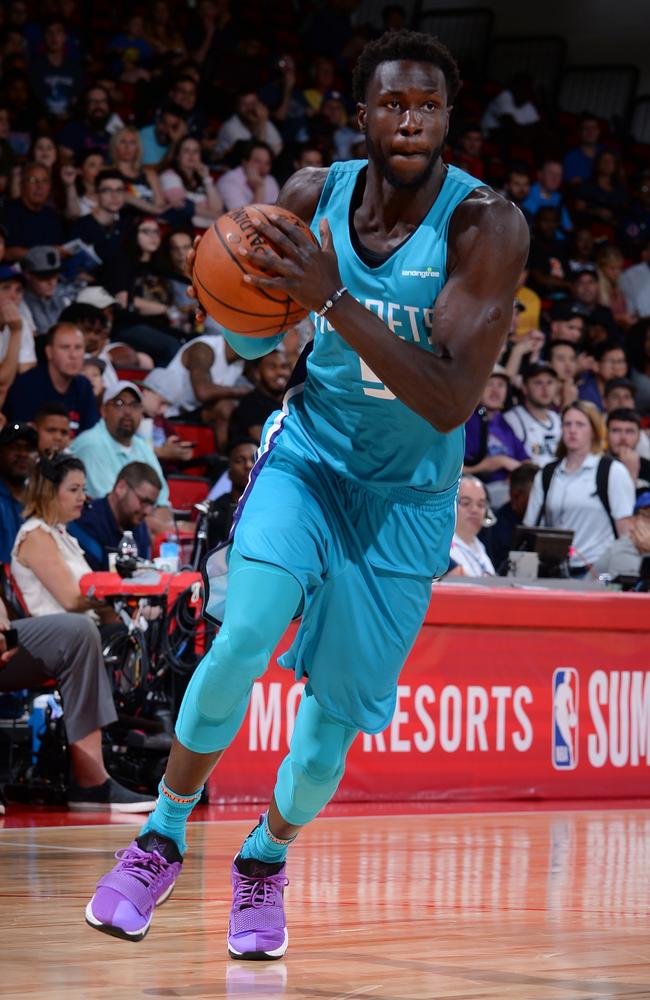 Mangok Mathiang achieved the dream of playing in the NBA with the Charlotte Hornets. Picture: NBAE/Getty Images
Dizzying highs to rock bottom
Once one of the hottest names in Australian hoops, Mathiang, in 2017, was on top of the world when he signed a two-way a deal with the Charlotte Hornets — owned by basketball's GOAT Jordan.
Cut by the Hornets the next year, the South Sudan-born giant's journey took him across Europe as he held on to his NBA dream.
After stops in Italy and Turkey, he would, in 2020, land with Cedevita Olimpija in Slovenia.
There, disaster would strike before the season tipped off and, once a Boomers Olympic hopeful, Mathiang would face his basketball mortality — and survive it … eventually.
"I didn't play a game," he said.
"I came home to rehab and then I planned to come back last year around August.
"I went all the way back to the team (in Slovenia) and they did some tests and it (the leg) just wasn't ready, still had hot spots."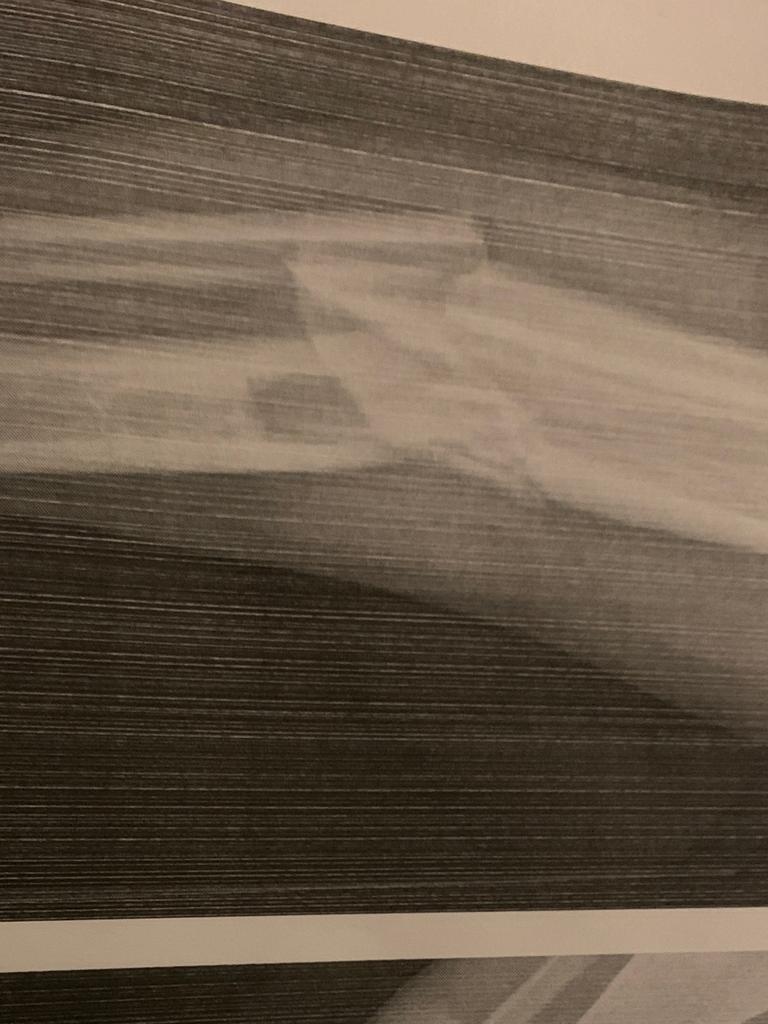 X-rays revealed the extent of Mangok Mathiang's horror leg break. Picture: Supplied/Mangok Mathiang
Invasive surgery was required to fix Mangok Mathiang's leg. Picture: Supplied/Mangok Mathiang
The Slovenian team wanted Mathiang to have another surgery to insert metal rods, but he decided to seek a second opinion back in Australia.
Helped by a host of medicos, including orthopaedic surgeon David Young, chiropractor Stephen Sassinis Shashyan and trainer Neal Wen, Mathiang took the slow route, opting to allow the leg to heal on its own, rather than undergoing another invasive procedure.
"With Covid going on, everything had kind of shut down anyway, so my plan was to really get my body right, get my mental right and get in the best shape that I can," he said.
"I had to have that patience and just trust the advice, keep trusting the rehab process and that my body would heal.
"That was the longest part of it — I never expected to be out for two-and-a-half seasons but I'm really happy to be back out there and back running up and down again."
Baby steps
Back running, he is, and, while the NBA — and Olympic — dream hasn't diminished, he knows there are a number of things he must do to have even a hope.
Judging by his last performance for the Cavaliers — a 29-point, 8 rebound, 3 assist demolition of North West Tasmania on June 4 — he's already conquered the first hurdle.
"These games were just to get the monkey off my back," he said.
"My body and leg haven't been giving me any problems, they're holding up amazingly."
So what's next?
"I obviously still have the hopes and dreams to still play in the NBA and I don't think it's too far gone," he said.
"I still want to play in the Olympics as well.
"I've got a bunch of goals that I still have to tick off my checklist."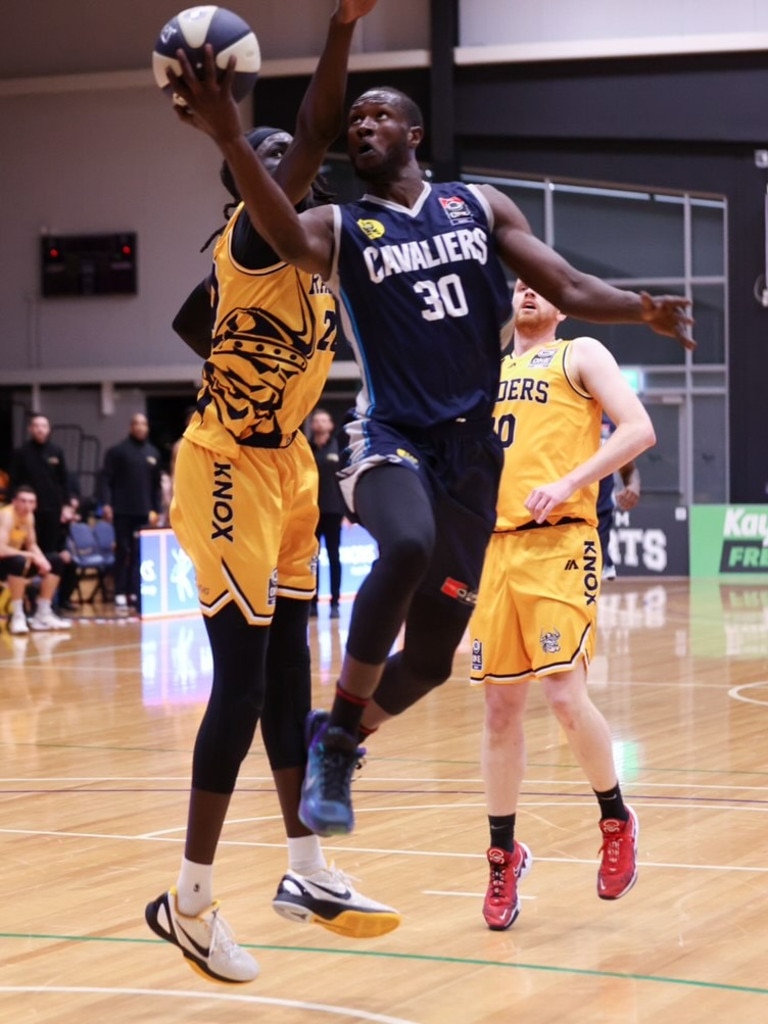 Mangok Mathiang is back mixing it up on the court for Casey Cavaliers in NBL1 South. Picture: In2Action Photography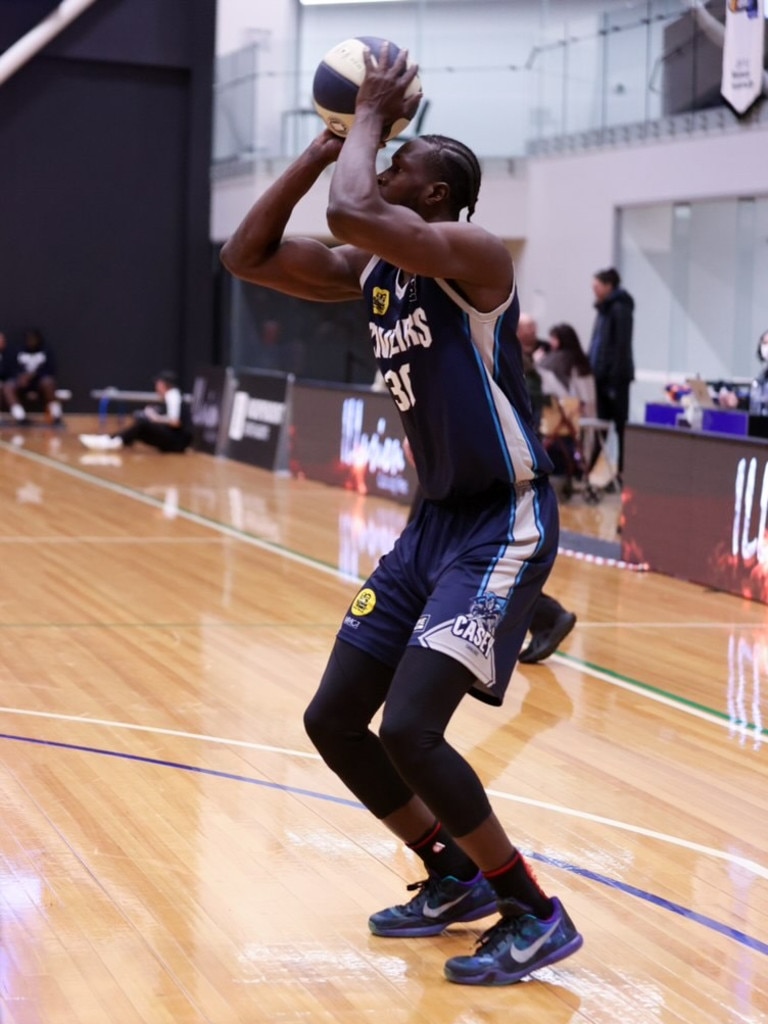 Mathiang says he's got the monkey off his back in his first competitive action. Picture: In2Action Photography
Baby steps though: the immediate goal is to convince a team to offer him another pro contract.
Mathiang, who grew up in Melbourne's western suburbs after migrating at age 6, has enjoyed being back home for an extended period, honing his skills at his local 3Street Pure Basketball in Altona North "six or seven days a week".
And, if he wants to stay in Australia, there should be no shortage of suitors in the NBL.
He has close ties to Melbourne United that date back to before his college days at Louisville, the Perth Wildcats have kept a line of communication open and the Brisbane Bullets have been rumoured as a possible destination.
"Melbourne United have always been on my side, ever since I was in college, and also Perth," he said.
"There are a few good things out here that have been checking in on me and just trying to see where I'm at physically and mentally, which helped me get through my rehab journey.
"They have given me the chance to think about the future and given me the faith that I can try to pick my career up and try to sign a contract coming off an injury like this.
"When the time is right, I think we'll all have a seat and try to figure something out.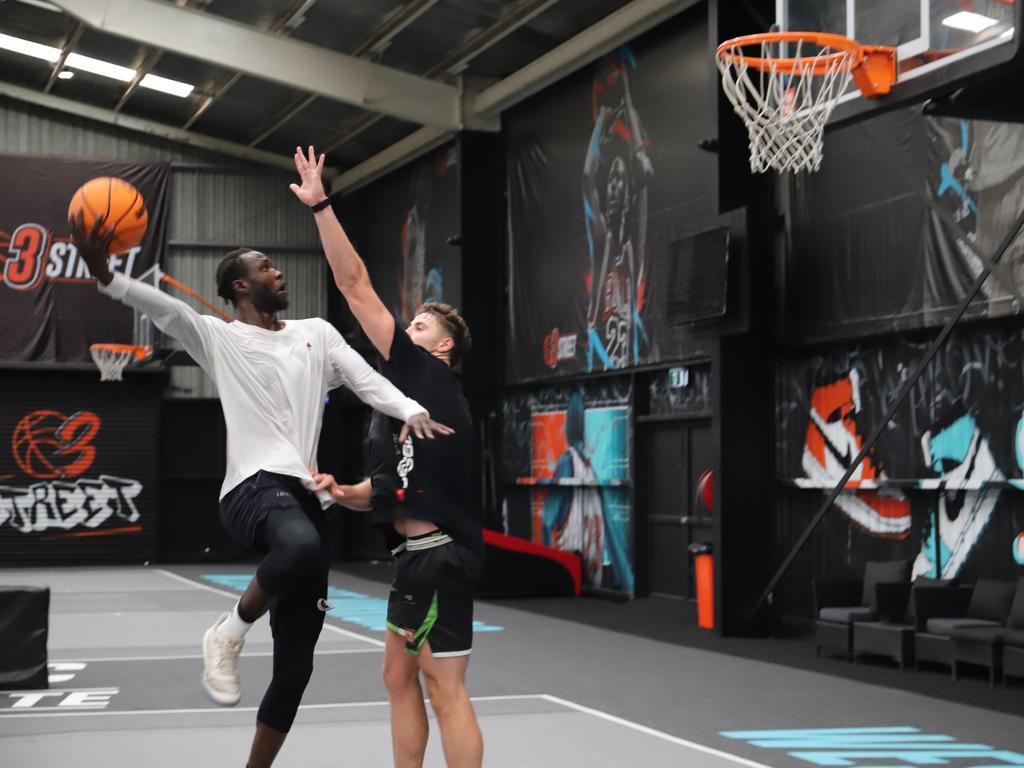 Mangok Mathiang says Melbourne United gave him a training base. Picture: Supplied
From Altona North to the NBA … and back again?
"I think my whole journey has just been unreal, honestly."
There's that word again, 'journey'.
Few would be as positive as Mathiang after the struggles he has endured in his life.
Born in South Sudan's capital Juba, he and his siblings fled the war-torn country with his mother for Egypt, his father staying behind.
The family eventually landed in Sydney, before settling in Melbourne.
Dad told mum to basically 'take the kids and go'.
It's a fearful moment few born in Australia can fathom.
From there, Aussie rules-mad Mathiang completed his schooling at Altona North's Emmanuel College, where a switch to hoops would take him all the way to an NCAA national championship with The Cardinals and then the NBA.
"I remember when I was 15, I used to really hate basketball, because I played footy," he said. "Now I can say I made it to the NBA and Michael Jordan was my boss.
"I went to the White House to meet (then-US president) Obama, because we won the national championship my freshman year.
"I never really thought stuff like this could happen to me."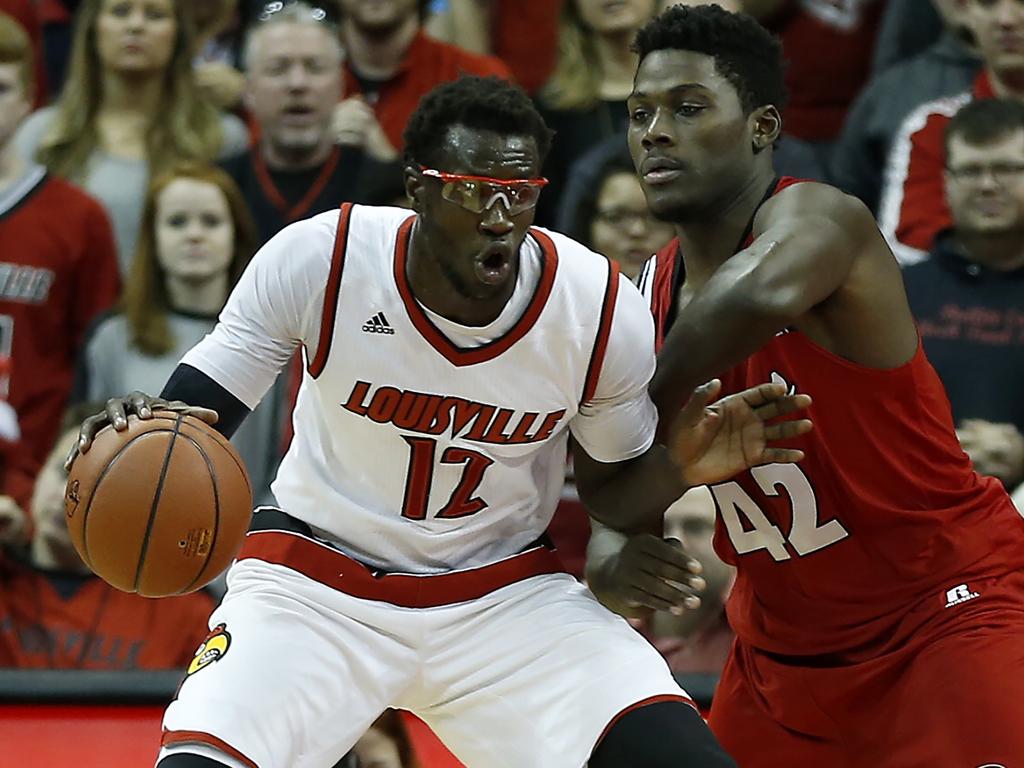 Mangok Mathiang, in 2015, playing for his US college team Louisville. Picture: Getty Images
At 208cm — 6'10" in the old scale — basketball was an easy choice.
Mathiang is acutely aware he is a beacon for other Sudanese kids who are treading their own paths in basketball and life, having mentored many who have been through the college system and are beginning to make their own forays into the pro game.
Basketball opened so many doors for me and my family," he said.
"These young kids who have looked up to me are becoming men and are trying to make it themselves, so I will make sure I am still there for them as I continue writing my own story.
"I'm just grateful and excited to see what's in the next chapter."
MANGOK MATHIANG
Age: 29
Height: 208cm
Weight: 104kg
Born: October 8, 1992, Juba, South Sudan
Parents: Grace and Alfret
School: Emmanuel College, Altona North
College: Louisville, Kentucky, USA
Pro career: Charlotte Hornets (NBA), Greensboro Swarm (G League), Vanoli Cremona (Italy), Bahçeşehir Koleji (Turkey), Cedevita Olimpija (Slovenia)
*His 2017 debut made him the ninth Australian in the NBA that year — the most ever in a single season
*Was just the fifth Sudan-born person to play in the NBA — Manute Bol, Deng Gai, Luol Deng and fellow Aussie Thon Maker before him
*Grew up in Melbourne's western suburbs
*Followed the Western Bulldogs in the AFL
*Majak Daw is his favourite AFL player
*Name is pronounced 'Mango' like the fruit
Originally published as Mangok Mathiang on his NBA and Boomers hopes after returning to basketball from the horror broken leg that almost ruined his career