Melbourne United star Jack White off to NBA Summer League after signing NBL contract extension
Jack White is edging closer to his NBA dream after his stellar play for Melbourne United caught the eye of US scouts, eager for him to play in this off-season's Summer League.
The athletic White, who made a stellar return from a torn Achilles, caught the eye of a number of NBA scouts, with several US clubs reaching out with invites to the off-season competition.
"I'll be at Summer League this year, which I'm excited for as it was something that I missed out on last year with the injury," White said.
Watch Game 1 of the NBL Finals between the Sydney Kings and Tasmania JackJumpers on May 6 Live & Free with ESPN on Kayo Freebies. Sign up for Kayo Freebies now, no credit card required >
Melbourne United star Jack White is on a path to the NBA.
"It's obviously a dream of mine to be able to play in the NBA and the club's definitely supportive of me doing that and wants to see me achieve my goals."
The Duke University product said his management was still working through which team he would suit up for but his new United deal features out clauses should an NBA team decide to sign him on the back of Summer League performances.
United approached White mid-season in a bid to lock him away, long term.
"I'm super fortunate, mate, especially being hurt for that long, you can understand that big of a deal that sort of security is," he said.
"They came to me, I didn't feel like I was in a position to start demanding contract extensions, but I believe in this club and it's reassuring to know they believe in me and see a future with me involved in it.
"As long as I'm in Australia playing, I'm confident this is the place where I want to be."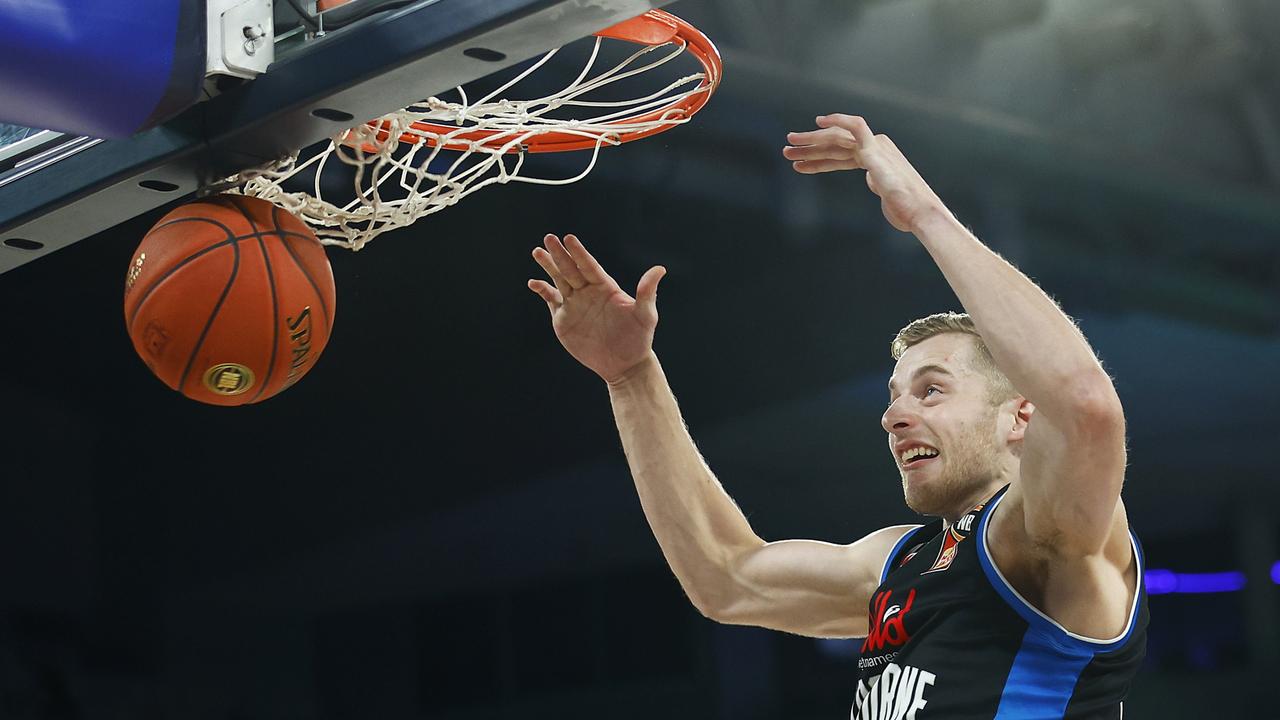 White averaged almost 10 points a game this season.
White averaged 9.5 points, 7.1 rebounds and a block per game, while leading the team in field goal percentage at almost 55 per cent, on the back of an eight-month recovery from the Achilles injury that forced him out of United's 2021 title run.
At 24, he is just scratching the surface of his abilities.
"We knew the quality of person we were getting when we brought him in, but to see him go through the injury and see his dedication to his rehab to come back and improve upon his first season with us, was a credit to him and our medical staff," United coach Dean Vickerman said.
"He had a really good year, but we think the upside of what we've seen so far is exciting. He's got a really aggressive mindset that will allow him to go to another level."
White said he was still in "disbelief" at United's abrupt semi-final end at the hands of underdog Tasmania and, after missing the 2021 title due to the injury, it has added even more "fuel to the fire".
"I felt like it all ended really quickly and it wasn't something any of us were expecting, we had the confidence we were going to be able to get the job done," he said.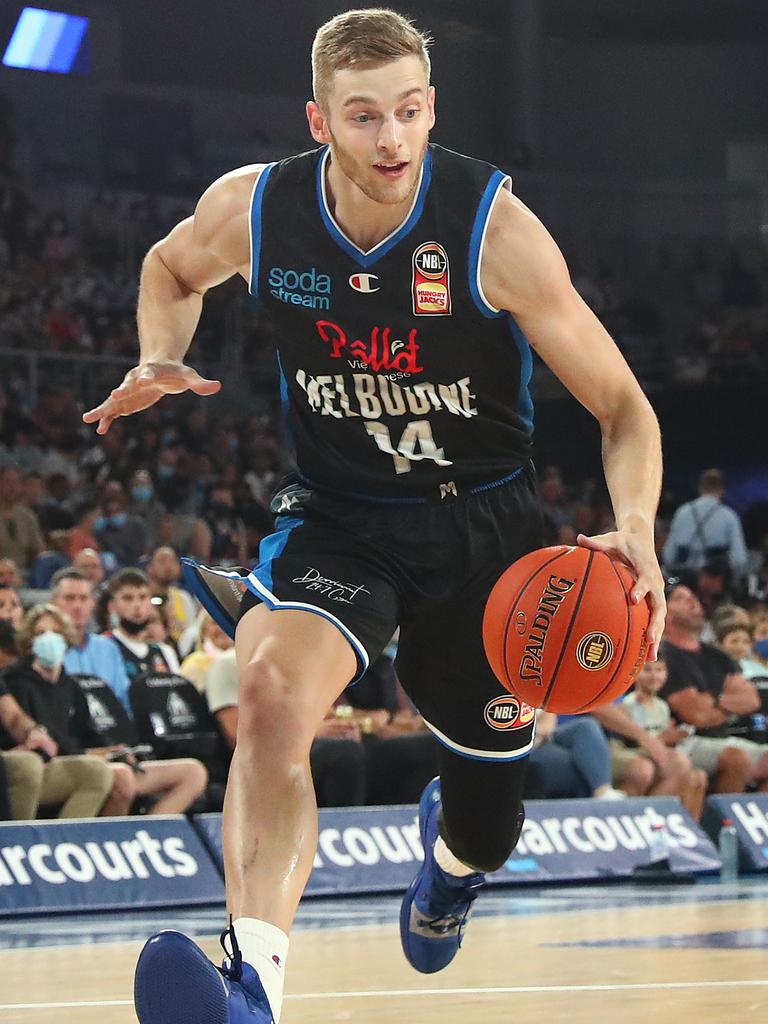 White is taking his talents to the US.
The 24-year-old has plenty to be happy about.
"The fact that it's just over like that was a smash in the face.
"As much as it leaves a sour taste in my mouth, full credit goes to the JackJumpers. In their first season, they've created a culture that is strong, you can see it in how those guys get along with each other and how they play together.
"We'll be back here next year and we're going to be even more desperate for it."
He revealed more details about the shock injury that forced captain Chris Goulding out of the semi-final decider.
"He hopped on an earlier flight out of Tassie (after game two) to get himself a scan and he seemed pretty optimistic about what the result of that would be, that it wouldn't be too serious and he'd be good to play," White said.
"But the scans showed he had a bit of a tear and wasn't able to go forward, so that was obviously a big hit for us as a group.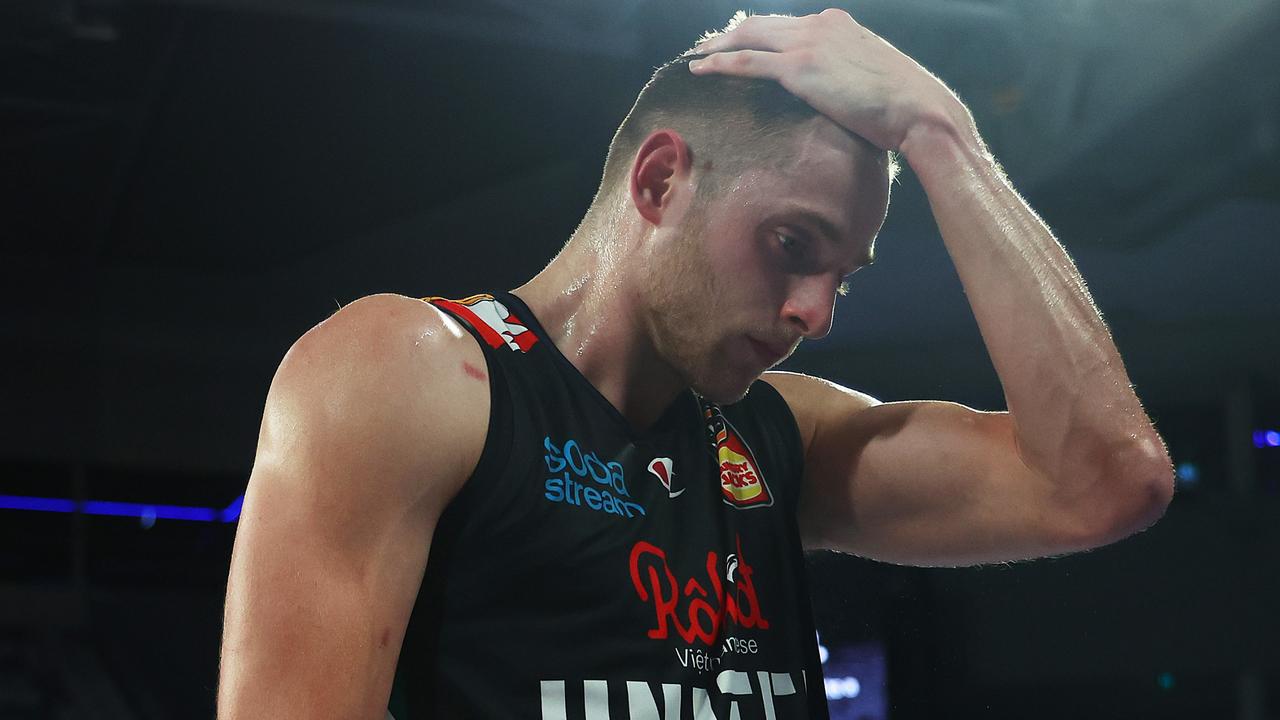 The defeat to the JackJumpers was hard to take.
"He's an unbelievable player and shotmaker but he's also our leader and our captain.
"Not having that out on the floor, it was such a big void that we needed to fill."
White had his United exit interviews on Thursday and said the message to him was to take a well-earned break — and to expect more responsibility in 2022-23.
"It's been a big 12-13 months for me with the injury and rehab and then going straight into the season, so I guess I do need to try to have a little bit of a break before what's next," he said.
Originally published as Melbourne United star Jack White off to NBA Summer League after signing NBL contract extension