British teen Jeremy Sochan's NBA Draft dream
Growing up in Milton Keynes, Jeremy Sochan was as much an Arsenal fan as a basketball fan. Tomorrow he's projected to be a first-round pick in the NBA Draft and put English basketball on the map.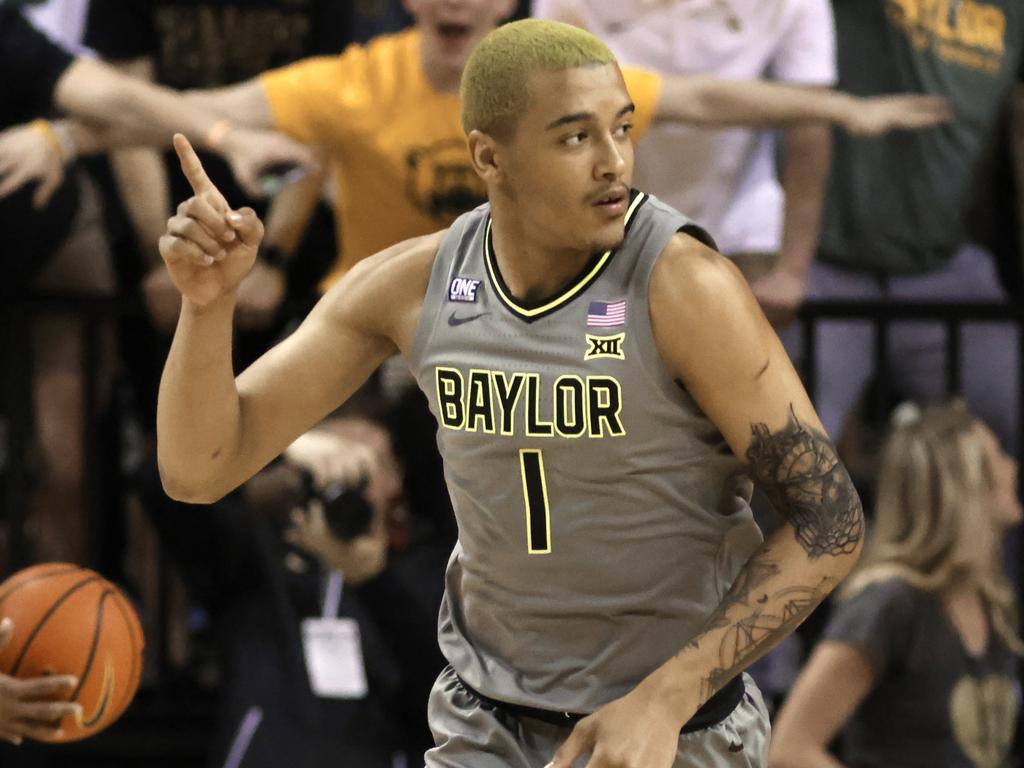 British teen Jeremy Sochan has entered Friday's NBA Draft. Picture: Ron Jenkins/Getty Images
As a boy growing up in Milton Keynes, Jeremy Sochan idolised Santi Cazorla jinking through the midfield for Arsenal, and Kevin Durant as a power-forward star of the NBA. Given that Sochan now stands 6ft 9in with a wingspan of 7ft, you might guess which hero he hopes to emulate.
Late tomorrow, Sochan will feature in the NBA draft, taking place amid much hype, hullabaloo and horse-trading in Brooklyn. Projections are that he could feature as a lottery pick; one of the first 14 chosen. Put simply, a bright, amiable lad from England is one of the hottest prospects in the game's big league. "Crazy exciting," Sochan says over a Zoom call, hair bleached ready for the occasion.
There are a few extraordinary aspects of this; not least that a Union Jack will feature in the crowd, carried by the four schoolmates from England flown over by Sochan to share in his elevation to the big time.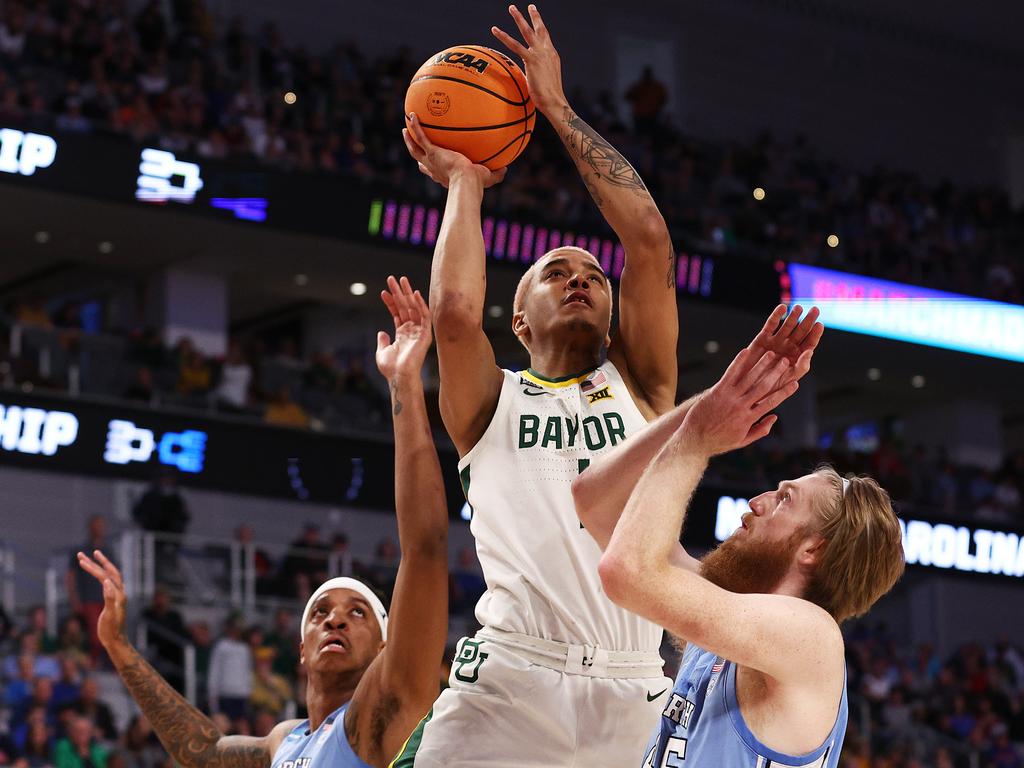 After one year at Baylor Jeremy Sochan has entered the NBA Draft. Picture: Tom Pennington/Getty Images
While those friends finish college and head to university, Sochan, at 19, is about to be offered a ticket to the NBA and a rookie salary of more than $3 million (about £2.4 million) — guaranteed to be more than $4 million if he features in the top-ten picks. "I feel ready, I feel I am mature enough to be in this league, a grown man's league," Sochan says about a night when he will find out if he will be spending the next couple of years of his life in San Antonio, Oklahoma or perhaps Charlotte trying to become that rare thing — an Englishman thriving in the NBA.
It is more than a decade since a British homegrown player was selected in the draft; and almost 20 years since Luol Deng, the British-South Sudanese prospect, featured in the top ten. Making it from the Milton Keynes Trojans and Solent Kestrels is, in sporting terms, like flying to the moon.
That Sochan has made that leap is down to much more than the prodigious height and reach which have made him a highly versatile and robust forward who picked up a reputation as an intense, competitive star of defence in his one year at Baylor University in Waco, Texas.
His background story takes a little explaining. Sochan — pronounced "So-han" — inherited the height from his father, a basketball player in England and the United States, who died five years ago in a car crash long after his parents had separated. Born in the US, Sochan moved to England, aged three, with mum and stepfather.
His Polish mother, Aneta, was also a basketball player who, as a former point guard, helped her son develop some of his dexterity but never pushed him into it. "I started out playing football as a goalkeeper," he says. "I did drama. I tried instruments. They never forced me."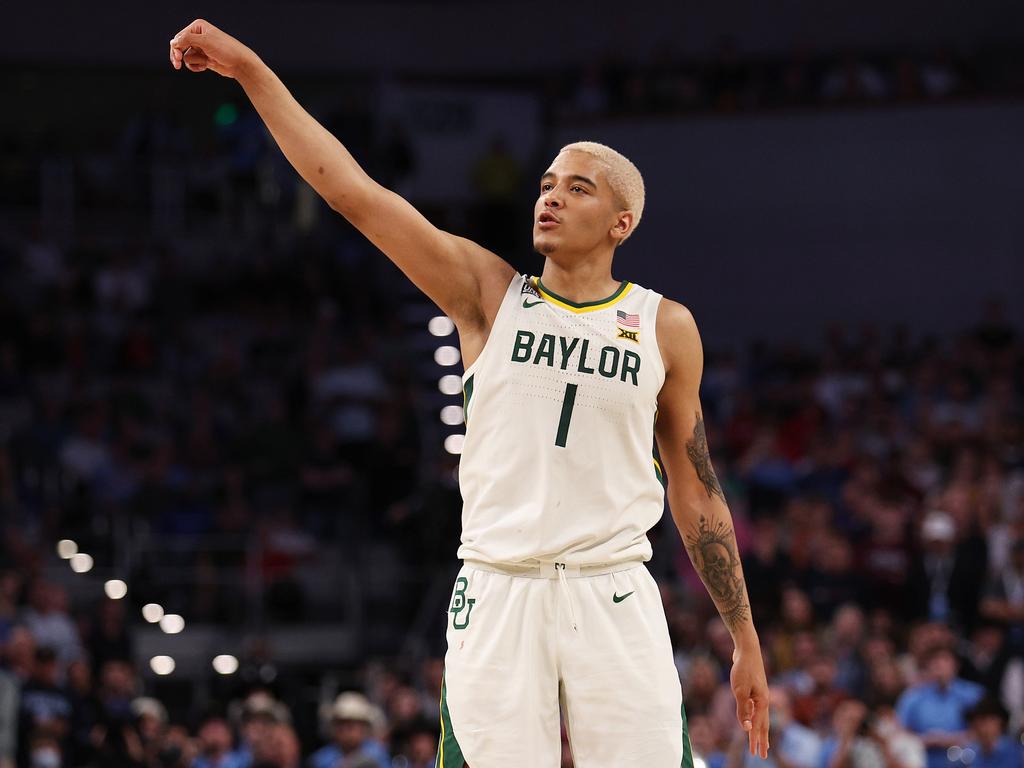 Jeremy Sochan started his sporting life as a football goalkeeper. Picture: Ron Jenkins/Getty Images
But it was basketball in which he began to excel. Despite the system? "Exactly," he says. "Especially my time in England, it was pretty difficult. You can't even find courts. It's all in leisure centres and really expensive. To go on your own or with a couple of friends, you can be paying £60, even more.
"I don't get it because it is one of the most played sports in school. I feel like England has a crazy amount of potential to be really good at basketball." Sochan could, perhaps should, have turned out for Britain but cites "complications" — failings, in other words — in how British Basketball handled it. "Not the best organisation, not the best funding," Sochan says, diplomatically.
Instead he represents Poland, the land of his mother, while also holding an American passport. So can we call him English? "I am English," he says. "I lived in England most of my life through primary and secondary school, living in Southampton and Milton Keynes. That's where my family live, it's where my home is, in Milton Keynes."
He adds that he wants to "do good things for basketball in England" and we talk about Hoopsfix — an organisation and website trying to promote the game and keeping track of dozens of Britons on rosters for leading American colleges.
"Trying to build a lot more awareness around basketball in England, an All Star Classic helping young players try to get to the top," Sochan says. But, while there are clubs such as Leicester Riders and London Lions trying to climb the European ladder, any talent yearns for a scholarship to the United States.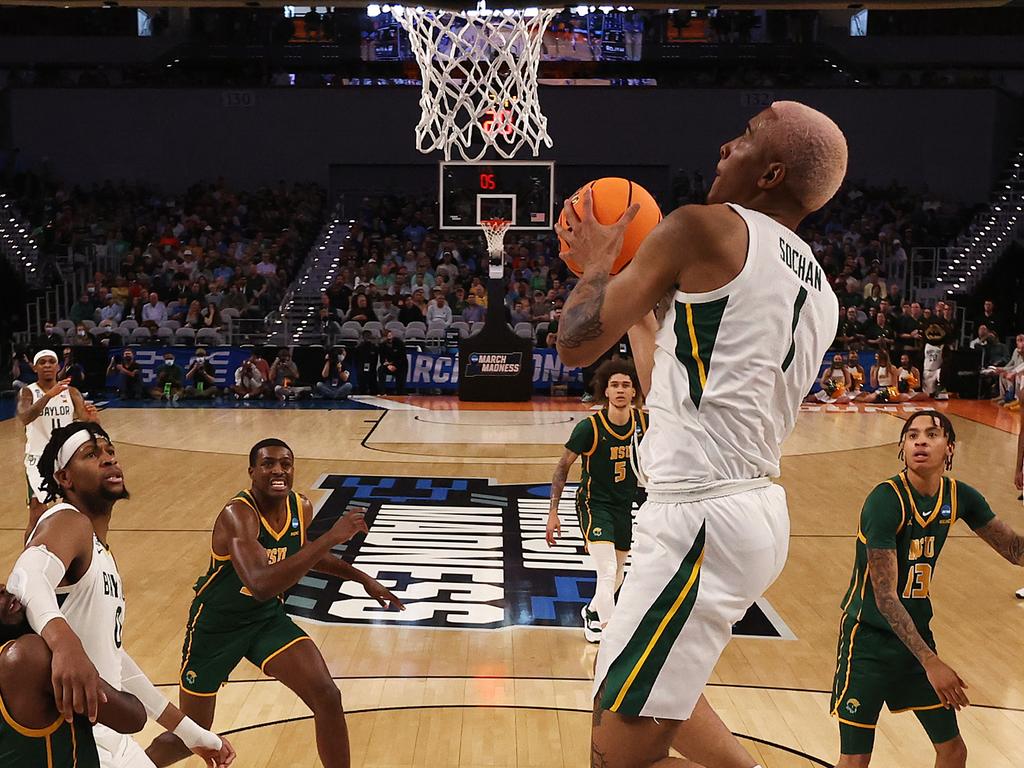 Jeremy Sochan refers to himself as 'English' despite representing his mother's birth land Poland in international competition. Picture: Ron Jenkins/Getty Images
To turn professional after just one year at college highlights Sochan's ambition, which he showed to great effect at the recent Combine, in which draft players show their skills in front of prospective suitors. "All the NBA staff and personnel in one hotel in Chicago so you are surrounded by GMs [general managers] and head coaches," Sochan says. "Suddenly I'm standing next to Steve Nash [former NBA MVP and head coach of Brooklyn Nets] and that's pretty crazy."
Nash, I mention, is an ardent fan of Tottenham Hotspur. "I didn't say anything to him about that," Sochan says, laughing. "I want to keep in his good books for now. But for sure, Arsenal will get Champions League next year."
He has worked out with more than half a dozen NBA teams and feels that he has shown his readiness, despite being one of the youngest players in the draft. "That plays to an advantage because they can base me on potential, the upside of what I can do in a couple of years and how I can develop into the NBA," he says. Improving the consistency of his shooting is the main goal.
"They see so much film of you already so the workout it felt more like seeing what kind of person you are, how you act on the court, are you going to be a cancer for the team or not," he adds. "If you are going to be resilient. They try to push you to the limits and see what you've got."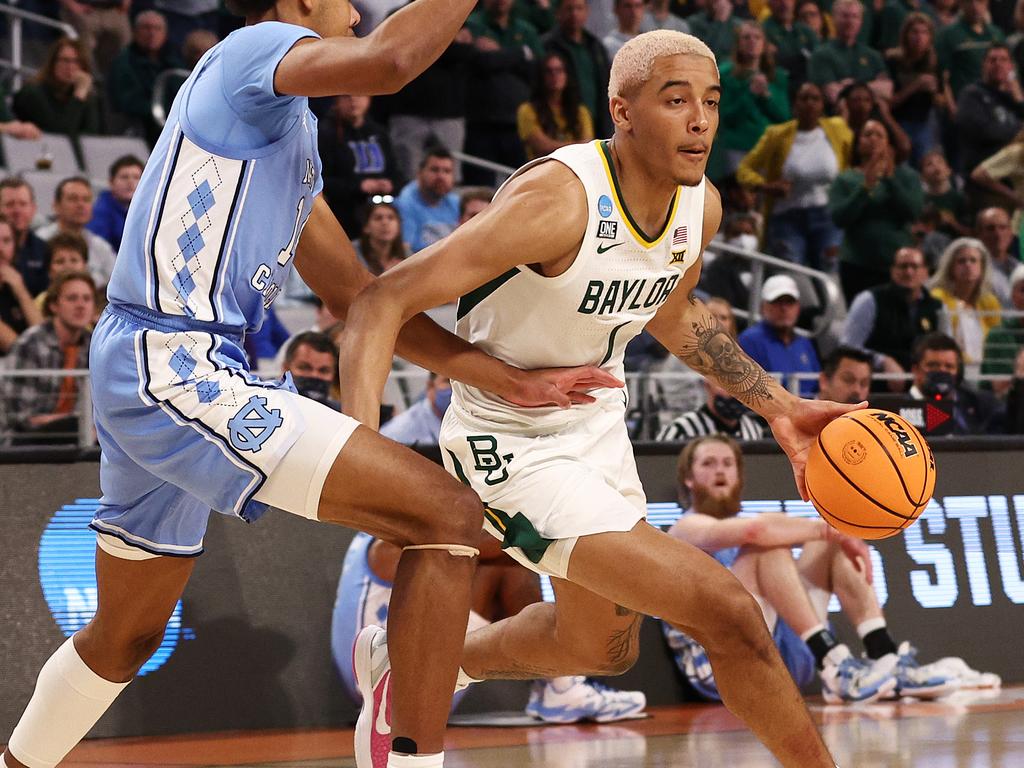 Jeremy Sochan will be one of the youngest players in this year's NBA Draft. Picture: Tom Pennington/Getty Images
Sochan certainly comes over as focused, but also with a wider range of interests. Among those is art, and a touch of Salvador Dali in one of his tattoos of a melting clock. "To show time is precious," he says. "I have a bunch; sacred geometry, Jesus and Mary right here like a figure my mum gave me. Tattoos are things that are unique from my past or with meaning from books, films and documentaries."
At college, he stood out when dying his hair bright green for a time and also blue, with yellow kit, in support of Ukraine, but mostly for the skills which, in most projections, put him about 12th. "It's a night you can't control," he says of the draft. "There will be a lot of nerves but positive nerves. You can't hide away from it. People telling you, 'You are projected here, there.' "
He says that it does not matter where he is drawn, more that he joins a team which best helps him develop. But how will it feel to suddenly be a teenage millionaire? Asked if he might treat himself, Sochan mentions that he does covet a BMW M3 E30. "Vintage, like from 1998," he says.
Then he adds: "But I still need to get my driving licence." The English prospect is ready for the big league in America but not quite yet the freeway.
Jeremy Sochan celebrates Baylor's win over Iowa State to share the Big 12 Championship. Picture: Ron Jenkins/Getty Images
The NBA's five highest earners by salary 2021-22
Stephen Curry (Golden State Warriors) – $45,780,966 (£37.3 million)
James Harden (Philadelphia 76ers) – $44,310,840 (£36.1 million)
John Wall (Houston Rockets) – $44,310,840 (£36.1 million)
Russell Westbrook (Los Angeles Lakers) – $44,211,146 (£36 million)
Kevin Durant (Brooklyn Nets) – $42,018,900 (£34.3 million)
The best British NBA players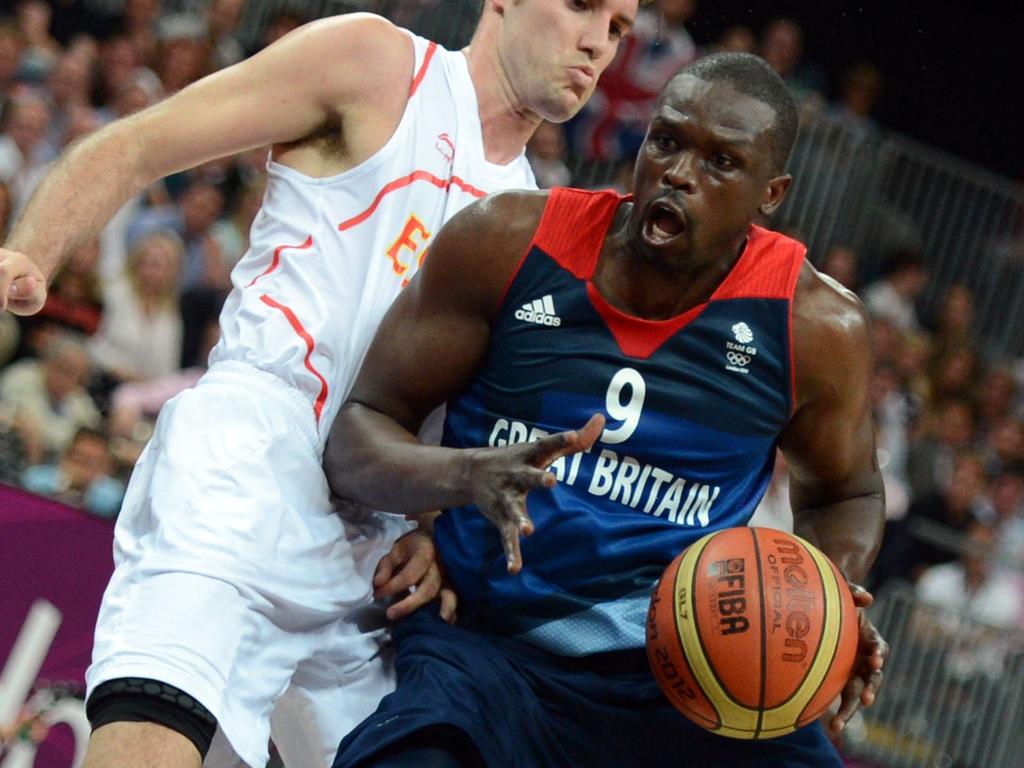 NBA veteran Luol Deng playing for Great Britain at the London 2012 Olympic Games. Picture: AFP PHOTO / TIMOTHY A. CLARY
Luol Deng (Chicago Bulls, Cleveland Cavaliers, Miami Heat, Los Angeles Lakers, Minnesota Timberwolves)
A refugee from South Sudan, Deng emigrated with his family to London. He was offered a scholarship in New Jersey at 14 and made his name with the Chicago Bulls before spells at a number of other NBA teams.
James Donaldson (Seattle Supersonics, San Diego/Los Angeles Clippers, Dallas Mavericks, New York Knicks, Utah Jazz)
Born in Norfolk, Donaldson spent 14 seasons in the NBA with a host of teams and made the All-Star squad in 1988. He retired at 42 after ending his career in Europe.
Ben Gordon (Chicago Bulls, Detroit Pistons, Charlotte Bobcats, Orlando Magic)
From London, Gordon moved to the US after ten months and was drafted third overall by the Chicago Bulls in 2004, before spells with the Detroit Pistons, Charlotte Bobcats and Orlando Magic.
OG Anunoby (Toronto Raptors)
The 24-year-old from Harlesden, London, has impressed since he was selected with the 23rd overall pick by the Toronto Raptors in 2017. He won the NBA title with them in 2019.
John Amaechi (Cleveland Cavaliers, Orlando Magic, Utah Jazz)
Born in Boston to an English mother, Amaechi joined Cleveland Cavaliers after first picking up basketball at 17. He returned to the NBA with Orlando Magic and Utah Jazz after spending three years in Europe.