Chris Anstey: Josh Giddey and Luc Longley's surprise exchange signalled changing of the guard
It was supposed to be a fan Q&A with Josh Giddey. But, as CHRIS ANSTEY writes, Luc Longley had other ideas.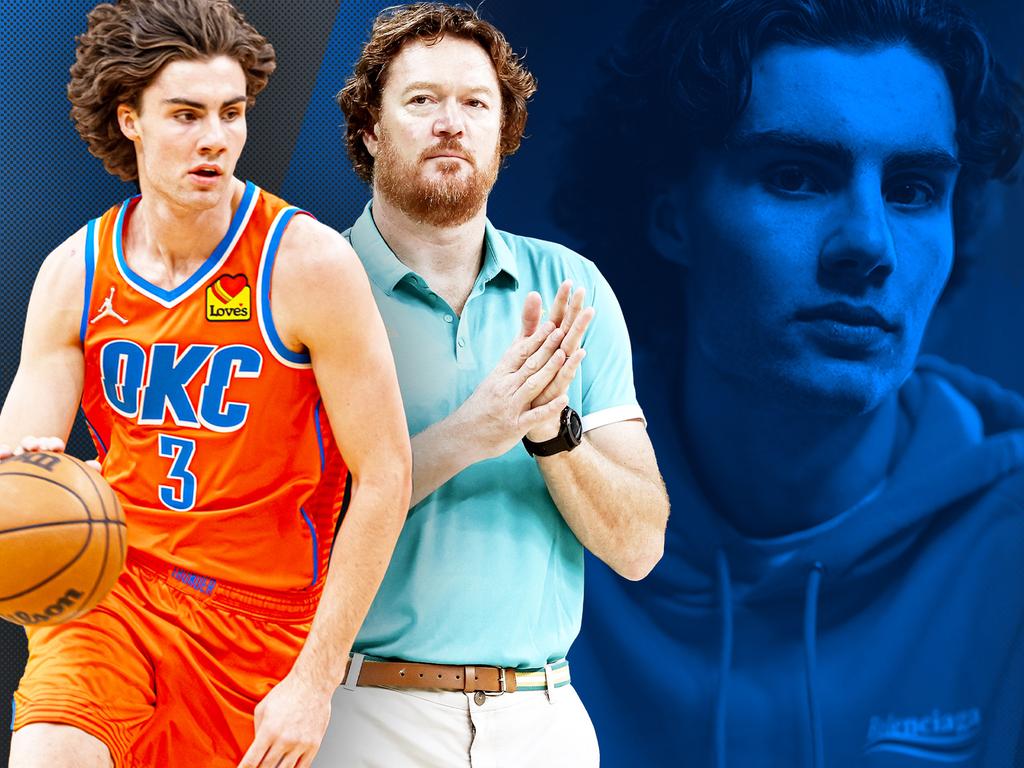 It might have been a fan Q&A, but Luc Longley took an opportunity to make sure Australian basketball was in good hands.
Josh Giddey was sitting on stage, microphone in hand, answering a young fan's question. I also had a microphone and was making my way around the room conducting an audience Q&A at the end of our event last Thursday evening.
Luc Longley caught my eye.
He raised his hand just enough for me to see.
As Josh looked to find the next question, Luc's voice broke the silence.
"Josh, big fan" he started, deadpan as Josh smiled. "I really like the way you go about it, but my question is this: You first go to the NBA and you've watched these guys your whole life – every athlete's bigger, faster, longer, stronger – [but] … was there a moment when you realised, 'Hang on, I can be good here?' It looks to me like the game slows down for you now."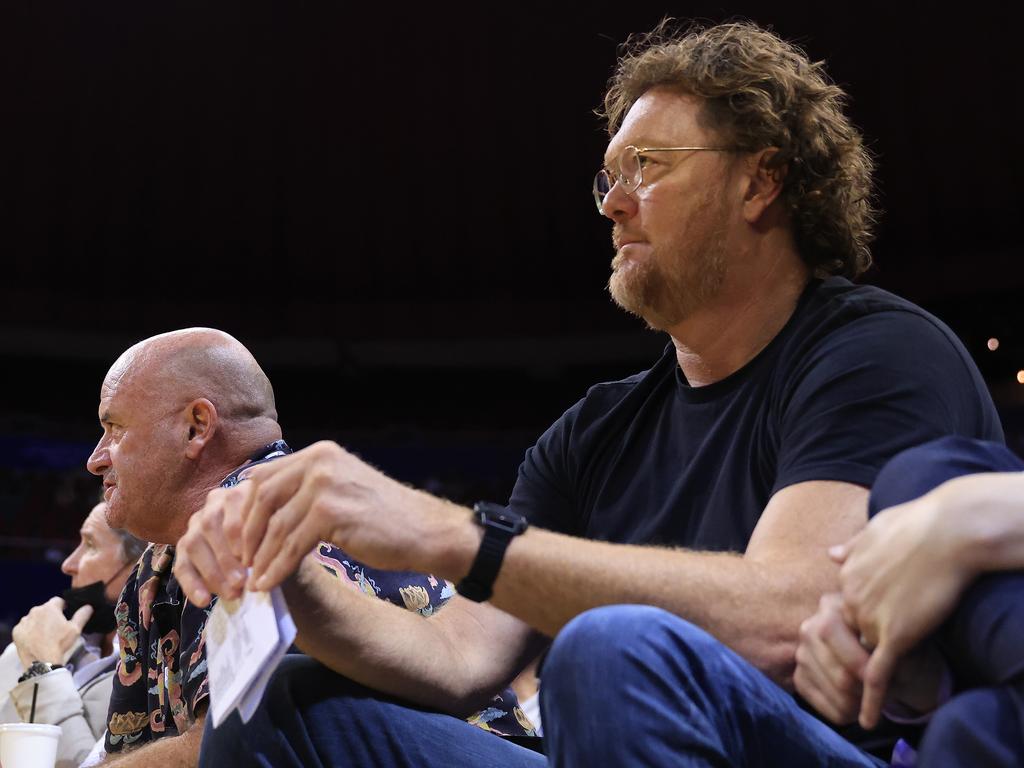 Longley has always been a keen observer of Aussie basketball talent. Picture: Mark Evans/Getty Images
You could hear a pin drop. The brightest young NBA star in Australian basketball today carefully considered his answer to the Godfather of all Australians to have pulled on an NBA jersey.
"In the NBL it was the same thing." Giddey said. "It took me a little while to find my feet and play the game at the pace I play at. I think coming to a new league there's so much adrenaline going through you I was just naturally rushed: everything was sped up for me and it took me a little while to slow down.
"Once I found my role in the team, understood what they needed me to do, the game started slowing down. It took me a while because in the start I was all sped up and rushed and doing things a hundred miles an hour, but once that adrenaline had left, and I was just playing on instinct and feel, everything slowed down around me, and the game became a lot easier to play."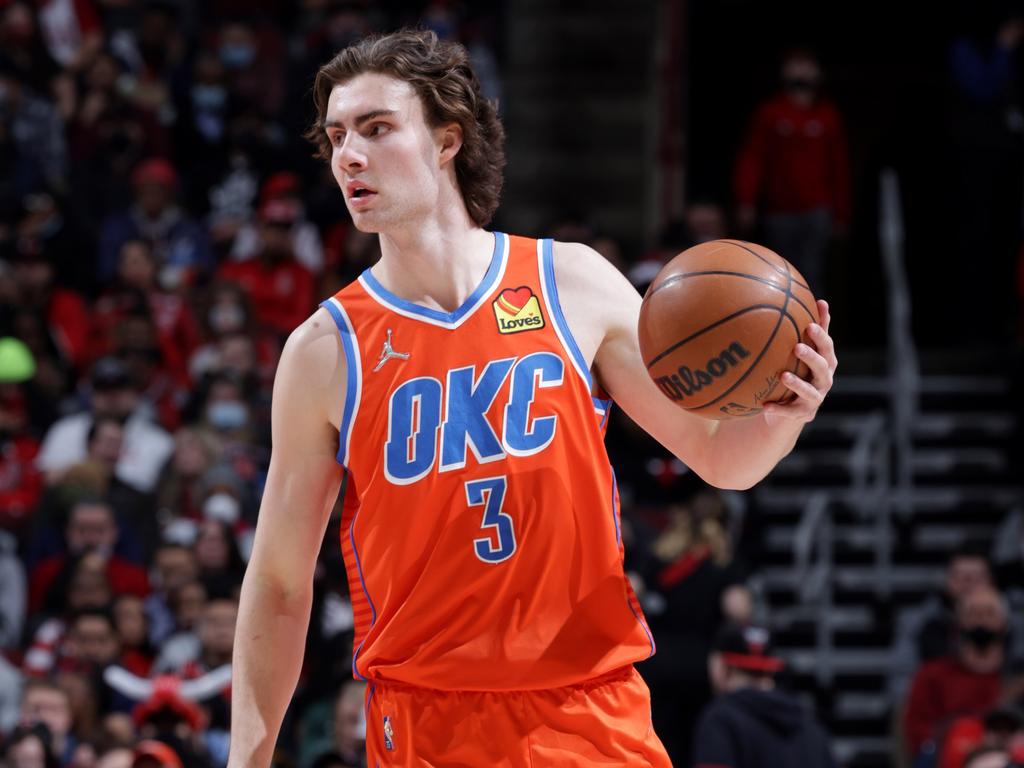 Josh Giddey thrived in his first season in the NBA. Picture: Jeff Haynes/NBAE via Getty Images
I was in charge of the roving microphone and crouched at Luc's table. Phones began popping up around the room as folks realised the significance of the interaction between two generations of Australian basketball's most influential stars.
As Josh finished his answer, Luc held onto the microphone. No argument from me. This was evolving from a Q&A into a conversation. The crowd sat enthralled as Luc and Josh discussed the differences in style of play between the NBA and the international game.
Luc whispered to me that his next question would be his last.
As he asked it, I couldn't help but feel it represented the final question of a test that Josh didn't know he was taking: Luc's personal test to determine if Josh was truly the right person to carry Australian basketball forward.
"One of the things, I suppose, is the NBA breeds – professional sport breeds – divas and rockstars and primadonnas and we all feel, and I'm sure I speak for all of us, like that's not going to happen for you.
"I'd like to know what your strategy is to not get wound up in that side of the game."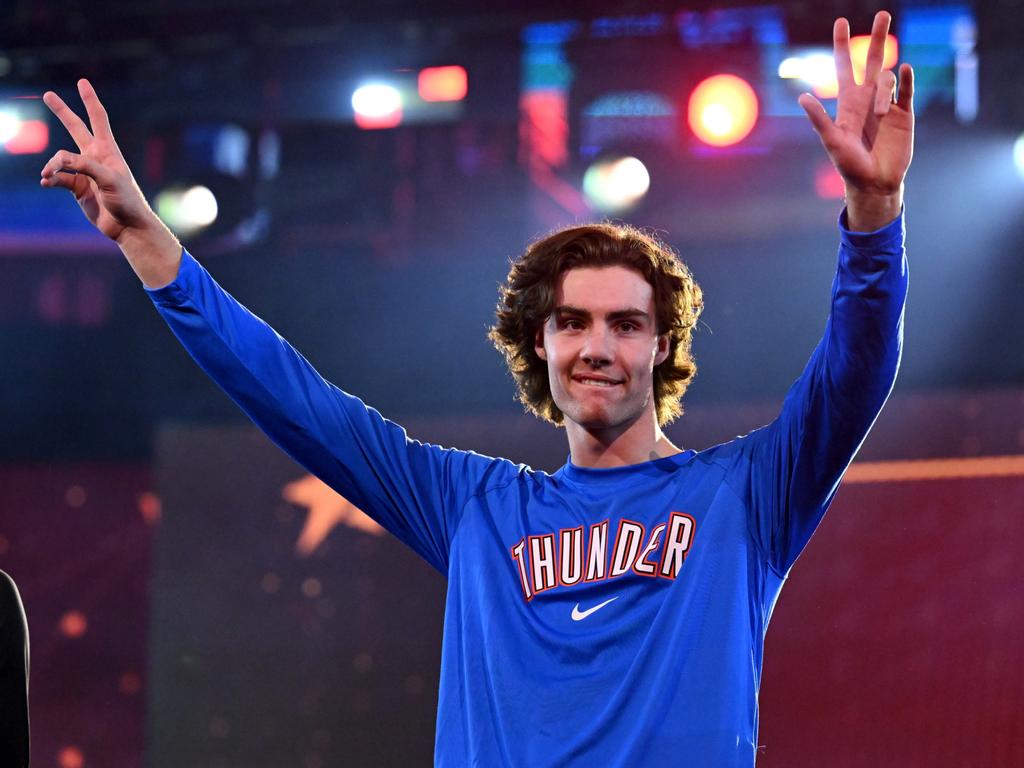 Giddey's answers earned a standing ovation from Longley. Picture: Jason Miller/Getty Images
Luc handed me his microphone as Josh raised his and spoke without hesitation.
"I mean, the NBA can be a circus at times and there's a lot of things going on," he said. "I've never wanted to be involved in all that. I've always kept myself humble and grounded, and testament to my parents for the way they raised me.
"I was always a team player; I love getting teammates involved and I think that carries to off the court to wanting to be a good person regardless of what my platform might be.
"As an NBA player you've got a lot more eyes on you and I think staying humble and staying grounded are a really important piece to that. You want people to think that, especially as a rookie. The first impression is [how] people are going to remember you, so it was an emphasis for me to stay humble and leave a good first impression on people who haven't seen me before."
Longley pushed his chair back, stood, held Giddey's gaze, and applauded.
It was a moment everyone in the room will remember for a long time.
Unscripted. Personal. Symbolic.
Longley seems satisfied the future of Australian basketball is in good hands. Picture: Daniel Pockett/Getty Images
Patty Mills and Joe Ingles have led the Boomers to their first ever medal, but they will be done after the next Olympic Games. It was evident to everyone in the room last week that Giddey was ready to step in. Throughout the night, he spoke about how he plans to prioritise representing Australia when selected and his excitement at the prospect of playing with Josh Green, Jock Landale, Dyson Daniels and the next generation of Boomers.
By his own admission, Giddey was gutted to miss out on the Tokyo Olympics, but enjoyed the silver lining of attending the NBA Draft. He celebrated our historic bronze medal with the rest of us, but wants to be a part of a team that can go a step or two better.
I will always remember the night that the next generation of Australian basketball, a future leader of the Boomers, sat in front of me and took a test from our NBA pioneer, one of the greatest to ever do it.
With Longley's approval, and the support of everyone else, the future of basketball in our country is in great hands with Josh Giddey.