Chris Anstey: NBA Draft scrutiny in 1997 almost ruined my game
For most basketballers, the NBA Draft period brings a heap of attention they lap up. For CHRIS ANSTEY, the contingent of scouts taking notes on his every move in the NBL caused only angst.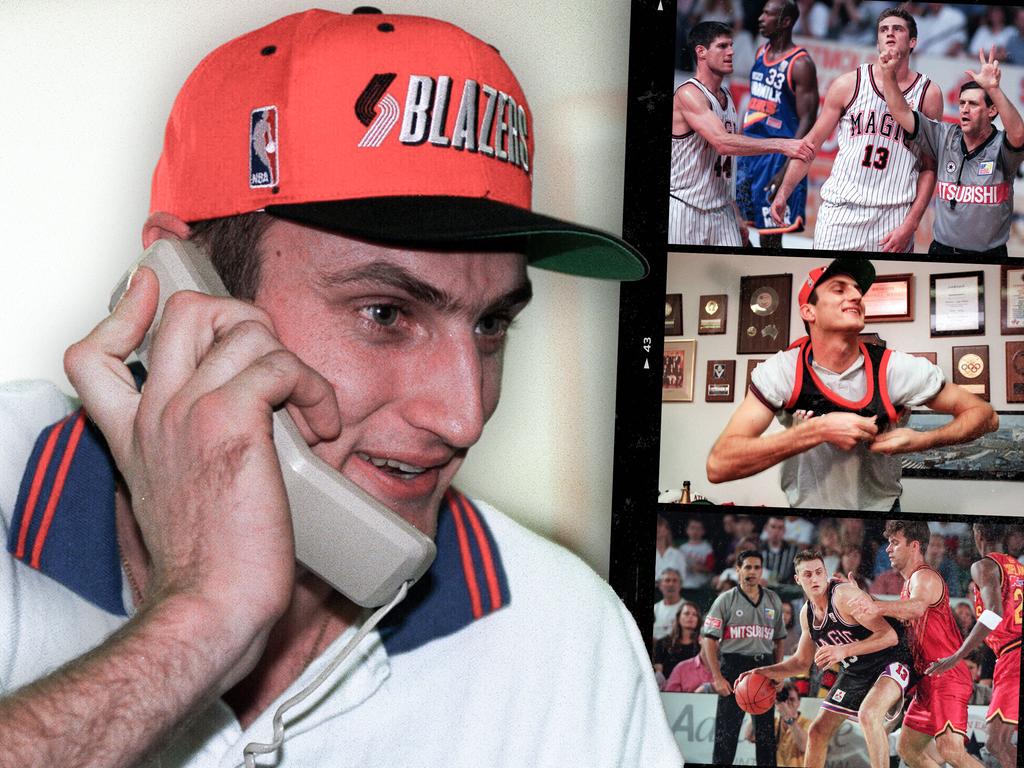 Chris Anstey knows what it's like to be involved in an NBA Draft.
Aussie Dyson Daniels will have his name read out at the NBA Draft this week. Like Josh Giddey last year and Luc Longley, Andrew Bogut, and Thon Maker previously, it will be in the top 10.
The basketball world has changed a lot in the past 25 years. NBA scouts are permanently stationed all around the world and nearly every high-level game of basketball played is recorded and available almost immediately. If you have enough talent, you'll be seen and evaluated.
With social media dominating most young peoples' lives, athletes are increasingly accustomed to seeing themselves on a screen, self-promoting and sharing information about themselves freely. They are used to being measured, evaluated, and interviewed as they strive to find greater opportunities. Most of them enjoy the attention and publicity; after all, they have already likely been told how important it is to grow their brand.
Back in 1996, 12 months before the 1997 NBA Draft, my experience was completely different. The first I even knew about being eligible for the draft was when Brian Goorjian, my coach at the South East Melbourne Magic, called me into his office after a training session.
"I think you're going to need an agent," Goorj said. "The NBA is a real thing for you. I had a few calls early in the season asking about you, but I'm getting them every day now. You need someone more qualified than me to speak on your behalf."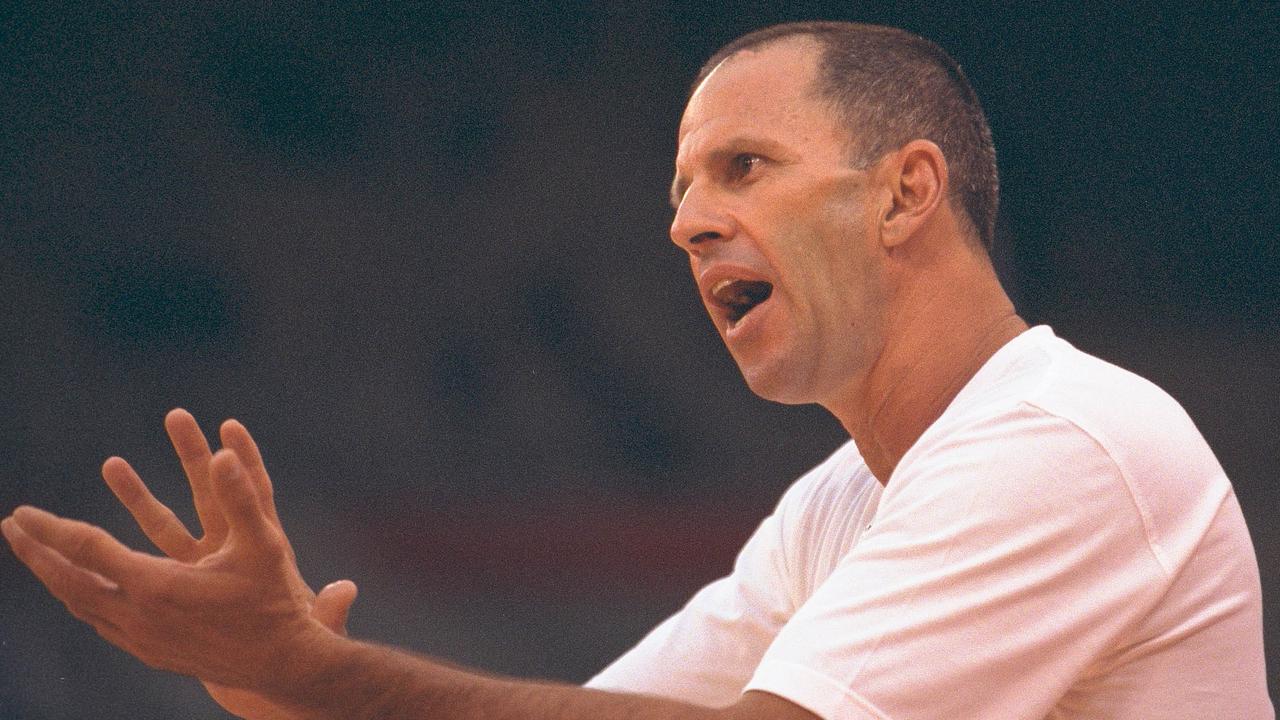 Brian Goorjian: "You're going to need an agent." Picture: Robert Cianflone/ALLSPORT
I had no idea the NBA was a real possibility or that I was on teams' radars, and even as Goorj spoke, I was still a little sceptical about how genuine the interest was. I mean, I knew how many weaknesses I had. I was not even close to the best player at the Magic. I had never started an NBL game. It is one thing for NBA scouts to make calls, a completely different thing for the team that employs them to be genuinely interested.
I had never had an agent. My dad, Ken, was an accountant and had guided me through my first two NBL contract negotiations, but neither of us knew anything about the NBA and how things were done.
"Um, OK," I said. "Where do I start?"
We sat and listed different United States-based agents who represented NBA players. But, as little as I knew about the NBA, I knew in my first moments of considering signing with someone where I would sit in their pecking order.
"There is this guy who is based in New Jersey," Goorj said. "He owns a law firm, loves hoops, and has just started managing basketball players."
One of his few clients at that stage was Rick Brunson, who was playing that season for the Adelaide 36ers, and Goorj offered the kicker that Sixers coach Mike Dunlap said he was already one of the best agents he had dealt with.
I picked up the phone and called the agent, Leon Rose. The more Leon spoke, the less he was what I expected. He was truthful about what he could offer me and about wanting to learn about me as a player. He was genuine. So much so that less than a week after calling him, Leon had flown across the globe and was sitting opposite me at our training base in Melbourne.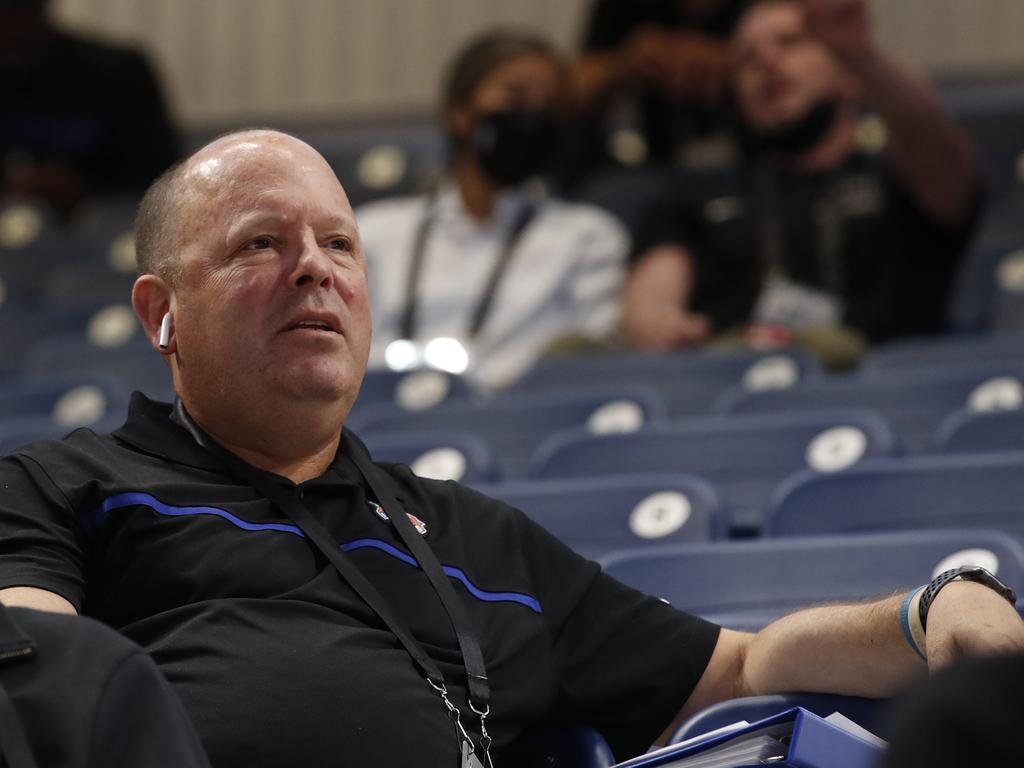 Chris Anstey's first ever agent, Leon Rose. Picture: Jeff Haynes/NBAE via Getty Images
Three months later, we held the NBL championship trophy aloft in front of 15,000 fans at Rod Laver Arena and I had barely had another thought about the NBA. While Leon had left me alone to concentrate on the season, he had been busy working the phones. As far as I knew, nobody from the NBA had been calling.
After two days of celebrating our title, I was on a plane with some of the younger guys and development players from our team, heading to the United States to play a series of exhibition games against some big college basketball teams including Texas and Arizona – but our first stop on the mainland after landing in California was the University of San Diego.
I was naively unaware of the presence of a dozen NBA scouts and executives, including the master architect of the LA Lakers rosters and perhaps the greatest general manager and talent evaluator in NBA history, Jerry West. I had their attention. My teammate Andrew Parkinson told me after the game that not only were they there, but they seemed to have been taking a lot of notes.
As our tour rolled on, and knowing there would likely be scouts and coaches at all of our games, I began noticing the NBA notepads – a distinctive orange folder with faux basketball covering – during our warm-ups. I had a very good trip individually, and we beat some big schools, but now I felt a sense of pressure that had not previously existed. Every time I saw a scout write in his folder, I wondered what he was writing. I felt like every step I took was being watched. I had no idea what parts of my game and demeanour were positive and negative in their eyes.
When the Magic tour finished, Leon and I flew to Seattle, New York, and Philadelphia to workout with NBA teams. I did well enough in those workouts, and Leon now had enough feedback from months of conversations, it was no longer a matter of if I would be drafted the following year. Rather, it was a matter of where I would be drafted, in terms of both number and location.
Jerry West, arguably the greatest talent spotter in NBA history, was among the scouts to watch Anstey. Picture: Andrew D. Bernstein/NBAE via Getty Images
Knowing what was now at stake, I had a really good NBL pre-season back in Australia. With Brian Goorjian and Bruce Gray, the Magic strength and conditioning coach, there was no other option. We were ready to defend our NBL championship as the season-opener rolled around. But when we got to that 1997 season-opener against the Perth Wildcats, things had changed. For me, anyway.
As we were introduced onto the court, I saw them. Nearly 20 men I had never seen, sitting directly behind our bench, wearing NBA polo shirts, and carrying black and orange NBA notebooks. Every one of them was there to watch and analyse me in detail for the upcoming NBA Draft.
While some players love and welcome extra attention, I hated it. I tried far too hard to make every shot in the warm-up, to show them different dunks I could do. When the game started, I did not know whether they expected me to score more, to block more shots, or to be able to score from the post. Every time I made a mistake I felt as though it was bigger than it was. I felt as though I needed to be on my feet clapping when I was on the bench, even at times when I should be discussing the game with my teammates and assistant coaches.
Game by game, the harder I tried to impress them, the worse I played, and the more fake I became.
It was worse when the polo shirts and folders appeared at training sessions. Just a handful of people I did not know, writing notes every time Goorj yelled at me, or I had a bad shooting drill. It was too much.
All I wanted to do was keep improving and help our team win another championship. Eventually, I told myself I did not care about what others thought of me, like I would eventually learn years later, but I did.
We won a road game against the Sydney Kings on the weekend before the draft. I even hit two free-throws just before the buzzer to win by a point. It felt like a full stop. My teammates jumped all over me as we celebrated our win. Back in my hotel room, with nobody around, I quietly celebrated not having to play any more games in front of scouts. The NBA had everything on me they were going to get.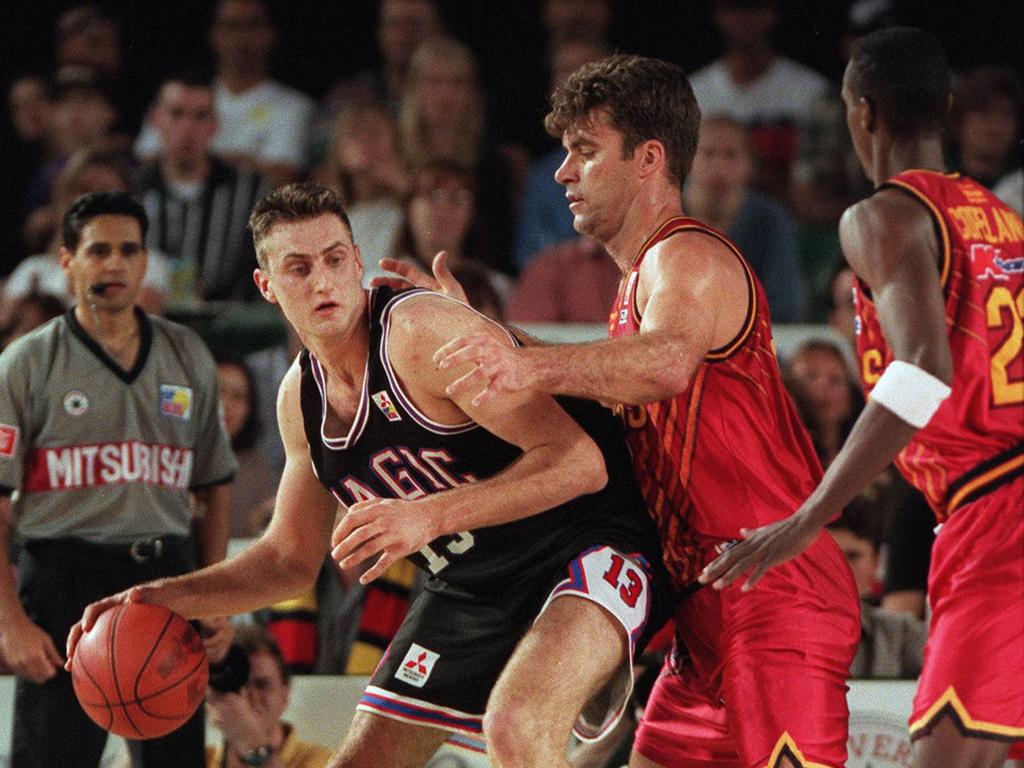 Chris Anstey (left) in action in the 1997 season. Picture: Tindale Darren/News Limited
We lifted weights as a team on the morning of the draft, then headed into the Channel 10 studios in Melbourne to meet my parents and watch a livestream of the coverage from the United States. We were escorted into a small room. A large screen television hung on one wall, a table with a cap from each NBA team sat in a corner. It was weird. I was not comfortable with this being all about me. I knew my teammates were happy for me, but I also knew I was about to be afforded an opportunity all of them would have loved. Unfortunately, it was only being offered to me.
As NBA Commissioner David Stern announced Tim Duncan as the No.1 pick of the 1997 NBA Draft, me going to the NBA became even more real. Today – June 26, 1997 in Australia – was the day. Leon had told me I would be a first-round pick. The Chicago Bulls were going to draft me with the 28th and final pick of the first round if I was still available, which I likely would be.
With five minutes between each pick, we all settled in, with just marginal interest in the first 10 picks, which included Chauncey Billups and Tracy McGrady. An hour-and-a-half later, with the room full of growing interest in each pick, David Stern walked to the podium.
"With the 18th pick in the 1997 NBA Draft, the Portland Trail Blazers select Chris Anstey of the South East Melbourne Magic of the National Basketball League of Australia."
It was real. I was going to the NBA.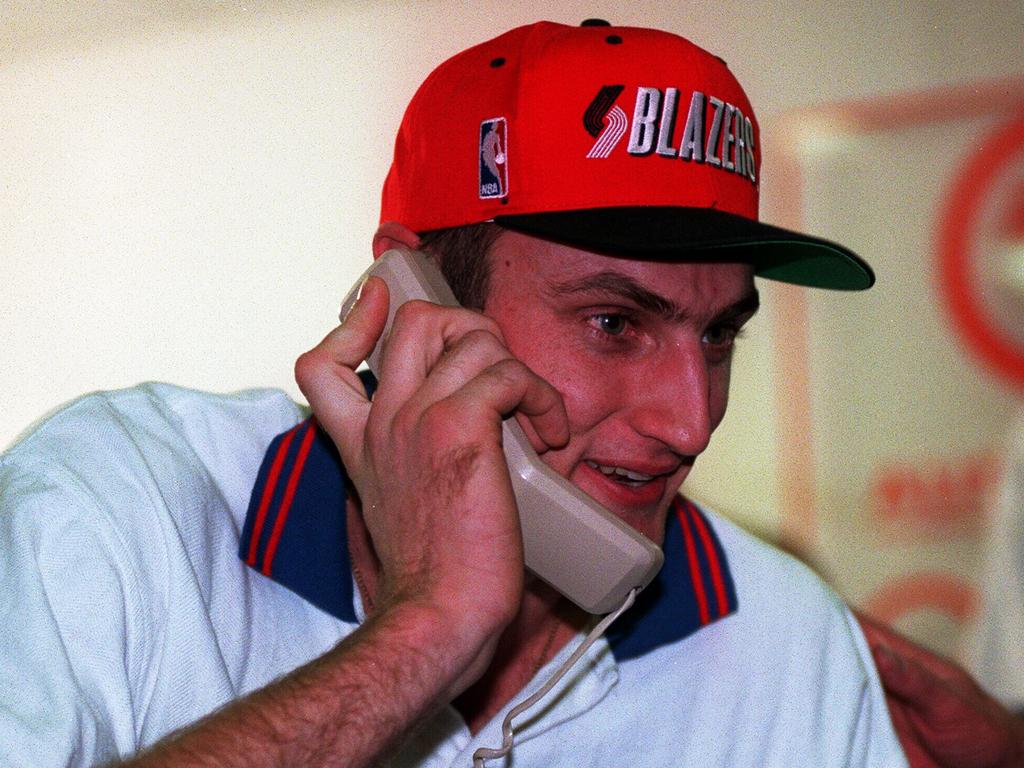 The NBA calling. Picture: Sal George/News Corp Australia
*****
The other thing that was real was my instant emotion. In that very moment, I felt equal parts excitement, apprehension, and guilt. Excited by the incredible yet daunting opportunity, apprehensive about whether I was good enough, and guilty that it was me and not Sam Mackinnon or another teammate being selected.
My teammates were rowdy as I hugged mum and dad and shook a lot of hands. I smiled awkwardly as I put on a Trail Blazers hat for the obligatory television content. To make it even more awkward, I was handed an undersized singlet and had just squeezed into it when my phone rang. It was Leon.
"Yo! Congratulations, you're an NBA player," Leon said. "But there's more news. David Stern is about to announce that there was a pre-draft trade made between Portland and Dallas. You're going to be a Maverick."
OK. Add confusion to my list of emotions. "I guess I'm going to Dallas instead," I told everyone as I hung up the phone. David Stern made it official a few minutes later, we took some photos, this time wearing a Mavericks cap, I did a quick interview, and left for training.
There was an almost surreal buzz about training. Everyone's spirits were high as we flew through the session. The boys talked a lot of trash as we finalised our preparations for our return contest against the Sydney Kings two days later.
When game time arrived, and the ball was thrown up, I felt free for the first time. Free of scrutiny, free of pressure, free to be me.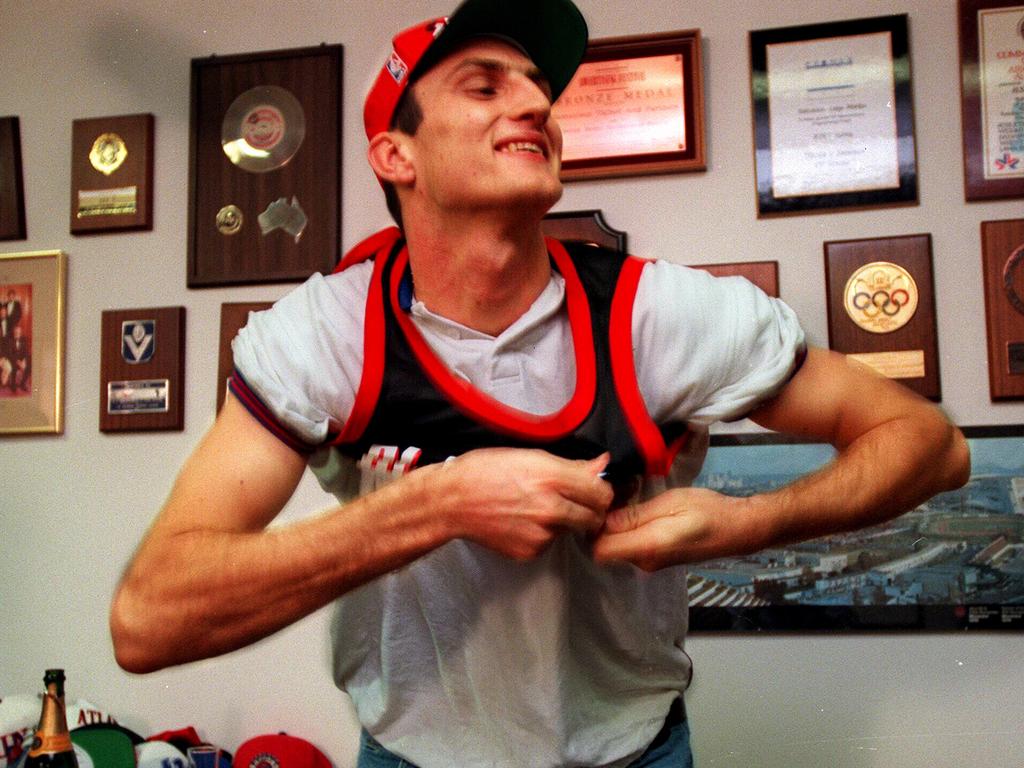 Chris Anstey did not spent long in the Portland Trail Blazers kit. Picture: Salpigtidis George/ News Limited
Two hours later, I sat in the changeroom having played my best game of the season. I smiled all game long as I made post moves, hit jump-shots, and even made a face-up spin move and finished with a left-hand hook. Basketball was fun again, and I was going to make sure I enjoyed every minute of my remaining time with the South East Melbourne Magic.
We fell just short of defending our championship that season, and I found myself back at the airport the day after losing the third and deciding game of the NBL Grand Final series. Just before I boarded my flight to Dallas, Brian Goorjian reminded me of one thing: Through all this, I had done something nobody in the history of Australian basketball had done. I had been drafted to the NBA directly from the NBL, and I should be proud of that.
As the years went by, it occurred to me it really was special to do something that had not been done before, to perhaps show somebody else out there it was possible. Goorj was right, I am proud of what I was able to achieve. I no longer feel guilty, and most importantly, I stopped trying years ago to impress people and was comfortable just being me, no matter what others thought of me.