Chris Anstey: The human side of Leon Rose, agent to the stars and New York Knicks saviour
CHRIS ANSTEY was Leon Rose's first NBA client 25 years ago. LeBron James, Allen Iverson, Dwyane Wade joined him on a billion-dollar client list before the Knicks came calling, yet Rose never changed.
Chris Anstey became Leon Rose's first NBA client.
Leon Rose is one of the most influential people in the basketball world.
Twenty-five years after agreeing to represent a raw Australian kid in his bid to play in the NBA he has, in order; put young Australian athletes on the NBA radar, represented the very biggest names in the NBA including LeBron James and Allen Iverson, developed a basketball representation arm for global media agency Creative Artist's Agency (CAA) and is now entrusted to turn around the fortunes of the NBA's most valuable franchise, the New York Knicks, as their president.
Let's rewind. The raw kid was me, and it was midway through the 1996 NBL season. Brian Goorjian, my coach at the South East Melbourne Magic, called me into his office after a training session.
"I think you're going to need an agent," Goorj said. "The NBA is a real thing for you. I had a few calls early in the season asking about you, but I'm getting them every day now. You need someone more qualified than me to speak on your behalf."
This was the first time I even had an idea the NBA was a real possibility or that I was on teams' radars. It was less than a year before the 1997 draft and now Goorj was telling me about phone calls and agents.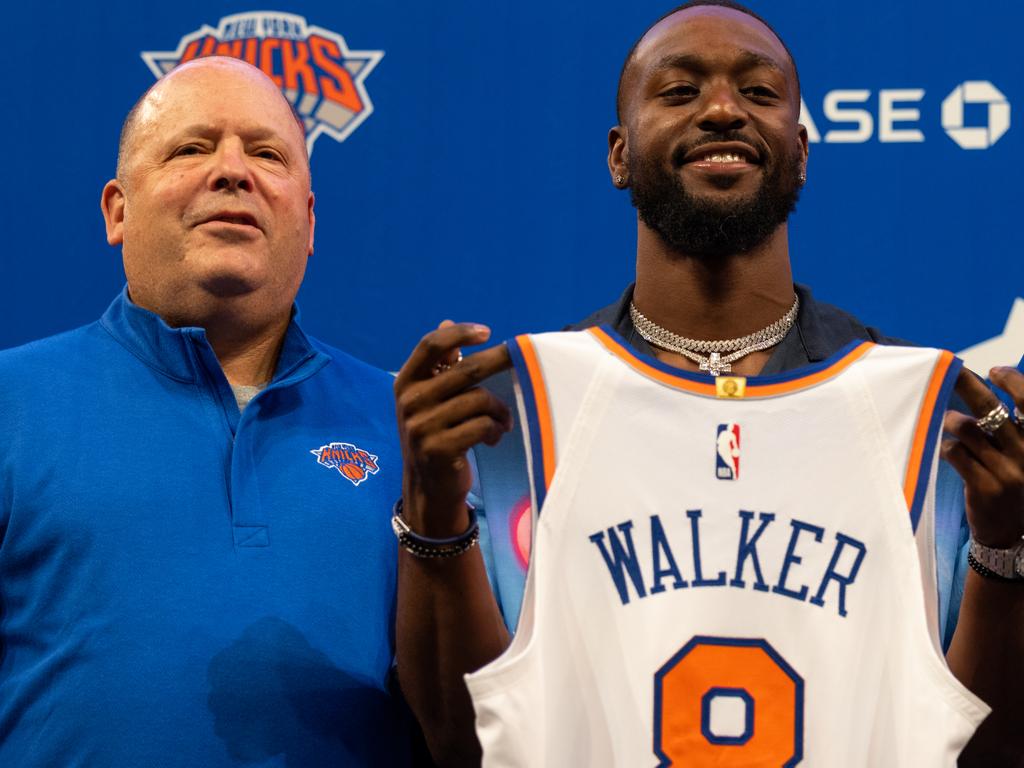 New York Knicks president Leon Rose with Kemba Walker in August 2021. Rose is one of the most influential people in basketball. Picture:

Dustin Satloff/Getty Images
Even as he spoke, I was still a little sceptical about how genuine the interest was. I mean, I knew how many weaknesses I had. I was not even close to the best player on the Magic. I had never even started an NBL game. It is one thing for NBA scouts to make calls, a completely different thing for the team that employs them to be genuinely interested.
I had never had an agent. My dad, Ken, was an accountant and had guided me through my first two NBL contract negotiations, but neither of us knew anything about the NBA and how things were done.
"Um, OK," I said. "Where do I start?"
He sat and listed different US-based agents who represented NBA players. But, as little as I knew about the NBA, I knew in my first moments of considering signing with someone where I would sit in their pecking order.
"There is this guy who is based in New Jersey," Goorj said. "He owned his own law firm, loves hoops, and has just started managing basketball players."
One of his few clients at that stage was his Temple University alumni and family friend Rick Brunson, who was playing that season for Goorjian's good mate Mike Dunlap at the Adelaide 36ers.
While this agent was still learning to navigate the world of professional basketball, he had a strong legal background and Dunlap's highest praise was that he was already one of the most honest agents he had dealt with.
That was enough for me. I picked up the phone and called the agent, Leon Rose.
Australian visit, American dream
Most people have mental images of agents as slick salesmen. But the more Leon spoke, the less he was what I expected. He was truthful about what he could offer me and about wanting to learn about me as a player.
He was genuine, and he was committed to signing me in the hope I could become his first NBA client. So much so that just days after calling him, Leon was sitting opposite me at training. He had flown around the world to meet me in person.
After speaking to him for an hour, my gut feel was to trust him. I did not call another agent and agreed on the spot to become Leon Rose's first NBA client pending the outcome of the upcoming draft.
June 26, 1997, in Australia was the day. Leon had told me I would be a first-round pick. The Chicago Bulls were going to draft me with the 28th and final pick of the first round if I was still available, which I likely would be.
Yet just an hour and a half after announcing Tim Duncan as the No.1 pick in the 1997 NBA Draft, and from a Melbourne television studio filled with family, friends and my Magic teammates and coaches, we watched NBA Commissioner David Stern walk to the podium.
"With the 18th pick in the 1997 NBA Draft, the Portland Trail Blazers select Chris Anstey of the South East Melbourne Magic of the National Basketball League of Australia." Leon called me two minutes later to not only congratulate me, but to inform me that the Dallas Mavericks had traded for me, and that I would be heading to Texas, not Oregon.
It was real. I was going to the NBA. And Leon Rose had his first NBA client.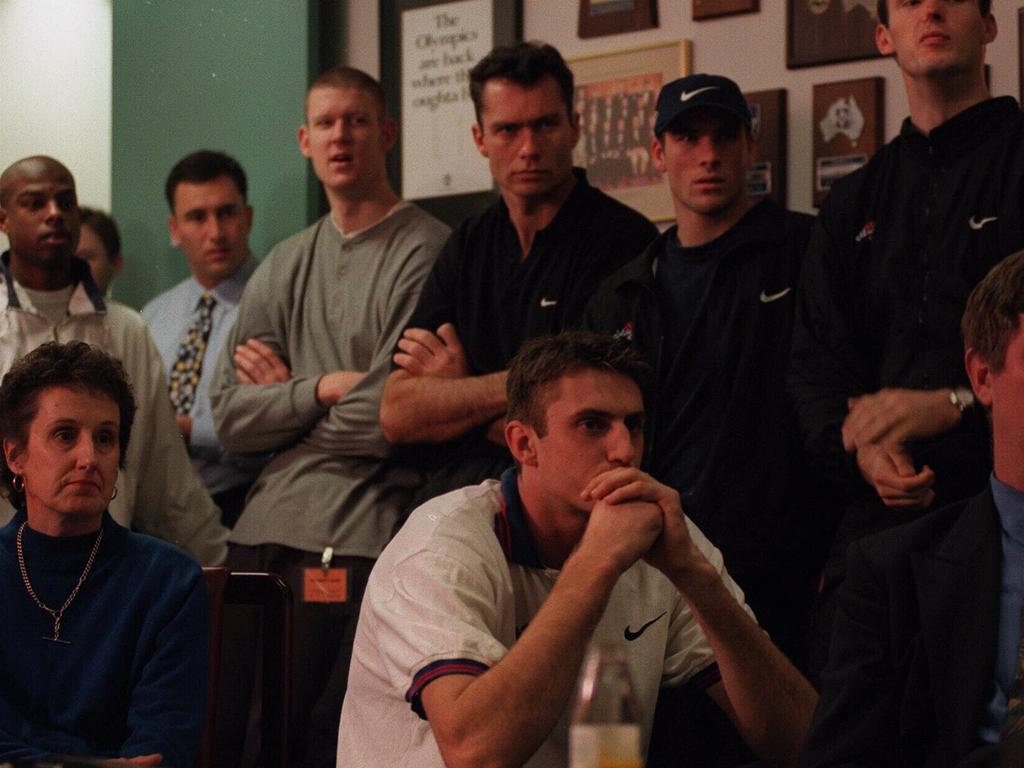 Anstey watches the 1997 NBA draft surrounded by friends and family in Melbourne.
Leon was already becoming as much a mentor to me as he was an agent. Where most agents advise and arrange for their players to work out for as many NBA teams as possible, Leon was the opposite.
"There are enough teams that really like you and are fascinated by what you can do" he told me.
"I want to keep you in Australia, in a system you're comfortable with and are already successful in. All putting you in individual workouts and one-on-one situations with more experienced college players will do is highlight your weaknesses. Enough teams will travel to see you. Let's see who is really genuine."
It made sense and meant I did not have to miss NBL games which could have impacted our season significantly. It also meant more time in Australia for Leon who was already beginning to develop a bond with Brian Goorjian, and a reputation as an agent who did things the right way for his clients.
While I remained Leon's only NBA client for over a year, I was not his only Australian client. NBL stars Sam Mackinnon, John Rillie, Paul Rogers, and Ben Pepper would all decide Leon was best placed to represent them.
Leon was instrumental in getting Rogers and Pepper drafted late in the second round of the 1997 NBA Draft, and although neither played an NBA game, both they and Mackinnon played in an NBA Summer League at a time when international players were still considered soft, and summer league invitations were a rarity. Rookie agent Leon Rose was going about putting young Australian basketball players on the NBA's radar.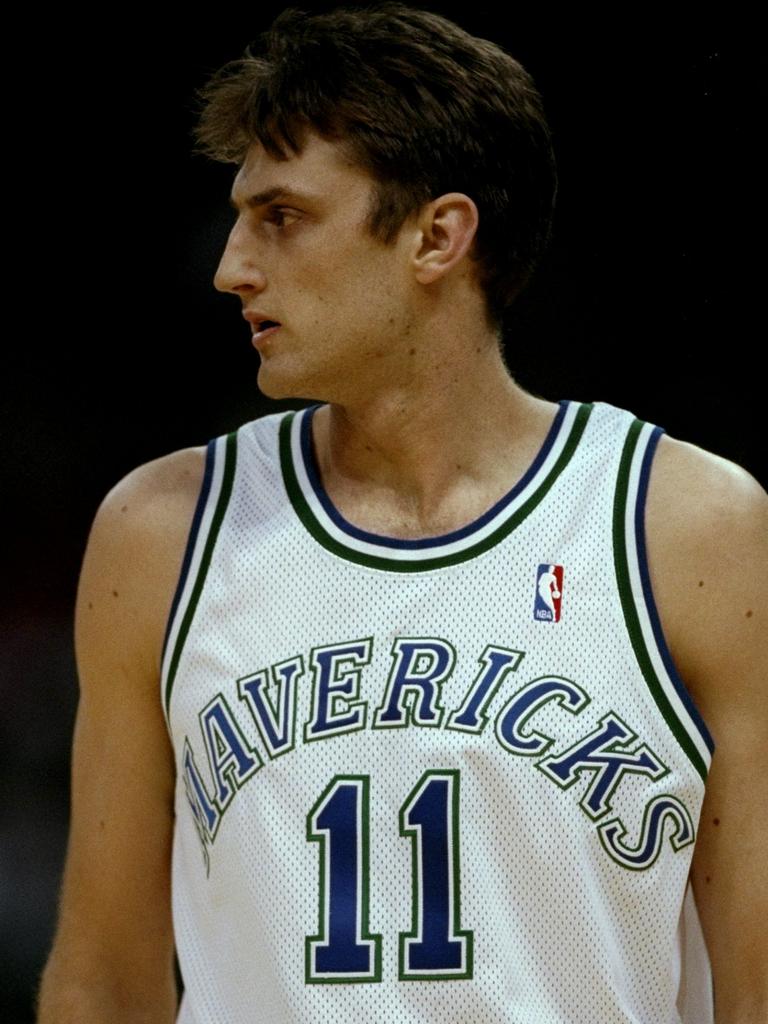 Chris Anstey was drafted by Portland but traded to Dallas. Picture: Stephen Dunn/Allsport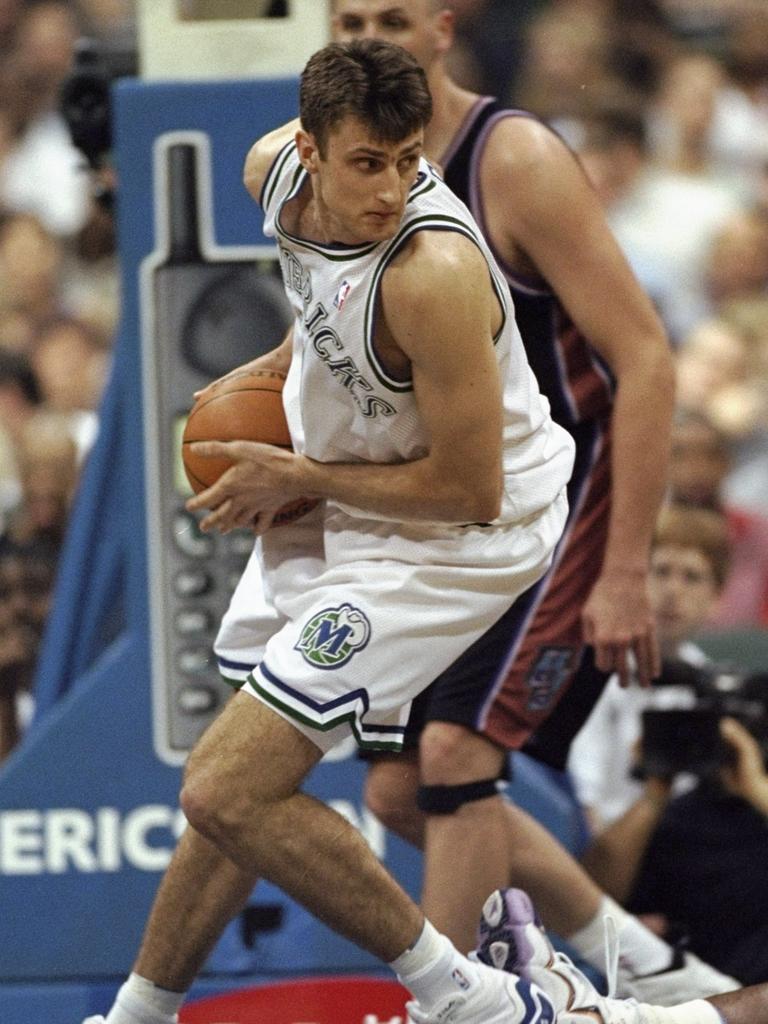 Chris Anstey in action for the Mavericks against Utah in 1999. Picture: Stephen Dunn /Allsport
Speed dial and Russian stand-offs
There's an old saying, "Nobody cares how much you know until they know how much you care", and often times it is investing time into people that goes a long way to proving that. Which was exactly what Leon continued to do.
In between visits to Dallas to help get me set up in a new city, and to check in throughout my rookie season, he also made the 48-hour round trip flight from New Jersey to Australia to visit his NBL players.
The more time he spent with his players and spoke to basketball clubs and coaches around the world, the more the basketball world was beginning to see what Mike Dunlap saw. What I was learning even more was what Leon's former high school basketball coach, John Valore, had described many years earlier, "Leon is an honest, hard-working man, just like he was on the basketball court. I think some players see that and want to be with him."
Just as Leon had been recommended to me by such positive word-of-mouth, other Temple alumni and a small number of NBA players who needed legal assistance with contract issues were hearing about a trustworthy South Jersey lawyer who was now an NBA agent.
Leon's first genuine profile NBA player came via Rick Brunson and Temple University in the form of Los Angeles Laker, Eddie Jones. Over the next few years, mainly through connections with Rick Brunson and Temple University coach John Chaney, Leon welcomed more NBA players, including Aaron McKie, who liked the idea of being more important to a small agent than considered a number in a bigger agency with bigger names to look after.
As his clients and reputation began to grow, I was amazed that I still felt like I was his most important client.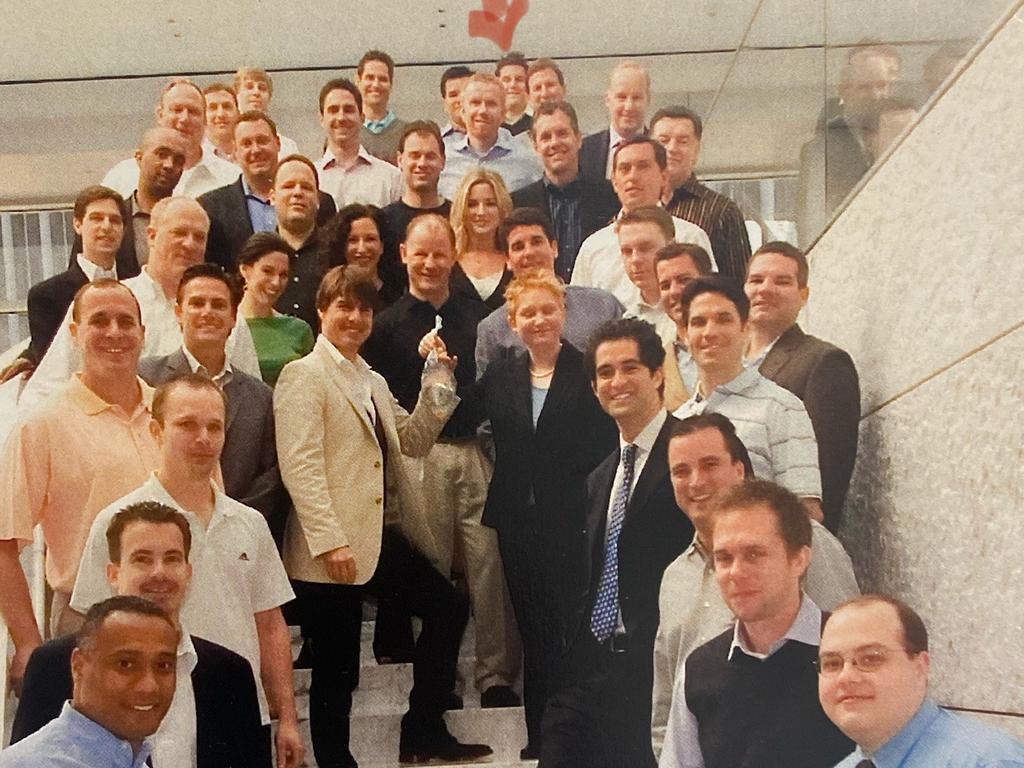 After signing Chris Anstey, Leon Rose's agency continued to grow and grow. Picture: Supplied
As I had vacations at Leon's family home and enjoyed his visits to Australia when I came back to the NBL, I joked about sliding further down his speed dial list. But every time I rang, no matter what high profile names now occupied more of his time, he always picked up.
When I thought he couldn't do any more, he negotiated a lucrative Russian deal for me, making me the first Australian a Russian team had ever signed as an import, and stayed on top of the team every month my salary was due.
The only time I ever sat out a practice I could have participated in wasn't when Ural Great were late paying me, it was when I found out they were late paying Leon. He always went above what was widely expected from an agent for me and I wanted to make sure I would always do the same in return.
LeBron, Iverson and Tom Cruise holding a fish
Rick Brunson said it best when asked about Leon.
''Leon is the kind of guy you can call every day, and he never gets tired of you,'' he said many years ago. ''He becomes part of your family, which is not like every agent. I can scream at him and he can yell back at me, and we are still friends. That is what makes him different.''
But Leon was also different in an industry that did not have the highest perception of integrity and transparency. "The biggest thing players were looking for in an agent," Brunson added, "was trust." And he continues to be right. As player salaries increase almost as fast as a player's fame, young men deserve to have the utmost confidence in their agent.
It was Leon's reputation of trustworthiness and legal expertise that led megastar Allen Iverson to pick up the phone after three years of being unrepresented and ask for his representation both on and off the court.
''Leon is unlike other agents in that he is right there at any time,'' Leon's dad Zev said at the time. ''Allen saw the way Aaron McKie could rely on Leon and wanted that kind of attention.'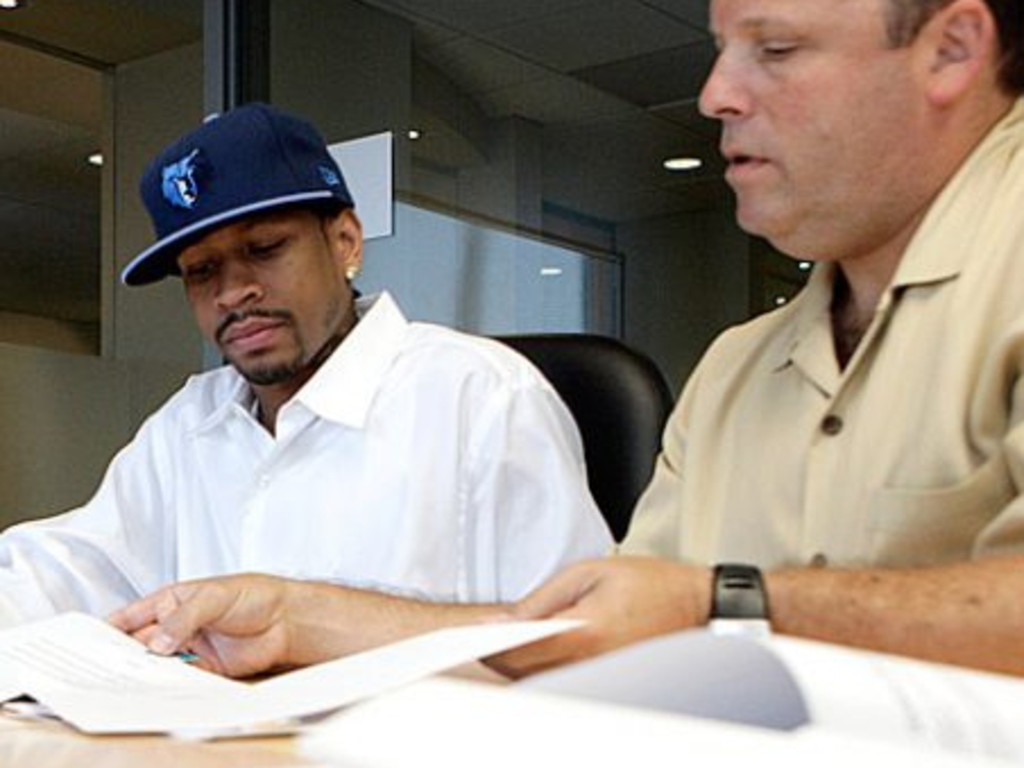 Leon Rose representing Allen Iverson as AI signs with the Memphis Grizzlies in 2009. Picture: Joe Murphy/NBAE/Getty Images
So too, it turned out, did basketball's biggest name, LeBron James. Prior to James becoming Cleveland's No.1 draft pick in 2003, Leon represented the Cav's previous two first round picks – DeSagana Diop in 2001 and Dajuan Wagner in 2002.
Just as Leon developed great relationships in his visits to Australia, his reputation was now preceding him, and the relationships he developed in Cleveland included those close and influential to LeBron James.
So, when LeBron decided to make a change in representation, it was a natural transition to join Leon and his slowly expanding list of clients that would grow to include Carmelo Anthony, Dwyane Wade, Chris Paul, Devin Booker, Joel Embiid and Karl-Anthony Towns among others.
I was sliding further and further down his speed dial.
Such were the names that Leon represented just 10 years after flying to Melbourne to meet me, when global media agency CAA decided to expand into sports in 2006, Leon was on their short list of agents to bring in to establish and grow their sporting arm.
So invested in growing their sports arm the right way, from the ground up, it was only fitting that that it was Tom Cruise, in character as famous fictional sports agent Jerry McGuire, complete with a fish in a plastic bag as in the movie, who was there to welcome Leon and the newly formed sports team to the company that also represented him.
And grow CAA Sports they did, quickly establishing it as one of the world's biggest, yet most highly respected sports management companies.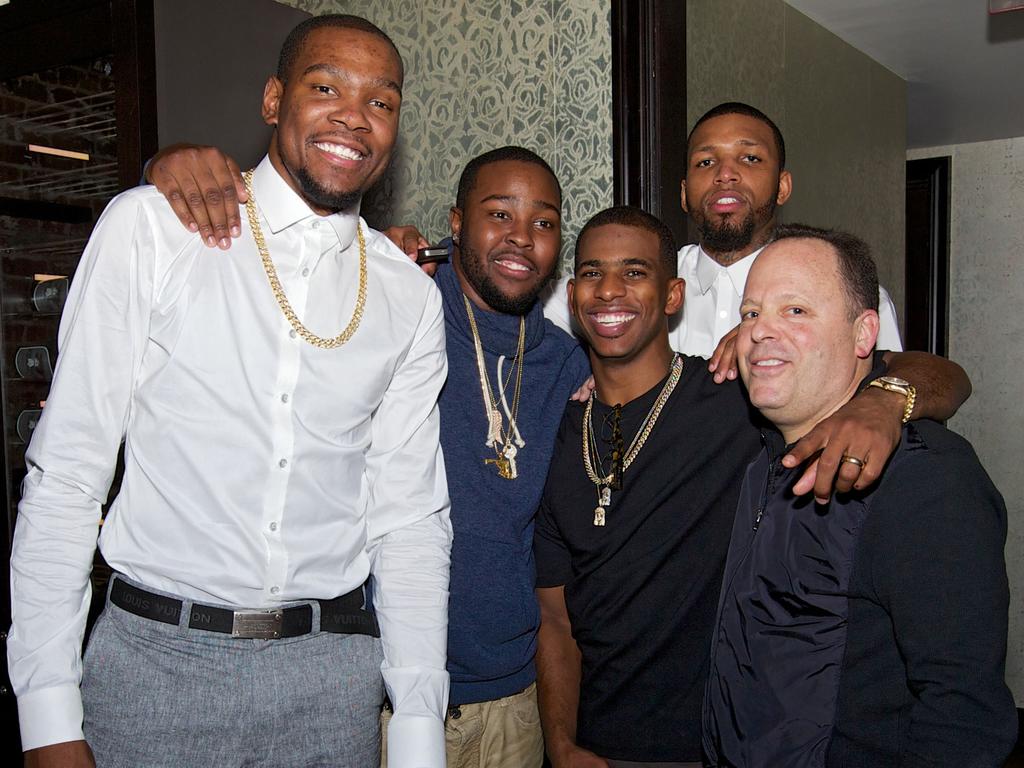 Leon Rose with Kevin Durant and Chris Paul during the 2014 NBA All Star Weekend. Picture: Bobby Metelus/Getty Images
Waking up the NBA's sleeping giant
So when the New York Knicks began their search for a new president to rebuild a team that had only made the postseason five times in the last twenty years, it made sense to those who know him that one of the first people owner James Dolan called was Leon.
The NBA's most valuable, yet grossly underachieving NBA franchise, the Knicks had not participated in a playoff game for seven years, nor progressed past the first round since 2001.
It also made sense that, once hired as New York Knicks president to re-establish the Knicks as a championship contender, we didn't hear from Leon.
He was behind the scenes meeting players, coaches, and staff, learning about the struggles the club faced, and slowly formulating a plan to help everyone involved within the organisation. The most notable hiring Leon oversaw was head coach Tom Thibodeau, widely renowned for his high work ethic and professionalism, and expectation that his players meet those same standards.
Just a year after being hired, and without recruiting a recognisable franchise player, Leon sat courtside as his New York Knicks appeared in their first NBA playoff series in eight years.
Externally, very little had changed but internally, relationships were growing, staff were increasingly valued and supported and the Knicks started taking steps towards being the desirable franchise they once were.
After just a year in the top role the Knicks are considered playoff contenders, with former Knick and client of Leon's, Carmelo Anthony, highlighting the role he played in turning around his old club's fortunes.
"It's very hard to come in and do what they're doing, what they started, what they created as far as starting from the ground up, but not doing it in a frantic way, not doing it by taking advantage of power." Carmelo said.
"It's just coming in, talking to people, getting to know people, understanding people, understanding what was happening before and being able to clean that up and build on that. I think people need to talk about that a lot more.
"That's a very difficult task coming in for somebody who was an agent prior to being a president of the New York Knicks. That's a big task so I'll tip my hat off to those guys for what they've accomplished, what they've established so far."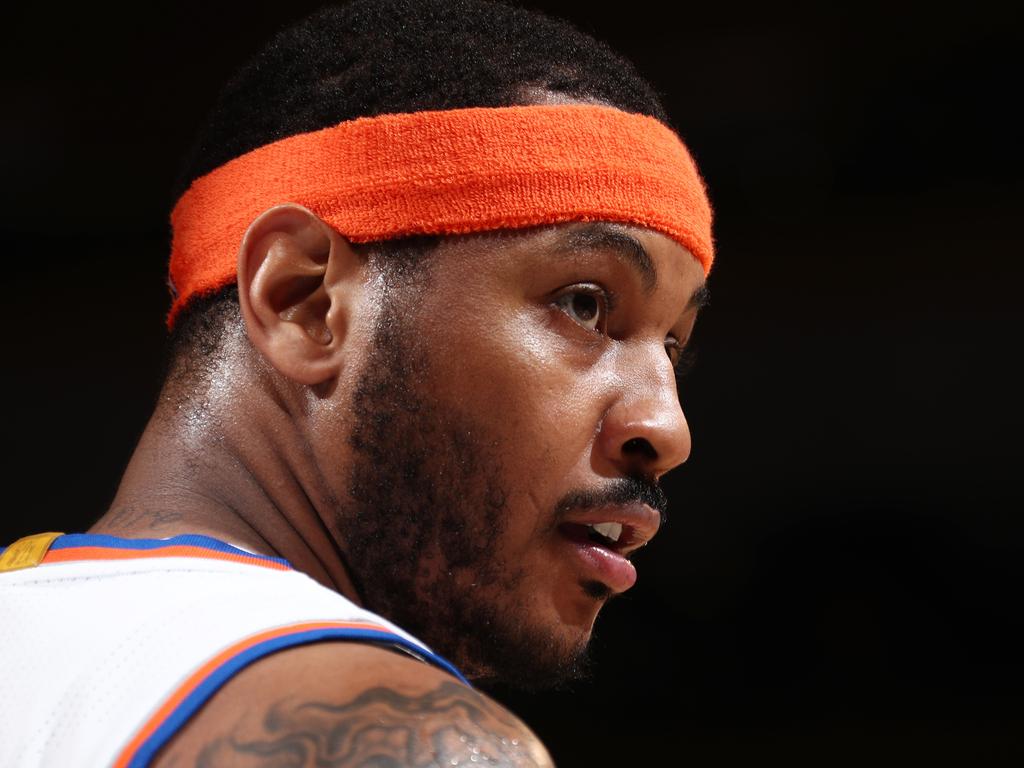 Carmelo Anthony played seven seasons with the Knicks and is impressed by how Leon Rose has turned the team around. Picture: Nathaniel S. Butler/NBAE/Getty Images
There is no doubt in my mind that Leon will continue to build a culture in New York that not only supports and maximises the potential of everyone within the Knicks, but in doing so will recreate an NBA franchise that the very best athletes desire to be a part of.
Just as he supported each of his players as an agent and became someone that the likes of LeBron James and Allen Iverson sought to be involved with.
Having been at the helm nearly two years, and with New York battling to keep pace in the Eastern Conference playoff race, Leon and the Knicks remained quiet during the recent trade period.
For the first time in years, the club will start next season without dead salary cap payments to past players and with some flexibility under the salary cap. We just saw patience pay off for Daryl Morey and the Philadelphia 76ers exceeded most people's expectation of the return he could get for Ben Simmons when he landed James Harden, who he has a strong personal relationship with.
Leon's next challenge will be to do the same for the Knicks; using all his experience, and calling on all his relationships, he needs to bring a superstar to the NBA's biggest market. Can he lure Donovan Mitchell out of Utah if the Jazz bow out early
Is turning Julius Randle, Derrick Rose and a first round pick into Damian Lillard possible? Does upcoming free agent Bradley Beal want out of Washington? As improbable as it may seem to some, I like his chances. And when one superstar arrives, other stars will follow.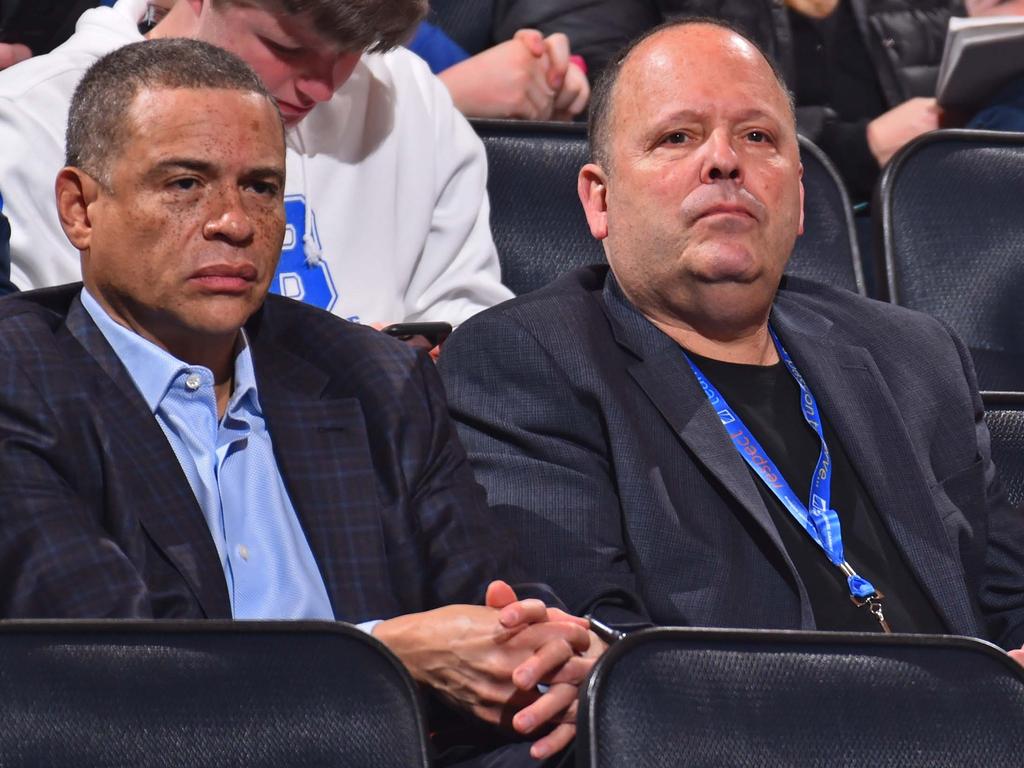 Leon Rose (R) with Knicks general manager Scott Perry in 2020. Picture: Jesse D. Garrabrant/NBAE/Getty Images
While the Knicks may have been publicly quiet throughout the trade period, make no mistake that they were working hard behind closed doors. After all, trading for the sake of trading is foolish. They want, and will get, the right guy.
"Being an agent is similar to being a coach." Leon mused 20 years ago.
"Sometimes, I'm like a parent or big brother. You have the ability to give advice and guide professional athletes in their careers. My goal is to help them recognise all the risks and consider all the relevant factors associated with any important decision. I help try to prepare them for the rest of their lives."
Twenty-five years ago, I picked up the phone and called an American lawyer I had never heard of, and Leon Rose picked up. He committed to being honest, working hard and always acting in my best interests. He did exactly as he promised and helped prepare me for the rest of my life.
Last week, I picked up the phone and called my mate, the president of the New York Knicks, and one of the most influential people in the basketball world. Just like he did 25 years ago, Leon Rose picked up.
He may be a lot busier than he was when I first called, and I may no longer bother him with the number of calls I did as a player, but I will always be grateful to Leon. He guided me through the minefield that was the NBA for a gangly, raw Aussie kid, put many other Aussie athletes in front of the NBA, and remains there for me any time I call.
Just like he promised.