Dyson Daniels set for high NBA Draft pick after choosing G League to start his pro career
Dyson Daniels hasn't taken a traditional route to the NBA Draft but a decision to forgo US college and NBL options is set to pay off with a high pick, writes TOM READ.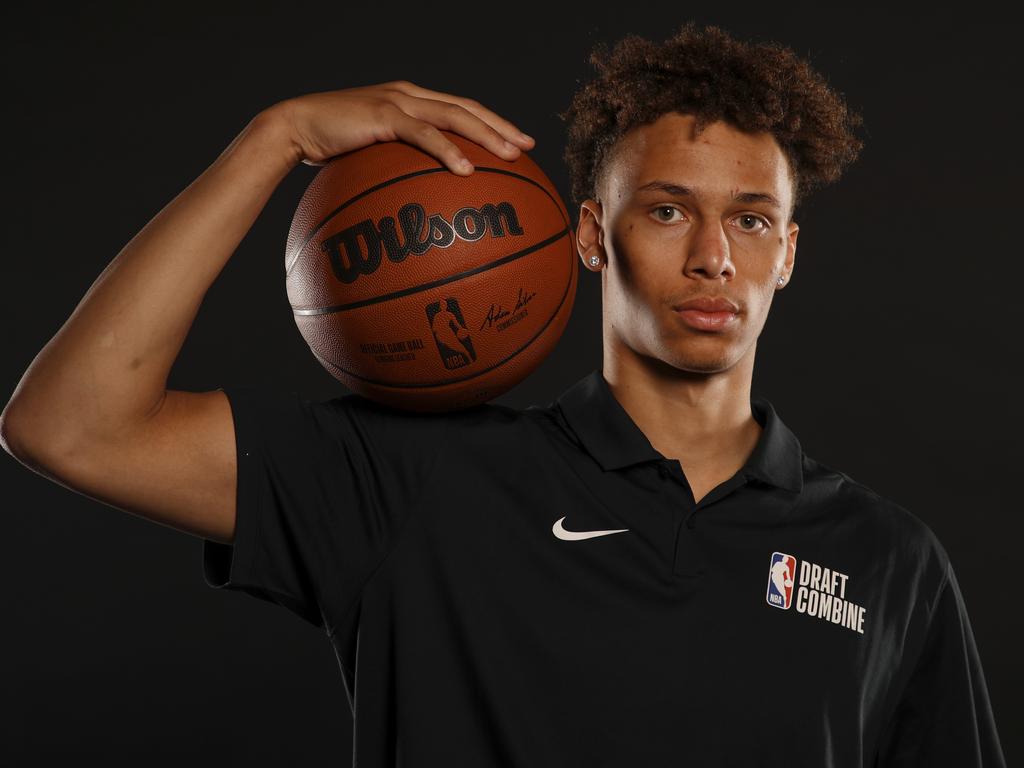 Australia's latest highly-touted NBA Draft prospect, Dyson Daniels, went via the G League. Picture: Brian Sevald/NBAE via Getty Images
There has been no shortage of buzz surrounding Dyson Daniels and his bid to become the 23rd Australian drafted into the NBA.
That hype grew ever louder after an impressive outing at the NBA Draft Combine several weeks ago. Ahead of the showcase, NBA scouts had expressed reservations about the Australian's shooting ability – Daniels had averaged 30.3 per cent from beyond the arc on 3.6 attempts per game during his time with the G League Ignite program – but the boy from Bendigo allayed concerns during the shooting drills on the Combine's Pro Day circuit.
"I think that was a big question for me, whether I could shoot the ball or not," Daniels tells CodeSports. "So these past three or four months I've really put a lot of work into that.
"I'm confident shooting the ball and with my stroke and where I take my shots. Showing that I can do that at the pro day helped me a lot for sure."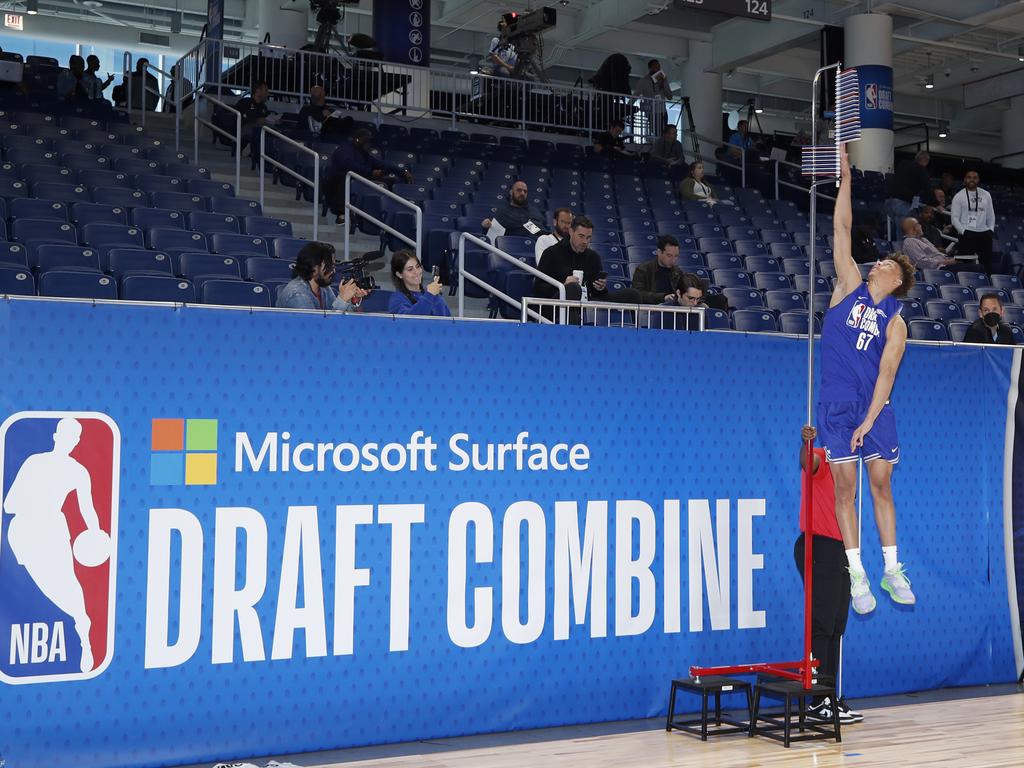 Dyson Daniels impressed at the Draft Combine. Picture: Jeff Haynes/NBAE via Getty Images
When Daniels announced he would be joining the highly-touted G League Ignite program 12 months ago, he was projected to be a mid-first round pick by most credible mock drafts. Now, on the eve of the draft, he expects to hear his name called somewhere between the Detroit Pistons at the No.5 spot and the New York Knicks' 11th pick.
The combo guard has spent the past month travelling across the United States working out and meeting with a number of NBA teams, including those that hold draft picks four through 11: the Sacramento Kings, Pistons, Indiana Pacers, Portland Trail Blazers, New Orleans Pelicans, San Antonio Spurs, Washington Wizards and Knicks.
"With the workouts so far, [I feel] they've gone very well and the decision's in [the various NBA teams] hands now," Daniels says.
"There's not really one team that I'm certain on, or I think is going to be the best fit. I do like the teams I've worked out for."
G League over NBL
One of the most intriguing aspects of Daniels' journey to date was his decision to sign with the G League Ignite over the NBL's Next Stars program or the traditional college route.
The Ignite program, based in Walnut Creek, California, is designed for high-level NBA Draft prospects who want to forgo college and turn professional, offering players a salary of up to $US500,000 and the ability to train and play both exhibition and tournament games with and against professional players with NBA experience.
The then-18-year-old had significant interest from the NBL, along with a number of Division 1 colleges including Arkansas, Colorado, Houston, Oklahoma, Saint Mary's and his father Ricky's alma mater, NC State.
Ultimately, however, Daniels felt that Ignite was the best landing spot for him.
"I was looking for what was going to be the best situation to help me get to the NBA, whether that was college, NBL or G League," Daniels explains. "I looked into all the options and at the end of the day, I felt that the G League would have the best to offer on and off the floor.
"We're playing the NBA style of play, against NBA players with really good coaches and veteran players on our team to help with our development."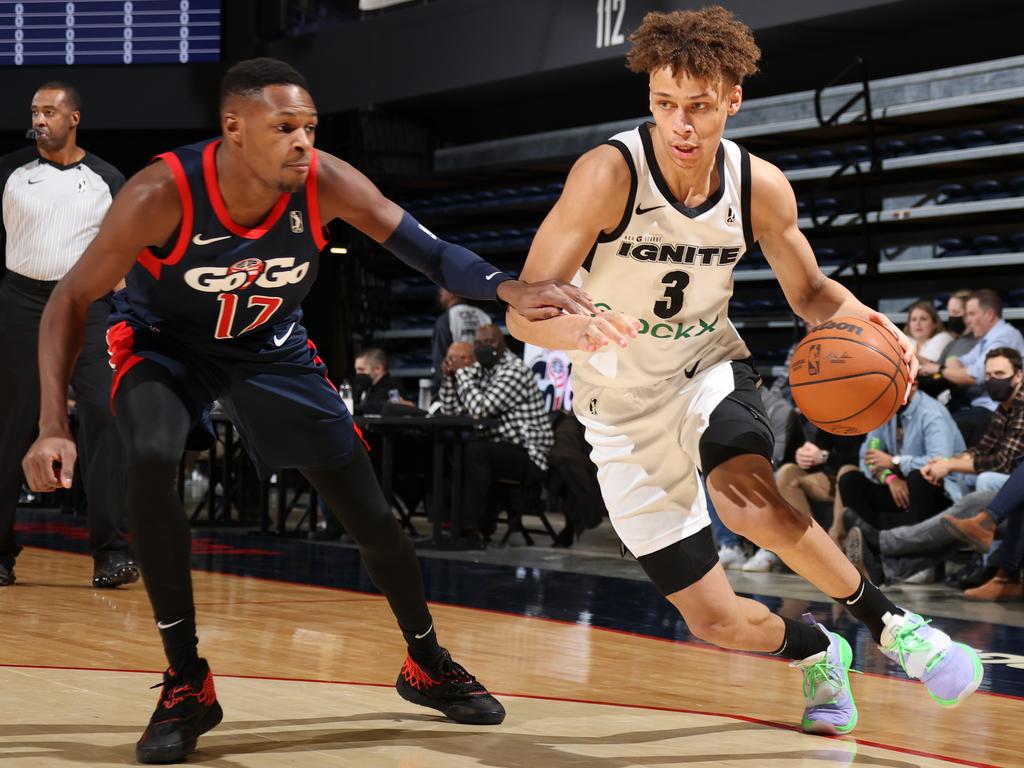 Dyson Daniels plays in the G League for Ignite. Picture: Stephen Gosling/NBAE via Getty Images
At the time Daniels signed, G League Ignite had just completed its first season and had developed a number of highly sought-after NBA prospects including Jalen Green (No.2 pick for Houston) and Johnathan Kuminga (No.7 pick for Golden State), both of whom were high lottery picks in last year's NBA Draft.
The ability to spend every day training, learning and playing alongside experienced NBA players such as Pooh Jeter, Amir Johnson, Kosta Koufos and CJ Miles was an opportunity that the 198cm tall Australian found impossible to pass up.
"The thing that makes [the Ignite program] work is the veterans on the team to help guide us through," Daniels says. "They have really good basketball knowledge and for me, it was Pooh Jeter who plays the same position as me that I learned a lot from, he was really good for me."
Pooh Jeter has helped Dyson Daniels along the way in the G League. Picture: Johnnie Izquierdo/NBAE via Getty Images
When the NBA announced they were creating the program, it was seen by many as a counter to the success of the NBL's Next Stars program in Australia, which had just lured high profile prospects LaMelo Ball and RJ Hampton to the league.
Daniels was a significant signing for Ignite. Luring an Australian away from its rival Next Stars program was an important statement, especially after the success Josh Giddey had enjoyed the year prior as the first local Next Stars signing.
"I think the G League Ignite is a great program," Daniels said. "It's just entering its third year, so it's very new, but I think they're trending in the right direction. I'd recommend it for sure. You definitely have to be ready to go and play in the G League but I do think if you're ready it's the right option to take."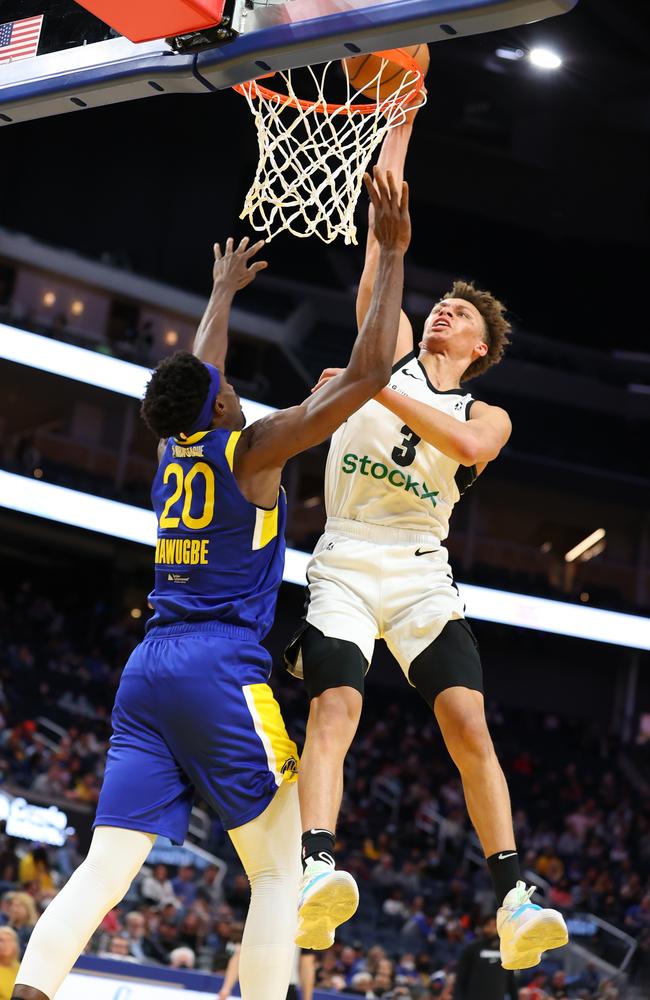 Dyson Daniels dunks on the Santa Cruz Warriors during a G League game for the Ignite team. Picture: Mike Rasay/NBAE via Getty Images
The All-Star experience
This year was the first time the NBA invited G League Ignite players to take part in the Rising Stars Challenge at NBA All-Star Weekend, alongside NBA rookies and sophomores.
The Friday night showcase event saw four teams of seven players take part in a knockout tournament. Daniels' team, coached by NBA legend Rick Barry, won.
"It was really cool," Daniels says of the weekend, during which he surprised his father with flights to Cleveland.
"Being able to compete at All-Star Weekend, and not even being in the NBA yet, it was a really good moment and for me to be able to have Dad come over for his 50th birthday was great."
Among those whom Daniels played alongside on Team Barry were last year's No.1 overall pick Cade Cunningham, 2022 All-Rookie First Team member Evan Mobley and former Sydney Kings star Jae'Sean Tate.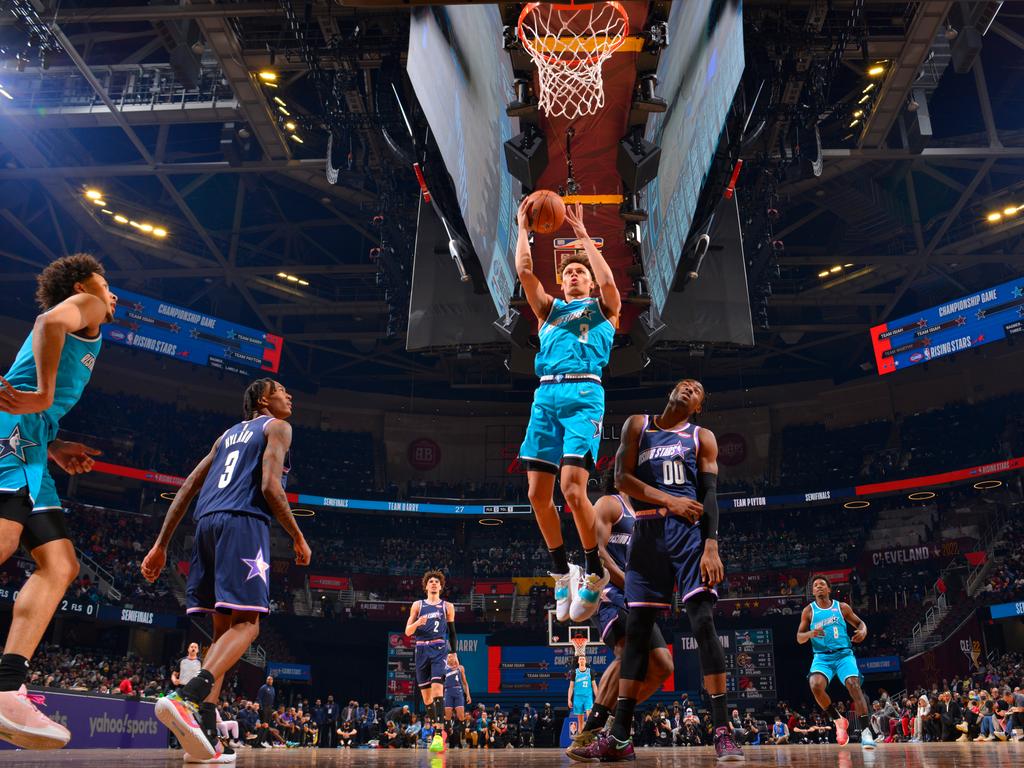 Dyson Daniels goes to the rim during the Rising Stars Game on NBA All Star Weekend this year. Picture: Jesse D. Garrabrant/NBAE via Getty Images
"It was good to chat with those guys about their seasons and just pick their brains a little bit," Daniels continues.
"Cade was really good to talk to and I was closest to him on that team, but it was just good to be around those guys and just talk basketball with them. Cade talked a little bit about his journey and how he got there and gave me a few tips.
"I felt comfortable out there playing my game, so for me it was a good experience and gave me some confidence. Going over there, they're a lot more physical, and I saw I needed to tighten up the ball handling and be able to knock down shots.
"It was stuff I already knew but obviously going to that next level the game is a lot faster, so just making sure I'm secure with the ball."
Giddey, Boomers connection
Daniels' elite playmaking ability and feel for the game has drawn comparisons to Giddey, his fellow Victorian, who had an impressive first NBA season that included four-straight Western Conference Rookie of the Month awards and selection in the NBA All-Rookie Second Team.
Giddey, who was taken by the Oklahoma City Thunder with the sixth pick in last year's NBA Draft, knows what Daniels is experiencing and has been a valuable resource for his close mate.
"He's been someone I can talk to and get tips from as he was in this process last year," Daniels says. "It's just good to have him in my corner and obviously we have the same agent. He's been through this process a couple of times now and it's good to have a support system around."
Australian basketball fans will be hoping to see Giddey and Daniels in action for the Boomers for many years to come. While not front of mind this week, Daniels is keen to spend more time around the national team.
"Any opportunity I get to play for my country I'm going to take," Daniels says, with an eye to next year's FIBA World Cup in Philippines, Japan and Indonesia. "That's something I really want to do."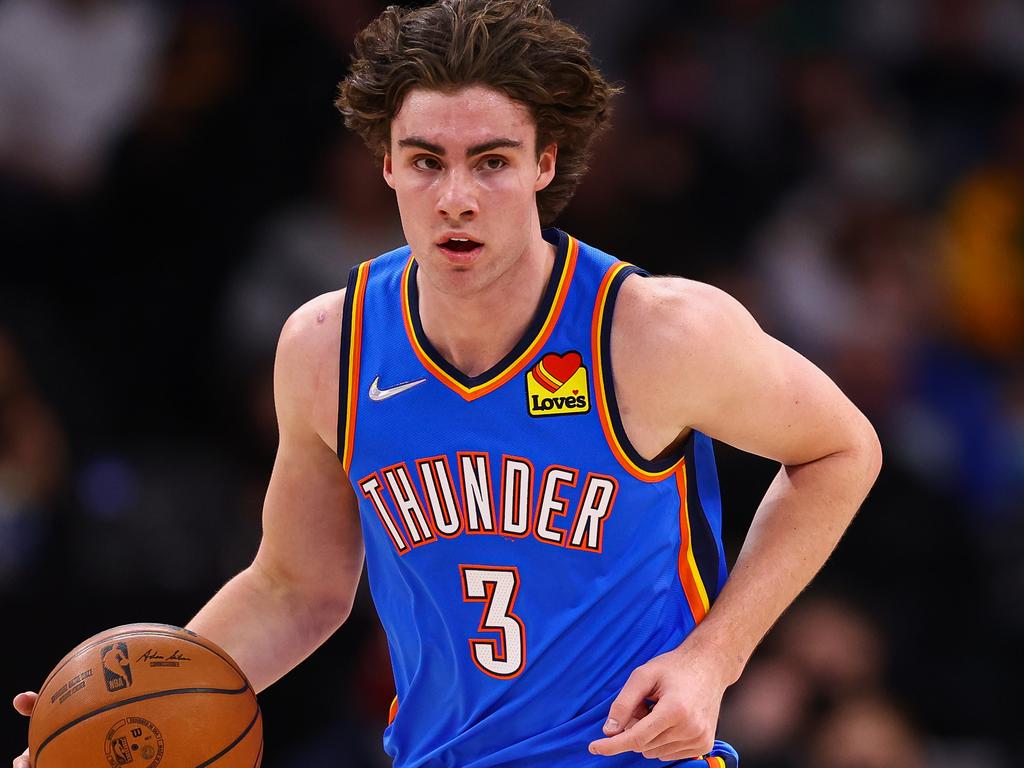 Dyson Daniels will be hoping to fare as well as Josh Giddey has in his first NBA season. Picture: Harrison Barden/Getty Images
Daniels had an impressive debut for the Boomers in February, 2021. He dropped a game-high 23 points, six steals and four assists to lead a relatively inexperienced Australian team to a 81-52 win over New Zealand in Cairns. That experience, along with his time playing for the Emus at the under-19 World Cup last July, has left him hungry for more time in the green and gold.
There are a number of guards and wings competing for minutes – including the NBA-level talent of Patty Mills, Joe Ingles, Giddey, Matisse Thybulle, Josh Green, Dante Exum, and NBL players such as Matthew Dellavedova, Nathan Sobey and Chris Goulding – but Dyson believes that his style of play can complement the existing Boomers core.
"There are a lot of guards in the team but I'm a really versatile player, so I can play off the ball or with the ball in my hand; so I think whatever the team really needs, I'll be able to do," Dyson explains.
"Whatever role they need me to play, I'll play. I'm not sure what the team will look like for the next World Cup but hopefully my name is on that roster and I can help contribute."