From LeBron to Giannis, here's what is being said at the NBA's All-Star weekend
Here's what is being said by the NBA's biggest names at All-Star weekend, including a massive shout-out from LeBron James to Australian prodigy Josh Giddey.
The last time the All-Star game was in Cleveland, LeBron James was a 12-year-old boy who didn't have the financial means to attend the festivities.
He watched on television as Kobe Bryant won the 1997 dunk competition as a rookie. He was awe-struck by Michael Jordan, who had 14 points, 11 rebounds and 11 assists to become the first player to finish with a triple-double in an All-Star game. He imagined that one day he could be a part of the grandeur.
"I had so many dreams of being an All-Star when I was a kid growing up in Akron," James said.
Fast-forward 25 years, James is an 18-time All-Star who is about to play on that flashy stage 35 minutes south of where he grew up.
Over the past few days, James spent time with his high-school teammates from St. Vincent-St. Mary's, whom he said he still chats with daily. He stood on stage as his mother, Gloria, who gave birth to him at age 16, held a fashion show at State Theatre in downtown Cleveland to celebrate Black designers and bring attention to social justice initiatives.
For the current king, everything has come full circle.
"To be here 25 years later is a remarkable thing," he said. "It's pretty cool."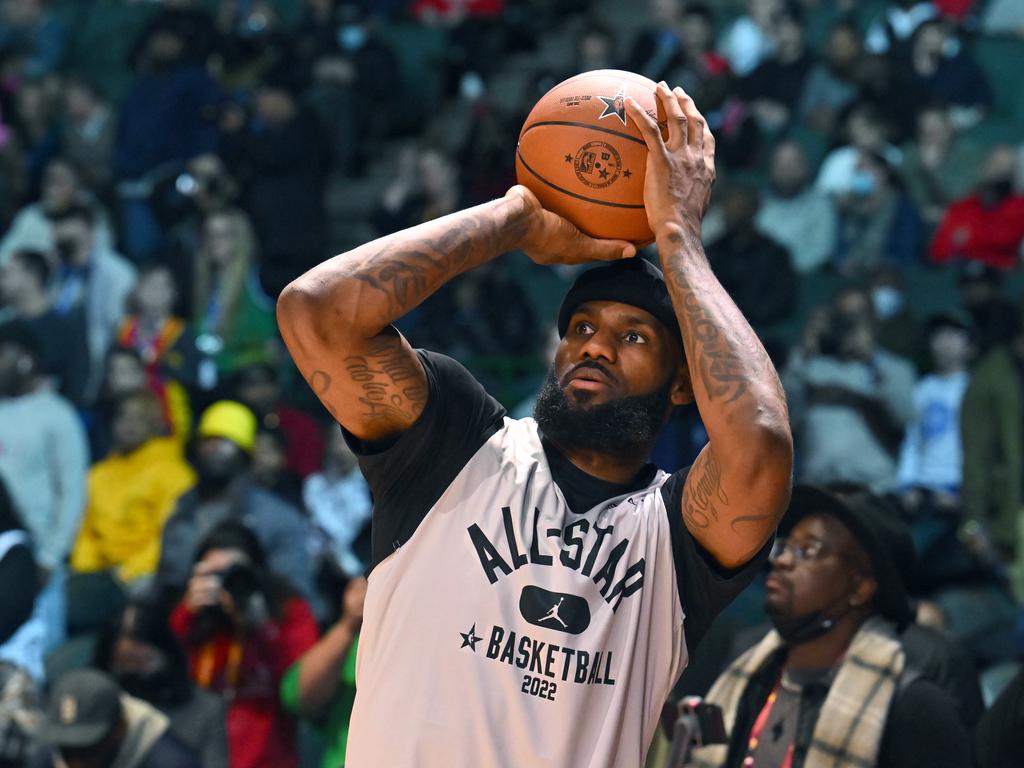 LeBron James will lineup for his 18th All-Star game today, taking on Kevin Durant's line up. Picture: Jason Miller/Getty Images
James praises OKC front office, Josh Giddey
After James was asked a question about Oklahoma City Thunder guard Josh Giddey, he went on to sing the praises of Sam Presti, the team's vice president and general manager.
"The MVP over there is Sam Presti," James said. "He the MVP. I mean, Josh Giddey is great. But Sam Presti, I don't understand this guy's eye for talent. He drafted [Kevin Durant], Russ [Westbrook], Jeff Green, Serge Ibaka, Reggie Jackson, Josh Giddey and the list goes on and on and on. This guy is pretty damn good."
And he didn't forget Giddey: "He is really, really, really good. He has a great pace about the game. Great vision. I've always loved pass-first guards who can see plays happen before they happen," James said. "Josh is one of those kids who can definitely see the game a lot quicker than a lot of guys out on the floor, and he has shown it. I think he has three straight triple-doubles and playing beautiful basketball."
Just a few days earlier, James also lauded Los Angeles Rams general manager Les Snead, retweeting a photo of him at the Rams' Super Bowl parade wearing a T-shirt with the words, "F--- them picks."
Wrote James: "LEGEND! My type of guy!!"
James publicly admiring two general managers is interesting considering Lakers general manager Rob Pelinka has recently been under heavy scrutiny for not making any moves at the trade deadline even though the Lakers entered this season as favourites to win the title but have skidded to ninth place in the Western Conference with a record of 27-31. Many are wondering if James' MVP-caliber season is being wasted, especially since he's 37 years old and in his 19th season in the league.
But after the trade deadline, Pelinka claimed that he and superstars James and Anthony Davis were all on the same page.
"I would say there's alignment here," Pelinka told reporters on February 10. "And that's all that matters."
Ja Morant having the time of his life
The Instagram Live video of Ja Morant's flight to Cleveland is a tour de force. He dances. He drinks. He holds money. He drops his money on fancy slippers. He raps. He dances some more. A re-posted video of the celebration has over 2.1 million views in 20 hours.
Sitting on the podium ahead of his first All-Star Game, the 22-year-old summed up that trip with three words and a giant grin.
"We was lit," he said.
Morant has skyrocketed into stardom in his third season in the league, going from averaging 19.1 points last season to 26.8 points this season to help the Memphis Grizzlies sit pretty in third place in the Western Conference with a record of 41-19.
For Morant, making the All-Star team was a huge point of emphasis.
"This pretty much was the goal," he said. "I put in a lot of work. All-Star was definitely a goal of mine heading into the season. I worked for it and my play got me here right now. Thankful, blessed — but I feel like I definitely deserve it."
His peers agree.
During Phoenix Suns' superstar Devin Booker's media availability, he was asked who is the most explosive guard in the league. He didn't hesitate in his response,
"Ja Morant," Booker said.
Joel Embiid on being an MVP frontrunner
Joel Embiid is yet again one of the top three names in the race for the MVP award. Ahead of the All-Star Game, he was asked if he deserves the honour.
Embiid paused — his one-year-old son, Arthur, was crying.
He held out his arms. Then, with Arthur calm and against his chest, he flashed a giant smile and was ready to answer the question.
"I don't really want to push for the whole thing," Embiid said. "But the way I've been playing speaks for itself, especially with everything we went through, the drama this whole year, obviously missing a big piece. And then everything added to our team, the way our team was set up. I really had to take my game to another level offensively, defensively and with playmaking."
The drama that Embiid was referring to was obviously the Ben Simmons saga. After demanding a trade and then saying he was struggling with mental health issues, Simmons didn't play in a single game for the 76ers before he was traded to the Brooklyn Nets at the deadline in exchange for James Harden.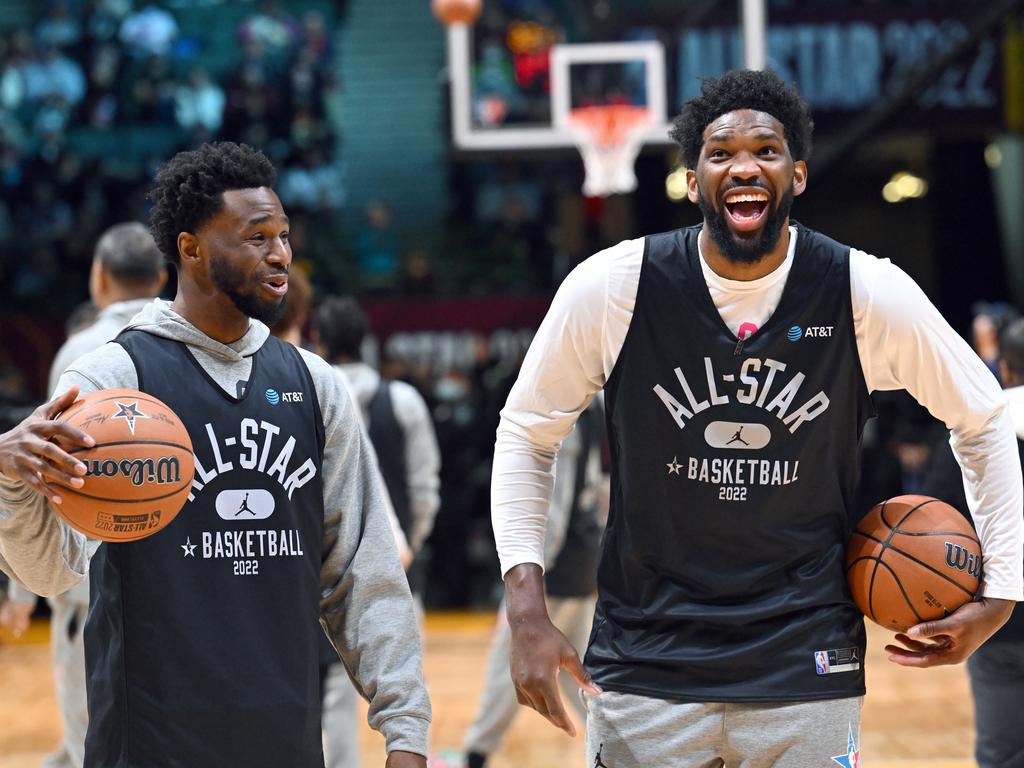 Joel Embiid is a challenger for the NBA's MVP award, following a stellar season with Philadelphia. Picture: Jason Miller/Getty Images
In his absence, Embiid shouldered the load, leading the league in scoring (29.6 points) while averaging 11.2 rebounds a game to help the 76ers sit in third place in the Eastern Conference with a record of 35-23.
For Embiid, winning his first MVP award would be amazing. But right now, he's more focused on the moment.
After all, even though he made the All-Star team last season, he wasn't able to participate in the game because he was in close contact with someone who tested positive for COVID-19.
"Yeah, I was pissed off," Embiid acknowledged. "I really wanted to be here. I live for these moments. You don't know how long you're going to be doing this for. I've got about 10 to 13 years that I can do this for at a high level, so I just want to enjoy it as much as possible. The reason to really have a kid this early in my life was for him to also experience that."
Giannis Antetokounmpo not concerned with rankings
The best players — past and present — are in Cleveland right now to celebrate the league's 75th anniversary. It got one reporter wondering whether Giannis Antetokounmpo cares about being considered one of the top five players of all-time.
"Do I care?" Antetokounmpo asked. "I think the correct answer here is no, I don't care. I try to win games and stuff. But I view it this way: At the end of the day, you've got to run your own race and I've got to be the best that I can be. Now, where that's going to take me, I don't know. But I don't look at Magic [Johnson], Kevin Garnett, Scottie Pippen, KD, LeBron — I don't look at them, like, yeah, I want that. I'm like … 'how I can maximise my own potential?'"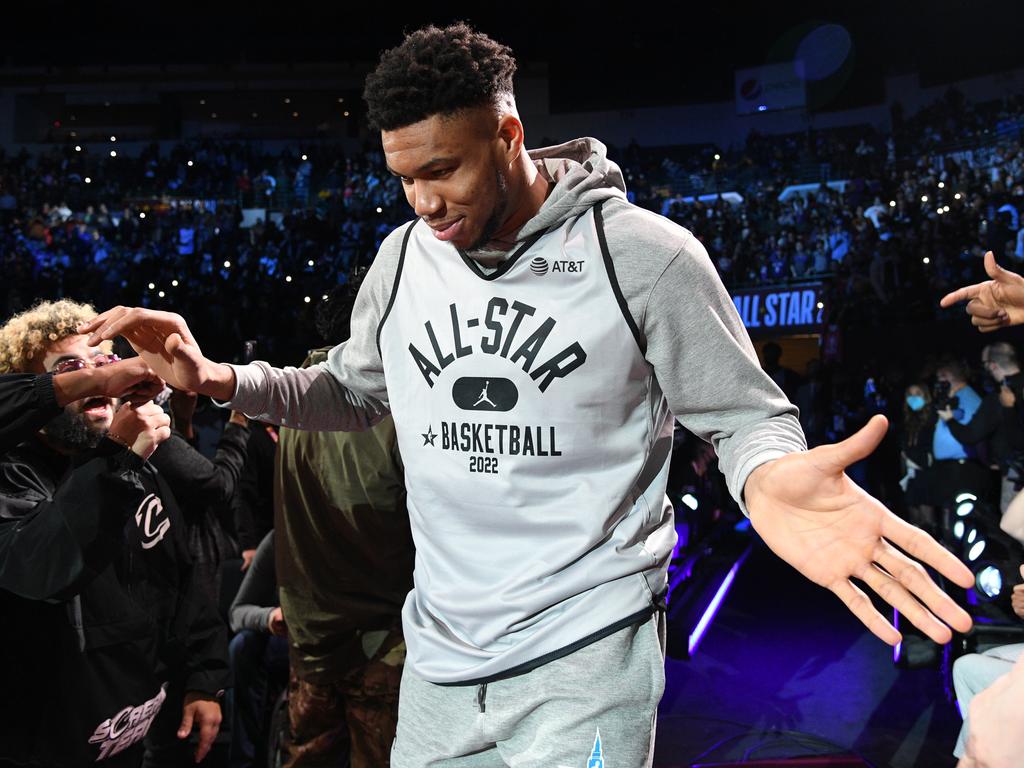 Giannis Antetokounmpo and the Milwaukee Bucks have had a season of mixed success, with the reigning champions currently in fifth position in the Eastern Conference. Picture: Chris Schwegler/NBAE via Getty Images
That strategy is working out for Antetokounmpo, who led the Bucks to their first championship in 50 years last season.
According to the two-time MVP, he's not playing to prove anything to anyone except himself. And his main driver is simple: He loves the game.
"I'm literally obsessed with basketball," he said. "I dream [about] basketball every single night."
- FOX Sports US