How a fringe NBA player blazed a trail to coach the Boston Celtics
Ime Udoka beat long odds and made an NBA team after getting a last-minute invitation to training camp. It was a month that would change his life.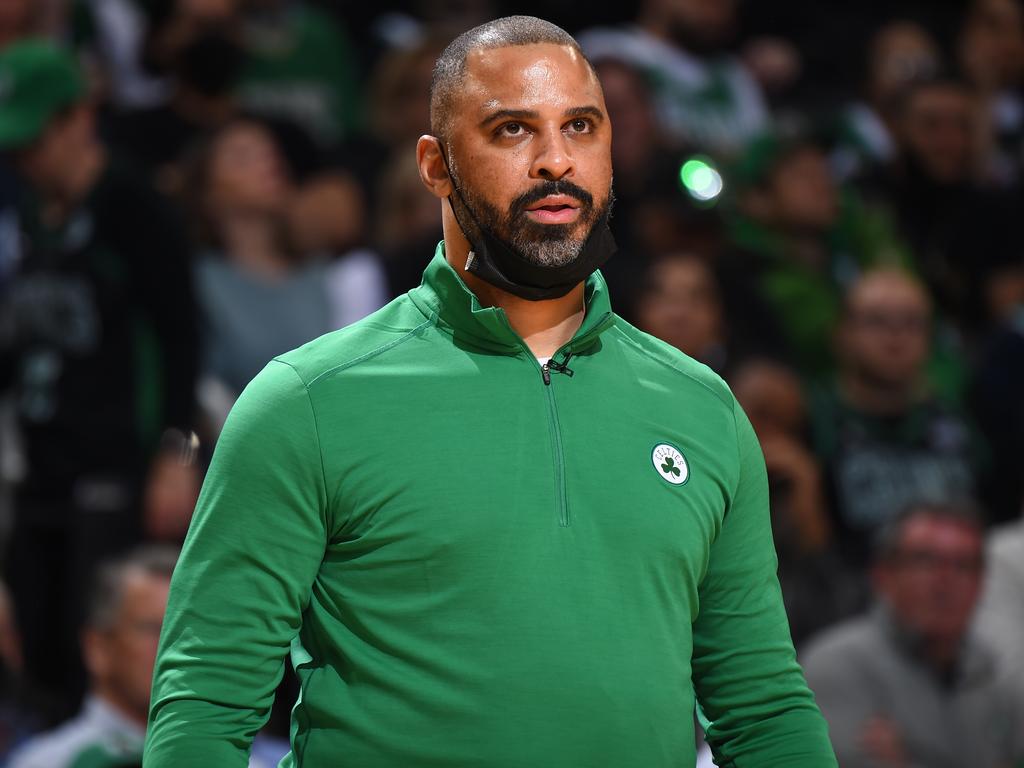 With their vicious defense, steely confidence and quiet determination, the Celtics are very much Ime Udoka's team. Picture: Brian Babineau/NBAE via Getty Images
Jayson Tatum and Jaylen Brown were in elementary school when Ime Udoka took his first steps down the blind path that would ultimately lead him to the Boston Celtics. He was not yet a coach. He could barely call himself an NBA player.
It had been six years since Udoka left college when the Portland Trail Blazers offered him a last-minute invitation to training camp in 2006. They were desperate. Portland's first candidate for the last spot on the team had failed his physical days before the season and sent them scrambling for players who could fill out their roster. When he reported to the Blazers on a non-guaranteed contract, the only person who expected Udoka to make the team was Udoka.
He didn't just make the team. He was in the starting line-up on opening night and remained there for the rest of the season.
"That's unheard of," says his former teammate Fred Jones.
It would not be the last time anyone heard from Udoka. That month changed the course of his life, altered the trajectory of his playing career and planted the seeds of his coaching future. A guy who was unloading boxes at FedEx to give himself a shot at the NBA has become one of this season's key figures from the sidelines.
The Celtics have been the league's best team since December, and it would no longer surprise the NBA if they win a championship in Udoka's first season as coach. As it happens, four of the last seven titles have been won by coaches in their first year, when their voices resonate the loudest. It's the sign of a good coach in this player-driven league when a team reflects his personality without being consumed by it. With their vicious defence, steely confidence and quiet determination, the Celtics are very much Udoka's team.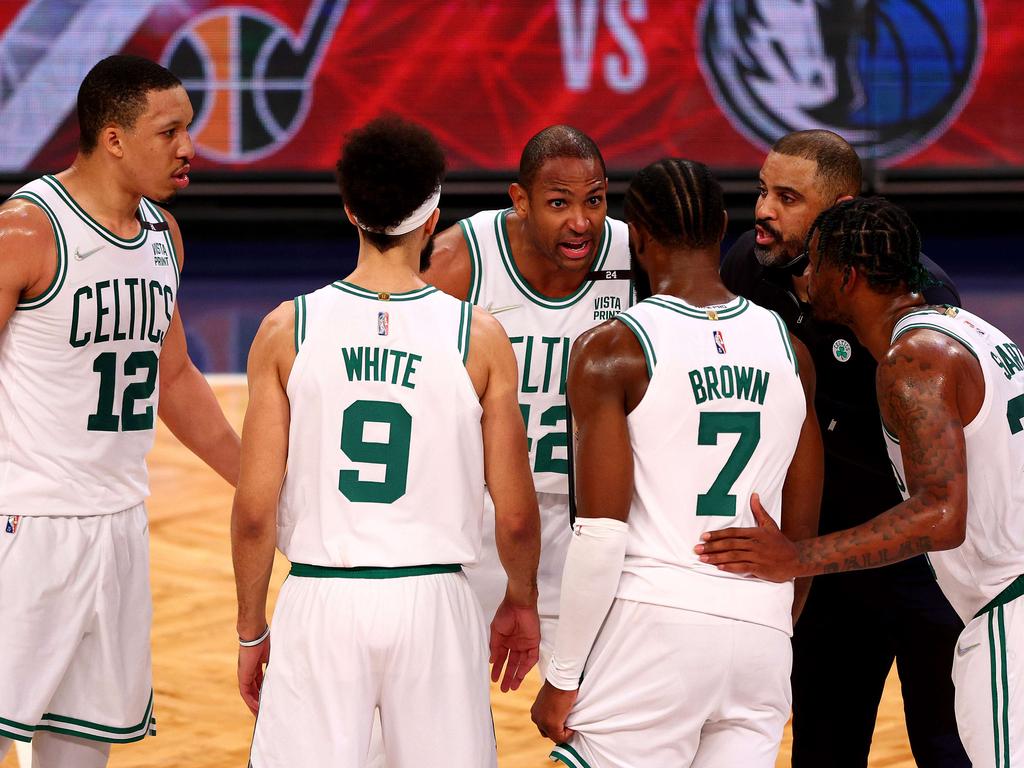 The Celtics have been the league's best team since December. Picture: Elsa/Getty Images/AFP
The fastest way to coach in the NBA is to play in the NBA, but many of the league's most successful coaches were role players who compensated for what they lacked in pure talent with intelligence and empathy. Udoka made the Blazers because he made others better. That's been his job ever since. He probably wouldn't be in Boston today if not for the break he got in Portland.
"I always felt I was on the cusp of making it," Udoka said. "But finding the right opportunity, I understand that, for sure. I've seen as a player and coach what it does for people."
Udoka, 44, dreamt of playing in the NBA as a child in Portland and travelled around the world to get back there. He started at a junior college, transferred to Portland State and routinely joined pick-up games at the nearby Blazers' practice facility. But at the moment the NBA became a possibility, he tore his ACL in his breakout senior year. Then he did it again and needed another surgery. He still wasn't deterred. Udoka took a night job at FedEx and kept training.
He would find work in almost every obscure American basketball league before he made it to the NBA. He played for the Fargo-Moorhead Beez in the International Basketball Association, the Adirondack Wildcats in the United States Basketball League and the Charleston Lowgators in the D-League several times.
The Los Angeles Lakers gave the future coach of the Celtics one of his earliest breaks. Udoka went to their training camp in 2003 and realised there was a market for a specific kind of player: anyone willing to guard Kobe Bryant in practice. "All the guys he had there were basically scared of him," Udoka said.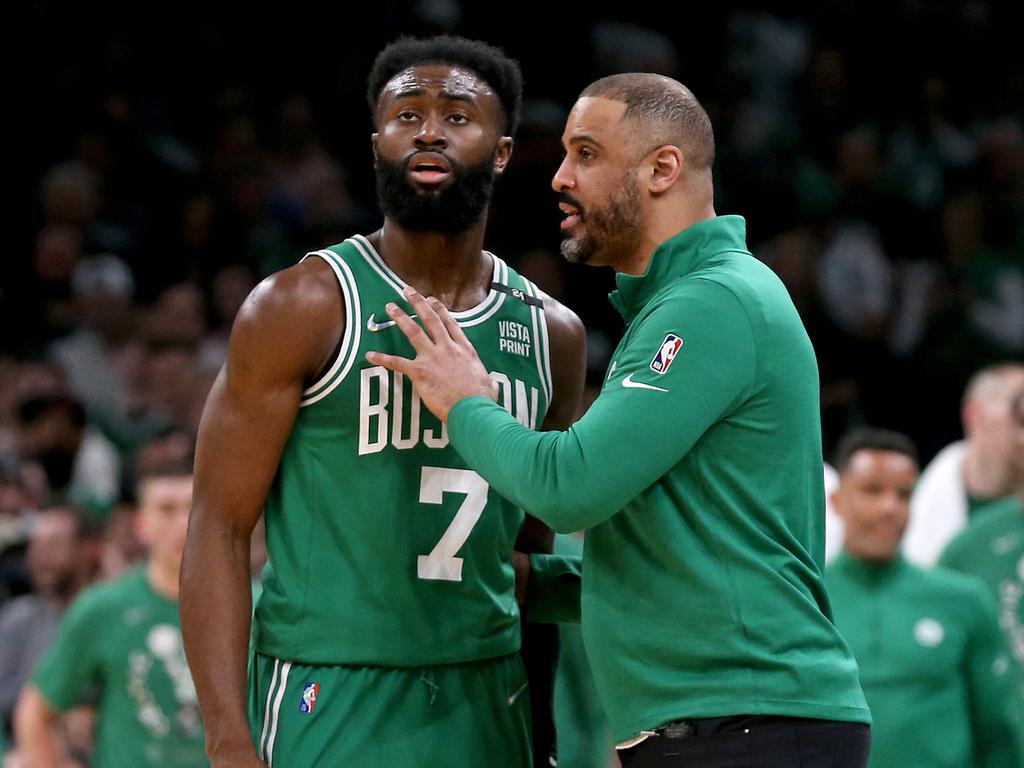 Udoka's willingness to do the tough jobs has helped establish him as an excellent coach. Picture: Matt Stone/MediaNews Group/Boston Herald via Getty Images
He didn't make the team, but their battles made an impression. He was watching Bryant's first game against a rookie named LeBron James later that season when opportunity flashed before his eyes. Bryant injured his shoulder, and Udoka's phone rang. The Lakers were signing him to a 10-day contract. He took a red-eye connection to make his NBA debut. "No sleep, just straight adrenaline," he said. "I posted up Earl Boykins for my first bucket." (Udoka was 6-foot-5. Boykins was 5-foot-5.)
But when Bryant decided he was no longer injured, Udoka's cup of coffee in the NBA became an espresso. He was sent down to the minors and didn't know when he would be back.
Two years later, after stints in Spain, France and the sovereign nation of the New York Knicks, Udoka accepted a training-camp invitation from the Golden State Warriors. Two hours later, the Blazers called.
His friend Aaron Miles had failed his physical with a sprained ankle, and the Blazers needed players on the eve of camp. They looked to the fringes of basketball and found Udoka. He made the short drive to the only NBA facility where he'd played since college with people he'd known since high school.
"I felt like I belonged," he said.
But the possibility of turning a non-guaranteed camp deal into a full-time roster spot was remote to everyone but Udoka.
"Those are long odds," said Indiana Pacers president Kevin Pritchard, a Blazers assistant general manager then. "That doesn't happen very often."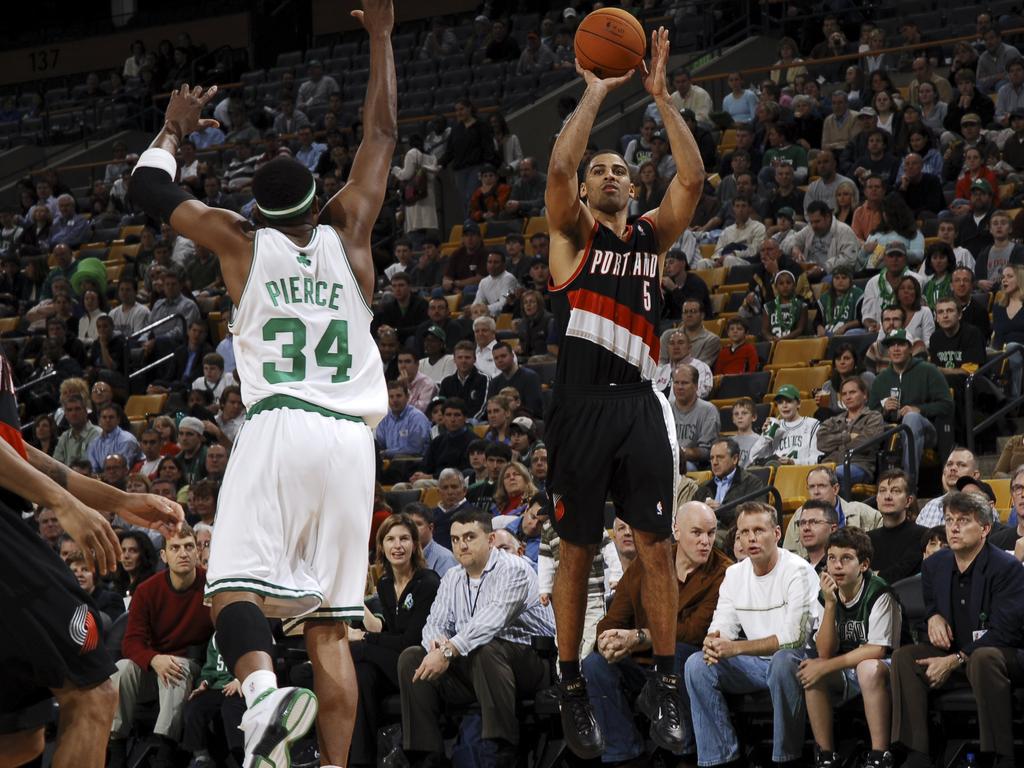 Ime Udoka takes a shot over Paul Pierce during a game in 2006. Picture: Brian Babineau/NBAE via Getty Images
Jarrett Jack didn't know who Udoka was, but it wasn't long before Portland's starting point guard was choosing him for their summer pick-up games. The next thing he knew, he saw Udoka at training camp. "I thought he was just another body," he said. "I wasn't familiar with guys who weren't on the team actually making the team. I didn't even know that was a real possibility." But he knew he wanted him to stick around. Jack publicly threatened to picket the arena if Udoka didn't make the final cut.
Blazers coach Nate McMillan quickly came to the same conclusion about Udoka. Before their second game of the pre-season, he told him that he was playing that night.
Udoka never made it to the arena.
He got a call from his mother when he was in the car. "I saw the ambulances rushing past us and I knew it was bad," Udoka says. He walked into the house and found his father on the floor. He could have been anywhere, but he was in Portland.
Vitalis Udoka died that night. Ime Udoka went to practice the next morning and played a pre-season game the following day. He processed his grief through basketball. "Those quiet moments alone in the hotel at night when you're not on the court and not around the family — those are the breakdown moments," he said.
The Blazers had to make a decision about Udoka two weeks after his father's death. He made it easy for them. In his first pre-season game, he scored 16 points. In their next pre-season game, he started. "I never didn't start again that year," he said.
They made it official on the day of the funeral: Udoka was on the team. It would have been difficult for the Blazers to waive the NBA's unlikeliest starter.
"There was no backup plan, as crazy as it sounds," Udoka says. "That's the one thing I knew in life — the only thing I ever knew. I was always going to be in the NBA."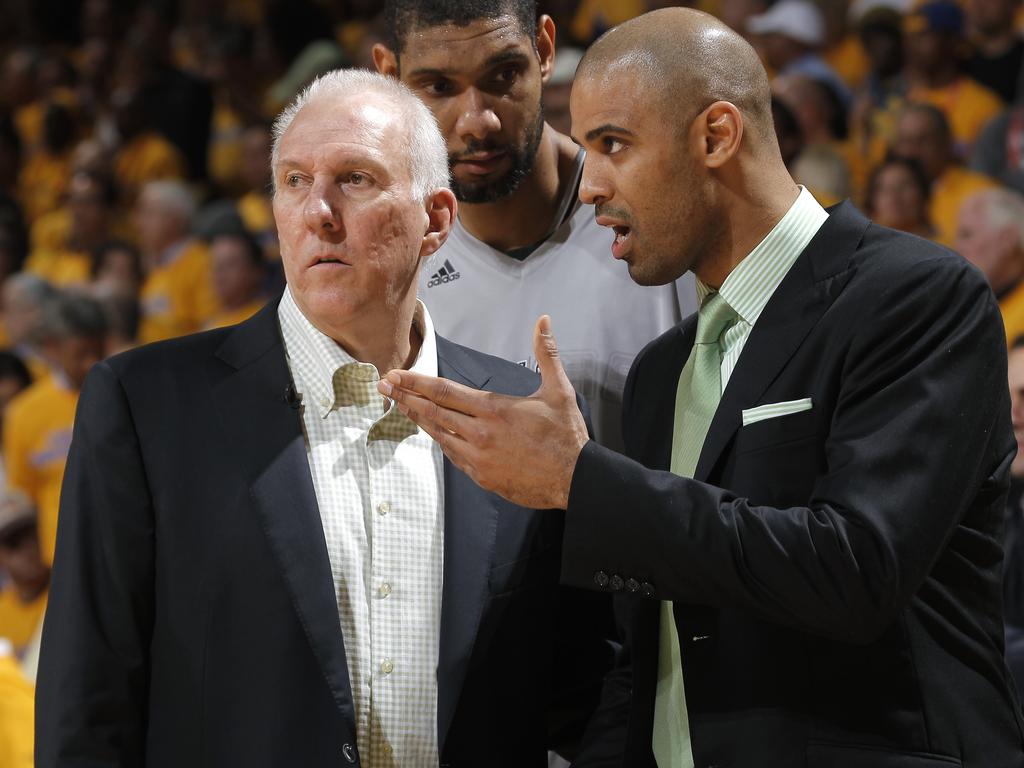 San Antonio Spurs coach Gregg Popovich, right, talks with then assistant Ime Udoka during a game. Picture: Rocky Widner/NBAE via Getty Images
Udoka has been in the NBA almost every year since. He made a name for himself as a versatile wing defender who hit 40% of his threes, the type of player who would be earning $15 million today. The Blazers let him walk, but his performance that season put him on the radar of the San Antonio Spurs, where he played for three years and returned as a coach under Gregg Popovich. His teammates say he was already an expert in connecting with everyone in a locker room long before it became his job.
He spent seven years apprenticing with the most successful NBA coach in history in terms of win, and when Brad Stevens stepped down as coach of the Celtics, he moved to the front office and hired Udoka to replace him.
But he's never far away from a reminder of Portland. If he forgets, he can simply look behind the bench. There he would find the player whose failed physical opened a spot on the Blazers.
Udoka is finally working alongside Aaron Miles this season: He hired him as a Celtics assistant.
– Wall Street Journal