Steph Curry's Warriors are golden champions again. Look out, NBA - here comes a dynasty
Finals MVP Steph Curry has led a recovering juggernaut to an unlikely title. Can they go on another run?
If they're a sports dynasty, the Golden State Warriors are an unusual one.
Eight seasons ago, Steph Curry and his Bay Area teammates jelled into a breezy, unselfish dynamo, and won it all. A season later, the Warriors were historically great—73 regular season wins—and lost a shocker to LeBron James and Cleveland.
Stung, Golden State recruited a passing comet, Kevin Durant, who helped deliver two more titles, but got hurt chasing a third, and left town. Beloved spaceman Klay Thompson went on the shelf with his own injuries. The Warriors crashed. Two seasons ago, they lost 50 games, the worst record in the NBA. Dynasty talk faded in the rear view mirror.
Now they're back, ready to be fitted for an unexpected ring. On Thursday night in Boston, the Warriors flattened the Celtics 103-90, clinching their fourth NBA championship in eight seasons. The last team to achieve a comparable haul were the 1990s Chicago Bulls, who won six in eight seasons, a run interrupted only when you-know-who decided to take a sabbatical in the outfield.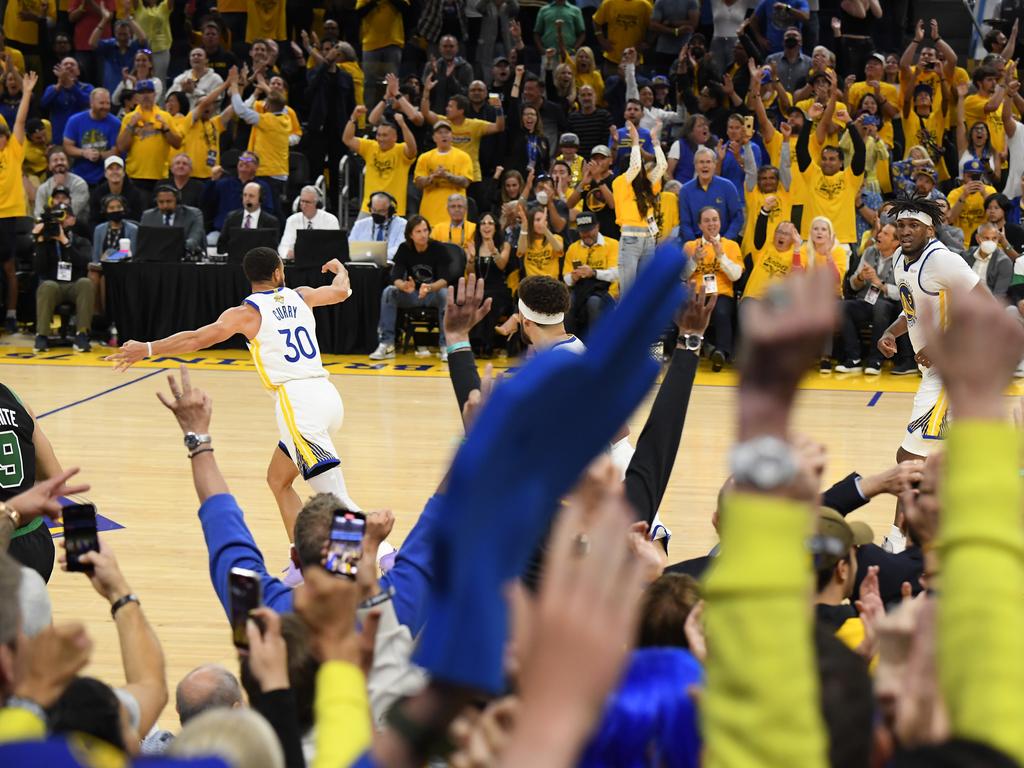 Curry's Finals MVP performance led the Warriors to their first Championship win in four years. Picture: Brian Babineau/NBAE via Getty Images
This Golden State run is impressive. Is it a dynasty? If it is, it's an imperfect one, marked by extreme highs and lows, which might be fitting, since this latest Warriors title team is perhaps their most flawed. The rest of the NBA may not want to hear it, but these Dubs might be better next year.
Golden State was not a Finals favourite when the 2021-22 season began. Though they burst out to an 18-2 start, they lost key players and wobbled mid-season, and were not a Finals favourite when the playoffs commenced. (Remember mighty Phoenix?) The Warriors were not a Finals favourite a week ago. The Celtics stole Game 1 in San Francisco, and epitaphs were under way. Boston looked talented and hungry.
And yet Golden State rallied again. As always, the culture of this team starts and finishes with Curry, the generational ubershooter who has redefined the way basketball is played, and from what distance. Curry is celebrated for his absurdist shooting—he makes a half-court shot look like a reasonable idea—but it's his generosity that stirs these Warriors, whether he's passing to give someone else a better shot, or sharing the media limelight with a teammate on the rise. At 34, Curry is the standard for the magnanimous superstar, and now he has collected the nagging honour he didn't need, but eluded him: Finals MVP.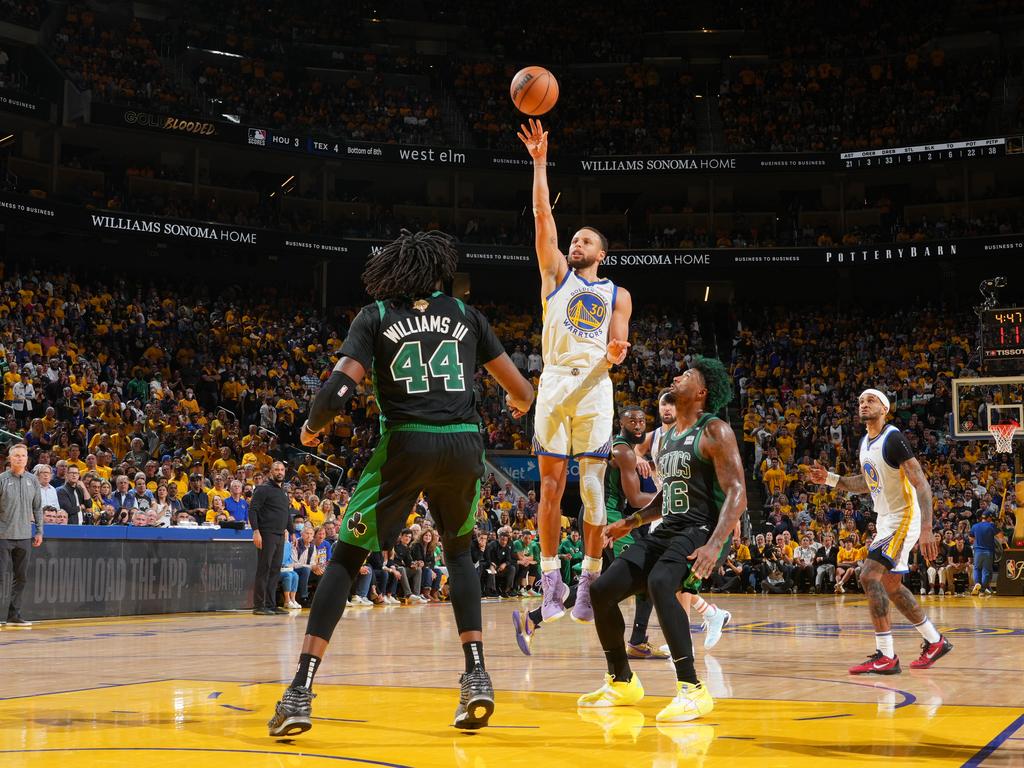 Curry banked 34 points, including six 3-pointers in the Game 6 win over the Celtics. Picture: Jesse D. Garrabrant/NBAE via Getty Images
"He's the reason for all this," said Warriors coach Steve Kerr.
It isn't a slight on Curry or Golden State to say this series was sloppy. It was sloppy at times by the Warriors, and it was comically sloppy by the Celtics, who undermined their talent with ghastly runs of unforced errors. Outside of Curry's virtuoso Game 4—43 points, 7-of-14 from 3-point range—no film from these Finals should be shipped to the catacombs in Springfield. Leads evaporated; turnovers grew contagious; rims were bruised by bricks. Curry shot a dismal 0-for-9 on 3-pointers in Game 5, and Golden State still managed to win. Experience turned out to matter, and here, the Warriors had the edge.
Perhaps no one appreciated it more than Thompson, Mychal's son and Golden State's adorable eccentric, a pure shooter who blew out his knee in the 2019 Finals, then tore his Achilles while rehabbing the knee. It was terribly bad luck, costing him prime years, and it remains an open question as to whether Thompson will ever resemble his peak self. He's not there yet, but he did enough versus Boston to make a difference. As he wrapped himself in a Bahamian flag on the title podium, he characterised the moment with a quip only Klay Thompson could yank from the ions:
"Holy Cannoli," he said.
Standing nearby was Draymond Green, Thompson and Curry's longtime co-conspirator, a pass-first, shoot-last defensive enforcer who'd also struggled during these Finals. Green had been serenaded with a four-letter word in Boston, he'd been mocked for producing his own postgame podcast, but he played like Old Draymond in closing the series out, and, as midnight approached, the only noise from the rafters was a respectful silence.
"Welcome back to the Warriors invitational, baby," Green said. "It's what we do."
It wasn't elegant, but the Warriors won this title the way they won the earlier ones—with sudden, explosive bursts. At their zenith, they simply suffocated teams with offence, and they can still do this, turning third quarter snowballs into avalanches. The names of sidemen have changed, from Harrison Barnes and Shaun Livingston to Andrew Wiggins and Jordan Poole, but the ball movement and unselfishness is similar, and the result is the same. The Celtics never had an answer. No team really has.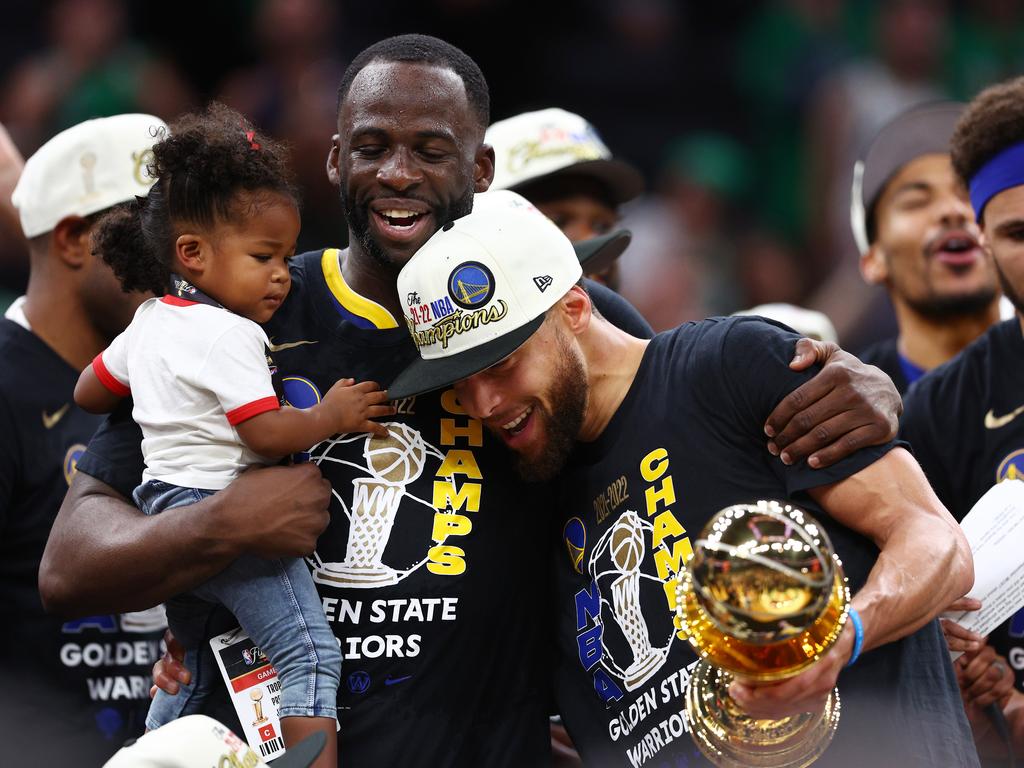 Green and Curry both secured their fourth Championship ring with the win over Boston. Picture: Elsa/Getty Images
Is this the start of another run? It's possible to look at this Warriors title as a flukish coda, a last hurrah by a trio of vets, but this is a deep team, balanced by youth. The Warriors found brilliance in Wiggins, a disappointment in Minneapolis. Poole is evolving into a formidable offensive talent, and Kevon Looney adds length and muscle. Teenage phenom Jonathan Kuminga lurks on the bench. Lottery pick James Wiseman didn't even play this season. Klay will continue to reassemble Klay. They might really be better. Holy Cannoli.
Repeating won't be easy. It's likely the Suns will bounce back, Dallas will continue to ascend with Luka Doncic, and everyone loves Ja Morant and the Memphis Grizzlies. The East will be a handful, too. The Celtics remain hungry. Giannis is Giannis.
But Golden State has its core, can continue to spend, and should find bargain free agents who want nothing more than a chance to play beautiful Warriors basketball. Their fluid style of play is proven to work on the NBA's biggest stage, and their enthusiasm is hard not to love. Culture, culture, culture. It still matters in this chaotic, confrontational world. And Steph Curry. Can't ever forget about him.
-The Wall Street Journal