Why Brooklyn Nets' NBA title window may already be closing despite their 'Big Three'
Is a Big Three still a Big Three when it barely ever plays together? The Brooklyn Nets' title window with Kevin Durant, James Harden and Kyrie Irving may already be closing.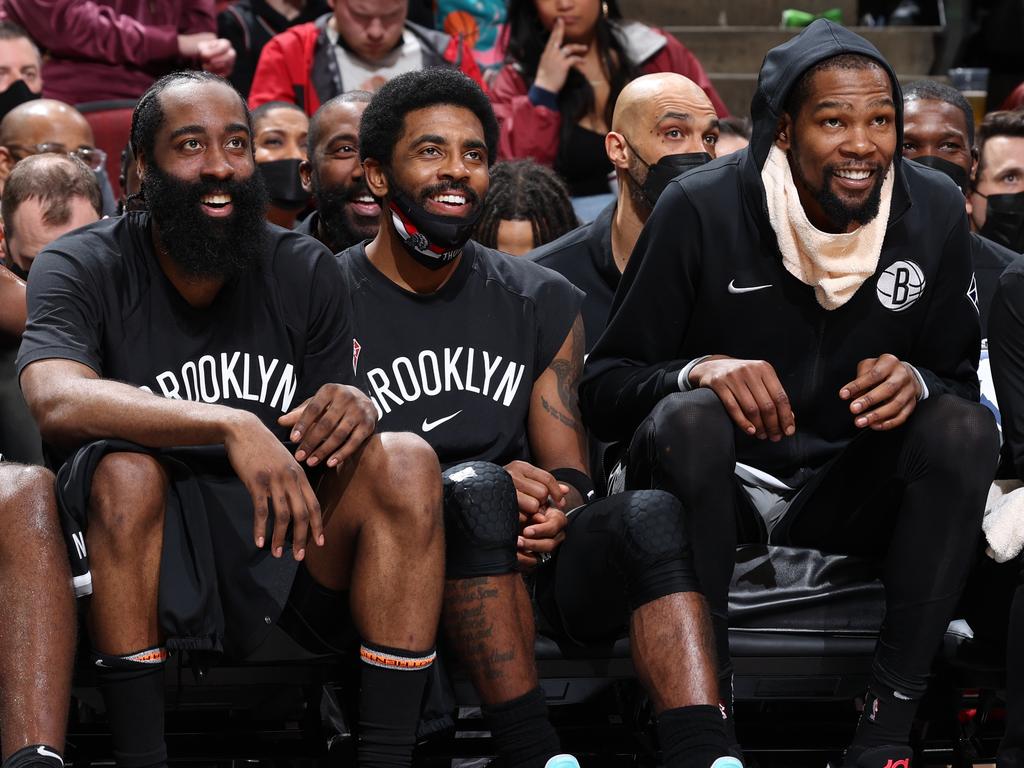 James Harden, Kyrie Irving and Kevin Durant of the Brooklyn Nets: an NBA 'Big Three' that has barely taken the court together so far. Picture: Jeff Haynes/NBAE via Getty Images
Is a Big Three still a Big Three when it has played only 14 per cent of its games together in just over a year since joining forces?
And if so, is time suddenly running out on the Nets' Big Three?
When the Nets traded for James Harden last January, it changed their already-lofty expectations into championship or bust. You don't give up Caris LeVert, Jarrett Allen, three first-round picks and four first-round pick swaps just for a deep playoff run or two.
But a year later, Harden, Kevin Durant and Kyrie Irving have played in just 16 games together — playoffs included — out of a possible 114 because of assorted injuries and Irving's vaccination status. It's a mind-blowing number that won't be growing any time soon because of Durant's sprained MCL, and has a ceiling regardless because of Irving's refusal to get vaccinated against Covid-19, which he doubled down on Monday.
If Durant stays on track for the reported four-to-six-week timeline it could take for his rehab and return, he could be back for the Nets' first game after the All-Star break on Feb. 24. Taking into account Irving's availability as a road-only player and assuming Harden stays healthy, that would give the Nets just eight chances the rest of the regular season to play with their full Big Three — excluding a game in Toronto and a game at the Garden, with Irving currently barred from playing in both places.
Eight games and then about half of however many playoff games the Nets can make it through. Can they really somehow turn that into a championship? If not, their window to win one might just be closing.
Kevin Durant takes on Alfonzo McKinnie of the Chicago Bulls. Durant has signed a long-term extension with the Nets and is in MVP form, yet may be seeing NBA title hopes with his fellow 'Big Three' members slip away. Picture: Stacy Revere/Getty Images
Durant signed an extension last summer to stay with the Nets through 2026. Irving and Harden both have player options for next season, and while GM Sean Marks had previously said he hoped to have extensions in place for the full Big Three before this season began, both Irving and Harden stood to get more money by waiting until this summer to sign another contract.
But Irving's future with the Nets is now much cloudier than it was last summer, especially if current local Covid-19 mandates extend into next season. As for Harden, NBA insider Marc Stein reported this week that there is noise around the league regarding Harden's "reported openness to relocation this summer."
For now, it's fair to assume that nothing is guaranteed for the Nets and their Big Three beyond this season. So when Durant pulled himself from Saturday's game and headed straight to the locker room, it served as a painful reminder of how quickly the best-laid plans can change — as they often have since the Nets put Harden together with Durant and Irving.
"It's been an incredible coup for us to have James in our program, and there was a lot of bad luck, so to speak, last year — just the amount of games that we were able to play whole," coach Steve Nash said Saturday, hours before Durant got injured, when asked about the anniversary of Harden as a Net. "So a little disappointment in the fact that we never had a real crack at it with full health or even close to full health.
"At the same time, we're still alive and building. We've had a lot more thrown at us this year, but we're used to it and I think these opportunities to overcome afford you a lot more in the end."
Kyrie Irving with Nets head coach Steve Nash. Irving has barely played this season due to being unvaccinated against Covid-19. Picture: Sam Forencich/NBAE via Getty Images
But the Nets are quickly running out of runway to reap the benefits that Nash speaks of.
And in case the Nets or their fans were hanging on to hope that Irving might change his mind about the vaccine, it's time to face the reality: the only chance of him playing at Barclays Center again this season is if the local mandates change.
Irving made it clear on Monday that Durant's extended absence would not affect his stance on getting the vaccine, even if it would be what's best for the Nets. That should all but rule out a possible change of heart for Irving once the postseason nears, despite knowing he will only be able to play in road playoff games. (In a doomsday scenario, if the Nets somehow draw a playoff matchup against the Knicks or Raptors, Irving would have to sit out the whole series unless local laws change).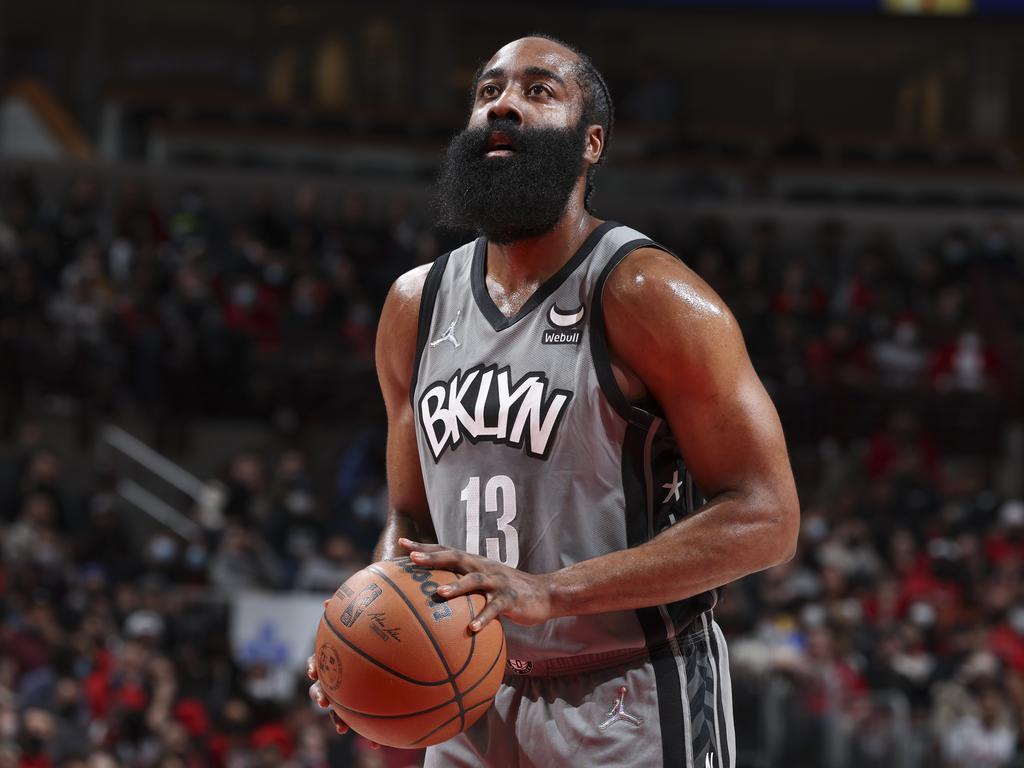 James Harden lines up to shoot a free throw for the Brooklyn Nets. Picture: Jeff Haynes/NBAE via Getty Images
The Nets do have two things going in their favour, despite Durant's injury. First, they have just begun a stretch of playing nine of 11 games on the road. While it won't be the perfect chance for their Big Three to establish some continuity that it looked like it would be, it at least means Irving can team with Harden to help shoulder the load for a good chunk of Durant's absence.
Second, the Eastern Conference still appears to be fairly open for the taking. The Nets entered Wednesday in third place behind the Bulls and Heat, neither of whom look ready to run away with the conference while Durant is out.
Still, the clock is officially running on the Nets' title chances.
Of course, they could go on to prove that chemistry is wildly overrated. But the alternative is proving to be the Big Three that hardly ever was.
– The New York Post