AFL Tasmania team: Taskforce chairman Brett Godfrey on discussions with Government
As Tasmania unites to support the JackJumpers, one of the men leading the state's push for an AFL side has issued a warning to the AFL to make its move soon. Here's why.
Godfrey's taskforce and the state government were in deep talks on Wednesday with a final position to be presented to the AFL only weeks away.
The AFL will eventually present a definitive position on a 19th team ahead of an August meeting of club presidents.
Stream every match of every round of the 2022 Toyota AFL Premiership Season Live & Ad-Break Free In-Play on Kayo. New to Kayo? Try 14-Days Free Now >
Godfrey said new Tasmanian premier Jeremy Rockliff had taken Peter Gutwein's agenda and was surging towards the finish line to deliver the new AFL side.
The Herald Sun understands the AFL has used Gutwein's decision to step down as an opportunity to demand more money from the Tasmanian government in a yearly contribution to underwrite the team.
That late curveball raised eyebrows in the state but Rockliff has remained steadfast that he will deliver a historic team.
AFL advisor Colin Carter said the government would need to contribute $7-$11 million a year to make the team viable in his report, with the government already committing $8.5 million for Hawthorn and North Melbourne to play home games in the state.
The Tasmanian Taskforce has warned the AFL risks falling behind other sports in the state.
It is understood there is a tipping point of economic viability for the state government and task force that would see it forced to walk away from a team if the AFL's demands were too significant.
But Godfrey told the Herald Sun on Wednesday night Carter's report showed the risk was significantly mitigated by state government support which would be guaranteed for an initial period of five or 10 years.
"The new premier's team have been working even more closely with us," Godfrey said.
"Peter was well into the journey with us. It started with Will Hodgman in June of 2019.
In 2020 Peter jumped on board and now Jeremy has hit the ground running.
"The task force has been ever present in the process and he's been phenomenal to deal with and we just had an hour with his team today. It's a 30-year process, it's not one premier or one taskforce. It is now time. We have put a compelling case and it was largely validated by Colin Carter.
"We will be ready shortly to declare a position about what we are prepared to do and it will be up to the AFL to get on with it.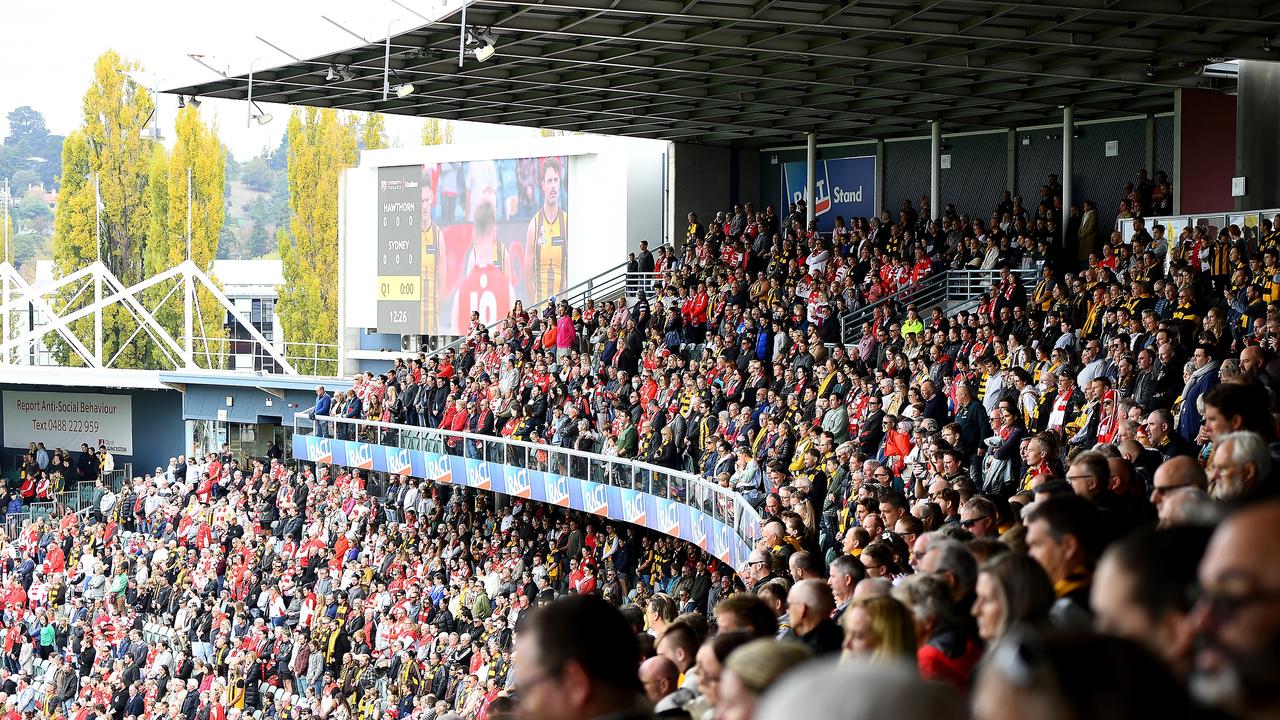 A packed stand at a game between Sydney and Hawthorn in Launceston.
"How brave was Larry Kestelman and the NBL to take a leap of faith on Tasmania, we expect the AFL to be just as brave. There is no reason they shouldn't or they might just miss a great opportunity.
"This club is hopefully forever so our view is now there has been so much effort and commitment and it probably won't be repeated again. Unless it happens at this juncture, there is a risk the sport gets usurped by other sports in the state. They will lose the market share they have today."
Rockliff made clear he would deliver when he told the Herald Sun on Tuesday: "As I have made clear to the AFL, I am determined to finish what this Government started, and deliver Tasmania its own team, once and for all".
There is not yet Federal funding locked in for the $750 million Hobart stadium but it will be the centrepiece of the new team, which will play most games in the south of the state.
A 19th AFL team would also create 11 more home-and-away games which would help the AFL maximise its broadcast rights.
Eventually a 20th team would also allow the league to offer up a 10th game as a streaming package or as part of its rights deal.
If the league does not go ahead with the 19th team there is no guarantee the state government will continue investing into Hawthorn or North Melbourne.
There is a feeling of diminishing returns for the state's investment, with North Melbourne regularly drawing over 10,000 fans before the pandemic but only 8663 against Geelong in round 6, with crowds capped at 10,000 last year because of Covid.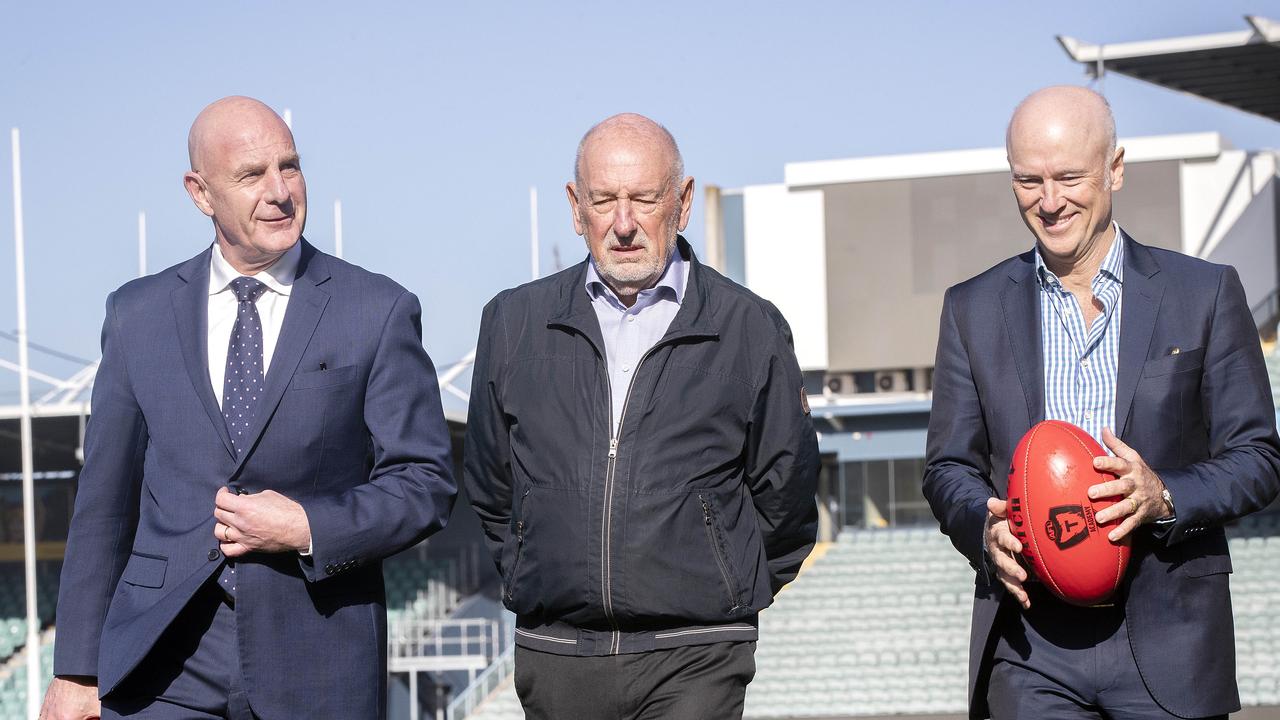 Former Tasmanian Premier Peter Gutwein, former Geelong President Colin Carter and Chair of AFL Taskforce Brett Godfrey at UTAS Stadium, Launceston.
TASSIE FEARS REVEALED AS PRESIDENTS QUESTION VIABILITY
A core group of AFL presidents still have significant concerns about the AFL's financial model for a Tasmanian team as they await an early August report on its viability.
The AFL's seemingly inevitable march into Tasmania relies upon the support of club presidents and chief executives, with the league only prepared to move forward with a competition-wide mandate.
But three months before a meeting to secure that support, club presidents are still yet to be swayed that the Tasmanian government's $750 million stadium proposal is viable.
There are concerns at both Tasmanian taskforce level and from club presidents that the extraordinary momentum carried forward under premier Peter Gutwein could wane under new premier Jeremy Rockliff.
Stream every match of every round of the 2022 Toyota AFL Premiership Season Live & Ad-Break Free In-Play on Kayo. New to Kayo? Try 14-Days Free Now >
Premier Peter Gutwein at Blundstone Arena supporting AFL games in Tasmania with the push for our own Tasmanian team. Picture: Nikki Davis-Jones
Rockliff made clear his mission was to finish the job when he told the Herald Sun on Tuesday: "As I have made clear to the AFL, I am determined to finish what this Government started, and deliver Tasmania its own team, once and for all".
The AFL is due to hand clubs a comprehensive analysis of the finances and cost-benefit analysis in the first week of August, having already given them a verbal briefing of the progress.
It will need to have secured rock-solid financial commitments from the Rockliff government on how the money for the stadium is raised and ongoing government commitments for decades to come.
The AFL is hoping to build a consensus rather than push through a Commission recommendation for a Tassie team that would then require the backing of just a third of AFL presidents to grant a 19th licence.
The presidents believe the state deserves a team from an emotional and historic perspective but some are still asking whether it should come with a relocation rather than the 19th licence.
Collingwood president Jeff Browne spoke for many clubs on Easter Monday when he made clear the Pies were yet to be convinced.
"I can't answer your question because I haven't seen the detail. All I have seen is one image with a stadium with a roof on it. We don't want to subsidise another team in the competition and we need to weigh up the opportunity very carefully," Browne said.
Jeff Browne and Collingwood is yet to be convinced. Picture: Michael Klein
"I need to see the detail of the financial arrangements to make sure Collingwood will not subsidise another club in the AFL competition. I think 20 (teams) is a lot. I think you can run with 19 and you would have to do that before you went to 20."
Key to their concerns are the guarantees from the Tasmanian government about continued support, which the Carter report stated would need to be between $7m-$10m per season.
The league would also need to find $17 million extra per season for the annual distribution which would come at the expense of club funding, community development and the AFLW pay demands.
They are also concerned about how a $750 million indoor stadium would make money given clubs continue to battle for better stadium returns at venues including Marvel Stadium and Metricon Stadium.
The league will have to provide a detailed financial breakdown but also the potential draft allowances that will allow a 19th licence to build its team as it enters the competition.
The Giants and Gold Coast were allowed a massive suite of draft allowances and priority access to listed players and state league players.
The introduction of both teams led to years of uncompromised drafts, but a single team's entry should provide less of an impact to the existing 18 teams.
Eade's hoops warning to AFL on Tassie team
Tasmanian Football Hall of Fame legend Rodney Eade has warned the AFL that basketball could become the sport of choice in the state if the league does not green-light a 19th AFL licence later this year.
Tasmanian premier Jeremy Rockliff also told the Herald Sun that football participation would "diminish" in the state if the AFL knocked back a new team in August.
The remarkable "Cinderella" story of the Tasmanian JackJumpers' NBL grand final berth has brought the AFL's impending decision on a new football licence sharply into focus.
Basketball's incursion into the state has not only drawn new supporters and participants, it has united the north-south divide so often spoken about as a drawback to any AFL team.
Eade on Tuesday said the AFL had to act or lose a generation of talent to rival sports if they did not green light a new team.
Watch Every Game of the 21/22 NBL Finals Live & Free with ESPN on Kayo Freebies. Sign up for Kayo Freebies now, no credit card required >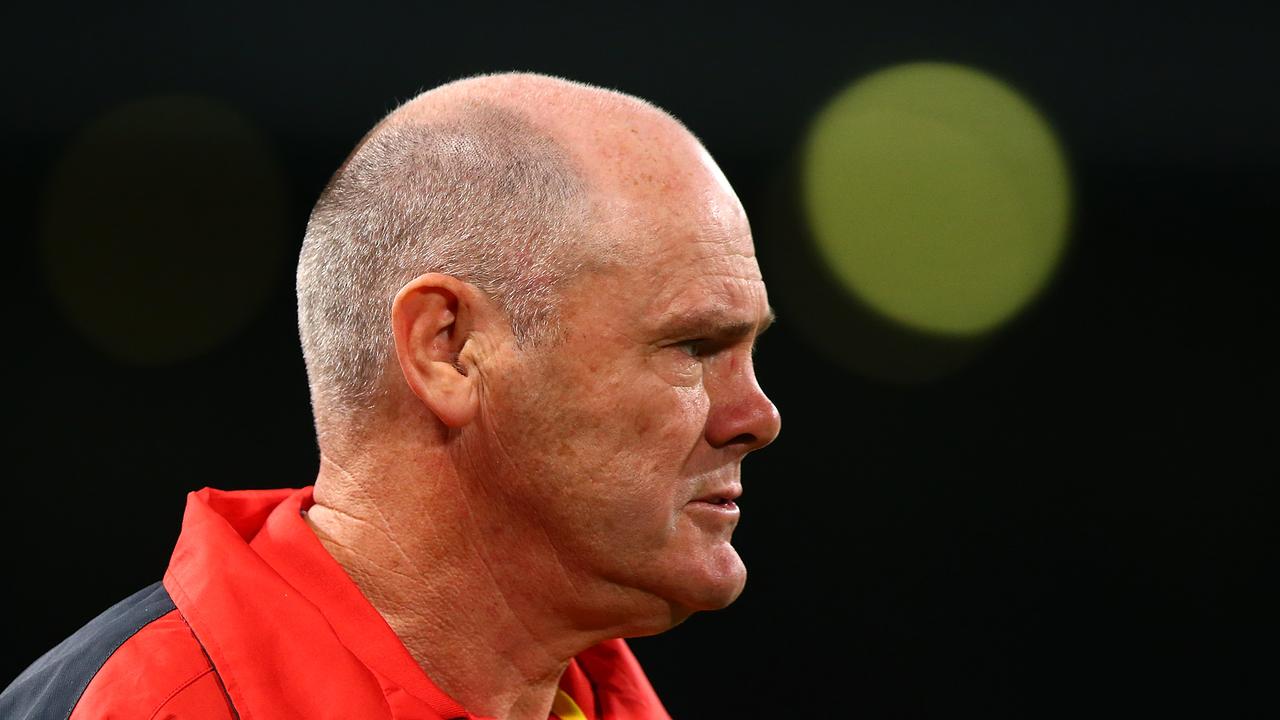 Rodney Eade has issued a warning to the AFL. Picture: Paul Kane/Getty Images
The first Tasmanian VFL-AFL player to reach 250 games, Eade told the Herald Sun the AFL could not take for granted the state's interest as he urged them to follow a new licence with significant grassroots investment.
"I think it shows the passion for sport in Tasmania. This (JackJumpers run) will be a big fillip for basketball in Tassie. Kids will start playing and that's the direction they will go in," he said.
"I don't think the AFL have lost the march yet but it's coming to the crossroads. They have to make the jump. Don't just say, 'This is the team and here it is', you have to support it.
"We were already hearing that the numbers of participation are down. People think it's the heartland but it might not be heartland soon.
"An (AFL) club would give it a fillip. But I am worried about them doing it properly.
"Having an AFL team won't fix all the ills, they have got to have a development pathway and a structure underneath and they have to save the suburban clubs as well as country clubs."
Rockliff on Tuesday hailed the Jackjumpers' remarkable efforts in their first NBL season and said he would follow through on former premier Peter Gutwein's mission.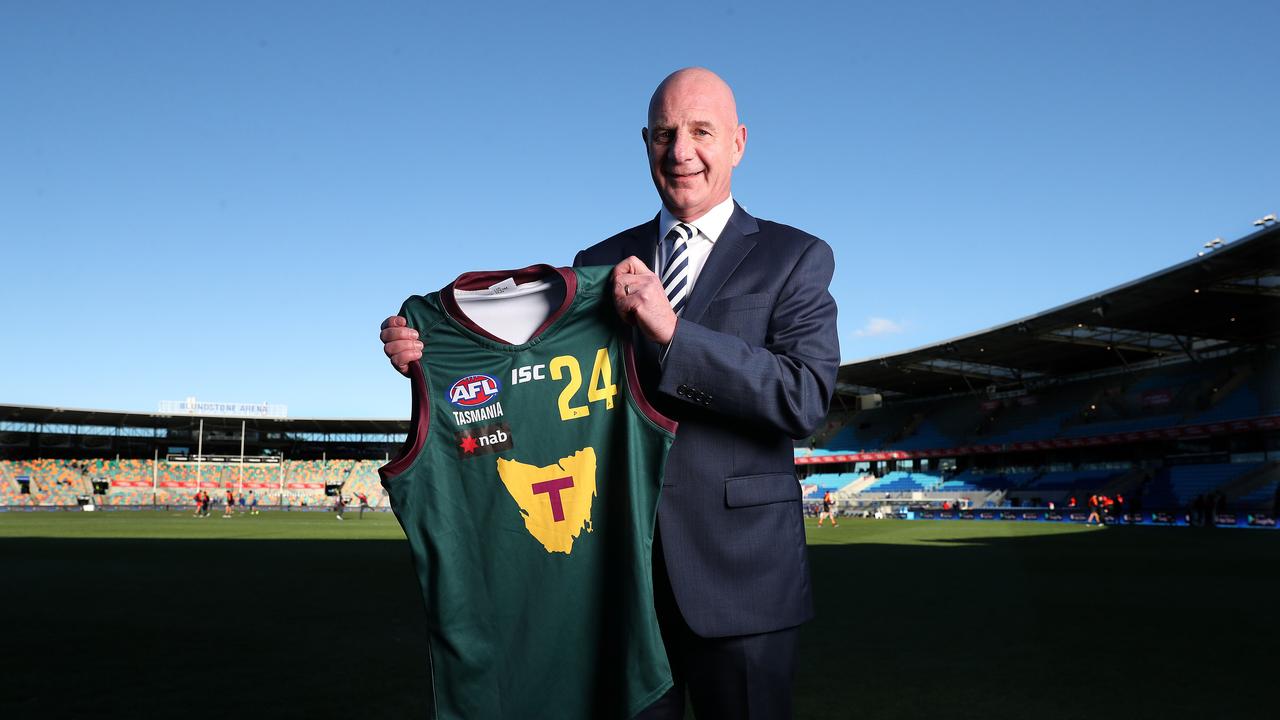 Peter Gutwein's promise will be followed through on by the new Tasmanian premier. Picture: Nikki Davis-Jones
"The outstanding success of the Jackjumpers has once again demonstrated that Tasmania belongs on the national sporting stage," premier Rockliff said.
"Their success on the court and their engagement with communities across Tasmania has created a massive buzz across the State, with more and more young Tasmanians getting active on the court as a result.
"It has also shown that if we have our own team, on the big stage, Tasmanians will turn up, with packed stadiums a regular occurrence.
"The AFL would not want to see its code diminished in Tasmania and I'm confident the league will do everything it can to ensure AFL participation continues to grow and flourish in one of the league's key heartland states.
"Tasmanians have waited decades to have an AFL team of their own and that moment is now closer than ever before.
"Tasmania deserves and should have its own AFL and AFLW teams, and as I have made clear to the AFL, I am determined to finish what this Government started, and deliver Tasmania its own team, once and for all."
JackJumpers fever grips nation as AFL looks on enviously
—Matt Logue
NBL boss Larry Kestelman has boldly offered the AFL a meeting to discuss expansion in the wake of the Tasmania JackJumpers' historic surge to a grand final series, cheekily declaring: "We'd even consider sharing the JackJumpers' name".
The JackJumpers' remarkable success has prompted AFL officials to closely monitor the franchise's set up, even attending games.
Kestelman has close relationships with key AFL figures, and has happily shared information when contacted.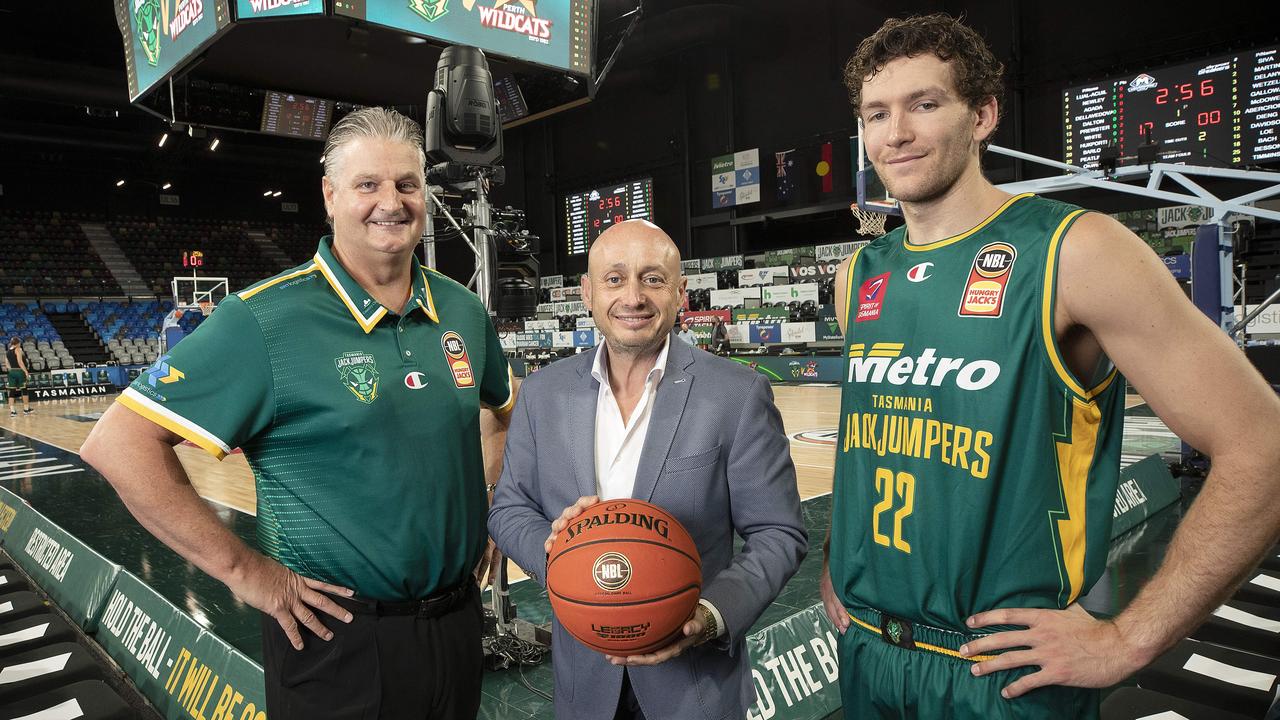 Larry Kestelman (centre) is delighted with the success of the JackJumpers.
Now with the AFL looking to expand into Tasmania, basketball's boss is willing to discuss how his team managed to succeed in the Apple Isle.
"The AFL should come and approach us and see if they want to call their team the JackJumpers as well," Kestelman told News Corp
.
"We'd definitely think about it.
"I've exchanged messages with people I know on the AFL Task Force, and they've been very complimentary.
"In reverse, I'm very supportive of the AFL coming to Tasmania. I have no problem with it. We've got a five-year head start, but if the AFL announce a team there, I'll be very happy for the state of Tasmania.
"The state will have a team for the summer and the winter."
The JackJumpers are into the NBL decider against the Kings.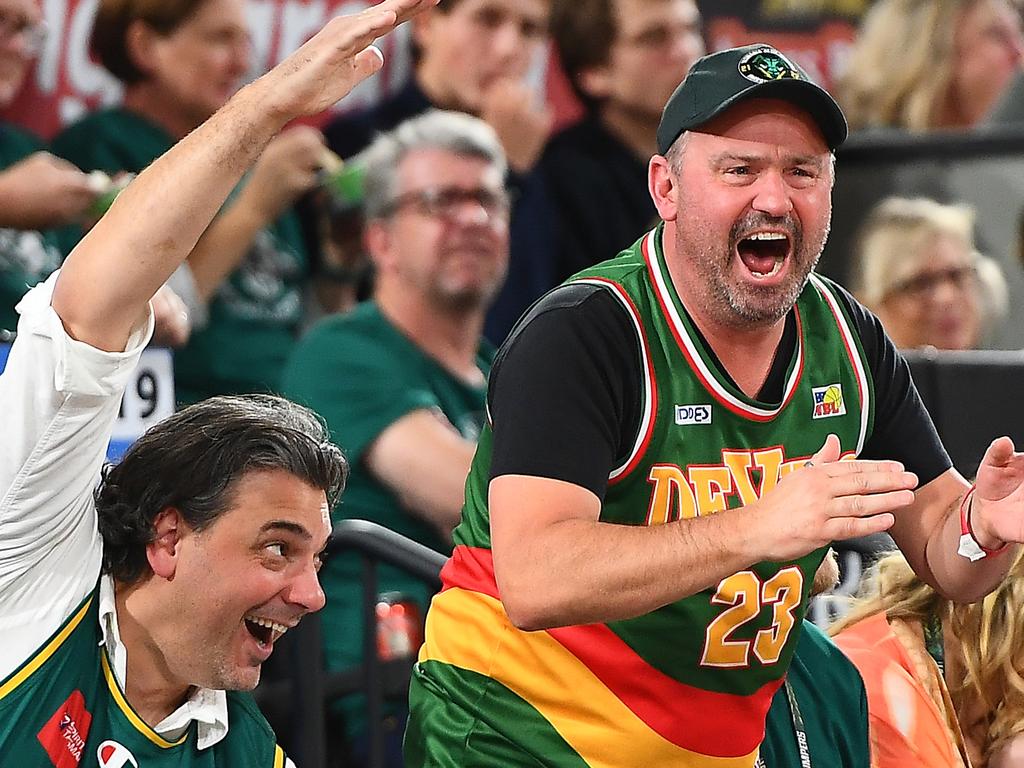 The fans are hot for the JackJumpers.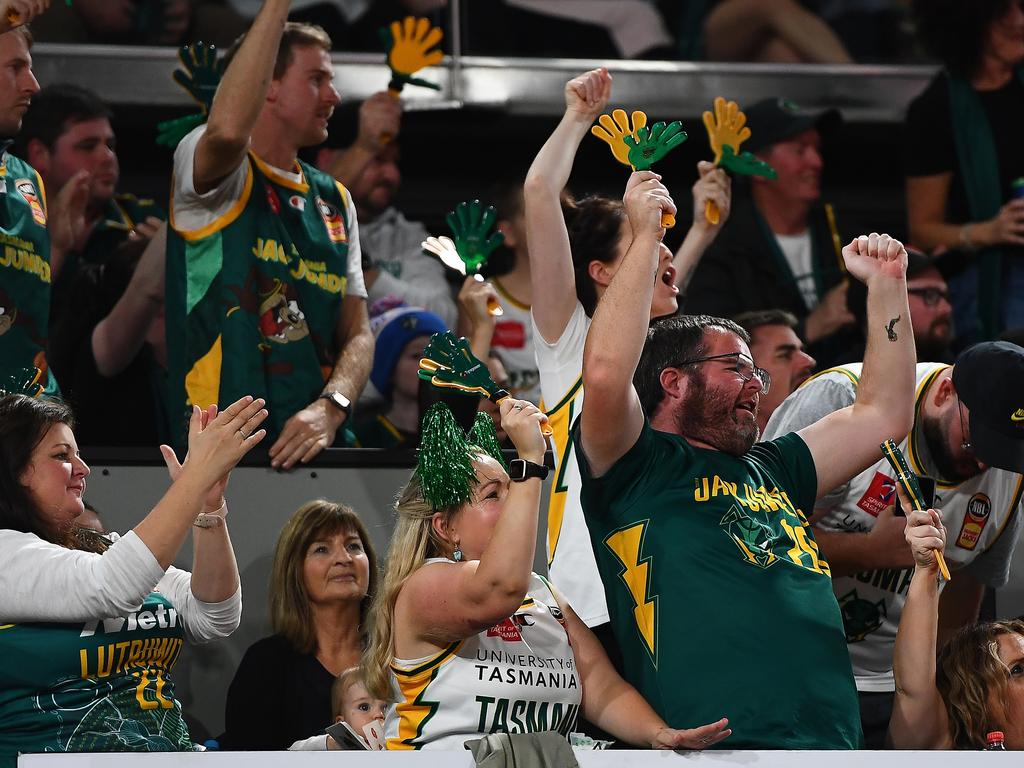 Passionate support abounds in Tasmania.
Tasmania has long been a tough sell for professional sport in Australia, but Kestelman was always confident the NBL could succeed in the Island state.
He took the time to meet with at least 60 businesspeople in Tasmania, who were all desperate to have their own team on the national stage
"You have to play to your strengths, so I had to play on basketball's advantage compared to other sports," he said.
"An AFL budget for a team is $50 million and a venue would be close to $700 million to build. That is a big challenge.
"I saw an opportunity for basketball given our budget to set up a team is $10 million.
"It is hard for other sports like the AFL to set up a Tassie team and have immediate success, but it is possible in basketball.
"We can also give Tasmania exposure globally, so the NBL ticks a lot of boxes for them."
The NBL first indicated that Tasmania was on its expansion radar in February 2019.
Kestelman planted his first serious seeds in November that year when he met with former Tasmanian Premier Will Hodgman.
Hodgman made it clear that he didn't want to be taken for a ride if the NBL couldn't deliver on its Tassie dream.
"Will felt like he was absolutely being mucked around by other sports, like they were almost teasing him," Kestelman recalls.
"So, he posed a question to me in a half cynical way, saying: what will this take? "How long will this process take?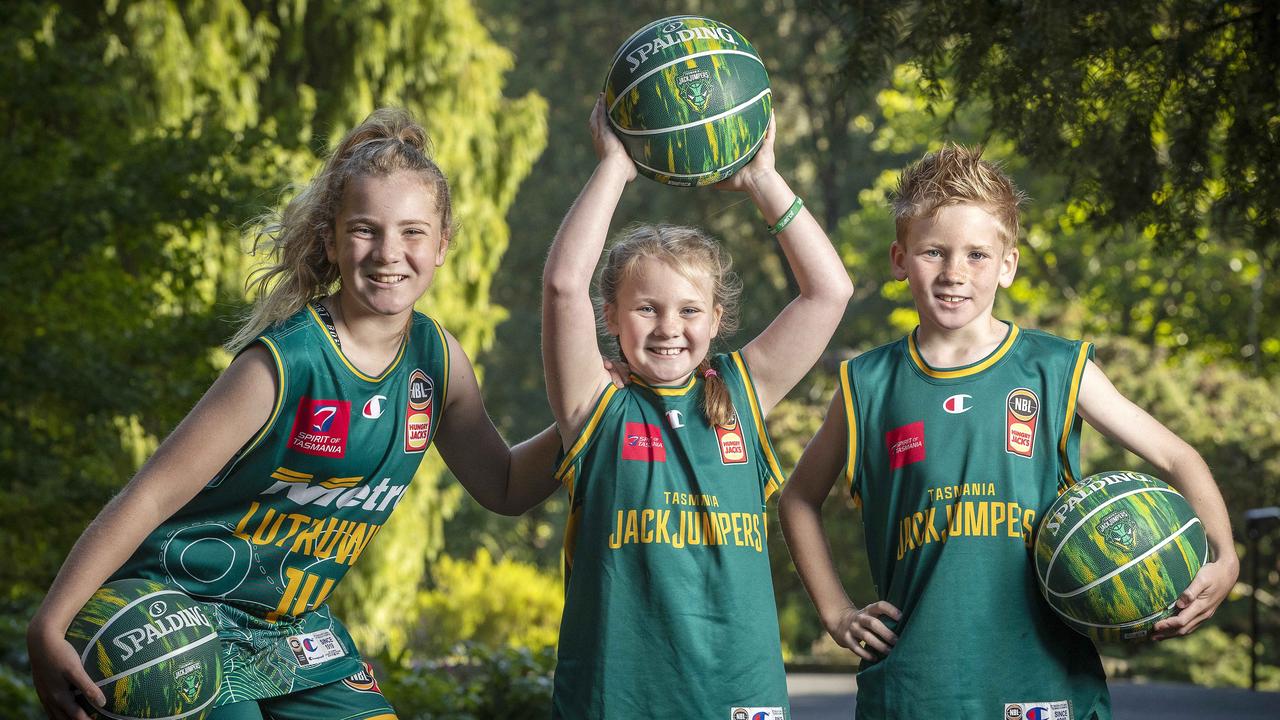 JackJumpers fans, siblings Ellie Schulze 10, Piper 7 and Lochie 8. Picture: Chris Kidd
"Just be honest if you are going to tell me it is possible and then a year later say it isn't possible.
"I was upfront and said, 'you just have to say that you want the club, that you can help deliver a venue upgrade and the government will tip in a reasonable amount to support the team.
"I then said, if you agree to those terms, I'll reply and agree via email while I'm sitting here in your office.
"That blew Will away, but I reminded him of the NBL's unfair advantage over the other codes is that there is one owner and a decision maker who can make decisions without going to a committee.
"After that meeting is when the wheels started turning and we made it happen, even through the struggles of Covid."
Kestelman finds it hard to describe the love the JackJumpers fans have for their team.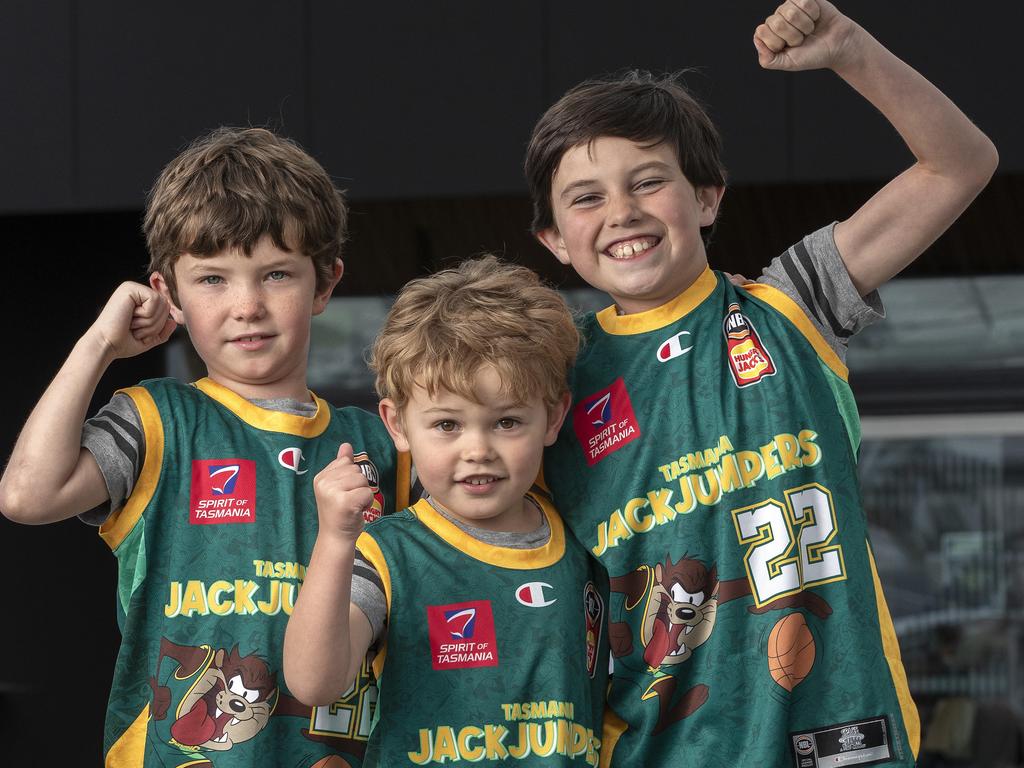 Xavier 6, Mitchell 4 and Callum Perkins 9 show their colours.
This passion was on display recently when he gave a mother and her son two tickets to the JackJumpers' semi-final against Melbourne United.
"They were both in tears when I passed over the tickets," he said.
"I gave two tickets away to a mum and her son because the son was out of work, and they couldn't afford the tickets.
"It's amazing to have that kind of support and passion for your team after one season.
"To say the JackJumpers are the hottest team in town would be an understatement.
"I couldn't have scripted a better season myself – the script writers have done a great job."
Originally published as AFL Tasmania team: Taskforce chairman Brett Godfrey on discussions with Government