NBL Finals: Jaylen Adams and Josh Adams hold the key to championship success
The NBL grand final series will come down to moments – and Jaylen Adams (Kings) and Josh Adams (JackJumpers) are two stars ready to shine bright on the big stage.
They're the showmen set to decide this year's historic NBL grand final series between the Sydney Kings and the Tasmania JackJumpers.
Gun guards Jaylen Adams (Kings) and Josh Adams (JackJumpers) have dominated the highlight reels all season with their sublime skills.
Now the pair are primed to put on a show on the biggest stage – the NBL grand final series.
Jaylen Adams – the recently crowned MVP – has produced countless highlights, including arguably the dunk of the season on the buzzer against Brisbane back in round 11.
Watch Game 1 of the NBL Finals between the Sydney Kings and Tasmania JackJumpers on May 6 Live & Free with ESPN on Kayo Freebies. Sign up for Kayo Freebies now, no credit card required >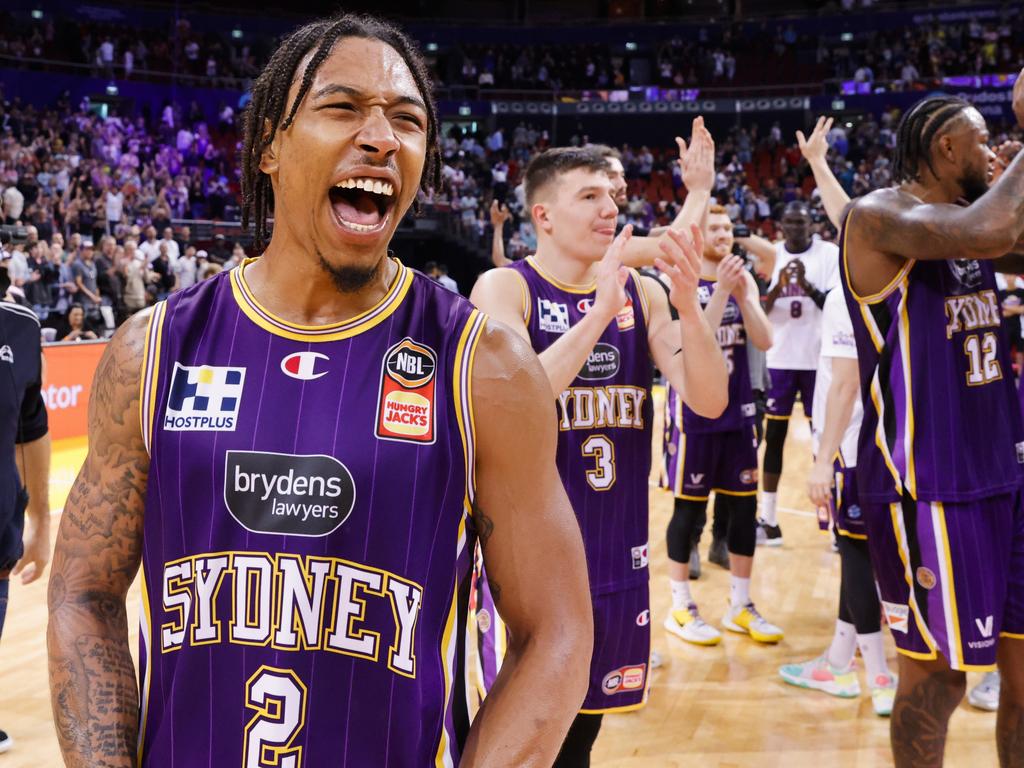 Jaylen Adams has been huge for the Sydney Kings this season. Photo: Jenny Evans/Getty Images.
For all Adams' class, it's his composure that defines him and Sydney's success this season, according to Kings legend and championship winner Shane Heal.
"I think Jaylen's poise and demeanour is good for the Kings because he doesn't look like he is in a hurry," said Heal, who won a championship with Sydney in 2003.
"Sometimes he looks disinterested and then all of a sudden, he'll hit two threes, get two assists, a big rebound, and a clutch steal.
"He just goes and makes things happen and you look up and he has 30 points.
"Jaylen is so unique to watch because he is equally exciting to watch as you never know what is happening next.
"You have to stay tuned because he can pour 10 points on in 10 minutes and change the game.
"I love watching Jaylen play."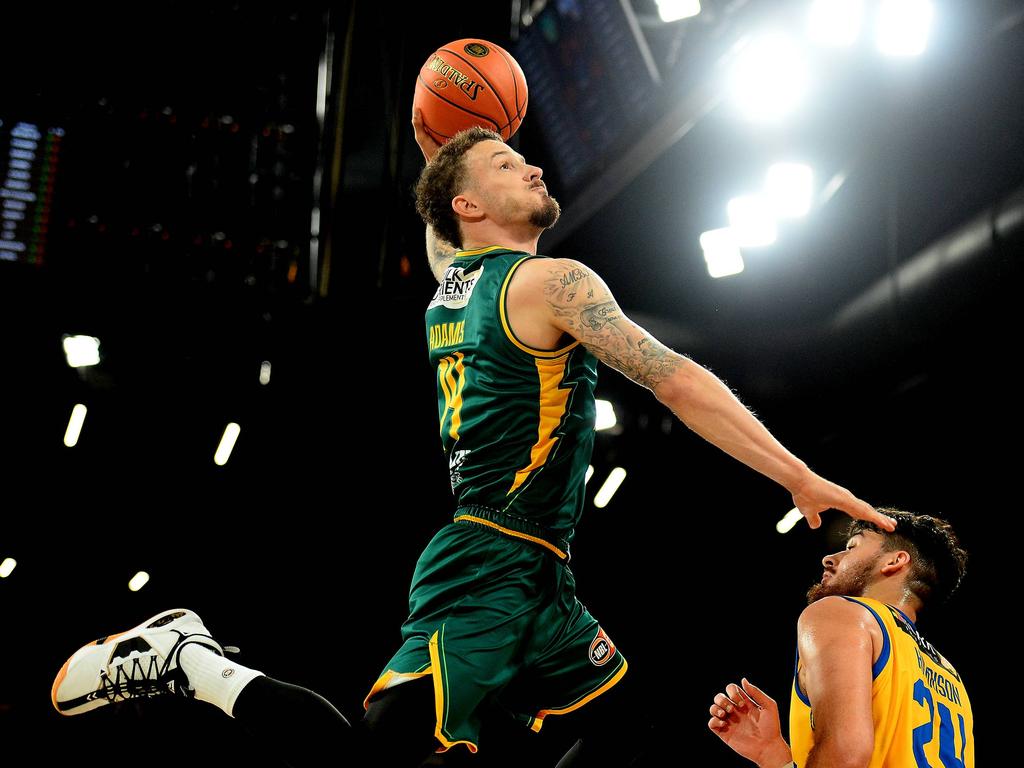 JackJumpers gun guard Josh Adams going up for an epic poster dunk on debut for Tasmania. The dunk attracted over 1.5 million views on the NBL's social media channels.
Heal has equal admiration for Josh Adams – the JackJumpers' Phoenix-born guard who is at the heart of Tassie's offence.
Adams delivered when it mattered most in the deciding semi-final game against Melbourne United with an ice-cool three down the stretch.
He also produced a monster dunk on debut for the JackJumpers, which attracted over 1.5 million views on the NBL's social media channels.
Heal urged the JackJumpers' star guard to lead from the front.
"Josh is Tassie's game winner and their Jaylen Adams," Heal said.
"And he has to play like that and be fearless for the JackJumpers to win.
"The Kings aren't going to give you anything, so you have to go and take it.
"So, with that you'll need to take some risks, back yourself and believe that you can get it done.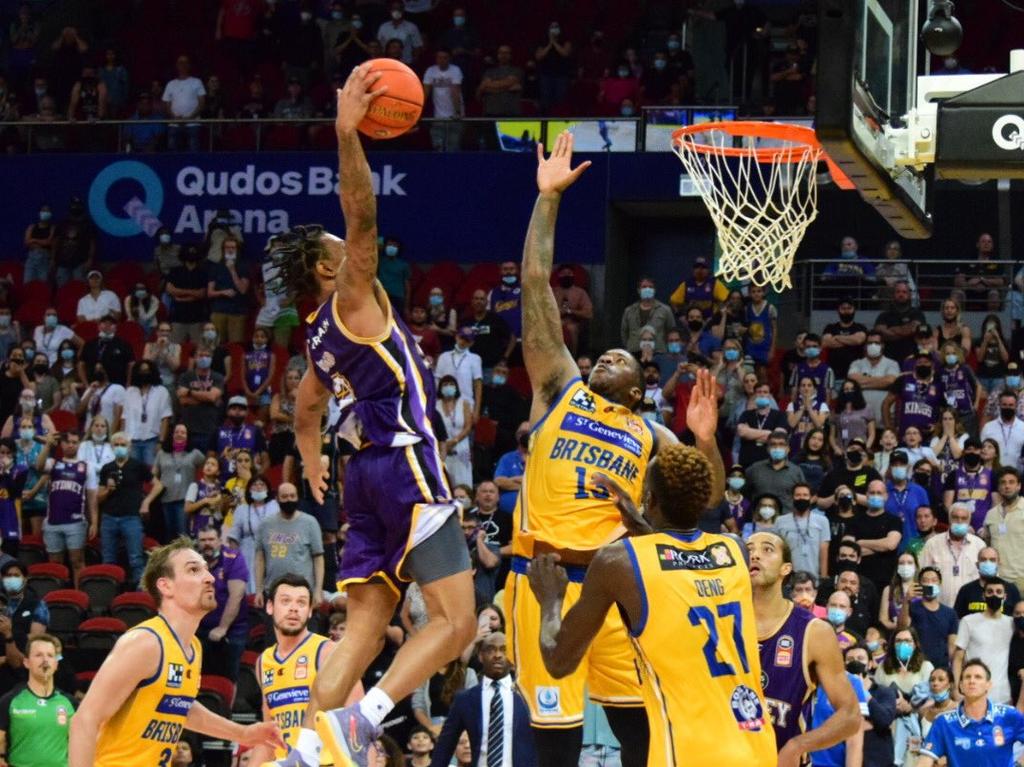 Kings guard Jaylen Adams climbs high for a massive dunk.
"And Josh is one player who can get it done – he has proven it all season."
The two guards were set to square off for a photo on Thursday, but Jaylen was a late withdrawal so he could pick up his family from the airport, who had travelled from the US for the opening grand final game.
Kings coach Chase Buford will also have family in the crowd at Qudos Bank Arena, with his legendary father, San Antonio Spurs' five-time NBA championship-winning GM RC Buford, flying over for the big clash.
NBL legend Chris Anstey knows what works in the post-season having who won three championships.
Anstey wants to see Josh Adams play with all the confidence and conviction in the world.
"Back yourself is what I'd tell Josh," Anstey said.
"Put this team on your back and carry them. Sometimes in a grand final series it takes your star scorer to knock down a couple of shots for the role players to think: 'we're ok here'."
Anstey has loved watching Jaylen and Josh Adams strut their stuff this season, but he also enjoys the fact that both players aren't perfect.
"They're not flawless and I think that adds to their games," he said.
"I love the sense of individuality that both players bring, and they have certainly passed on that individuality to their teams.
"The Kings and the JackJumpers don't always rely on their systems, but they've handed the keys to two of the most talented players in the league and they've taken off."
Originally published as NBL Finals: Jaylen Adams and Josh Adams hold the key to championship success