Meet Luke Travers, the WA prospect bidding to bring the mullet back to the NBA
The glorious golden curls on Perth's Luke Travers are cut straight from Greek mythology. Now rising up the NBA draft rankings, his ball movement and vision might just be cut out for the best league on the planet.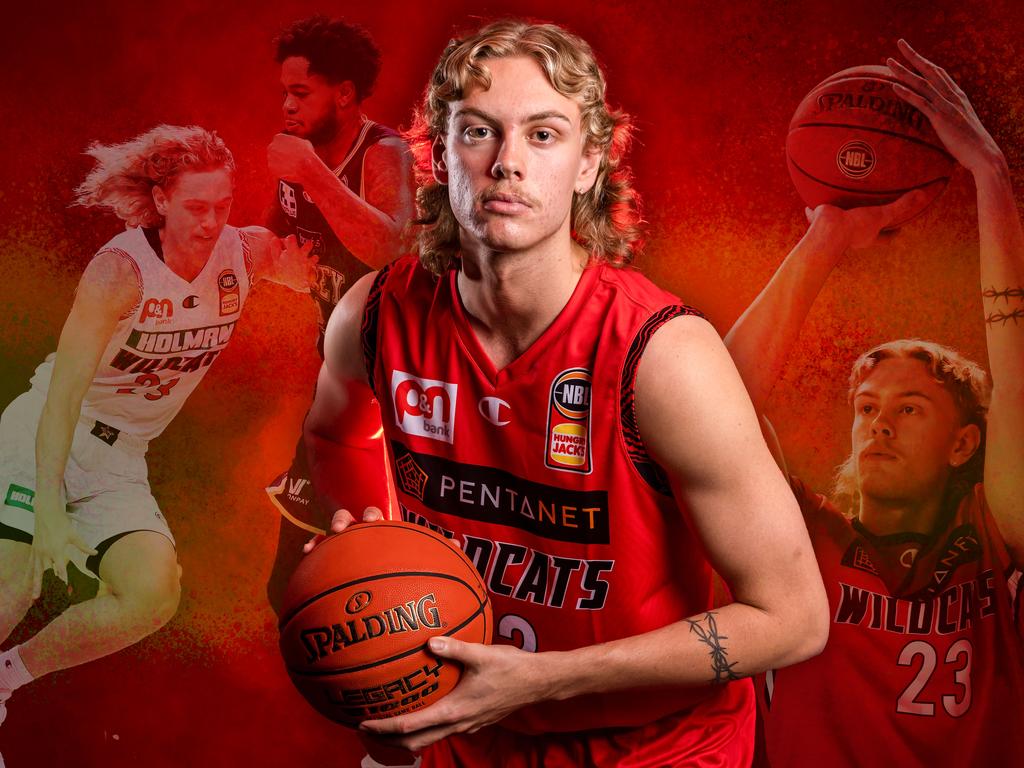 Luke Travers is on track to be a sought after prospect in this year's NBA draft.
Luke Travers can see himself in the NBA.
And he can see those golden curls cut straight from Greek mythology in full flight, running the floor in the world's best league.
"I'm not sure if I'd ever get rid of it. I mean, if an Aussie with a mullet made it in the NBA, that would be pretty iconic," says Travers, the 20-year-old whose bid to crack it stateside could come to fruition as soon as June.
Travers' trademark blonde locks make it impossible to miss the Perth Wildcats guard when he takes the court, his development and movement around the boards in turn putting him in the frame for this year's NBA draft.
It's impossible to miss Luke Travers' golden locks when he plays. Picture: Jason McCawley/Getty Images
Currently mentioned just inside the top 100 draft rankings, Travers is predicted to rise significantly to potentially target a second or first round selection come draft night in Brooklyn midway through the year.
Should Travers pass muster, he'd be packing arguably the game's most recognisable mullet since 90s journeyman Dwayne Schintzius – whose own locks helped land a Hollywood cameo alongside Whoopi Goldberg in Eddie.
Like we said, Travers can see it happening.
"I haven't always, but recently I've definitely tried to visualise what it would be like to be drafted," he says. "It's really helpful to see yourself in certain situations, it helps with my goals and motivation to get there."
It's a habit he shares with absolute royalty in the sport, and one well worth maintaining given the results. 'You have to expect things of yourself before you can do them' is one of many well-known Michael Jordan quotes en route to becoming arguably the greatest to ever grace a court, while Travers tries to cherry pick from around the game to improve his own.
"Paul George at the Clippers is someone who I try to emulate," he says, "Andrew Wiggins too. He's a really great role player but can also take the game on himself and provide the winning difference. A good two-way player as well, so I like to look at the way he plays."
Mid-90s journeyman Dwayne Schintzius is the owner of, arguably, the most iconic mullet in NBA history. Picture: Jon Soohoo/NBAE/Getty Images
Travers has studied Paul George and Andrew Wiggins as he prepares for this year's draft. Picture: Paul Kane/Getty Images
Wildcats coach Scott Morrison likens Travers to NBA All-Star Gordon Hayward, who he worked with as an assistant coach at the Boston Celtics before heading Down Under.
"I'll preface it with saying I don't think anyone is the exact same and there's always differences, but just watching the way they move, the way they cut off the ball, their court vision, willingness to pass first as opposed to forced shots, that stuff all reminds me of Gordon," says Morrison, who spent four seasons with the Celtics under Brad Stevens.
"They're a similar size, both big strong dudes. Luke's a little bit longer than Gordon, and Gordon, at Luke's stage in his career, was a bit better shooter obviously, but the way they move and their mindset to attacking and moving the ball I think is very similar."
Not a bad rap at all for a young guard starting out in his career. In fact, Travers' time as a pro has been more successful than most after just two seasons. Year one saw Perth win their 10th NBL Championship, the most in league history, while they lost the grand final to Melbourne United the following season.
"I'm pretty lucky. Being in a finals position and the pressure and intensity that comes with it has been amazing. Obviously you always want to win, but I think it has been great to be in those situations and to be able to learn and take it all in while I'm still young."
Travers played in grand finals in each of his first two seasons with the Wildcats. Picture: Paul Kane/Getty Images
A product of Perth's Willetton Senior High School, Travers joins an impressive alumni of top Aussie athletes, including good mate and Demons forward/ruckman Luke Jackson. After balancing basketball and footy alongside Travers for several years, Jackson went his own way with his own draft day, going to Melbourne with the third pick in 2019.
Travers was on hand as a Demons convert thanks to Jackson for last year's drought breaking premiership win.
"It's been cool to see Luke doing so well with the Dees. Not that I'd ever tell him that."
Travers' own formative years in footy have added to his game, particularly his vision and use of the ball, in much the same way Oklahoma sensation Josh Giddey has also credited footy for helping develop his impressive passing ability.
When it comes to development on the court, Travers is already in the Most Improved Player conversations for this season, and has the added benefit of playing alongside the best player in the competition, Bryce Cotton. The 29-year-old Arizona native leads the league in points per game, and is second in steals per game, with Travers close behind in third.
The three-time NBL MVP is widely known for his quiet, humble character, but he's a different beast on the court.
"As soon as he [Cotton] crosses that line he is absolutely ruthless," Travers notes. "The biggest thing I get from Bryce is actually just watching him and observing his mentality, he just never gives up. And sure he'll miss shots, but he's never afraid to go back and try again and for the most part he comes up clutch when it matters."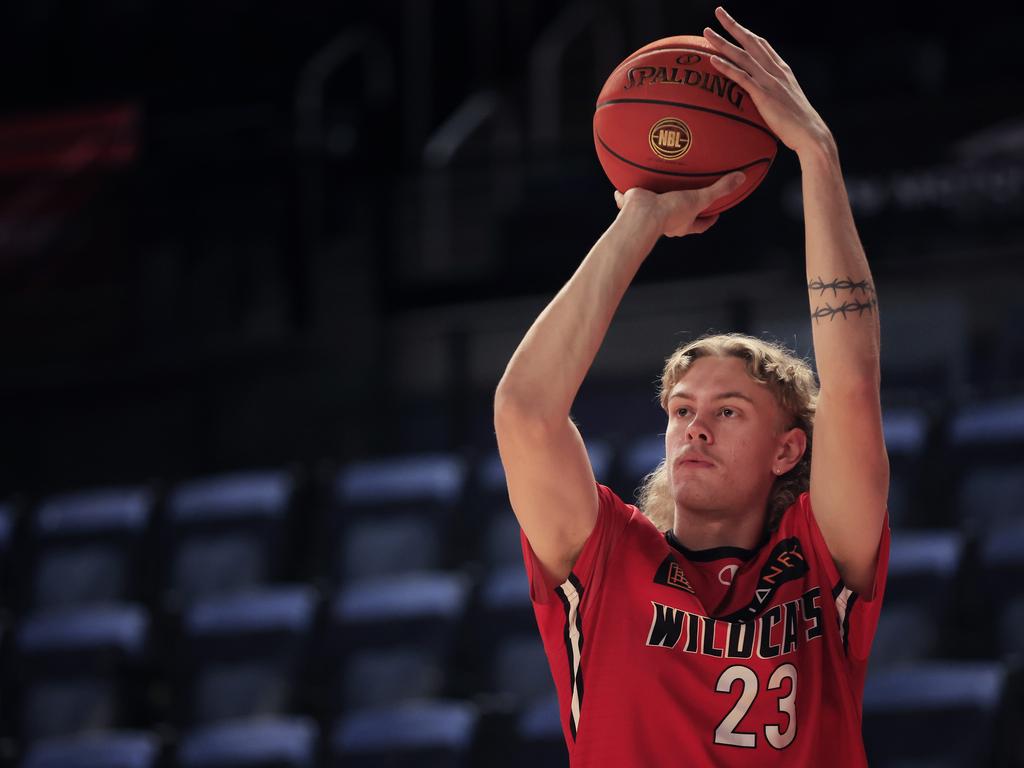 Travers is already in the discussion for Most Improved Player this season. Picture: Mark Evans/Getty Images
Basketball's evolution has seen the sport become somewhat positionless, with players adjusting to suit the pace and style of the modern game. It's something that suits Travers, who is fully aware that his size and shape – 200cm, 94 kilos – combine for a unique set of attributes.
"I really try to take advantage of the fact I can play different positions. I'm always working to try and make myself invaluable so I can be utilised in different ways."
Morrison is in his first season in charge of the Wildcats, and says there's an awareness within the group that Travers' ability and humility makes him a special player.
"The guys really like him, and I don't know if they look at him like a little brother or someone they see with a lot of potential or just that he's a good person, but you can tell they genuinely root for him," the Perth boss says.
"You can't always say that about people because of the jealousy factor or 'hey I'm better than that guy', but just being around this group you can tell they're really rooting for Luke to reach his goals and they're willing to help him. Not at the expense of the team winning of course, but I think they see those things going hand in hand so they're behind him."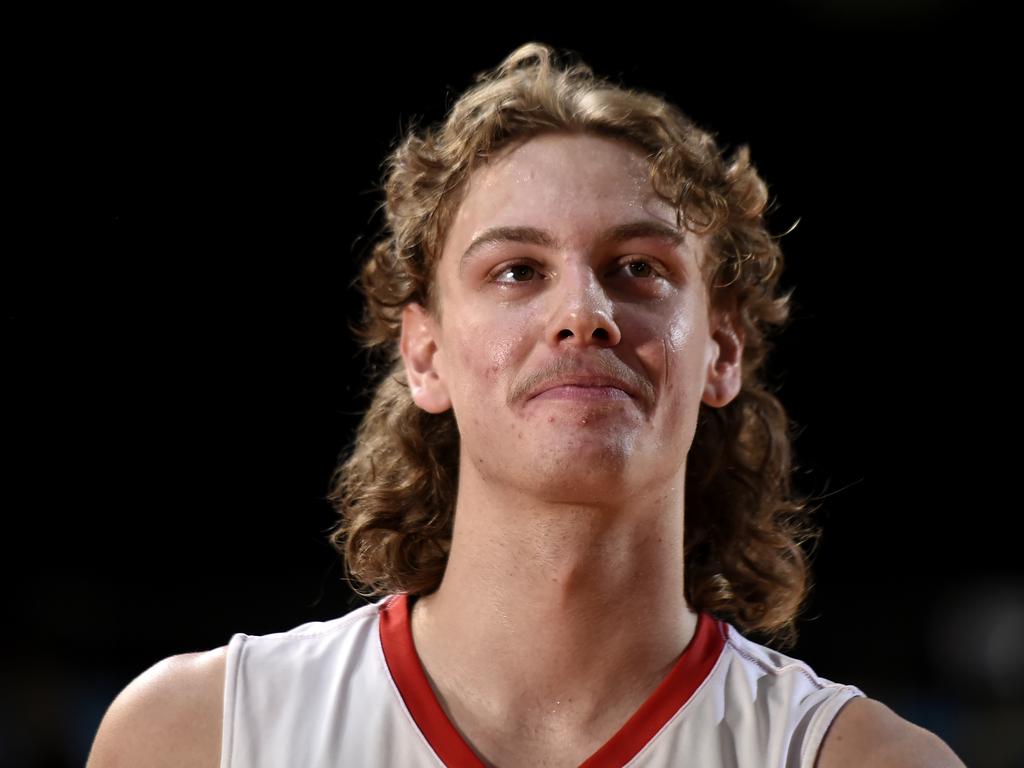 Travers' size and pace make him dangerous on attack and defence. Picture: Albert Perez/Getty Images
Having reached the finals for the past 35 years straight, it's no wonder the culture of the Wildcats is coveted like few others. And it's the little things that lend themselves to their overall success.
One of those is their open door policy when on the road. Literally, room doors are left wide open in hotel corridors.
It may seem a little strange at first, confronting even, but Travers insists it's something that helps to keep the group connected during the season.
And they'll need to be. Due to Western Australia's strict border rules, the Wildcats are on the road for the foreseeable future. The squad are based in Hobart, with back-to-back games against the Phoenix in Melbourne set to be yet another test for the star-studded team.
Along with helping the Wildcats keep their final streak intact, keeping himself on the radar of NBA scouts among several young rivals is driving Travers' early 2022 efforts.
As for visualising how he'd spend his first cheque should he be drafted in June, Travers coyly admits he hasn't given it too much thought.
"I'd probably just try to expand my shoe collection."
We'll check again in five months' time.