NBL 22: Sydney legend Steve Carfino's admiration for like-minded Kings star Jaylen Adams
Sydney legend Steve Carfino and import Jaylen Adams are separated by decades, but there's no denying the similarities between the Kings' magic men. WATCH
Steve Carfino's first instinct as a former point guard and commentator is to analyse.
It's a trait ingrained in the NBL icon and Sydney Kings legend, but he doesn't feel the need when he is watching Kings import guard Jaylen Adams.
WATCH THE UNCANNY VIDEO IN THE PLAYER ABOVE
"Because I already know what Jaylen is thinking – I can feel his mind ticking," Carfino says, smiling about the man dubbed the modern-day Kings' Magic Man in his honour.
"He has a similar role to me when I was playing guard, so when the offence gets a little bogged down, I know I have to push the ball and pace a little harder.
"I understand Jaylen's headspace."
This intuitiveness was on show when Carfino sat courtside last weekend to watch Adams' destructive dunk against the Brisbane Bullets.
Watch Every Game of the 21/22 NBL Season Live & On-Demand with ESPN on Kayo. New to Kayo? Start Your Free Trial >
The similarities between Sydney's magic men Steve Carfino and Jaylen Adams are uncanny.
The Kings trailed by two points with eight seconds remaining when the former Milwaukee Buck drove to the basket from an inbound pass and produced a scintillating mid-air dunk over two bigger Bullets' players.
Carfino couldn't help but jump for joy, throwing his fists in the air, when Adams produced what is being described as the NBL dunk of the season.
"As a former commentator I'm used to being neutral, but as soon as Jaylen turned the corner I just stood up because I knew he was looking to dunk," he reflected.
"Then when he dunked it was on my feet shouting, woo, woo, and I turned around and looked at the crowd – all my calmness went right out the window.
"I might as well have painted my face the way I was carrying on – I was pumped."
Adams was equally excited, exploding with an array of expletives after delivering his memorable dunk.
Although, he freely admits the play wasn't preconceived via hours of work.
"Oh man, I never practice that dunk at training," Adams said.
"It was just the moment – the adrenaline.
"It was a rough night for me, but thankfully it was a good ending."
Carfino can relate to Adams as a player with similar ball handling skills, but he isn't so sure if he would have pulled off the same dunk.
"No," he said before bursting into laughter.
"I would have got hung on the rim. People would have been thinking, 'man, you've never dunked like that in your entire life, why would you think you could pull it off."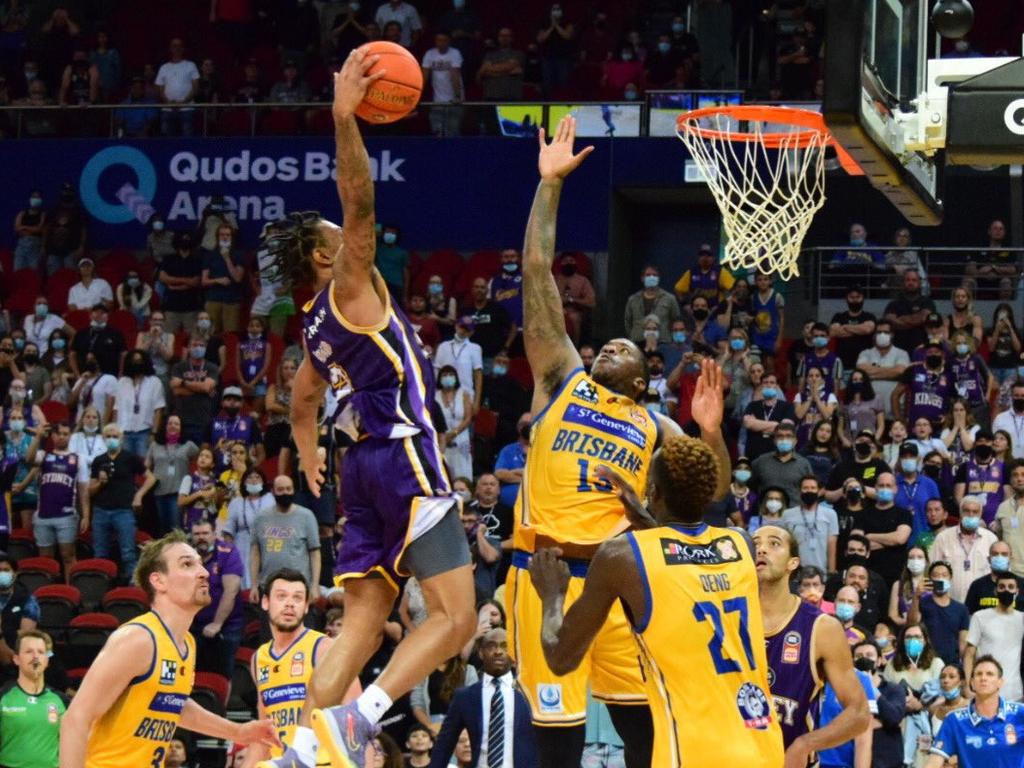 Kings guard Jaylen Adams with the dunk of the NBL season so far.
Dunk aside, Carfino does understand the expectation to perform as the team's import guard, and the pressure that comes for the preceding week when you fail.
It's why the Kings legend always tells his son Clayton, a budding baller in his own right, that he can always rebound from a poor first half.
"If you don't feel like you've done anything, create some energy," he said.
"Runs the lanes hard, get on the offensive glass – do something to make yourself feel good.
"That is me on the golf course now."
Today we're at lunch in Coogee with Carfino and Adams.
It's past meeting the present. Magic meeting magic. So, we just let them go and the connection is almost immediate.
There is smiling, singing and banter about all things basketball from Larry Bird's arrogance to classic tales of pick-up games.
The conversation goes to another level when Carfino drops that he was born in the New York suburb of Long Island.
"That's crazy, my dad was born in Long Island in Amityville," Adams said before Carfino replied: Me too, that is crazy.
"I was actually born in Bethpage, but we were raised in Amityville."
The pair then spend the next 20 minutes discussing their family connection.
Carfino also shared his challenges growing up in the USA with an Italian father and a native American mother.
"So, when I moved to Compton in Los Angeles, I'm white skinned with good hair and they are throwing s**t at me and chasing me home," he recalled.
"Then when I was 10 someone tried to break into our home when we were in it, so dad said: it's time to go.
"That is when we moved to a predominantly white neighbourhood and then it was the opposite with the 'N' word flying around me.
"I looked different, so people used to disrespect me a lot.
"I'm a nice guy, but when I'm on a basketball court I'm proving a point. I'm trying to cut their hearts out when I play.
"You need to have an unhealthy obsession to be really good at this game.
"For me, there has to be some kind of screw loose."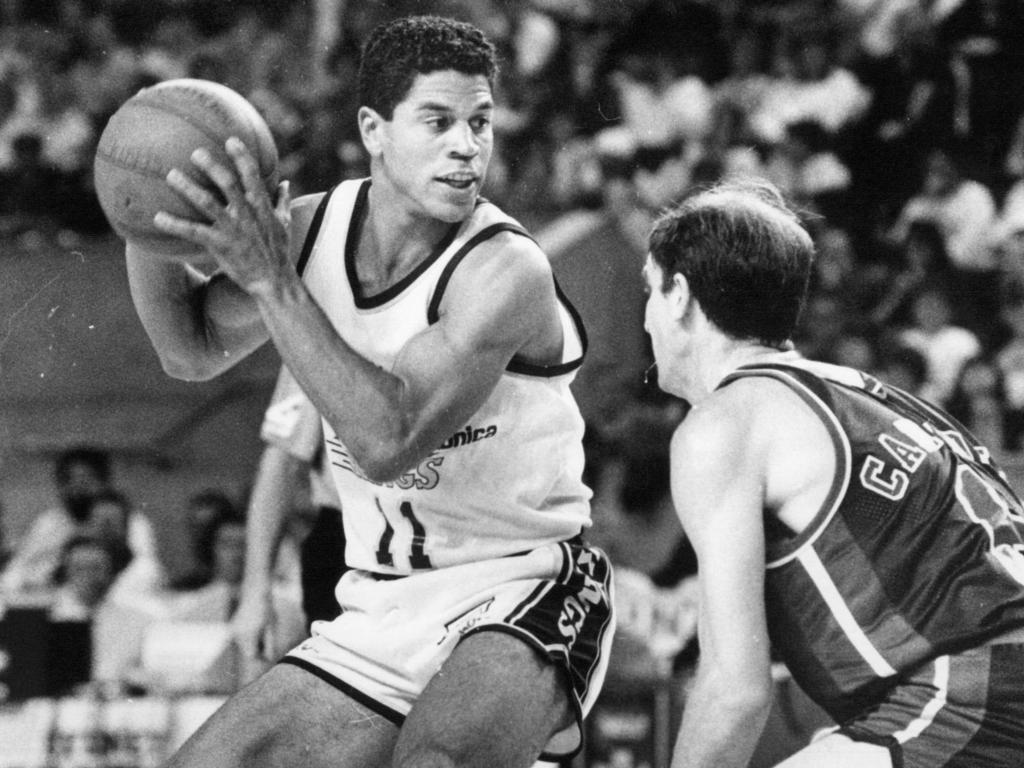 Steve Carfino during his glory years with the Sydney Kings.
Adams agrees when it comes to carrying a chip on your shoulder to succeed as a smaller man in basketball.
"Yeah, my dad calls it the edge, and you've got to have it," he said.
"I give my dad a lot of credit for the way he worked me out.
"We trained outside in 90-degree heat for hours and hours. "My cousins would foul me hard. We'd workout all day long and I'd get beat up all day long."
After just one-hour of chatting over calamari, Carfino and Adams are now weighing up becoming bitcoin buddies and they've already organised their next catch up.
As for the location?
"Ah, I already know what Jaylen is thinking," Carfino grinned.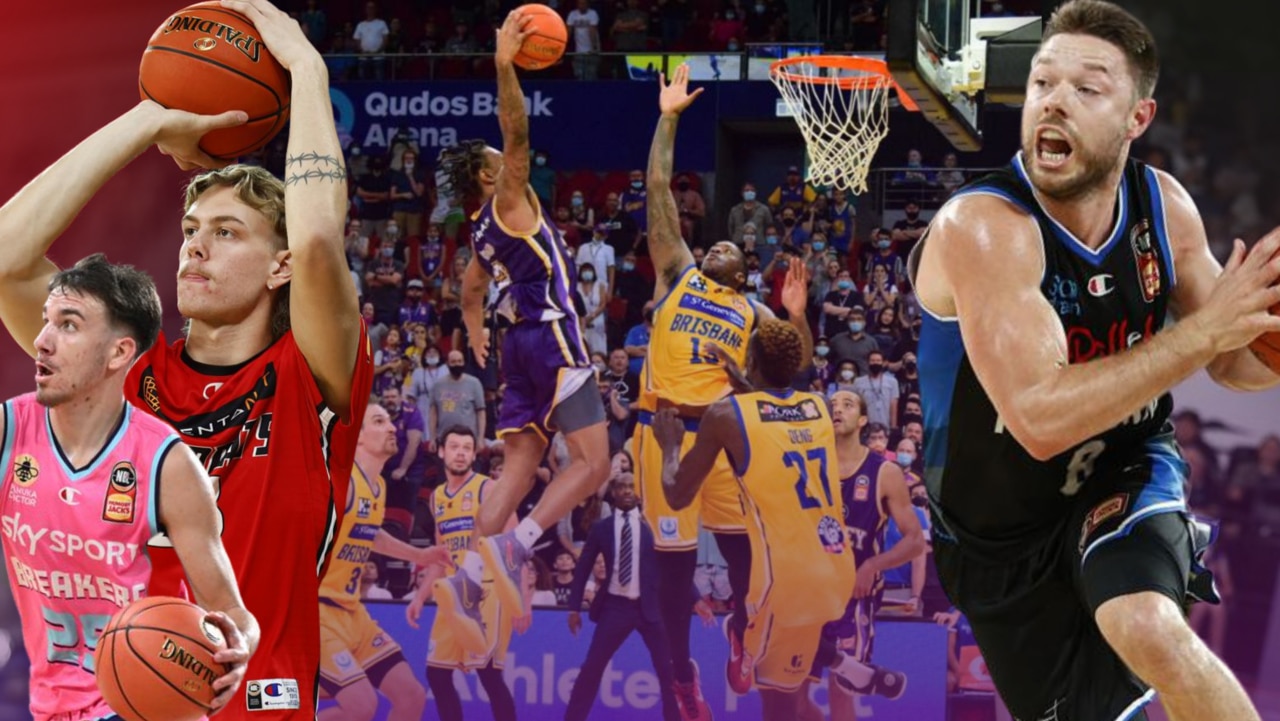 Which NBL stars could find themselves back in the NBA?
THE DOWN UNDER STARS NBA SCOUTS ARE HERE TO SEE
From NBA scouts heading Down Under to survey the NBL's talent to league officials being open to introducing a trade deadline, in-form Phoenix star Ryan Broekhoff keeping the NBA and Boomers door ajar and Kings guard Dejan Vasiljevic ready for his rematch with Perth's Matt Hodgson following their heated confrontation – there are countless big talking points ahead of NBL round 12.
NBA scouts eyeing NBL's finest
Multiple NBA scouts are heading Down Under to watch NBL games in the coming weeks – and the league's cavalcade of talent is ready to impress.
Off-contract Sydney Kings import guard Jaylen Adams is one player that is high on every scout's list.
It comes as Adams has the basketball world talking after producing the dunk of the season to help the Kings seal a thrilling win over Brisbane last round.
Sydney trailed by two points with eight seconds remaining when the former Milwaukee Buck drove to the basket from an inbound pass and produced a scintillating mid-air dunk over two Bullets' players.
The Kings then sealed a remarkable win when Adams missed his free-throw, but the ball was deflected back into his hands before he found big man Jarell Martin for the matchwinning layup on the buzzer.
Adams' poster dunk went viral online, including NBA reporter Adrian 'Woj' Wojnarowski, who shared the dunk on Instagram and has almost 300,000 views.
The Kings guard is on a one-year deal, and I'm told his recent form, which has been at an MVP level, has caught the eye of NBA scouts.
Adams has played 44 NBA games for Atlanta, Milwaukee and Portland dating back to the 2018-2019 season and would be a solid signing for any NBA team looking to add guard depth.
The 25-year-old Sydney sensation isn't the only NBL player drawing attention from scouts, with draft and Summer League spots also up for grabs.
This is where rising stars like Luke Travers (Perth), Hugo Besson and Ousmane Dieng (Breakers) come into the conversation.
Then there are players seeking NBA starts via Summer League or short-term stints, including in-form Melbourne United big man Jo Lual-Acuil, Phoenix's MVP candidate Mitch Creek and Sydney's two-way beast Xavier Cooks.
United's NBA champion Matthew Dellavedova is another player with potential to return to the world's best league where he won a title with Cleveland in 2016.
Dellavedova has regained his fitness and confidence in the NBL, and he would be a perfect player for any NBA team as an experienced guard off the bench.
I could also throw up more names as potential NBA talent – which is a testament to the NBL's continued rise in standard.
NBL trade deadline on the radar
The crazy world that is NBA trade deadline – and the extensive media coverage that comes with it – has again prompted discussion of a similar window in the NBL.
The NBA is a different league when it comes to the money and size of the competition – 32 teams – but plenty of people believe the concept – even tweaked – would add another layer of interest to the Australian domestic game.
Australian basketball legend Shane Heal is one who would love to see a mid-season trade deadline introduced in the NBL.
Heal proposed several mock trade scenarios on this week's Basketball Show, including Cairns guard Scott Machado to Illawarra for Hawks duo Xavier Rathan-Mayes and Emmett Naar.
"We want it (the trade deadline) – we think it should happen," Heal said.
"Obviously, it would come with some stipulations because the NBL guys don't get paid like the NBA guys, so it would have to be agreed to by the player and club, but I think there are some great situations."
NBL commissioner Jeremy Loeliger hasn't ruled out introducing a trade deadline in the future.
"We have considered introducing a trade window on a number of occasions and I'm sure it will remain on the table as something we continue to explore," Loeliger said.
Watch this space.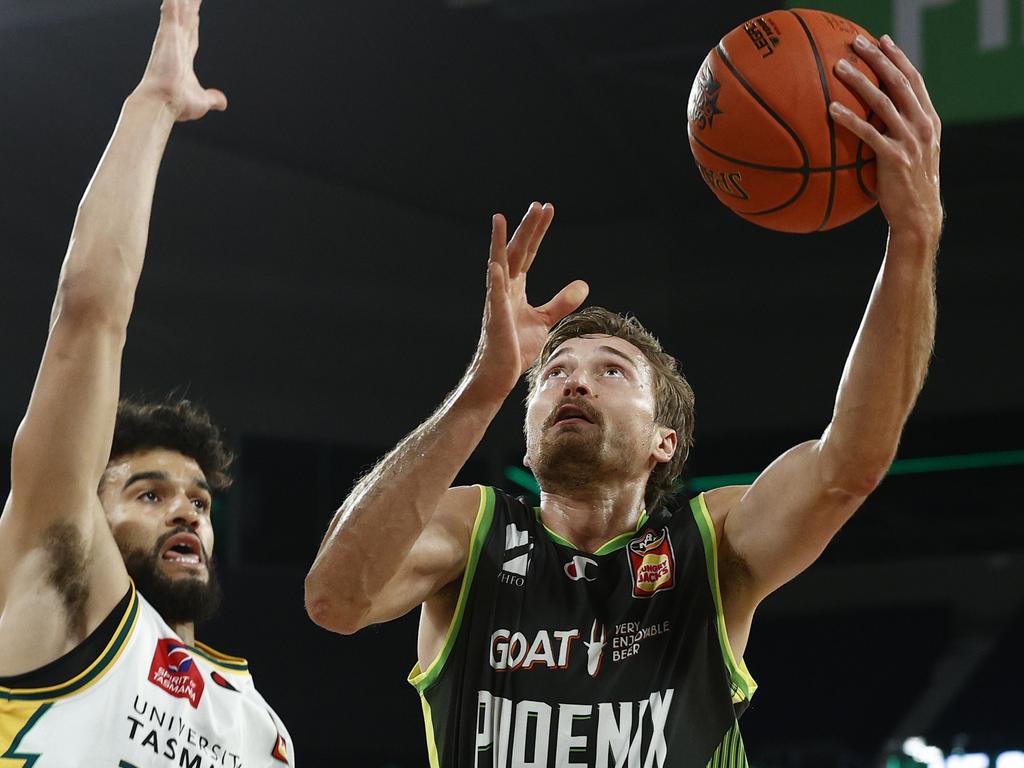 Could we see Ryan Broekhoff back in the NBA? Picture: Getty Images
Broekhoff leaves NBA and Boomers door open
In-form Phoenix swingman Ryan Broekhoff has left his NBA and Boomers door ajar as he enjoys a surge in form.
Broekhoff, who played 59 NBA games for Dallas while he represented Australia at the 2014 Olympics and 2016 Olympics, has scored double figures in his past five games.
It's prompted the 31-year-old to keep the NBA and the Boomers on his radar after freely admitting that he struggled in his first season with the Phoenix last year.
"There is no shut door on the NBA or playing for Australia," Broekhoff said ahead of Thursday's blockbuster local derby against Melbourne United.
"I'll worry about having a good season with the Phoenix, but if things pop up, I'm at the stage where it isn't just a career decision but also a family decision.
"I need to make sure they are taken care of."
Broekhoff has rediscovered his finest form in recent games, but he still isn't satisfied in a warning to the rest of the NBL.
"Because my shot is still to go in – that is one thing that is still to come back," he said.
"But I'm excited about that because once the three-point shooting returns, hopefully it will really even out my game."
DJ ready for Hodgson rematch
Sydney Kings guard Dejan Vasiljevic says he doesn't regret sledging Perth big man Matt Hodgson as he prepares to face him again this weekend.
Vasiljevic's taunt, which has been described as a token yet harmless pot shot, promoted Hodgson to repeatedly hit out at him during the Kings' round 9 win over the Wildcats.
Perth Wildcats' player Matt Hodgson has been handed a three-game ban for this fight involving Kings' player Dejan Vasilijevic.

Two of these games have been suspended. #NBLÂ

🎥: @NBL
pic.twitter.com/XtvwSQWuw0

— 𝐓𝐡𝐞 𝐒𝐩𝐨𝐫𝐭𝐢𝐧𝐠𝐍𝐞𝐰𝐬 Australia (@sportingnewsau) February 4, 2022
Hodgson returns from his two-game suspension against the Kings at Qudos Bank Arena on Saturday night.
"It was just a bit of trash talk and banter between the both of us," Vasiljevic said.
"There was nothing that I said to Matty that I wouldn't say to anyone else.
"Obviously, he took it a step too far and it wasn't a basketball play, but he messaged me directly and said he understood that he messed up.
"He understands the consequences and I'll just leave it at that."
Milestone men
Phoenix forward Tohi Smith-Milner plays his 100 game on Thursday
Cairns guard Mirko Djeric plays his 150 game on Friday
Breakers forward Finn Delany plays his 150 game on Sunday
Key stats
The South East Melbourne Phoenix can create history with a win over local rivals Melbourne United in Thursday night.
The Phoenix have never won two Throwdowns in a row but won the last one 94-86 in round two.
Melbourne United big man Jo Lual-Acuil is the NBL's leading rebounder at 9.9 per game to go with 16.6 points and a league best 2.8 blocks.
If he continues to remain rebound and blocks leader, he will be just the fifth player in NBL history to lead both.
Surprisingly, no player led both categories until Chris Anstey did in 2008 and 2009 with Julian Khazzouh (2012), AJ Ogilvy (2014) and Andrew Bogut the most recent in 2019.
NBL ROUND 12 DRAW:
Thursday, Feb 17 from 7.30pm at John Cain Arena and Live on ESPN and Kayo Melbourne United v South East Melbourne Phoenix
Friday, Feb 18 from 7.30pm at WIN Entertainment Centre and Live on ESPN and Kayo Illawarra Hawks v Cairns Taipans
Saturday, Feb 19 from 5.30pm at John Cain Arena and Live on ESPN and Kayo South East Melbourne Phoenix v Brisbane Bullets
8pm at Qudos Bank Arena and Live on ESPN and Kayo Sydney Kings v Perth Wildcats
Sunday, Feb 20 from 1pm at Adelaide Entertainment Centre and Live on ESPN, 10Peach and Kayo Adelaide 36ers v Cairns Taipans
3pm at John Cain Arena and Live on ESPN, 10Peach and Kayo Melbourne United v New Zealand Breakers
5.30pm at WIN Entertainment Centre and Live on ESPN and Kayo Illawarra Hawks v Tasmania JackJumpers
Originally published as NBL 22: Sydney legend Steve Carfino's admiration for like-minded Kings star Jaylen Adams