NBL Grand Final Series 2022: Tasmania JackJumpers stand on precipice of greatest upset in league history
We doubted their coach, their recruitment ... even their name. But, as CHRIS ANSTEY writes, the JackJumpers have proven critics wrong.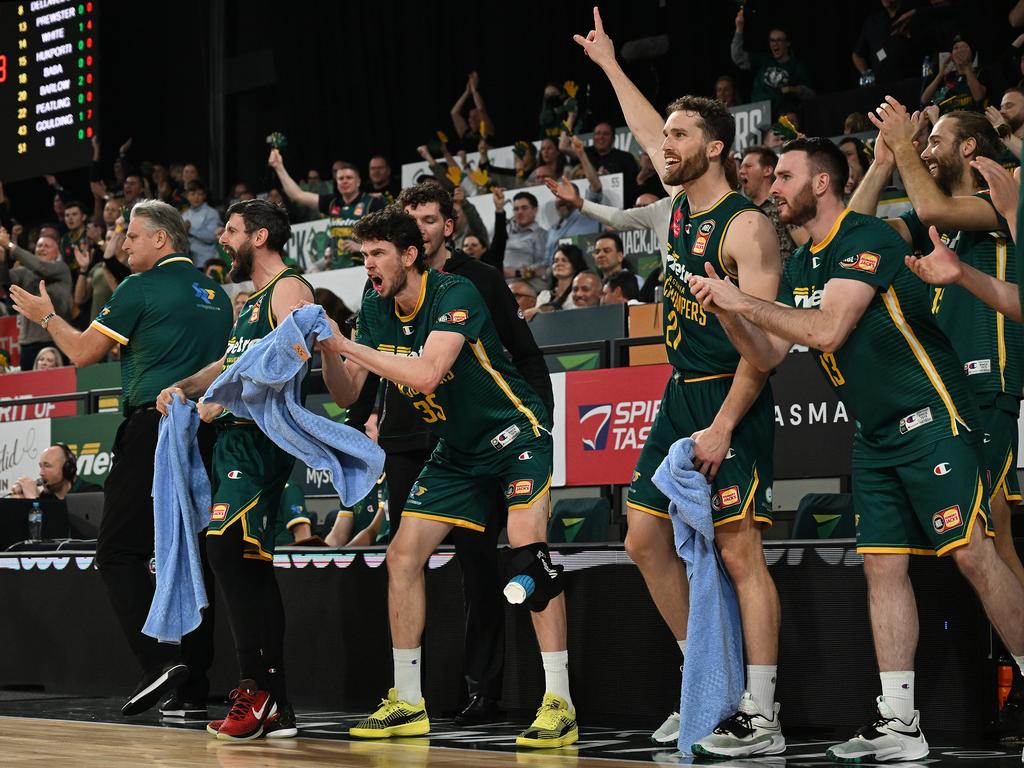 Tasmanian basketball fans have given the JackJumpers a vocal following through their first season. Picture: Steve Bell/Getty Images
When the NBL announced the JackJumpers to the Australian public in October, 2020, basketball fans wondered why traditional names like the Devils or Tigers were overlooked.
When the franchise announced American Scott Roth as their inaugural head coach three months later, many struggled to comprehend why proven coaches like Rob Beveridge, Shaun Dennis and Joey Wright, or long-time assistants Judd Flavell and Paul Henare, were overlooked.
And when Tasmania signed Melbourne United cast-off Sam McDaniel and former Adelaide 36er Jack McVeigh as two of their first major roster players, the JackJumpers inaugural season in the league appeared a train wreck waiting to happen.
Today, as Tasmanians celebrate their new heroes and prepare for the NBL championship series at their first attempt – having smashed the glass ceiling that has reduced start-up basketball franchises around the globe to also-rans in their first years – it is worth remembering just how unlikely any of this craziness was just 18 months ago.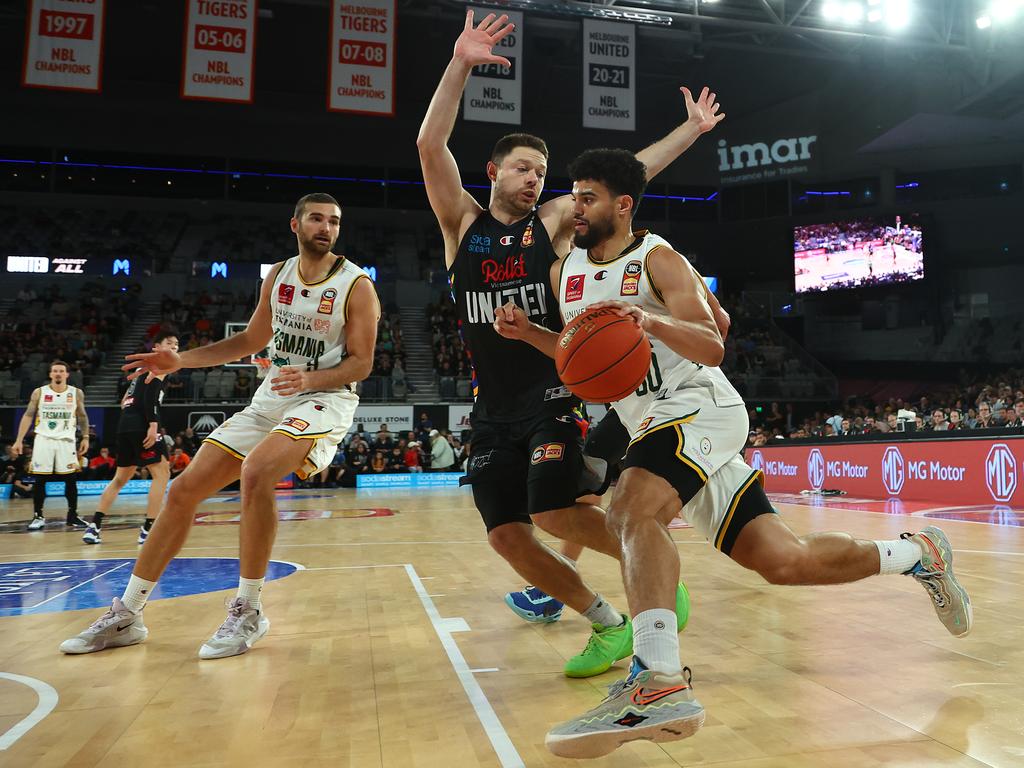 Sam McDaniel appeared a strange choice for the JackJumpers first signing, but has been a standout for the newcomers. Picture: Graham Denholm/Getty Images
I think back to the day Roth sat down in front of the cameras before his team began its inaugural NBL season. Everything he said was right out of a coaching textbook. His problem, however, was that most people, myself included, thought that his soliloquy were just words: the kind of empty rhetoric heard around the sporting world.
"The biggest thing is chemistry at the end of the day." Roth said. "It's 15 new players trying to get into a mix to find some common ground of how were going to play. That's difficult for any team but … why not us? Why can it [making the finals] not be done?
"No one's given me really a good answer, and I think we have enough guys that have a little bit of a competitive edge, that want to prove something. They may be a bit disregarded or looking for new life, a new start, and that was one of the things I was also looking at."
To the cynical, this might have sounded like a subtle way of reminding everyone, when the losses started to pile up, that his team was not as talented as most other NBL rosters.
"The teams that are winning are at the top defensively," he continued. "You have to play defence, and that point has been very clearly made to them from day one that you will not be on the floor with me if you cannot defend and guard your yard, keep guys in front of you. That will be our MO moving forward."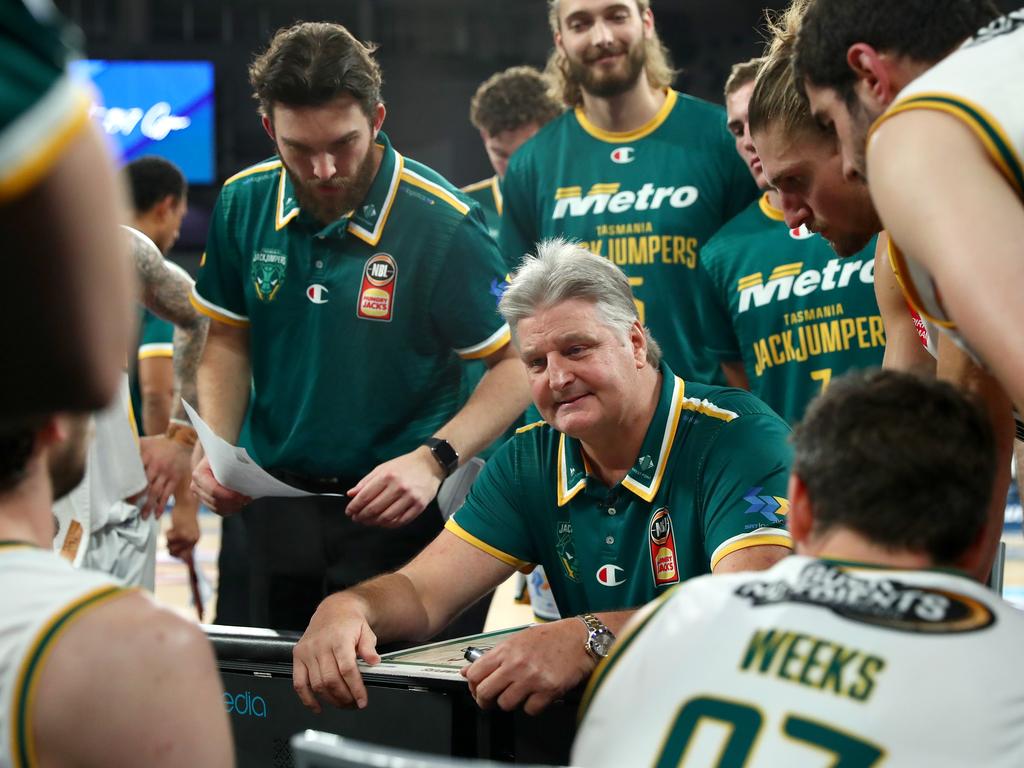 As Head Coach, Scott Roth has steered the Jackjumpers to an astounding result in their inaugural season. Picture: Kelly Defina/Getty Images
I watched the JJs play throughout the pre-season.
I liked new import Josh Adams and wondered if Josh Magette's pass-first style of play would be enough from an import point guard. As third import MiKyle McIntosh struggled to make a shot and play defence without fouling, I was sure his days in the NBL were numbered.
Their local contingent comprised players who had been given opportunities, but their previous clubs were ultimately happy to let them go. Jarrad Weeks, Clint Steindl, Jack McVeigh, Sam McDaniel and Fabian Krslovic hardly struck fear into the hearts of the big boys.
Will Magnay, fresh off spending a couple of months at the end of the New Orleans Pelicans bench, was Tasmania's star recruit. Even after one successful year at the Brisbane Bullets, Magnay was largely unproven even at NBL level.
In an emotional beginning to their NBL existence, the JackJumpers surprised many people by defeating the Brisbane Bullets and, in many people's minds – including mine – grabbed one of what would be only a handful of wins in their first season. At 2-6, with their only other win coming against a struggling New Zealand Breakers, I was happy to commend Tasmania's competitiveness, and hoped they could steal a few more wins to keep morale high.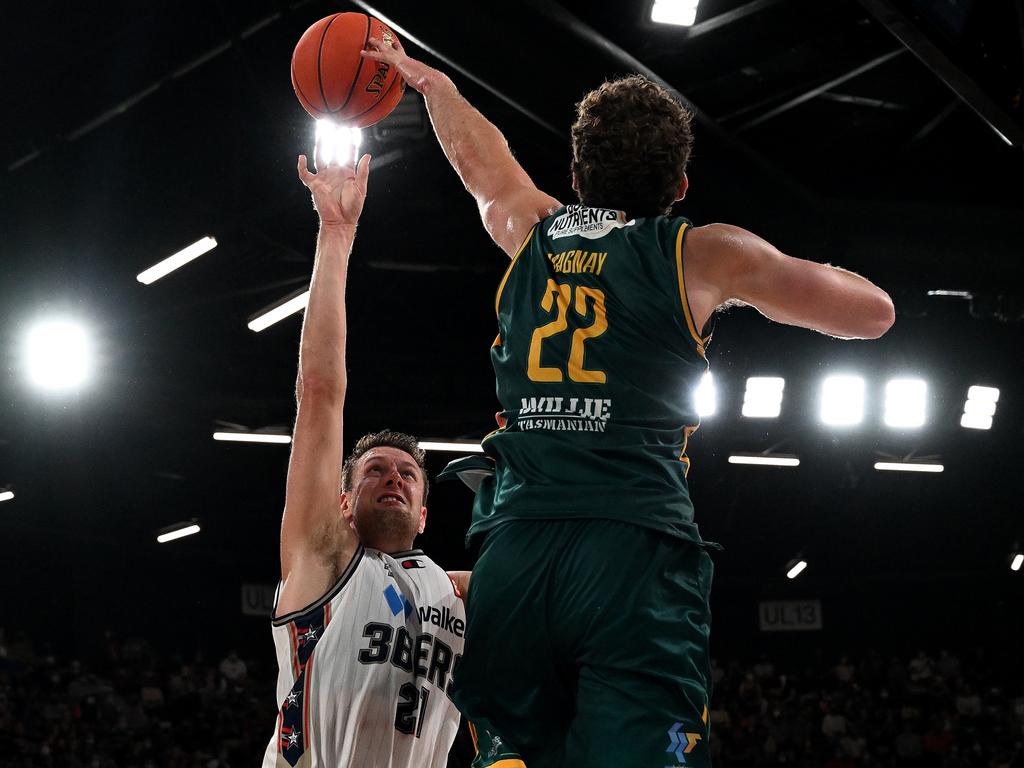 Will Magnay leads the defensive stats for the JackJumpers, averaging 5.55 rebounds and 2.09 blocks per game. Picture: Steve Bell/Getty Images
Nobody in their right mind could have predicted what happened next.
The JackJumpers strung together four straight wins, including a huge upset over the Sydney Kings and a bigger surprise road win against defending champions Melbourne United. Good on them. That's what happens when teams come into a game knowing they can just turn up and win. Right?
The JJs had some big losses in the following weeks, but also some huge wins. They beat the Brian Goorjian-led Illawarra Hawks, who don't take games off, on the road and followed that up by beating them again at home as the Hawks sought revenge.
Then they beat Perth. In Perth.
The JackJumpers were on the march.
Adams' shot-making and fearlessness was as impressive as any player in the NBL. Magette was proving that he could shoot the three and McIntosh was settling into his role as a physical defender and rebounder. In the extended absence of Magnay, McVeigh was becoming the secondary shot-maker Tasmania needed, while Steindl hunted his perimeter shots.
As the regular season drew to its final weekend, Tasmania had won 14 of its last 19 games to sit just one spot outside of the top four. The problem was that the Perth Wildcats, finalists for the previous 35 NBL seasons, sat one spot above them, only needing to win one of their final two games at home to advance yet again. They held the season split over Tasmania, so even if they lost both games, the JackJumpers would have to beat Melbourne United.
Surely not.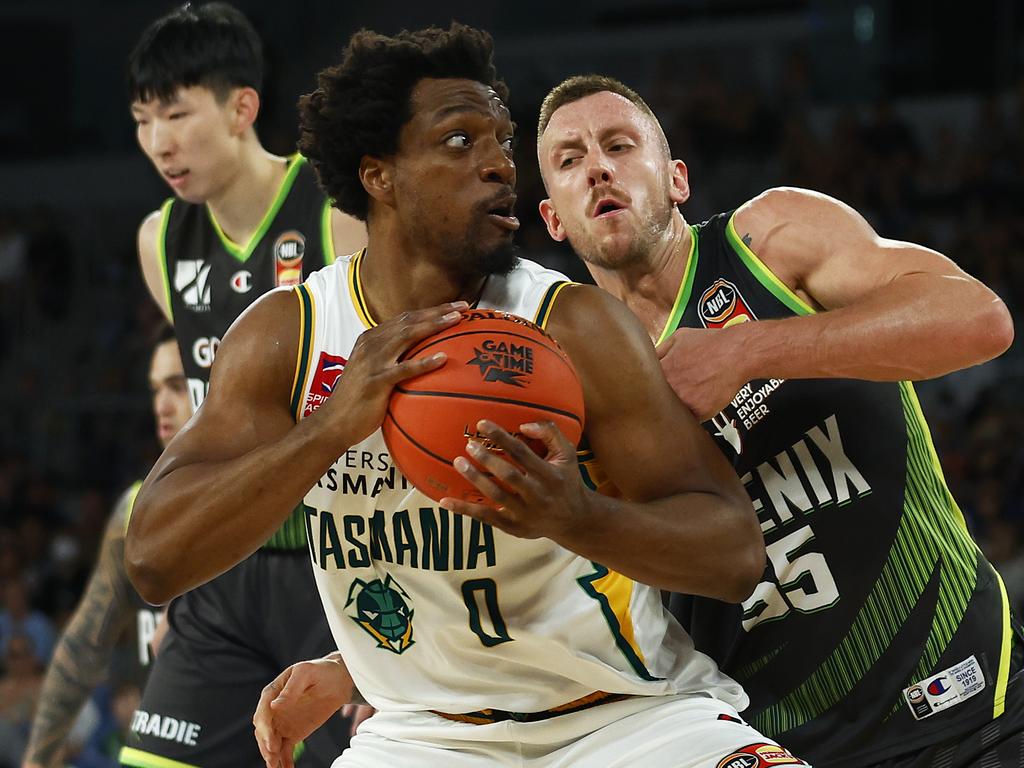 The JackJumpers defeated both ladder leaders Melbourne and South East Melbourne Phoenix in their final two regular season games. Picture: Daniel Pockett/Getty Images
Illawarra kept the JJs dream alive by defeating Perth before Melbourne, having locked up top spot, strategically rested stars Matthew Dellavedova and Jack White. Sceptics noted that United, by resting their stars and increasing the likelihood of a loss to end their regular season, also increased their chances of avoiding Perth and playing the JJs again in the semi-finals the following week.
The following afternoon, the Australian basketball community watched on as the South East Melbourne Phoenix saved their best game for last, beat the Wildcats and played their part in one of the most remarkable weekends in NBL history.
In their inaugural season, the Tasmania JackJumpers won seven of their last eight games, catapulted themselves over the most successful team in NBL history, and eliminated them from the finals for the first time in 36 years.
Having already far exceeded even their strongest supporters' expectations, they now had to contend with a full-strength defending champion who, in many people's minds, had targeted them as their more favourable opponent to get past on their way to back-to-back championship series.
It looked like one giant step too many after Game 1 in Melbourne. United's experience, size and depth was telling when it mattered. The game was over by three-quarter time; Tasmania left with the consolation of having one home final to thank and farewell their growing supporter base.
Or so we thought.
The JackJumpers went down in the first game against Melbourne, but rallied to win both the second and third games to take the series. Picture: Kelly Defina/Getty Images
Two nights later, Melbourne United walked into a zoo. Fans packed MyState Arena, spilling onto the court, and seemingly standing all over each other to get a glimpse of their new local heroes. They barely sat the entire game and erupted as Magette hit a deep three off a mid on-ball screen in the final minute to keep the fairy tale alive. Hundreds of fans booked their flights to Melbourne for Game 3 before they left the stadium. They wanted to be a part of history.
On Monday night, May 2, they were. Superstar Chris Goulding was a late withdrawal for United, having tweaked his calf in Tasmania, and the stars began to align over the Apple Isle. Melbourne's perimeter shooting woes continued as Adams and his men continued to have the courage to take, and the ability to make, big shot after big shot. Adam's last shot was his biggest, a ludicrous off-balance three-point shot as he ran towards the corner to create space between him and Shea Ili to put his team up by six with 1:10 to go.
Melbourne sat in stunned silence as the Tasmanian contingent celebrated with a "March! March! March!" chant. The Tasmania JackJumpers had shocked the Australian basketball public and become perhaps the biggest, most-important story in recent NBL history.
The most unlikely of playoff contestants had become the most unlikely grand finalists.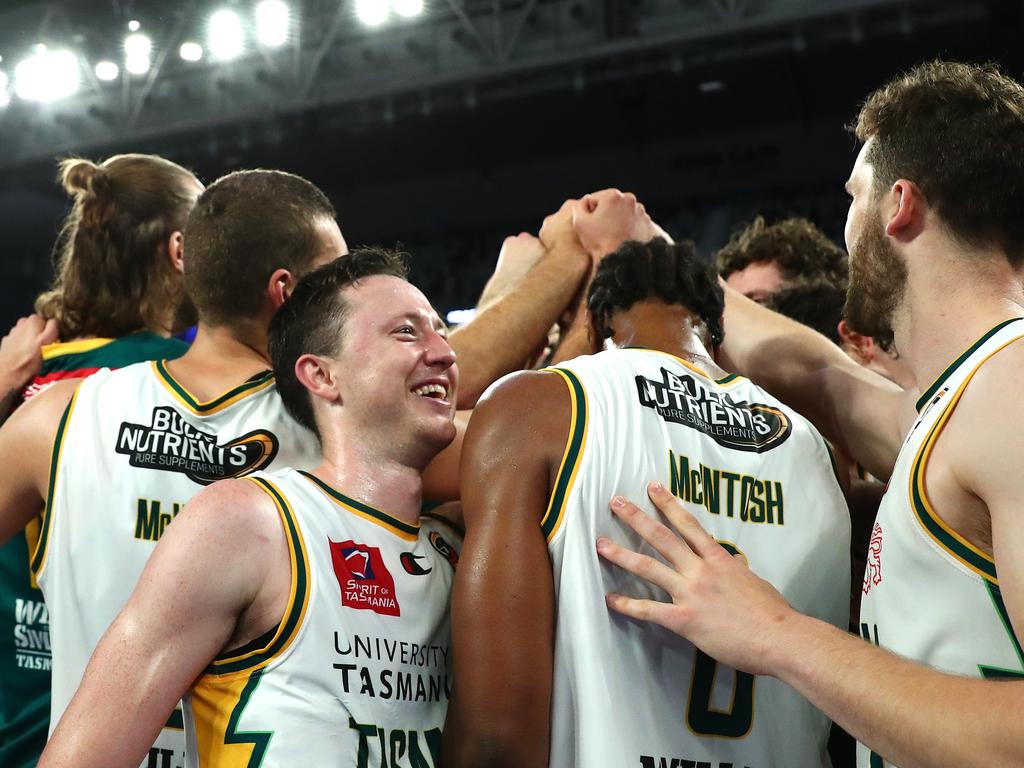 In knocking out last year's champions Melbourne, the JackJumpers have become the NBL season's most unlikely finalists. Picture: Kelly Defina/Getty Images
Not only had they protected the island, they had taken over he mainland.
In the locker room after the game, coach Roth continued the message he had been selling all year.
"We continue to defend the island and make the state proud," he said. "Go back to work, back to grit and grind, the JJs way."
The JackJumpers are already playing with the house's money. They may not win the NBL championship, but they have won the respect and admiration of our sporting nation.
If they can find a way to overcome the Sydney Kings, a JJs championship would represent the single biggest upset win in NBL history.
I know one thing for sure: from here on in, when Roth speaks, I'm listening.