Tasmania JackJumpers star Jack McVeigh is the NBL player so happy that he confuses people
Jack McVeigh has confused past coaches and teammates, who wondered if he was for real. Now he has the NBL's newest club one game from a grand final series, writes MEGAN HUSTWAITE.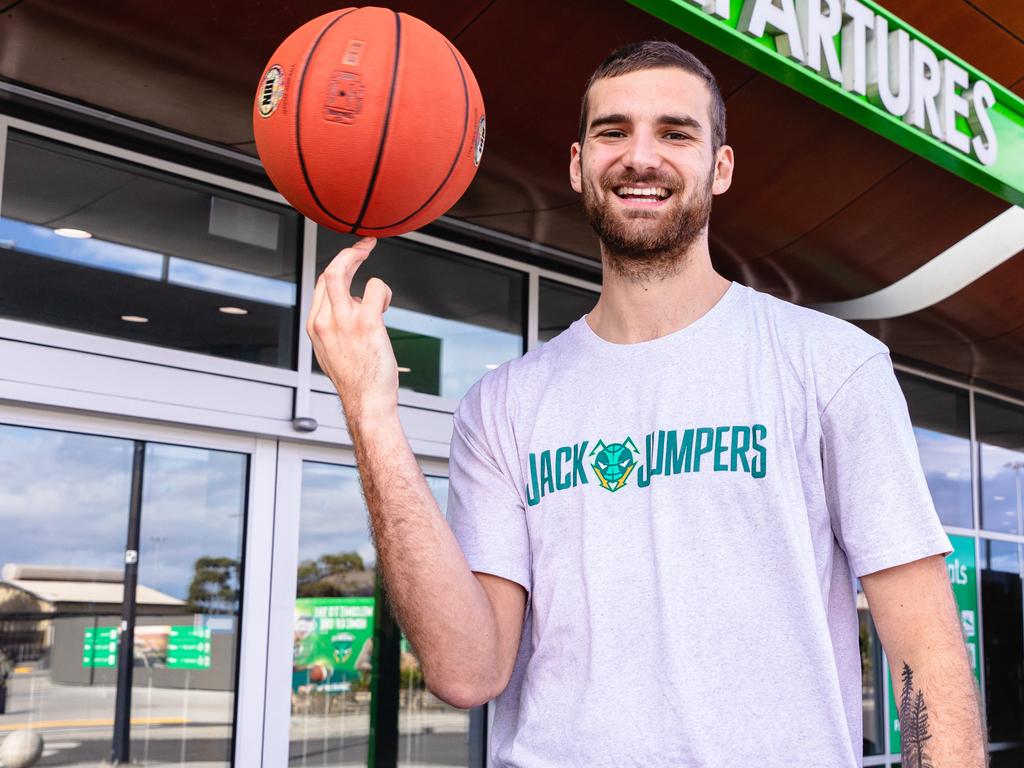 'Happy' Jack McVeigh is having the time of his life at the Tasmania JackJumpers. Picture: Linda Higginson
He's the barefoot bundle of positivity so upbeat that he's irked past coaches, yet has the NBL's newest club on the cusp of a fairytale grand final berth.
He is Jack McVeigh, the star and heart and soul of the Tasmania JackJumpers, who on Monday night face heavyweights Melbourne United in a deciding semi-final game three.
"Happy Jack, that's what I call him," JackJumpers coach Scott Roth says.
"I probably did more work on him than I did anyone else before I signed him. You only know people from afar. When I was in Perth (as assistant coach), I obviously saw the league and was looking at different players; a year and a half later, I'm picking my team and Jack had always caught my eye.
"I think some people thought his quirkiness wasn't authentic and I would be one of them.
"But when I got to talk with him multiple times about many different topics, I figured out this is who this guy is and I need him.
"His energy is infectious, his personality is infectious. He's not playing a role, just being one thing and away from the game being someone else. He's always like this.
"That's the thing I really love about him the best, he is who he is every single day."
McVeigh's energy within the team is infectious. Picture: Steve Bell/Getty Images
But the 25-year-old, from Cabarita Beach in northeastern NSW, hasn't always been embraced by coaches, or the sport he loves, the same way.
"I've definitely felt that a lot in basketball, that I couldn't be myself. Especially with certain coaches and after losses, because I bounce quick," says McVeigh, who captained Australia at the under-19 world championships in 2015.
"For me, the next day I still love showing up to work, bringing energy and hanging out with my people and I do think at certain times in my career, even growing up and especially at college, that rubbed coaches up the wrong way.
"It was like, 'Why is this guy not down and mad at everyone?' For me, I'd tried my hardest and sometimes I wasn't going to be good enough, but I'm still going to have a good day today."
McVeigh openly talks and posts on social media about his emotions. It's at times been confused for toxic positivity.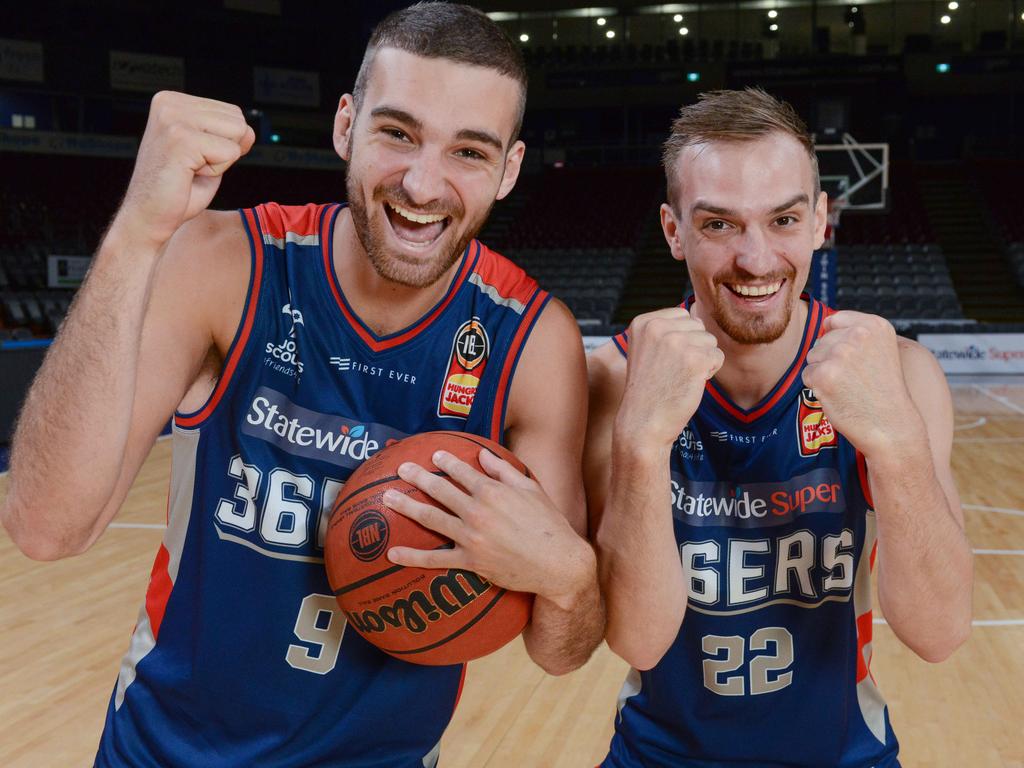 One of McVeigh's best friends Anthony Drmic was sceptical about his relentless enthusiasm, but soon realised it was genuine in their time playing together for Adelaide. Picture: AAP Image/Brenton Edwards
"One of my best friends, Anthony Drmic, he keeps things real straight, a locked-in dude and he doesn't like people who fake social media positivity then go and talk bad behind people's backs," he says.
"He remembers me showing up the first day of training (at Adelaide 36ers) and he was like, 'Yeah, whatever we'll see how long this lasts' … then four months in he was like, 'Oh, this guy is still like this. What does he drink in the morning?!'
"I think sometimes in terms of a team environment, it doesn't always show how serious I take the game of basketball. I can have a laugh half an hour before the game but I'm also so locked in, I've been watching film all night and am really putting my heart and soul into this thing."
Usually barefoot if not wearing his size 13 low-top basketball shoes, McVeigh believes in practising gratitude and kindness.
"For me, positivity is trying my best every day. I'm grateful for 1000 things and I practice that every morning.
"Right now, I get to live with Fab (Fabijan Krslovic), show up to practice each day and be friends with Matt Kenyon and reunite my friendship with Jock Perry.
"There's so much amazing stuff to focus on, especially when you're looking within other people.
"So why wouldn't I focus on those type of things? That's what I want to put my brain power towards."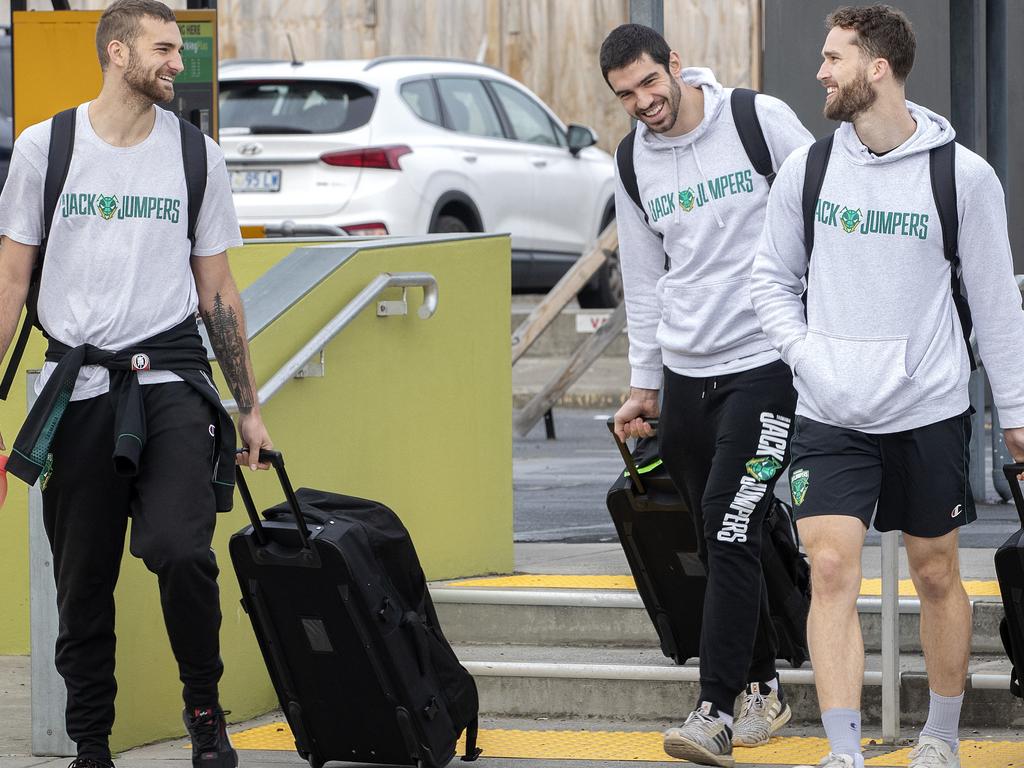 McVeigh lives with Fabijan Krslovic (centre) and says he's having the most fun of his career so far at the JackJumpers. Picture: Chris Kidd
The 203cm guard has been embraced on and off the floor by the JackJumpers. His MVP performance (15 points) on Saturday night in front of a full house in Hobart forced a third game against the reigning champs back in Melbourne at John Cain Arena.
"I've never had this much fun playing basketball, I've never had this much fun off the court with a group of guys, I've learned so much about basketball and life while having fun," McVeigh says.
"Obviously every season has its highs and lows and tough losses, when you have to look in the mirror and ask, 'What am I doing wrong? Have I done enough? Am I being the teammate I want to be?'
"But I'll tell you one thing about Scott Roth, he can choose character.
"From the staff to the guys, everyone's a good person. The values the guys hold, the dads are great dads, great husbands and fathers, trickling down to the development players who are the first ones in the gym.
"Who doesn't want to surround themselves with that every day? If you don't, you stick out like a sore thumb and we don't have any sore thumbs on our team."