In a major investigation, watch the exclusive video of what really happened during the infamous closed-door practice match that ended Liz Cambage's Opals career, derailed an Olympic campaign and left a path of destruction.
It's the five minutes of Las Vegas mayhem that ended Liz Cambage's Opals career and derailed her teammates' Tokyo Olympics campaign, leaving a bitter trail of unanswered questions, wild speculation and innuendo.
Until now.
News Corp Australia has obtained video from the infamous closed-door practice match at the University Nevada Las Vegas which clearly captures Cambage elbowing her Nigerian opponent in the head and neck.
In the chaos that ensued, Cambage slaps another Nigerian player across the face and racially vilifies the entire African team.
Embarrassed Australian team officials were forced to call off the practice before the end of the second quarter.
Our special investigation, including multiple interviews with players from the Nigerian and Australian 2021 Olympic squads, finally unlocks the code of silence surrounding Cambage's shock Opals departure just 12 days before their opening game in Tokyo.
This time what happens in Vegas, doesn't stay in Vegas.
Several Australian and three Nigerian players, who spoke on the condition that their identities would not be revealed, have claimed they heard Cambage tell the Africans to "go back to your third world country" and called them "monkeys".
In another astonishing revelation, a Nigerian player claims that Cambage told a teammate on the day of the Vegas practice match that she wished she was playing for Nigeria because her Australian teammates were racists.
Australian and Nigerian players were prompted to break their silence after Cambage took aim at her former Opals teammates in a recent interview with ABC Sport.
Cambage, now playing with the Los Angeles Sparks in the WNBA, said in a pre-season media event that she now felt "protected on a level that the Opals, or the Australian team, never gave to me", and said she never felt the Opals wanted her "to be the best I can be".
Those remarks reopened old and painful wounds from the Opals' ill-fated pre-Olympic camp in Las Vegas.
This investigation unveils a toxic environment in which a selfish and arrogant Cambage eroded the team culture, and pushed officials and teammates to breaking point.
Watch the video that started the Vegas meltdown
FIVE MINUTES OF MAYHEM
Totally unaware their superstar just hours early labelled her teammates racists, the Opals arrived at the University Nevada Las Vegas facilities for their first practice match against the Nigerian team on July 13, 2021.
It was a closed-door session just for players, team officials and support staff with no media or spectators allowed in the pre-Tokyo hitout.
Exclusive video shows Nigeria leading 20-15 with nine minutes remaining on the clock in the second quarter as the mayhem erupted.
The Opals have the ball on the Nigerian baseline with their centre Victoria Macaulay matching up on Cambage.
As the Opals set up their inbounds play, Cambage takes offence to Macaulay's attempt to keep the Opals centre out of the paint and can be seen remonstrating with her opponent as the Opals shift the ball from one side of the floor to the other.
Cambage follows the ball across the paint and, at the 8min 53sec mark as a perimeter shot goes up, she throws a vicious right elbow that connects with Macaulay's neck and head.
A timeout is called and she is taken out of the game.
An exclusive photo reveals a deep gash on Macaulay's neck.
One Nigerian player described Cambage's cheap shot as "malicious" and totally "unwarranted".
"Liz maliciously did that (elbow) on purpose because she was irritated that defence was being played on her," she told this investigation.
"It was definitely unnecessary, and it all started from that point."
After the time out, Cambage returned to the game, much to the surprise of some Opals players given the agitated state of their star centre.
The tension escalated again seconds after the timeout when Cambage became entangled with a Nigerian player and then slapped her face.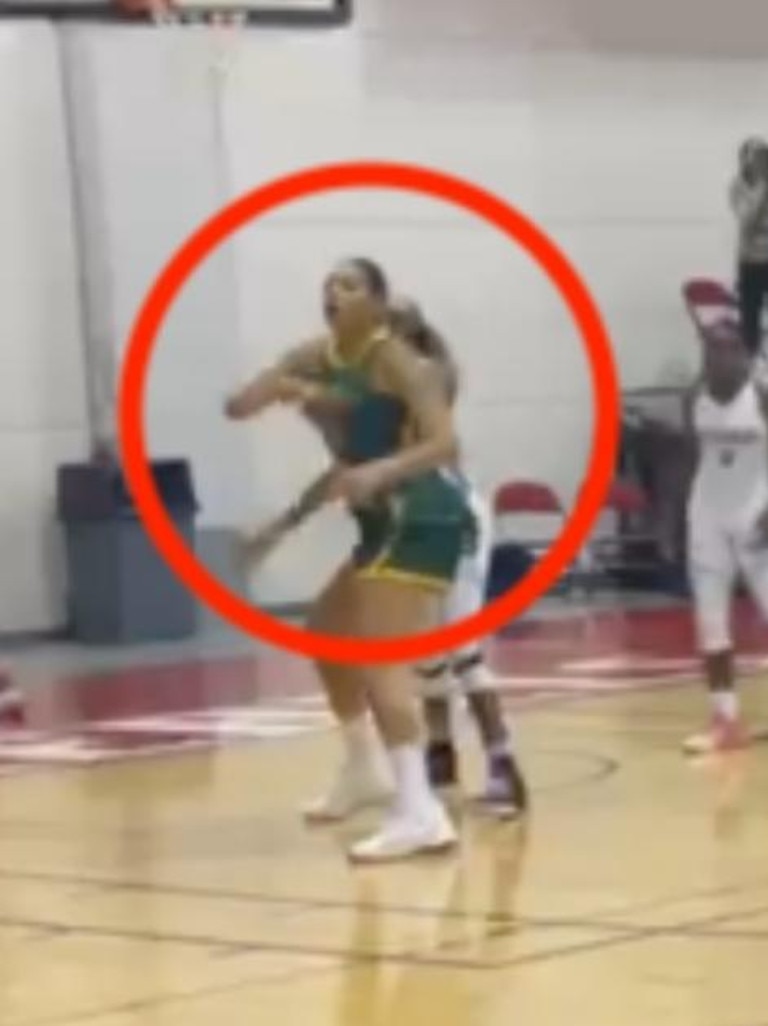 Cambage winds up with her elbow.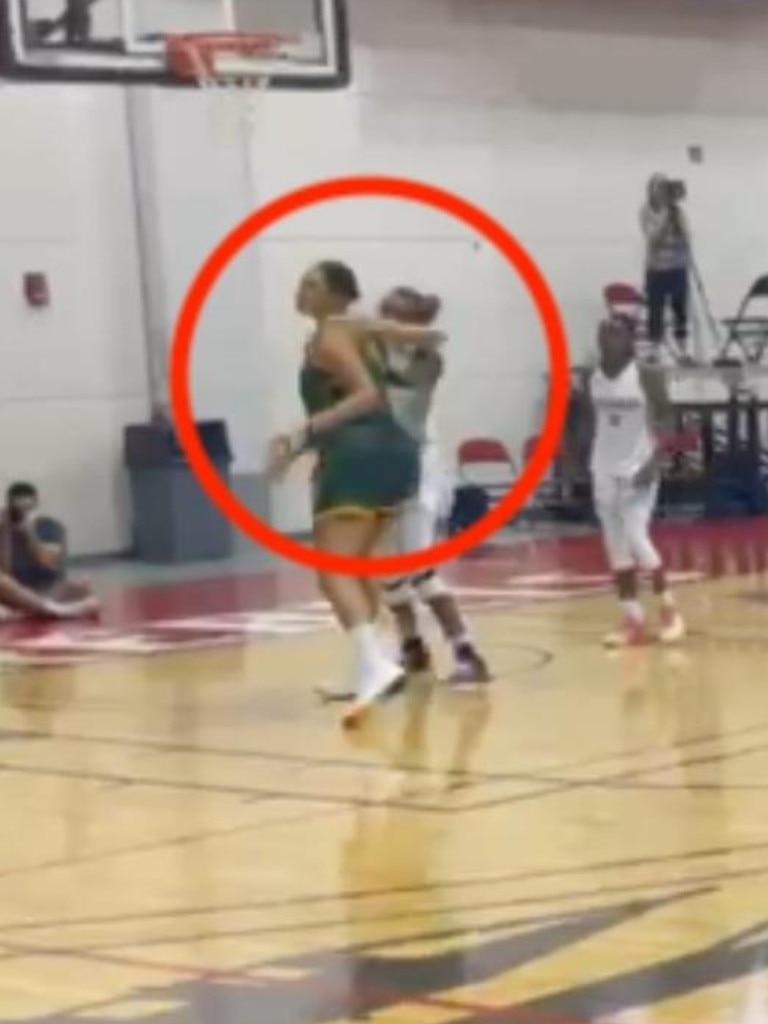 Makes contact.
An exclusive photo reveals a deep gash on Macaulay's neck.
Cambage was subbed out of the game, but the drama wasn't finished.
As Cambage walked to the bench, the aggrieved Nigerian player rushed over and king hit her with a closed fist.
A furious Cambage then unloaded a verbal barrage at the Nigerians.
Two Nigerian players confirmed they directly heard Cambage refer to them as "monkeys".
"She did say, 'Control your monkeys' or something like that," one player said. "The stuff she was saying was ridiculous.
"It was uncalled for, it was dirty, and it was just a bad situation.
"I wasn't hurt by it (the comments) because I knew it was an ignorant person saying it."
The second player said: "That's what I recall, the term monkeys, yes. And go back to where you came from.
"Those were the two main ones that stood out to me. The rest of it was basic trash talk.
"She definitely did use monkeys or monkey."
A third player told this investigation: "I was on the court. She definitely said go back to your third world country. I didn't hear it, but (teammates) confirmed she called us monkeys."
An Opals player who was on the court at the time confirmed Cambage was hit from behind.
"Luckily, the coaches got out of the way in time because the Nigerian girl hit her in the temple, and she has fallen down and taken out half the bench."
With tensions overflowing, the teams agreed to end the scrimmage that descended into chaos.
The Nigerian players were crushed by the racial outburst from Cambage whose father is also Nigerian.
"We had players crying, in shock, (some) couldn't move," the player said.
"I was very upset. I was heartbroken to see my teammates crying, our rookies and players still in college shaking at what they just witnessed on a national level.
"It's hard to be a black woman in this world period, no matter what country you're in, and to have someone that's half of what I am say those things, do you even have respect for yourself?"
Another Nigerian player added: "Even (Cambage), as a black person, that would be something she would be offended by, so for her to say it, I believe that she just really wanted to cut deep."
The Opals players standing on the sideline were shocked, some in tears after witnessing the drama that had unfolded.
One Opals player described how Cambage approached her teammates screaming, saying: "Why are you all crying? I'm the one who got hit."
Cambage went on social media a few days later to give her version of mayhem describing as little more than "things got heated" and there was a "physical altercation" and "words exchanged".
FEAR AND LOATHING IN LAS VEGAS
The Opals began their intense Olympic preparations inside a strict Covid bubble that restricted players to their team hotel and practice facilities at UNLV.
The camp started with optimism and happy snaps in their new bodysuits but things soon turned sour.
A number of players said Cambage "hardly participated" during training sessions in the lead up to the Nigerian game.
Going into camp Cambage had struck an agreement with national coach Sandy Brondello to play in the WNBA All-Star game being held in the same city.
It is understood team officials felt they were powerless to decline Cambage's request, but it helped that the WNBA All-Star game coincided with a day off for the Opals.
Cambage took to Twitter to express her happiness in making another All-Star team.
"4 TIME ALL-STAR – thank you to everyone who voted for me," Cambage posted.
Training sessions in the lead up to the Nigerian game were uneventful, but players were starting to question Cambage's commitment to the team and their goal of winning an Olympic medal.
On the day of the practice game, a Nigerian player has revealed Cambage approached one of her teammates and told her: "Liz was telling her, 'Oh my god, I wish I was playing for the Nigerian national team'.
"She was really complimenting us, and she was saying that her Australian team is racist. This was on the day of the scrimmage.
"It's like something in a movie, unrealistic."
The day after the altercation against the Nigerians, Cambage fronted a Nigerian team dinner to apologise for her actions in the scrimmage.
One of the Nigerians who was at the dinner questioned the apology and revealed how half of the players turned their backs to Cambage when she was speaking.
"I think it was bulls***. I don't think it was a sincere apology," she said. "Half the team had their back against Liz and half the team was listening."
Another player believes Cambage showed no remorse.
"It's not something you expect, especially from someone who's like a sister," she said.
"For us being Nigerian, any other Nigerian we see – half, a quarter – if you're Nigerian we'll be calling you a sister.
"Although she's Australian we knew she was half Nigerian so before then it was like she was one of us.
"That was another thing to cut deep, for her to do that and not show any remorse at all."
One Nigerian player said she did accept Cambage's apology: "Liz did go to my teammate who was slapped in the face and gave her a hug and that was fine.
Cambage also spent the proceeding days reviewing footage of the incident with Australian team officials.
The Australian Olympic Committee (AOC) got involved and a potential ban was on the horizon.
An emotionally drained Cambage also gave her Opals teammates a "lighthearted" apology, according to one Opals player.
At the All-Star game, Cambage suited up but failed to hit the court for even a minute and instead was seen on the broadcast eating popcorn at the end of the bench.
Multiple sources from the Opals camp have confirmed it was Cambage's decision not to play in the WNBA All-Stars game.
Cambage attended the WNBA All-Star event.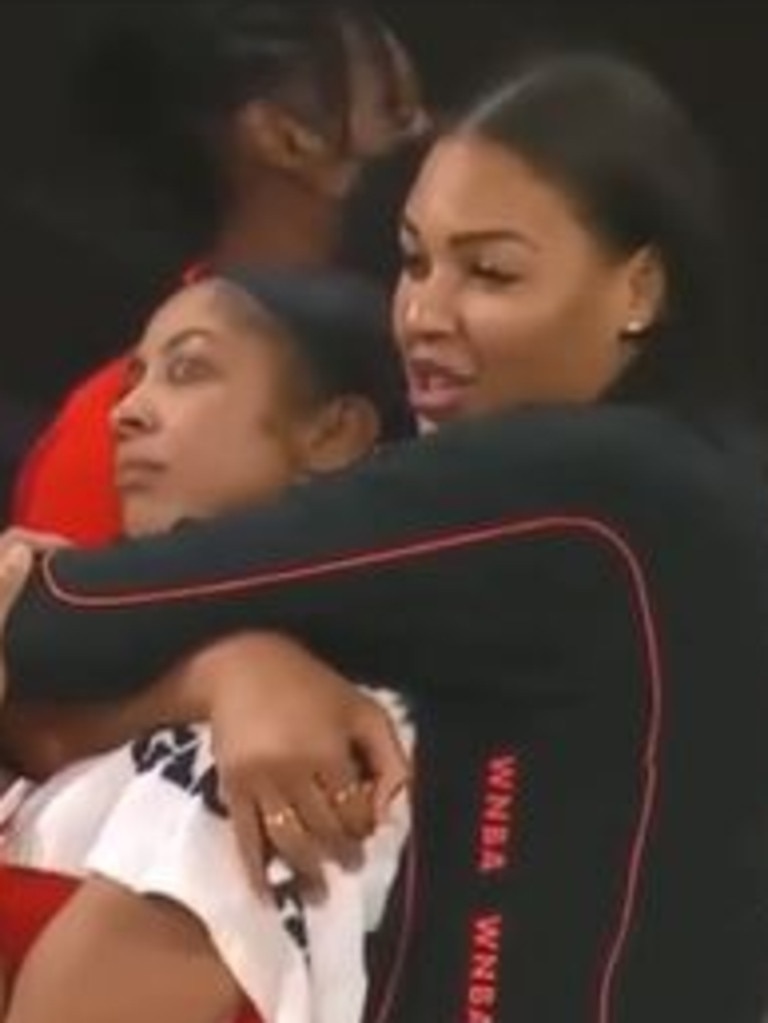 But she did not take to the court.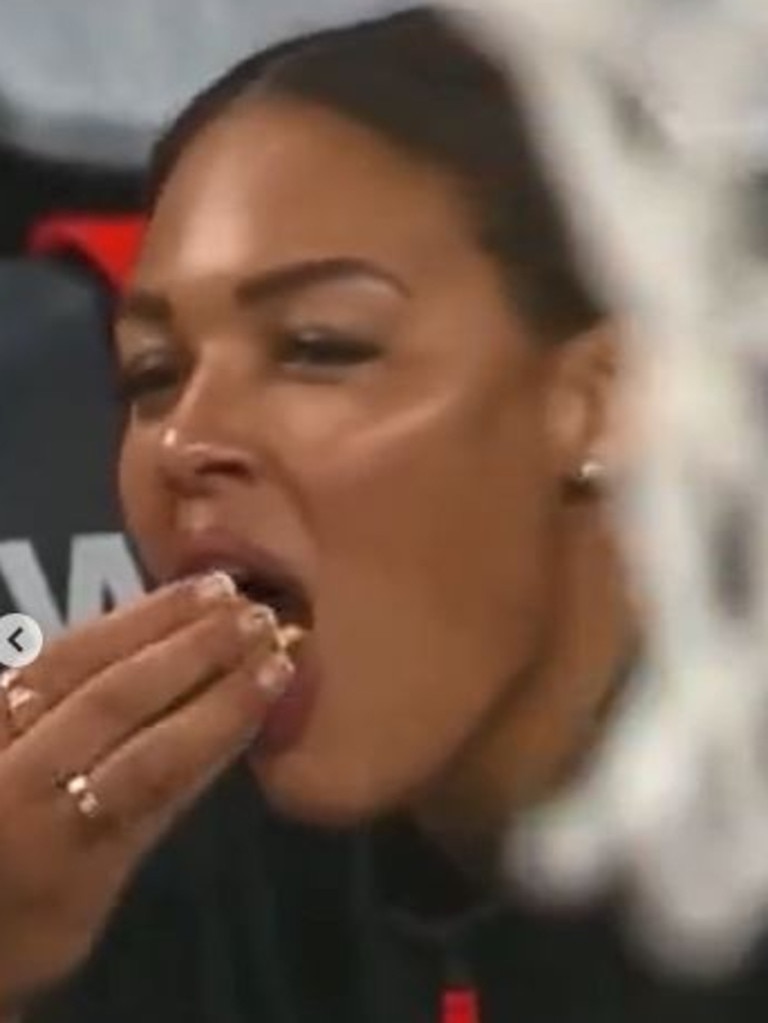 She was seen on the bench eating popcorn.
One player said: "I was told she was tired from our Opals sessions and needed to rest. However, she hardly participated in our sessions up to that point.
"I also believe she was hoping to start in the game to get her starters bonus, but she missed the All-Stars training session and maybe because of that (they) didn't want to start her. So she decided to not play."
On the same day as the All-Star game, players have confirmed Basketball Australia officials organised a one-hour meeting to seek their opinion on Cambage's immediate playing future in the side.
Nigeria-born Opals rookie centre Ezi Magbegor was particularly upset with the words used during the altercation and was consoled by the players.
The players found this experience mentally draining and many were in tears as they felt the decision to ban Cambage should have been taken out of their hands.
"It was scary and daunting, but with what happened it made no sense for us to allow that behaviour to continue," one Opal said.
"There had been so many behavioural issues that had gone on previously that we could write a book, but that (Vegas) incident happened to be the final straw which happened to be the worst one."
Teammates also claimed Cambage broke protocol by leaving the team bubble to go out during the camp, although she has previously denied this.
Despite knowing it would hurt their medal campaign in Tokyo without Cambage, players supported the tough decision to axe the four-time WNBA All-Star.
Distressed Opals players began to tell family and friends back in Australia of their anguish.
At 10am in Australia, two days after the Nigerian game, News Corp Australia broke the explosive news that Cambage had been involved in an ugly incident and the story spread like wildfire.
Basketball Australia immediately went into damage control and attempted to play down the scandal.
Little over seven hours later, Cambage quit the Opals citing mental health concerns and became front page news across Australia.
Cambage went on social media to reveal she was "terrified" of going into another bubble at the Olympics without the support network she needed.
"No family. No friends. No fans. No support system outside of my team," she posted. "It's honestly terrifying for me. The past month I have been having panic attacks, not sleeping, and not eating."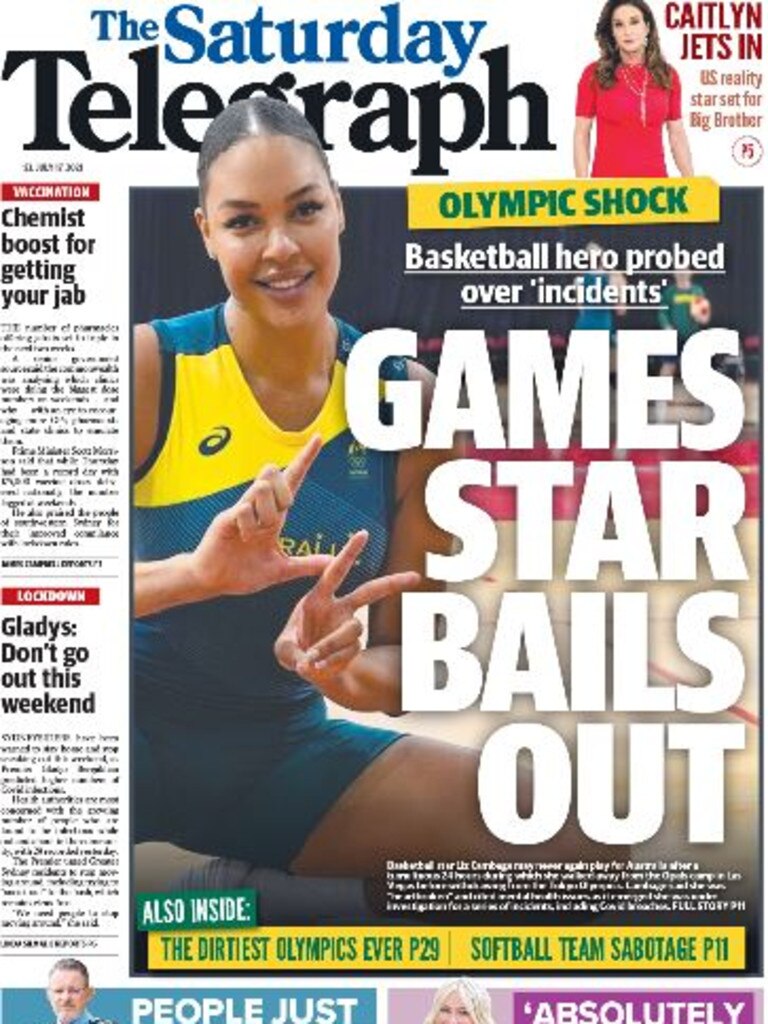 Cambage's exit was front page news.
How the story was covered by News Corp.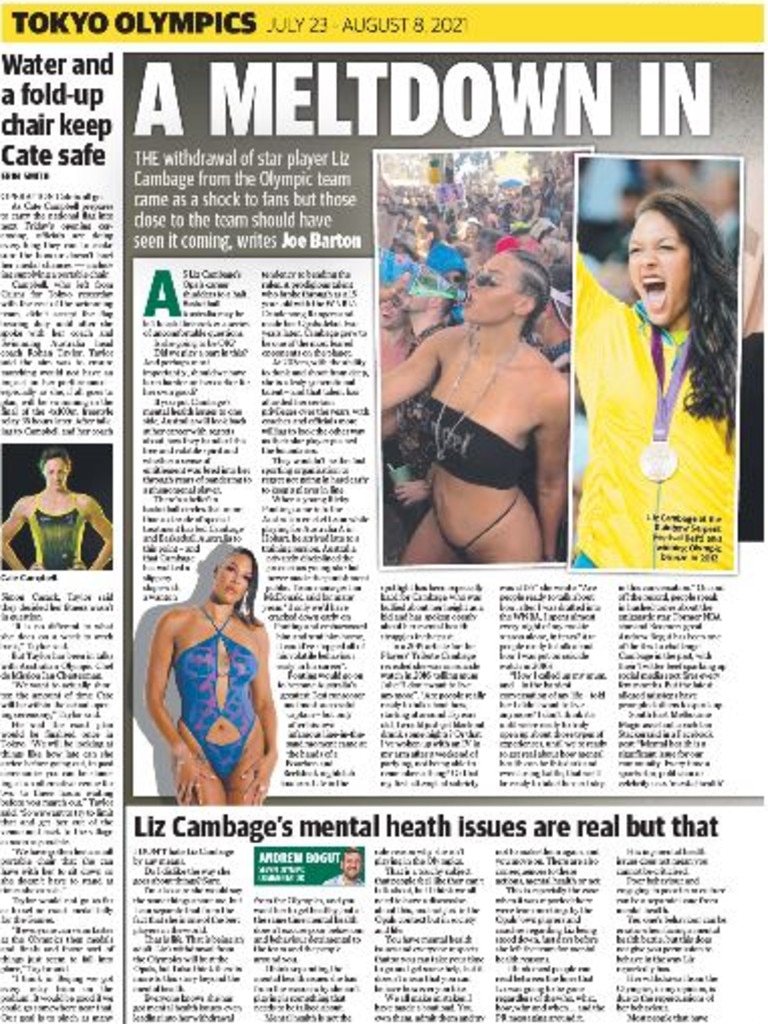 The story remained big news throughout the Games.
The Opals players were mentally shattered after the ordeal, but the following day they showed enormous inner strength to defeat Team USA in a pre-Olympic warm-up game without Cambage.
The impressive 70-67 win helped the Australians record their first win over world champion Team USA in 11 years.
On the morning of the US game Cambage posted an Instagram story calling out "fake news and the lies" reported about her Olympic withdrawal and multiple indiscretions in Las Vegas.
"Everything that happened and everything that was said is on film," Cambage said. "I know what happened and I do not appreciate the lies and people constantly trying to tear me down. Hating on me won't bring you love, at all."
Opals coach Sandy Brondello praised her team's resilience in the wake of Cambage's withdrawal from the Olympics.
"Obviously, it hasn't been easy, but it shows the character of this team," Brondello said.
"It has been tough. I wasn't quite sure what the game would look like today to be quite honest."
The Opals played Nigeria again in a practice game and were happy to pose up for a group photo before leaving Las Vegas and Cambage behind for Tokyo.
Cambage couldn't help herself and delivered one more humiliating blow to her former teammates on the eve of the Olympics by giving a shout out to the Nigerian team on the official D'Tigress social media account.
"To all my D'Tigress family, good luck at the Olympics," Cambage said in a post hours before Nigeria played Team USA, and the same day the Opals were set to begin their campaign.
"Go get some hard metal. Let's go."
Once again the Opals players were left dumbfounded by Cambage's behaviour.
"All of that was super offensive," one player said.
WARNING SIGNS
Trouble was brewing before the Las Vegas camp.
A team Zoom session was set up to introduce the Opals rookie squad members following the WNBL season and talk about the Vegas camp.
Cambage dialled in approximately 20 to 30 minutes late, announcing: "Lizzy in da house. For those who don't know me, I'm Lizzy but you probably know me."
On the same call, Cambage declared she wouldn't be staying with the team in the pre-Olympic bubble in Las Vegas because she had her own place.
Team officials responded, saying: "We'll talk to you offline about that, Liz."
Multiple Opals players were frustrated with the lack of accountability for Cambage and the constant need to appease her as the star player.
A long-standing mindset within the Basketball Australia ranks was that 'We can't win or medal without Liz', which created a dangerous precedent.
The board backed and appeased her for years as the team's best player, and Cambage took full advantage.
It was an underlying problem for the Opals, which meant culture was compromised in the process. It begs the question: what is more important – culture or winning?
When Cambage wouldn't change her narcissistic ways, she wore down people who went out of their way to support her.
Legends including Lauren Jackson and Penny Taylor welcomed her into the Opals program with open arms.
Team officials and teammates did everything in their power to accommodate and support Cambage.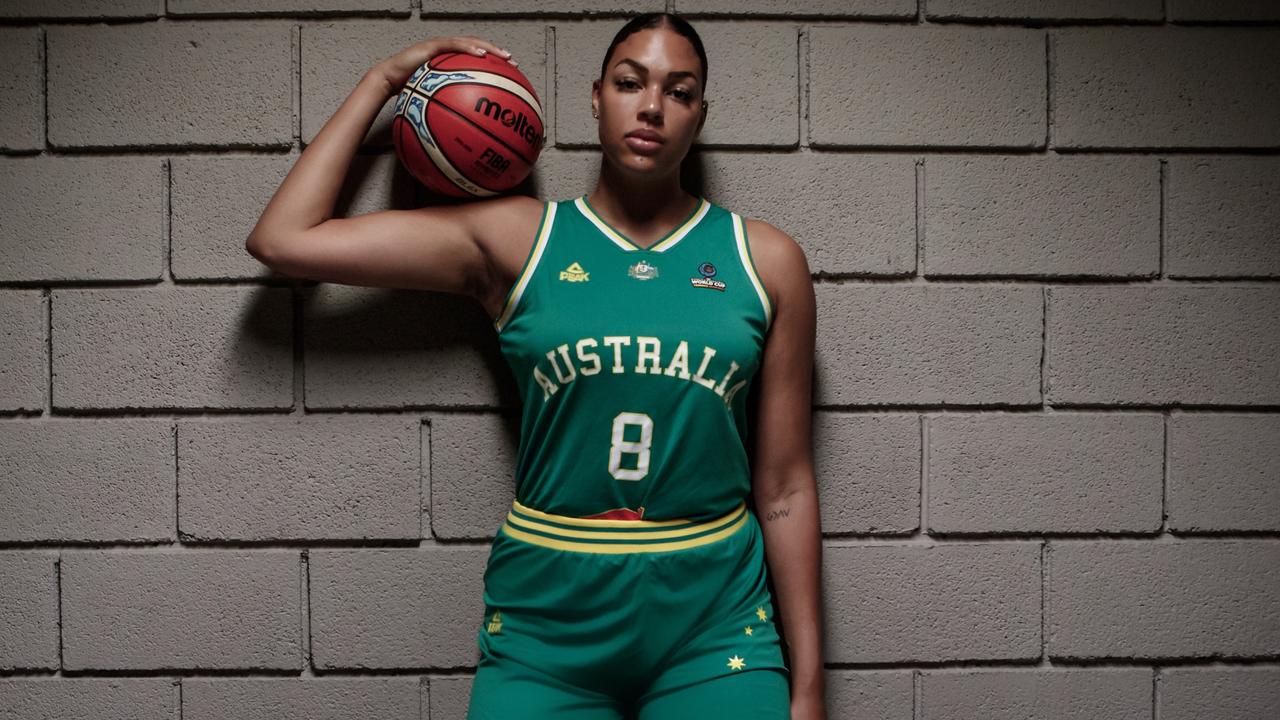 Cambage fronted a diversity campaign in 2019 called #ShowUs. Picture Edelman PR
This was on full display in October 2020 when the women's national team and Basketball Australia announced an initiative designed to help stamp out racial injustice within the sport.
The Rise Up program was an acronym for the team's values: Respect, Injustice, Standards, Equality, Unity, Peace.
It came after the Opals declared a month earlier that they would not train until the national organisation made a public commitment.
Cambage was grateful for the support of her teammates at the time.
"For the first time in my life this isn't me pushing this agenda, it is my sisters, my teammates, and Basketball Australia," Cambage said.
Cambage wanted the campaign, but refused to conduct interviews, which frustrated her teammates because they constantly had to front up in her absence.
She also caused issues within the Opals team when she called out a lack of diversity in Australian Olympic team promotions in the lead-up to last year's Tokyo Games.
Cambage threatened to boycott the Games after a Jockey underwear photo shoot didn't include a person of colour.
"If I've said it once I've said it a million times," she wrote on Instagram.
"HOW AM I MEANT TO REPRESENT A COUNTRY THAT DOESN'T EVEN REPRESENT ME #whitewashedaustralia."
Cambage appeared to make an embarrassing mistake in another post, in which she included a picture from a photo shoot for Adidas that featured Indigenous rugby player Maurice Longbottom.
Cambage captioned the photo, "fake tan doesn't equal diversity".
Longbottom is also pictured wearing a shirt with a design by Indigenous artist and Olympic boxer Paul Fleming that acknowledges the 52 Indigenous athletes who have represented Australia at the Olympics.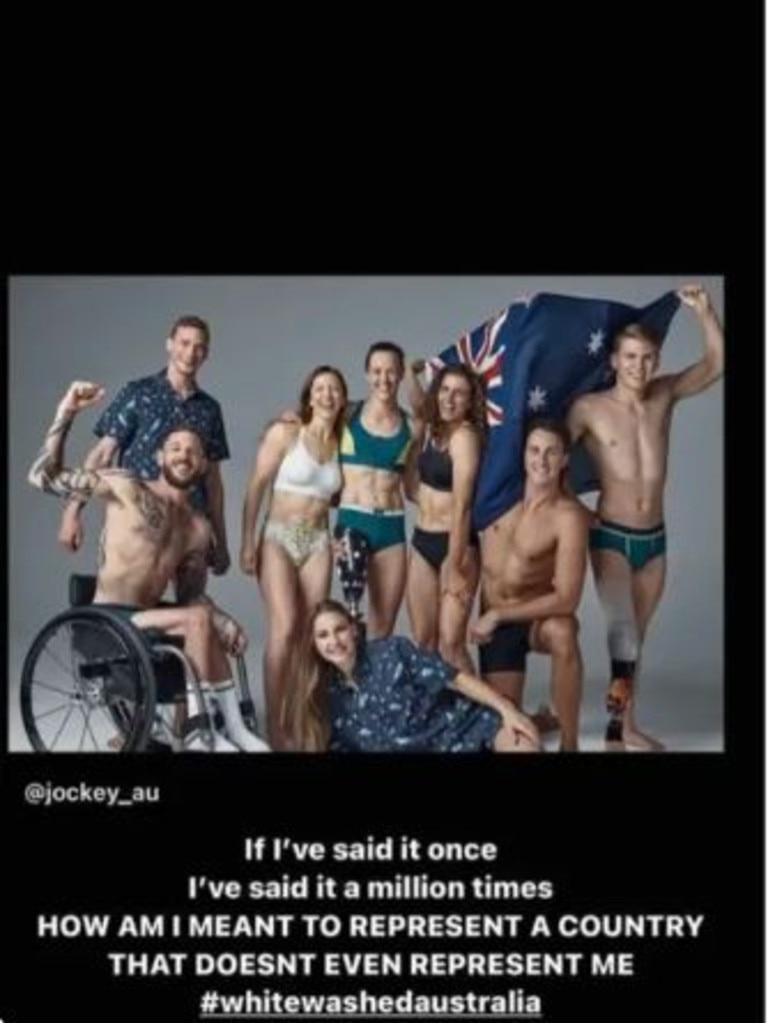 The post from Cambage's Instagram.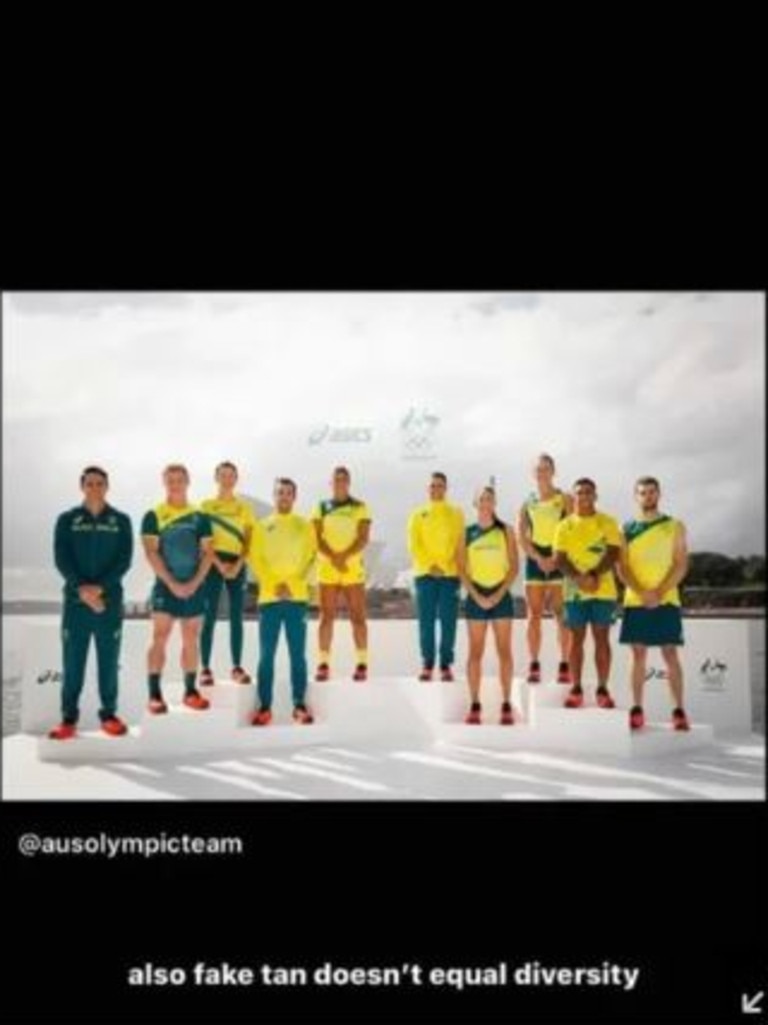 Another post from Cambage.
Her threat to boycott the Olympics.
Cambage's comments prompted a barrage of media interest, which was again left to the Opals' Australian-based players to handle.
Opals players also felt let down when Cambage would turn up late to training or team meetings.
Cambage also created issues when she pushed for the Opals to wind back the clock and wear full body suits at the Tokyo Olympics, but became angry when she couldn't officially launch the suits because she was based in the US.
The launch was during the heights of the Covid-19 pandemic and Basketball Australia was forced to use a New South Wales based player to unveil the suit.
This sort of behaviour had a negative impact on the Opals' team culture as the players started to lose patience with their best player.
Coach Brondello had several meetings with Cambage in the lead-up to the Tokyo Olympics when she threatened to boycott the Games on multiple occasions.
Brondello devoted endless energy to supporting her leading centre.
IT'S NO LONGER ALL ABOUT LIZ
The Las Vegas mayhem created by Cambage is the darkest period in Opals history.
Astonishingly, Cambage was only issued with a formal reprimand by an independent panel leading from a BA investigation.
The panel found Cambage had engaged in conduct that brought BA into censure in relation to one incident but three other charges were dismissed.
No details were ever given about the incident that had drawn the reprimand, or why the other three charges were dismissed.
BA essentially told the players what happened in Vegas stays in Vegas.
The team's captain in Tokyo, Jenna O'Hea, gave a very personal insight into the toll it took on her in a recent interview on SEN admitting it was part of the reason she retired.
"It took a huge toll on me and was really difficult," O'Hea said "I don't think I'll ever fully process it to be honest.
"It's still pretty raw. I don't talk about it very often unless it's with my sports psych. If you asked me a couple of months ago, I would have been in a ball of tears."
Speaking on ABC's Offsiders program earlier this month, O'Hea was the first player to publicly confirm Cambage had told Nigerian players to "go back to your third world country".
The Nigerians are also happy for the truth about Cambage to be revealed.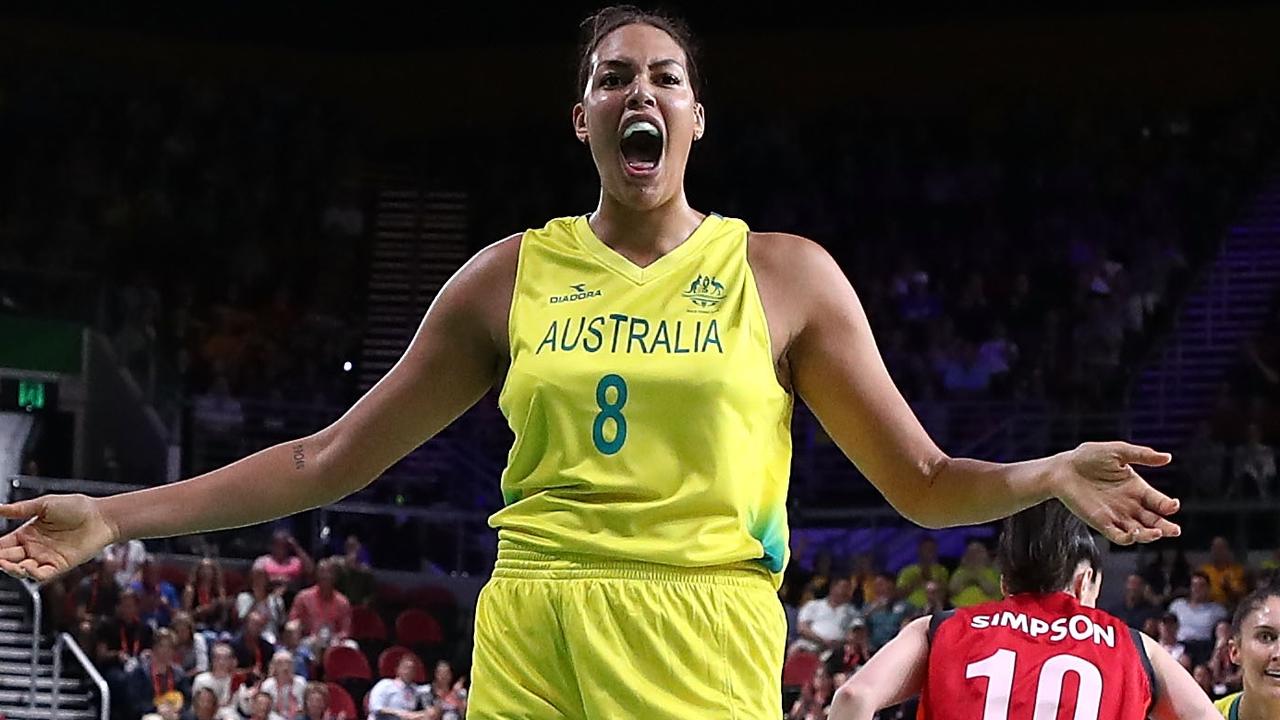 Australian players believe the Cambage downward spiral with the Opals began after the 2018 World Cup. Picture: Getty Images
"I do feel like it's about time the actual truth came out, I wish it came out a little bit sooner because at this point I'm kind of over it," the Nigerian player said.
"Liz made it a small situation, but for the Nigerian team it was a big situation. I think she brushed it under the rug as if nothing happened."
Another Nigerian said: "I'm happy people are speaking up because we wanted to say something at that moment.
"We as a team wanted to release a statement. We really, truly couldn't say anything."
Opals players have been muzzled since the incident in Vegas last July, but they've had enough and want to set the record straight.
"Liz had her best year in 2018 when she helped us win a silver medal at the 2018 World Cup," one Opals player said.
"But everything has gone downhill since then.
"We held on to 2018 Liz and let standards slip in an attempt to keep her happy, but she became more demanding and selfish.
"We've all put in so much effort to make her happy, but her disrespect to anyone who has put on the Opals or Boomers uniform is just ridiculous."
However, as one player pointed out now that the full details from Vegas have emerged, Cambage's ability to "control the narrative is finally over".