Steph Curry lights up the Garden like few have, and the ticket brokers rejoice
Steph Curry's all-time 3-point record game made many people happy — especially ticket brokers, who were charging in the thousands for seats at Madison Square Garden.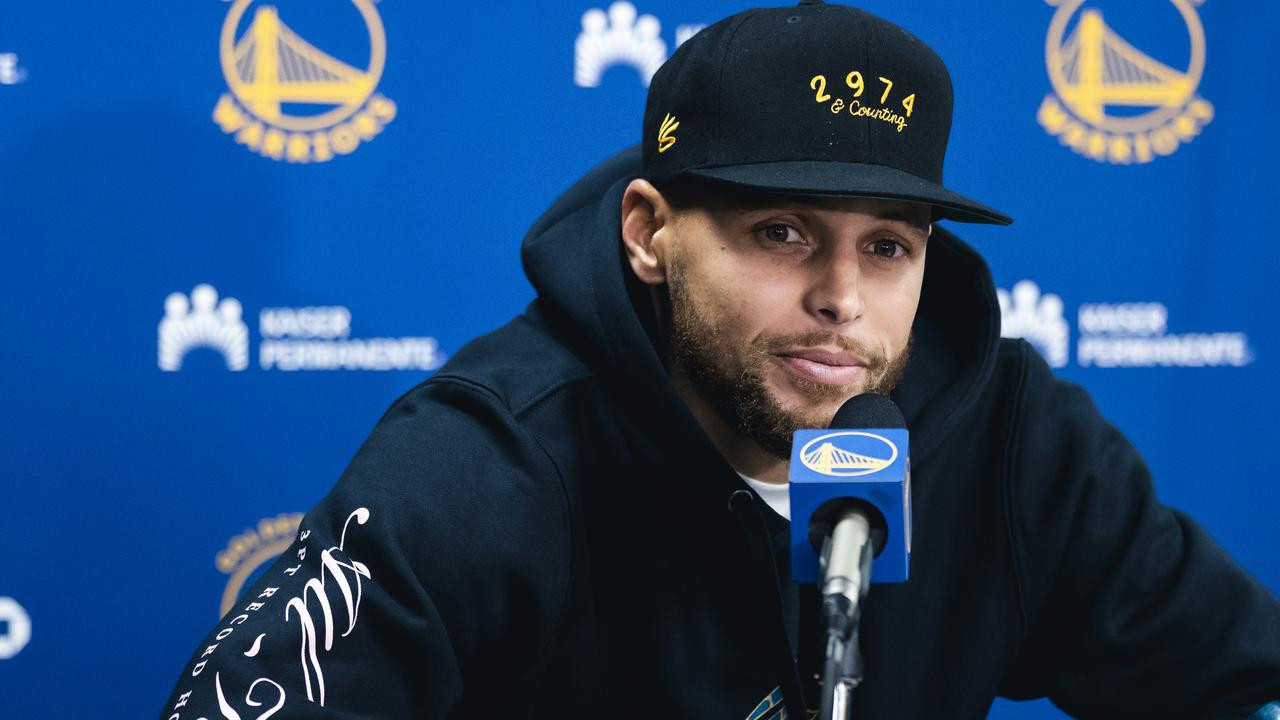 Steph Curry speaks to the media after his historic achievement. Picture: NBAE via Getty Images)
You could have seen a superstar play basketball in New York last night for the price of a couple of Halal Guys platters — or for the price of a few porterhouses and bottles of wine from Peter Luger's.
You could see Kevin Durant and the COVID-19-depleted Nets take on Pascal Siakam, Fred VanVleet and the Raptors for as little as $25.
Or you could hop on the Subway to Midtown and shell out about 23 times as much.
According to online ticket-seller TickPick, the cheapest — cheapest — price to see Stephen Curry attempt to set the all-time 3-point mark at Madison Square Garden was $577 on Tuesday afternoon.
That's $577 (at minimum!) to see Curry, not even five minutes into the game, sink his 2,974th career triple, and the home crowd explode in applause for the visiting star. The game was stopped as the generational talent hugged his parents, Ray Allen and anyone within hugging distance. And with the record and moment gone, there was still a game to play, which went the way you expected it to in a 105-96 Knicks loss, their seventh defeat in their past eight for a freefalling, 12-16 team.
It was the most expensive Knicks ticket on record for both the regular season and playoffs, and the numbers — courtesy of TickPick — were nearly as staggering as Curry's, who added five treys to his career ledger.
The get-in price for the game at the start of the season was $110, which jumped to $205 as of last week. Before Monday night's Pacers-Warriors game, in which Curry made five 3s but not enough to match or break Ray Allen's record, the cheapest ticket was $312. By Tuesday afternoon, you could not get inside Madison Square Garden without paying an additional $265.
And most could not even think about getting to the lower bowl. Two tickets in Section 11 — near centre court but still a few rows removed from the action — were sold on TickPick for $8,064 total.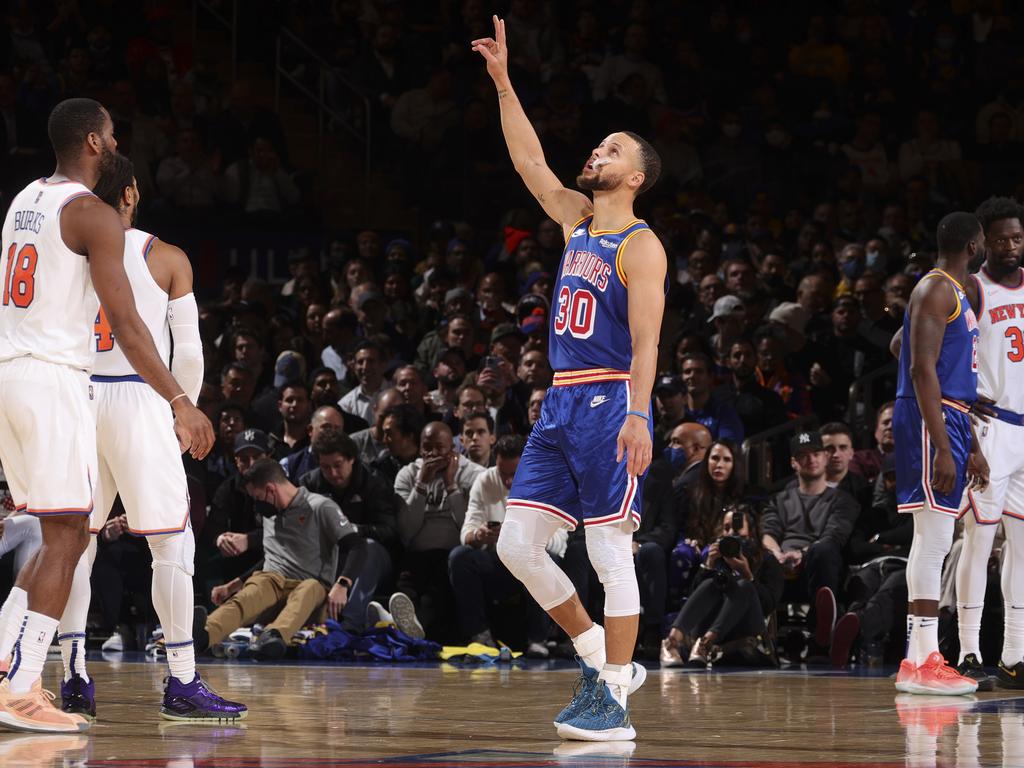 Watching Stephen Curry set the all-time record for made 3-pointers was an event anyone with almost $600 could attend last night at Madison Square Garden. Picture: NBAE via Getty Images
It was a perfect storm of had-to-be-there. Curry, the most electrifying hoops player on the planet (ever?) and among the most popular, about to break an all-time record — at The World's Most Famous Arena, which has been starved for good basketball for a few decades — at a fairly distraction-free moment on the sports calendar. There is no baseball, there was no football yesterday and even the Rangers and Islanders were out of town.
There won't be another basketball ticket as desired as last night's until the Knicks make the Finals (insert joke here). There might not be a hotter sports ticket in New York until the next time it hosts a Super Bowl. The last time the Super Bowl was here, tickets were being sold on the secondary market for as low as $1,310 in the days leading up to Broncos-Seahawks. So Knicks-Warriors was hot, but not that hot.
Last night was the only time Curry's Warriors were scheduled to play at the Garden this year, another factor that jolted fan urgency to see him. But a quieter aspect of the skyrocketing prices might be a wonder of how long the Garden can host these capacity crowds.
Already, fans have had to provide proof of full vaccination to get past MSG security. With the Omicron variant of COVID-19 here and with leagues such as the NBA, NFL and NHL being ravaged — and teams such as the Knicks and Nets losing players to the protocols (RJ Barrett, Obi Toppin, Quentin Grimes, James Harden, Paul Millsap, LaMarcus Aldridge, DeAndre' Bembry, Jevon Carter and James Johnson, all this week) — I wonder if the leagues again will reach a point where attendance must be restricted.
Seemingly everywhere else in life new measures are being taken to combat COVID-19, and Gov. Kathy Hochul on Friday announced masks will be required for all indoor public places unless there is a vaccine requirement. Faces were the first to go; will bodies follow them out the door?
Not yet at least, and a sellout crowd witnessed Curry make history at a game that was as much of a had-to-be-there as the Garden has ever seen.
Is the path to Kyrie's head through his heart?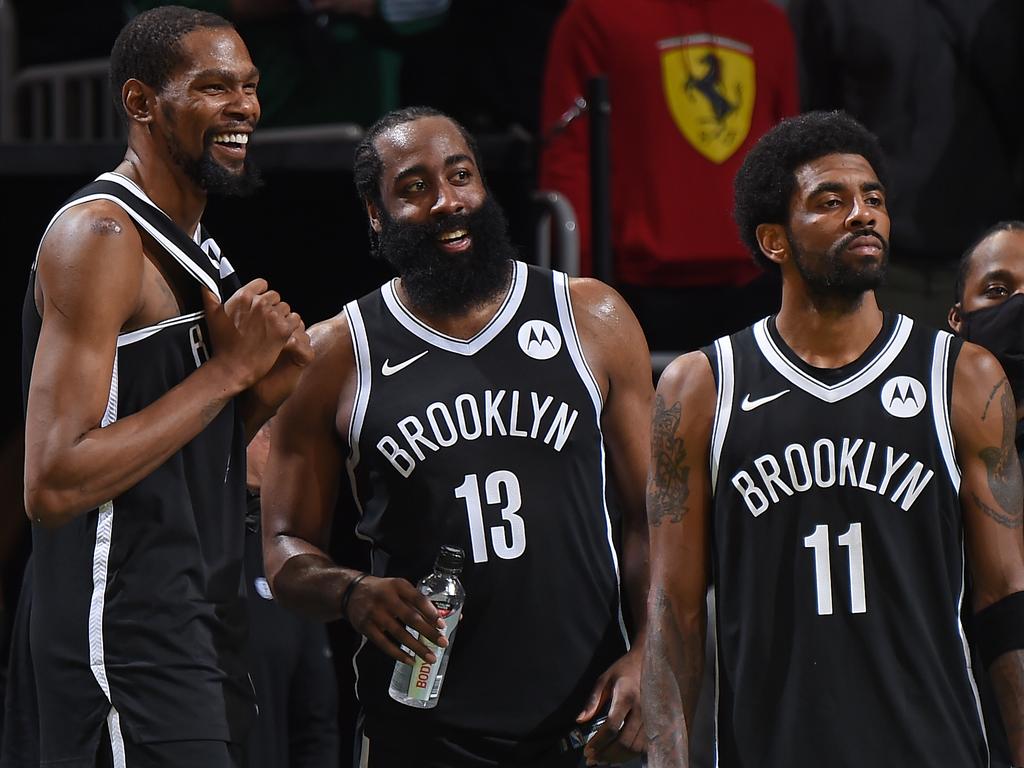 With COVID-19 cases rising, the only path the Nets may have to convince Kyrie Irving to get vaccinated and back on the court is with some personal encouragement from Kevin Durant and James Harden. Picture: NBAE via Getty Images
Speaking of vaccines, let's talk about Kyrie Irving for a moment.
A report in The Athletic on Monday said there is a "renewed optimism" around the point guard playing at some point this season for the Nets.
He has been unvaccinated, and thus far there have been no indications of a change of heart. There have been no indications that New York City will change its mandate that requires proof of vaccination to enter indoor arenas. There have been no indications that the Nets organisation will bend and allow Irving to become a part-time player and suit up on the road.
The only scenario in which Irving plays with Brooklyn from this vantage point — short of a plant-based vaccine eventually becoming the answer — would entail his superstar buddies pressuring him into getting jabbed. The last time Kevin Durant averaged the minutes he's playing now was eight years ago. James Harden is 32 and sat in Detroit on Sunday because of his workload and on Tuesday because he entered the Covid protocols.
Irving is his own man, which he has made clear. But also clear has been that he and Durant are close, and maybe Irving needs to feel needed. As Durant's and Harden's minutes pile up, maybe that is the message the Nets are sending to him: We need you here.
A talent like no other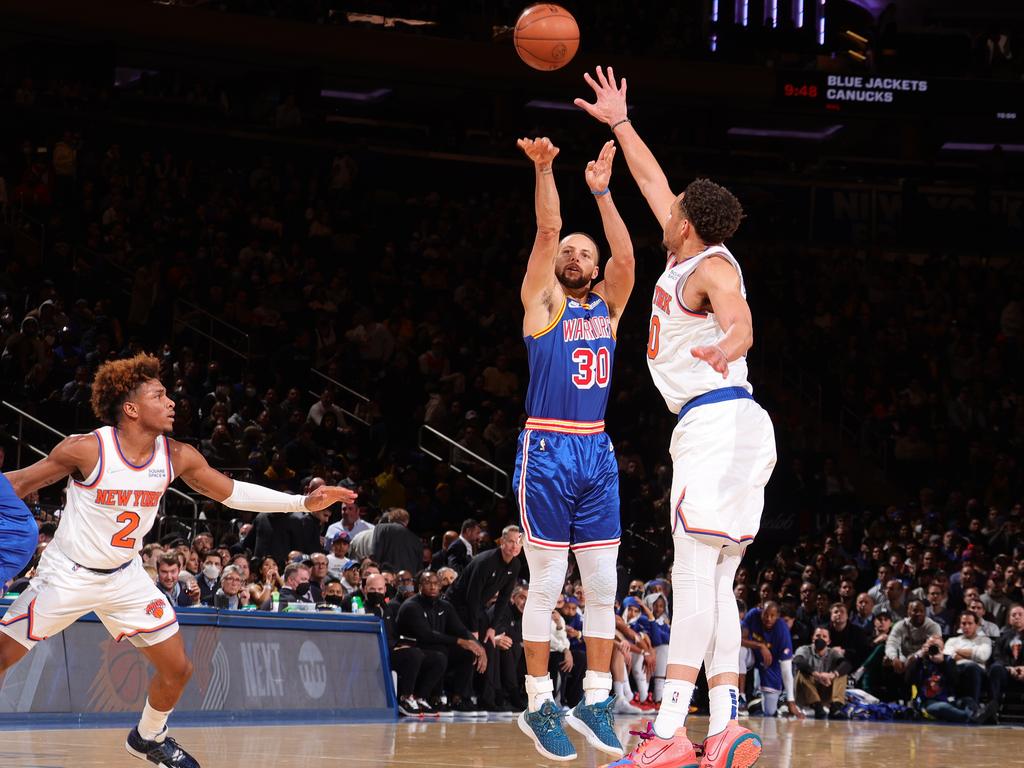 Curry's shooting exploits are the kind NBA fans will not see again soon, if ever. Picture: Nathaniel S. Butler/NBAE via Getty Images
A last note on Curry, who is shooting 43.1 per cent from beyond the 3-point arc for his career. Going down the list of all-time made triples, his is the best percentage until No. 168 — Brooklyn's Joe Harris, who has knocked down 43.9 per cent of his 3s.
Curry has reached the top efficiently, and he's been the best despite always opting to prioritise winning over stat-chasing. Meaning, he gladly will launch those 60-feet prayers, even if they damage his percentage.
According to Basketball Reference, which tracks "heaves" (defined as shots from beyond half-court), Curry has tried 90 in his career. Durant has attempted nine, none in the past three seasons.
Just about every sports superlative comes with debate. Jordan or LeBron, Brady or Montana, etc. Is there any doubt that we are watching the greatest shooter of all time?
-The New York Post