Steve Kerr makes emotional plea to 'do something' after Texas school shooting
Having lost his father to gun violence, Golden State coach Steve Kerr's emotionally charged plea to change the laws is not his first call to overhaul, but he hopes it's the last.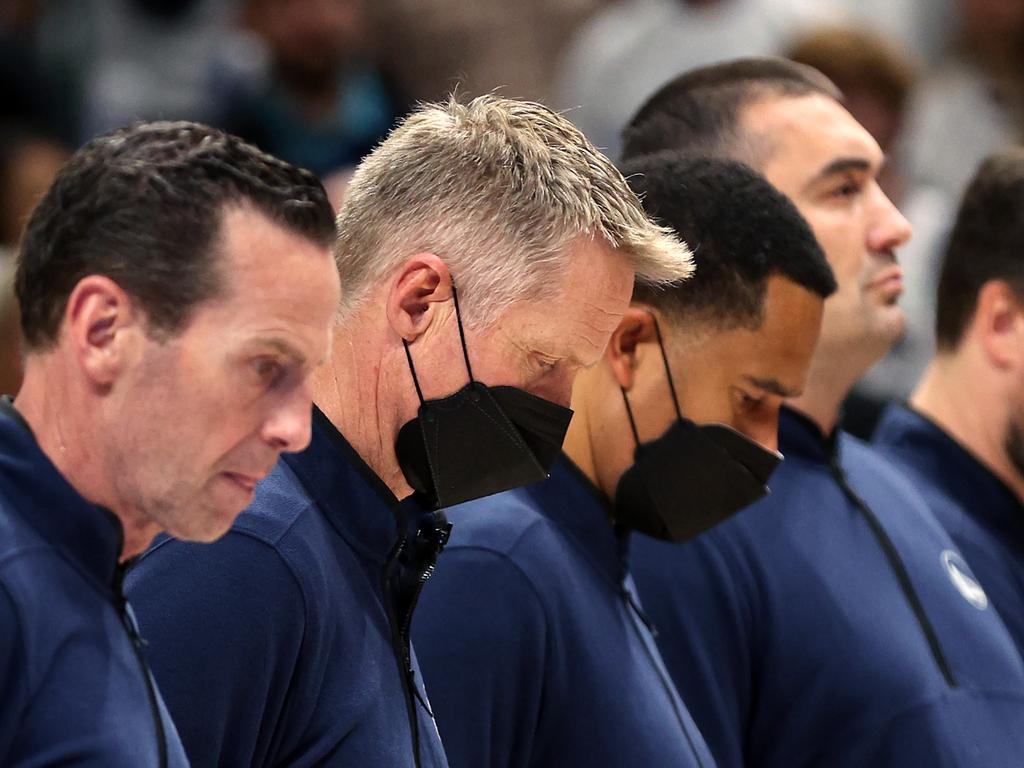 DALLAS, TEXAS - MAY 24: Head coach Steve Kerr of the Golden State Warriors stands for a moment of silence for the victims of the mass shooting at Robb Elementary School in Uvalde, TX prior to in Game Four of the 2022 NBA Playoffs Western Conference Finals against the Dallas Mavericks at American Airlines Center on May 24, 2022 in Dallas, Texas. NOTE TO USER: User expressly acknowledges and agrees that, by downloading and or using this photograph, User is consenting to the terms and conditions of the Getty Images License Agreement. (Photo by Tom Pennington/Getty Images)
Steve Kerr got profoundly emotional with reporters on Tuesday in the wake of the mass shooting at a Texas elementary school.
Salvatore Ramos, an 18-year-old, is suspected of killing 18 children and three adults at Robb Elementary School in Uvalde, Texas. Ramos was killed by responding officers.
Speaking with reporters before the Warriors play the Mavericks in Game 4 of the NBA's Western Conference finals, Kerr pounded his hand on the table and demanded action to stop mass shootings.
"Now we have children murdered at school," Kerr said. "When are we going to do something?!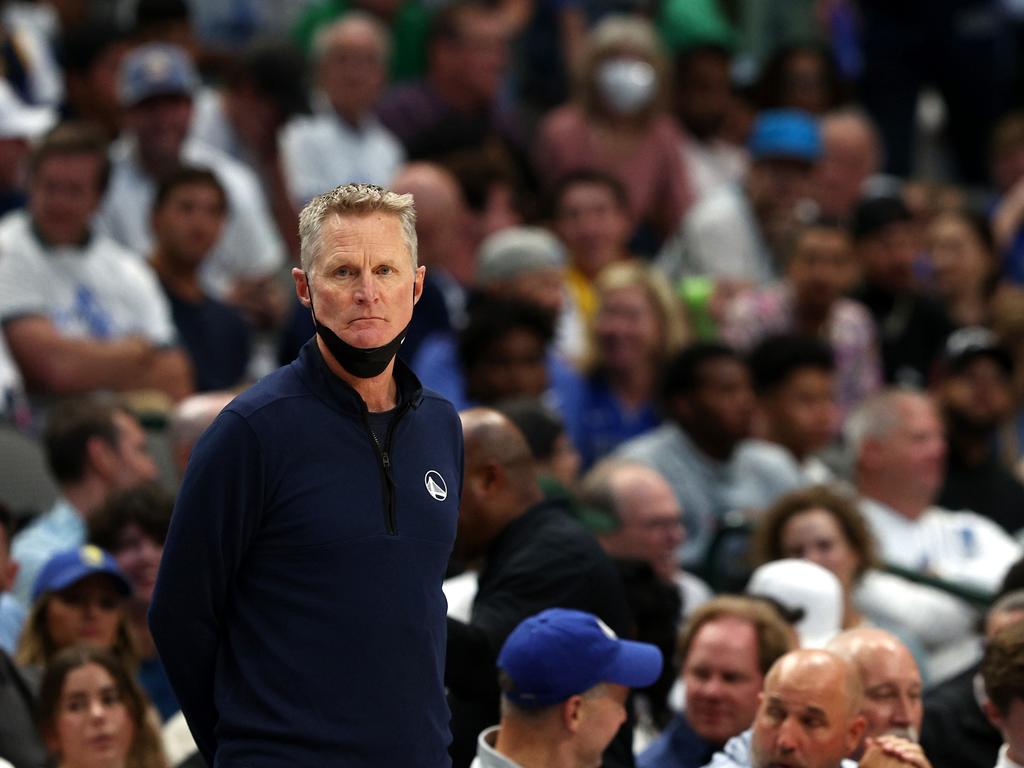 Steve Kerr was visibly upset throughout the Warriors 10-point loss to Dallas. Picture: Tom Pennington/Getty Images
"I'm so tired of getting up here and offering condolences to devastated families that are out there. I'm tired of excuses, I'm tired of moments of silence. Enough! There's 50 senators who refuse to vote on HR-8, which is a background check rule that the House past two years ago."
Kerr continued, calling out Senate minority leader Mitch McConnell by name.
"There's a reason they won't vote on it — to hold on to power. So, I ask you, Mitch McConnell, I ask all of you senators who refuse to do anything about the violence and school shootings and supermarket shootings," Kerr said. "I ask you, are you going to put your own desire for power ahead of our children, our elderly and our churchgoers? Because that's what it looks like.
"I'm fed up. I've had enough. We're going to play the game tonight. But I want every person here, every person listening to this, to think about your own child, grandchild, mother, father, sister, brother — how would you feel if this happened to you today? We can't get numb to this! We can't just sit here, read about it, have a moment of silence, and yell, 'Go Dubs! Come on Mavs, let's go!'"
Kerr said the NBA playoff game — where the Warriors will look to close out the series — will go on as scheduled, but lamented the inaction over gun violence and universal background checks.
"That's what we're gonna do," he said. "We're gonna go play a basketball game. Fifty senators in Washington are going to hold us hostage. You realise that 90 per cent of Americans, regardless of political party, want universal background checks. Ninety per cent of us!
"We are being held hostage by 50 senators in Washington who refuse to put it to a vote, regardless of what the American people want. They won't vote on it because they want to hold onto their own power. It's pathetic! I've had enough."
Kerr political rant was spawned from frustration on inaction and his own personal experience with gun control. Picture: Noah Graham/NBAE via Getty Images
Despite pain of dad's murder, Kerr became a champion

-First published 2014
Imagine going to sleep. Imagine the lingering thoughts you have before your mind gives out, before the world goes black.
Imagine tomorrow. Imagine a day in which the world is no different, because rarely do you wake to a world much different than the one you left hours earlier.
But phones ring, even when you think life is paused. Conversations come, ensuring that nothing will ever be the same.
For Steve Kerr, the end of normal began on the morning of Jan. 18, 1984.
Thirty years ago, the man who would become the greatest 3-point shooter in NBA history — who likely will become the next coach of the Knicks — was a no-name freshman at the University of Arizona, asleep in the Babcock dormitory when a call came from a family friend around 3am.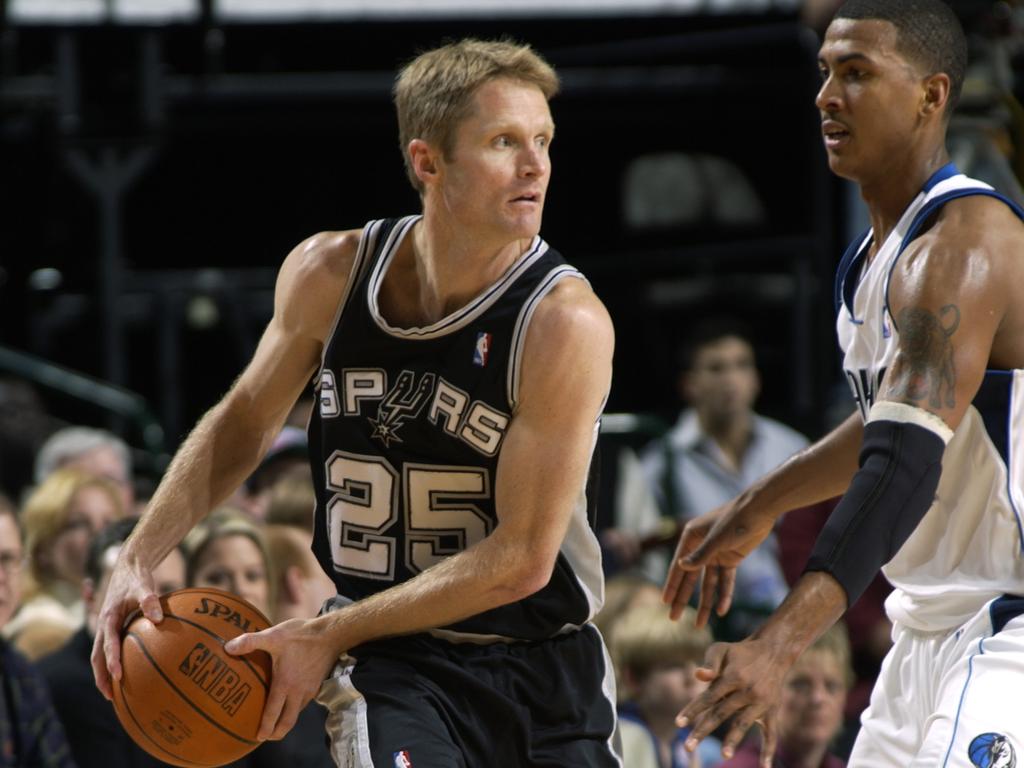 Steve Kerr looks to pass against Raja Bell. Picture: Glenn James/NBAE via Getty Images
Steve's father, Dr. Malcolm Kerr — president of American University of Beirut — had been assassinated while walking out of an elevator, shot in the back of the head. Islamic Jihad claimed responsibility for the anti-American act, though later evidence suggested it was committed by a pair of Hezbollah gunmen, following Iranian orders.
None of that was known — or mattered — that morning. An 18-year-old was processing more than the mind is meant to absorb.
"Before my father was killed, my life was impenetrable," Kerr told the Chicago Tribune nearly 10 years later. "Bad things happened to other people. I thought I was immune from anything like that, and so was my family.
"Something like this opens your eyes. It made me understand the pain that others experience, the effect that death can have. It's made me realise that millions of people go through these things."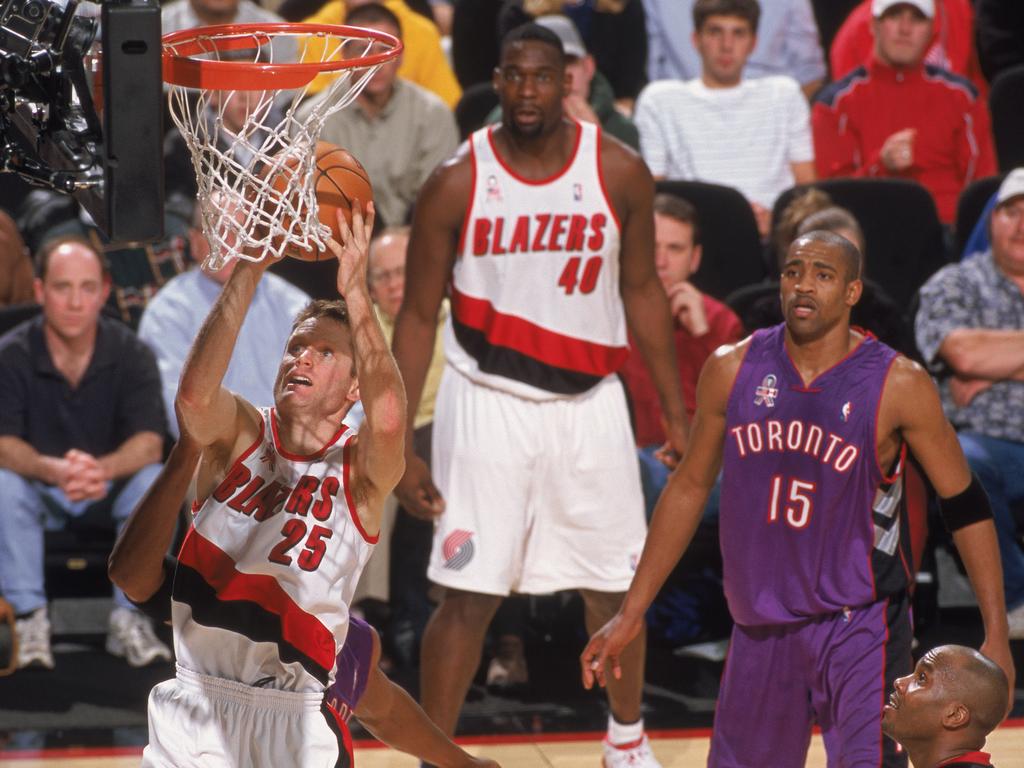 Kerr played with the Portland Trail Blazers during the 2001 and 2002 NBA seasons. Picture: Sam Forencich /NBAE/Getty Images
Kerr's father had died where he had lived — and was born — having been raised in Lebanon by parents who taught at AUB, though completing much of his higher education in the U.S. In the mid-1950s, he met his wife, Ann, in the building where he later was killed, the two studying abroad at the beautiful campus overlooking the Mediterranean, where both later taught.
Malcolm taught at UCLA for more than two decades, but the Middle East scholar often returned to his beloved Beirut, where Steve was born in 1965. Kerr lived in Tunisia and France and spent his freshman year of high school in Egypt, until the former Bruins ballboy came back to California to attend Palisades High School.
"My parents literally showed me a whole world that existed beyond typical American culture," Kerr said during a 2004 commencement speech at Arizona. "They gave me an education in understanding people, in being compassionate and respectful. They taught me that though people may speak or dress differently, or have customs or beliefs that were foreign to me, it was important to take the time to not only understand those differences, but to embrace them as well.
"That came in handy years later when Dennis Rodman became my teammate with the Bulls."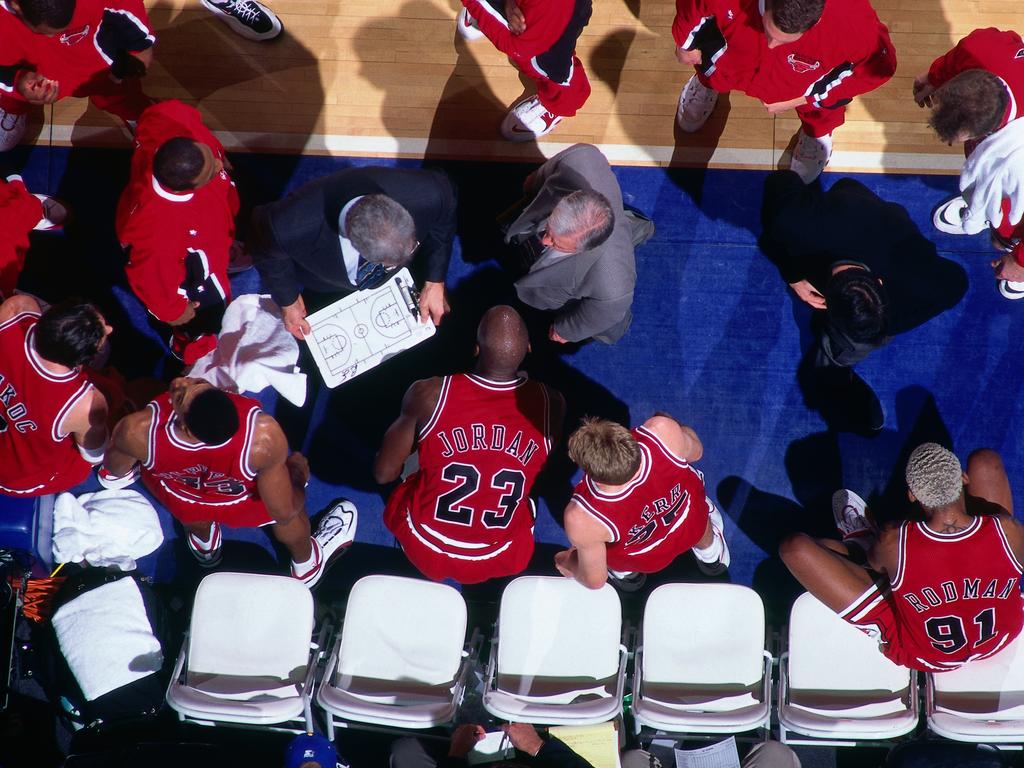 Kerr played at the Bulls from 1993-1999, playing a major role in the teams' 1997 NBA Championship. Picture: Sam Forencich/NBAE via Getty Images
He was his father's son.
John Waterbury, a former AUB president who had known the Kerrs since the late-1960s — described Malcolm to The Post as "athletic, funny, acerbic and irreverent," who regardless of distance kept his family "close knit."
Like many kids, Malcolm's second-youngest child dreamt of playing big-time college basketball, and like many, it looked like nothing more than a dream.
Gonzaga was the only school to recruit Kerr, but passed on him after seeing one of its guards — John Stockton — torch him in a pick-up game, with one coach telling Kerr he wasn't quick enough to play at that level.
So Kerr planned to walk on at Colorado, until Arizona and Cal State-Fullerton became intrigued after seeing him shoot in a summer league. Fullerton offered first, and Kerr verbally agreed, thinking Arizona had no interest.
Malcolm asked his son if that was what he really wanted. Upon learning Arizona was Steve's first choice, Malcolm changed his son's life with a call, asking first-year head coach Lute Olson if there was an offer. Ignoring the scoffs of his wife, Olson offered the slow, small, unathletic guard the final available scholarship.
"This is part of the genius of [Kerr], he figured out how to take his physical reality and be able to play competitively at the highest level," former Arizona graduate assistant Randy Brown said. "He was a great study, and he's so competitive.
"He's one of those guys that knew what you were gonna say before you said it. He just has an unbelievable sense of the game."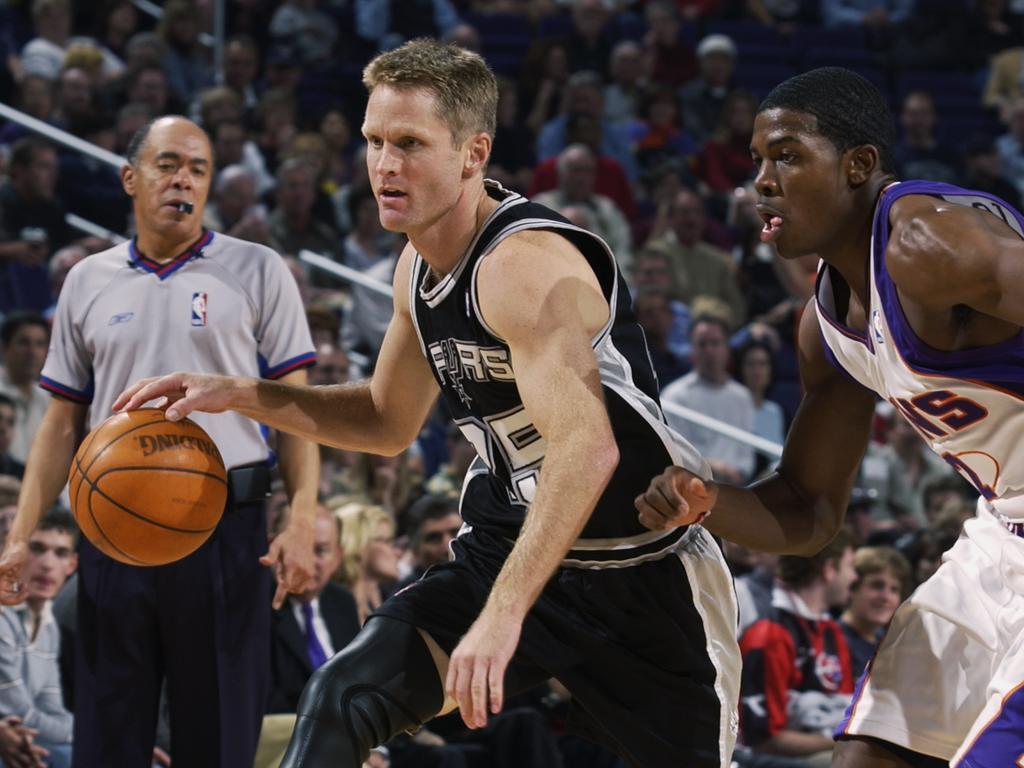 Kerr drives the ball upcourt during a 20002 Spurs game against the Phoenix Suns. Picture: Barry Gossage/NBAE via Getty Images
In the fall of 1983, Kerr began his freshman year and his father, after visiting Steve at the Babcock dorm, went back to Beirut, where he had received his dream job the previous year.
Steve never saw his father again.
"All of us, I think, have a kind of permanent limp of the spirit," Ann told The Tribune. "The loss is so great, but you eventually go on with your lives."
After the assassination, Kerr's mother moved back to California, with his three siblings spread around the world. His Arizona team became another family. And two days after his father's death, he joined the squad against Arizona State.
"We went to see him in the early morning because we didn't want him to watch CNN or anything and see how his dad had been assassinated, and he stayed with us for about three nights," Olson told The Post. "I said to Steve, 'You just need to take your time, and you can stay away from the game or whatever you want to do.' And he said, 'Coach, the only time I can keep from thinking about my dad is when I'm playing basketball.' "
It was escape. It was safe.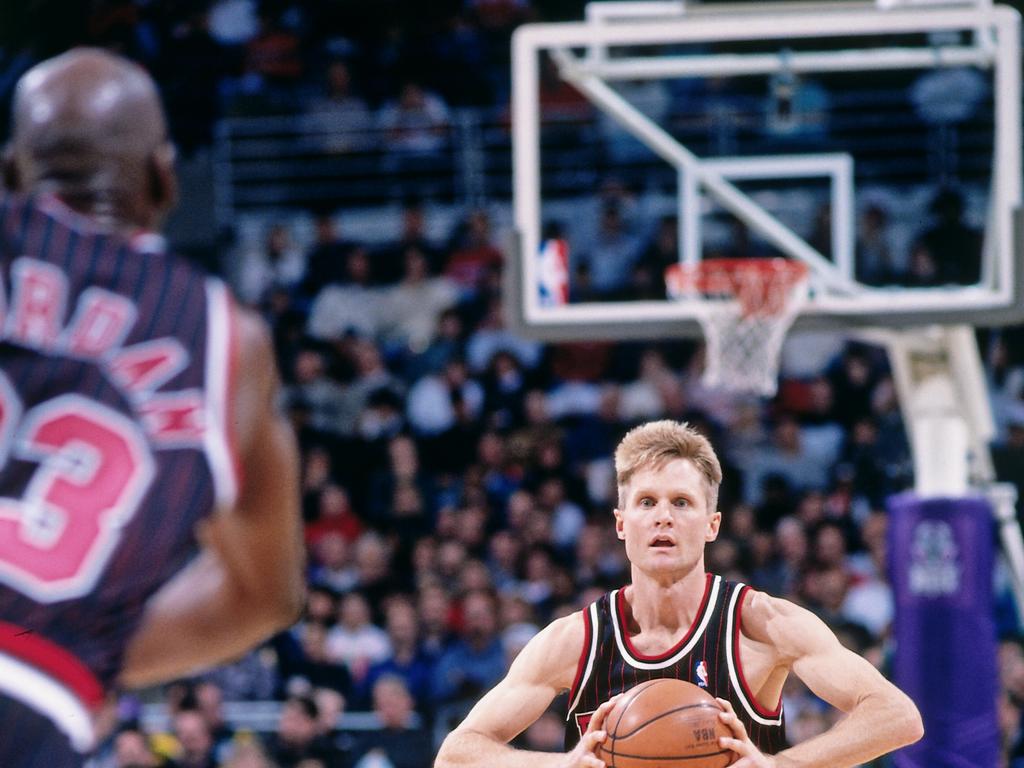 The basketball court was the only place Kerr found solace from the difficulty of dealing with his father's death. Picture: Gary Dineen/NBAE via Getty Images
After breaking down in a pregame moment of silence, Kerr buried a 25-foot jumper on his first attempt, coming off the bench to hit five of seven shots in an upset over their rival.
"It would be something that would keep a young man from doing anything for a while afterwards, but I don't know, he's just always had maturity beyond his years," Olson said.
Two years later, a torn ACL threatened to end Kerr's career. Instead, he returned to help Arizona reach the 1988 Final Four.
But on the way, a cruel world got colder.
Playing at Arizona State as a fifth-year senior, Kerr endured a series of ignorant and inhumane chants from a group of students before the game began, including:
"PLO! PLO!" "Where's your dad?" "Your father's history." And, "Why don't you join the Marines and go back to Beirut?"
Kerr began to shake, filled with tears and the memories of his father, he was forced to sit and compose himself. Then, he hit six straight 3-pointers in the first half of a blowout win.
Kerr later called the students "the scum of the Earth," and Arizona State athletic director Charles Harris sent a letter of apology.
"I just felt like that moment did not reflect the institution, and every once in a while we all make a mistake, and my job I felt was to own it," Harris said. "He was incredibly gracious. … He's really an incredible person, someone who survived and rose above unimaginable tragedy. If you look at him over the span of the past 25 years, that embodies who he is. That's how he carries himself. I think that told us a lot about Steve Kerr."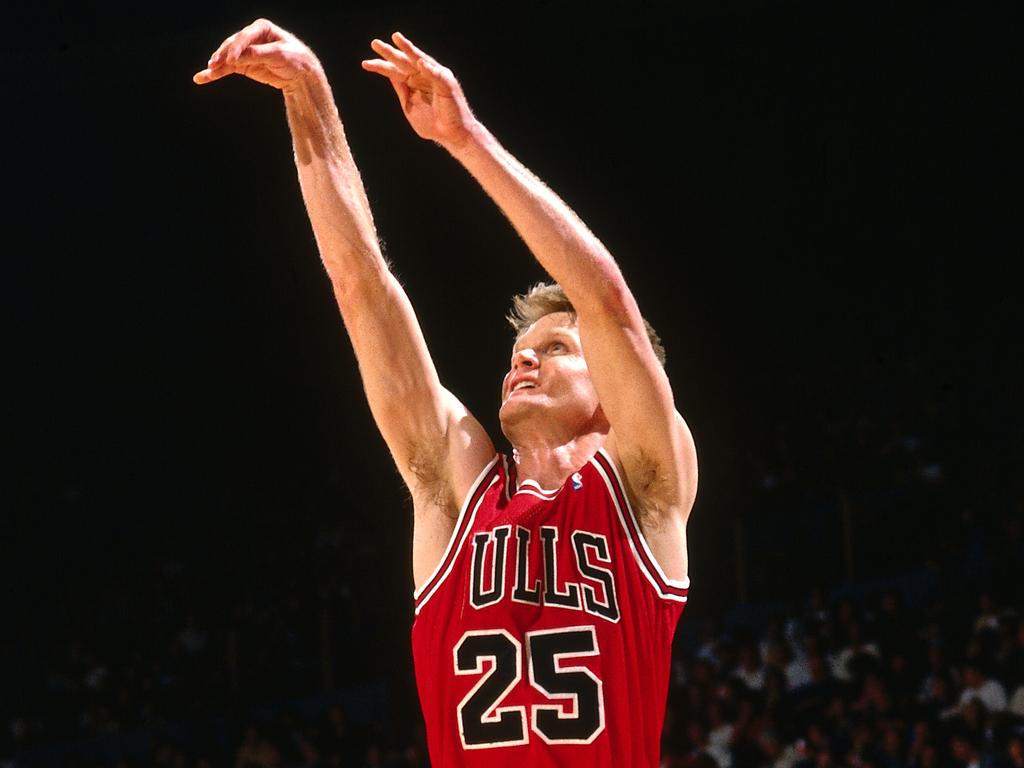 Kerr has been dubbed 'incredibly gracious,' owing to the way he responded and grew his father's death. Picture: Andrew D. Bernstein/NBAE via Getty Images
Kerr was selected by Phoenix with the 50th pick in the 1988 NBA Draft, beginning a string of five nondescript seasons that stretched to Cleveland and Orlando. After averaging 2.6 points in 1992-93, he signed a non-guaranteed contract with the Bulls for the NBA minimum salary ($150,000), starting the familiar part of the story — as one of the all-time great role players, alongside Michael Jordan, and later Tim Duncan on the Spurs, while winning five NBA titles.
Since retirement, he has displayed his wit for the world as a broadcaster, also spending three years as the general manager of the Suns.
But in 2008, the inexplicable behaviour of man resurfaced, as the Suns' struggles prompted two emails with death threats against Kerr. One address — dead@beirut.com — listed the sender as his father, the other mentioned the PLO (which had nothing to do with his father's death).
"How he got through that is amazing," Brown said. "If guys didn't know his background and they learned it, I think that'd mean a lot to them. … You get a sense that he can do anything, run a corporation, run the Suns, and certainly coach, with his mind for the game.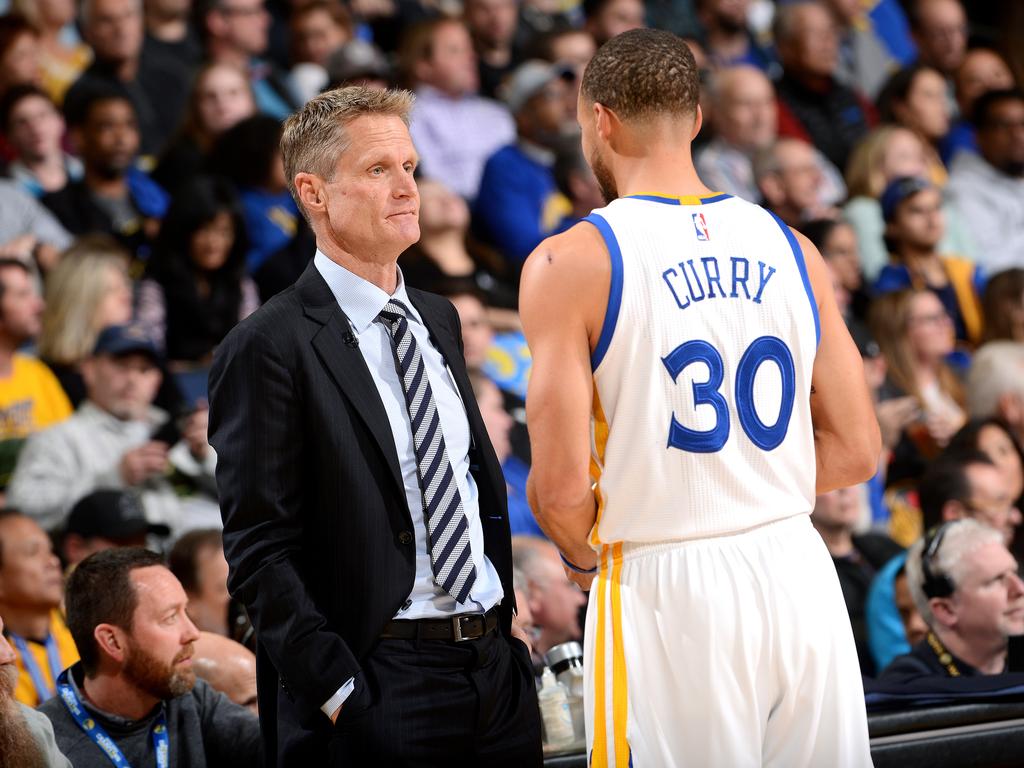 Kerr has been lauded by the way he coaches at the Warriors, and how he deals 'with highs and lows.' Picture: Noah Graham/NBAE via Getty Images
"He's a guy that guys will really play for. He is a very popular person, an unbelievable personality. He was friends with everybody, but the last thing he was concerned with was not hurting people's feelings. He would light one of his teammates up if there was something they weren't doing. I always respected that."
Former Arizona assistant coach Ken Burmeister said, "He can deal with highs and lows. He can deal with people from all backgrounds. He can deal with personalities with [a] calmness that I've never seen. He has a confidence that you know good things are going to happen."
A life filled with challenges is likely to add what would be a monumental task of taking over the most pressure-filled coaching position in the NBA, a team more than four decades removed from its last championship.
Just another seemingly impossible task.
"I think he can handle New York, and being with Phil [Jackson] makes him much more secure in what he's doing," Olson said. "I've been asked by a lot of people if that's a good move for him, to go into coaching when he hasn't had any coaching experience, and I've said to everybody I think he would do a great job, having been around the game so long and being the most unbelievable player in terms of understanding the game and his leadership.
"I think they're going to get it turned around, and I think he'll get it turned around real quickly."
-New York Post