Behind the scenes as Paul Gallen's boxing career faces end and Harry Garside wins through anguish
Paul Gallen was left contemplating the end of his boxing career and Harry Garside dealt with a hidden anguish. BRENDAN BRADFORD went behind the scenes of an epic fight night.
Dejected and bruised, Paul Gallen sits on the sunken brown couch in his changing room, staring at the floor.
After the madness of post-fight interviews, selfies with fans and a press conference with two dozen media, it's eerily quiet as the 10 or so people in the room process what's just happened.
No one knows what to say until a mate breaks the silence.
"Gal, on behalf of all of us, thank you. You're a f---ing warrior."
A brief round of applause follows.
Sitting on the couch, Gallen looks exactly like what you'd expect a 40-year-old veteran of two decades in professional sport to look like after losing a 10-round fight for the Australian heavyweight title: tired.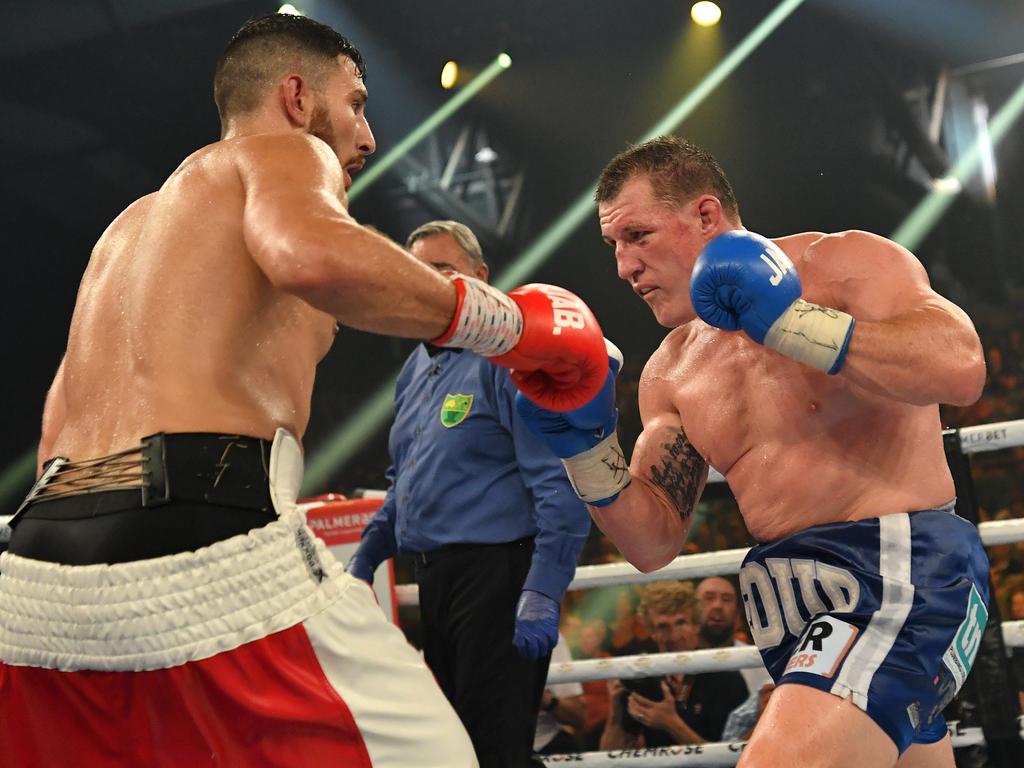 Gallen had his moments in the 10-round fight, but later admitted to feeling tired. Picture: Gregg Porteous
He was outboxed for most of his bout with Kris Terzievski in Newcastle, but showcased his granite chin and incredible durability. In his second challenge for the Australian title, he surged back into the contest in round nine, nearly scoring an epic comeback win.
But he later says he felt sluggish and tired. It happens like that sometimes. You don't know it's too late until it's already too late.
A silence returns to the dressing room. Gallen assesses the damage in a mirror on the wall. A few welts, and a couple of bruises. Could be worse.
Enough promise to stick around for one more fight? Those closest to him want Gallen to retire.
He hinted at hanging the gloves up, but isn't willing to make a decision one way or another just yet.
"He got tired in the ninth," he says, wondering about what might have been.
Gallen's mate and advisor, Pete Mitrevski tells him: "I put my heart and soul into boxing, and I fought for the Australian title three times and was beaten on points every time.
"You've still got one more to match me."
Wednesday's fight was Gallen's second time vying for the Australian heavyweight title after a loss to Justis Huni last year. Picture: Gregg Porteous
Gallen smiles ruefully, picks up a towel and heads for the shower.
Friends and well-wishers filter out of the room and it's just Gallen's corner left, dissecting the bout.
The general consensus is that Terzievski gassed out after round eight, and hated body shots, but did well enough to avoid any danger in the 10th and final round.
Gallen dries off and calls his family. They sound worried, but he assures them he isn't injured. He tells his son that he'll see him in the morning.
Then he puts on his shoes and shoves his sweat-soaked trunks in his kit bag. He steps out of the dressing room, for perhaps the last time as a professional athlete, walks in the rain to his truck and begins the long drive through the night back home to Sydney.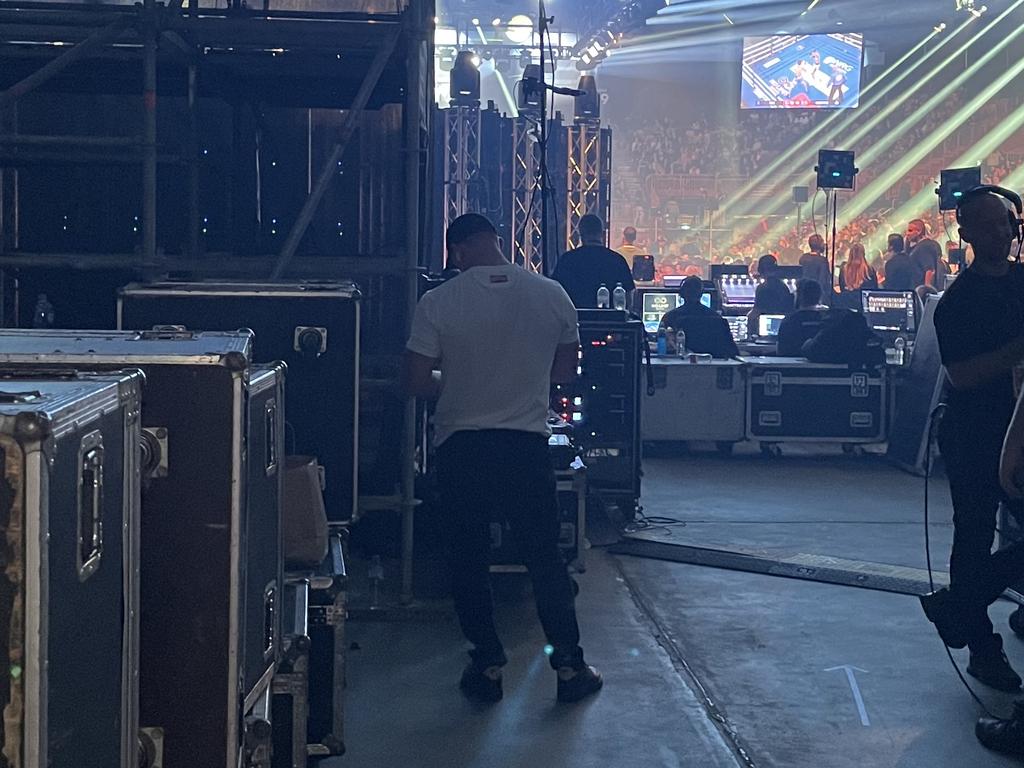 Paul Gallen takes a quiet moment to take in some of the undercard action.
*****
Three-and-a-half hours earlier, after driving himself to the venue as he always does, Gallen stalks into the dressing room he's sharing with Harry Garside.
While Gallen is tense and quiet, Tokyo Olympics bronze medallist Garside has been relaxed, almost carefree, all evening. He appeared on NRL 360, and posed for photos with fans as the arena filled up during the early prelim fights. In the dressing room, he's quick to crack a smile.
The legendary Johnny Lewis tells his fair share of jokes as he wraps Garside's hands. There's a mischievous glint in his eye each time he makes everyone laugh and eases the tension in the room.
He's been here many times before, and Garside laughs easily along with everyone else.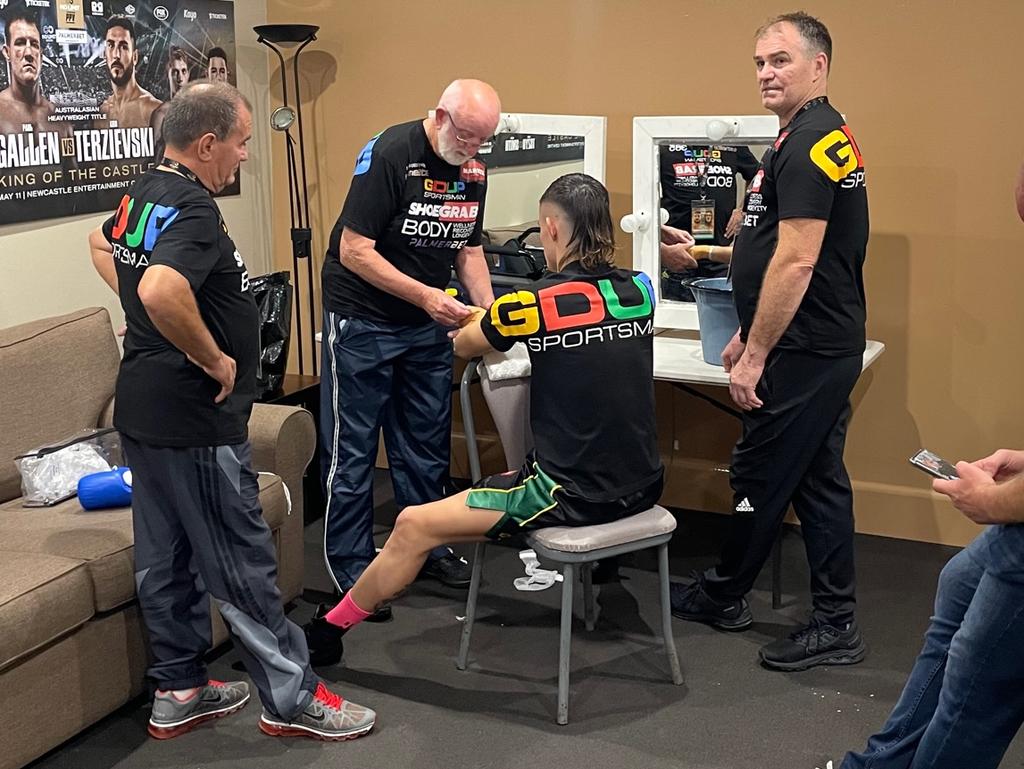 Johnny Lewis wraps Harry Garside's hands.
For now at least, there's no sign of the mental strain he must be under. That will come later. Just nine days ago, Garside's mum, Kate, told him she'd been diagnosed with breast cancer.
He's wearing a pair of pink socks in her honour.
Having been unable to travel to Tokyo to watch Harry at the Olympics last year, Kate and Garside's dad, Shaun, finally got to see their boy in action for the first time in a long time in his professional debut in Sydney in December.
Now, due to Kate's cancer diagnosis, she can't risk contracting Covid, and once again can't be there cheering Harry on.
It's not the only thing that must be weighing on his mind.
Garside's hands are busted. Landing a punch with any semblance of power hurts. He was only able to spar twice in the lead-up to his Australian lightweight title defence against Layton McFerran.
Instead he ran a lot and shadow boxed every day.
But he doesn't let any of that affect him.
A huge roar erupts in the arena. Something big must have happened in one of the undercard fights, and Garside nips out of the dressing room and runs down a short hallway to where a monitor has been set up with a broadcast feed of the fights.
Hass Hamdan and Trent Girdham are going at it in a six-round welterweight war.
Garside stands with Terzievski, former fighters Lovemore N'dou and Kane Watts and a handful of others, watching and commenting on the action.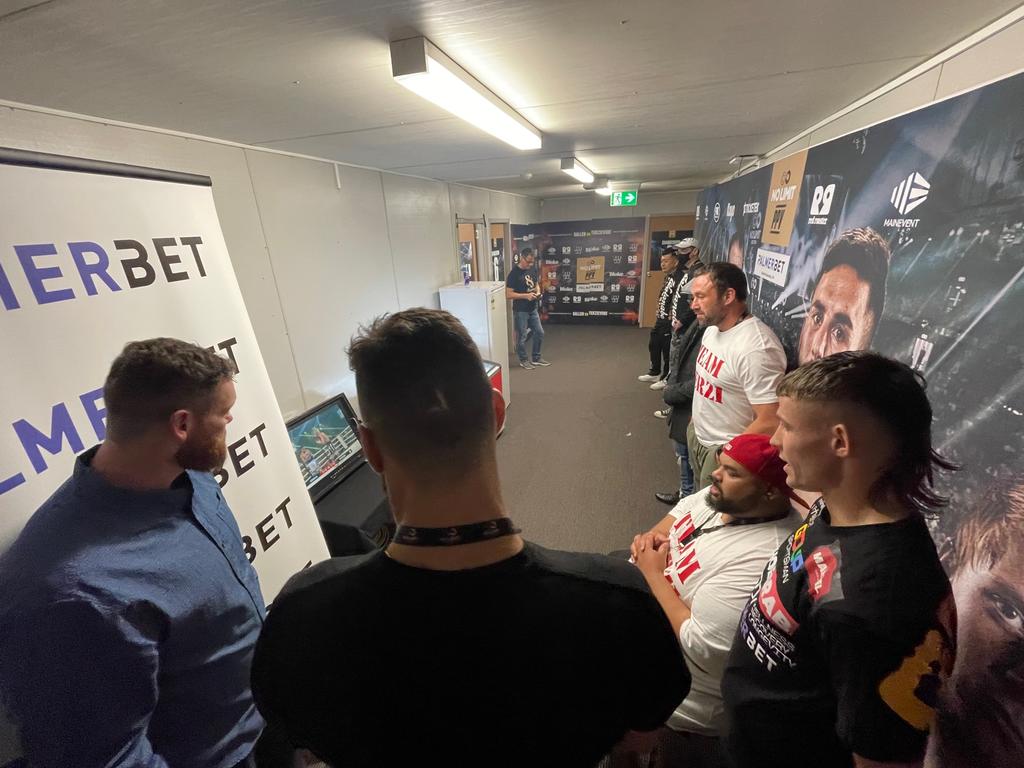 Garside watching Hass Hamdan and Trent Girdham's fight after hearing a roar from the crowd enjoying the action.
Around 45 minutes before he's due to fight, Garside drops his boxing trunks in order to put on his groin protector. Just as his green and gold shorts hit the floor, a camera crew enters the dressing room to take vision of him warming up.
"Oop, sorry mate…we'll wait till you've put your pants back on," the cameraman says, to more laughter.
There's no playful grin on Lewis' face when he sits next to Garside and says "OK, son, start thinking about it now."
That's when things turn serious.
Garside's eyes narrow and he begins a warm-up which includes juggling tennis balls, hitting pads and shadow boxing.
At 9pm, his gloves go on and he slips into his sleeveless vest with his nickname 'Aussie Harry' stitched across the back.
His team gathers in a huddle, Lewis says a few quiet words and they walk out to the ring.
Team Garside form a huddle as Johnny Lewis gives some last minute instructions before the fight.
*****
Garside's left hand is a mess. Blood has soaked through the many layers of bandages that protect his fists when he fights, leaving dark red stains. It's agony pulling the wraps off.
Despite the injuries, he puts in a seriously impressive performance, earning a seventh round TKO win over McFerran.
It's only after the bout that the emotion of the evening appears on his face. He holds back tears speaking about his mum.
"This one was for her," he says. "It was tough, but I knew I had to do it for her. She couldn't come because she couldn't risk getting Covid.
"I know she's cheering at home. I've got the best parents in the world, I'm very lucky."
Back in his changing room, his team urges Garside to have a shower and tend to his bloodied knuckles.
But the 24-year-old has a more important task first.
He uses his slightly less injured right hand to pull his phone out of his kit bag, and he starts walking towards the door.
"I've gotta call my Mum."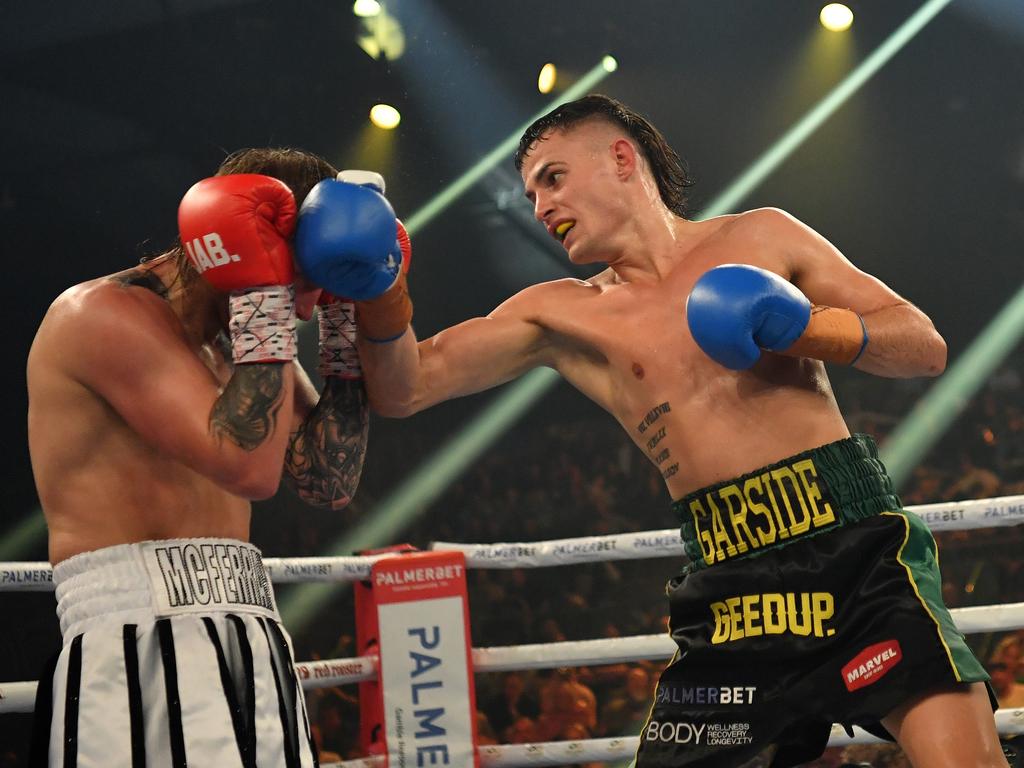 Garside dedicated his win to his mum who has breast cancer. Picture: Gregg Porteous
*****
While Garside was relaxed and easygoing ahead of his fight, Gallen is quiet and determined. His team runs like a well-oiled machine, communicating in solitary words, and sometimes just glances.
"Wraps," someone says, and he sits down to have his hands wrapped.
Silently, he begins his warm-up routine with some stretches and jogging up and down the room.
In the co-main event, Nikita Tszyu obliterates Mason Smith inside one round. Shortly afterwards a man's head pops in the door and says, "Gal, you're up in five minutes."
He hasn't even got his gloves on yet.
"No, we need longer than that," Mitrevski says. "We'll be 10 minutes at least, maybe 15."
There's no panic, no rush. There's barely a discernible change in pace at all. Just the steady routine of a team who have done this plenty of times before.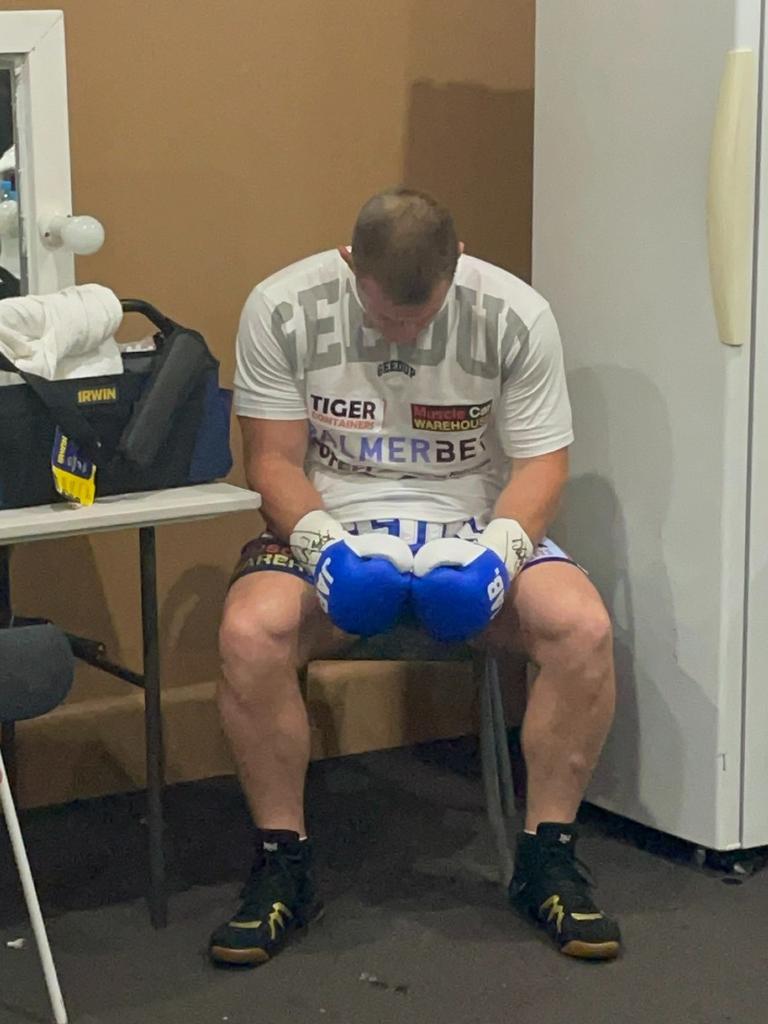 Gallen takes a few quiet moments just minutes before he walks out to fight.
"Pads," Gallen says, signaling he's ready to start throwing some combinations.
A few minutes later, he adds: "Are they ready yet?"
He's pacing around, itching to get out there.
Mitrevksi, trainer Graham Shaw and cut-man Brian Wilmot offer some words of encouragement, but there aren't any grand speeches or huddles in the moments before he leaves the dressing room.
Instead, Gallen sits down on a chair in the corner. He bows his head, looks at his gloves and says whatever it is he says to himself in these hyper-charged moments.
Then it's time to go.
"Hat," someone says. A sponsor's cap is placed on his head, and the former Premiership and State of Origin-winning captain bustles out of the dressing room and towards the ring, for one last shot at glory.
*****
"What is your liver made of?" Terzievski jokingly asks Gallen as they sit side by side 20 minutes after the Victorian was awarded a unanimous decision win.
It's a fair question. Gallen absorbed some punishment during the fight, but barely took a backward step.
He laughs it off, but it's clear the thought of retirement is on his mind.
"Pete Mitrevski said to me, 'You don't get old in between fights, you get old in between rounds' and I felt it today," he says. "I felt it a couple of times in sparring to be honest. I've always had this ability to take an extra step and go harder and harder.
Gallen and Terzievski catch up in the dressing rooms after the fight.
"I tried to do it, but I just couldn't to be honest. I had him hurt, but I just couldn't finish him.
"That's life, everyone gets old. Whether I do it again or not, we'll wait and see, but that could be it."
Midway through their joint press-conference, where they each sit bare-chested on a couch, Terzievski turns to Gallen.
"Mate, did you just drop one?"
A horrific stench has suddenly infiltrated the small, unventilated room. It's truly awful.
"Nah, mate, not me," Gallen replies. "You know what, I reckon someone's let off one of those stink bombs."
He's right, and if you turned around at just the right moment you'd have seen a trademark twinkle in Johnny Lewis' eye as he set it off before hot-footing it out of the room.
"I had to do it," he says later, eyes watering from laughter. "It still didn't stink as bad as some of the shit you people were talking."