Boxing 2022: Liam Wilson defeats Matias Rueda, Justin Hodges beats Ben Hannant, calls out Paul Gallen
Justin Hodges is eyeing a six-figure NRL super fight with a former Origin foe after hammering an old Broncos teammate as Liam Wilson won a brutal battle of Brisbane.
Justin Hodges is in line for a $100,000 NRL super fight with Paul Gallen after outclassing former Broncos teammate Ben Hannant in their Origin heavyweight clash on Wednesday night.
Gallen promised Hodges a showdown if he disposed of his rival and the Broncos legend upheld his end of the bargain by hammering Hannant at Brisbane's Convention and Exhibition Centre.
The undercard of the Liam Wilson-Matias Rueda main event featured some spice when Hodges and Hannant traded their pre-fight war of words for some wild punches during four rounds of desperation.
Watch Jai Opetaia v Mairis Briedis battle for the IBF and Ring Magazine Cruiserweight Titles. Saturday 2 July from 7PM AEST LIVE with Main Event on Kayo Sports & Foxtel. ORDER NOW >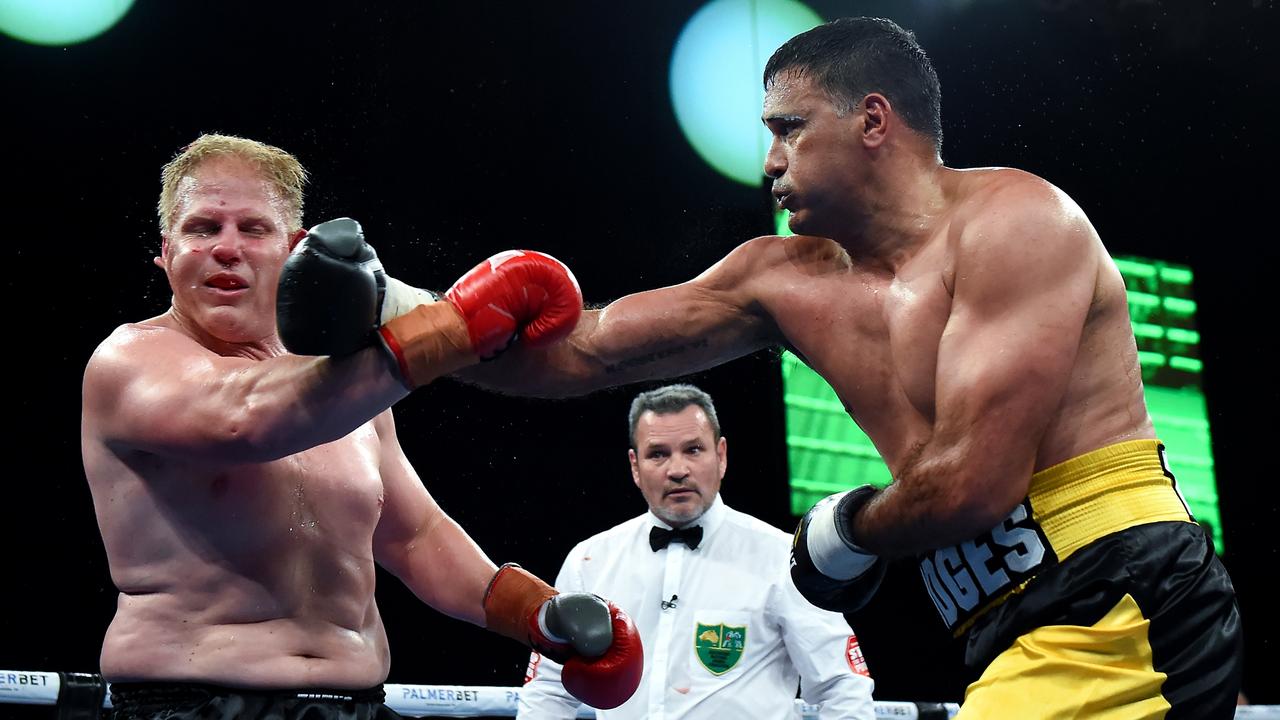 Justin Hodges lands a big right hand on Ben Hannant on his way to victory in their fight at Brisbane Convention & Exhibition Centre. Picture: Albert Perez/Getty Images
Hodges (4-1, 2KO) walked away with a unanimous points decision (40-36, 40-36 and 40-36), winning all four rounds against debutant Hannant, who showed immense courage to remain standing after copping some heavy shots.
It wasn't pretty, but Hodges stands to pocket a six-figure sum by taking on Gallen. On this evidence, Hodges has to improve his fitness to have any hope of beating Gallen, but the Maroons legend is relishing the prospect of bashing the former NSW skipper for all Queenslanders.
"That's what Queenslanders want … they want to see me knock out the dirty cockroach," Hodges said of a proposed fight with Gallen.
Ben Hannant was brave in defeat against Justin Hodges. Picture: Albert Perez/Getty Images
"I know Gallen is more experienced than me, but I don't give a shit. I don't know how long it will last but I will have a crack and if I get him, he will be asleep, so let's go."
While Hannant was brave, Hodges always had his measure. After a watchful start, Hodges landed some nice jabs early and dominated the second and third rounds with powerful right hooks that hurt Hannant.
Underlining his toughness, the 'Polar Bear' kept walking forward, but Hodges almost dropped Hannant in the final round with a thumping right hand to seal victory.
"It was crazy, full credit to big Benny," said Hodges, who won a Broncos premiership with Hannant in 2006.
"I called out Barry Hall but Benny took this fight on four weeks' notice.
"I played with him, I know how hard Ben trains and he doesn't give up. I am rooted."
Before the fight, Gallen, who went 10 rounds last year with Australian heavyweight golden boy Justis Huni, said he would love to knockout Hodges.
There is genuine bad blood between the pair after their clashes in the Origin arena for NSW and Queensland.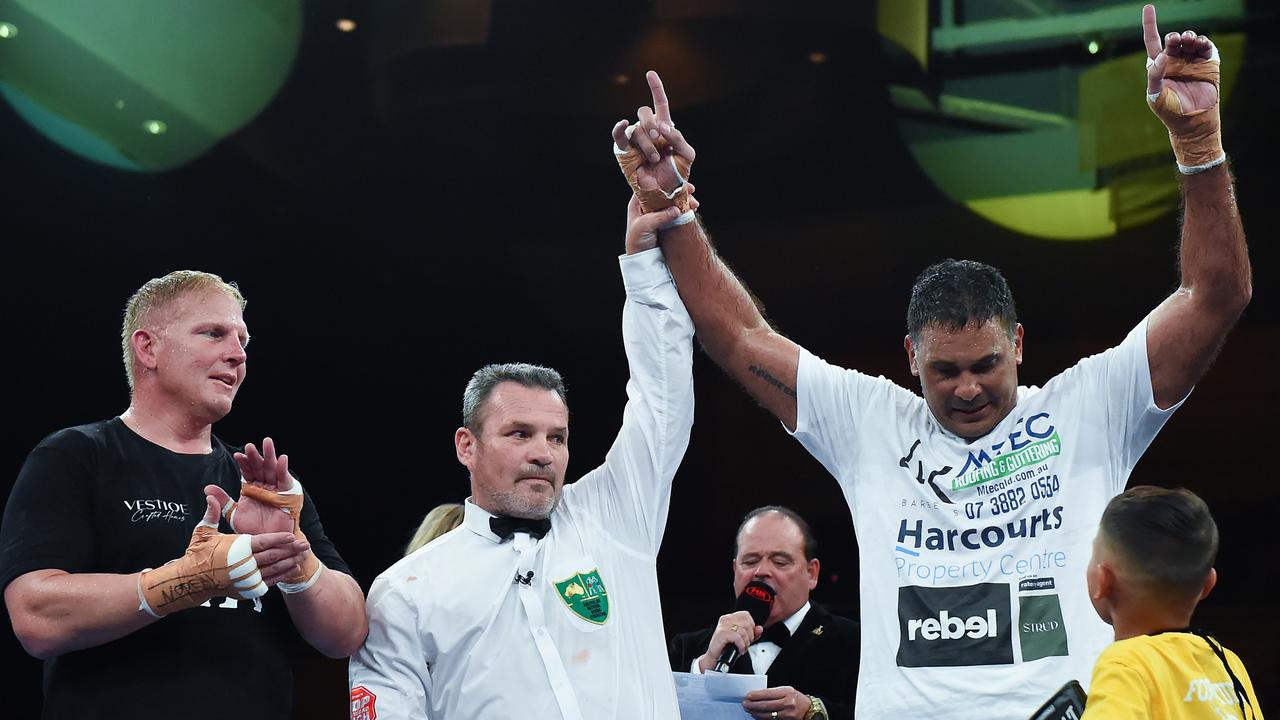 Justin Hodges has called out Paul Gallen to take him on. Picture: Albert Perez/Getty Images
"I can't wait to bash either of them, whoever wins," Gallen said.
"Hopefully it's Justin Hodges, I know he's got a bigger profile and more people in New South Wales hate him, so I'd love for him to win and be able to get my hands on him.
"I've got no doubt I'll beat him.
"I take my hat off to them for helping out boxing, there's no doubt about that.
"They create attention, they bring eyeballs to the sport and they'll bring eyeballs to the night.
"I can't wait to fight the winner.
"The Blues smashed the Maroons on the weekend (in Origin) and I can't wait to smash Hodges when I get the opportunity."
Wilson wins brutal battle of world-class combatants
Queensland sensation Liam Wilson moved a step closer to a world-title shot with the most courageous performance of his career to overcome Matias Rueda in a brutal battle of Brisbane on Wednesday night.
Wilson (11-1, 7KO) withstood the pain of a busted left hand to clinch a unanimous points decision (97-93, 99-91, 96-94) over the tough-as-nails Rueda at the Brisbane Convention and Exhibition Centre.
In the process, Wilson claimed the WBO International super featherweight title and moved to No.2 in the WBO rankings, setting up a possible world-title eliminator with No.1 Archie Sharp.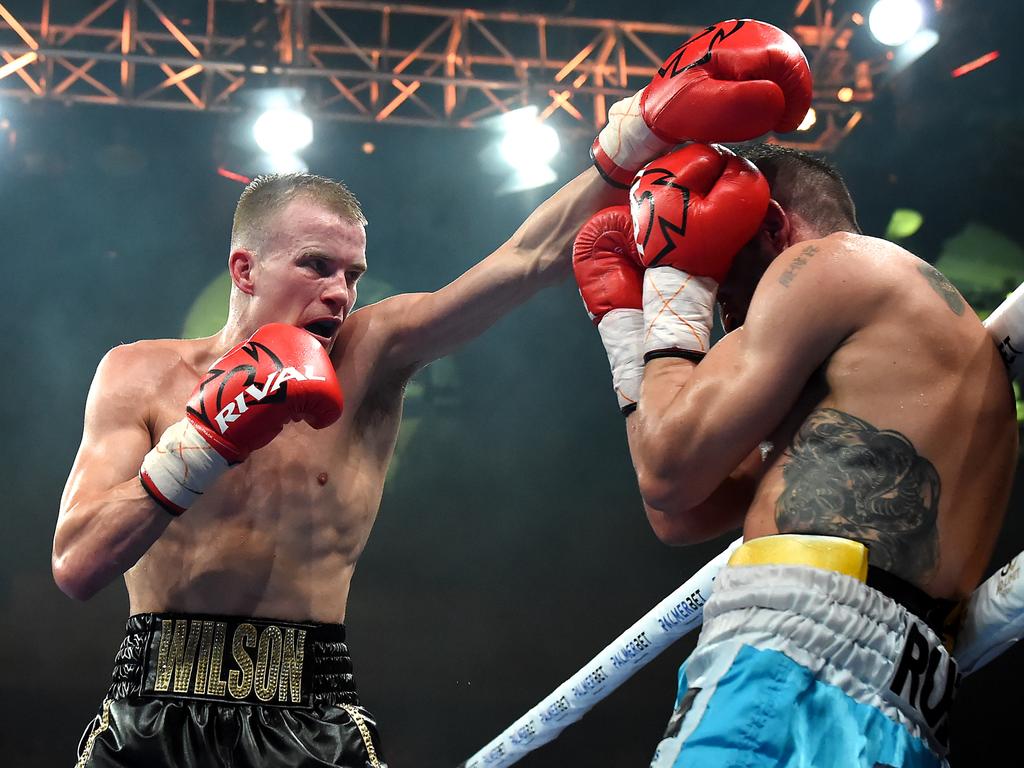 Liam Wilson shows off his long levers in his win over Matias Rueda. Picture: Getty Images
This was a cracking contest between two world-class opponents. Rueda (37-2, 32KO) summoned all his experience to test Wilson, but the Caboolture mauler showed he has guts as well as class, ostensibly fighting one handed for the final two rounds to edge out the Argentine power puncher.
"He hit pretty hard, it was a tough night, I had to find a way to win," Wilson said.
"I hurt my left hand in round three and four and I had to go to southpaw, I couldn't use my jab and had to use my right hand to find range.
"He was a tough opponent, a big puncher. I had to dig deep. It wasn't my greatest performance, but I am coming for the best."
Buoyed by his second-round knockout in his last fight, the 26-year-old Wilson started confidently, keeping Rueda at bay with some slick jabs and well-timed body shots.
Wilson was the superior fighter in the opening two rounds, but Rueda showed his toughness, hitting back in the next two rounds. The Argentine veteran landed some powerful right hands which rocked Wilson and had the Australian more watchful in the fourth round.
Under pressure, Wilson was magnificent in the fifth, stinging Rueda with a sweet left before following-up with a savage right which almost dropped the 34-year-old, who showed a chin of granite to remain standing.
Wilson lands one right on Rueda's moosh. Picture: Getty Images
Wilson stepped up a gear in the sixth, continuing to pepper Rueda as he moved to protect his damaged left hand.
The seventh was the round of the night, degenerating into a furious war as Wilson and Rueda traded some brutal bombs, none better than a razor-sharp left which rattled the visitor.
Entering the championship rounds, Wilson looked ready to finish Rueda, only to suffer more damage to his left hand which rendered it useless midway through the ninth, opening the door for his rival to rally.
Late in the ninth, Rueda had an injured Wilson in trouble, with the Australian close to being dropped before being saved by the bell.
Any doubts about Wilson's chin were dispelled in the final three minutes. Despite fighting with his right hand in the 10th round, Wilson refused to back down and crunched a tiring Rueda with some wild blows to seal victory.
Aussie boxer's Muslim slur shame
—Jamie Pandaram
For three years, boxer Liam Wilson has sat with deep regret over an offensive comment he made on Facebook.
After the Christchurch massacre in 2019, when a white supremacist killed 51 Muslim worshippers in two mosques, social media lit up with strong opinions.
One came up on Wilson's Facebook feed which was derogatory to the Islamic religion. He replied "100 per cent", and earned the ire of many.
Wilson had to rethink his attitude, and after approaching Muslims and learning about the true teachings of their religion, he has come to the realisation his comment was "a disgrace".
The 26-year-old is ready to own his mistake, and he has finally addressed it with News Corp Australia.
"I made a very, very uneducated comment when I was younger, I have learnt about that topic, that religion," Wilson said.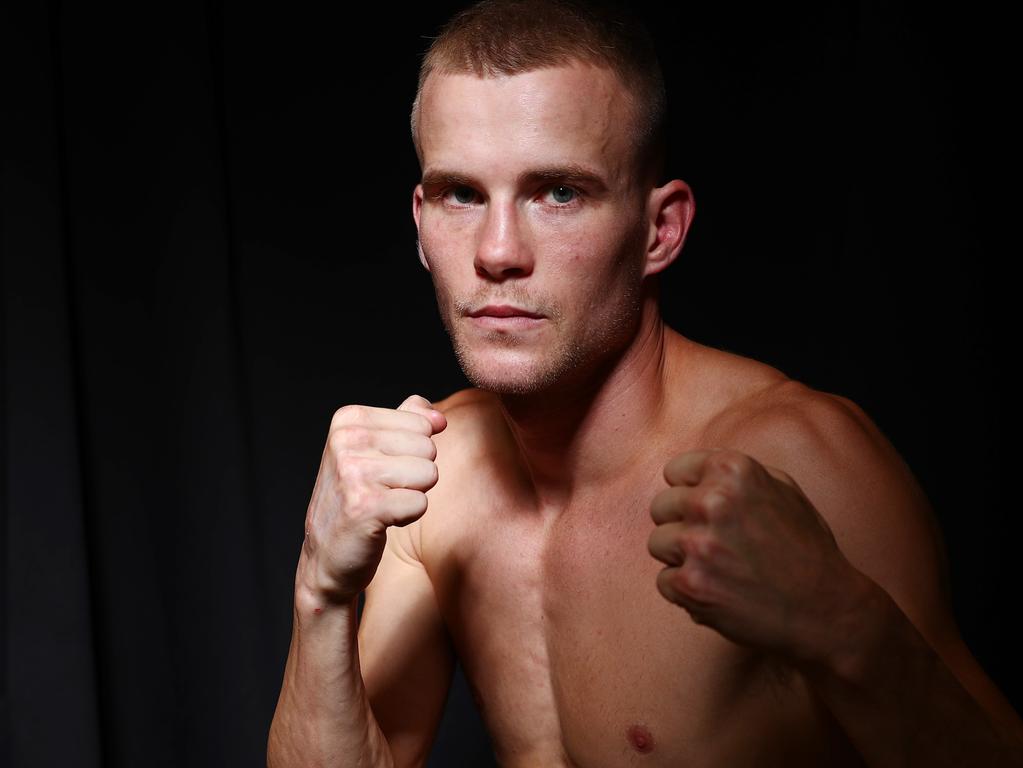 Liam Wilson is deeply sorry for his offensive comment to the Islamic religion.
"We all have regrets in life and for me that is one of them.
"I am a nice person, I am a family man. I don't hate anybody."
But there are still many within boxing circles who have not forgiven Wilson, and have made him out to be a racist or a figure for Islamophobia.
"I'm very understanding of that because what I said was appalling," Wilson said.
"It's something I truly regret.
"I wish I hadn't have done it, but it's helped me to learn and grow and become a better person.
"Since then I've gone away and tried to educate myself. I was an idiot, a disgrace, and immature.
"People can only take my word, but I am genuinely sorry for it."
It's not the first time Wilson has had to look deep within himself to find out what type of person he would be.
He lost his father Peter 10 years ago, and that has been a driving force for Wilson to conquer his sport.
He fights his toughest opponent to date on Wednesday night at the Brisbane Convention and Exhibition Centre — Argentina's Matias Rueda.
Wilson (10-1, 7KO) takes on Rueda for the vacant WBO International super-featherweight title, to be shown live on Fox Sports and Kayo.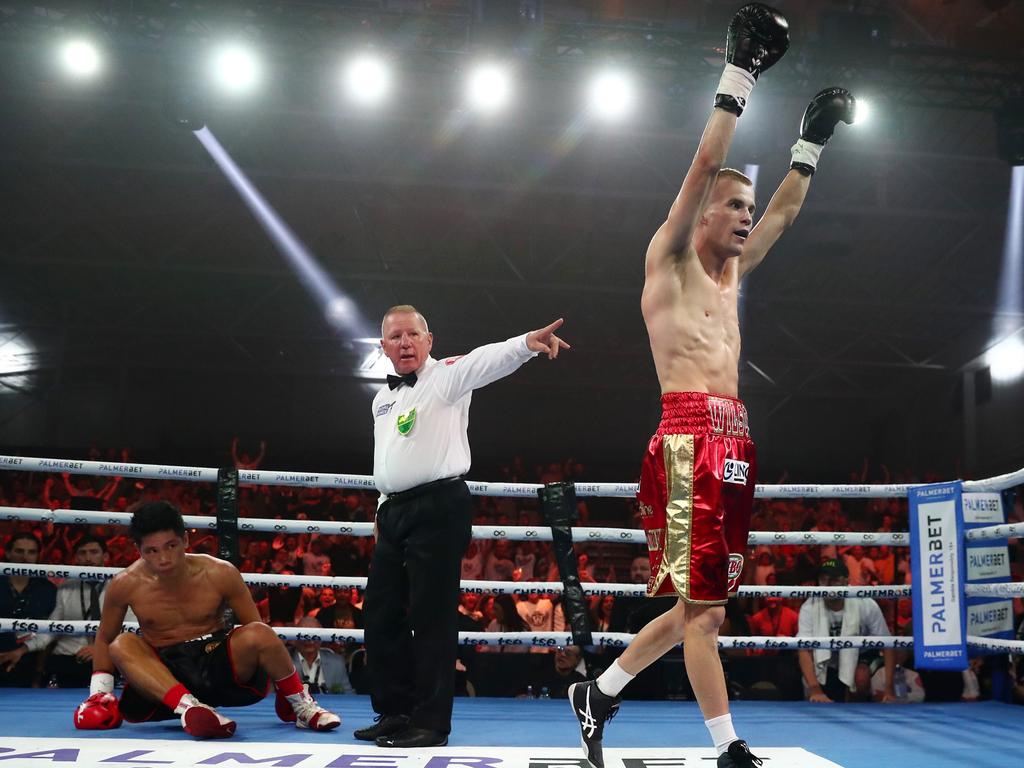 Wilson celebrates winning against Joe Noynay during their bout in Brisbane this year.
Rueda has an outstanding record of 37-1 (32KO). His only defeat was to dominant former world champion Oscar Valdez in 2016, after which he's reeled off 11 victories, nine by knockout.
But Wilson is ready for the challenge.
"I've always been a fighter, from a young age," he said.
"If I wasn't boxing I'd be doing some other kind of combat sport, but I fell in love with boxing, it's been inside me."
Wilson is father to daughter Charlotte and son Maverick, and fights for them as well as the memory of his father, who passed away from liver failure.
"Losing my dad, and me being a father, has made me the strongest person alive," Wilson said
"Because I want to make my dad proud, plus I want to make my kids proud. And I'm still on that journey.
"If I lose, I'm a loser. I want to show my kids what their dad is made of, and each time I step into that, I want to show them their dad is special.
"Making my family proud, and staying on the straight and narrow when my dad passed away — when he passed away I'd just home so I was by myself.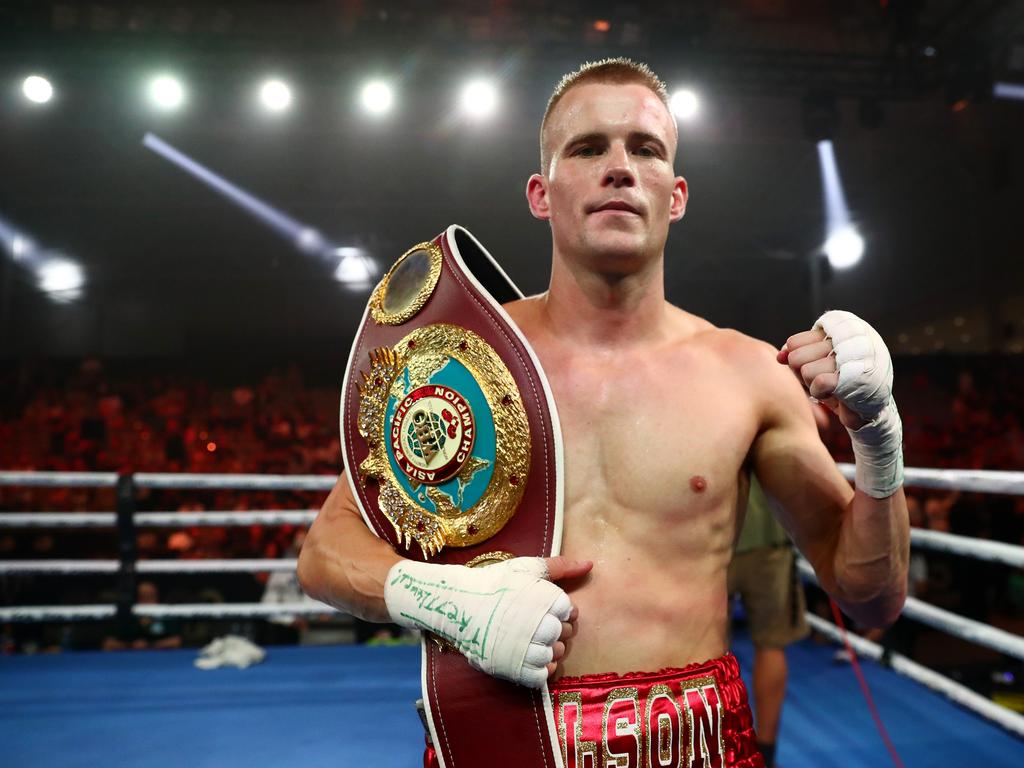 Wilson takes on Argentina's Matias Rueda on Wednesday night at the Brisbane Convention and Exhibition Centre.
"I was 15 years old, it was just a hard time, you're our partying, girlfriends, all the rest of it.
"It's a hard balance. I was so vulnerable, I had to keep my mind on the job.
"I knew from a young age I was going to be a world champion, it was only going to happen if I stuck to what my dream was.
"I grew up in Caboolture, it's well known for crime, violence, trouble. I could have easily gone astray — maybe I did in some cases, but I always came back to the thing I promised my dad I would be, a world champion, and I truly believed that.
"Any time I went through something hard in my life, I went back to that memory and reset.
"When I hold my kids I feel my dad's presence. How I feel with my kids is how my dad would've felt with me."
Originally published as Boxing 2022: Liam Wilson defeats Matias Rueda, Justin Hodges beats Ben Hannant, calls out Paul Gallen