Boxing 2022: Lucas Browne calls out Justis Huni
Lucas Browne will be standing in line waiting for a shot at Australia's heavyweight young gun in the wake of his stunning KO victory on the George Kambosos-Devin Haney undercard.
Former heavyweight world champion Lucas Browne believes Justis Huni will be too slick and quick for Joe Goodall.
And if Huni lives up to Browne's prediction, 'Big Daddy' will be standing in line waiting for a shot at Australia's heavyweight young gun in the wake of his stunning win on the George Kambosos-Devin Haney undercard last Sunday.
Just three days after his brutal first-round knockout of Kiwi giant Junior Fa, Browne flew to Brisbane for sparring with Huni and he believes the 23-year-old rising star will outclass Goodall at Nissan Arena.
Watch Heavyweights Justis Huni vs. Joseph Goodall battle for the WBO Oriental and IBF Pan-Pacific Regional titles. Wednesday 15 June from 7PM AEST LIVE with Main Event on Kayo Sports & Foxtel. ORDER NOW >
"I believe Huni will win the fight," Browne said.
"Goodall is a solid boxer and he is doing all the right things by going to America for sparring. He will be ready to go.
"I have sparred Justis about seven times and he is unreal. He is a great mover.
"Justis doesn't have my massive power, but he has got punches in bunches and as a heavyweight that's a good weapon to have.
"Goodall is as fit as hell so I'm expecting one of the great heavyweight fights.
"It will be a points decision ... and I think it will go to Huni."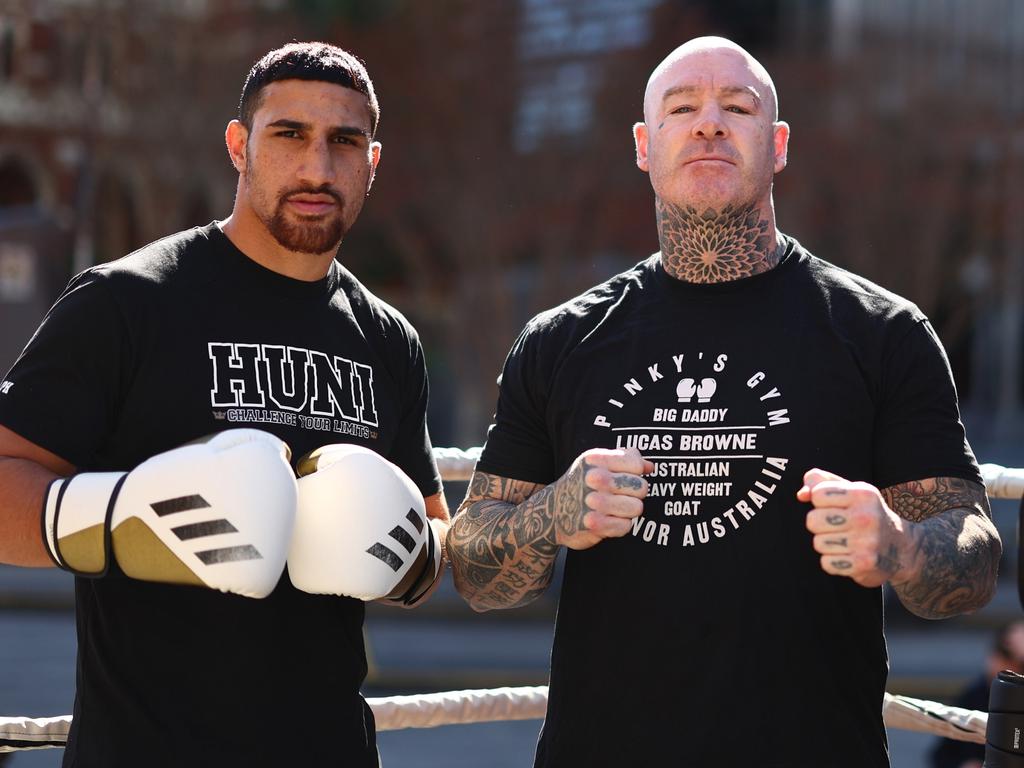 Lucas Browne (R) wants a shot at Justis Huni. Picture: Chris Hyde/Getty
Browne's career was in tatters when he suffered a shock first-round loss to NRL legend-turned-boxer Paul Gallen last year.
But, at age 43, Big Daddy is back in business after his remarkable 118-second demolition of Fa, who had won 19 of his previous 20 career fights.
The 118kg Browne (31-3, 27KO) believes he has three or four fights left and would relish a crack at Huni before he retires.
"It would be a great fight with Huni," said Browne, who won the WBA world title in 2016 before being stripped of the belt due to a controversial doping violation.
"Justis is a great talent. World class. But he could be winning 11 rounds against me and all of a sudden I can knock him out with one punch in the 12th round.
"Like Deontay Wilder, I have the power and when I land my right hand properly, I can knock anyone out in the world."
Tszyu holds TV ratings win over Kambosos
- Jamie Pandaram
Tim Tszyu remains Australia's pay-per-view king after George Kambosos Jr's undisputed title fight against Devin Haney last weekend failed to reach the heights of his former training partner.
Billed as "the biggest fight in Australian boxing history" with predictions it would sell more than 100,000 buys on Main Event, Kambosos Jr's defeat to Haney in Melbourne tanked.
A disappointed Main Event insider revealed the fight "did less than 60,000", which doesn't challenge Tszyu's top three fights on pay-per-view.
Tszyu (21-0, 15KO) has broken the magical 100,000 buy mark twice; against Jeff Horn and Bowyn Morgan – which was a double-header featuring Paul Gallen versus Mark Hunt on the undercard.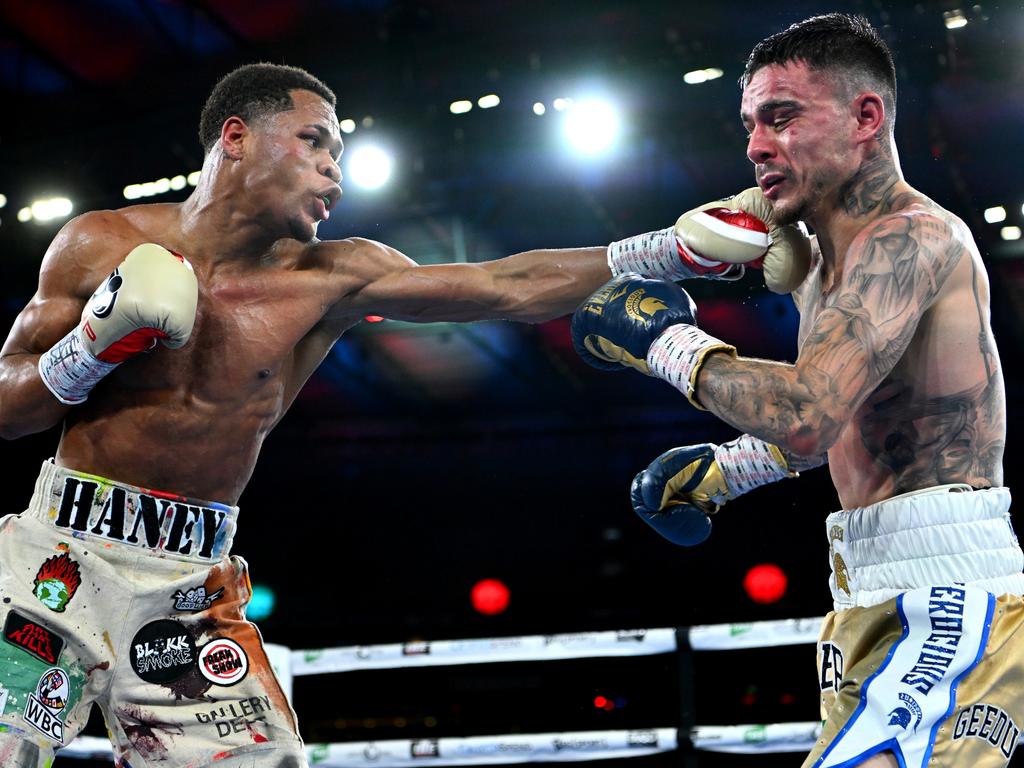 Devin Haney made light work of George Kambosos during their lightweight title fight in Melbourne. Picture: Getty Images
Tszyu's recent world title eliminator against Terrell Gausha in Minneapolis is understood to have surpassed 70,000 buys.
Kambosos Jr (20-1, 10KO) has a rematch clause in his contract with Haney (28-0, 15KO) but it is going to be a difficult sell for promoters Top Rank, headed by Bob Arum.
Haney's former promoter Eddie Hearn says the rematch would not make financial sense.
"This is a really difficult thing as a promoter when things like this happen, I wouldn't like to be involved in the contractual situation for the second fight," Hearn said on the DAZN Boxing Show.
Tim Tszyu is still Australia's pay-per-view king. Picture: Getty Images/AFP
"I don't know the ins and outs but it appears Kambosos has a rematch clause. He will call on the rematch, and you've got to pay the money as the promoter, for a fight that isn't really necessary in all honesty.
"When it's 120-108 or close to, do you really want to see it again?
"Obviously Kambosos is going to go, 'Yeah, absolutely, this is why I signed up to the fights'.
"If you're Devin Haney, you don't mind, because you're going to get paid more money to go and do it all over again. The problem comes from the promoters, the ones who have to put the money up.
"You bet and you bank on getting the TV rights, which they probably already had in place, and sometimes it can be difficult.
Haney celebrates his unification after pounding Kambosos. Picture: Getty Images
"Right now, knowing how the business works, Arum and those guys will go to Kambosos and say, 'Look, let Haney fight [Vasiliy] Lomachenko, we'll give you a comeback fight or we'll give you some step-aside money and you get the winner automatically'. And George Kambosos will say, 'No thank you. I want the rematch right now, and back in Australia'.
"He's got the right to do that, and that's when it becomes tricky, when you've got to pay for a fight that actually doesn't attract those numbers."
It's understood Kambosos Jr was paid $4.8 million from the fight.
Haney has told US media this week fights against Lomachenko and Gervonta Davis appeal to him most.
This has led to Sydney's Billy Dib – rated No.6 by the IBF in the lightweight division – to issue a challenge to Kambosos Jr.
"George showed a warrior mentality in wanting the fight, but his team should've been smart enough to say 'Let's have a couple of local defences and then we'll take the big one', he's now lost his championship in a lacklustre performance," said Dib (48-6, 27KO).
"He talked about being a Spartan warrior but he couldn't produce any pressure, Devin did what he needed to do.
"Do people want to see a rematch? Hardcore George fans will, but the majority of boxing fans won't because Devin will just do the same thing and outbox George in even more dominant fashion.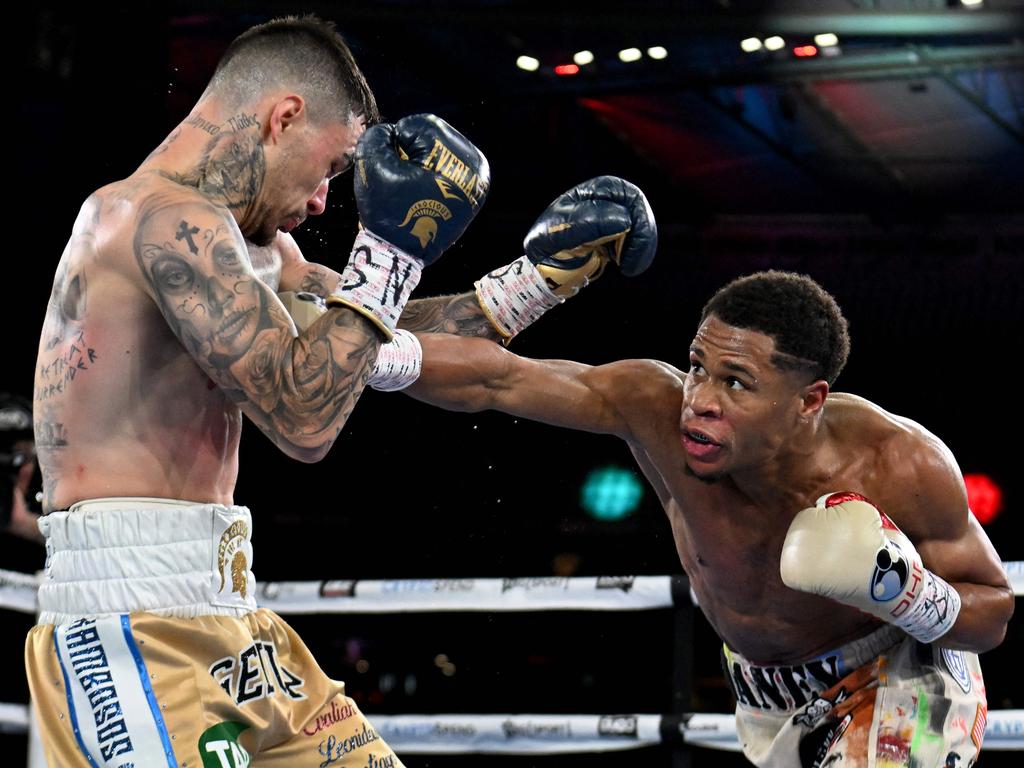 Kambosos couldn't match it with Haney in the ring, or Tszyu in the ratings. Picture: AFP
"If Lou Di Bella wants to come back to Australia and put on another show, I'm more than willing to step up to the plate.
"George is coming off a loss, I'm coming off a couple of wins and my ranking is high enough to warrant it, and you can never write me off."
Kambosos Jr and Tszyu trained together as youngsters under Igor Goloubev, but Kambosos left the team in 2017 after a falling out and relations between the pair are now frosty.
With Tszyu in negotiations to fight an undisputed title fight of his own at super-welterweight against champion Jermell Charlo, the pay-per-view competition between the pair will continue to be a major talking point
Huni fears a dirty street fight with Big Bad Joe
—Peter Badel
The Justis Huni camp fears Joe Goodall's stint in America learning the "dark arts" will turn the one-time boxing "marshmallow" into a dirty streetfighter in Wednesday night's heavyweight blockbuster in Brisbane.
Former sparring partners Huni and Goodall are predicting knockout fireworks when the twin towers collide in a monster 206kg showdown at Nissan Arena rated the biggest heavyweight fight in Australian boxing history.
The stakes are huge. The unbeaten Huni (5-0, 4KO) and Goodall (8-0-1, 7KO) will go toe-to-toe for the WBO Oriental, IBF Pan Pacific and WBC Australasian heavyweight titles.
The victor will surge into the world's top 15 rankings and land on the radar for a maiden world-title shot, in the process consigning the vanquished to a painful slog back from a maiden career loss.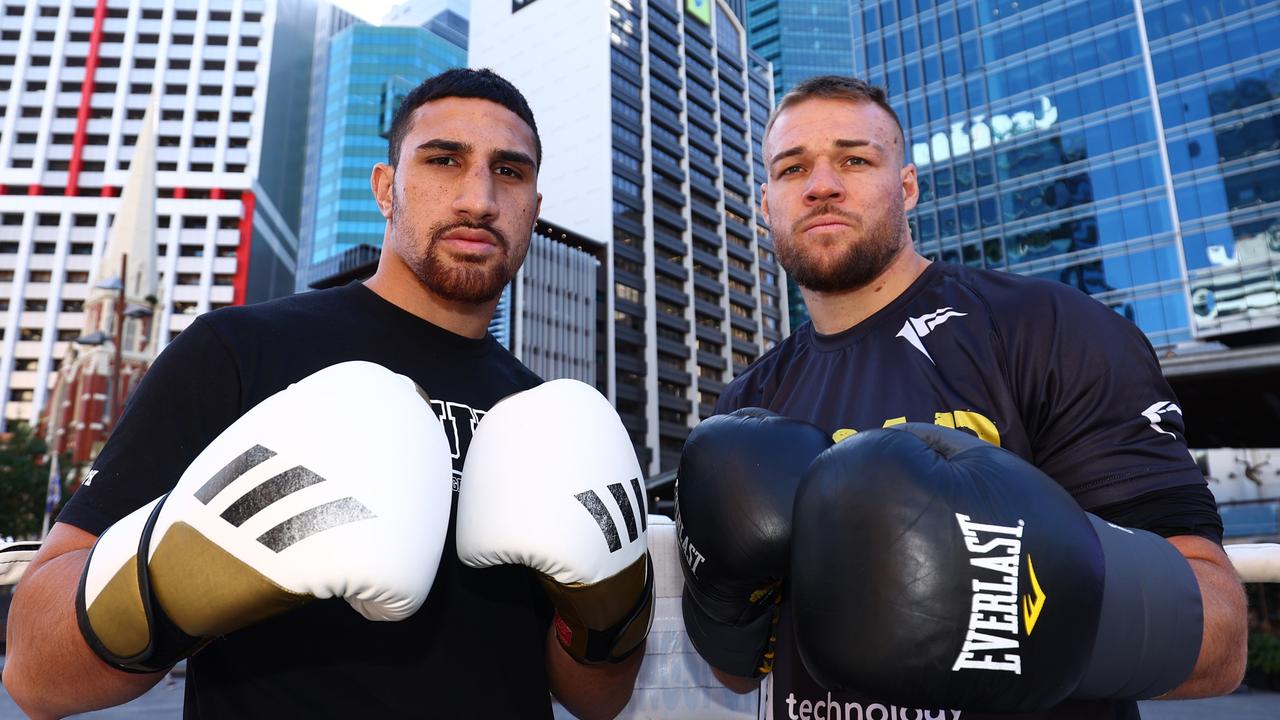 Justis Huni and Joe Goodall will trade blows in the biggest heavyweight fight in Australia's history.
The classy Huni will start as favourite but he has endured a turbulent build-up, marred by two bouts of Covid and the terror of a drive-by shooting that saw five bullets sprayed into his Brisbane home on Thursday.
Now 'Big Bad Joe' will come out all guns blazing. He is dangerously improving, sharpened by a six-month stint honing his craft in the States under legendary trainer Kevin Barry, who helped Kiwi Joseph Parker become a world champion.
Barry is renowned for giving his pugilists a ruthless edge. No short cuts. Take no prisoners. Huni is bracing to be dragged into the gutter like never before.
"I am super concerned about this fight," said Huni's promoter Dean Lonergan.
"Kevin Barry is a magnificent trainer; the master of the dark arts of boxing.
"I believe Joe Goodall went away a mental and physical marshmallow, but he has come back from America as a mental and physical piece of iron.
"Kevin Barry is in the hurt business and he will do whatever it takes for his fighters to win.
"When Joe enters the ring, we will see one dirty hombre. He will pull out every dirty trick in the book and I have warned Justis about this.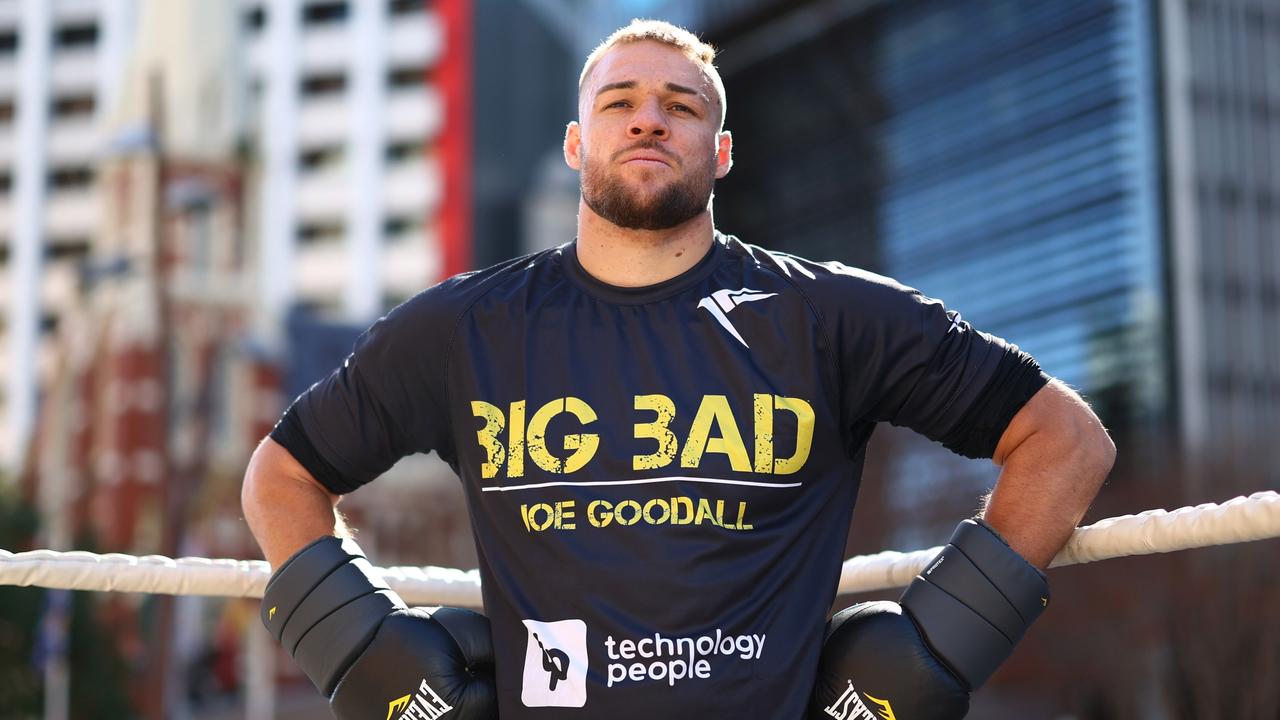 Joe Goodall says he has improved out of sight after a training camp in America.

"Everything from elbows to headbutts in the clinch to hitting low, standing on feet … all that s*** will come out in Joe's repertoire and Justis has to be ready for it."
Goodall has every incentive to get down and dirty. The 29-year-old has sparred more than 200 rounds with Huni, but has largely lived in his shadow.
For the past 18 months, Huni, 23, has been Australian boxing's heavyweight golden boy.
From his historic Australian title win in his pro debut, to the heartbreak of missing last year's Olympics after his defeat of Paul Gallen, Huni has hogged the limelight, leaving Goodall as the forgotten man of the domestic heavyweight scene.
As amateurs, they are neck and neck. Goodall won silver at the 2014 Commonwealth Games and bronze at the 2017 world championships. Two years later, in 2019, Huni also took bronze at the world champs. He won gold at the 2016 world youth championships.
"I feel like we had pretty similar amateur careers. On paper I probably did more," said Goodall, who at 197cm is four centimetres taller than Huni.
"My time overseas has been good to me. You spar against the cream of the crop over there.
"I'm here to show why I'm the no. 1 heavyweight in Australia. At 29, I'm in my prime.
"He has good skills, but I am definitely the bigger puncher. I have more power — six of my seven knockout wins were in the first round.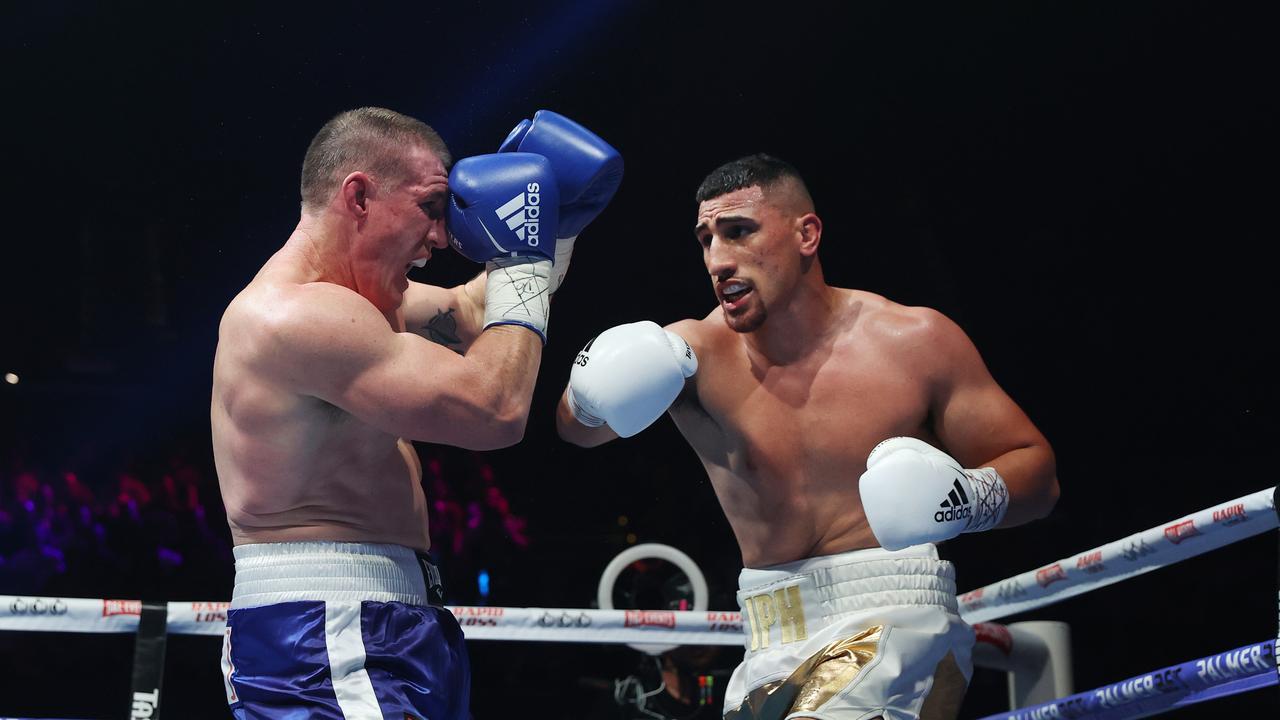 Justis Huni (right) hasn't fought in a year after undergoing hand surgery following his defeat of Paul Gallen.

"This is the biggest fight in Australian boxing history … and I'm here to seek and destroy."
For all his style, slick movement and rapid-fire combinations, the one criticism of Huni is that he lacks a true knockout punch. Another concern is his lack of activity. It has been a year since he fought Gallen with a damaged hand that required surgery, shattering his Olympic dream.
But Huni has seen all of Big Bad Joe's weapons from close range. Not even bullets flying into his living room can shoot down his burning ambition to conquer the world.
"It's unfortunate that it (the shooting) has happened, but I have tunnel vision on this fight," Huni said.
"There will be fireworks. We are Australia's best heavyweights, so bombs will be dropped and it's possible someone will get knocked out.
"It's good to be back. It was hard missing out on the Olympics, but I want to take all the frustration from that and put it into this performance.
"With respect to Joe, I am the better boxer … and I will show him on the night."
Originally published as Boxing 2022: Lucas Browne calls out Justis Huni