Boxing 2022: New world champion Jai Opetaia reveals death of his grandmother inspired him to fight on with a broken jaw
Jai Opetaia fighting with a broken jaw to win a world title will always go down as one of Australian sport's iconic moments. Now the boxer reveals for the first time his real pain during fight week.
Jai Opetaia has spoken for the first time about his broken-jaw heroics and revealed a more gut-wrenching pain — his dead grandmother being buried just four days before his epic world-title victory.
It's been two weeks since the Sydney-born Opetaia became Australia's newest world champion, somehow defying the pain of a broken jaw in two places to pull off a stunning upset of Latvian cruiserweight king Mairis Briedis in a Gold Coast slugfest.
In the process, Opetaia strode into Australian sporting folklore, emulating South Sydney rugby league legend John Sattler, who played 77 minutes of the 1970 grand final against Manly with a broken jaw.
Only now, some 14 days after having his shattered jaw wired, can Opetaia properly use his mouth to articulate the agony he endured to conquer the world and achieve a childhood dream.
Watch Boxing Live & On-Demand on Kayo. Selected international fights, classic bouts and more. New to Kayo? Start your free trial now >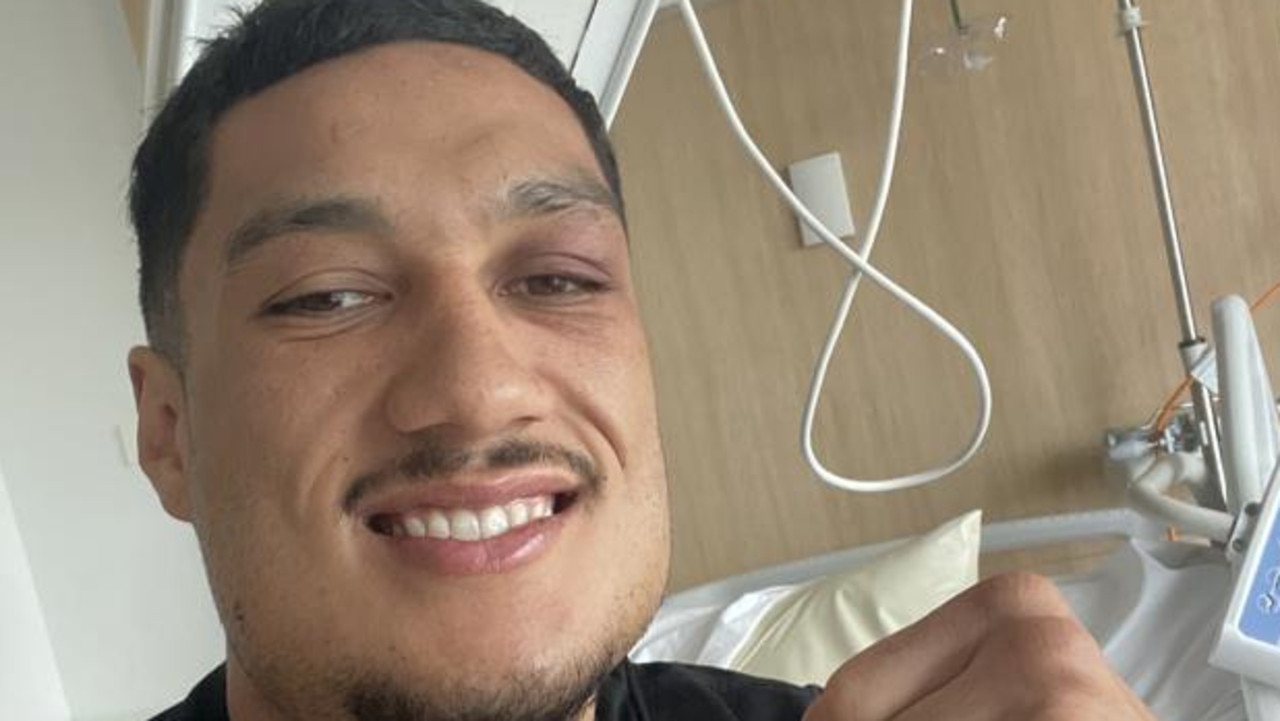 Australia's newest world champion Jai Opetaia recovers in hospital from a broken jaw.
Such was his desire not to fail against Briedis, Opetaia says he refused to tell his corner about a large cracking sound he heard early in the contest, fearing his trainer — or the referee — would stop the fight.
"To hear the words, 'New world champion', it's changed my life," said Opetaia, who fought 10 rounds with a broken jaw and somehow held on to win a 12-round war with a unanimous points verdict over Briedis.
"I knew after two rounds it was broken. I didn't want to say anything because it was in the back of my mind that they might stop the fight.
"The referee knew in the later rounds it was broken but I try not to even think about it now because it makes me sick to think the fight could have stopped beyond my control.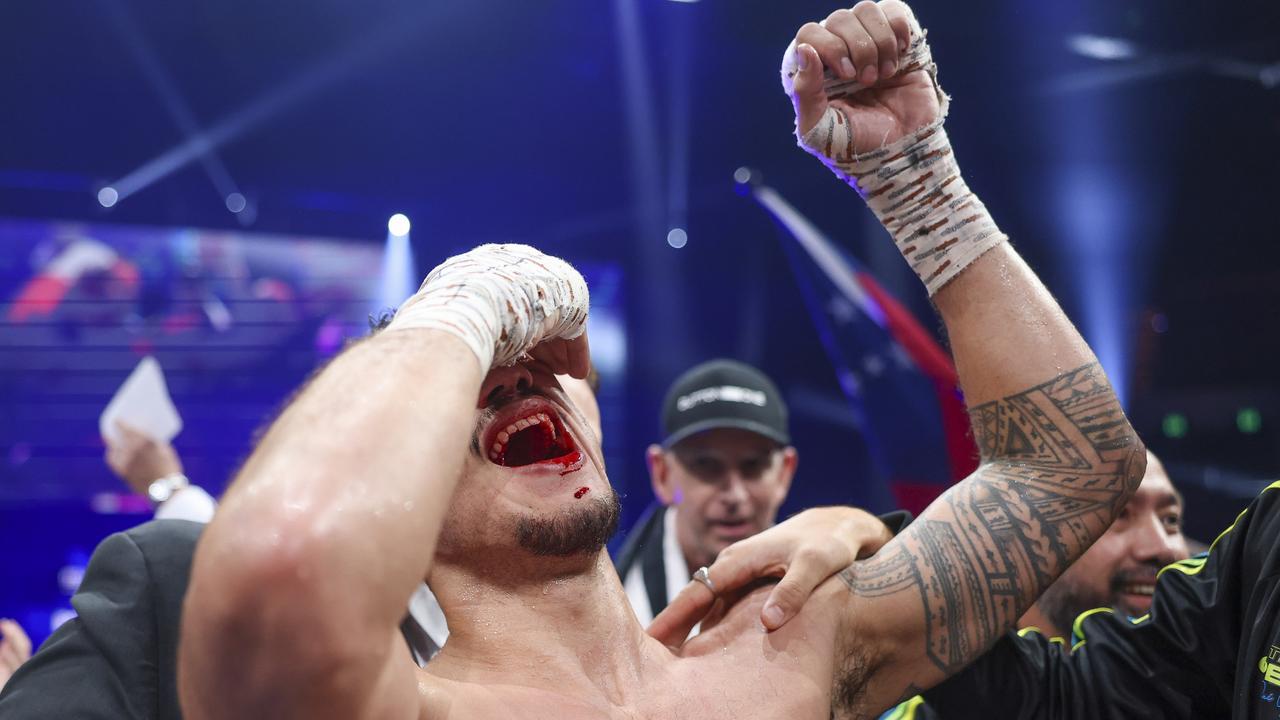 Opetaia celebrates his win for the IBF cruiserweight title on the Gold Coast.
"During the fight, I wasn't in heaps of pain because of the adrenaline, but my mouth was a mess.
"I just felt like I had heaps of small rocks in my mouth and whenever my jaw would move from side to side from a punch, it felt like these rocks would hit together.
"It was a weird feeling.
"My jaw was just hanging down, it wasn't connected to my skull at all so I couldn't really lift it up. I couldn't even bite down on my mouthguard, but I just knew I had to finish because I was winning the fight."
The 27-year-old vividly recalls the moment his jaw was first shattered — and then busted again in the championship rounds.
"In the second round, he got me with a good uppercut and I felt the left side of my jaw crack straight away," Opetaia said.
"It was in round 10 when I broke it a second time. My mouth was all over the place.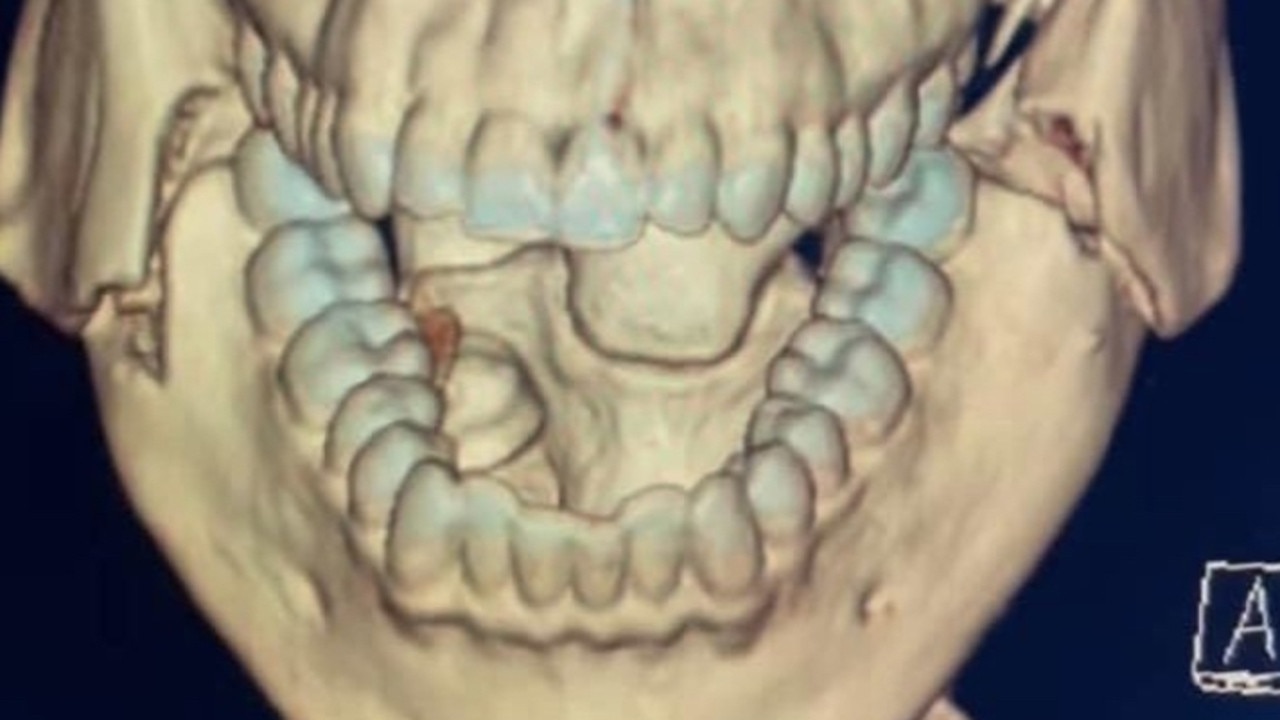 X-ray image of Jai Opetaia's face shows two cracks to either side of his jawline.
"In the later rounds, he definitely knew my jaw was broken because his corner was shouting out, 'Hit his jaw, hit his jaw'.
"If I never broke my jaw, I would have beaten him comfortably in my opinion. I was dominating the early rounds.
"But as the fight went on, I felt I just needed to not get hit and I was working a lot on my defence. That's why I lost the later rounds. It was hard for me to engage because I was protecting my jaw, which was moving from side to side.
"Towards the end, my corner could see my jaw was broken. But I was never going to quit. I was never going to lose that fight."
The seeds of stoicism were planted in fight week, when Opetaia's grandmother Elizabeth died after a battle with cancer.
Opetaia during the IBF cruiserweight title fight at the Gold Coast. Picture: Peter Wallis/Getty Images
She was buried some 96 hours before a grieving Opetaia faced Briedis for the biggest fight of his life. He remains gutted at not being able to attend his nan's funeral.
"The lead up was the most difficult period of my life," he says.
"I broke my ribs in sparring (in April), but I also had a lot of family drama going on.
"I haven't spoken about this, but the week before the fight, my nan passed away.
"We buried her four days before the fight. I was f---ing devastated. I wasn't able to go to the funeral because I had to prepare for the fight, so that was worse than the pain of any broken jaw or ribs.
"Losing her was massive motivation. I missed my nan's funeral, so imagine if I quit or didn't finish the fight because of a broken jaw … I thought, 'F--- that, no way am I losing.
"I wanted to win that world title for her — and I did."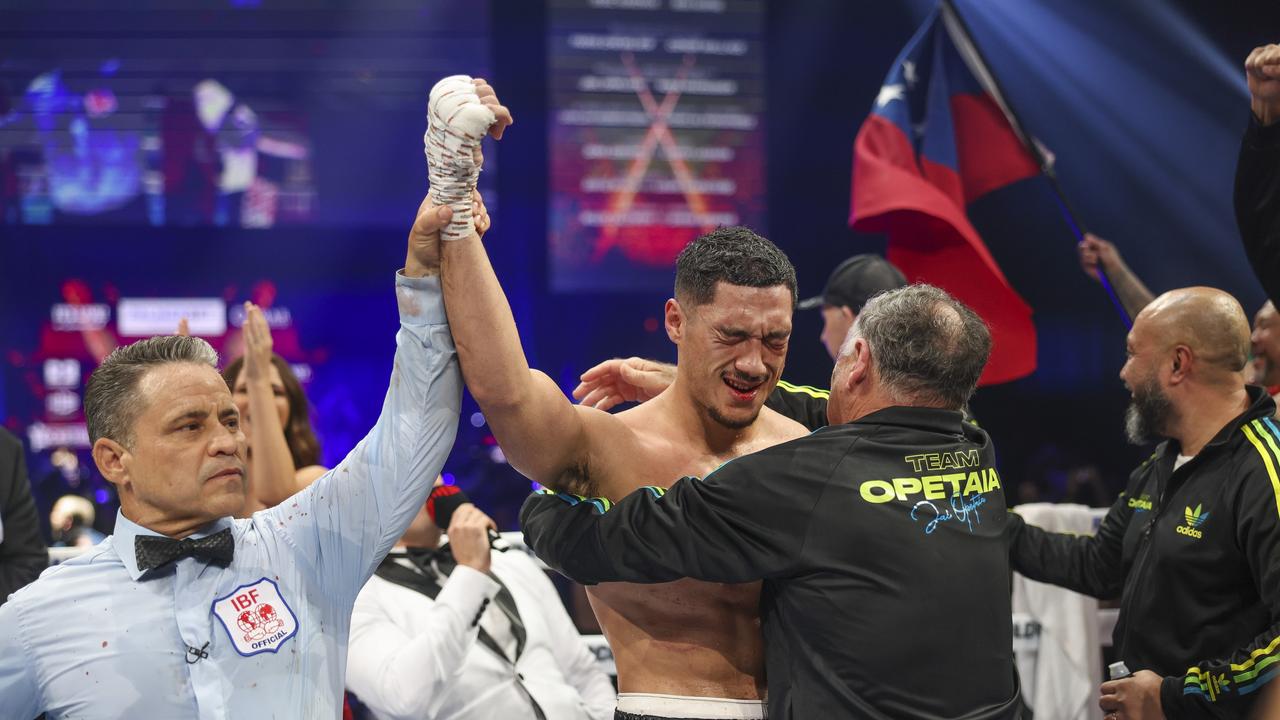 Opetaia dedicated his world title win to his sick grandmother, who died in fight week.
Opetaia has now usurped George Kambosos, who lost his world-title straps to Devin Haney in June, as the king of Australian boxing.
There are longer-term plans for Opetaia to move up to the heavyweight division, but for the moment, the stylish Aussie-Samoan southpaw has one burning goal: to be an undisputed cruiserweight legend.
"I want to unify the division," he said.
"I don't see myself going up to heavyweight for ages. I might not go up at all. If I'm fighting at cruiserweight and making good money and there's no reason to go up, I won't.
"My broken jaw will slow my return to the ring, but in about four or five months I will be back and I will be ready for my next fight.
"Now that I have won a world title, everyone wants to fight me and get paid.
"I will only get better from here. Winning a world title has given me more confidence. I can't wait to defend my world title and get more belts."
Originally published as Boxing 2022: New world champion Jai Opetaia reveals death of his grandmother inspired him to fight on with a broken jaw