Boxing: Justis Huni's cousin Hone to compete on Huni-Goddall undercard
Five years after he quit boxing and 56kg lighter, Justis Huni's cousin Hone is being tipped to make an big impression in the domestic middleweight division.
First there was Justis Huni.
Now another Huni is ready to make a mark on Australian boxing.
Buoyed by losing a staggering 56kg, former Australian amateur representative Hone Huni is back in business and will launch his professional career on the undercard of the Justis Huni-Joe Goodall blockbuster at Brisbane's Nissan Arena on June 15.
The date is significant for it will be exactly five years to the day since Hone, the cousin of heavyweight kingpin Justis, quit boxing.
During his hiatus, Hone, now 25, admits he went off the rails.
He battled mental-health issues and binged on alcohol and junk food, with the talented middleweight ballooning to 136kg as Huni's life spiralled out of control.
But the sight of Justis' rise to win the Australian heavyweight title has ignited the fire in 'Hurricane' Huni, a two-time world championships representative who won 103 of his 118 amateur fights.
"When I walk into the ring on June 15, it will be five years since my last fight," said Huni, who will debut against Queenslander Tom Wilkinson.
"As an amateur, I made the quarterfinals in the youth world championships and I won a bronze medal for Australia at a Golden Gloves tournament in Serbia.
"But then I decided to give up on boxing. Things went bad for me mentally and I lost my love for the sport. I fell in love with drinking and eating a lot. I thought it was making me happy but the truth was I was really unhealthy.
"One year ago, I decided to make the change back to boxing. I have gone down from 136kg to 80kg and 72kg is my target weight.
"Justis is a massive inspiration for me. We are in the trenches together at training and seeing what he has achieved has given me that extra drive to get my career back on track."
Justis' father and trainer Rocki says Hone has the natural talent to make waves in the domestic middleweight division.
"We are hoping for big things from Hone, he is basically a smaller version of Justis Huni," Rocki said.
"Once he gets down to the right weight, people who know boxing know he can fight. He is evasive and has good speed and footwork.
"Hone went through some tough times like many teenagers do, but he is starting to sharpen up again."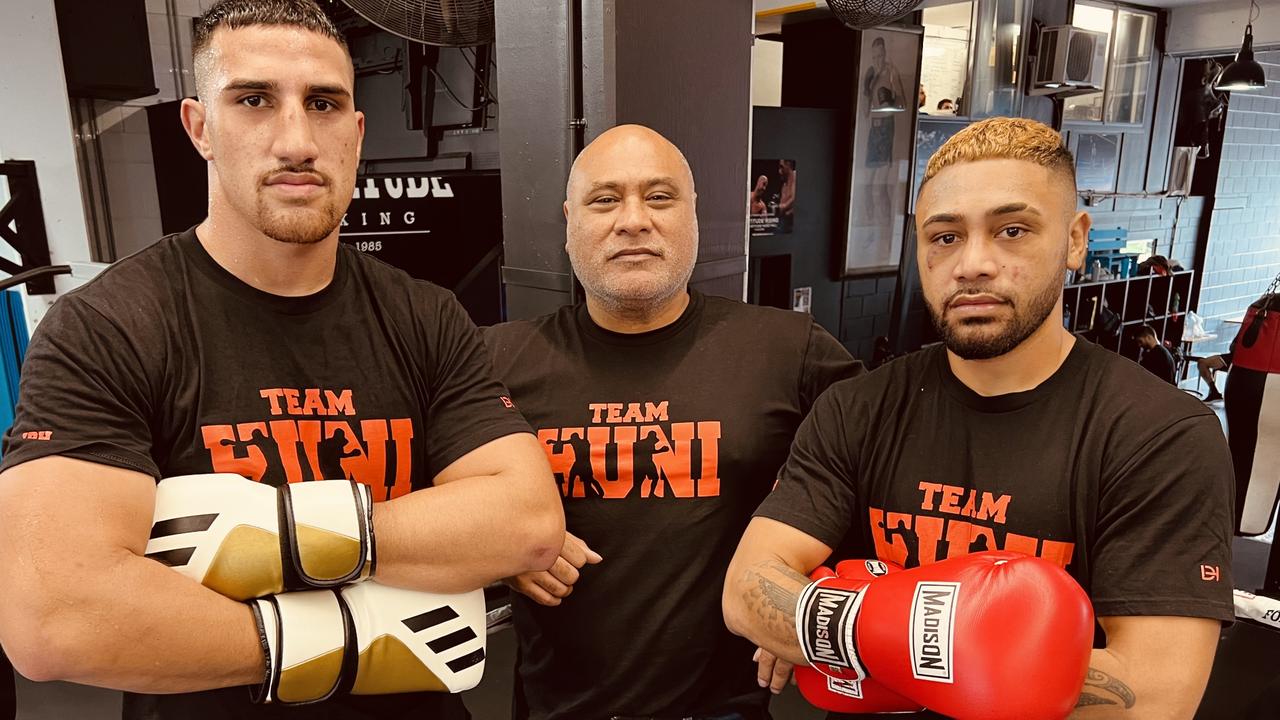 Justis Huni (left), father and trainer Rocki (middle) and cousin Hone Huni.
BRUTAL STOPPAGE BRINGS TSZYU WAR CLOSER
Jamie Pandaram
Tim Tszyu has his wish, but it may be a case of be careful what you wish for after Jermell Charlo produced a spectacular knockout win to become the undisputed super-welterweight world champion.
Charlo stopped game rival Brian Castano in the 10th round of their epic rematch in Los Angeles, first dropping him with a heavy overhand left, and the following up with a left uppercut and body shot double to stop proceedings.
The fight up to that point was a brutal, supercharged display of boxing and counter-fighting that had the crowd — including Tszyu — on their feet and is a 2022 Fight Of The Year contender.
"Great fight," Tszyu said. "Now it's my turn."

Tszyu, who has a bitter rivalry with Charlo, had said on the broadcast panel that he wanted the American to prevail so he could fight him next.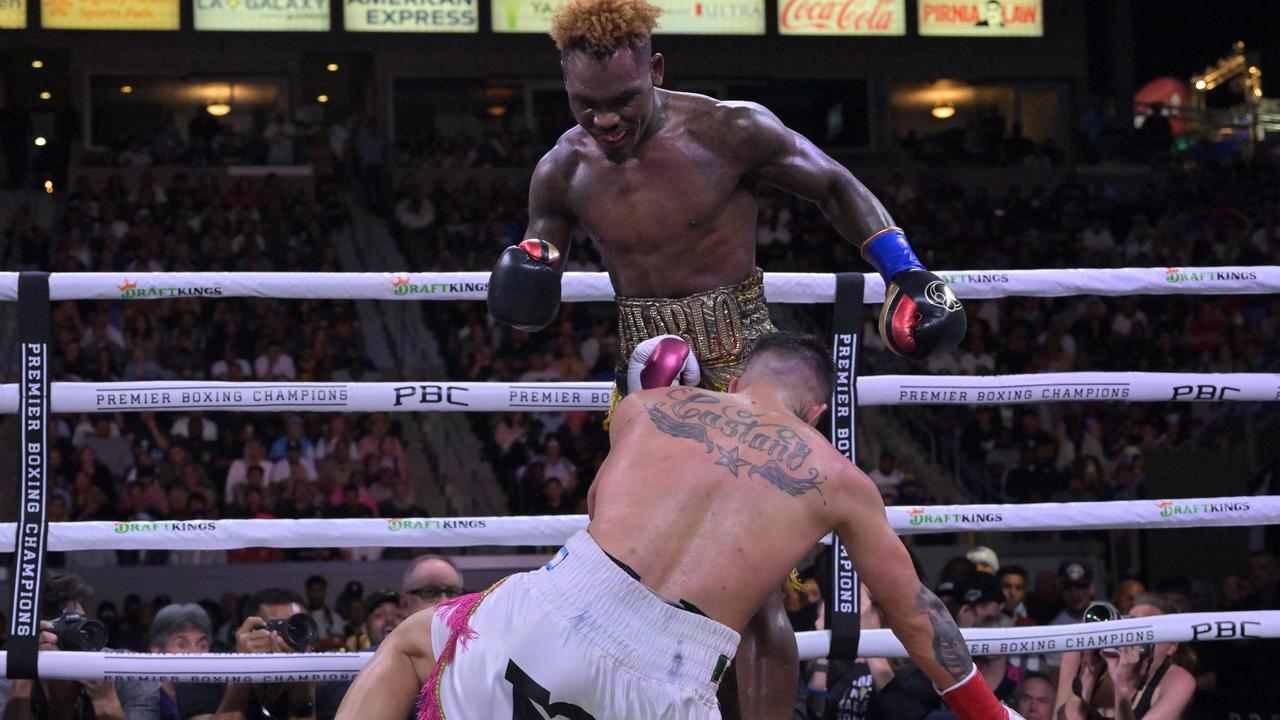 Jermell Charlo (gold/red shorts) knocks down Brian Castano during their super middleweight title fight. Picture: Jayne Kamin-Oncea/Getty Images
Tszyu was No.1 mandatory challenger for Castano's WBO super-welterweight belt, but now Charlo has taken that with his knockout win to add to his WBC, IBF and WBA titles.
Charlo said he was not sure what his future held, and hinted at moving up a weight division to middleweight where his twin brother Jermall Charlo reigns supreme.
But Tszyu will be pressuring Charlo for all four belts in September or October when his hands are healed from tendon surgery.
Charlo improved his record to 35-1-1 (19KO) while in the process handing Castano his first career defeat.
The pair fought to a controversial draw last year, when most felt Castano won over 12 rounds, but Charlo was far more aggressive in the rematch.
"This is legacy, this is something that is legendary, I am a legend," Charlo said.
Charlo joins Bernard Hopkins, Jermain Taylor, Terence Crawford, Oleksandr Usyk, Josh Taylor and Canelo Alvarez as the only men to hold all four major titles in one division.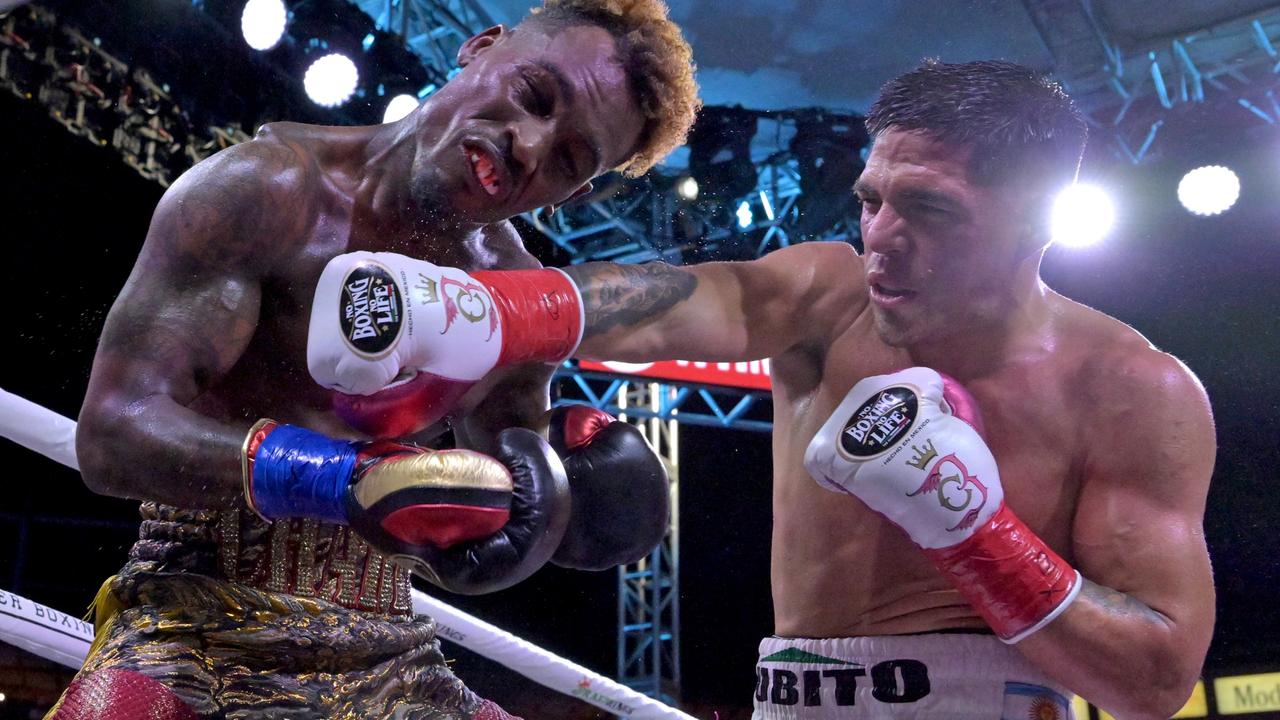 Jernell Charlo takes a punch from Brian Castano (right). Picture: Jayne Kamin-Oncea/Getty Images
Castano (17-1-2, 12KO) was gracious in defeat.
"He hit me, he got me," Castano said.
"Everything said outside the ring was bull, we showed we are warriors tonight, we've got to feed our families.
"We both were fighting back and forth and his right hand came forth and he is the champion."
Tszyu (21-0, 15KO) has been mandatory for the WBO title for two years and is desperate for first crack at Charlo.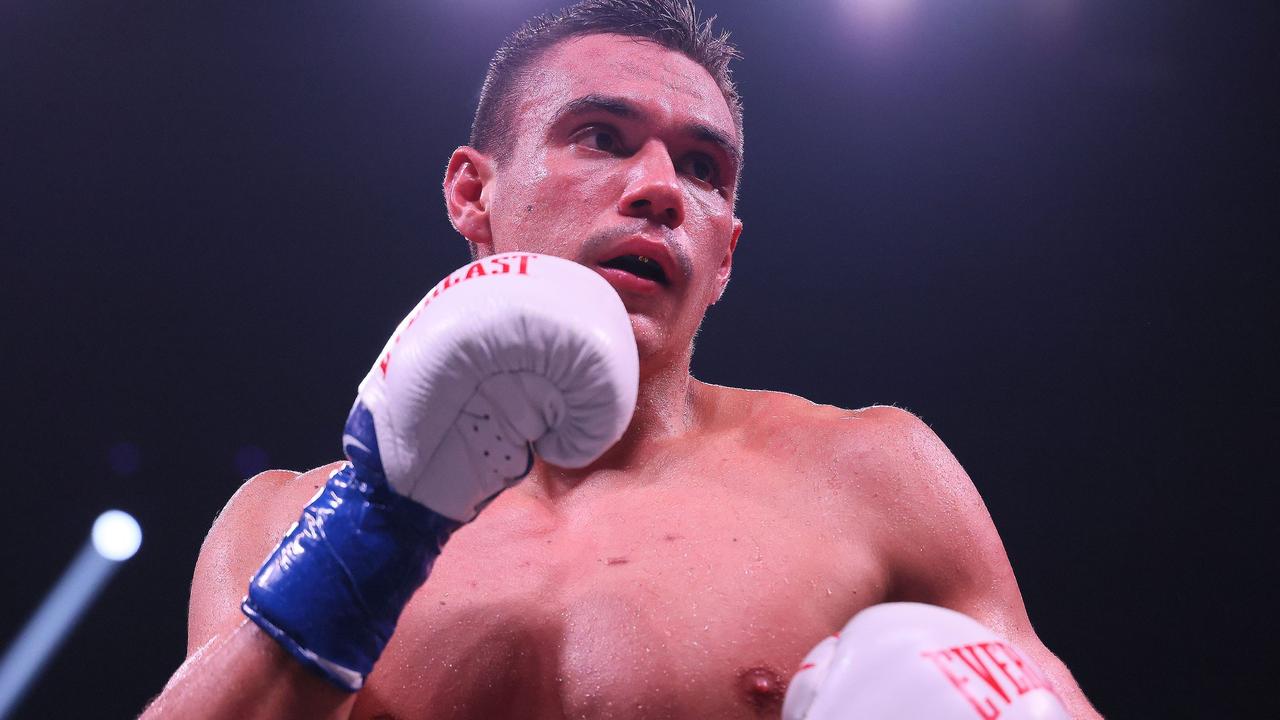 Tim Tszyu will be pressuring Charlo for all four belts in September or October when his hands are healed from tendon surgery.
Already, the animosity has grown between the pair after Charlo repeatedly referred to Tszyu as "Tim Kostya Tszyu".
Tszyu gets incensed at the inference that he is only successful because of his legendary undisputed champion father Kostya, prompting him after his US debut win against Terrell Gausha to warn Charlo: "Call me by my mother------- name".
"When you're at the top like this, you get a bunch of mandatories and a bunch of No.1 guys, and you've just got to be ready for it," Charlo said.
"I don't know what I'm a do next."
Tszyu out to smash Mundine record
Tim Tszyu has vowed to smash Anthony Mundine and Danny Green's pay-per-view record as he aims to become a global boxing identity.
The undefeated Australian believes he can command a similar profile to heavyweight champion Tyson Fury, and move several weight divisions like Saul 'Canelo' Alvarez, as he charts the next stage of his career, which will largely be in the United States.
Tszyu (21-0, 15KO) is in Los Angeles to watch Sunday's undisputed super-welterweight rematch between Jermell Charlo and Brian Castano, and will be calling out the winner for all four major belts.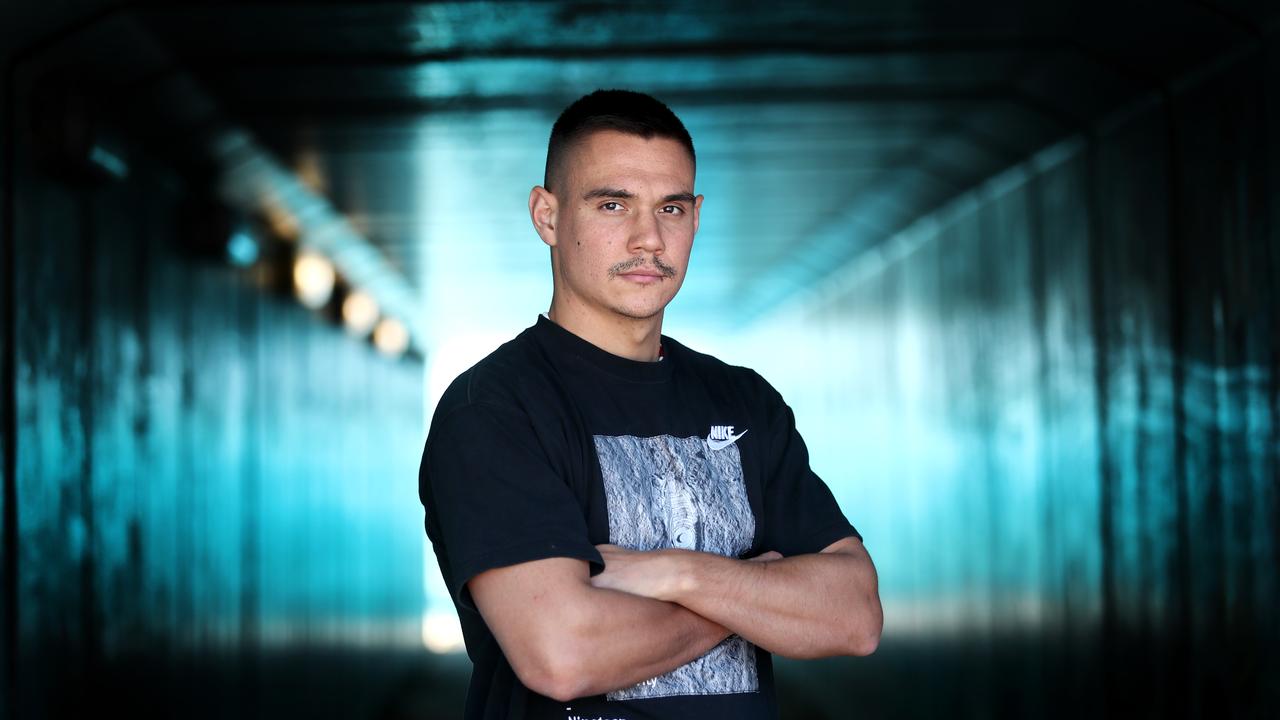 Tim Tszyu plans to become a global boxing star like Tyson Fury. Picture: No Limit Boxing/Gregg Porteous
But he also has his eyes on the incredible Australian pay-per-view record of 200,000 subscribers set by Mundine and Green in their first bout in 2006.
"It will be broken, in the next few years it will be broken," Tszyu told News Corp.
"Not now, I know it's a gradual process.
"Having belts of course helps with that, but you also have to have a big enough name to break a record like that.
"An overseas rival, a worldwide rival, will bring something out like that. And there's big names out there, massive names especially in my division.
"And with my build, I've always said once I win the title in 154, I'm going to be like Canelo, I'll go back and forth in any weight division later on, it doesn't bother me because I'm strong enough to mix it with the big boys.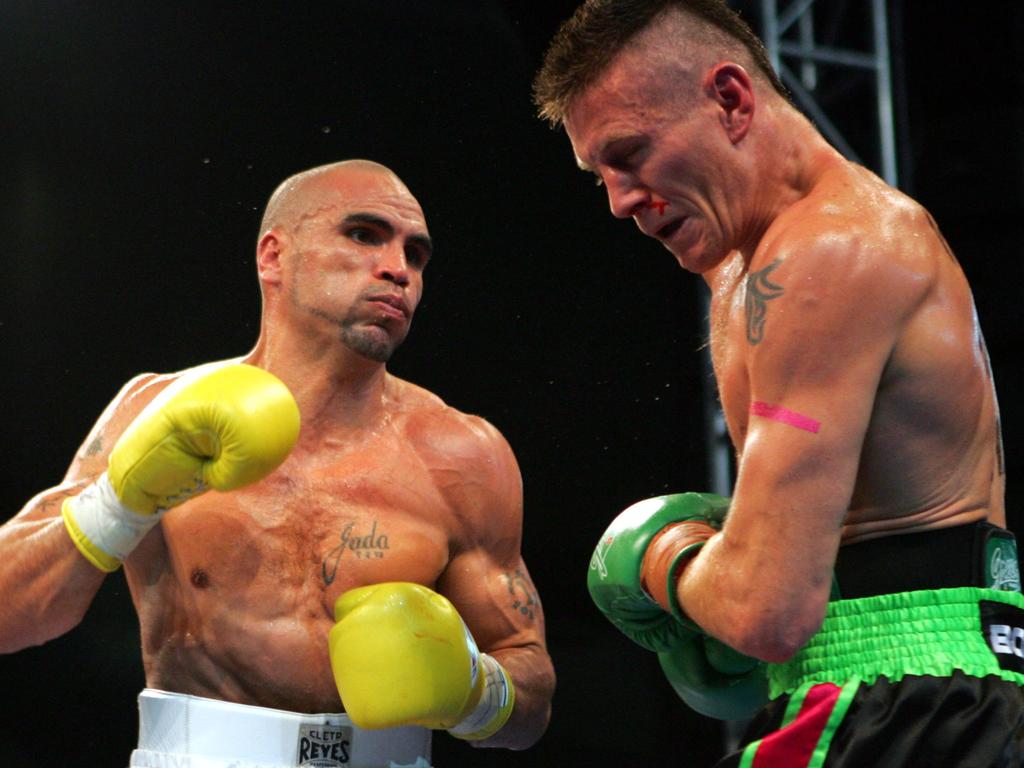 Anthony Mundine's fight against Danny Green in 2006 set an Australian pay-per-view record.
"I've just got to do this one thing.
"It's crazy. I was just thinking the other day, 100,000 pay-per-view buys is massive in Australia, 100,000 pay-per-view buys in America is dog s--- and my goal now has become to be like a Tyson Fury, at that level.
"And to be at that level you've got to go there and fight the big names, and take them out."
Tszyu is by far Australia's biggest pay-per-view star right now, averaging more than 70,000 pay-per-views in his past few fights, more than double of closest rival Paul Gallen.
Tszyu broke 100,000 pay-per-view buys against Bowyn Morgan, which featured Gallen on the undercard, and had 94,000 buys for his victory against Jeff Horn.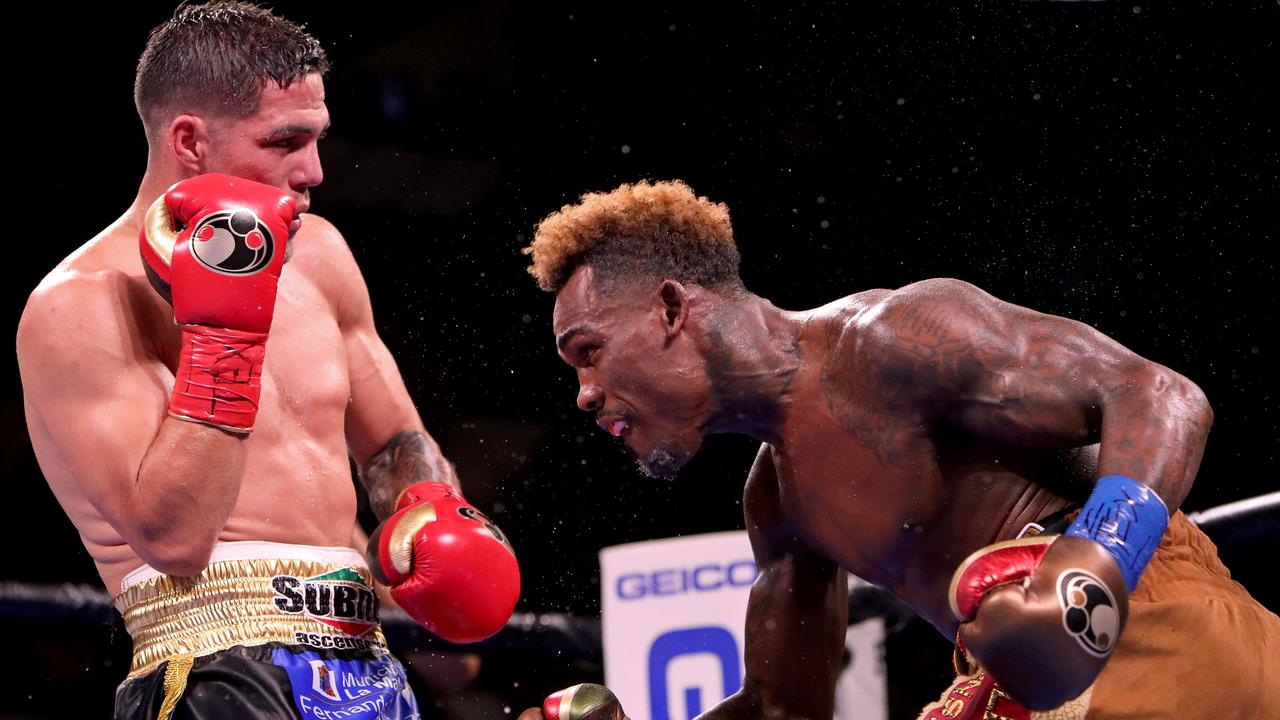 Brain Castano and Jermell Charlo will clash again in LA this weekend. Picture: Edward A. Ornelas/Getty Images/AFP
Such is his appeal, the Charlo-Castano rematch — after last year's draw — will be shown free on Showtime in the US, but costs $29.95 in Australia through Main Event and Kayo (Sunday 11am AEST), because of the hype around who Tszyu will face for his maiden world title shot.
"The ideal scenario is Charlo, and then Errol Spence back-to-back," said Tszyu, who shot down claims by boxing's pound-for-pound No.1 Terence Crawford that he should fight Charlo should he defeat Spence at welterweight.
"I think Crawford should stay in his division, he's done nothing at 154 pounds, I've fought how many fights now at 154 so I should be the next one in line.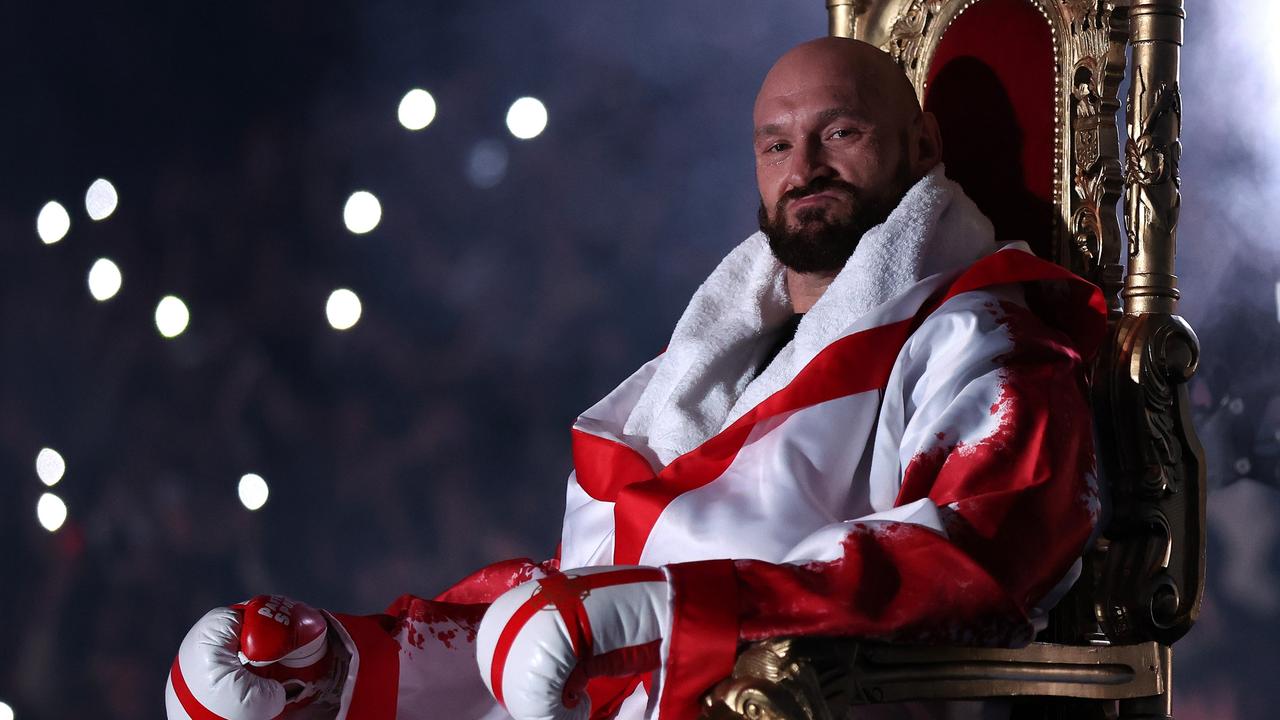 Tim Tszyu wants to be a global star like heavyweight champion Tyson Fury. Picture: Julian Finney/Getty Images
"And once I get the belts, then maybe we should start talking about me and Crawford if he's going to beat Spence.
"These boys are small. Remember how Terrell Gausha said nobody bullies him? I picked him with one hand, and threw him to the other side of the ring, he was running around. And he said it himself, I'm the toughest mother------ he's ever fought, and he's fought some big names.
"There's a lot of boxing skills I need to work on, but physicality? I feel like I'm the strongest in my division."
Originally published as Boxing: Justis Huni's cousin Hone to compete on Huni-Goddall undercard