Boxing: Tim Tszyu's warning for bitter rival Jermell Charlo as he eyes big prizes in United States
Tim Tszyu says he is done fighting in Australia and will chase the big names in the United States, starting with his most bitter rival.
Tim Tszyu has declared he wants bitter rival Jermell Charlo's head more than he wants his titles as he departs for the United States, where he now plans to have the majority of his bouts.
Tszyu will be ringside for the super-welterweight unification rematch between Charlo and Brian Castano in Los Angeles (to be shown live on Sunday in Australia on Main Event), with the winner to hold all four major belts.
"I want to look Charlo or Castano straight in the eyes, show them I'm here, and I'm coming for their belts, I'm coming for their heads," Tszyu said.
Tim Tszyu has his eyes on the big prizes in the US. Picture: Adam Bettcher/Getty Images/AFP
"I couldn't care about the belts, I want their heads.
"The belts are a little trophy, that's all. I want their head.
"I want Charlo, if Charlo wins."
The animosity between Tszyu and Charlo has been growing for months, with Charlo constantly referencing the Australian boxer as "Tim Kostya Tszyu", to which Tszyu takes exception and prompted him to respond by saying: "Call me by my name mother-----" after he defeated Terrell Gausha in Minneapolis a few weeks ago.
Charlo posted an online video after that fight, in which Tszyu was dropped in the first round, saying: "I'll knock Tim Kostya Tszyu the f--- out.
"That was the first mother------ (Gausha) that hit you in America.
"Believe me, he ain't been hit. I'm Iron Mike."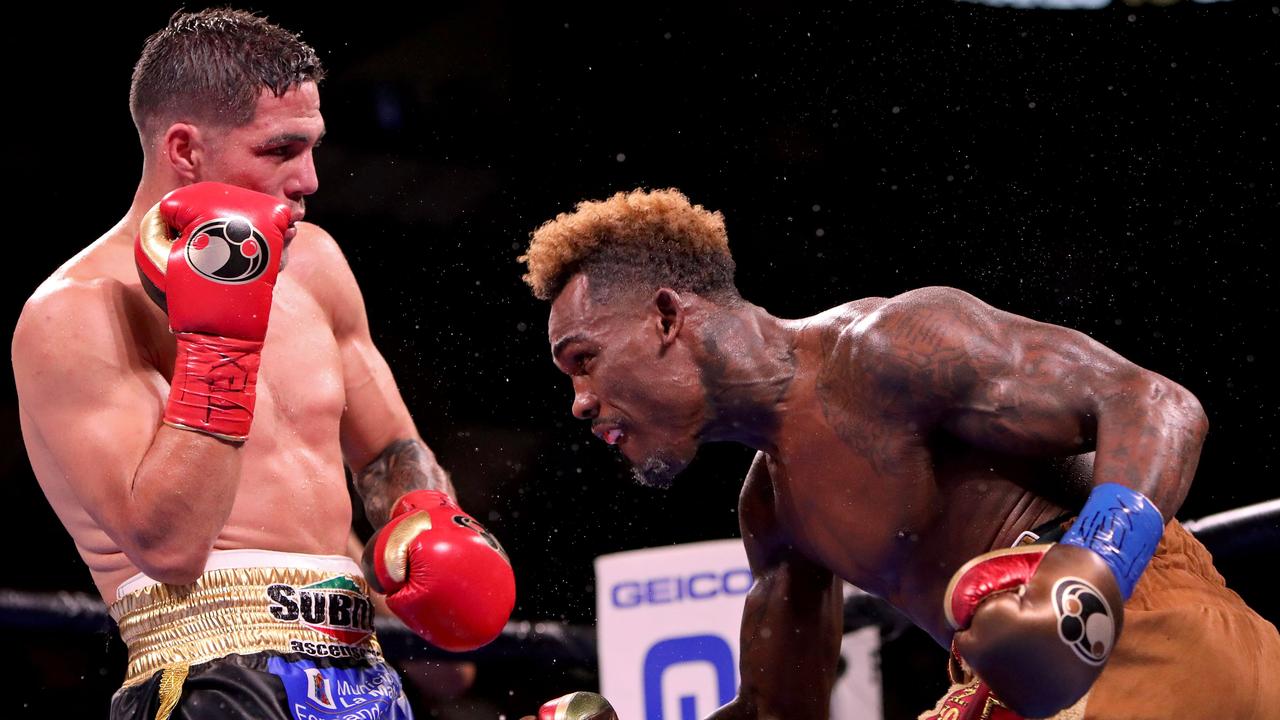 Brain Castano and Jermell Charlo will clash again in LA this weekend. Picture: Edward A. Ornelas/Getty Images/AFP
The undefeated Tszyu said: "I hope Charlo sees me as an easy target, that's what I want. Because he clearly knows about me, he made a little video straight after the fight."
Asked if he would confront the winner in the ring, Tszyu said: "We'll see how the situation goes, they're going to be on a high and buzzing, I'm not going to do a cringe Michael Zerafa move, real amateur s--- like that, I'll keep it professional of course.
"I've fought a Showtime headliner, and the Showtime boss (Stephen Espinoza) came up to me and said let's make more fights than we did with your dad.
"I'm keen on that. America is the place I want to be, and I want to fight all these top names.
"I'm happy with the way things have progressed in Australia. It's great, but now my mind is elsewhere, I've gone beyond this little island we have, I want to make it big time."
Tszyu underwent surgery on both hands last week to repair nerve damage suffered in the 12-round win against Gausha, and says he will be ready to return in September or October.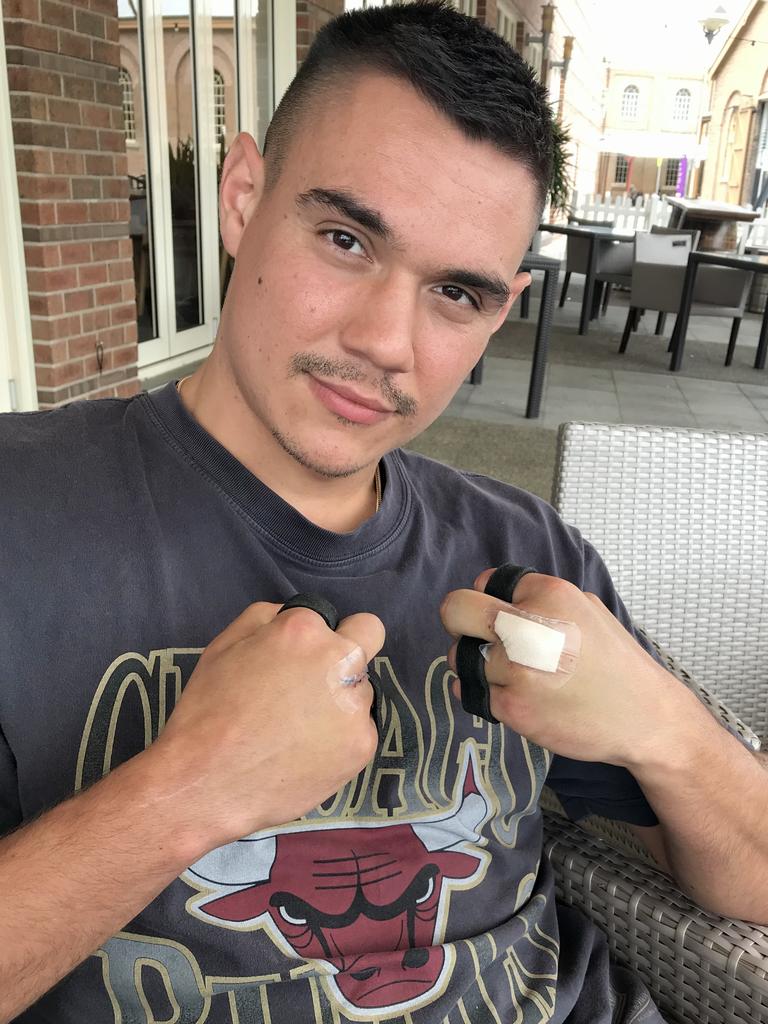 Tim Tszyu has swollen hands after undergoing surgery to repair damaged nerves. Picture: Jamie Pandaram
"Right now it's completely raw and swollen, you can see it's like a balloon," Tszyu said.
"I can't even make a fist at the moment.
"But the surgeon did a good job, cleaned it all up, put the tendons back on so they're going to be much stronger than they were before.
"It's usually two months, I won't be able to hit pads or spar. But it's a good time for fitness conditioning once the stitches are out. It's also a good time to get the little niggles and spots out of my body that I haven't had time to recover from.
"I've got a bit of time behind me, and the boys (Charlo or Castano) aren't going to fight straight away. My next fight is for a world title.
"I don't want to do any more of these crappy eliminators, I've done three eliminators in a row, it's about time.
"And the last one was against a top opponent.
"How many fighters have I fought that have fought for world titles, and I haven't even fought for a world title. And I've bashed every single one of them.
"Give me a chance. It's inevitable."
Originally published as Boxing: Tim Tszyu's warning for bitter rival Jermell Charlo as he eyes big prizes in United States