Boxing: Tokyo terrors Harry Garside and Paulo Aokuso take professional step together
Australian star Harry Garside has opened up on the Olympics heartbreaking snub of boxing while he and Paulo Aokuso will make major professional milestones.
Tokyo 2020 Olympic Boxing team. Picture: Getty Images
Harry Garside and Paulo Aokuso are using their Olympics platform to launch professional careers, but they may be among the last to do so.
With boxing not part of the 2028 Olympics schedule in Los Angeles amid concerns of corruption in governance, the long-worn path of amateur stars walking from medal-winning Games performances into the lucrative professional arena could be facing a permanent roadblock.
"It's heartbreaking," said Garside, Australia's first boxing Olympic medallist in more than three decades with his bronze in Tokyo last year.
"Boxing has been one of the main sports at the Olympics, it's only missed one Games and that was in Sweden in 1912 because they weren't allowed to fight [in the country] back then.
"To hear that it's not going to be at the Olympics potentially is heartbreaking, because realistically the people who miss out are the athletes.
'Its heartbreaking' - Garside on Olympics snub. Picture: No Limit Boxing / Brett Costello
"There's some young kids who hopefully I inspired, and maybe they want to go to the Olympics for boxing, and now that they can't, it's sad.
"I really hope they can fix it, and be at the Brisbane Olympics in 2032 especially.
"I hope they can sort out the corruption and whatever else is going on."
Boxing is still scheduled for the Paris Games in 2024, however its future looks bleak – as even E-sports looks to become a competitive event at the LA Games.
But Garside and Aokuso plan to be world champions by then.
On March 30 at Sydney's Hordern Pavilion, on a stacked card to be shown live on Fox Sports, Garside (1-0, 1KO) headlines against Manuer Matet (4-1, 2KO) for the vacant Australian lightweight title, while Aokuso makes his pro debut against Michael van Nimwegen (11-7, 5KO).
It's a major step for the Tokyo teammates.
2020 Tokyo Olympic Boxing team. Picture: Getty Images
"I know Paulo is one of the most talented athletes in this country and he's going to show up on the 30th, he's got a style for the pros," Garside said.
"To be fighting for the Australian title in my second fight, I feel honoured but I've been training my whole life for this.
"This is just the stepping stone to that world title, I want to be one of the best fighters Australia has ever produced and this is part of the journey."
Aokuso, a light-heavyweight, is supremely confident of what he can accomplish in short time.
"I called out the top 10 in Australia and none of them put their hand up except for Michael Van, and he's been on the world stage as well, so beating him is going to make a good statement," Aokuso said.
"After that I want to go for the top three in Australia. Hopefully they put their hand up, I'm here to take them all out.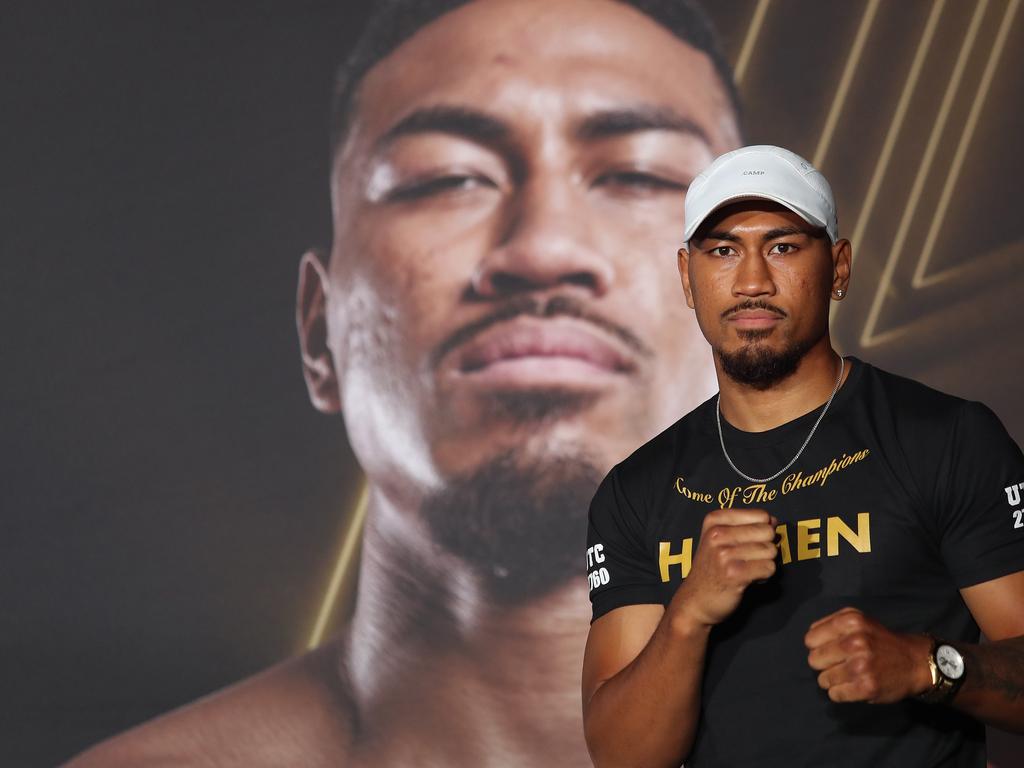 Paulo Aokuso is confident of what he can achieve in a short time. Picture: No Limit Boxing / Brett Costello
"They know my potential, they know my power, they know my speed, who wouldn't want to back out?"
Aokuso fronted his first major press conference on Monday alongside Garside.
"I first met Harry in 2020, my first Australian trip away, he's been welcoming, he's helped me along the way," Aokuso said.
"He's very experienced, he knows how to talk so he's been helping me out with all that."
Originally published as Boxing: Tokyo terrors Harry Garside and Paulo Aokuso take professional step together