Justis Huni beats Joe Goodall in legendary Australian heavyweight boxing war
Justis Huni knocked out the critics and put the boxing world on notice after winning one of the greatest heavyweight fights in Australian boxing history. WATCH THE HIGHLIGHTS
It's official. Justis Huni is the golden boy of Australian heavyweight boxing ... and now the world awaits.
Huni cemented his status as one of the finest Australian fighters of his generation with a brutally beautiful demolition of a gutsy Joe Goodall in their heavyweight blockbuster in Brisbane on Wednesday night.
Australia's biggest heavyweight fight in 114 years morphed into a one-sided clinic as Huni (6-0, 4KO) turned Nissan Arena into his personal playground to inflict Goodall's (8-1-1, 7KO) first professional career defeat.
Not even a cut to the left side of his head in the eighth round could halt Huni, who sliced and diced braveheart Goodall to score a unanimous points decision (100-90, 98-92 and 98-93).
The duo promised a war and they delivered a 10-round slugfest.
The quick and classy Huni fired most of the bullets and Goodall showed incredible toughness to withstand the barrage until the very end.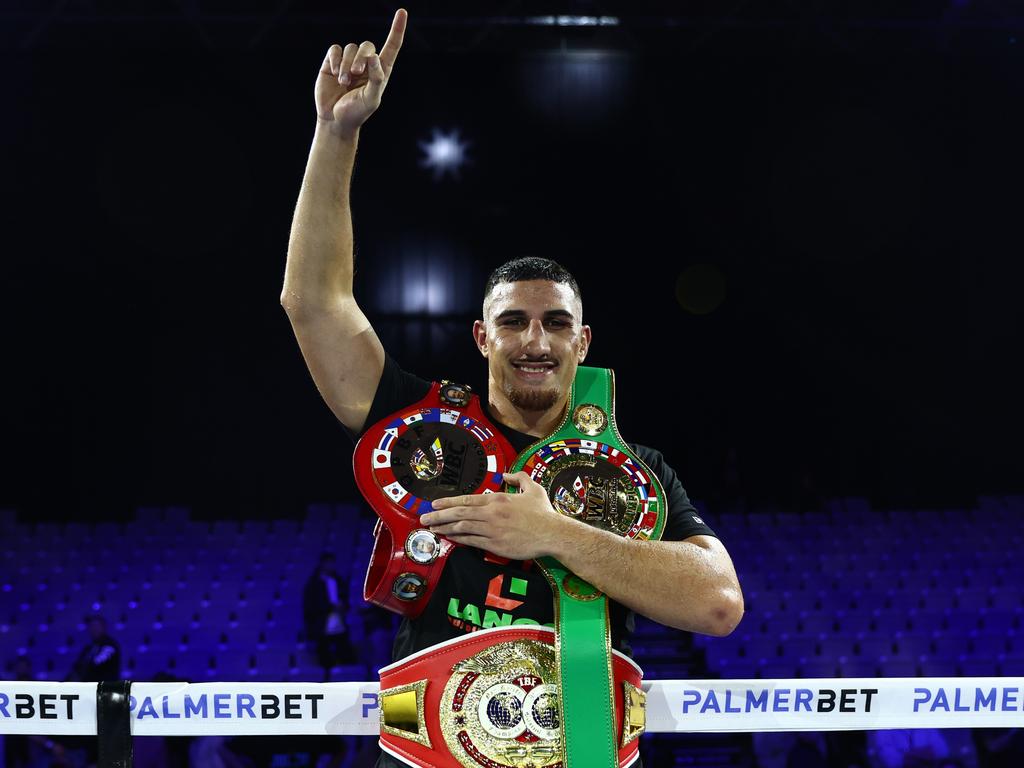 Justis Huni is now a world-rated heavyweight. Picture: Chris Hyde/Getty
Rocked by a terrifying drive-by shooting at his home just seven days ago, Huni showed his mental toughness as he peppered Goodall with his full artillery.
While the 29-year-old Goodall's career is in tatters, Huni is ready to take on the world.
In his first fight in 12 months after hand surgery following his disposal of Paul Gallen, Huni has surged into the top 15 world rankings of three organisations after winning the WBO Oriental, IBF Pan Pacific and WBC Australasian heavyweight titles.
"I'm not surprised he went the distance," Huni said.
"We know each other well so I knew he would come to fight and he did that. I'm just grateful to get the win.
"I knew he wouldn't handle my speed and it paid off in the end.
"I said before the fight I would come out victorious and that's exactly what I did.
"I feel I am up there with the best in the world and my time will come."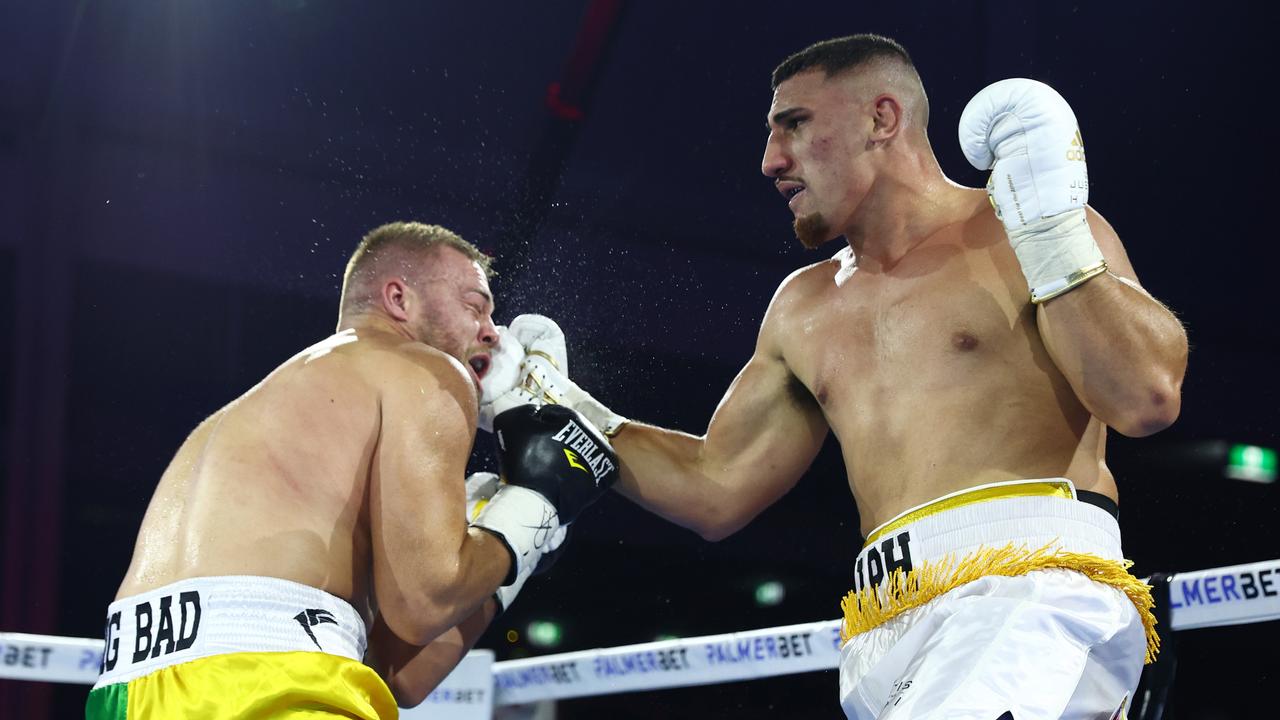 Justis Huni put on a boxing clinic against Joe Goodall. Picture: Chris Hyde/Getty
This was a magnificent masterclass from Huni.
Every scintilla of skill came out of Huni's kit bag. Savage left rips. Brutal right hands. Fast feet. Slick movement. Razor-sharp combinations. The 23-year-old is simply too good for the domestic scene.
One judge gave Huni all 10 rounds. It was a rather emphatic assessment of a fight in which Huni came out flying and had a battered Goodall seeing stars, terrorised by his pace, power and lethal counter-punching.
Critics will say Huni still hasn't delivered a massive knockout punch to suggest he can beat the world's best. But with his natural talent and boxing intellect, Huni is a world-class pugilist.
ROUND-BY-ROUND: RE-LIVE THE HUNI-GOODALL BLOCKBUSTER BELOW
If ever Goodall was going to conquer Huni, his former sparring partner, this was his moment. He had spent the past 12 months steeled by the best camp of his life in America under the tutelage of 1984 Olympics silver medallist Kevin Barry.
But when the heat was on, 'Big Bad Joe' failed to parlay his fitness into dominant rounds.
"I am extremely disappointed," he said. "It was a big opportunity but he was the better man and he was the better boxer.
"I know he is fast but I just felt I couldn't get out of second and third gear.
"I couldn't land the combinations I wanted to and his eyes are very good.
"I worked hard for this, I trained hard. I'm not sure why but the energy wasn't there. All credit to Justis, I wish him the best moving forward."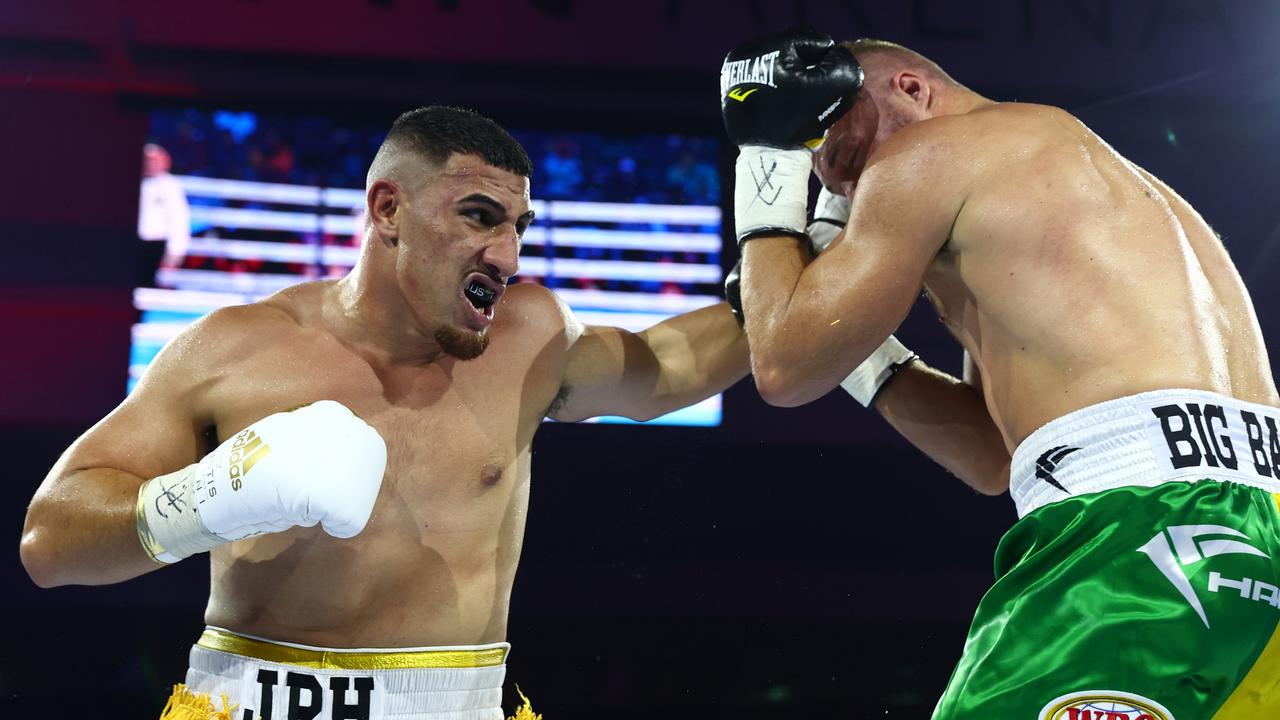 Justis Huni was too quick and powerful for Joe Goodall. Picture: Chris Hyde/Getty Images
Huni's father and trainer Rocki lauded his son's ability to overcome the traumatic events of last week's drive-by shooting. Five bullets were fired at the Huni home, but thankfully no one was injured.
"The shooting could have taken the focus off, it's not every day your house gets peppered with bullets," Rocki said.
"In some way it would have affected him, but he didn't show it.
"It got me big time and I had to keep it to myself. I didn't want to rattle Justis, but my grandchildren were in the house.
"This kid has been out of the ring for 12 months and he has done that. It's crazy.
"There is always room for improvement but what he did in there, especially with the shooting, I can't be happier."
In the lead up to this fight, Goodall took umbrage at Huni being trumpeted as the heavyweight whizkid. But this performance proved Huni is levels above the honest Goodall.
It'll be interesting to see what happens to Huni's speed and movement as his power increases over the coming years. #HuniGoodall

— Brendan Bradford (@1bbradfo) June 15, 2022
Goodall's had some good moments, but Huni's had many more of them. Speed and movement is insane.

"If Goodall lands four, Huni lands six" - spot on from Jeff Fenech. #HuniGoodall

— Brendan Bradford (@1bbradfo) June 15, 2022
Huni started with a bang, landing a powerful body shot with his left before unloading with a big right which rocked Goodall.
Tough and fit, Goodall kept coming forward, but the second round again belonged to Huni as he landed some sweet right hands and body shots, none better than a slick combination which finished with a razor-sharp right.
Goodall landed some good shots and tried to work on Huni from the inside, but 'JPH' moved brilliantly and continued to catch Big Bad Joe with some quicksilver combinations.
The decisive chasm between the fighters was Huni's speed. Goodall may have looked in better shape on the scales, but Huni's workrate and punches in bunches was a feature of the opening four rounds. Whenever Goodall had a moment of promise, Huni countered with combinations, fast movement and sweet timing to take control.
By the sixth round, Goodall had noticeable swelling under his left eyes and Huni went to work with some powerful right hands.
Big Bad Joe kept walking forward and desperately tried to land a knockout blow in the final rounds, but every time Huni had too much magic, almost dropping Goodall in the final minute to seal a comprehensive victory.
Justis Huni DEF Joseph Goodall via unanimous decision
ROUND 10
Ben Damon parrots Fenech - Joe needs a knockout! Both men still trading. It has lived up to the pre-fight tag that it's the biggest Australian heavyweight showdown in 100 years. These two men are Terminators. One minute to go. WHAT. A. FIGHT! I love Australian boxing. Huni 100-90. Official scores coming.
ROUND 9
"Goodall has to knock him out." Understatement of the century from the great Jeff Fenech. Rocki Huni is a surgeon, his son's head cut has disappeared. Goodall's left eye is almost shut now. Big, rangy left-right lands for Goodall but all the sting has left his punches as Huni answers with multiple combinations. Both men are wearing blood masks. Huni 90-81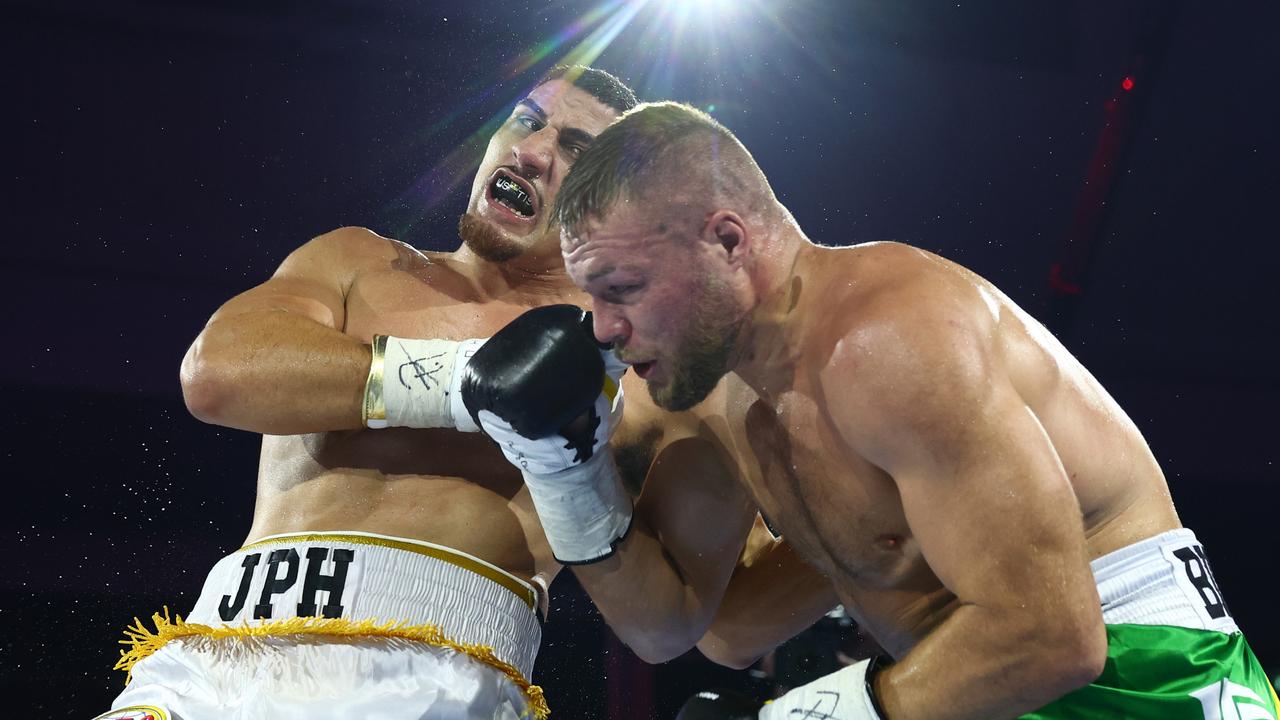 Justis Huni lands a huge shot on Joe Goodall. Picture: Chris Hyde/Getty
ROUND 8
PUNCH OF THE FIGHT! Huni lands a delicious left hook that sits Goodall back on his heals. "That's world class" says Ben Damon. Huni is turning it on! He may not have the punching power of most heavyweights but he schools them in speed and footwork. Huni's hands are down by his side. This is a masterclass against the best opponent he's ever fought. Big head clash late! Huni is cut up! Huni 80-72
ROUND 7
Goodall's corner tells him to "bring out the dog". He might need more than a pet poodle! Goodall games up but Huni is in complete control. He's landing his right hand at will. Goodall's severely swollen eye isn't helping that. Huni looks like he's in sparring. OH! Lovely one-two from Goodall but it's answered with a flurry from Huni. Great round! Huni 70-63
ROUND 6
Halfway point! What a pace it has been. Huni comes out swinging but he's soon pushed back to the ropes. Goodall's left looks like a veal cottoletta! It's nearly closed. What a finish to the round - both men throwing in the corner. Huni 60-54
ROUND 5
Justis Huni is standing between rounds. The cameras have picked up a small cut on his left eyelid. Goodall presses forward, making Huni carry his massive frame. Goodall cops a small warning. Goodall is back in this fight despite wearing a few more punches before the round ends. Tough one to call. Huni 50-45
ROUND 4
Goodall's hands are dropping every time Huni touches to the body. Goodall clinches up and finds a home for a short right. This is where he needs to be ... but Huni turns defence into attack with a three-punch combination. What a pace from these heavyweights! Huni 40-36
ROUND 3
Goodall looks like Randy Savage in there, wrestling any chance he gets - and it's his best option at this point as Huni starts to land at will. OH! Huge body shot combination from Huni leaves Goodall wincing. Back to the head for Huni as Goodall clinches up. Goodall must think he's fighting a ghost. Huni 30-27
ROUND 2
Back to the body for Huni but Goodall lands a couple of body shots of his own as they tie up. Fighting in the phone booth now. Run Huni, run! Relentless body shots from both men but it's Huni who's landing the cleaner punches. Fenech questions Huni's power again - he could have a point. Goodall is walking through these shots. Huni 20-18
ROUND 1
'Big Bad' Joe Goodall is an absolute monster. Goodall is stalking but he gets picked off early by Huni's laser-like punches. Well, Huni has made his plans for the fight clear early - attack the big man's body. OH! Big right hand over the top from Huni wobbles Goodall as both men trade big shots. We'll get our money's worth tonight! Justis Huni 10-9
- Andrei Mikhailovich DEF Ernesto Espana via third round referee stoppage
The 'Russian Hammer' has called out Michael 'Pretty Boy' Zerafa after moving into top 15 in the world. What a stink that'd be!
- Luke Boyd DEF Shamal Ram Anuj via corner stoppage
Luke Boyd has put the bottle - and his chin - down to win his first fight after a long injury layoff.
The Australian Olympian retains his unbeaten professional record and his WBA Oceania title. He's moves to 10-0.
"You're an Olympian and you're boxing like a drunk"

Boyd's corner after the second round. #HuniGoodall

— James McKern (@jLmcKern) June 15, 2022
- Jack Gipp DEF Francis Waitai via decision
- Hone Huni DEF Thomas Wilkins via TKO (second round)
Hone Huni, cousin of Justis, made a strong pro debut against the 'Rocky Wonder' Thomas Wilkins, stoppage the Rockhampton journey man inside two rounds.
Incredible, Huni lost 60kgs after deciding to get back in the ring.
8PM: Goodall refuses to enter Nissen Arena
Joe Goodall staged a bizarre pre-fight protest while rival Justis Huni arrived to Nissen Arena despite there being just two fights remaining before the main event.
Goodall, one half of the biggest Australian heavyweight fight in 100 years, reportedly wouldn't leave his parked car because family members and friends were denied entry by the promoters.
"A little bit of drama in the building because Joe Goodall is here, but he's sitting in a car at the moment out the front refusing to head in, because members of his party have not been allowed access by the promoters of this event," said Main Event commentator Ben Damon.
"I don't know what has transpired and I don't know what the negotiations have been able to do, but it does look like he's happy to head in now and take his place."
Dean Lonergan, who promotes the Huni stable, lite the fuse ahead of the fight, revealing he would be speaking to fight officials about dirty tactics from Team Goodall.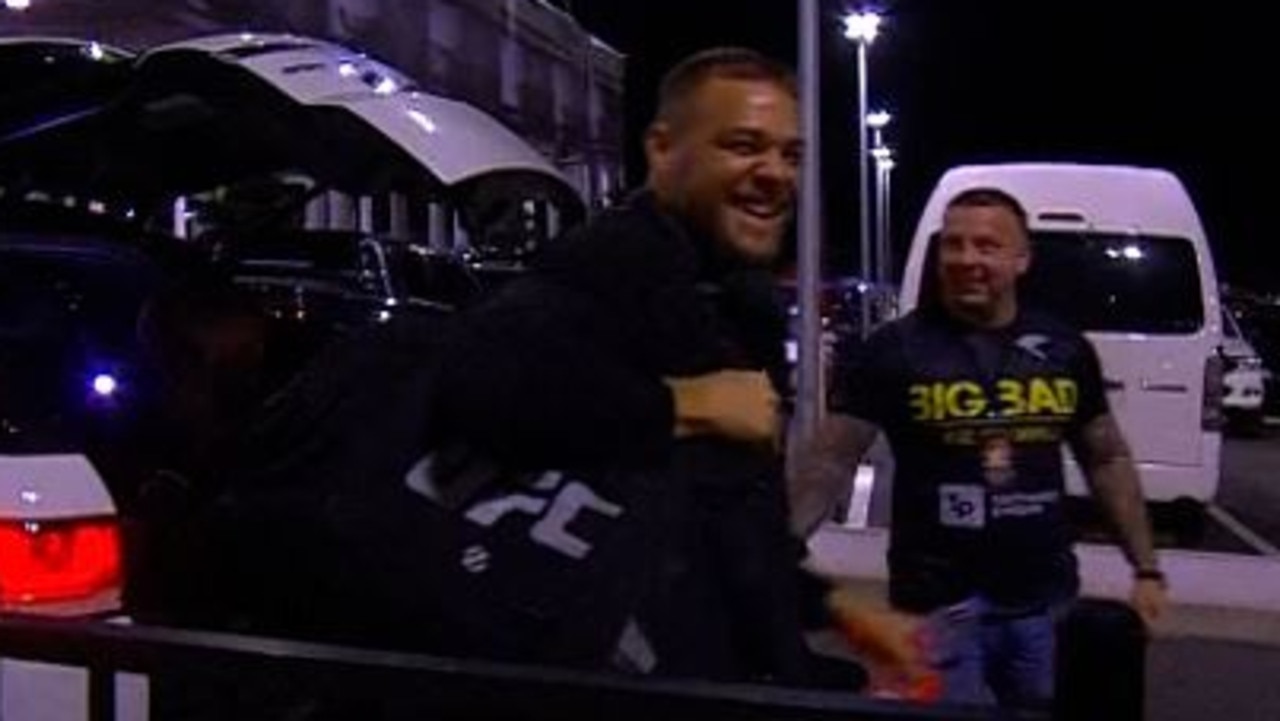 Goodall finally leaves his car.
7PM: Undercard brawl ignites Huni-Goodall card
The Justis Huni-Joe Goodall undercard almost exploded after two brawlers came face-to-face after a first round stoppage.
Taking the fight on a week's notice, 140kg monster Marvin Feterika was completely outclassed by Toese Vousiutu in the third fight of the night.
Despite Feterika's enormous height and weight advantage, Vousiutu taunted his rival after the referee called off the fight in his favour.
"This is what our sport doesn't need," said Australian boxing legend and ringside commentator Jeff Fenech after Vousiutu's corner rushed the ring.
Thankfully the bonfire was extinguished when Fatarika exited the building.
Not a fan of Vousiutu's corner giving it the big ones after the fight is done.

The fellas did the work in the ring, that's where you leave it.#HuniGoodall

— Alex Conrad (@alexhconrad) June 15, 2022
Goodall's monster Matchroom carrot
Anthony Joshua's powerhouse promoter Eddie Hearn will look to sign Joe Goodall if the Australian produces a boilover victory in Wednesday night's heavyweight title blockbuster against Justis Huni in Brisbane.
And in another major development for domestic boxing, unbeaten young guns Liam Paro (22-0, 13KO) and Jeff Fenech-trained Brock Jarvis (20-0, 18KO) will be the main event of Matchroom's maiden foray into the Australian market.
Hearn, the chairman of Matchroom, is one of world boxing's biggest promoters with a stable of more than 80 stars, including British heavyweight sensation Joshua, Mexican icon Canelo Alvarez and Ukraine superstar Oleksandr Usyk.
Now Goodall is on the cusp of joining the stable of Matchroom champions, with Hearn keen to produce a life-changing contract if 'Big Bad Joe' disposes of Huni in Australia's biggest heavyweight fight in 114 years.
"I would definitely be keen to sign Joe if he beats Huni," said world boxing's promotional titan Hearn, who will attend the bout at Brisbane's Nissan Arena.
"Actually, I think Goodall is going to win. I have a feeling that he is going to win.
"Justis Huni is a good fighter and he is a guy who has a huge amount of ability and talent but he has never really been in the deep end like this. That's quite interesting.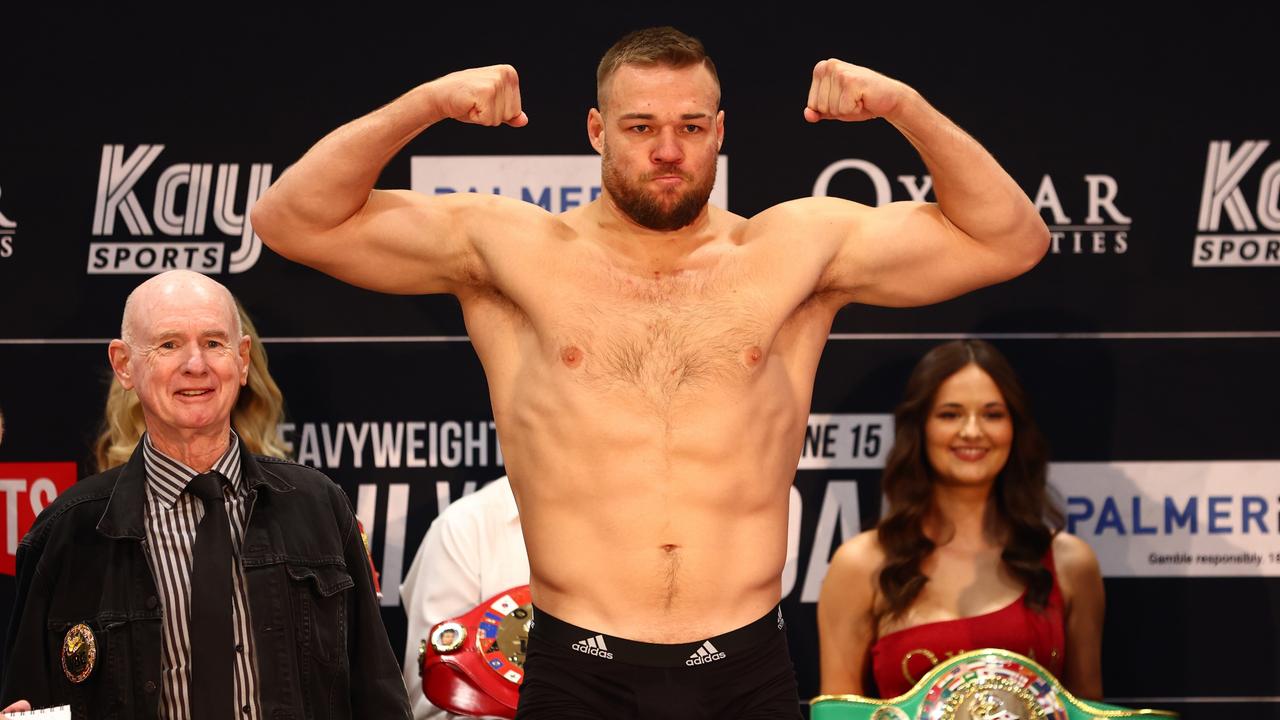 Joseph Goodall has a life-changing opportunity against Justis Huni. Picture: Chris Hyde/Getty
"I think we will learn a lot about Justis in this fight. That's why it's so exciting, we know he has talent and ability, but with 10-ounce gloves on, when the going gets tough with Goodall, will Justis be ready for it.
"I thought Joe looked fantastic on the scales (at the weigh-in on Tuesday).
"He has been training hard for this fight, so if he wins, yes I'd like to talk to him."
The 43-year-old Hearn is on a trip Down Under as part of Matchroom's expansion into the Australian boxing market.
The promotional giant will unveil their maiden show in Australia this September, with Mackay's world-title contender Paro and rising star Jarvis to headline Matchroom's first event on Queensland soil.
Super lightweight Paro, ranked No. 1 by the WBO, is within striking distance of his first world-title shot and Hearn says he is taking a massive risk by agreeing to fight Jarvis, who is trained by Australian boxing legend Fenech.
"It's great because the build up will be fantastic and it will be all action. It will be an absolute war," Hearn said.
"We understand Jarvis and Paro aren't household names in Australia, but they are 20-0 and 22-0 and you know you will get a great fight and that is important to us, to get a great fight.
"It will be in September, we are finalising the date and the venue. It will be in Queensland. We are having meetings this week. We are looking at venues in Brisbane and the Gold Coast but our first show will definitely be on Queensland soil.
"We're looking at a Saturday night in September, so we're looking at the 10th or the 24th.
"The one certainty is that the fight between Liam and Brock has been made.
"Liam is taking a big risk. If he loses, he has lost his world-title shot. Respect to him and his camp, they believe Liam will be too good for Brock, but Jarvis is a handful.
"Both guys are undefeated. I look at Brock Jarvis and think he should be a star. He is young, good looking and has a great all-action style, 20-0 and Jeff Fenech is his trainer and manager, so let's see him against Paro."
Jeff Horn tips shock upset
Former world champion Jeff Horn has backed his one-time stablemate Joe Goodall to shock Australian boxing and leave Justis Huni's world-title aspirations in tatters on Wednesday night.
Huni will start red-hot favourite at $1.35 to beat Goodall ($3.25) in their heavyweight title clash, but Horn — the man who famously stunned Manny Pacquiao in his Suncorp boilover in 2017 — believes 'Big Bad Joe' can also defy the odds at Brisbane's Nissan Arena.
The slick and quick Huni (5-0, 4KO) is rated one of the best-moving heavyweights in world boxing. Both men are undefeated as professionals, but Horn says Goodall (8-0-1, 7KO) has the size and strength to stun Huni, who at 23 is six years younger.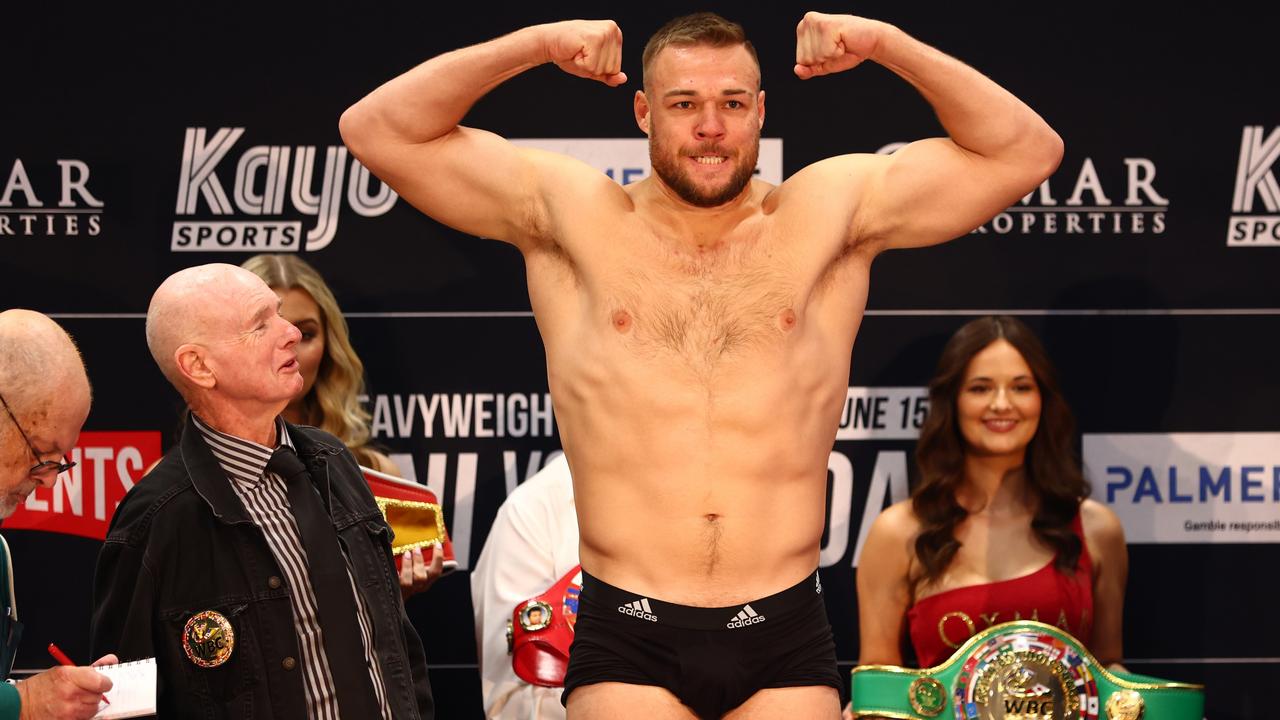 Joseph Goodall is the outsider against Justis Huni. Picture: Chris Hyde/Getty Images
"It's going to be a close fight, they are both extremely good boxers, but Joe has the edge with his age and the power in his punches," Horn said. "That will be the difference in this fight.
"Joe will probably win because he has more power shots than Justis.
"I really rate both guys and I think Justis is a brilliant boxer, it's going to be a great Australian heavyweight fight.
"Joe's power advantage is the one thing that could get Justis, but it could be a boxing masterclass that Huni puts on.
"I believe it will go the distance. Justis has some great skills but the question marks on him has been his ability to stop opponents and until he gets that power, which might come with a bit more age, I don't see him stopping Joe."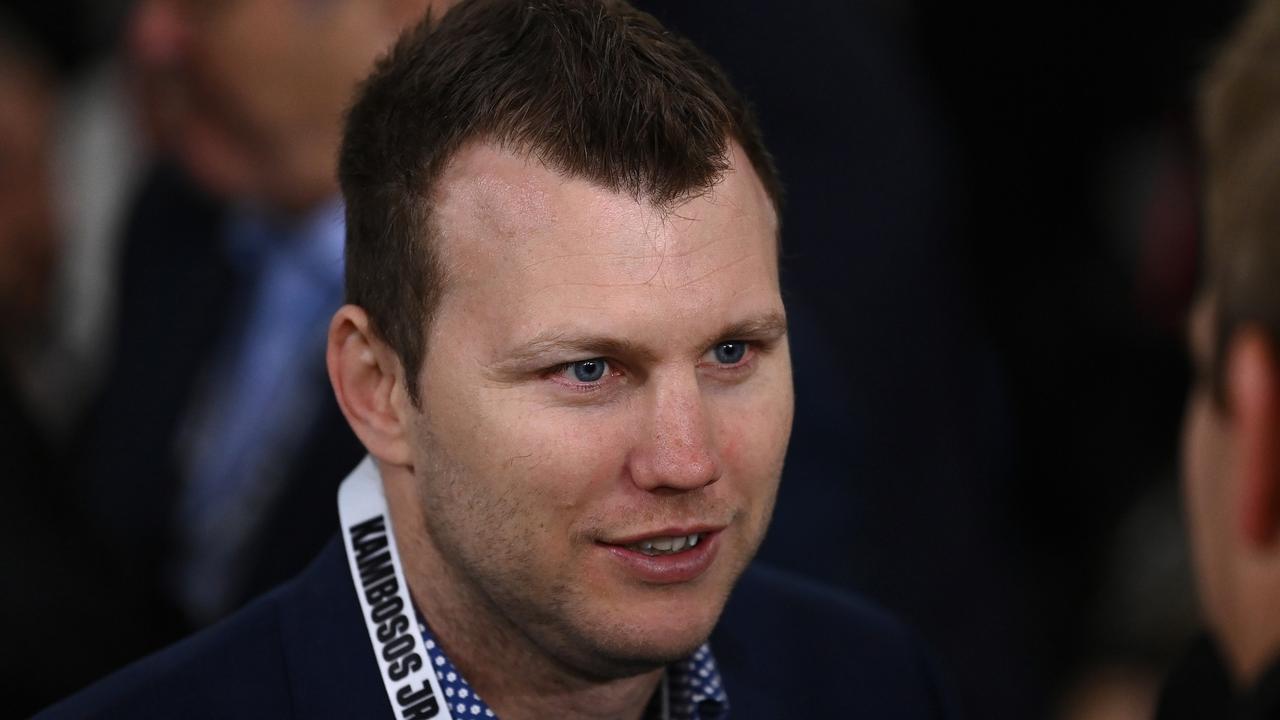 Jeff Horn believes Joseph Goodall can cause an upset against Justis Huni. Picture: Quinn Rooney/Getty Images
Goodall has spent the past year finetuning his craft under the tutelage of 1984 Olympic silver medallist Kevin Barry and Horn says his stint in America is a major factor.
"Going overseas will have really helped Joe," Horn said.
"It's kudos to Glenn Rushton (Goodall's former trainer) for getting him to this position and Joe will have improved more and more being with Kevin Barry overseas.
"He has been totally focused on boxing, there are no distractions and I think he has returned from America a more dangerous fighter.
"It's a huge test for Justis."
Originally published as Justis Huni beats Joe Goodall in legendary Australian heavyweight boxing war