'I'm coming for the big names': George Kambosos eyes next fight
After touching down to a rapturous welcome home, George Kambosos Jr is not resting on his laurels as he lines up his next opponent after he shocked the boxing world.
Mastermind trainer Michael Akkawy celebrates with new lightweight world champion George Kambosos Jr.
World champion George Kambosos Jr returned to a hero's welcome at Sydney Airport on Thursday morning and declared there will no tune-up fight to defend his lightweight belts, instead eyeing a showdown against the big four in his division.
WBC Regular champion Devin Haney, former unified champion Vasiliy Lomachenko, and unbeaten contenders Gervonta Davis and Ryan Garcia are the only ones in Kambosos Jr's sights for his fight in Sydney or Melbourne next April or May.
"Don't even bring up no Australian fighters, I'm coming for the big names, Haney, Gervonta Davis, Ryan Garcia, Lomachenko, that's the only names we're talking about," Kambosos Jr said.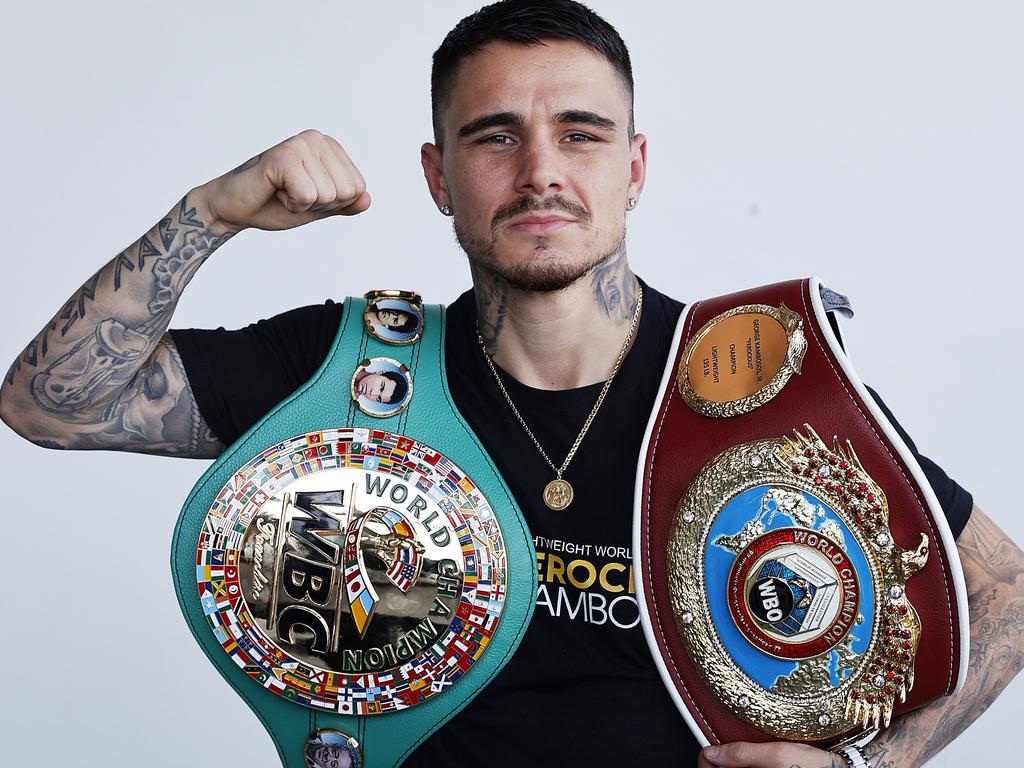 New boxing world champion George Kambosos Jr arrives home at Sydney International Airport. Picture: Tim Hunter.
"No one has earnt it the way I've gone and earnt it, so no one gets a shot until they go and earn it the way I've done it.
"They want a shot? Go over to the US and go beat the best of the best and then you get a shot.
"Now we're coming for the big fish, because the world wants to see that.
"We're chasing the big names and they're chasing me, we've already got things in the works.
"I love the Haney fight, he's got the WBC Regular belt, so I love that fight. Tank is a great fighter as well, so that's definitely an option. And Lomachenko, I've got to give him respect, he went and got most of these belts, obviously [Teofimo] Lopez beat him but I've got to give him respect as well.
"They're all in the mix. Ryan Garcia, I want to see him get active again, I know he's got a big following as well.
WBC lightweight champion Devin Haney is on the list for George Kambosos. Picture: AFP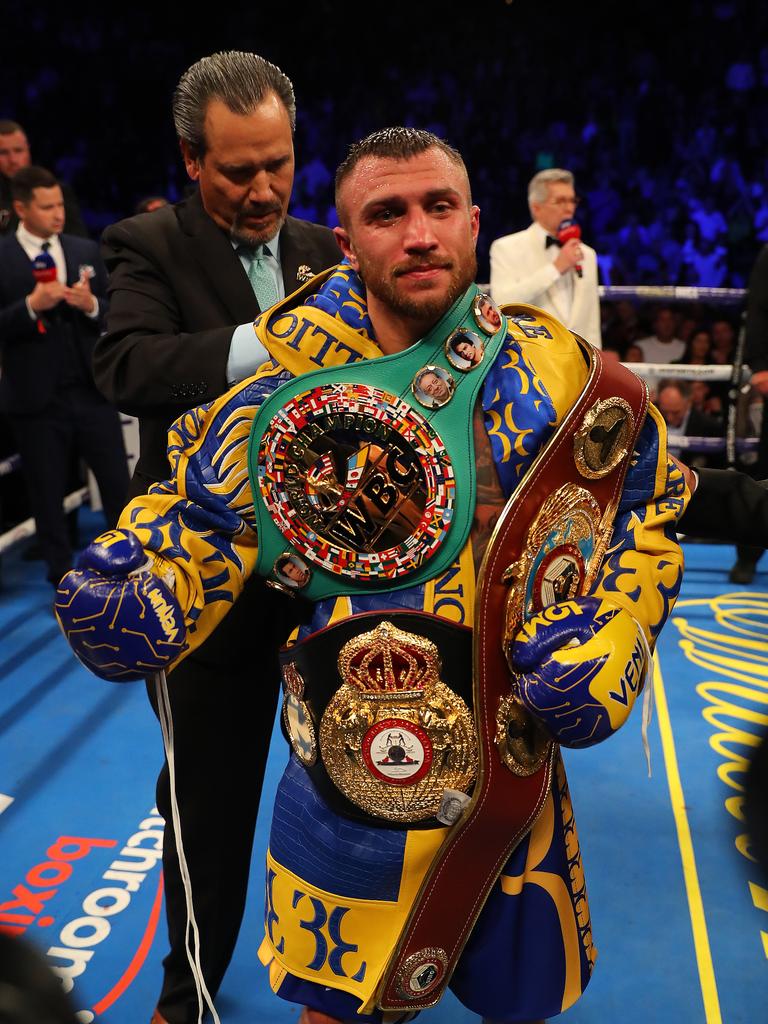 Vasily Lomachenko. Picture: Getty Images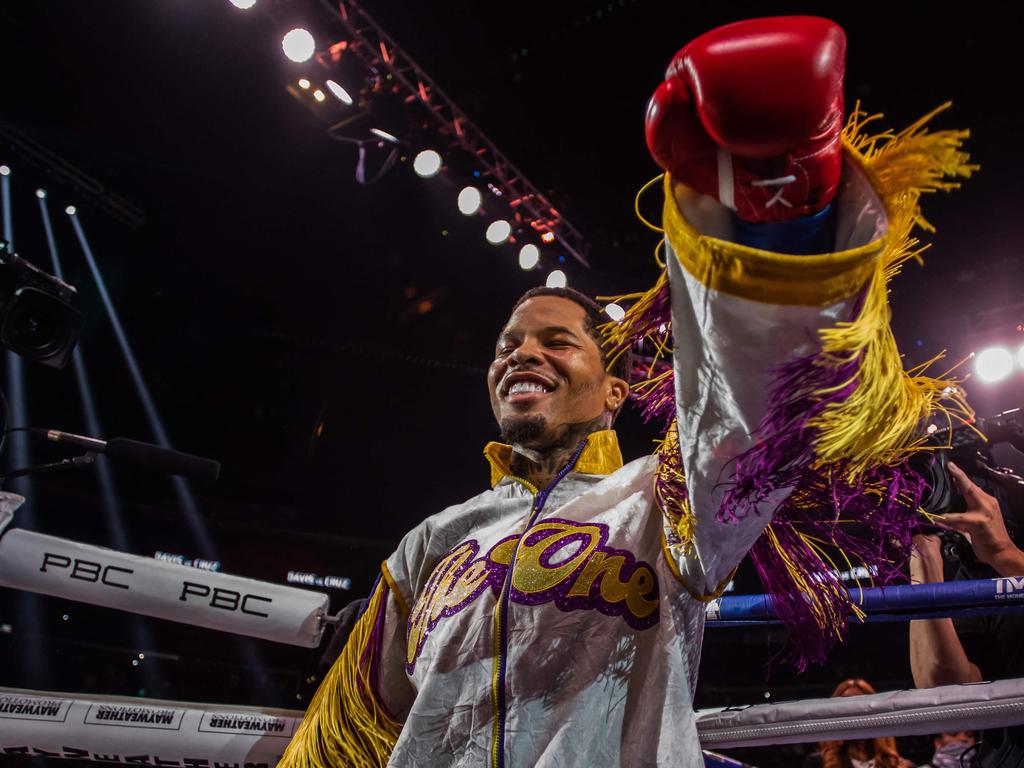 Gervonta Davis. Picture: AFP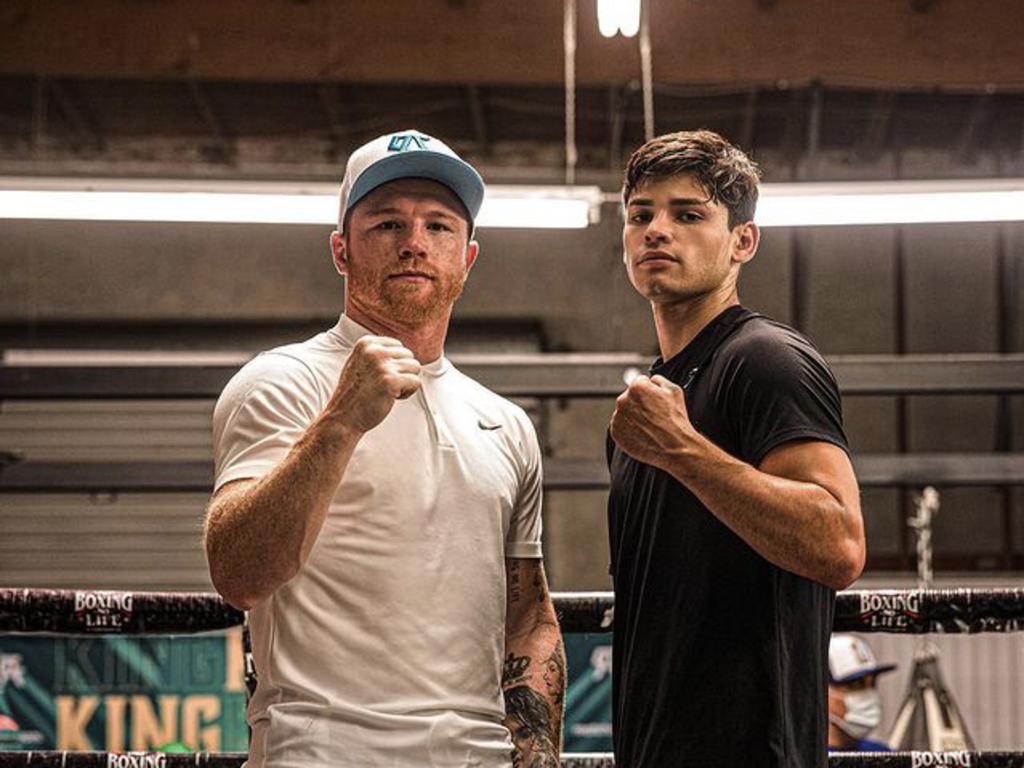 Ryan Garcia (right), who is a training partner of boxing's pound-for-pound king Saul 'Canelo' Alvarez, is a potential opponent for Australia's new world champion George Kambosos Jr.
"It will be one of them, there will be no tune-up fight. I'm cut from a different cloth, I'm not like the typical Australian fighter that's going to milk this now.
"I'm coming for the biggest names, I want to take more risk.
George Kambosos Jr received a hero's welcome when he arrived home in Sydney. Picture: Tim Hunter
"I can sit here and milk this now and try to make as much money as I can, but that's never been me.
"We're going to keep fighting the best of the best and keep proving why we are the No.1, the emperor of the lightweight division."
About 100 people gathered at Sydney Airport's international terminal to welcome Kambosos home following his split decision victory over Lopez in New York a fortnight ago.
Many waved Australian and Greek flags and chanted "Georgie" as the new unified lightweight champion emerged from the gates.
But Kambosos Jr (20-0, 10KO) has no plans to get carried away with celebration, announcing that he'd be training on Thursday afternoon despite his long-haul flight from the States.
George Kambosos Jr talks to the media after arriving home in Sydney to much fanfare. Picture: Tim Hunter
"I'm the most hunted man in the world right now in the lightweight division, they're all calling me out but I love it," Kambosos Jr said.
"I've gone from the hunter to the hunted, but that burning desire, that hunger, that feeling of what I've got now and what I've achieved and how hard the road has been, no way they're going to take this off us.
"These are our belts and they're going to stay here for a very long time.
"I'm going to the gym.
"I'm going to train, I'm going to spend some quality time with my kids and then I'm going to be in the gym training because now I'm the one being hunted, they want to come get what I've got, what I've had to work so hard for.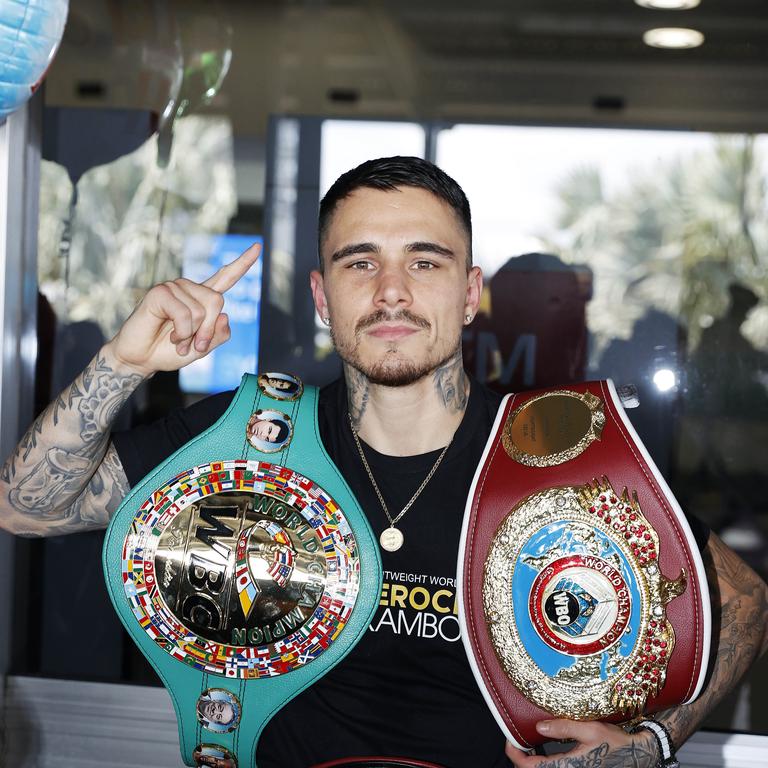 George Kambosos Jr arrived home in Sydney to much fanfare. Picture: Tim Hunter
"My confidence has always been about my ability and what I believe in, if I didn't have that belief and that confidence and that character, I probably wouldn't have won this fight, I probably wouldn't have even got to this fight.
"But knowing I have these belts, I'll keep my feet on the ground, stay focused, keep that tunnel vision.
"Nothing changes, what I've been through from my pro debut to what I am now, nothing changes. I envisioned this, I manifested it, and I knew I would be world champion some day, and that day came.
"These belts are not only my belts but they're Australia's belts."
The 28-year-old said he hopes the next generation of Aussie fighters can repeat his incredible feat.
"I've been telling you guys I'm the face of Australian boxing," Kambosos Jr said.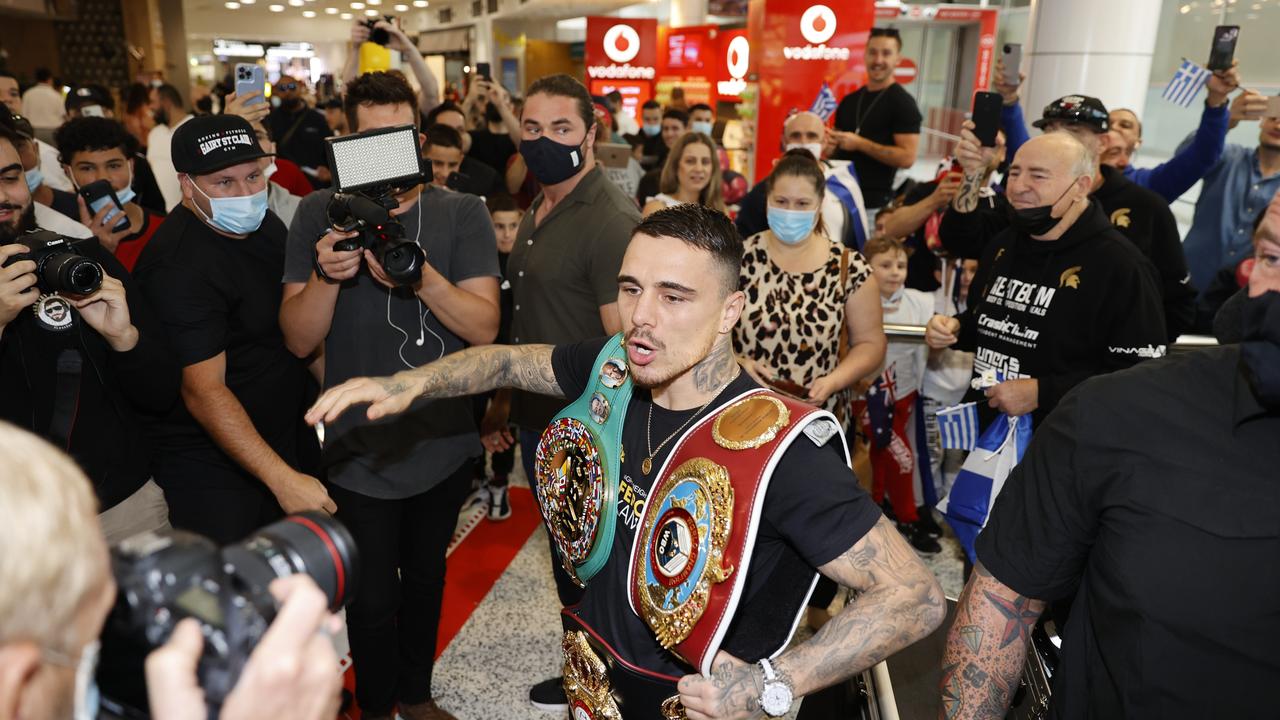 DAILY TELEGRAPH. DECEMBER 9, 2021. Pictured is new boxing world champion George Kambosos Jr arriving home in Sydney to much fanfare. Picture: Tim Hunter.
"I've been representing on the world scene, I said it, I will be the next Australian world champion, I'm going to bring these belts back home.
"Some believes it, some didn't believe it, the most important thing is that I believed it and I went and did it.
"I'm looking forward to the future stars of this country to go out and do the same thing.
"We did it the hard way, we had to really earn it."
GENIUS KAMBOSOS GAME PLAN REVEALED
The intricate plot to dismantle an unbeaten champion was hatched after carefully observing Teofimo Lopez's every movement and habit, and ensuring George Kambosos Jr was a step ahead at literally every turn.
Mastermind trainer Michael Akkawy has revealed how he concocted the ambitious game plan used by Kambosos Jr last weekend in New York to dethrone Lopez as unified lightweight world champion after noticing key mistakes.
Coming into the fight, Lopez was 16-0 (12KO), had taken the belts from pound-for-pound great Vasiliy Lomachenko, and most gave Kambosos Jr no chance.
But using Akkawy's scheme, Kambosos Jr prevailed by split decision to pull off one of the greatest achievements by an Australian boxer.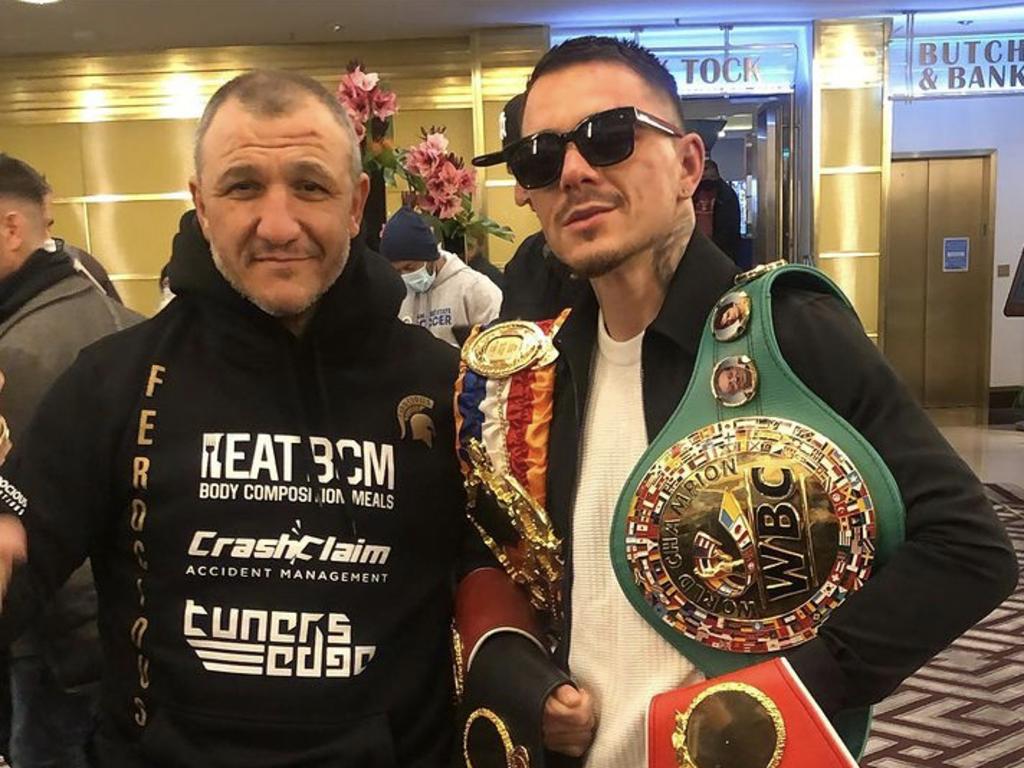 Mastermind trainer Michael Akkawy celebrates with new lightweight world champion George Kambosos Jr.
THE BEGINNING
Kambosos Jr began working with Akkawy in Sydney last year.
"He started training with me, he was willing to learn, and then he got the Lee Selby fight," Akkawy said.
"We watched him and how he sidesteps and comes in with punches, so we worked on that, him sidestepping and then hitting him before he came back in.
"We took away his biggest weapon, he didn't have that anymore so he had to box conventionally and George just beat him with his jabs.
"Because of Covid I couldn't go to London for that fight. He had a good win there, came back in and he was mandatory to the winner of Lopez and Lomachenko, once the fight was locked in we started working hard."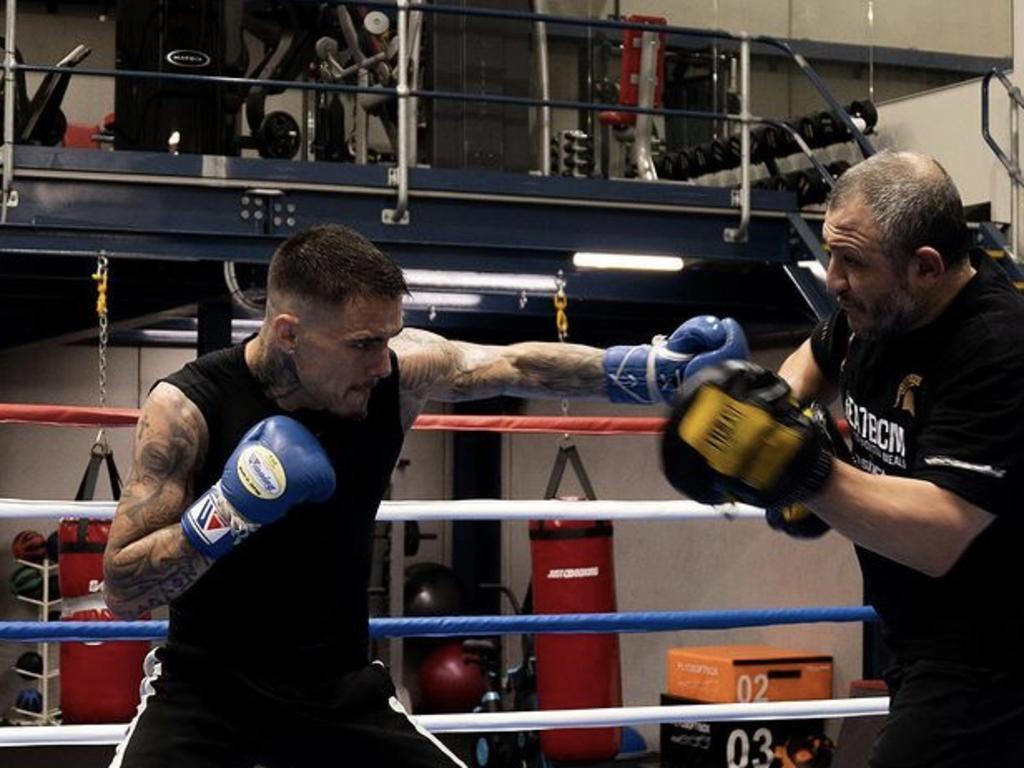 George Kambosos Jr and his trainer Michael Akkawy worked tirelessly on a specific game plan to dethrone lightweight champion Teofimo Lopez.
PLANNING FOR LOPEZ
They spent 10 weeks in Miami, working with American-based trainer Javiel Centeno before the original title fight was postponed when Lopez contracted Covid in June.
When Kambosos returned to Sydney, he was back in the gym within days preparing for the delayed fight which still did not have a firm date.
"We watched Lopez again, his strengths, we worked out how to defend his strengths and attack his weaknesses," Akkawy said.
The fight was rescheduled for November 27, allowing trainer and fighter several weeks of perfecting the same punches, the same foot movement, over and over.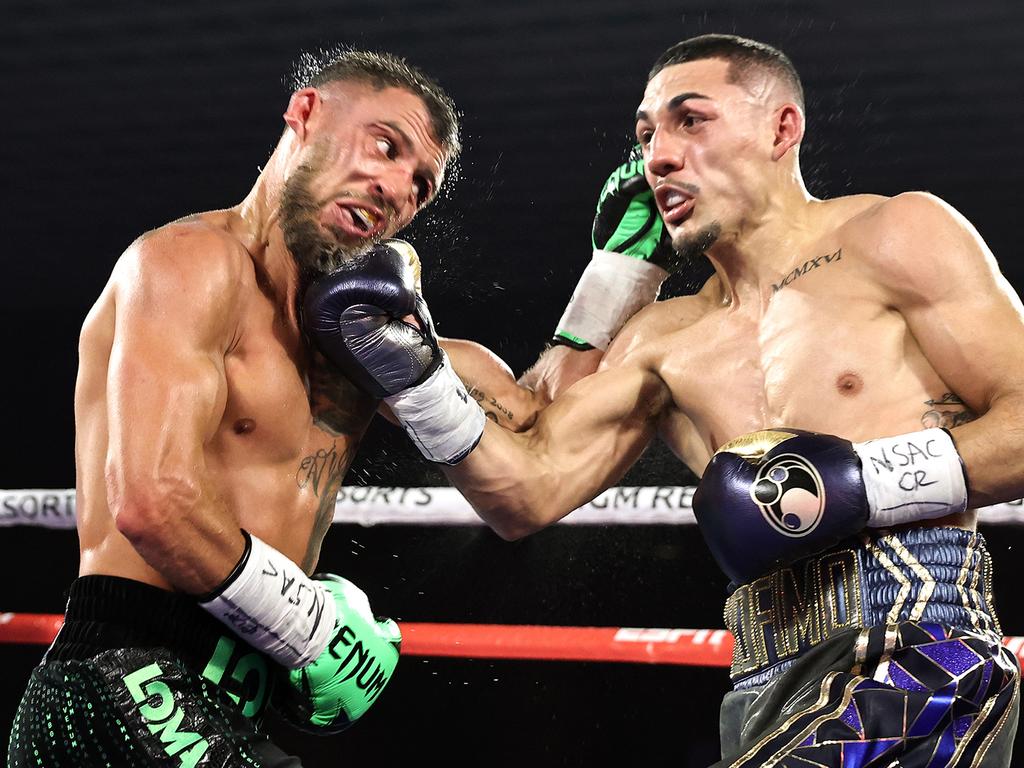 Vasiliy Lomachenko (L) was beaten by Teofimo Lopez Jr in their Lightweight World Title bout at MGM Grand Garden Arena on October 17, 2020. Picture: Mikey Williams/Top Rank via Getty Images
TWO-PRONGED TAKEDOWN
Sparring Lenny Zappavigna and Terry Nickolas, Kambosos Jr (20-0, 10KO) practised a two-stage plan to take down the man nicknamed "The Takeover", including the perfectly timed overhand right that dropped Lopez in round one.
"Lopez had two forms; that crunch when he was really coming after you with big shots, when we were in that position let's just frustrate, let's make him move, make him miss, make him reach for us and counterpunch in circles," Akkawy said.
"And the other form was when he was high, he comes in one step at a time with that lunge jab, he gets you to come forward and he rolls the punch and comes back with the uppercut.
"So watch his legs, what he does wrong is he comes forward with his right leg, then left leg. So when he comes forward with the right leg, I said 'George catch him before he comes forward on that left leg' and bang, there he was for that overhand right.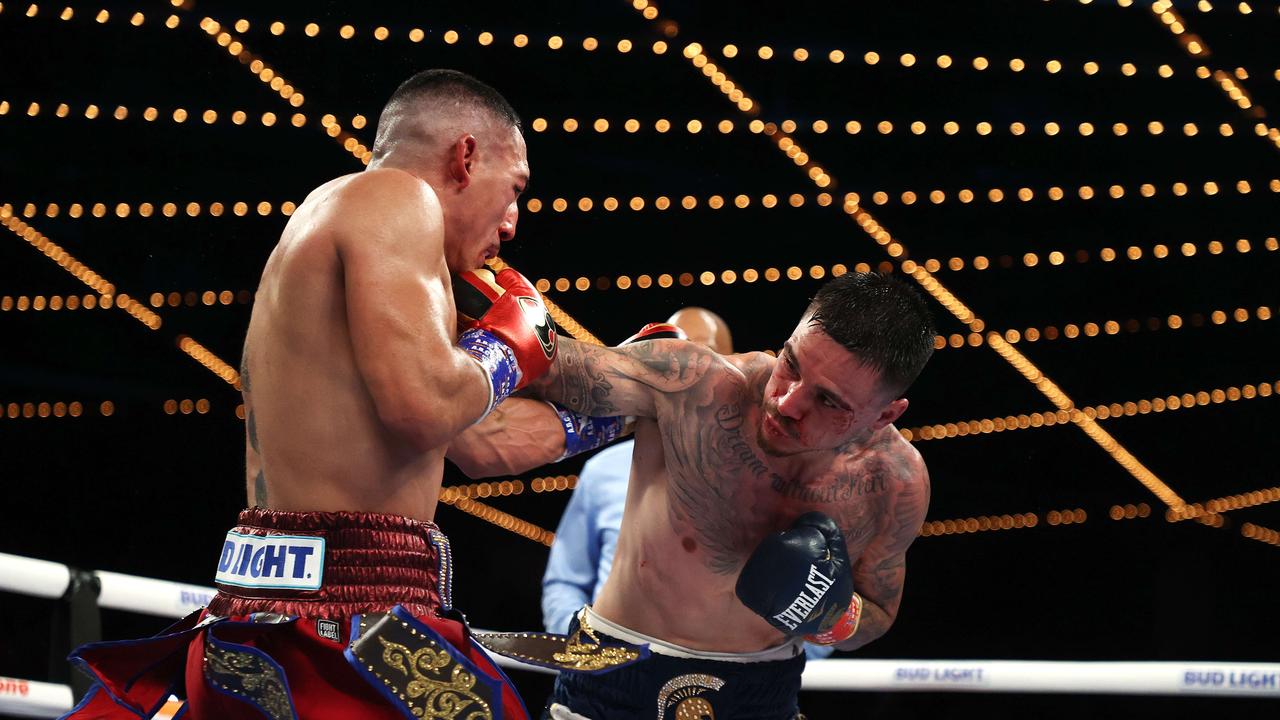 George Kambosos knew Teofimo Lopez's game inside and out before the fight. Picture: Al Bello/Getty Images/AFP
"And the other one we worked on was the right hooks to the body, because he is high and after taking a left [punch] he always turns to roll the right hand, so I said 'George as soon as you hit him with the left he is going to turn so hit him with that right hook to the ribs or in the temple, his shoulder is going to be on his chin so don't aim for his chin, aim higher and roll it down'.
"We worked on defending him in a circle, keeping him off his legs, unstable, not allowing him to set.
"His strengths are his left uppercut, his left hooks, the right hand when guys are walking in, and his right uppercut on the rope when he tries to roll the right hand and come back with the right uppercut.
George Kambosos put all the training together on the night to defeat Teofimo Lopez. Picture: Al Bello/Getty Images)
"So we kept him unsteady by jabbing and circling all the time, and every time he threw the right hand we knew the uppercut was coming, so we worked on fast one-two-three combinations, all straight, or we were hooking there so that way, before he could come back with his right we had another right hand in there.
"We worked on offence and defence, his mentality, and George put it all together on the night which is incredible.
"Sparring and doing it in the gym is one thing, but doing it in a fight is another. And he did it."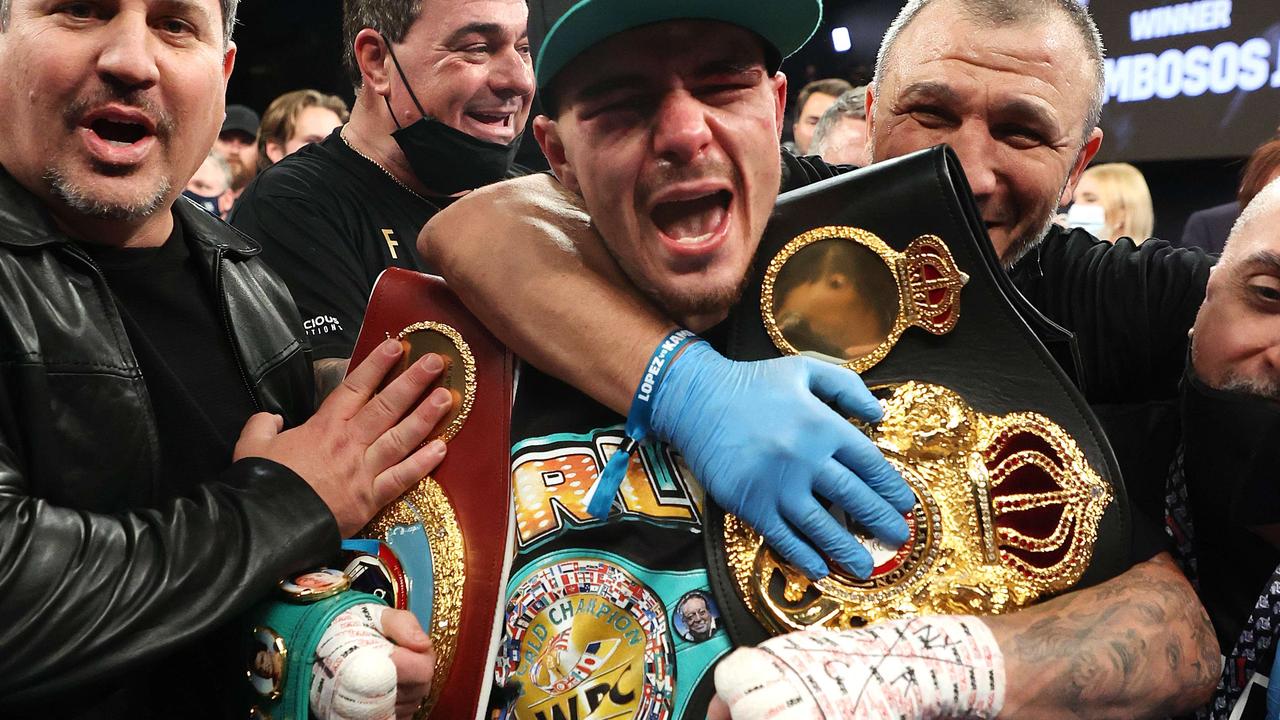 George Kambosos celebrates his split decision win against Teofimo Lopez. Picture: Al Bello/Getty Images/AFP
BILAL AKKAWY REVEALS COMEBACK PLAN
Australia's forgotten boxing star Bilal Akkawy has revealed he was set to quit the sport due to a back injury, but plans to come back in 2022 and fulfil his dream of winning a world title.
Akkawy has not been in the ring since the only loss of his career in May 2019, when he was stopped in the third round by Englishman John Ryder fighting for the WBA super-middleweight title on two weeks' notice.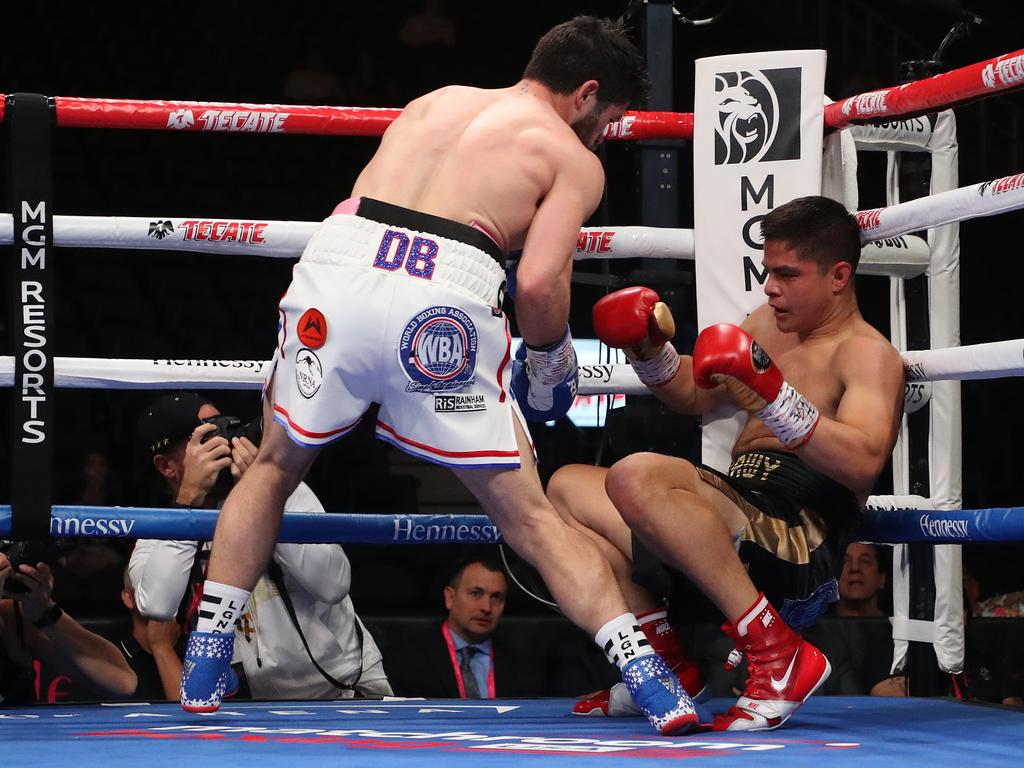 Bilal Akkawy is knocked down by John Ryder (L) during their super middleweight fight at T-Mobile Arena on May 04, 2019 in Las Vegas, Nevada. Picture: Al Bello/Getty Images
The 28-year-old, who was a regular sparring partner of boxing's biggest name Saul "Canelo" Alvarez, has healed naturally from a bulging disc after believing his career was finished.
"I ruptured a disc in my L4, L5, lower back, it was pinching the sciatic nerve down my left leg," said Akkawy, who was alongside his father and trainer Mick Akkawy in New York last weekend helping George Kambosos Jr win the unified lightweight championship against Teofimo Lopez.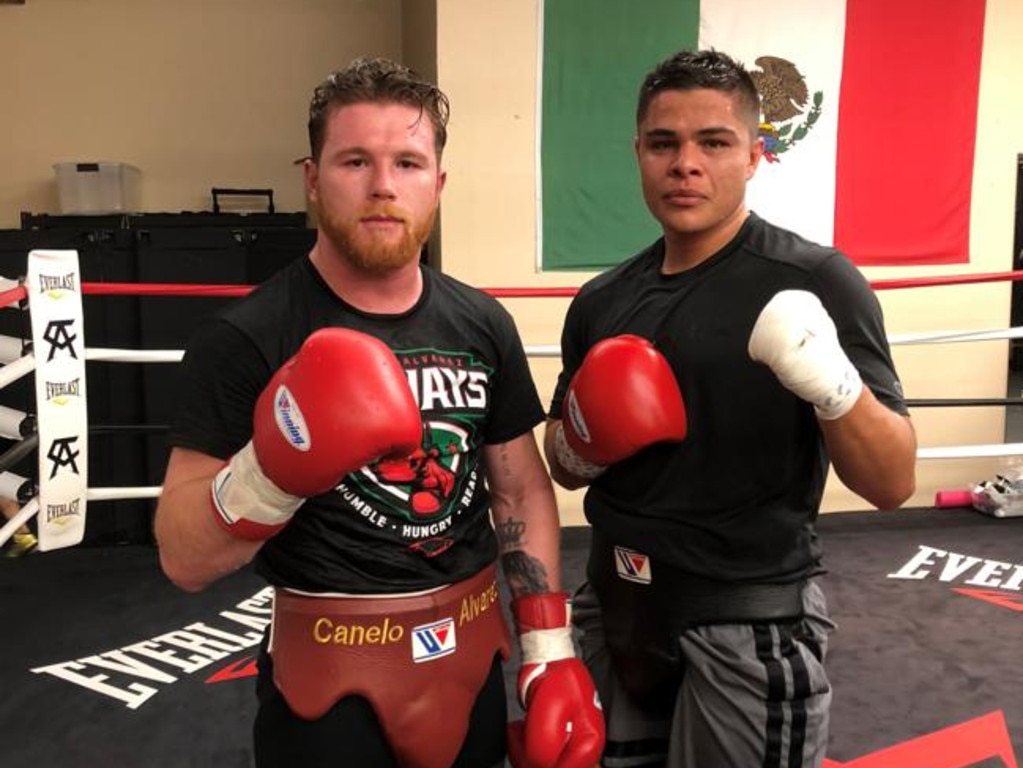 Bilal Akkawy sparring with Canelo Alvarez in LA.
"I saw three surgeons, one of them recommended I do surgery, the other two said leave it because if it gets worse you're going to be screwed so let it heal naturally.
"It has been a big battle for a long time, I didn't train for eight months.
"It got to the point where I said 'Stuff it, I'm just going to train regardless of whether it gets worse or not'.
"I got into it and it wasn't the smartest thing, it was playing up, I'd rest for a few weeks, it'd come back again. That went on for months and I gave up."
But Akkawy (20-1-1, 16KO) recovered only once he had given up hope of boxing again.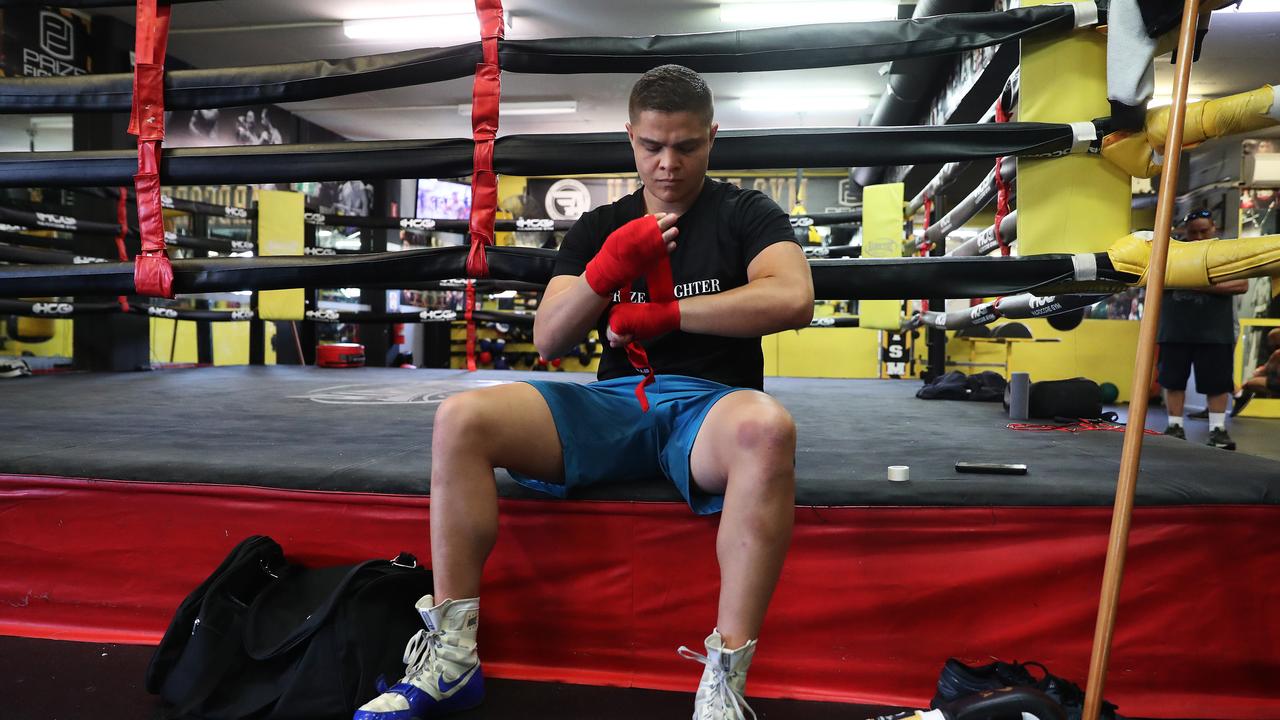 Australian boxer Bilal Akkawy can't wait to get back in the ring. Picture: Brett Costello
"Three, four months later, I thought well if I can't box anymore, that doesn't mean I can't be healthy so I started light training, and before you know it I started feeling better, started picking it up more and more, and I realised it's a lot better," he said.
"So I'm confident I'll be back next year.
"George mentioned something, they're most likely going to be doing something in Australia mid-year.
"He was asking if I'd be up for it to come, I was like, 'Yeah put me on'.
"I'll be aiming to come back next year regardless, it's been a long time.
"I'll go for any belt, but right now it's one step at a time, and the first step is to just get that first fight back.
"I'm not worried about the rankings because I know I'll get back in right away.
"The hardest thing is to get there, once you've been there – especially being a former title challenger – it's a lot easier to get back in."