Boxing 2022: Nikita Tszyu headlines 'best undercard' in Australian boxing history
It's been hailed the greatest undercard in Australian boxing history — but one bout in particular shapes as a fight worthy of a main event. See our full preview of the Gallen vs Terzievski card.
It is rightly being hailed as the best undercard put together in Australian boxing history.
Some of the best pugilism talent in the country have been pitted against each other at the Newcastle Entertainment Centre and a number of undefeated records will be spoiled.
Before Paul Gallen faces Kris Terzievksi for the Australian heavyweight title, a total of seven unbeaten fighters will take centre stage in the ring.
"This is the best undercard I've been involved in overall," Gallen said.
George Kambosos Jr. vs Devin Haney, Sun 5th June. This PPV event will be available to order soon on Main Event available on Kayo & Foxtel.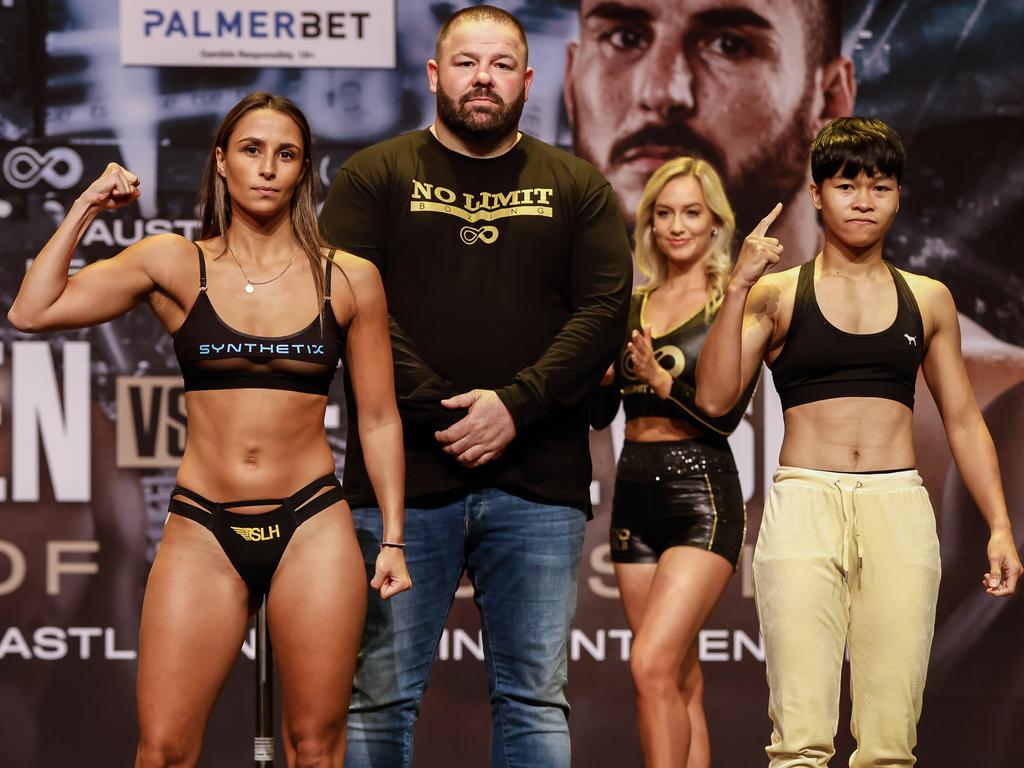 Linn Sandstrom versus Floryvic Montero. Picture: No Limit Boxing
Hironori Mishiro versus Francis Chua. Picture: No Limit Boxing
"Previous undercards I've had were big names, Tim Tszyu's been on them, big name, great boxer, we now how good he is.
"But when you look at this one, you've got Nikita Tszyu, Harry Garside, Sam Good and Hass Hamdan.
"Including myself there's 10 fighters, and there's been four losses between the 10 fighters.
"It's a pretty amazing card, for No Limit to be able to put that together with guys who have had no losses — the most amount of losses anyone has had is one, that's myself and Kris — it's going to be a great night of boxing."
In the lead-up to the pay-per-view, Fox Sports will televise two bouts; Linn Sandstrom versus Floryvic Montero at superflyweight, and then undefeated Japanese star Hironori Mishiro (11-0-1, 4KO) against Perth's Francis Chua (8-2-1, 3KO).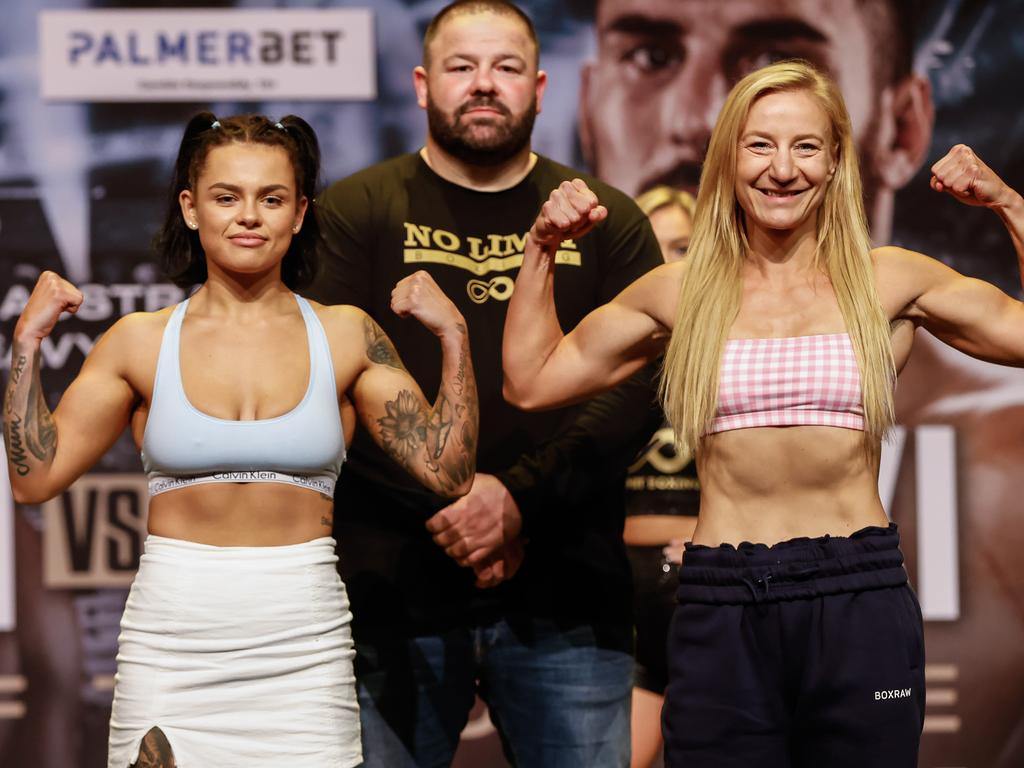 Amber Amelia versus Sara Jalonen. Picture: No Limit Boxing
THE TALE OF THE TAPE
The pay-per-view begins at 7pm, shown live on Main Event and Kayo.
WOMEN'S FEATHERWEIGHT, 5X2 MIN ROUNDS
AMBER AMELIA (1-0) vs SARA JALONEN (1-1)
Amelia
Height: 162cm
Weight: 58.34kg
Jalonen
Height: 168cm
Weight: 58.48kg
Amelia has sparred more than 100 rounds with bantamweight world champion Ebanie Bridges and is viewed as a future star of women's boxing. She lives in Lake Macquarie so will have huge hometown support.
Originally from Finland, Jalonen debuted last year and had one win and one loss.
Hassan Hamdan versus Trent Girdham. Picture: No Limit Boxing
WELTERWEIGHT, 6X3 MIN ROUNDS
HASSAN HAMDAN (4-0, 1KO) vs TRENT GIRDHAM (3-0)
Hamdan
Height: 175cm
Weight: 64.4kg
Girdham
Height: 175cm
Weight: 63.82kg
There is real animosity between these two which has spilt over with verbal baiting at the press conference, weigh-in and online. This is likely the most anticipated fight on the card given Hamdan and Girdham's deep dislike for each other. The son of former world title challenger Nader Hamdan, Hassan is a skilful and fit boxer while Girdham will rely on the trickiness that saw him upset Alex Lual to produce another boilover.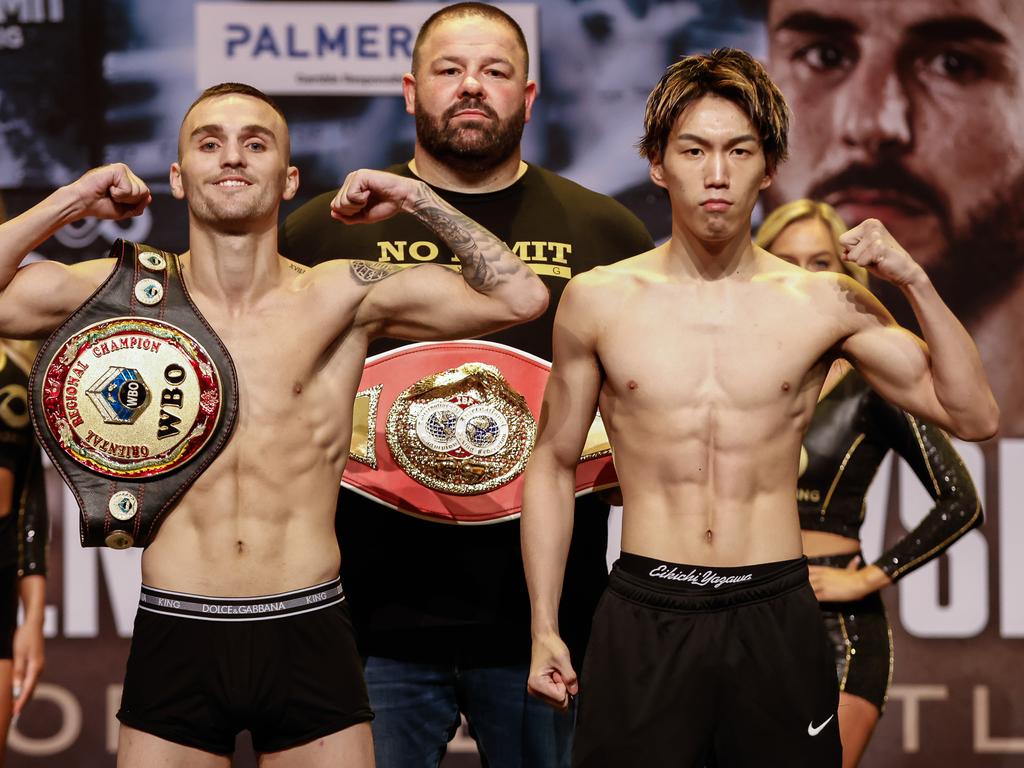 Sam Goodman versus Fumiya Fuse. Picture: No Limit Boxing
WBO ORIENTAL AND IBF INTER-CONTINENTAL BANTAMWEIGHT TITLES, 10X3 MIN ROUNDS
SAM GOODMAN (10-0, 6KO) vs FUMIYA FUSE (11-1, 1KO)
Goodman
Height: 169cm
Weight: 55kg
Fuse
Height: 172cm
Weight: 55.2kg
Goodman is known as "the biggest ticket-seller in Australian boxing" and is again expected to bring a huge throng of supporters to Newcastle for this battle with two belts on the line. Fuse is a southpaw and while he doesn't have raw knockout power he tends to win most of his fights by wide margins. However, Goodman is being groomed to be a world title contender and a win here may even take him inside the top 10 of the WBO rankings, putting him in the frame to challenge for the belt held by John Casimero by the end of next year. The two 23-year-olds are rising stars in a division ruled by Naoya Inoue.
Harry Garside versus Layton McFerran. Picture: No Limit Boxing
AUSTRALIAN LIGHTWEIGHT TITLE, 10X3 MIN ROUNDS
HARRY GARSIDE (2-0, 1KO) vs LAYTON MCFERRAN (5-1, 2KO)
Garside
Height: 176cm
Weight: 61.04kg
McFerran
Height: 173cm
Weight: 61.04kg
Garside claimed the Australian title in just his second pro fight, against Manuer Matet just five weeks ago. He jumps straight back in to defend the belt against Tasmanian McFerran, who has outdone Garside in the hairstyle battle. After suffering a split decision loss in his second fight, McFerran has racked up four consecutive wins. But Olympic bronze medallist Garside has superb skills, is a world title aspirant and must make a statement to continue his climb.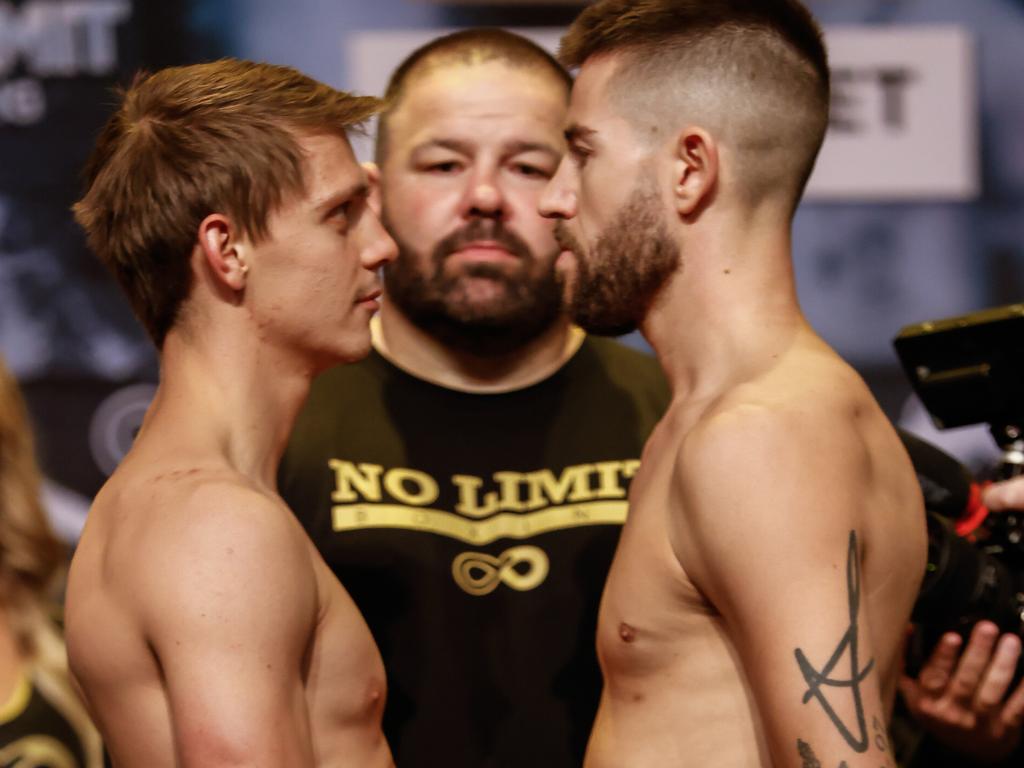 Nikita Tszyu versus Mason Smith. Picture: No Limit Boxing
SUPER-WELTERWEIGHT, 6X3 MIN ROUNDS
NIKITA TSZYU (1-0, 1KO) vs MASON SMITH (5-0, 2KO)
Tszyu
Height: 177cm
Weight: 69.06kg
Smith
Height: 180cm
Weight: 69.48kg
Tszyu made a formidable entry into the professional arena with his second-round demolition of Aaron Stahl on debut in March, but this is a massive step up against the extremely confident Smith. Tszyu has promised to showcase more skill and ring generalship in this bout, having displayed his power and sheer brutality against Stahl. Smith, 27, has never fought outside Melbourne and will face a hostile crowd in "Tszyucastle", but has shown no signs of concern throughout the build-up. He believes Tszyu, 24, has made a huge error by taking the fight in his second outing. Tszyu, given his name and talent, will have problems securing local fights, but a loss here would be disastrous for his future prospects.
How Harry found the internal key to success
He is an Olympic medallist, a rising boxing star with a legion of fans and a David Jones modelling contract, but Harry Garside is only now learning to love himself.
"The reason why I am where I am, is because I've got this inferiority complex, I've always felt I wasn't good enough," Garside told News Corp.
The 24-year-old, plagued by childhood trauma and self-doubt, is using a number of innovative techniques to better himself as a man and a boxer.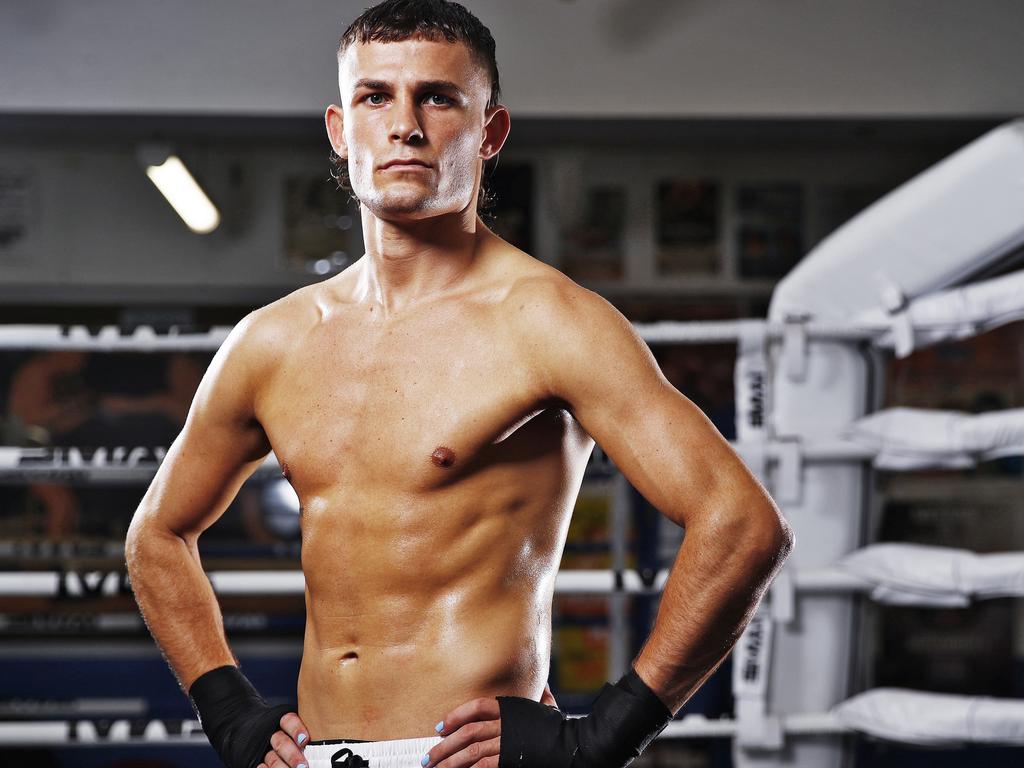 Harry Garside is very much a new age boxer. Picture: Sam Ruttyn
"I meditate daily, I've got a breath coach (Watene Waenga) who is a Kiwi on the Gold Coast and he has a program called the Amend Movement, and the stuff I've learned from him has been amazing," Garside said.
"It's all about loving yourself unconditionally. It's something I've struggled with most of my life.
"He is really helping me to make sure I can still achieve amazing things, while also loving myself unconditionally.
"One of things I do is shadow work, which is addressing things when you were younger.
"Often when we have heated conflicts as adults, we actually argue as kids because of something that happened to us when we were younger, when our needs or love wasn't met.
"So when you argue with your partner or whoever, you argue as a seven-year-old boy.
"My uncomfortable challenge this month was to do shadow work. I went back to a memory when I was five, something happened to me which I won't go into but I was really upset, it wasn't a massive traumatic event but it's how you interpret what happened to you.
Garside confronts conflict in and out of the ring. Picture: Sam Ruttyn
"At that age we don't have control of our frontal lobe, we don't have logical brains. So it's all about retraining yourself, going back to that moment when I was five, and being able to talk to it as a 24-year-old who has logic and reason.
"I recommend everyone doing it."
The Tokyo Games bronze medal winner turned professional last December and is already the Australian lightweight champion with a 2-0 (1KO) record.
Garside has his third fight next Wednesday in Newcastle against Layton McFerran (5-1, 2KO), on the undercard of Paul Gallen vs Kris Terzievski.
But he is developing as quickly out of the ring as he is in it, having confronted difficult truths.
"It's from my upbringing, most of our stuff happens when we're younger, stuff out of our control, from the ages of zero to seven, that's when it impacts us the most," Garside said.
"And there could be things in my childhood I don't even remember. I must admit these are things I can remember; my family got a lot of judgment, I always lost at sport, never came first, for the first 15 years of my life I was useless at sport; basketball, boxing, I lost more fights than I won.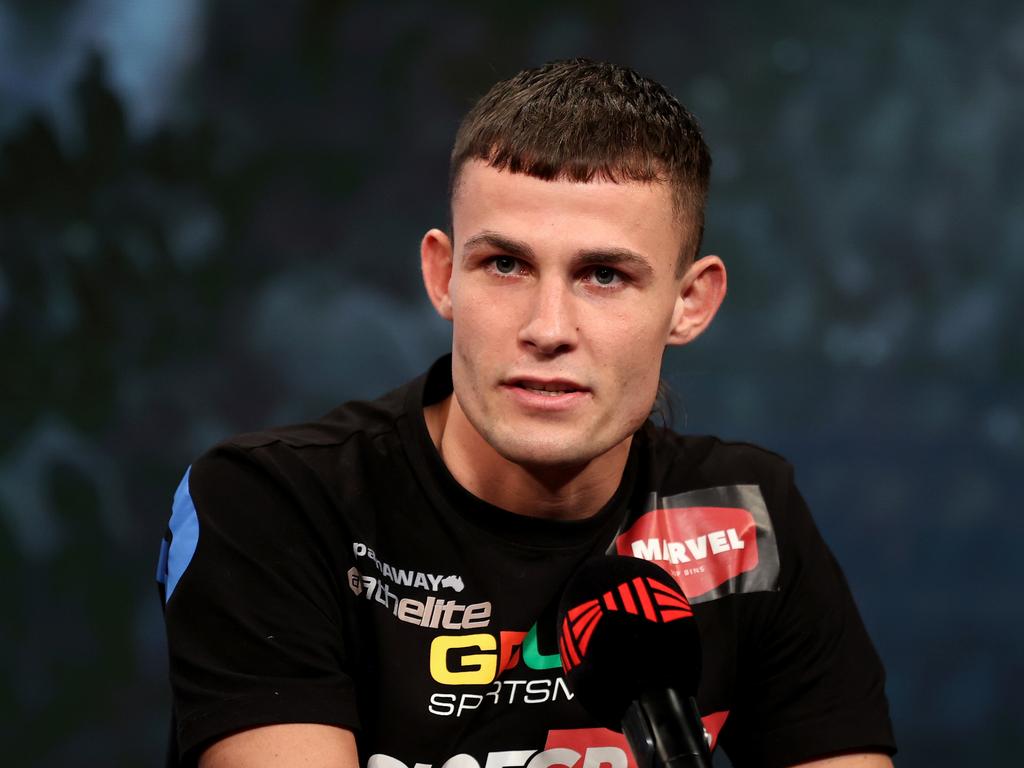 Garside is on a journey of self-improvement. Picture: Brendon Thorne/Getty Images
"That's why I felt I wasn't good enough, and because of many other things.
"The big focus this year is to love myself – the good, the bad, the ugly – and try to become a good human, and then a good athlete second.
"The relationship we have with ourselves is the longest relationship we'll have, and a lot of people have a really poor one.
"Little things you can do, affirmations in the mirror. So I wake up every morning and I say things in the mirror, "I am enough', 'I am loveable', 'I am worthy of being a champion', 'I am worthy of good things'.
"These are things I say and things that are specific to me. It really helps. Sometimes I write things on my drink bottle.
"Being curious is a big one, curiosity has revealed a lot for me, like 'Why did I do that?' Say after an argument with my partner, or a family argument, after a loss in boxing, 'Why did that happen? What went well, what didn't go well, how can I improve?'
"These are things I do all the time.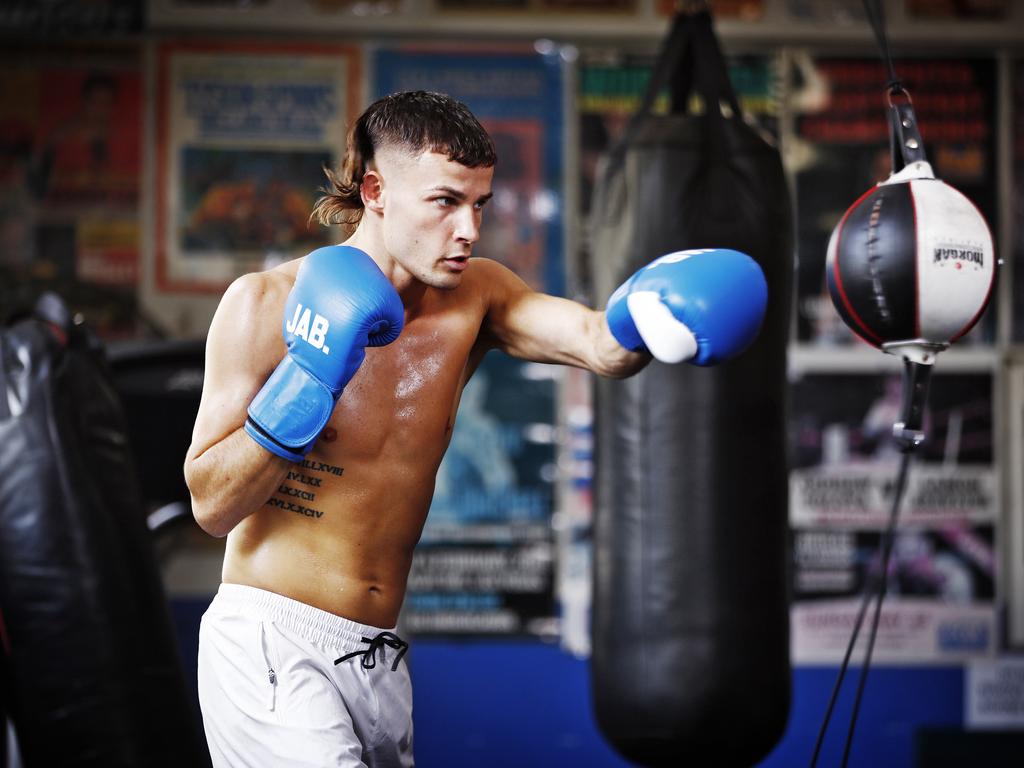 Garside attributes his success inside the ring to his mental work outside of it. Picture: Sam Ruttyn
"I even learnt this thing called tremoring. Sympathetic is when we're in fight-or-flight, parasympathetic is when we're recovering. So when we're sympathetic, if you do a tremor, you bring yourself back naturally to parasympathetic.
"If you watch when animals have conflict, most animals shake afterwards, then they walk off fine, they release the energy. Humans have lost the art to do that, I've taught myself how to do it."
Garside says these are all factors that contribute to his sporting success.
"The first national title I won, I went internal, I internalised a few things about myself in that preparation," he said.
"Even the (2018) Commonwealth Games I won, I went through a break-up, had some family issues, I had to really go internal to realise what was going on, and won the gold medal.
"Olympics, I went through a break-up again, did heaps of online courses to delve into myself, because I realised every time I look into myself and the world, I get better as an athlete."
Originally published as Boxing 2022: Nikita Tszyu headlines 'best undercard' in Australian boxing history