Paul Gallen v Kris Terzievski fight news: Leaked training footage sparks fierce betting plunge
Leaked training footage has led boxing insiders to back Paul Gallen's opponent, who is 12cm taller and eight years younger than the NRL legend. WATCH HERE
This is the blistering hand-speed that is being secretly shared among the boxing fraternity and has sparked a betting plunge on Kris Terzievki ending the sporting career of Paul Gallen.
Terzievski, the Australasian heavyweight champion, has spent the past six weeks sharpening his already significant speed, and leaked footage from his training camp has now emerged on WhatsApp, with News Corp Australia obtaining the vision.
Several punters have rushed to back Terzievksi, who started as a $5.50 outsider with Palmerbet but is now in at $2.60, while Gallen has drifted from $1.05 to $1.50.
A supremely confident Terzievksi told Gallen to his face at their weigh-in on Tuesday: "I have no fear in my heart, I am bringing war".
Watch Paul Gallen vs Kris Terzievski LIVE on Main Event available on Kayo & Foxtel, Wed 11th May from 7pm AEST. ORDER NOW >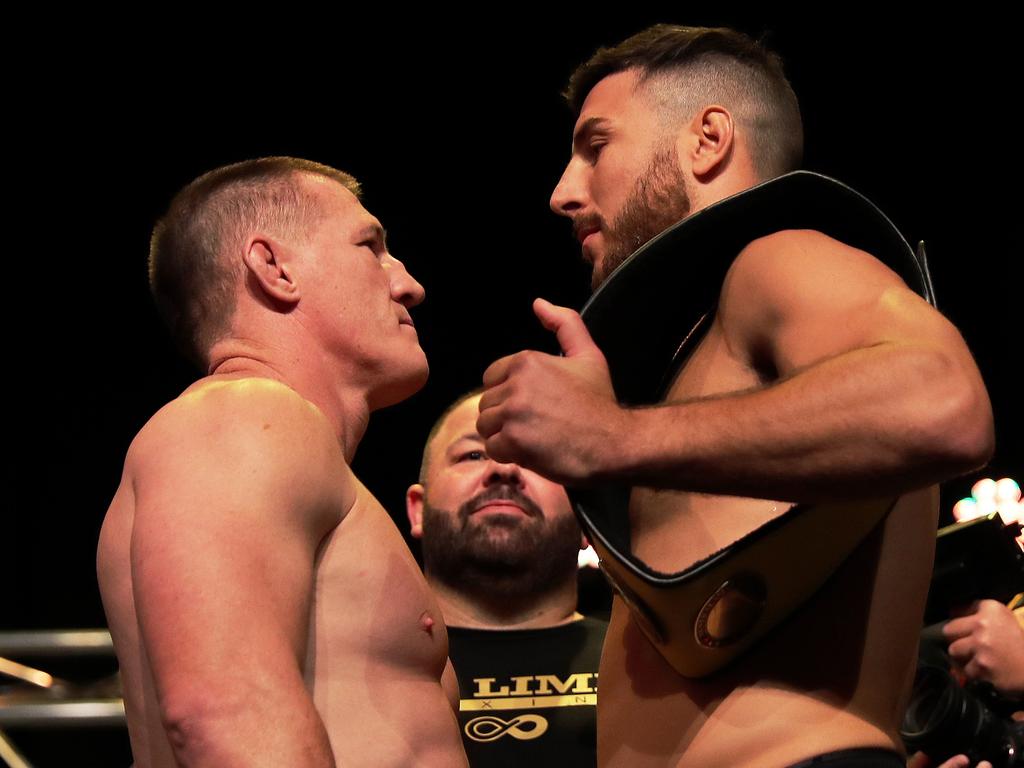 Paul Gallen faces off with opponent Kris Terzievski during the King of the Castle official weigh-in in Newcastle on Tuesday. Picture: Peter Lorimer/Getty Images
Gallen, who weighed in at 99.4kg for his previous heavyweight title fight against Justis Huni, this time came in at 103.86kg, while Terzievksi weighed 102.26kg in Newcastle ahead of the showdown for his title and the vacant Australian heavyweight belt.
Terzievksi, 12cm taller and eight years younger than Gallen, believes he can defeat the former NRL star and send him into sporting retirement after Gallen revealed this could be his final boxing match.
"I do think I'll be too quick for him," Terzievksi said.
"It's a great matchup, he's only got a kilo on me, I'm used to fighting blokes who have got 30kg on me in the heavyweight division.
"I'm looking forward to giving him a boxing lesson."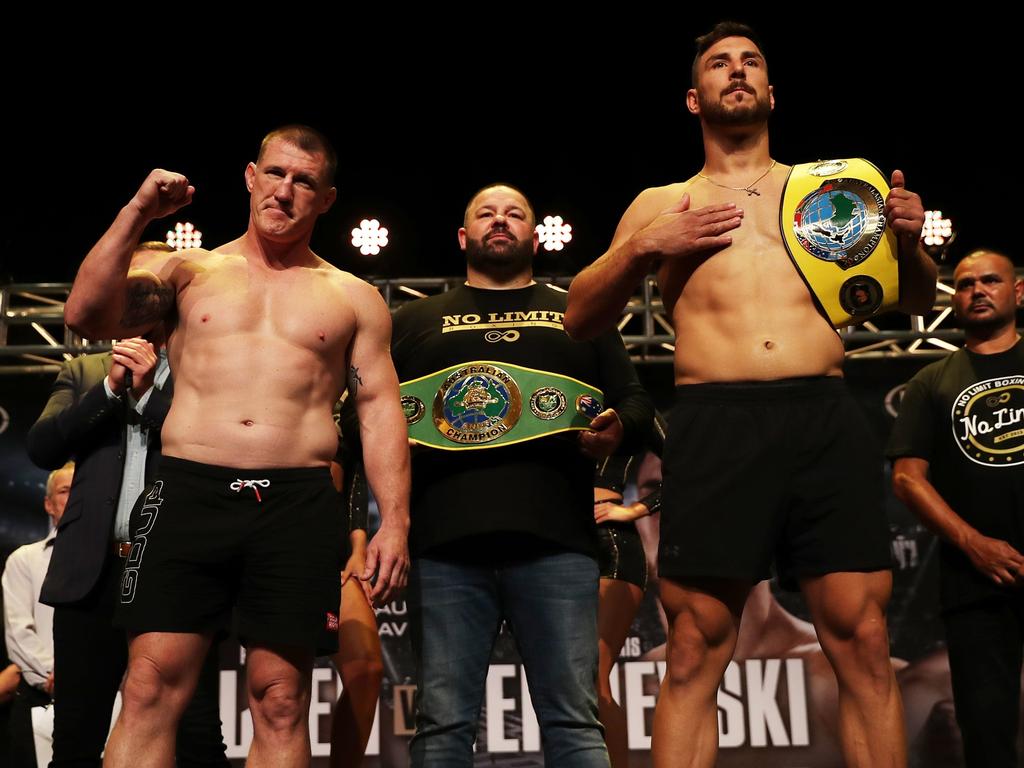 Gallen will be giving away 12cm in height to Terzievski. Picture: Peter Lorimer/Getty Images
Gallen said it was a deliberate strategy to put on weight for this bout, despite Terzievki's tricky footwork.
"I said from day one I wanted to come in heavier, I should've known from my rugby league days that whenever I got really fit and really lean I'd get bumps and bruises," Gallen said.
"That happened against Justis, I was down to 99kg, got hit, got hurt, and I struggled through that fight.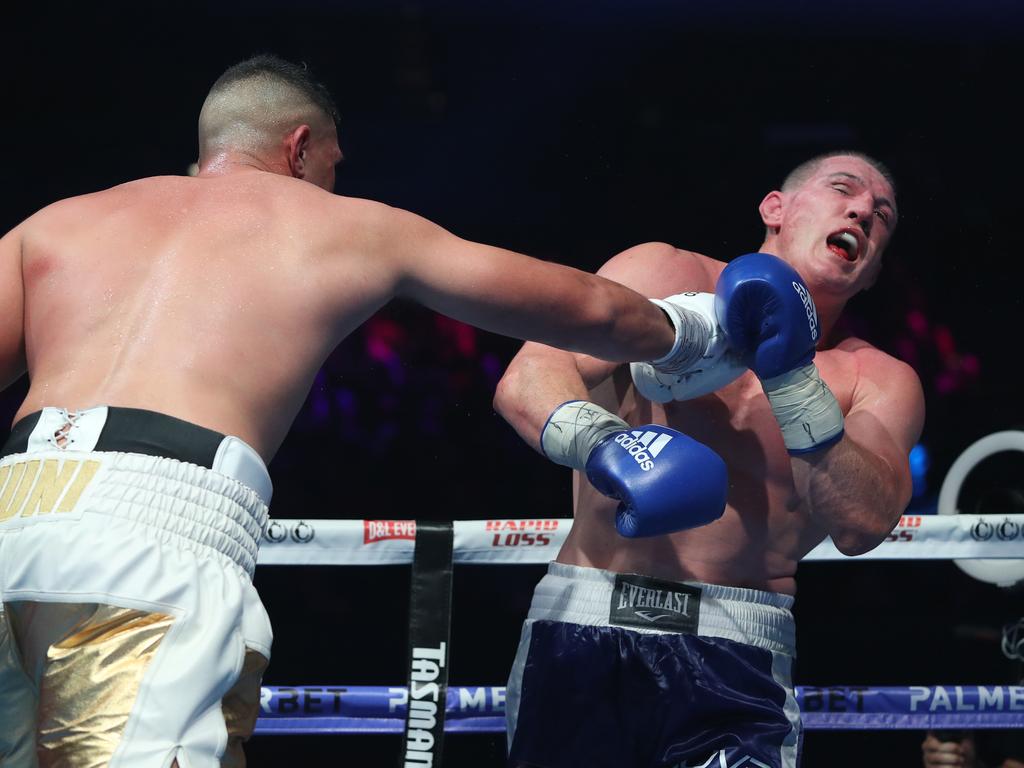 Gallen takes a blow from Justis Huni during their Australian heavyweight title bout. Picture: Richard Dobson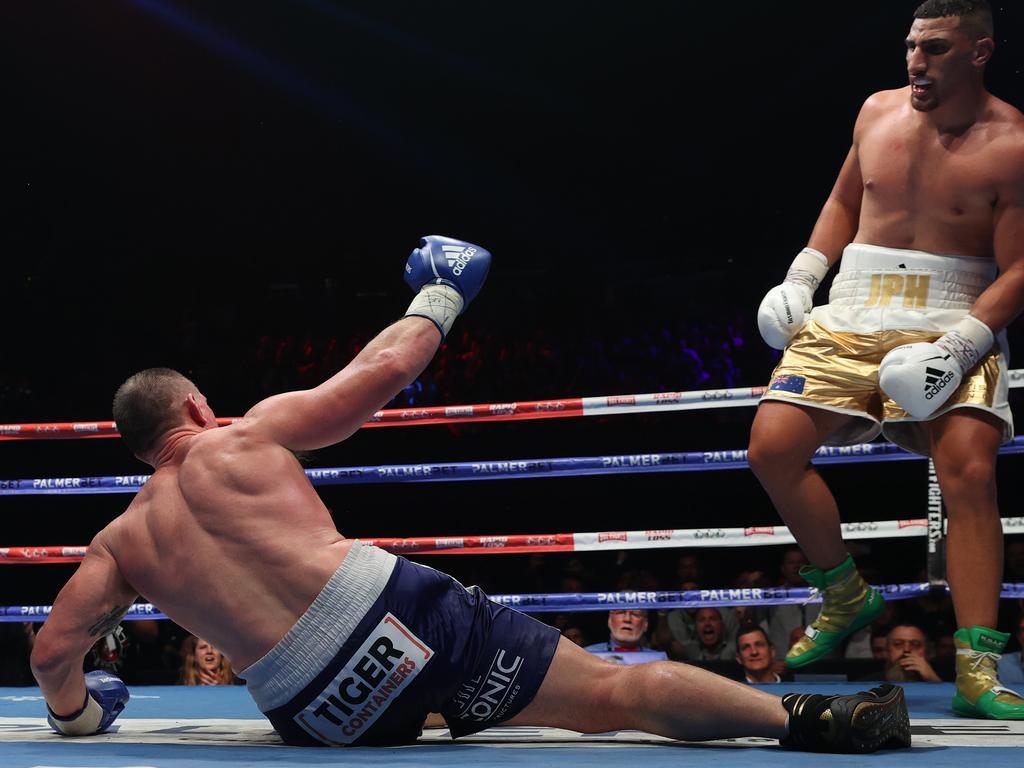 Gallen goes down against Huni in their Sydney bout. Picture: Richard Dobson
"I wanted that extra weight on me to handle the shots."
Gallen conceded he is in the twilight of his professional sporting career, which began in 2001 for the Cronulla Sharks.
"I'm not going to come out and say [this will be my last fight] because I don't know, but there is a chance," Gallen said.
"I've had a wonderful sporting career for a long, long time. I put my body, my mind and my head through a hell of a lot, there comes a time in life where you've got to put your family first and your health first, and it's pretty close to be honest.
"Without doubt, I'm right at the back end."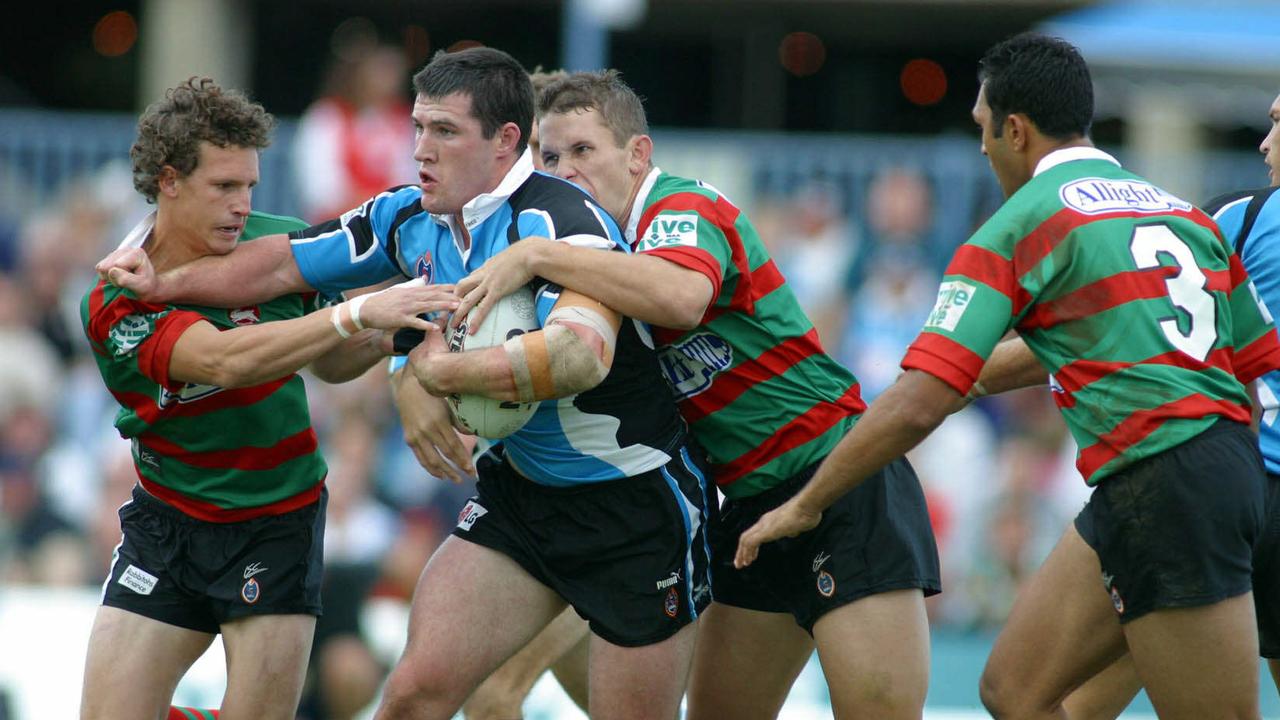 Gallen during his playing days with the Cronulla Sharks in 2003.
Gallen, 40, has endured criticism throughout his rugby league and boxing career, but is not seeking validation from the public should he hang up the gloves.
"I constantly get ridiculed on social media, the general boxing fan says I'm no good for the sport," Gallen said.
"Well the fact is I am good for the sport, I bring eyeballs and attention which can only be good for the sport.
"I don't really care about the boxing public or the recognition, people boo me, people cheer me, for whatever reason they want to beat me.
"I'm doing things they can't do, it's as simple as that."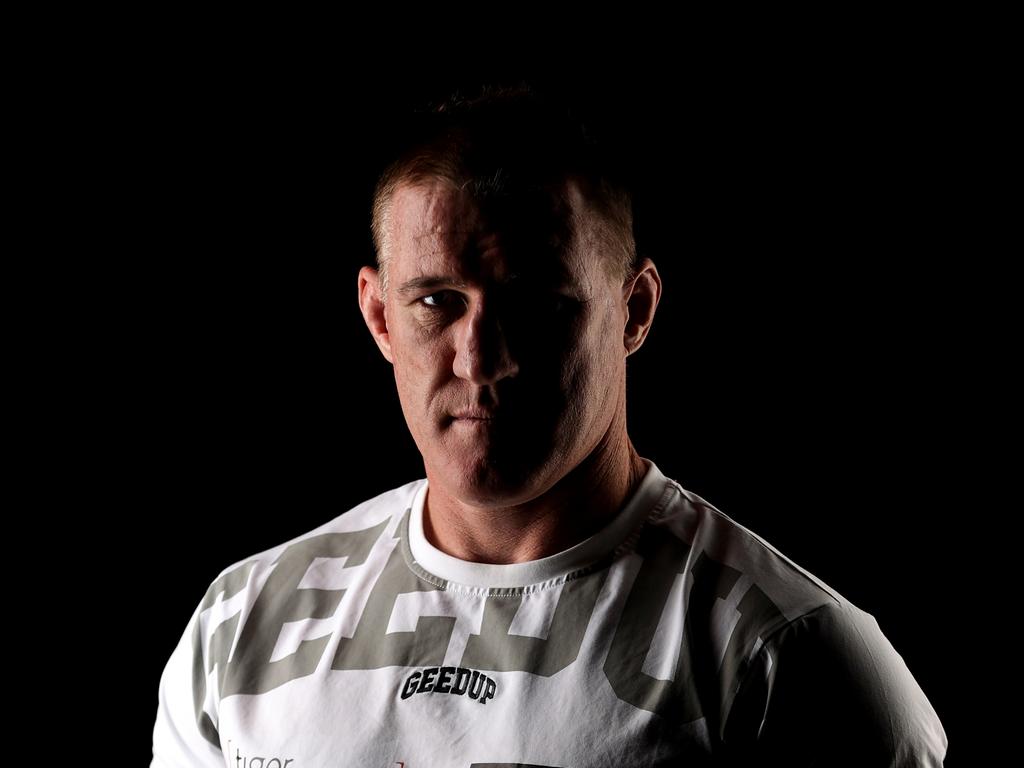 Gallen believes he has brought a lot to the boxing game despite being ridiculed by fans.
Terzievski has qualms in being the man to end Gallen's time in the sun.
"I'm ready for war now," Terzievski said.
"I've heard there's a big Macedonian community in Newcastle, they tell me 5000 feels like 50,000 in Newcastle so hopefully a few of those eastern European Balkans can get behind me and I'm looking to use that energy and put it through Gal."
Why Gallen walked out of press conference
No Limit boxing chief George Rose is incensed that Paul Gallen stormed out of a press conference promoting Wednesday's fight against Kris Terzievski and has vowed to hire additional security at Tuesday's weigh-in to ensure the former NRL star fulfils his media obligations.
Ironically, Gallen walked out of the presser at The Star because he feels Melbourne's Terzievski hasn't done enough to promote the 10-round Australian heavyweight title fight in Newcastle.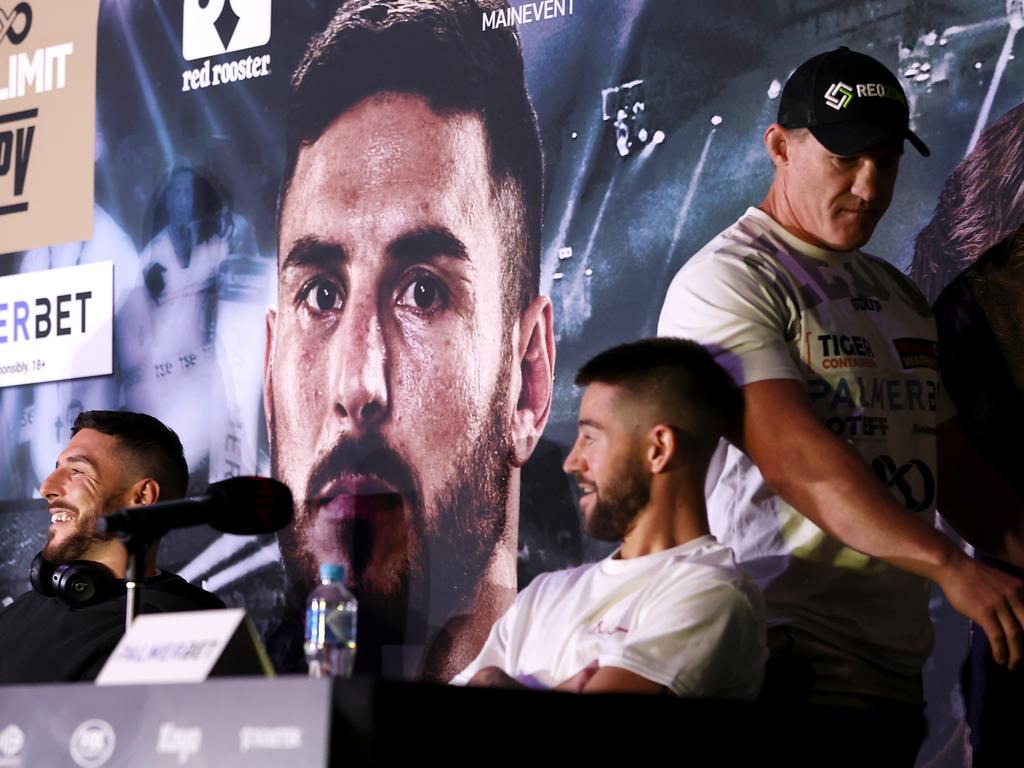 Gallen catches everyone by surprise, by walking out of a press conference ahead of Wednesday's fight. Picture: Getty Images
In a surprise move, Gallen responded to his first question by presenter Ben Damon by taking aim to Terzievski's failure to attend last Wednesday's open media workout in Sydney and provide a platform to the many undercard fighters on the card including Nikita Tszyu, Harry Garside, Sam Goodman and Hassan Hamdan.
"Kris has done nothing to sell this fight, not one thing, didn't turn up to media the other day — there was more media the other day than at the NRL grand final — it didn't fit in his schedule," Gallen said.
"So I'm not going to sit here for one more minute and f---ing promote him."
What? Paul Gallen has just walked out of the press conference after one question because Kris Terzievski hasn't been promoting it pic.twitter.com/TVcapKOK6m

— Jamie Pandaram (@JamiePandaram) May 9, 2022
Gallen then stood up, leaned over Terzievski and said "Kris, you're a pretty boxer but Wednesday night isn't going to be pretty, it's going to be ugly, it's going to be a street-fight, and I'm going to bash you."
Gallen then dropped his microphone and walked out of The Star's sports bar, while a No Limit media executive unsuccessfully tried to persuade him to return.
Gallen walked out of the press conference and didn't return. Picture: Getty Images
Asked if Gallen's sudden departure was a ploy to drum up extra publicity for the fight, furious No Limit chief executive Rose told News Corp: "No, at this stage of the promotion we need as much time from Gal as we can get, we got 20 seconds from him.
"He's the heavyweight pay-per-view king of Australia, he's our headliner, and this is the time to be talking to be the people who want to watch him fight and those who are still deciding whether they'll buy the fight. We just don't get enough from him.
"We've gone to a lot of effort to organise a big press conference with a lot of talent, this puts us in a difficult position in trying to promote a great fight night.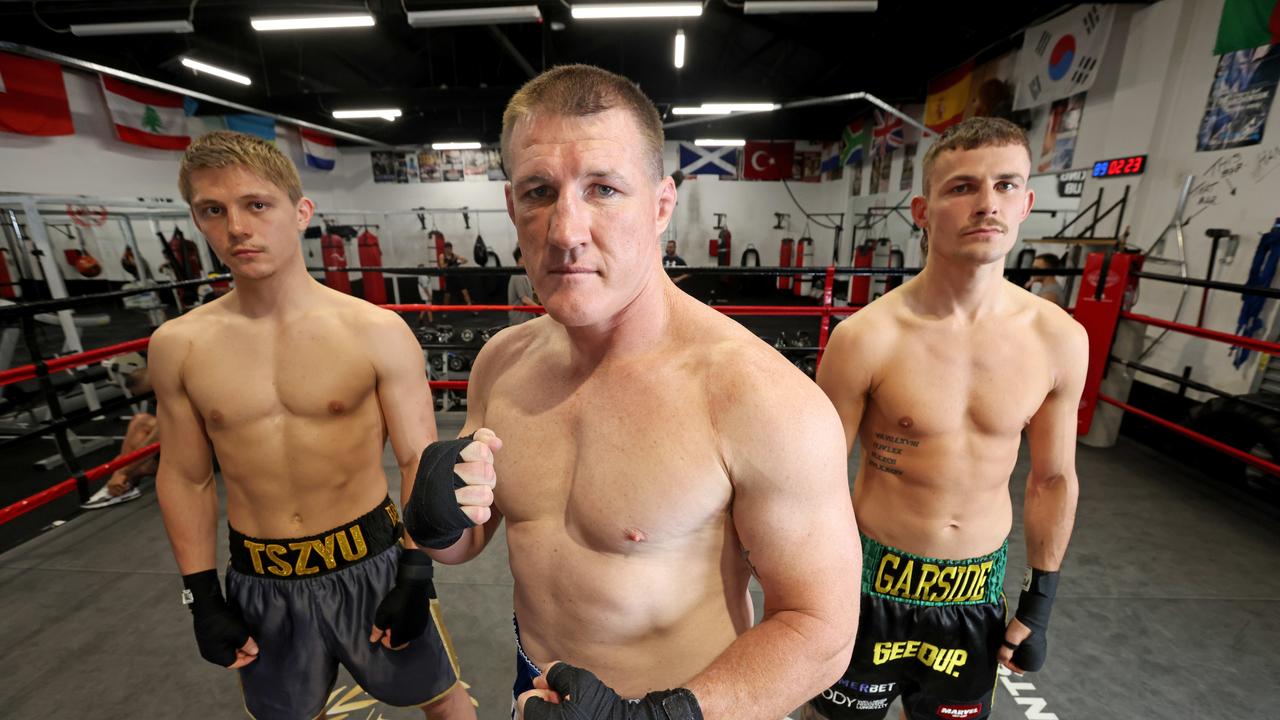 Paul Gallen (centre) alongside Nikita Tszyu (left) and Harry Garside (right). Picture: Damian Shaw
"I need more from him, I need that Gallen that inspires people to want to watch him chase this very tough goal of winning two titles (Australian heavyweight and Australasian heavyweight) in one night, or watching him get knocked out.
"He needs to be in front of the cameras and microphones to give people a reason to love him or hate him.
"I haven't had the chance to track him down since the press conference, we need to find him today and have a good conversation about what's going to happen over the next 48 hours."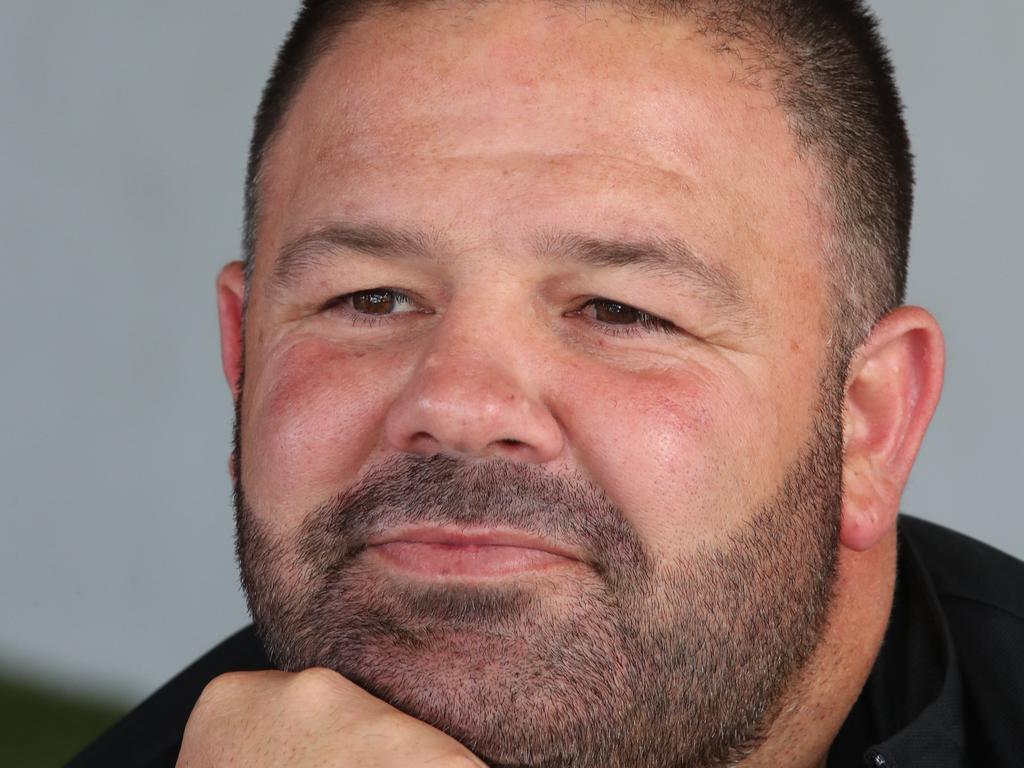 No Limit Boxing chief George Rose has fired shots at Gallen. Picture Glenn Hampson
"We will be hiring extra security and rostering on additional No Limit staff so Gal can't walk off again like he's done," Rose said.
A bemused Terzievski said: "That was a bit out of character, he was saying he was in my head, potentially I'm in his."
Terzievski (10-1-1, 8KO) is a 32-year-old southpaw who stands 191cm — 12cm taller than Gallen (12-1-1, 7KO) — and said he skipped last Wednesday's media session because he was given late notice.
"Originally I was told he was going to come to Melbourne and try to build it up down there," Terzievski said.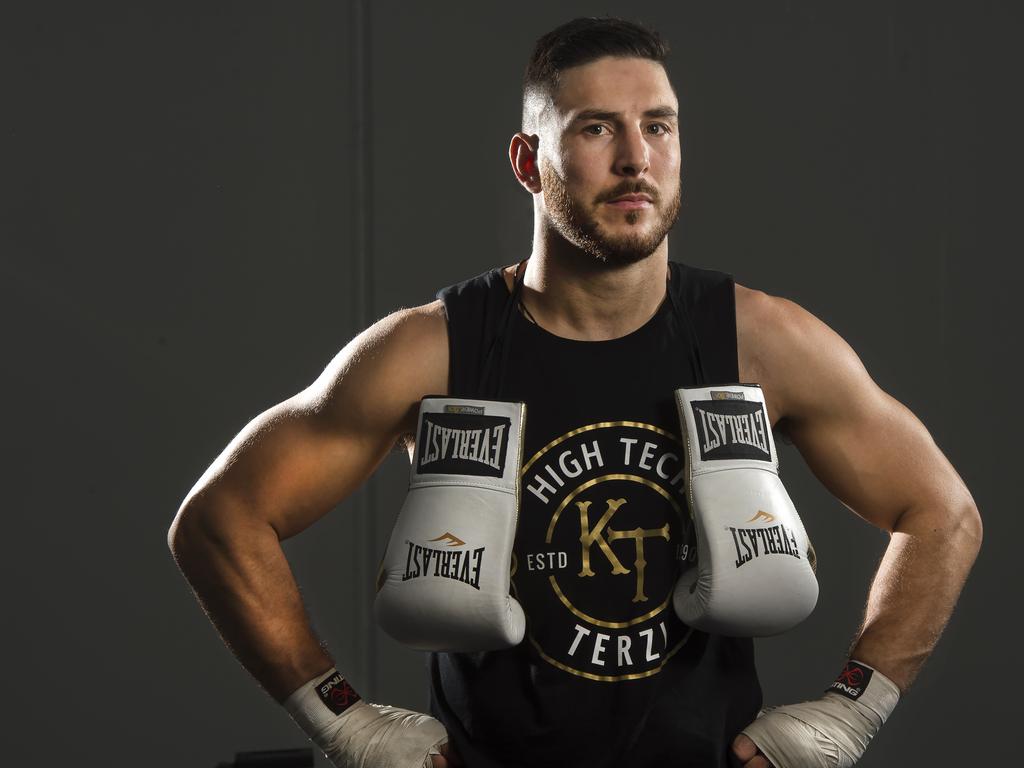 Gallen was unimpressed by the amount of promotion Terzievski had done for the fight. Picture: Rob Leeson
"All of a sudden I got told there's been a change of plans and for me, this is the biggest fight of my career, I've got things in place to prepare and train and ultimately that's what's going to win me the fight.
"So when they changed it up I said 'I can't make the morning, I've got commitments', but I still came down that day for the Fox [Sports] stuff, still did interviews, so he said what he wanted to say but that wasn't how it was supposed to be."
Gallen could not be reached after the press conference.
His advisor Pete Mitrevski Jr said: "Paul is over this guy not promoting the fight, he is promoting boxing and this guy is getting on the biggest stage and doesn't want to promote, he's quitting in the media just like he quit in the ring against Django."
Mitrevski Jr was referencing Terzievski's only loss, against Faiga "Django" Opelu when he failed to come out for the sixth round.
NIKITA TSZYU'S STUNNING ADMISSION
There came a time when Nikita Tszyu viewed boxing as barbaric and pointless.
Unlike his older brother Tim, Nikita lost his love for the sweet science while pursuing his studies, spending six years away from the game when many felt he was the more talented of the brothers in the amateurs.
"I demonised boxing for a bit," said Tszyu, 23.
"When I started architecture, my mind shifted completely away and I saw it more as a barbaric pursuit, an unproductive use of time.
"I saw people just punching each other and damaging themselves.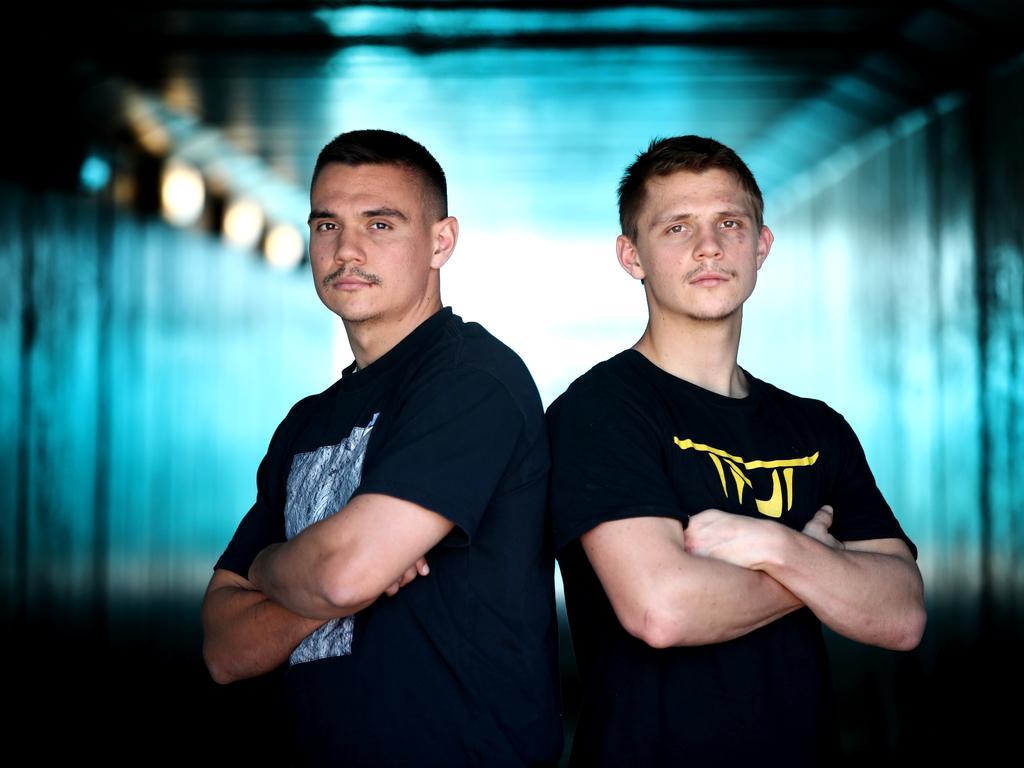 Tim and Nikita Tszyu are forging new paths for themselves. Picture: No Limit Boxing/Gregg Porteous
"But after my brain shifted, I saw it in different perspective, I saw it as an art form, as a way of being fully in touch with your body.
"There's someone in front of you trying to take your head off, it's a one-on-one battle, like a chess game of destruction."
Tszyu's long break still has critics questioning whether he can match Tim and get to the world title stage.
It is said once your love for boxing leaves, it never comes back.
But Tszyu believes the opposite is true, and that his extended time away will make him a far more dangerous prospect.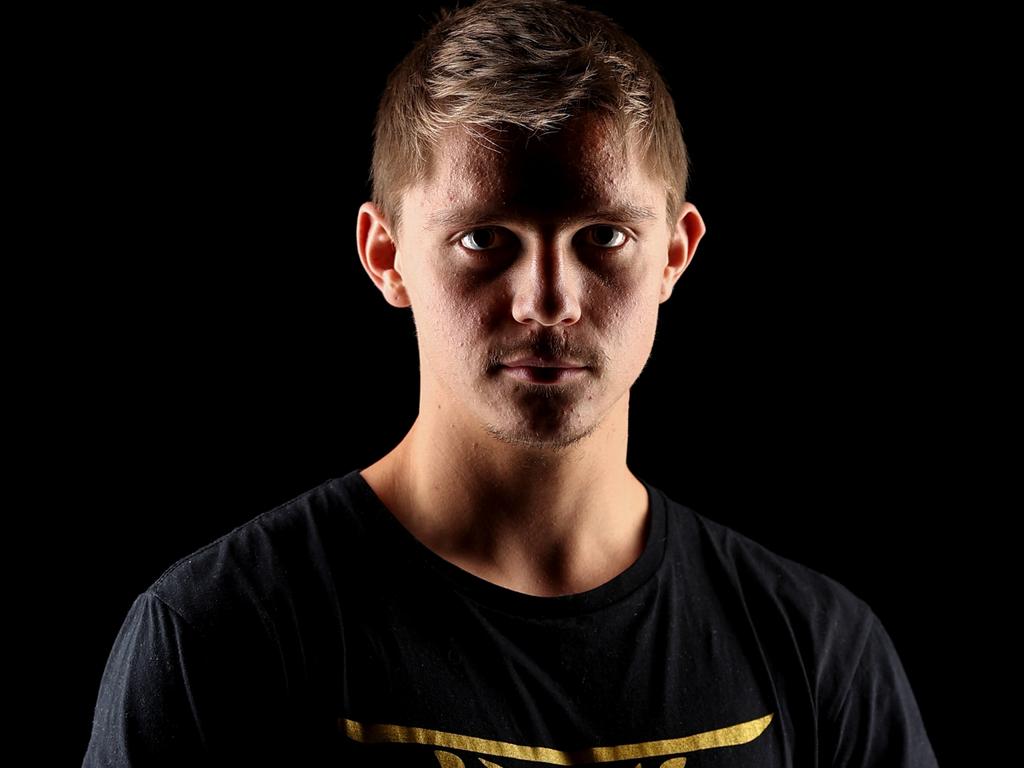 Nikita Tszyu has made boxing his 'Plan A' Picture: Brendon Thorne/Getty Images
"I went to a private school, they weren't too happy with me pursuing boxing as the number one thing and only having boxing," Tszyu said.
"They wanted us to have a Plan B, something else, and that's education. That Plan B turned into a Plan A for me, because I felt I'm not going to be able to go back to that Plan B if I don't fully secure it.
"Without actually getting that uni degree and completing that course, I won't have that Plan B, it would just be the idea of the Plan B.
"It was a very beneficial thing that I took that time off because I had a deep love for the sport, I was invested in going professional, going the whole way back in the amateurs.
A 15-year-old Nikita Tszyu poses for pictures. Picture: AAP Image/Lukas Coch
"And then something got in the way of that, but what it did was show me a life outside of boxing, and it showed me the potential of what's to come after boxing.
"A lot of boxers live their whole life in the sport, and once they retire they are lost, they don't know what to do, they make bad investments, they get drinking problems, drug problems, et cetera.
"I've already set up an idea of what I want afterwards, so I came in with a future goal, not just a goal for boxing, but after that.
"Also in that time off, in terms of my boxing career, I got to re-evaluate how I could do things more intelligently, without actually having to be pressured by the boxing.
"It's hard to train and re-evaluate, whereas when you have so much time off you can constantly think and reflect. You can research different ways of training, different martial arts.
"I've been incorporating many different things from kung fu, I took kung fu lessons with mates in high school. Things like yoga, relaxing the mind, relaxing the body, stretching everything out.
"These are things I learned because I had the disconnection from boxing, and I listened to hours and hours of podcasts and learned information from other people.
"There's no time to research once you become professional and have fights coming up, you just want to rest, recover and focus on the body."
Tszyu, who scored a sensational stoppage victory in his professional debut in March, has his second fight against undefeated Mason Smith (5-0, 2KO) on Wednesday in Newcastle, on the undercard of Paul Gallen versus Kris Terzievski.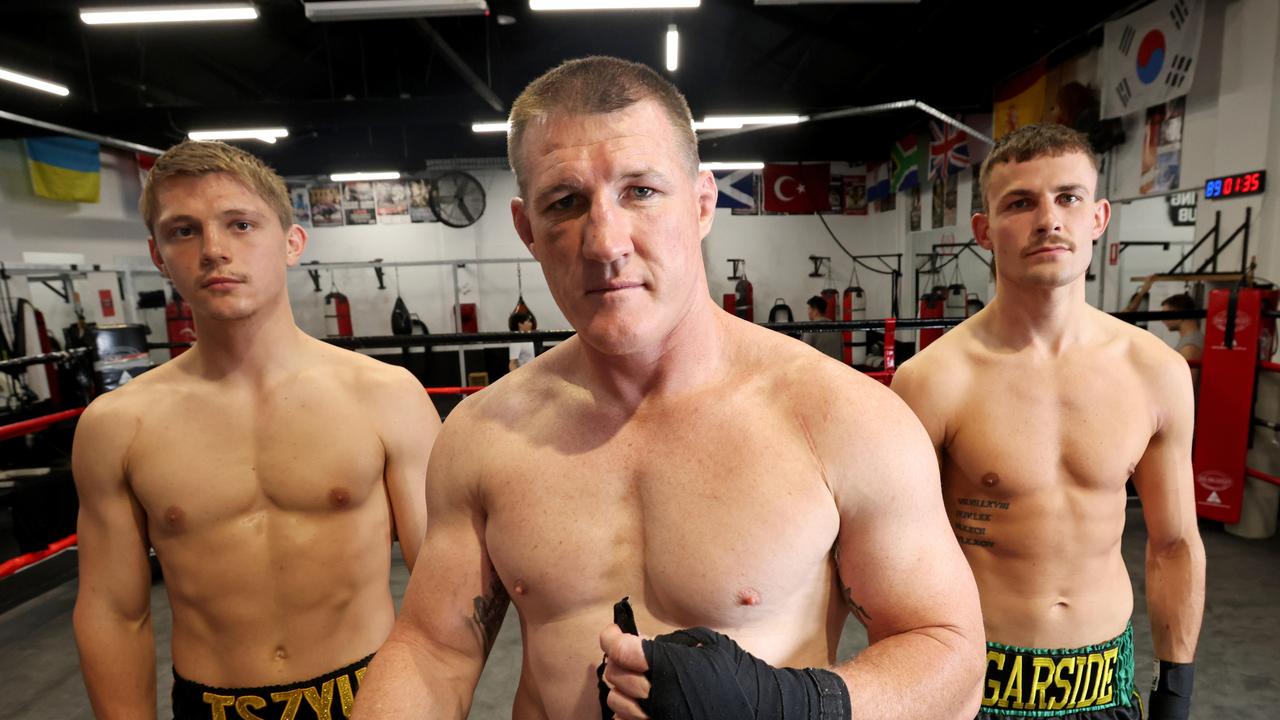 (L-R) Nikita Tszyu, Paul Gallen and Harry Garside will feature in the first ever triple-header boxing show for Main Event on May 11. Picture: Damian Shaw
The Tszyu brothers both fight at super-welterweight, where Tim is now the No. 1 WBO title challenger and will be heading to California the day after Nikita's fight so he can be ringside for the Jermell Charlo versus Brian Castano unification rematch, to call out the winner for all four belts.
The siblings have benefited from the family name established so brilliantly by unified champion father Kostya, but they're on their own path.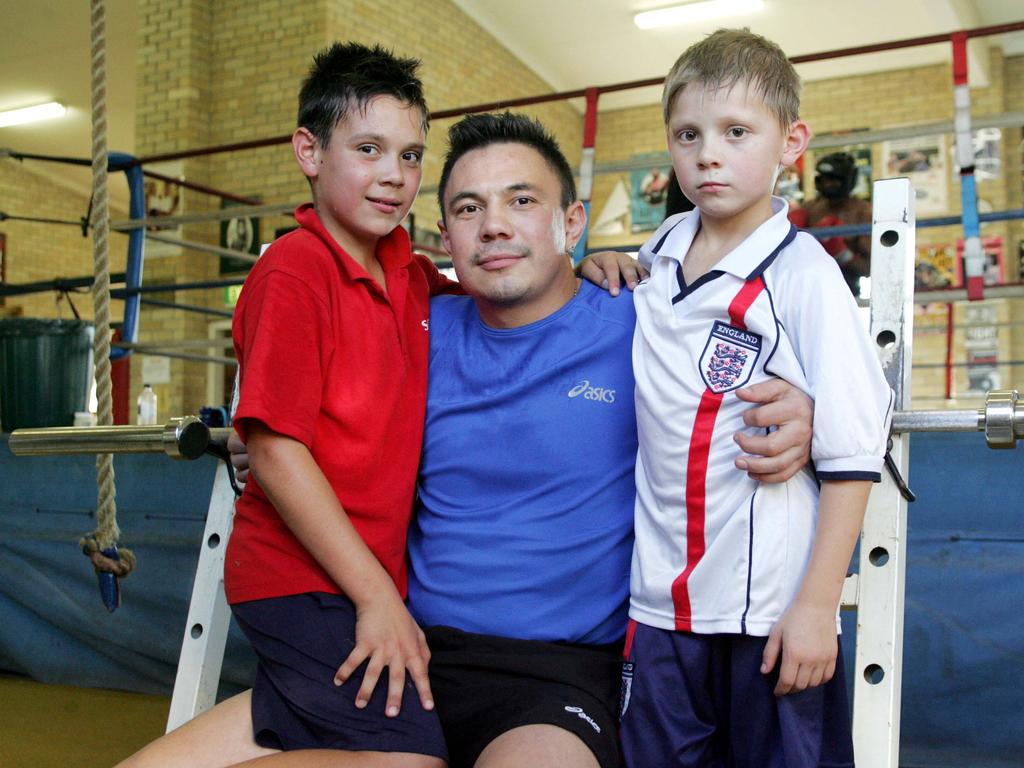 Boxer Kostya Tszyu with sons Timophey (10) and Nikita (7) at PCYC at Rockdale park in Sydney. Tim Tszyu.
"It's amazing to have watched Tim develop over the last few years, he's been an inspiration, big time," Tszyu said.
"I love watching him spar, because he has such a dominant performance every time he trains, he's got this intelligence to him, it's scary.
"To watch someone train and prepare at that level and then follow him, it's like you're living in a library.
"You've got a first-hand experience of someone right in front of you on how to do it, getting taught by the same coach, so it all makes sense.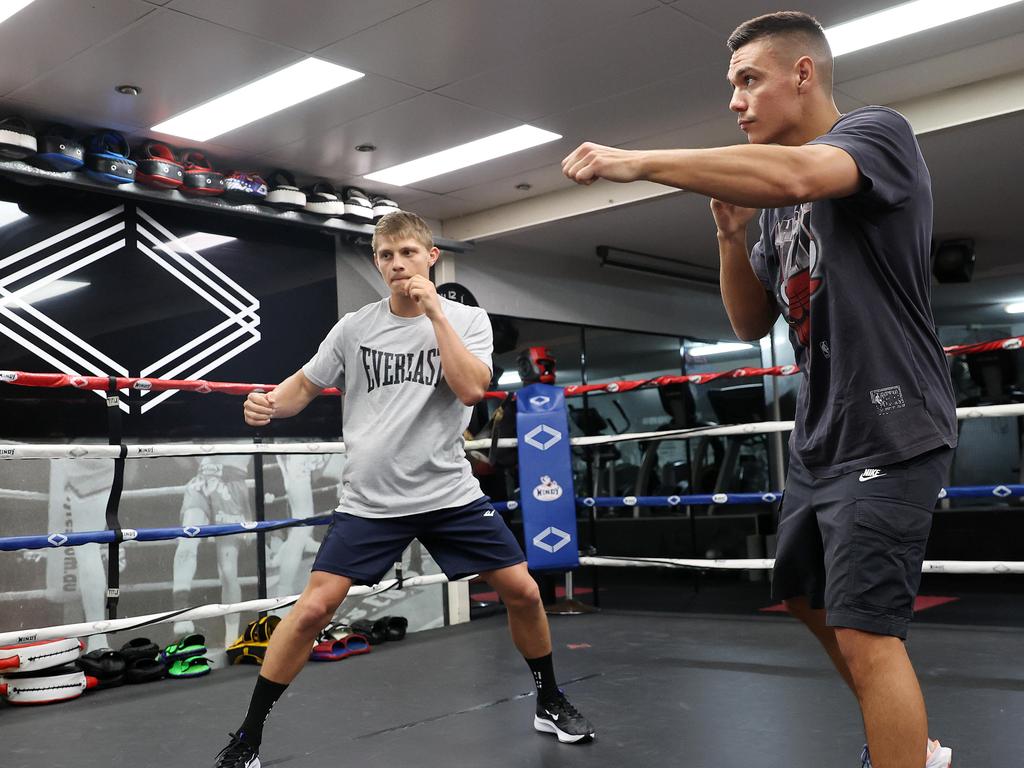 Nikita Tszyu and Tim Tszyu train together. Picture: Josh Woning
"Tim's learned his own tricks, he is his own fighter. He's trained by our uncle, Igor, who didn't train my dad. He was in the camps with my father, but he has his own methods and techniques as well, so we have different knowledge coming through.
"I've got a much easier opportunity to start off with, I'm pay-per-view on my second fight, so there's already that large exposure, Tim had to go under the shadows.
"But there's also a negative side to that, because there's a lot of pressure on me. There's no slowing down, no easy fights, no warm-up fights.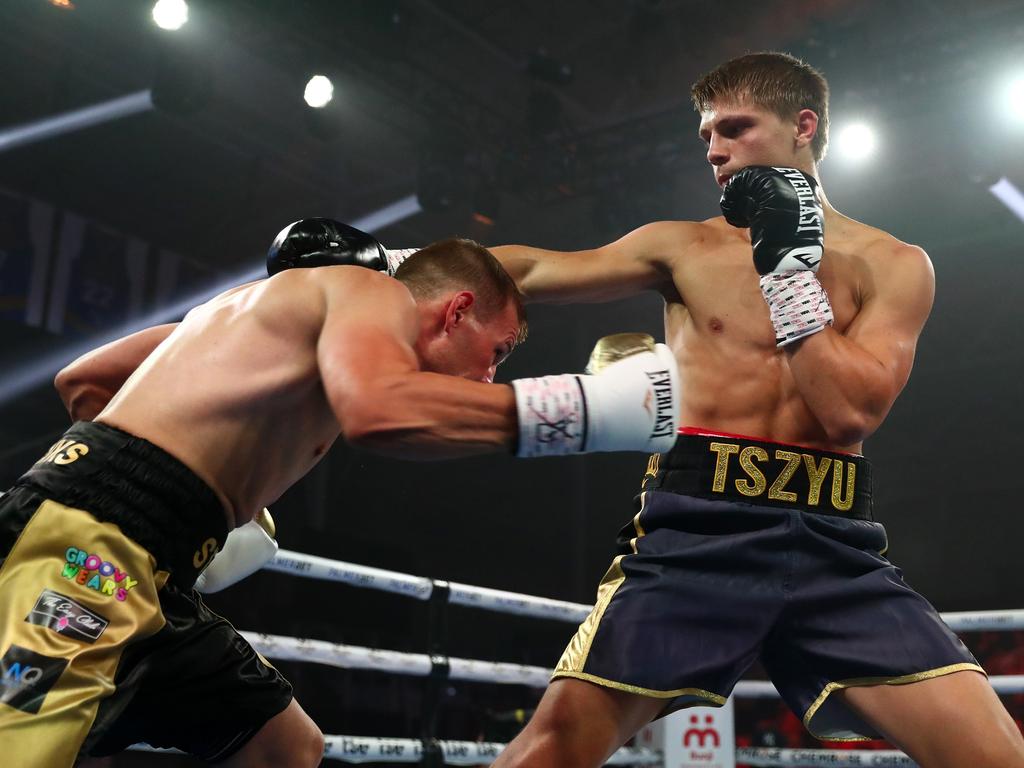 Nikita Tszyu punches Aaron Stahl during their Super Welterweight bout in 2022. Picture: Chris Hyde/Getty Images
"It's all about constantly challenging and fighting the best."
But why fight someone as credentialed as Smith in just his second outing?
"I need to have that credibility to show I am a threat in the division," Tszyu said.
"I can't be fighting guys with 10 losses.
"I need to show everyone I do have potential and ability behind my name."
Originally published as Paul Gallen v Kris Terzievski fight news: Leaked training footage sparks fierce betting plunge