Junior Paulo calls out Paul Gallen after Kris Terzievski wins Australian heavyweight title
Paul Gallen's boxing career may have ended in brutal fashion after a heavy defeat on Wednesday night – but one former rival has challenged Gal to go around one last time.
Parramatta and NSW Origin star Junior Paulo has called out Paul Gallen as he announced shock plans to resurrect his boxing career.
Paulo was a big-name spectator as Gallen almost pulled off a Rocky-style victory against Kris Terzievski in a gripping 10-round slugfest at Newcastle Entertainment Centre on Wednesday night.
Comprehensively outclassed for eight rounds, Gallen hung tough and his superior fitness almost prevailed in the ninth round as he rallied to storm home against a tiring Terzievski.
It was a performance that suggests Gallen still has some juice in the tank – despite pleas for him to retire – and if the 40-year-old decides to fight on, Paulo wants a piece of him.
SCROLL DOWN TO READ HOW GALLEN TOOK A BEATING FROM TERZIEVSKI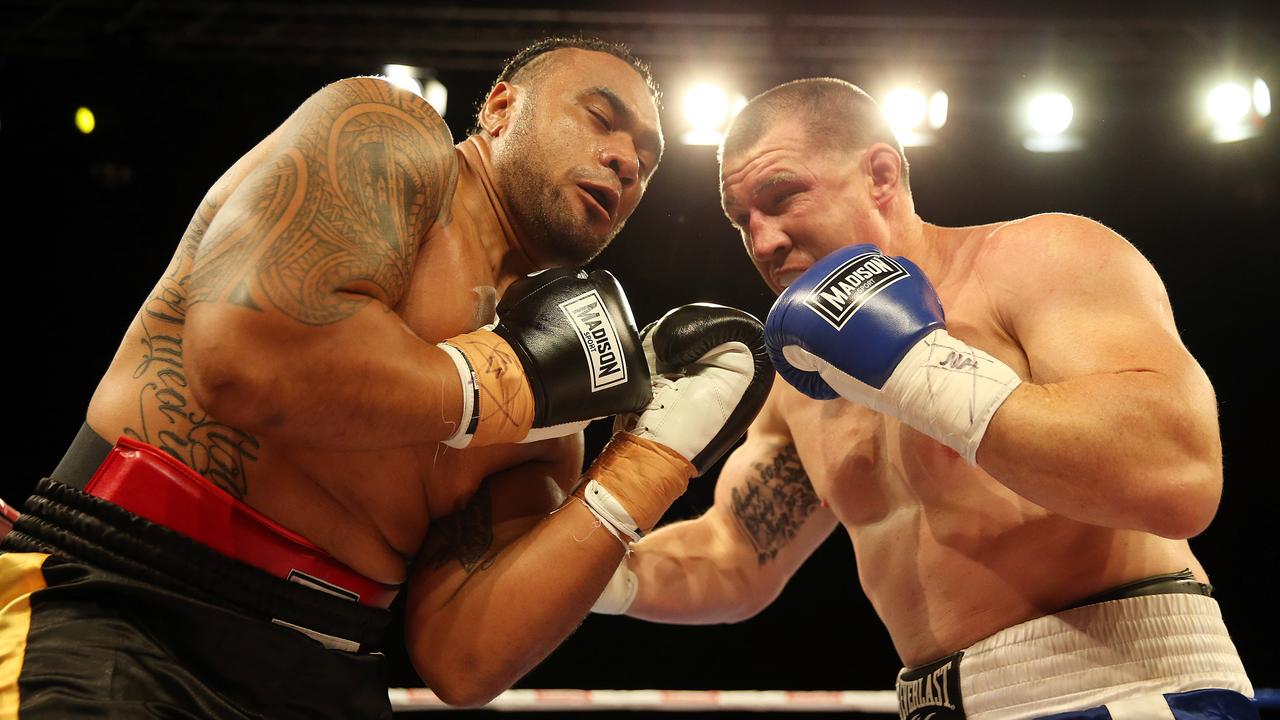 Paul Gallen defeated Junior Paulo,when the two squared off in 2016. Picture: Craig Greenhill
The NRL duo first squared off in 2016 and while Gallen won a unanimous decision over three rounds, Paulo impressed with his footwork and skill in his ring debut.
Now the 123kg Eels enforcer wants to settle the score with Gallen in what could be a possible swansong fight for the former NSW Origin skipper.
"I had a cheeky talk with George Rose (Gallen's promoter) and he wants me to get back in the ring at the end of the year," Paulo said.
"I fought 'Gal' back in 2016 and I wouldn't mind squaring it up again. We'll see if it happens.
"I had experience last year with a fight in February (in Townsville against Neville Costigan) and it's something I want to do again, so why not?
"It (a Gallen re-match) is definitely on the cards, I will take a shot at it."
GALLEN ADMITS RETIREMENT IS ON THE TABLE
Paul Gallen is seriously considering retirement after being comprehensively outboxed by Kris Terzievksi who claimed the vacant Australian heavyweight title.
Gallen, 40, admitted he aged in the ring as he fell to his second loss in the ring, outpointed 97-92 on all three judges' cards at Newcastle Entertainment Centre.
"My good mate Pete Mitrevski told me you don't age in between fights, you age in between rounds, it felt that way," Gallen said.
"I don't know yet [if this is my last fight], it might be.
"I'm humble in victory, I'm humble in defeat."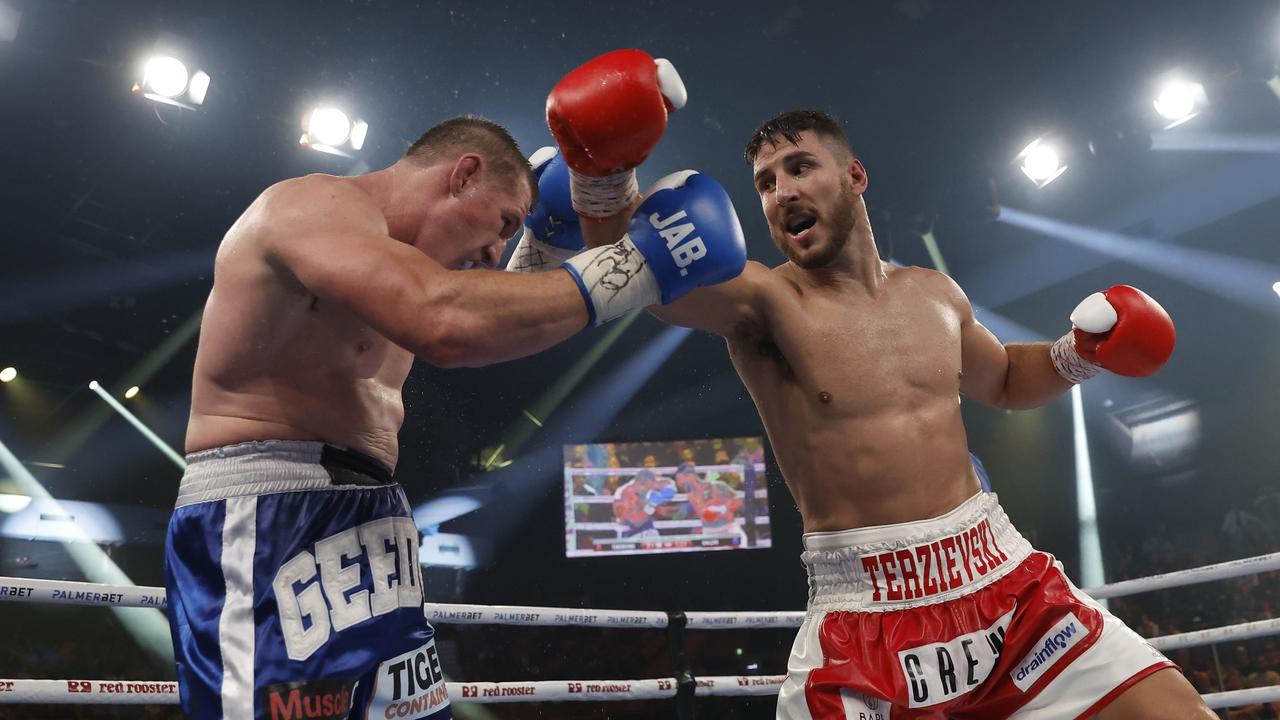 Kris Terzievski misses with a big right hand... Picture: Mark Evans/Getty Images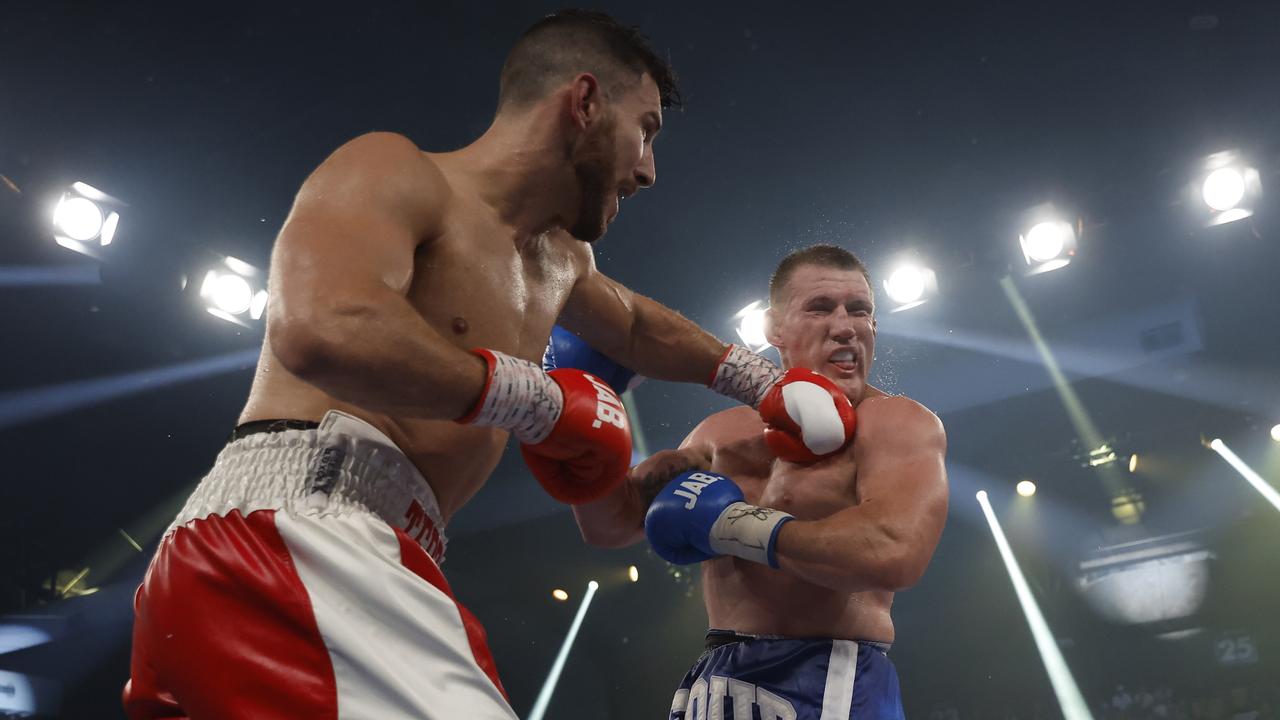 ...but lands a solid left. Picture: Mark Evans/Getty
Terzievksi, who got engaged to his partner Emilia Caia last October, hopes to compete in the newly created bridgerweight division (between 91kg to 102kg).
The Victorian underdog dominated the fight but Gallen landed several uppercuts in late ninth-round rally that had Terzievski stumbling around the ring and clutching.
He survived the round, then danced around the ring in the 10th as Gallen chased an elusive knockout. All three judges scored the fight 97-92 for Terzievski, who was already the Australasian heavyweight champion.
This rockets Terzievksi's profile, who was relatively unknown before this bout and even had to wait in the rain to hail a taxi to Newcastle Entertainment Centre to get to the event.
But the vocal Newcastle crowd surprisingly rallied around notorious 'heel' Gallen, taking their anger out on Terzievksi with a chorus of boos that lasted until after the fight.
RE-LIVE EVERY FIGHT FROM THE STACKED CARD BELOW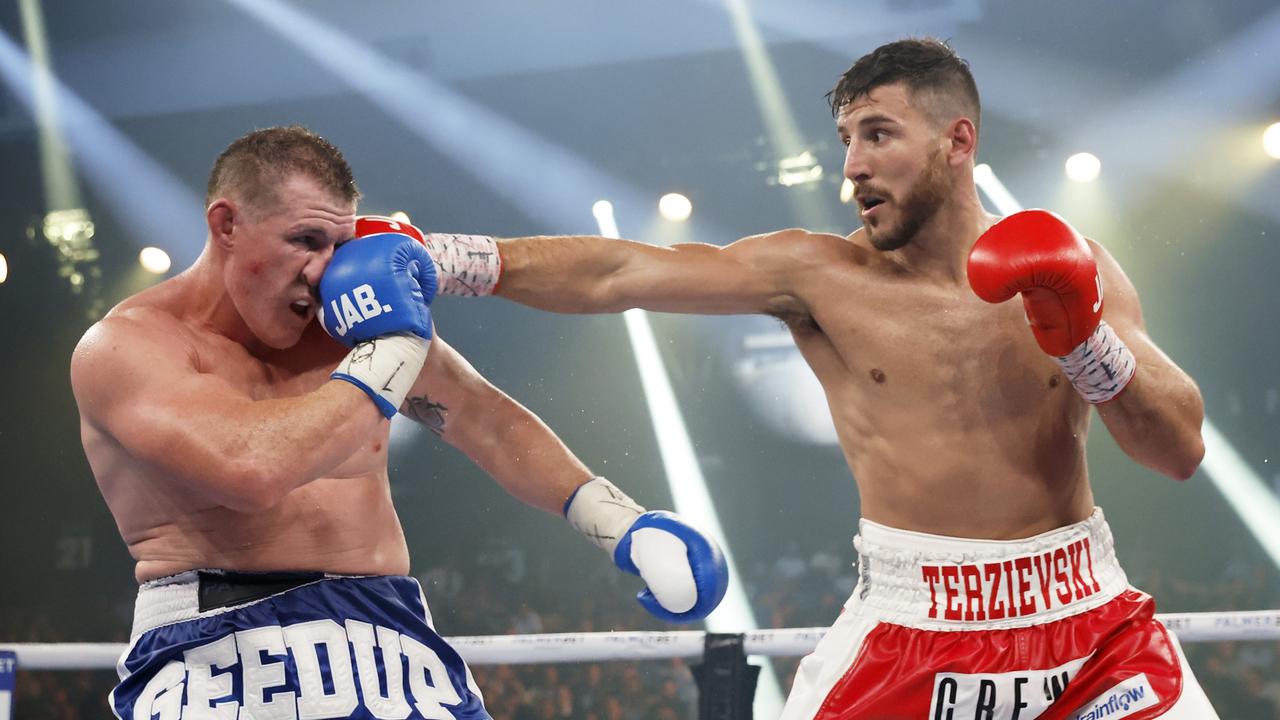 Paul Gallen struggled to handle Terzievski's range. Picture: Mark Evans/Getty Images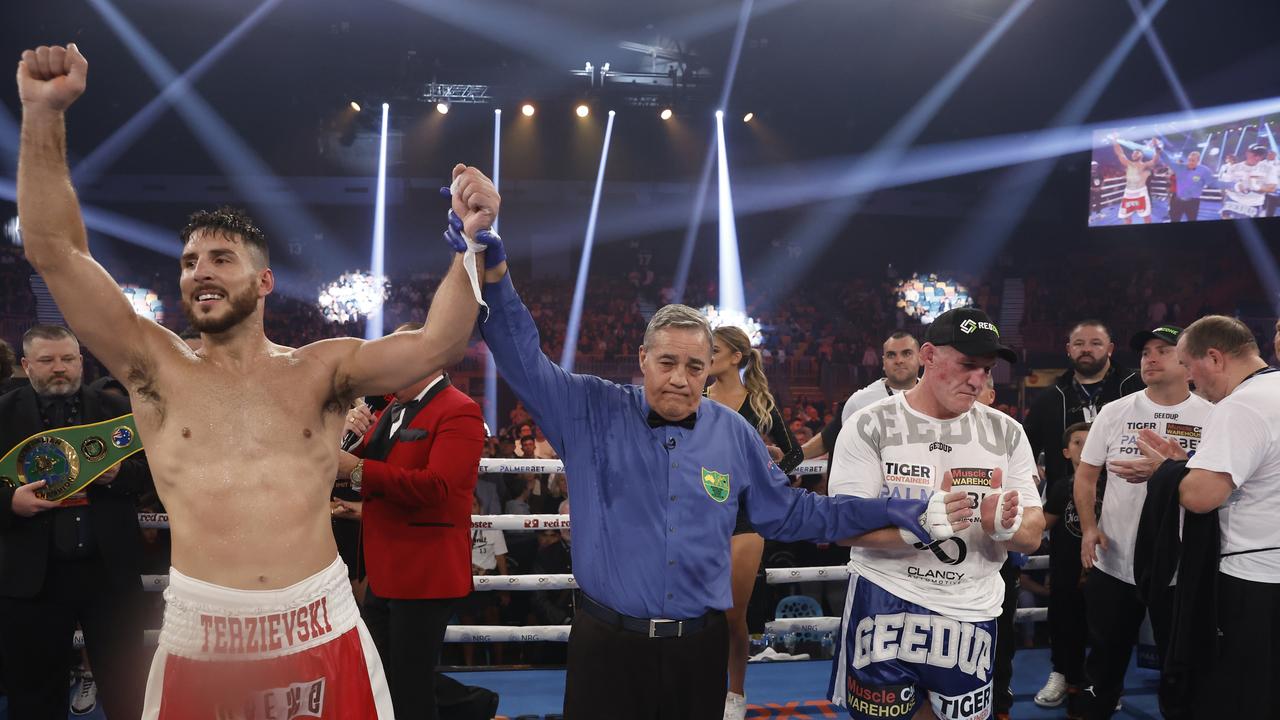 Terzievski celebrates his win during the Australasian Heavyweight Title bout. Picture: Mark Evans/Getty Images
Terzievksi was docked a point for pushing and his glove tape was loose for most of the fight – a ploy used by some trainers to buy a rest for their fighters during rounds.
The crowd amped up the decibels in the final two rounds as Terzievksi danced and hugged his way to the unanimous decision.
"I feel like I manifested this," Terzievski said, explaining how he'd sent a message to Gallen on Instagram asking for a fight two months ago, only to lose hope when Sonny Bill Williams defeated his friend Barry Hall.
"All my mates said Gal will get the Sonny fight, I thought that too. Then I get a message saying Paul Gallen wants to fight you. No problem."
Gallen (12-2-1, 7KO) was beaten for the same Australian title by Justis Huni, and Terzievski said he had interest in fighting Huni in future.
As for Gallen, the options are to retire, or have one more big-money fight against a lesser-skilled opponent, with NRL star Junior Paulo a leading candidate later this year.
"I just felt I couldn't go like I normally go," Gallen said.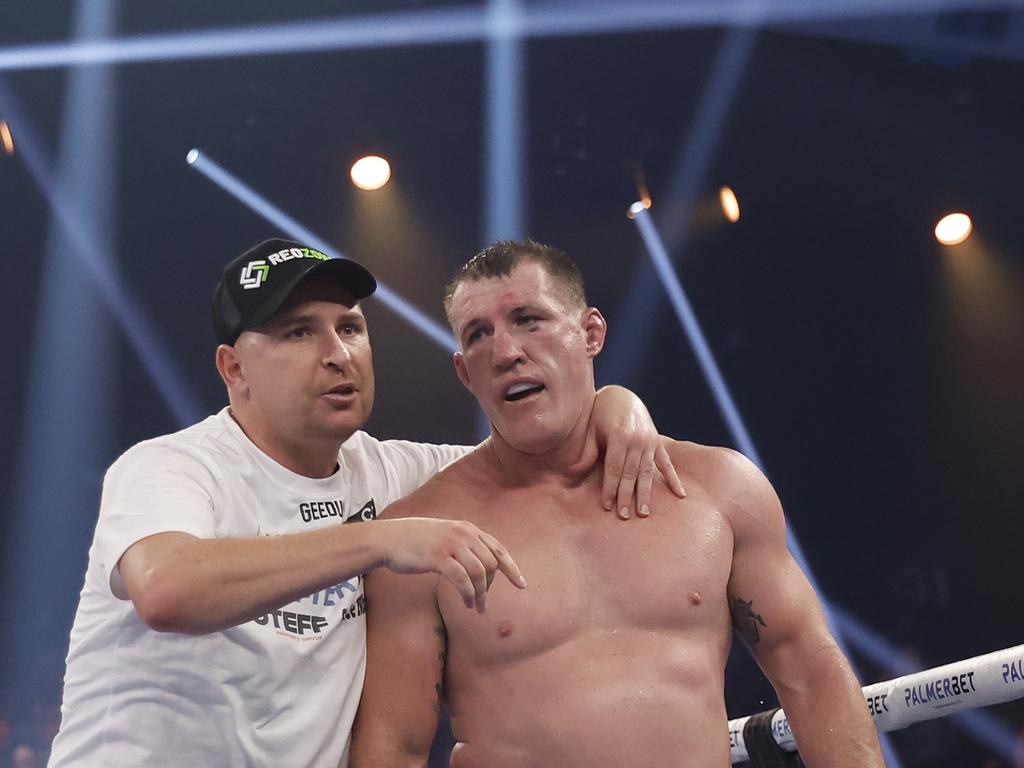 Gallen looks on after his loss. Picture: Mark Evans/Getty Images
Terzievski (11-1-1, 8KO) is a 32-year-old southpaw who stands 191cm – 12cm taller than Gallen – and troubled his rival with outstanding footwork and straight punches to the body and head.
Terzievksi started remarkably well, using his range and movement to tag Gallen while avoiding his attempted hooks.
He continued to execute his game plan using superior boxing skills to frustrate Gallen.
As the fight wore on it was clear Gallen needed a stoppage.
That threatened to transpire when Gallen landed four big uppercuts against the ropes and Terzievski wobbled on his feet.
He desperately clung to Gallen and survived, before finishing easily in the 10th.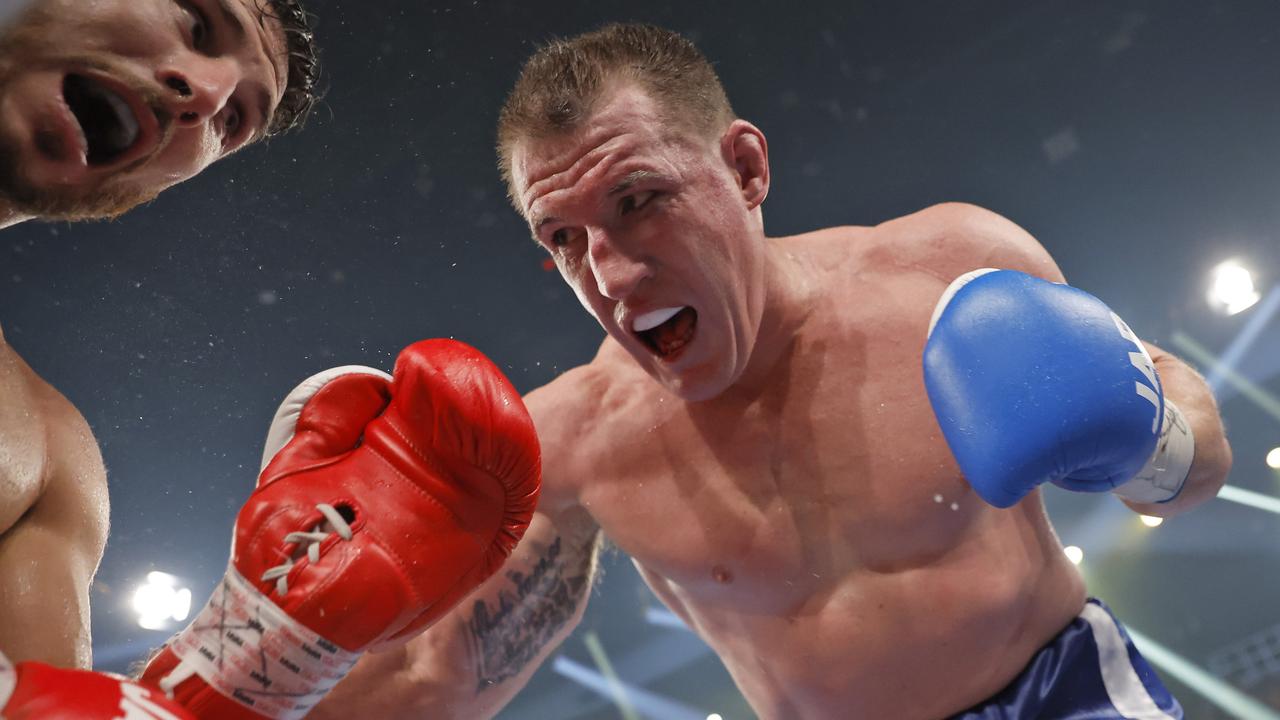 Paul Gallen faces a tough retirement decision. Picture: Mark Evans/Getty
In the co-main event, Nikita Tszyu dished out severe punishment to previously unbeaten Mason Smith for two minutes and 41 seconds before the fight was stopped in the first round.
Tszyu, 24, dropped Smith with a left-right combination, then hammered him from pillar to post before the bout was called off.
Smith (5-1, 2KO) was left with a bloodied nose, which thrilled Tszyu, who is clearly a major contender in the super-welterweight division in which older brother Tim is already a world title contender.
"It's the blood that gets to me, that's what I love, the joy I get out of it," said Tszyu, now 2-0 with two knockouts.
Tim Tszyu was suitably impressed, saying: "Give him some time, he will knock out the whole division in Australia – except me".
RESULTS FOR EVERY FIGHT ON THE CARD
Kris Terzievski def Paul Gallen via unanimous decision
ROUND 10
Terzievski is dancing. By my scorecards he needs to win this to avoid a draw. Gal chasing the big Victorian all over the ring. Gal looks like he's picking his spot to explode. The referee has pulled Terzievski's pants up twice now and the crowd ain't happy. Terzievski throws his hands up in air as the bell rings. Gal doesn't look happy. I've got Terzievski winning the Australian title 96-94.
ROUND 9
Kris Terzievski can barely stand! Paul Gallen is an absolute animal! Gal has Terzievski on the ropes! Terzievski's glove tape is completely off. Perhaps a ploy from his trainers to get the referee to stop the round to gain their fighter a breather. Terzievski 86-85
ROUND 8
Terzievski looks very tired as Gallen launches a brave rearguard. Terzievski goes bang! But the flurry takes it out of Terzievski. Gal's round. Terzievski 77-74
ROUND 7
Terzievski has been docked a point for pushing. Second wind from Gallen but the sails are still at half mast. Oh my! Terzievski lands a sickening body shot and Gal drops his hands. Say what you like about Gal, he's got plenty of tick. Gal may have stolen that and it's a 10-8 round to Gal. Terzievski 68-64
ROUND 6
Gal's face starting to resemble a butcher's block. Both men look very tired but there's more sting in Terzievski's punches. Terzievski 60-54
ROUND 5
Some loose tape on Terzievski's glove halts the round but it's business as usual: Terzievski slips wild shots and answers with laser-like lefts. Gallen looks exhausted. The body shots have almost rendered the NRL legend inactive. Terzievski 50-45
ROUND 4
Gallen has started the fourth like the 2016 Grand Final. Gal lands a good right hand but Kris Terzievski counters with a short left hook. Kris Terzievski is taking Gallen to school! Another hurt round! Gallen could be hurt to the body! "Some concerning signs for Gal, who has taken a number of body shots and he's feeling it." Terzievski lands several clean straight left hands to the head and body. Terzievski 40-36
ROUND 3
Terzievski showed a few signs of slowing down during the second round but he's landing at will in the third. But you feel the longer this goes the more it suits Gallen. Terzievski showing Gal 'Garside' angles. The big Victorian is fighting a very clever fight. 30-27 Another one in the bank for Terzievski
ROUND 2
Terzievski's trainer and cut man are nearly sent crashing out of the ring at the start of round 2 as Gallen charges to Terzievski's corner. Gal having trouble finding his feet early but he's starting to find his timing. Both men trade punches but Terzievski landed the cleaner shots. 20-18 Terzievski
ROUND 1
And we are off. Game plans from both are clear from the outset. Terzievski is throwing his long left hand and almost running away from a charging Gallen. Terzievski is targeting Gal's body and he's landing the cleaner shots up stairs and down. Gal looks uncomfortable but we've seen this from the former Cronulla piggie. Terzievski's chair takes an hour to arrive in his corner. 10-9 Terzievski
Nikita Tszyu def Mason Smith via TKO
ROUND 1
Nikita Tszyu dished out severe punishment to previously unbeaten Mason Smith for two minutes and 41 seconds before the fight was stopped in the first round.
Tszyu, 24, dropped Smith with a left-right combination, then hammered him from pillar to post before the bout was called off.
Smith (5-1, 2KO) was left with a bloodied nose, which thrilled Tszyu, who is clearly a major contender in the super-welterweight division in which older brother Tim is already a world title contender.
"It's the blood that gets to me, that's what I love, the joy I get out of it," said Tszyu, now 2-0 with two knockouts.
Tim Tszyu was suitably impressed, saying: "Give him some time, he will knock out the whole division in Australia – except me".
Nikita Tszyu destroyed Mason Smith. Picture: Gregg Porteous
Harry Garside def Layton McFerran via 7th round TKO
A tearful Harry Garside has revealed his mother was diagnosed with breast cancer last week, as he dedicated his title fight win to her.
The Australian lightweight champion stopped Layton McFerran in the seventh round at Newcastle Entertainment Centre, the finest performance thus far in his three-fight professional career.
Soon afterwards, he broke down in tears as he explained the fight facing his mother Kate, who lives in Mooroolbark, Victoria.
"Nine days ago my mum told me she got diagnosed with breast cancer, this was for her," Garside said.
"If it was going to happen to anyone in the family I'm glad it happened to her, she is the strongest one by far, so she'll be fine.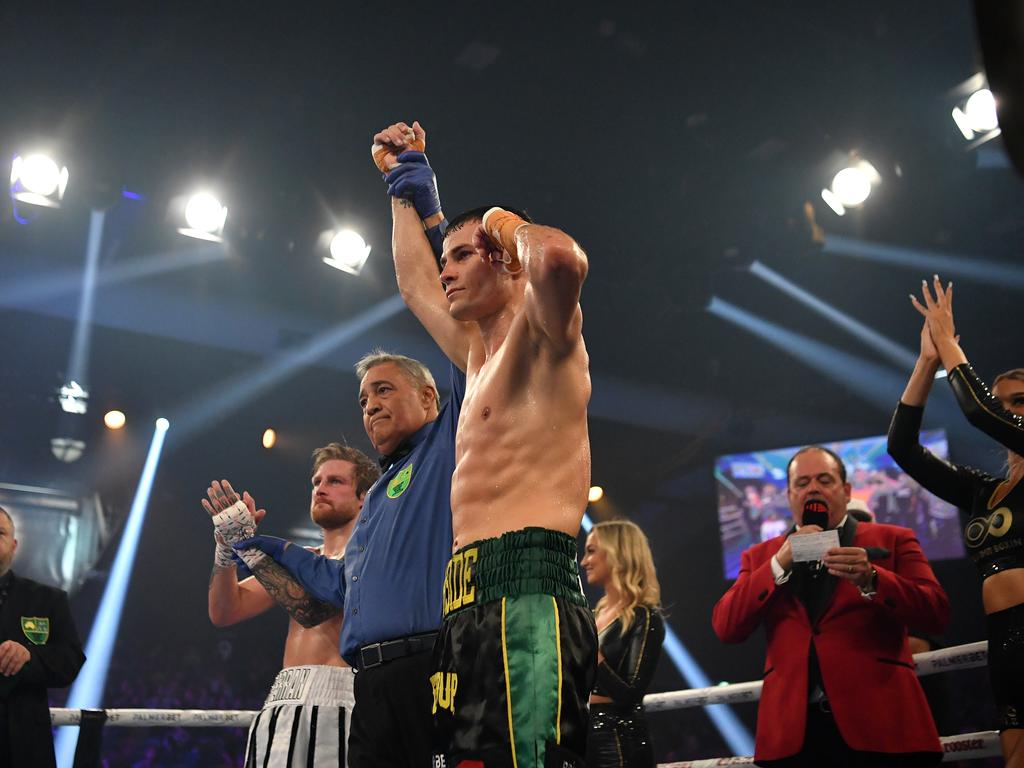 Harry Garside defended his Australian title. Picture: Gregg Porteous
"It was tough [to prepare for this fight], that's why I wore pink socks, I knew I had to do it for her."
Garside (3-0, 2KO) handed McFerran (5-2, 2KO) just his second loss, and was half a second too quick with his hands and head movement.
Garside piled on the pressure in the sixth round and landed several hard shots that had referee Brad Vocale looking closely at McFerran.
More of the same continued in the seventh round before Vocale waved off the contest.
Garside revealed afterwards that he has injuries to both hands, and will see a specialist to determine whether he requires surgery.
ROUND 7
Pace slows which is to be expected. IT'S OVER! "That's a great stoppage," says Fenech. The referee halts proceedings and the punishment. Class all round as the pair embrace. Garside retains his Australian title. Harry Garside was bleeding through his left-hand wrap after the victory, saying he needs to get them "right" before his next fight. Paul Kent said the blood was a concern for Garside.
"I've not seen a fist bleed like that, it's usually internal: broken bones, tendans. Very unusual in this day and age with all the strapping and style of gloves they use," Kent said.
But ringside commentator Ben Damon revealed it was a scab that caused the blood.
ROUND 6
Total punches landed so far: Garside 103, McFerran 37. Usually such a lopsided punch-on would be stoppage but Garside, up to this moment, isn't hurting McFez. That looks like it's about to change though. Garside may have got the message from Johnny Lewis to go for the kill! McFerran gets a warning as the referee takes a close look. "the corner shoudl stop it," says Jeff Fenech. How is McFez still throwing back? And he walks back to his corner with a smile on his face. 60-53 (10-8 round) Garside
ROUND 5
This fight feels like Doctor Strange put it on loop with the Time Stone. Garside throws, lands, slips McFerran's punches. Don't get me wrong it's not boring, it's just ... the same. Fenech wants Garside to sit on his punches more and couldn't agree more with the Mauler. 50-45 Garside
ROUND 4
You'd hate to be in the ring with Harry Garside – just so hard to hit. He's really finding his rhythm now. McFez is a pace or behind as the Tasmanian tries to shepard Garside into a corner annnnnnnd he's gone. 40-36 Garside
ROUND 3
McFez bobbing around like Iron Mike! Little peek-a-boo defence ala Smokin' Joe Frazier as well. Love this guy, he's doing everything to get inside but Garside's angles so so elite. Throws and slips, then bang! again. Little from Garside but no damage done. Garside fought 30-odd days ago and the action against McFez is much slow. Banking some rounds? 30-27 Garside
ROUND 2
Boxing analyst Paul Kent believes Garside needs to start knocking out his local competition to catch the attention of some bigger names. More of the same as Garside pops in and out with two, three punch combinations. Lovely body shot from McFez but it's answered by Garside. The Olympian's best hope for a stoppage is a sustained body attack because McFez won't go down! 20-18 Garside
ROUND 1
Australia's favourite Olympian eats a right hand from the Tassie Devils! Smart from the underdog from Tasmania. But all it's done is wake Garside and the speed difference is quite stark. It's like fighting Neo in the Matrix! 10-9 Garside ... could be a long night for McFerran.
Sam Goodman def Fumiya Fuse via unanimous decision
Crowd favourite Sam Goodman won the WBO Oriental and IBF Inter-Continental bantamweight titles with a unanimous 10-round decision despite being floored in the third round.
Goodman (11-0, 6KO) defeated game Japanese opponent Fumiya Fuse (11-2, 1KO) with a clinical display of tactical boxing set up by his outstanding jab.
He won 98-91 on all three cards, and is now a chance of being ranked inside the top 10 in the IBF and WBO.
Goodman was dropped by a straight left counterpunch in the third round and his raucous support fell silent.
However, the slick fighter rebounded to claim his biggest win yet.
Hass Hamdan def Trent Girdham via unanimous decision
Hassan Hamdan survived a first-round knockdown to defeat rival Trent Girdham in a six-round welterweight thriller.
Girdham dropped Hamdan with a hard right hand in the opening round, but Hamdan rallied with sharp combinations and hard body shots to win a unanimous decision, 58-55, 58-55, 57-56 in their grudge match.
Girdham was incensed at the decision and stormed out of the ring as Hamdan – son of Australian legend Nader Hamdan – tried to touch gloves.
Hamdan pulls out a 6-round decision win in a brutal fight after being dropped in 1st, Girdham filthy with decision, push-and-shove between Hamdan and Girdham corner afterwards #GallenTerzievski

— Jamie Pandaram (@JamiePandaram) May 11, 2022
Nader had to be separated by Jeff Fenench after push a rival cut man.
"I give respect to anyone that steps in the ring, we had our back-and-forth before the fight but I wanted to show respect to him and he showed what kind of person he is, a sore loser," said Hamdan (5-0, 1KO).
"It's on to the next, I don't want to see him again.
"He caught me with a good shot, but I recovered. I just thought, this is the guy standing in the way of all my dreams.
"I've got the heart of a lion, the same heart as my dad, and it's going to take 10 men to stop me."
This was Girdham's first defeat, and he drops to 3-1.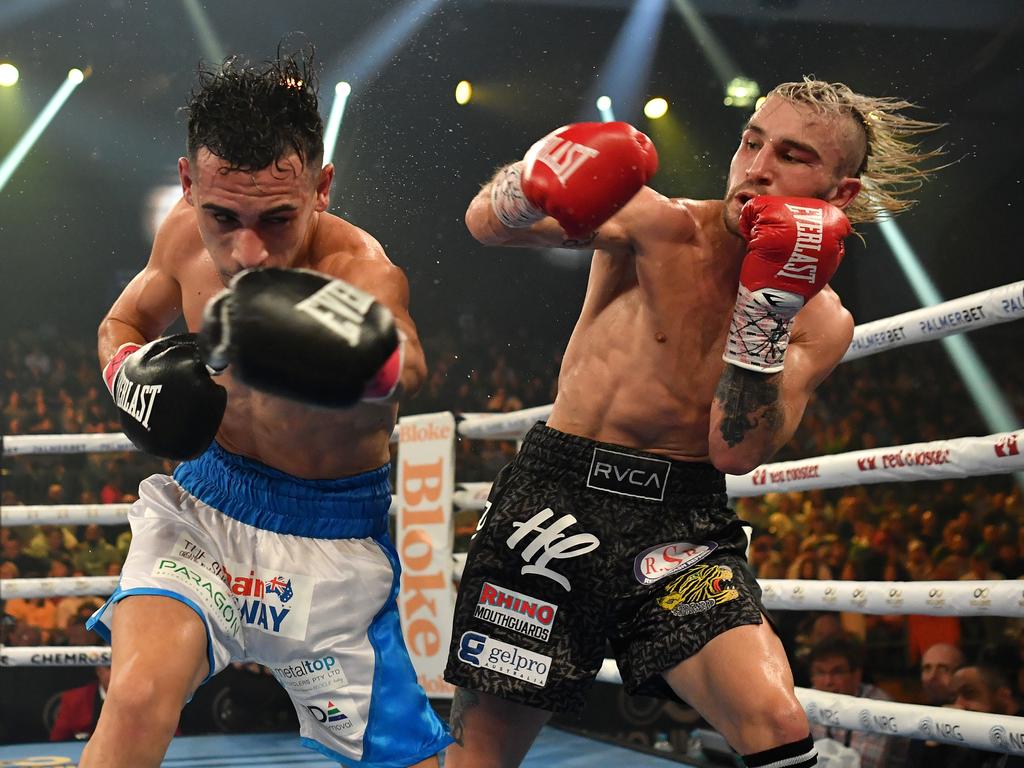 Hass Hamdan and Trent Girdham delivered on the bad blood. Picture: Gregg Porteous
Sara Jalonen def Amber Amelia via split decision
In the pay-per-view opener, Sara Jalonen sprung an upset over hometown favourite Amber Amelia.
In a close bout, Jalonen (2-1) used her reach to keep the fast-handed Amelia (1-1) at bay, winning a split decision 48-47, 48-47, 47-48.
Hironiri Mishiro def Francis Chua via majority decision
Undefeated Japanese star Hironori Mishiro (12-0-1, 4KO) defeated Perth's Francis Chua (8-3-1, 3KO) via a seven-round majority decision.Mishiro had the more accurate shots and smarter footwork, winning 69-64, 67-66, 65-68 to win his first fight outside of Japan.
Let's hope the judge that scored it for Chua gets some sense knocked into him before the main event starts because he must have watching a different fight.
Hironiri Mishiro lands a beautiful jab on Francis Chua. Picture: Gregg Porteous
Linn Sandstrom def Floryvic Montero via decision
Sydney's Linn Sandstrom claimed the WBC Australasian superflyweight title with a majority decision over Floryvic Montero.
Sandstrom (5-2-1, 2KO) prevailed 78-74, 78-74, 76-76, staying busier than her opponent and repeatedly landing body shots. Montero drops to a 5-9-1 (3KO) record.
IN-DEPTH LOOK AT AUSTRALIAN BOXING'S BEST FIGHT CARD
UNDERDOG PREDICTS CANELO-LIKE UPSET
Kris Terzievksi has vowed to pull off an upset in similar style to Dmitry Bivol's boilover against Saul 'Canelo' Alvarez last weekend.
Bivol was an $8 underdog but dominated boxing's biggest star with a masterclass of defensive counter-punching, which is what Terzievki intends to deploy against the aggressive Gallen.
"I watched the Canelo-Bivol fight and I saw similarities, they wanted to test Bivol under the bright lights, his biggest stage was the Canelo show just like these guys are making it about the Gal show," Terzievki said.
"I was very impressed by how he stuck to a game plan and didn't try to box outside of himself, so I'm looking to do similar.
"I've got a great game plan, I believe in my skills, and that's what is going to get me over the line.
"He's got that toughness, it's about controlling the chaos. He's going to bring that, and if I can stay calm under that fire I feel like I'm going to have a very, very good night.
"Being on the biggest stage is a financial incentive as well, if I win I get to help my mum, my family, myself. These things are inspiring me, but ultimately I want to do the best I can."
Originally published as Junior Paulo calls out Paul Gallen after Kris Terzievski wins Australian heavyweight title