Paul Kent: Sports stars pitch in to help steer young men away from gang violence
Top athletes are helping police in their fight to stop young postcode gangs from the breaking the spirit of Sydney, writes PAUL KENT.
He adheres to an old mindset that no man can be beaten if he has honest belief and an iron will.
His intent for this wonderful future is in the high glow of his skin, the clear eyes, the supreme health, a man determined to be the best there ever was, who believes only time prevents him.
He was at Homebush on Tuesday, at the request of NSW Police, talking about tragedy.
Watch every game of Magic Round this weekend Live & Ad-Break Free In Play on Kayo. New to Kayo? Try 14-Days Free Now >
It was only last month, just a few hundred metres away at the Royal Easter Show, that Uati Faletolu was stabbed to death when two Sydney gangs, there to protect the honour of their postcode, apparently, as mindless as that sounds, circled each other long enough before it started.
Anybody that was at the Easter Show for longer than four minutes could tell you the gangs were congregating nightly and putting a heavy mood over the show itself. They could feel their presence.
George Kambosos Jnr found boxing when he went to a PCYC ... and it changed his life. Picture: Adam Yip
And most know they were young men lacking direction, led by some mistaken belief that a postcode is worth dying for, or doing a decade or two in jail for, and somehow it erupted.
A young man lost his life, a mother wept.
And as the police investigate a homicide, Assistant Commissioner Gavin Wood was given the job to somehow get ahead of this new form of violence and try to find a way to stop young men wasting their lives, and that of others, over something so trivial.
It really is war over ego, misplaced but deadly.
Commissioner Karen Webb knew there was nobody better to lead the change than Asst Comm Wood.
There isn't an athlete in the city he isn't on first name basis with, or about to be, his friends believe, and so he took his large reach and got the likes of Kambosos and Giants netball coach Julie Fitzgerald, Sonny Bill Williams and Mal Meninga, Karl Lawton and Swans chief executive Tom Harley, among many others.
"The narrative is, this is about intervention and ensuring that it is not only the police and the PCYC doing this, but the community as a whole," Asst Comm Wood said.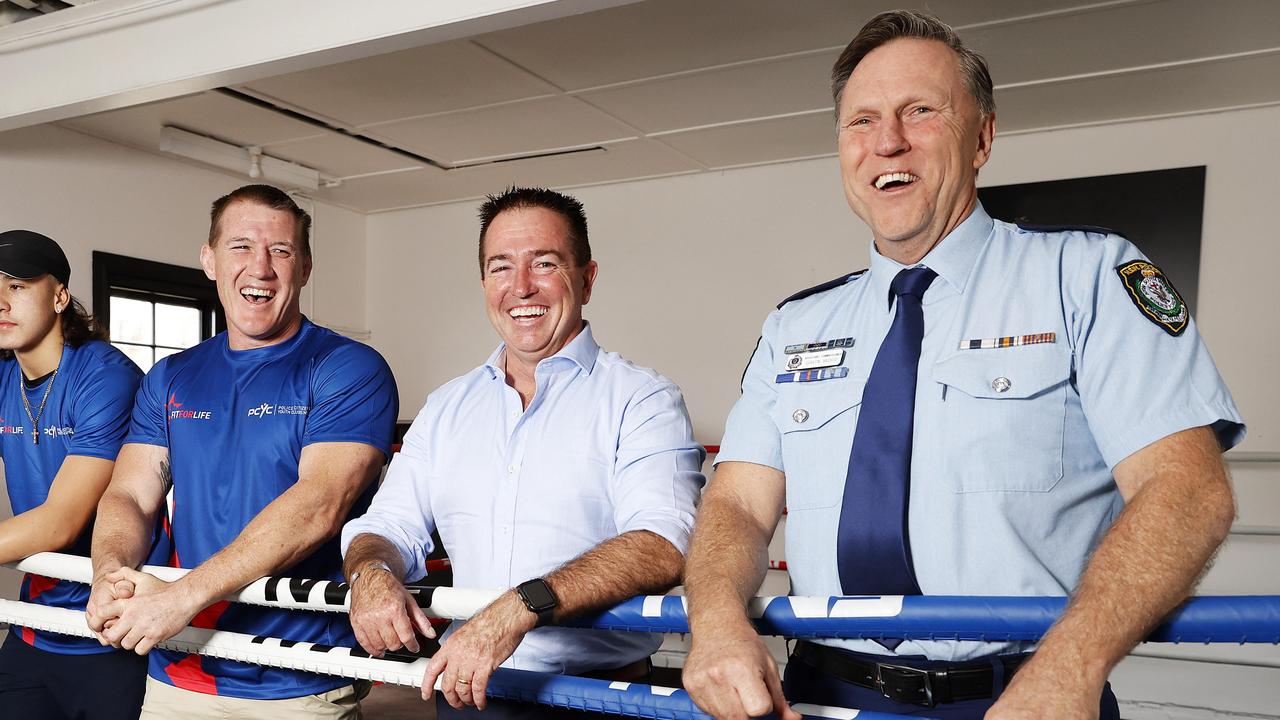 Assistant Commissioner Gavin Wood, right, is using his sporting contacts to help young men make better choices in life. Picture: Tim Hunter
"We want them to take some ownership and direction of these young people.
"Mothers, fathers, brothers, sisters, uncles, aunties … we need them to take ownership and be good influences."
The mood was of genuine intent, and of genuine change.
Sydney's postcode gangs are breaking the city.
Saturday and Sunday Penrith rugby league officials will be on high alert for gang violence at their junior rugby league games.
Last week Riverstone police called for an under-20s game to be cancelled over fears the game would erupt into violence over the postcode gang wars.
Gang violence is growing and the police know it begins well before the blood hits the streets.
And they know that men like Kambosos and Williams and Meninga are examples of young men who found the right path, who had the strength to turn away from bad decisions, and they hope that in them these young men will see a better choice.
And so it began Tuesday.
Kambosos speaks like he fights. Every word is hard and direct, with no recoil. There is not a sentence with a contraction.
"We have seen it a couple of weeks ago at the Easter Show," he said.
"A beautiful event. An event where my kids and my wife went to as well.
"And what happened there affects everybody, not only these young kids."
The words kept coming.
"This event is very important," he said.
"It is extremely important that we continue to help the youth off the streets. Show them a life is a lot bigger than the street stuff, bigger than that gang stuff.
"It is not important.
"We have got a young kid who has lost his life. His family will never be the same again. His family will never get over this."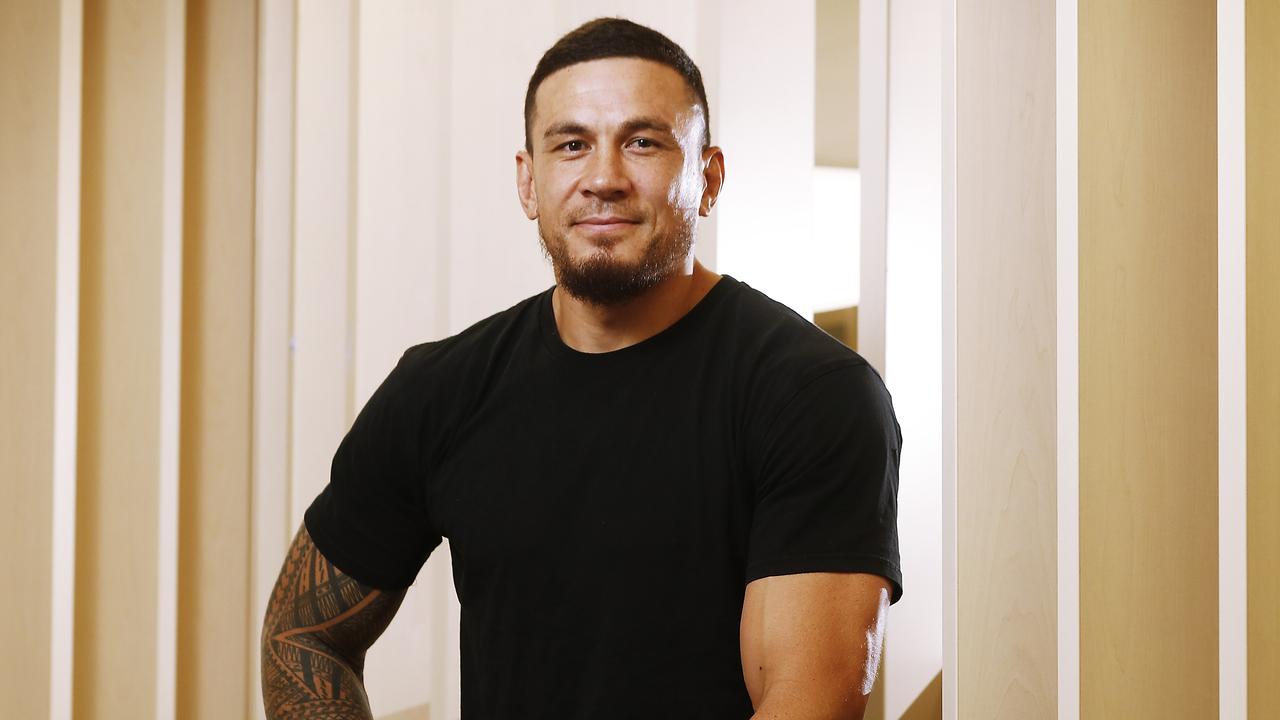 Sonny Bill Williams is keen to help steer young men in the right direction and away from violence on the streets. Picture: Sam Ruttyn
Asst Comm Wood has met with the chief executives of all Australia's major sports and had them pledge their support.
The program will work both ways.
The four trial sites are with Penrith, Manly and Canberra NRL teams and Sydney Swifts netball team. But soon the Swans and other teams and other codes will join and the program will roll out across the State.
And instead of interacting with high-profile stars, whose star could be too far to touch for some troubled youths, many will work alongside the NRL teams' Harold Matthews, SG Ball and Jersey Flegg teams.
Who might get their own touch with what might have been, and the opportunity they now have.
Williams has a large presence in many different communities across Sydney, some of which have been heavily involved in the latest violence, and understands the need for change.
"We have been struggling on the streets a bit lately," he said.
George Kambosos Jnr is a big supporter of the PCYC. Picture: Adam Yip
Asst Comm Wood knows the importance of Williams, and of his reputation within these communities.
Kambosos found boxing when he walked into a PCYC and what happened next changed his life forever, the world's undisputed lightweight champion, and he could not speak strongly enough of the opportunity to find a different path.
Everywhere you look, this work continues.
It continues while young men head onto the streets with a knife hidden in their jeans, or inside a sock, armed with a choice that allows no room for error.
It continues while the police somehow try to get these young men to understand that a postcode is not worth dying for.
It continues while, somewhere in this big city, a mother weeps.
It continues …
SHORT SHOT
There came a moment early in Paul Gallen's fight against Kris Terzievski that suggested something along the lines of full-blown redemption, once and for all.
Gallen was outfought through all the early rounds of the fight, the handspeed no longer there.
But his courage was resolute.
He kept walking forward as Terzievski weakened, hoping to drain him enough to land the punch that might save the fight.
And as he went about that the crowd slowly recognised it.
In a place where he received few favours a chant of "Gallen, Gallen …" went up early in the fight and then, come the ninth round, it turned finally for good.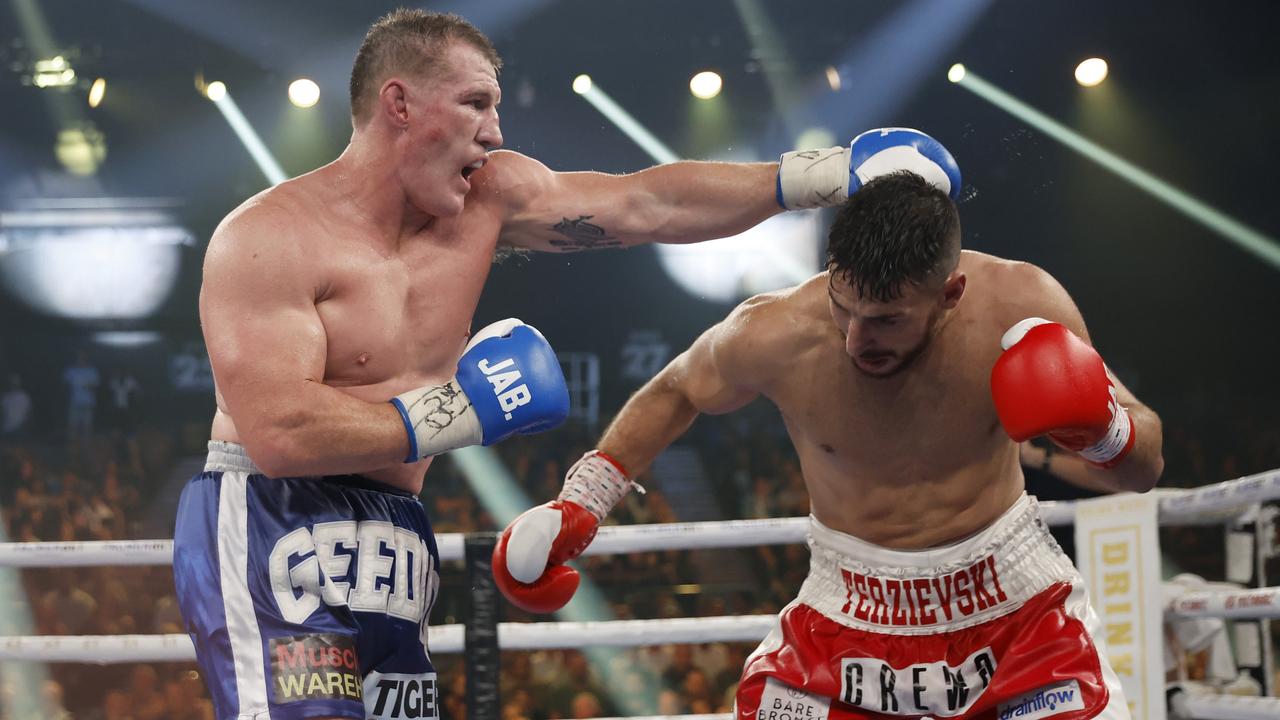 Paul Gallen was brave in defeat against Kris Terzievski in Newcastle on Wednesday night. Picture: Mark Evans/Getty Images
The Newcastle fight crowd, who know their sport, sensed Terzievski was on the verge of falling about the same Gallen sensed it, and Gallen dug from somewhere deep down and pushed to his limit.
The crowd found its feet, openly cheering Gallen to find the victory.
Terzievski tried every foul in the book, like letting the tape on his gloves run loose to buy him time for a breather when referee Brad Vocale would pause the fight to have them re-taped — which Vocale was savvy enough to recognise and overlook — and then absurdly later when Terzievski's trunks fell down.
In the end, the bell sounded and Gallen fell short. But around the stadium the crowd bubbled with recognition and respect for what they had just witnessed.
They stood on their feet and cheered.
Gallen ultimately finished the fight with a loss on his record, but for an old warrior who does not get any younger, who has long been maligned, there strangely came an opportunity to get out on top.
Originally published as Paul Kent: Sports stars pitch in to help steer young men away from gang violence