Tim Tszyu forced to have hand surgery on injury sustained against Terrell Gausha
Days out from travelling to the USA, Australian boxing sensation Tim Tszyu has been forced into surgery as he battles an injury. Will it impact his future fights?
Tim Tszyu has undergone hand surgery this week in a shock development days before he is due to fly to the United States.
The boxing star required a clean-out on both hands, after injuring himself in his victory over Terrell Gausha in Minnesota in March.
Tszyu is recovering but the surgery was successful, and he is still planning to fly to the US on Thursday, the day after younger brother Nikita Tszyu fights in Newcastle on the Paul Gallen vs Kris Terzievski undercard.
The undefeated Tszyu plans to be ringside in Carson, California next weekend when rivals Jermell Charlo and Brian Castano have their rematch for the undisputed super-welterweight championship.
Tszyu is the No.1 WBO contender and hopes to fight the winner for all four major belts.
The clean-out of both knuckles was required to ensure Tszyu enters the world title fight fully fit.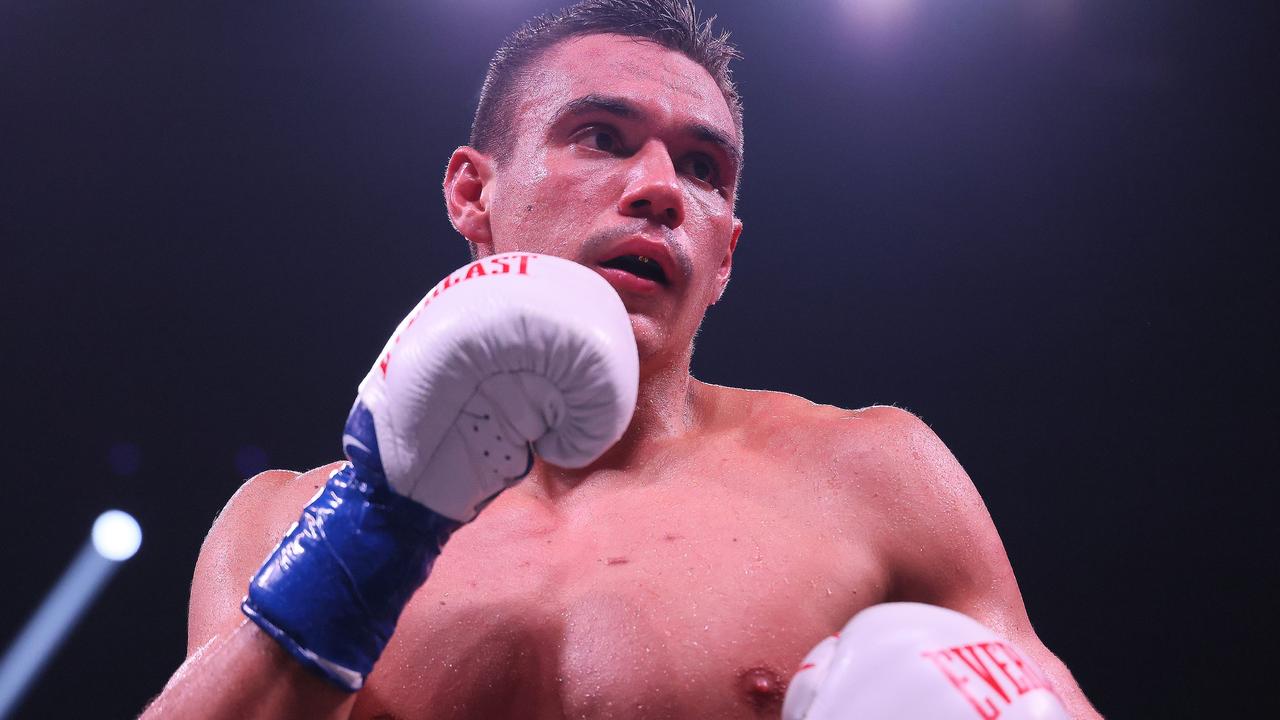 Tim Tszyu has undergone hand surgery
"Tim has been fighting with sore hands for the last few fights, so given the extended time frame we have awaiting the Castano versus Charlo rematch it was prudent to have the problem addressed," Tszyu's manager Glen Jennings said.
"We had the corrective surgery to ensure Tim's hands are ready for the biggest fight of his life.
"Our team doctor, Dr Bill Anseline, consulted with renowned hand surgeon Dr Damien Ryan who was extremely happy with the surgical outcome and assured Tim that he would be ready for his world title fight with two good hands ready to go."
Dr Anseline said: "It's far better to be proactive than reactive. Tim has a long career at the highest level ahead of him."
The surgery was described as "exploratory", similar to those had by footballers during a season to clean up knee, shoulder and ankle problems.
Tszyu told reporters after his victory against Gausha - which was his US debut - that he'd hurt his right hand in the second round after punching his rival's elbows.
Tszyu's hands are in bandages, but he is still expected to be in the corner for Nikita in Newcastle on Wednesday night, when the younger Tszyu has his second professional fight against Mason Smith (5-0, 2KO).
Originally published as Tim Tszyu forced to have hand surgery on injury sustained against Terrell Gausha