Tim Tszyu takes some harsh lessons from otherwise dominant US debut win over Terrell Gausha
He hit the canvas. Then copped a typically laughable scorecard. While Tim Tszyu otherwise dominated his US debut, a rethink of plans may be needed, writes BRENDAN BRADFORD.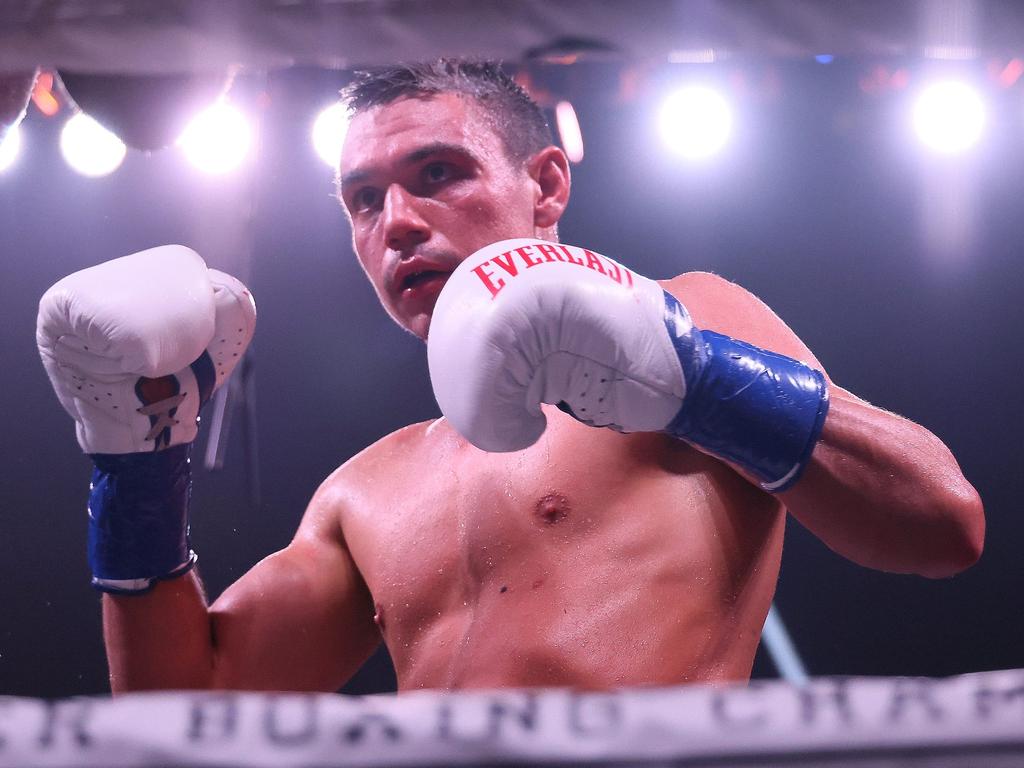 Tim Tszyu scored an exciting unanimous decision win over Terrell Gausha in his US debut. Picture: Adam Bettcher/Getty Images/AFP
From a stint training at Floyd Mayweather's gym to battling illness, struggling with the weight, being knocked down and dealing with some very questionable judging, Tim Tszyu's American debut had it all.
And the Sydneysider will emerge a more experienced, smarter fighter because of it.
After being dropped in the first round, Tszyu stormed back against former world title challenger Terrell Gausha to score a unanimous decision victory in Minneapolis and improve his record to 21-0.
The opening-round knockdown wasn't the first time Tszyu has been dropped – Wade Ryan owns that distinction – but it was the most adversity he's ever faced inside the ring.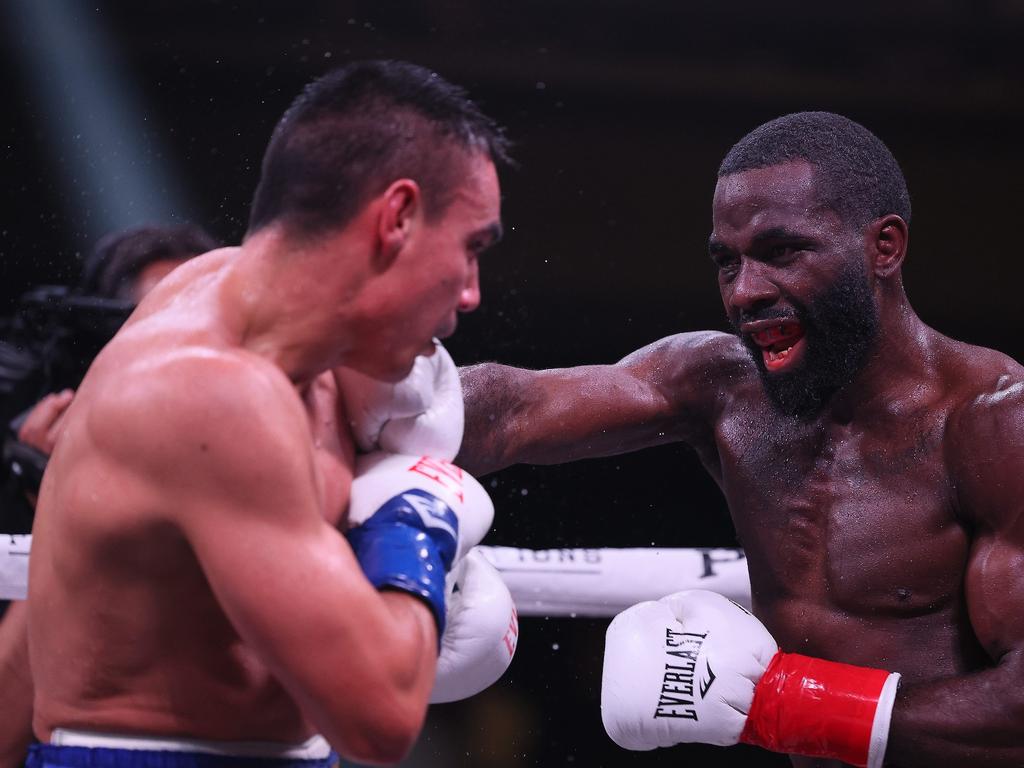 Tszyu fought through early adversity in Minneapolis. Picture: Adam Bettcher/Getty Images/AFP
Left with a minute to negotiate after falling to the canvas courtesy of a brilliantly-timed Gausha right hand, Tszyu fought fire with fire until the end of the first round.
"He kept landing shots and I just thought 'f—k it, I'm gonna keep coming forward and fighting,'" he said after the bout.
Having never fought anyone as experienced or skillful as Gausha, Tszyu could have wilted. Instead, he immediately applied the pressure and dominated the middle portion of the 12-round fight with his renowned size, power and body punching.
He should have been awarded a knockdown in the fourth round but referee Mark Nelson missed it.
It wasn't the only time the officiating came into question.
Despite clearly dominating the bout – nearly stopping Gausha at several points – viewers were made to wait an uncomfortably long time for the scores.
The longer you're made to wait, the higher the likelihood of a bizarre result.
Tszyu was eventually awarded the win with scores of 114-113, 115-112 and 116-111.
The 114-113 scorecard returned by Robert Hecko was laughable. Hecko actually had Gausha up 95-94 through 10 rounds.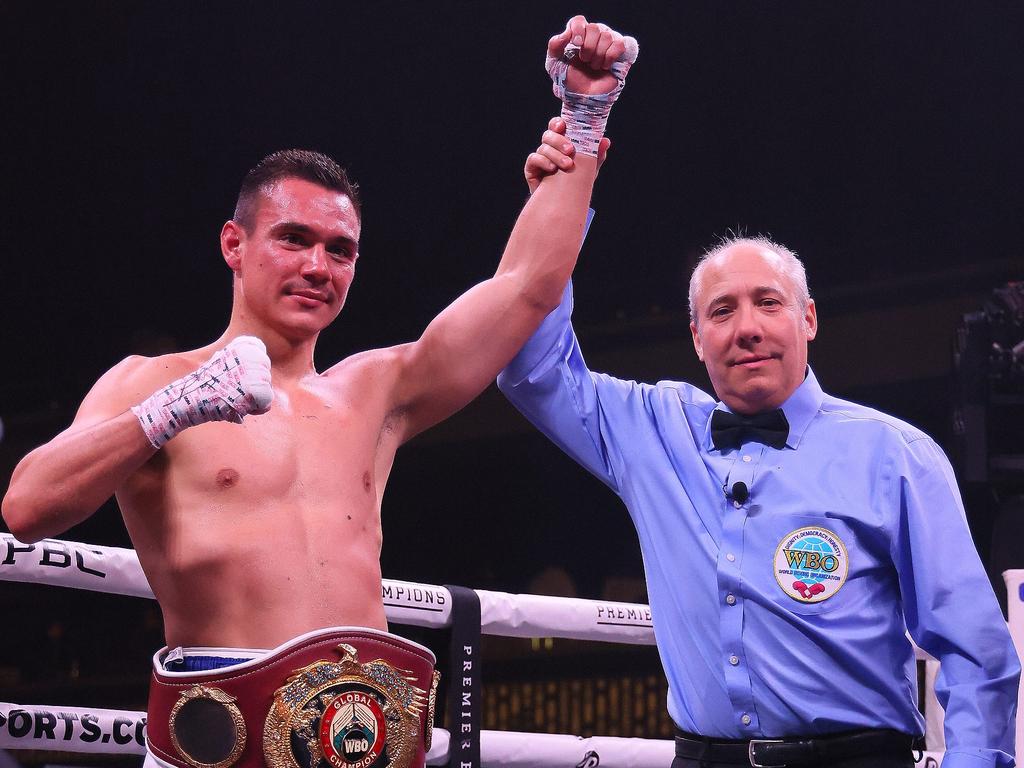 Tszyu won, but there has been an outcry over the scoring. Picture: Adam Bettcher/Getty Images
The outcry on social media was immediate and the scorecard continued a concerning pattern for Australians fighting in the US.
Exactly four months ago to the day, all Aussies feared a robbery was imminent when George Kambosos' lightweight world title fight with Teofimo Lopez was ruled a split decision. On that day, it was veteran judge Don Trella who went against the Aussie, handing in a card reading 114-113 in favour of Lopez.
Commentating Tszyu's fight at ringside in Minneapolis, Jeff Fenech – the man who was on the wrong side of the worst travesty in Australian boxing history against Azumah Nelson in Las Vegas – also disagreed with Hecko's card.
"114-113 is too close for me," Fenech said on the broadcast. "116-111 is understandable but it was a great fight."
It seemed just the latest example of fighters from Down Under not getting a fair go with the judges but that, as they say, is boxing.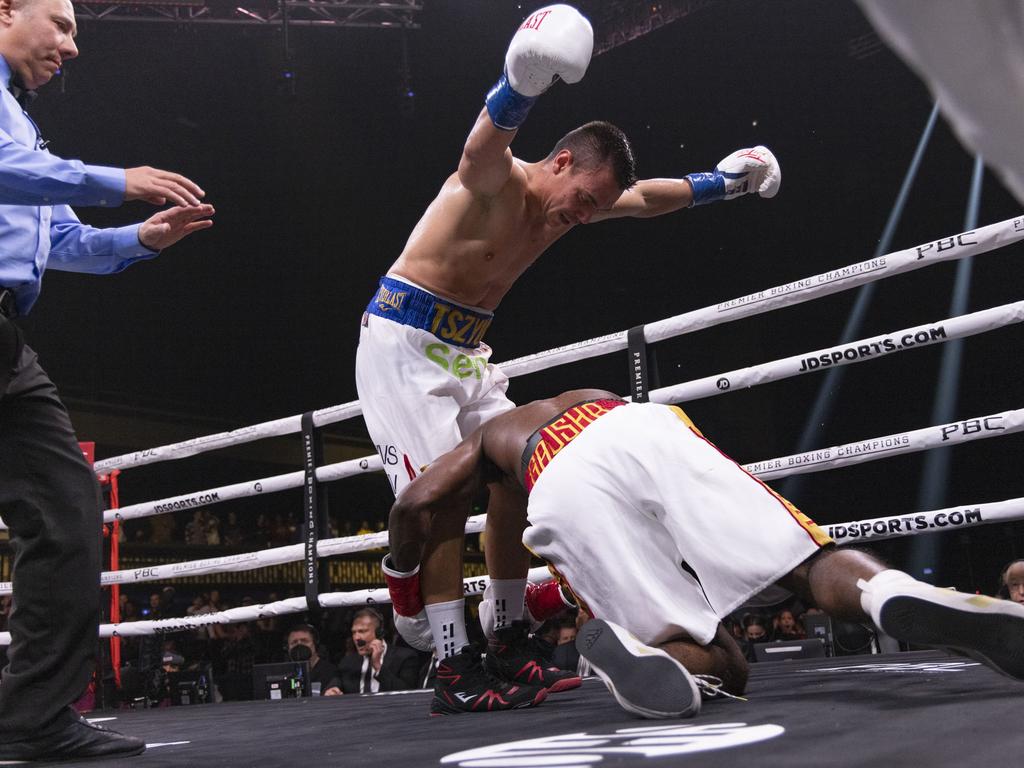 Tszyu should have been awarded a knockdown in the fourth round, but it was ruled a slip.
Tszyu managed to keep his pre-fight illness under wraps, yet admitted to having trouble breathing in the days before the bout.
That impacted his weight cut and led to questions being raised about his gaunt appearance on the scales.
"It was horrible. I couldn't breathe – it's still in my lungs," he said. "For the two weeks I was here in America, it was hard work. It is what it is."
The illness, the knockdown, the referee's missed knockdown and the questionable scoring are all vital experiences as Tszyu takes the next step in his pro career.
The Gausha fight tested him and put him in the kinds of unfamiliar situations you can't recreate in training. And that's exactly what this bout was about - gaining that experience.
His fitness and toughness have been proven but there are still some defensive issues that need attention.
Tszyu admitted that after the bout.
"Everything. Everything and anything. There's a lot more to learn," he said when asked what improvements he can make. "This sport, there's so much to learn and to keep going, keep training hard and keep improving and keep fighting warriors like Terrell Gausha."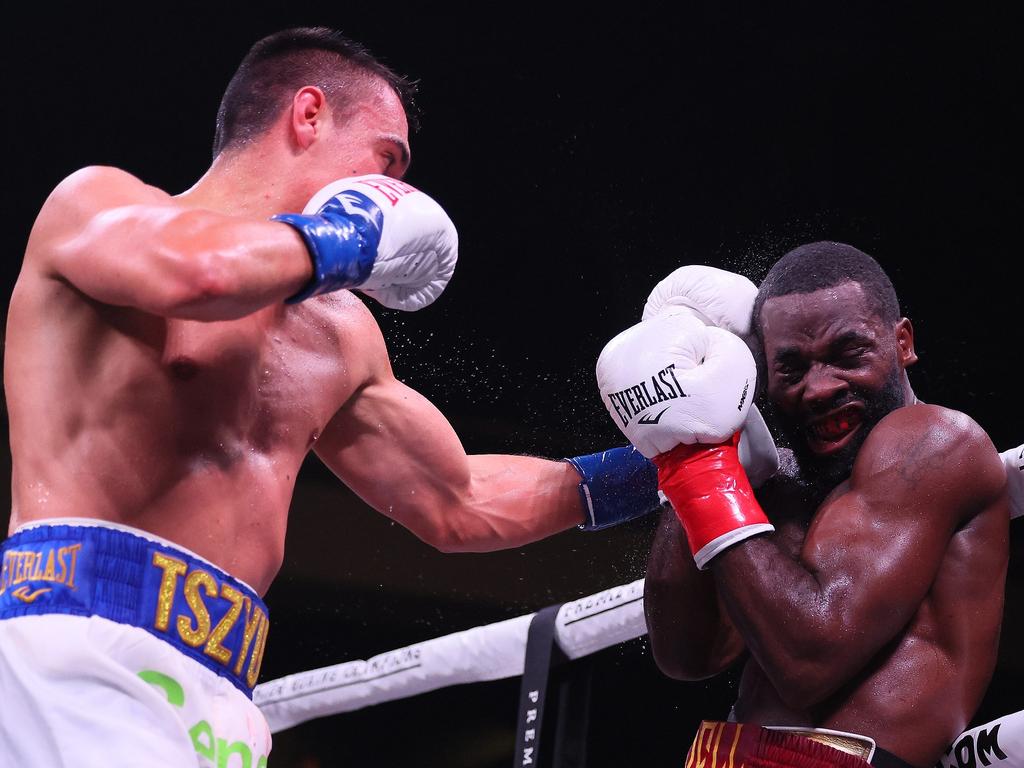 Gausha withstood a barrage of punishment through the middle rounds. Picture: Adam Bettcher/Getty Images
The temptation will be to position Tszyu to fight the winner of the Jermell Charlo-Brian Castano rematch, which is scheduled for May 14 (Sunday, May 15 in Australia).
Tszyu says he'll be ringside for that bout and will be ready to face the winner.
Team Tszyu will no doubt be confident of fixing any technical issues picked up during the Gausha victory and he has always been quick to make adjustments.
In wins over the likes of Dwight Ritchie, Jeff Horn, Dennis Hogan and Takeshi Inoue, he has always answered every question asked of him to date.
Stylistically, Castano - an aggressive, nuggety fighter - matches well with Tszyu's style, but he hits harder than Gausha. Meanwhile, Charlo will be sharper than Gausha was in the first round, and last much longer.
A bout against a proven fighter at 154-pounds could be the smarter option before taking on Charlo or Castano.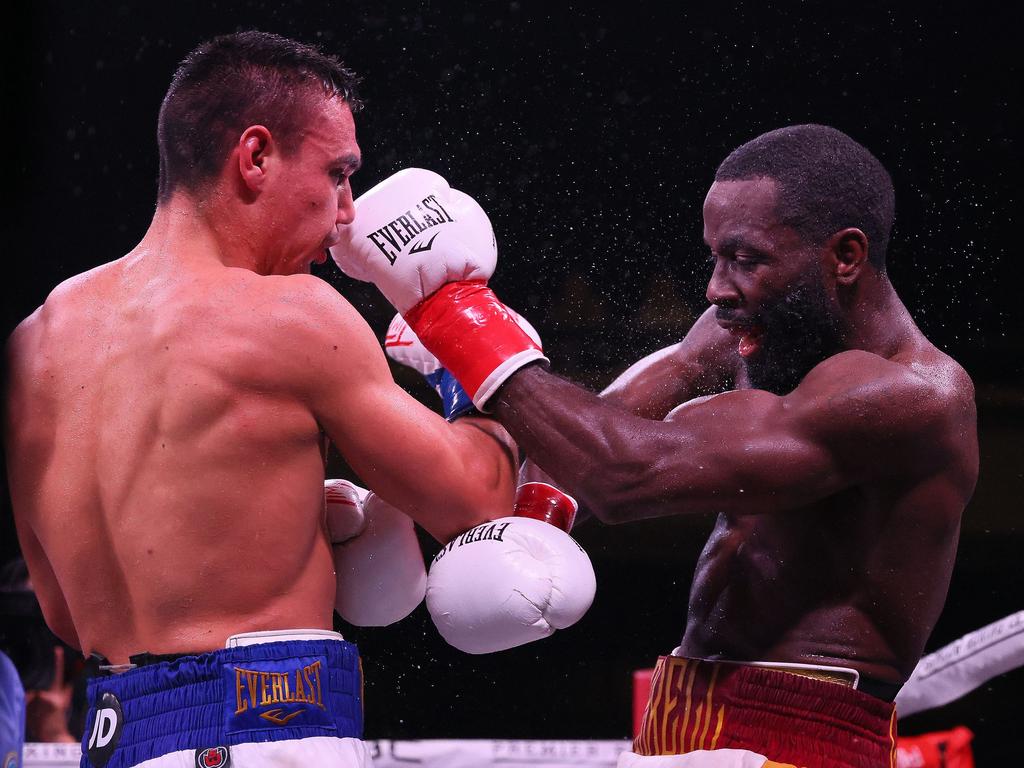 Tszyu says he will attend May's blockbuster rematch between Brian Castano and Jermell Charlo, and is keen on fighting the winner. Picture: Adam Bettcher/Getty Images/AFP
Super welterweights like former world champion Patrick Teixeira, veteran Tony Harrison or Erickson Lubin – who also has a win over Gausha – represent a decent next step up in quality on the way to Charlo and Castano at the very top of the division.
There were talks in late 2020 that Tszyu could fight Teixeira, before Castano took the WBO belt off him in early 2021.
Harrison, who scored a controversial decision win over Charlo in 2018 before losing the rematch a year later, has also been linked to a showdown with Tszyu.
Meanwhile, the only loss of southpaw Lubin's 24-1 professional career was a first round knockout to Charlo in 2017.
The bright side is that at 27, Tszyu has time on his side, and even if he takes the slightly longer route against one of the fighters a rung below the current champions, he'll still be looking at a world title fight within the next 18 months.