Tim Tszyu wants world title shot after beating Takeshi Inoue and could get it in Australia
Tim Tszyu took his record to 20-0 by dominating Takeshi Inoue in Sydney. CODE was ringside to learn what's next for the superstar and wrap up a massive night of boxing.
After improving his record to 20-0 with a one-sided domination of Japan's Takeshi Inoue on Wednesday night, the undisputed star of Australian boxing has a couple of potential next steps.
Each of them are compelling.
No.1 on the list is a world title fight. That could come against the WBO's Argentinian super welterweight world champion Brian Castano.
Castano most recently fought to a controversial draw with WBC, WBA and IBF super welterweight titleholder Jermell Charlo in July. The pair have talked about a rematch, but in the four months since Castano should have been awarded a decision win, nothing has materialised.
The IBF, which tends to move quickly when ordering champions to defend their titles, will most likely force Charlo to fight its No.1 ranked fighter Bakhram Murtazaliev.
If that happens, the WBO will tell Castano to defend against Tszyu early next year.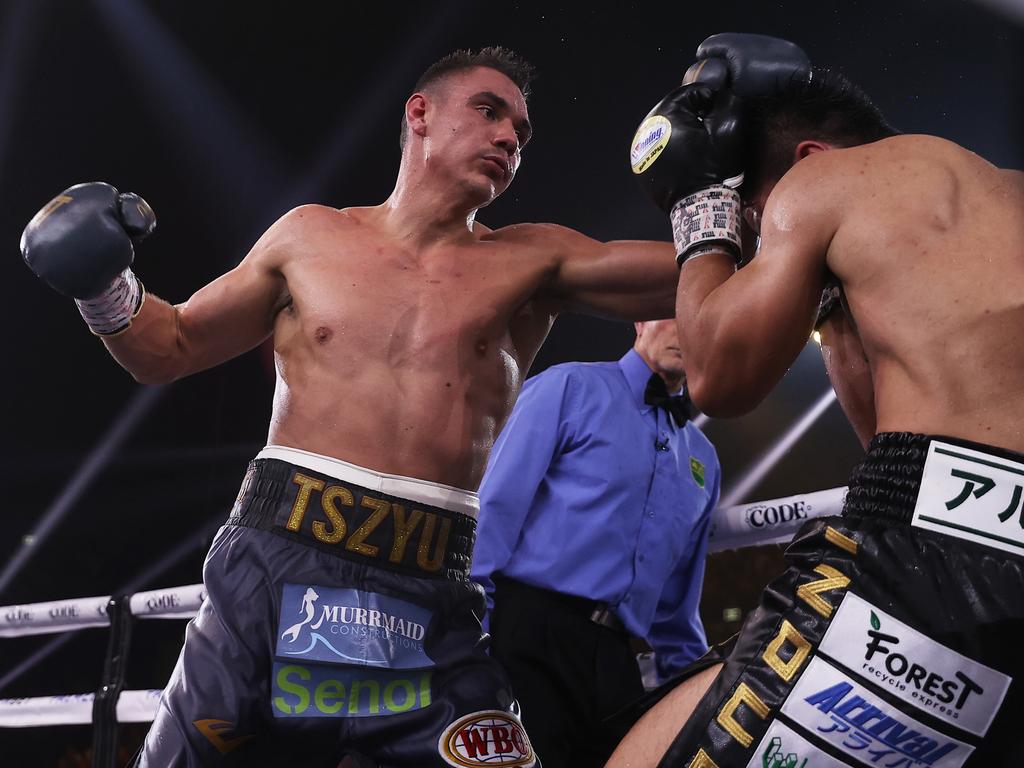 Tim Tszyu punches Takeshi Inoue during their fight at Sydney's Qudos Bank Arena. Picture: Mark Kolbe/Getty Images
Castano has entertained the prospect of fighting Tszyu, but remains adamant the bout should take place in America, where he lives.
Tszyu is more than willing to travel to the US to fight for the title, but his handlers believe it could be just as worthwhile staging the fight in Australia.
"Tim's earning potential in Australia is as good, if not better, as what it is in the United States," Tszyu's manager, Glen Jennings told CODE.
"We're in the driver's seat. We're going to dictate what we do to those guys."
Whereas in the past, Australian boxers have been forced to fight their way to recognition before perhaps earning one shot at a big payday overseas, Matt Rose, from Tszyu's promoters No Limit, says that's not the case for Tszyu.
"It's flipped. The opportunity is here. And the money will be where the opportunity exists," Rose told CODE.
"If we can get 20,000 people and it can be a world title, we'll compete with anyone in the world when it comes to money.
"What it comes down to, in this case, is that we don't need to chase them overseas anymore.
"That's gone out the window.
"With what we do now, it's allowed us to compete with the rest of the world. We don't need to rush over there.
"And, if it comes down to a mandatory situation, we'll be trying to get it here (in Australia). He (Castano) doesn't have a fanbase, so, we'll hold it here."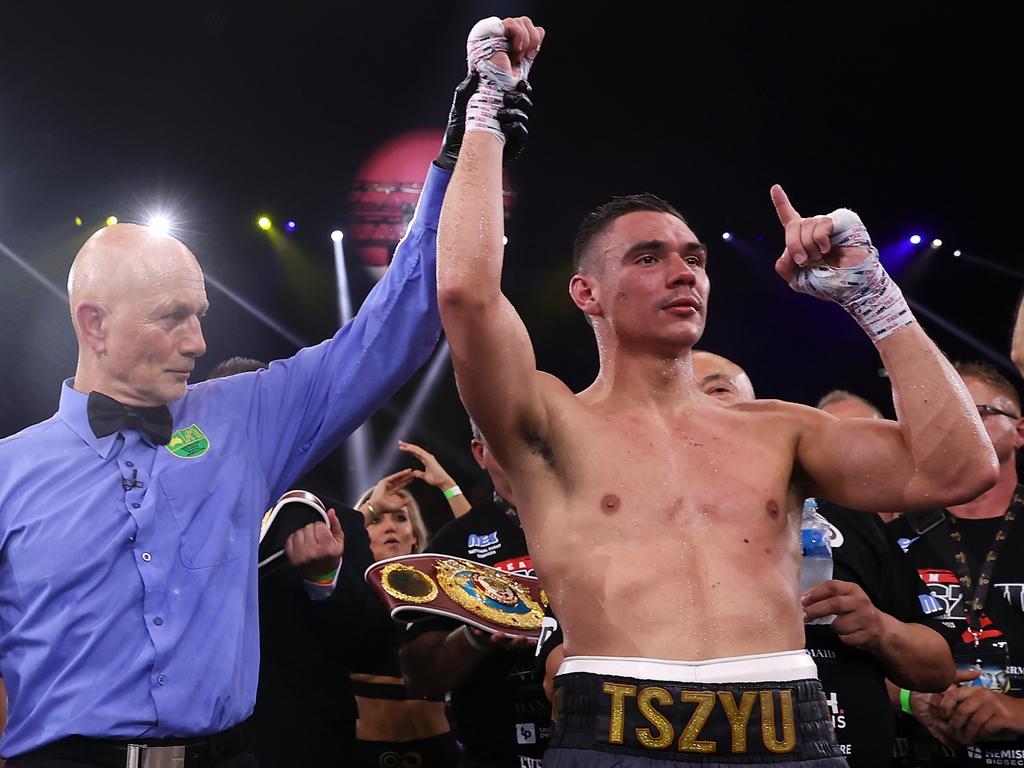 Tim Tszyu celebrates winning by a dominant unanimous decision over Takeshi Inoue. Picture: Mark Kolbe/Getty Images
Jennings credits the carefully executed approach Team Tszyu and No Limit have taken towards his career.
"We've worked hard to build that supporter base with quality branding of a very good boy with a very good product," he said.
"We've let people come along for the ride, and we've kept it local. Now the big sponsors are coming, and I welcome them, but we still love our locals.
"With Kostya, he spent a lot of time overseas. But with Timmy, we're trying to draw it out in Australia as long as we can.
"We're not in a rush. Our time will come and the big fights will come."
A world title fight, either home or abroad, is one option, but far from the only one.
If Charlo and Castano agree to a rematch, Tszyu, who wants to remain active, will fight again on home soil before the end of March.
It would lead to a similar situation as this week's Inoue fight, in which Tszyu, as the number one contender, didn't need to fight, but did anyway.
"They (Castano's team) were shocked when we turned around and said 'we're not waiting for you guys,'" Jennings said.
"If they don't want to give us a date, we'll just keep fighting. Tim's going to fight, so don't hold us up.
"Timmy will fight four times again next year.
"Castano is Plan A, and Plan B is right here (in Australia) against maybe Tony Harrison or someone like that, who've already said they want to come."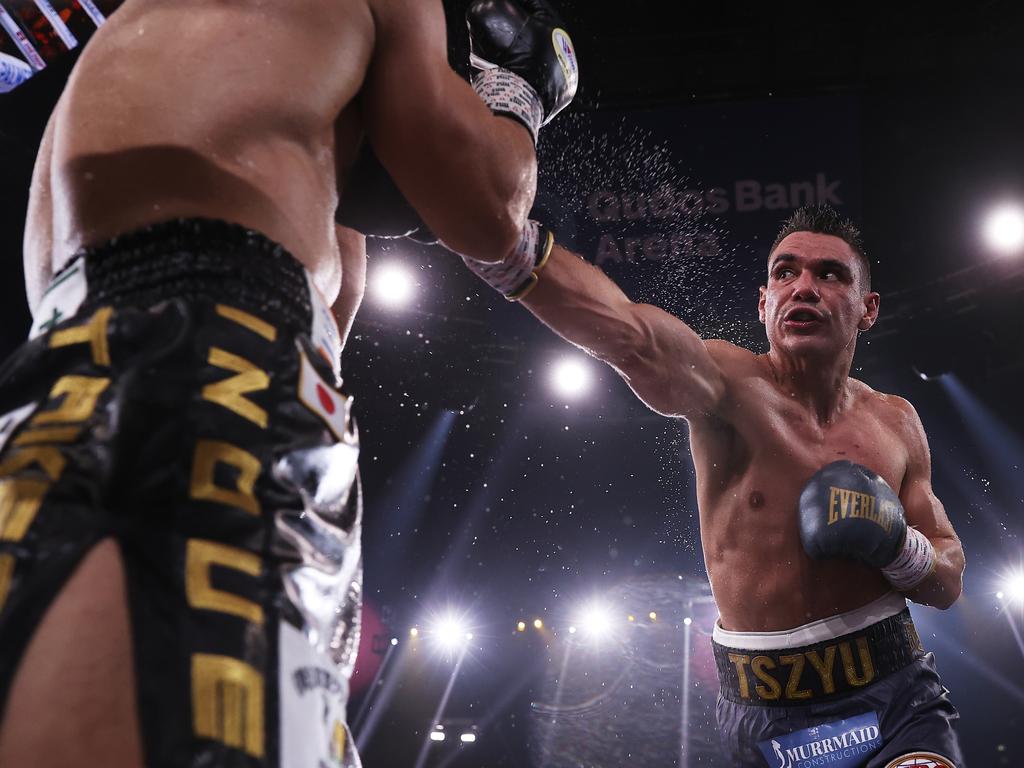 Tim Tszyu unleashed on Takeshi Inoue over 12 rounds but couldn't stop the tough Japanese fighter. Picture: Mark Kolbe/Getty Images
Tszyu and his team are already confident he can match it with Castano and Charlo, and would sign to fight either in an instant, but a fight against Harrison or England's Liam Smith would give Tszyu some valuable experience against a veteran campaigner.
Inoue was the first man to take him 12 rounds and the significance of the bout was not lost on Tszyu, with what lies ahead.
"Anyone in the top five, 10 or 15, of course it's going to be a challenge," he said.
"There's no such thing as easy fights at this level.
"I felt like I needed to go 12 rounds. I've done 10, but 12 I'd never felt that distance. I dealt with it easy. I was fresh."
Another, less likely, outcome is Castano vacating the WBO title, allowing Tszyu to fight for a vacant belt in Australia.
There's plenty to discuss for Team Tszyu over the coming days and weeks, but the man himself had just one thing on his mind following the fight: "A burger, he just wants a burger," Jennings revealed.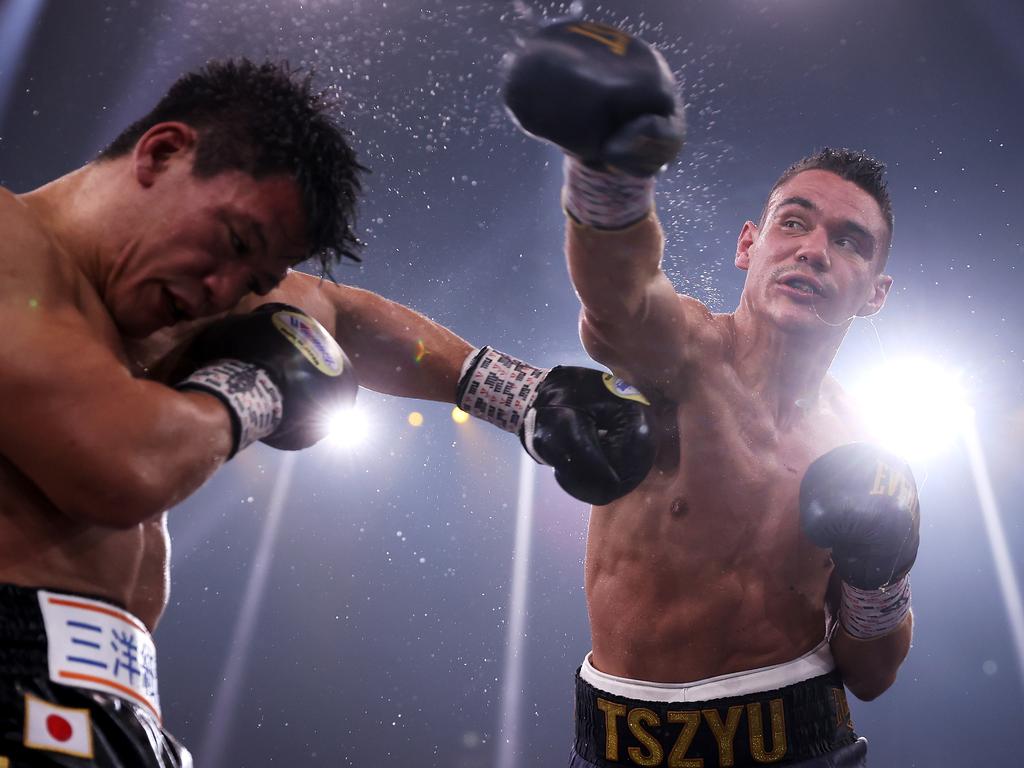 Tim Tszyu punches Takeshi Inoue, who was able to last the 12 rounds despite an onslaught from the Australian star. Picture: Mark Kolbe/Getty Images
THE FIGHT
Tim Tszyu warned us. "It's not a bodybuilding contest, it's a fight."
Takeshi Inoue found that out the hard, and very painful way over 12 rounds at Qudos Bank Arena on Wednesday night.
The Japanese fighter had wowed onlookers with his incredible physique when he arrived in Australia earlier this month.
Immediately, questions were asked about whether Tszyu would have the firepower to break down Inoue's body liked he'd done to so many opponents before him.
By the fourth round, the answer became clear.
The crowd of 10,752 saw the Japanese fighter wilt under Tszyu's body attack. Any sting the 17-1-1 Inoue had left in his punches evaporated. He started taking more and more backward steps. He held more. He charged in with his head. He looked exhausted.
Meanwhile, Tszyu was barely breathing hard. Soul Taker mode had been activated.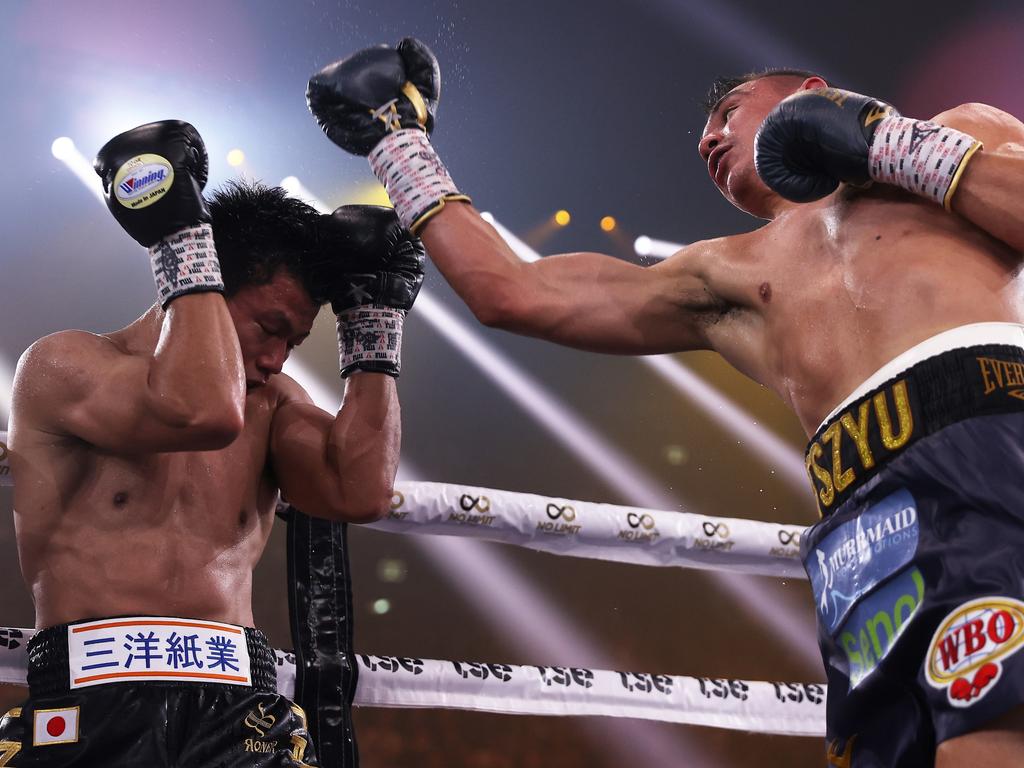 Tszyu (R) was relentless against Takeshi Inoue during the WBO Global and Asia Pacific Super Welterweight title bout but the Japanese opponent refused to give up. Picture: Mark Kolbe/Getty Images
In the fifth round, after a brief exchange, Inoue turned his back and walked towards the ropes. Tszyu rattled him over the shoulder with a left hook as if to say "come back and fight."
Inoue barely survived that round. At the start of the sixth, Tszyu virtually burst out of his corner five seconds before the bell, and ordered referee Will Soulos to get Inoue off his stool.
Inoue was crafty and experienced enough to last until the final bell, but the scorecards told the story of the fight. A one-sided beat down, with Tszyu winning with scores of 120-107, 119-108, 120-107.
Only one judge gave Inoue a single round.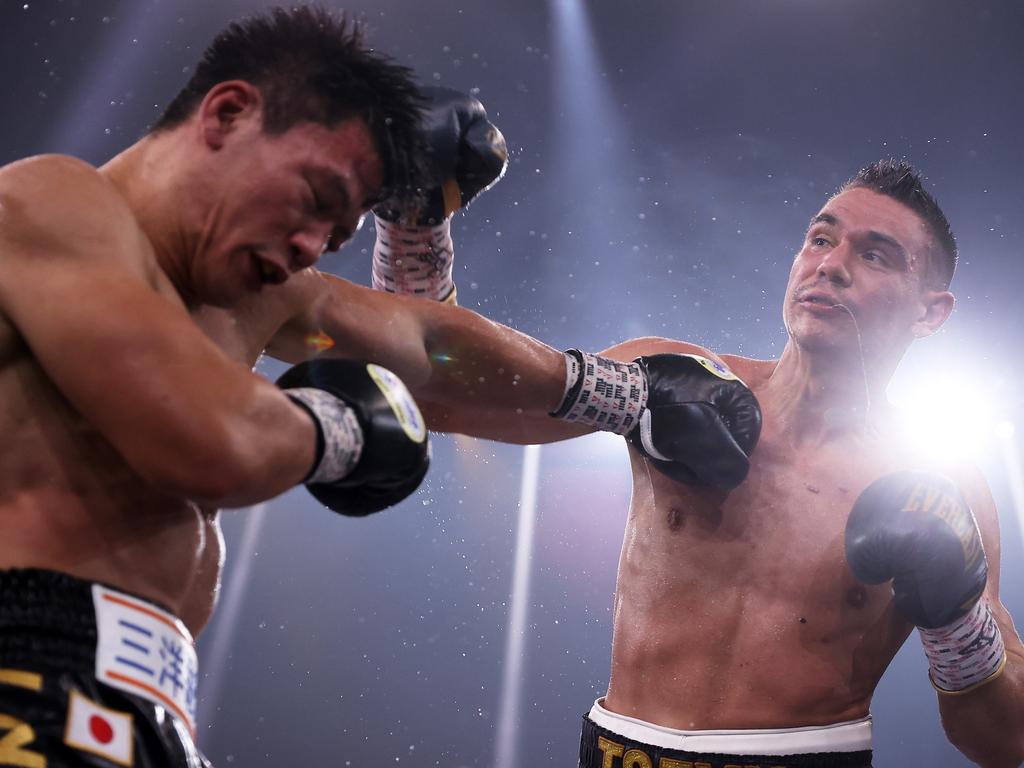 It was Tim Tszyu's night as he improved his record to 20-0. Picture: Mark Kolbe/Getty Images
It was the bodywork in the middle rounds that won the bout for Tszyu. Inoue was reduced to pot shots and overhand rights that looked hopeful but didn't have much conviction behind them.
The win keeps Tszyu's plans to fight for Brian Castano's WBO super welterweight world title early next year intact.
The bout may have been the last we see of Tszyu in Australia for a while, with big-money bouts in the US on the horizon.
It was an impressive memory to leave if so.
Tszyu had high praise for Inoue's resilience.
"The guy's built like a brick wall. I don't even think heavyweights could drop him.
"He wouldn't go down. His face is battered, his body … I'm sure he's going to be sore tomorrow. What a warrior.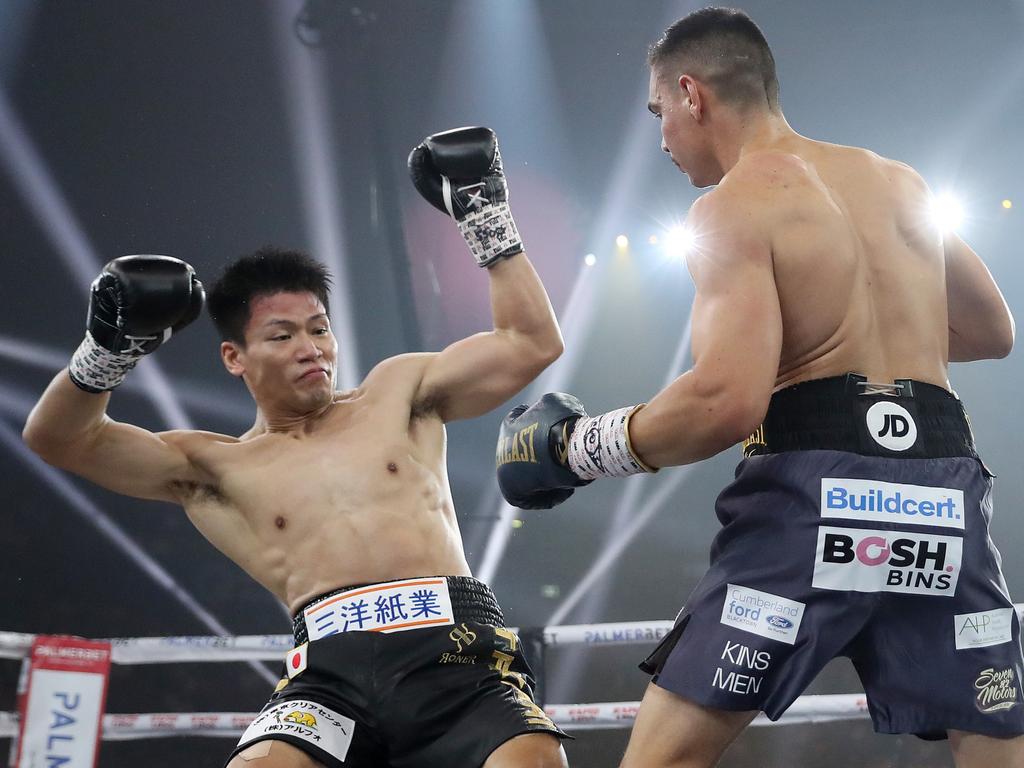 Tim Tszyu (R) stuns Takeshi Inoue with a strong shot during the WBO Global and Asia Pacific Super Welterweight title fight. Picture: Brett Costello/No Limit Boxing
***
EARLIER
Boxing returned to Sydney as undefeated fighter Tim Tszyu defeated Japan's Takeshi Inoue at Qudos Bank Arena.
The 27-year-old from Sydney improved his record to 20-0 in his professional career and is now set for a show down with Brian Castano for the WBO World Title.
READ: Tim Tszyu fights to escape legendary dad Kostya's complicated legacy

CODE was ringside at Qudos Bank Arena and spoke with all the winning fighters after each of their bouts.
***
Tim Tszyu v Takeshi Inoue Main Card reports
Wade Ryan def Nath Nwachukwu via UD 99-90 100-89 91-98
The rugged Wade Ryan – who has earned a reputation as Australia's most exciting fighter – chalked up the 20th win of his professional career, retaining the IBO international super welterweight title.
An emotional Ryan dedicated the win to the memory of his coach's brother, who passed away last week.
"For him to come away and be at the fight and do everything leading into the fight, after just losing his brother, it means the world," Ryan said.
"It shows what kind of man he is. To be in my corner, it means the world."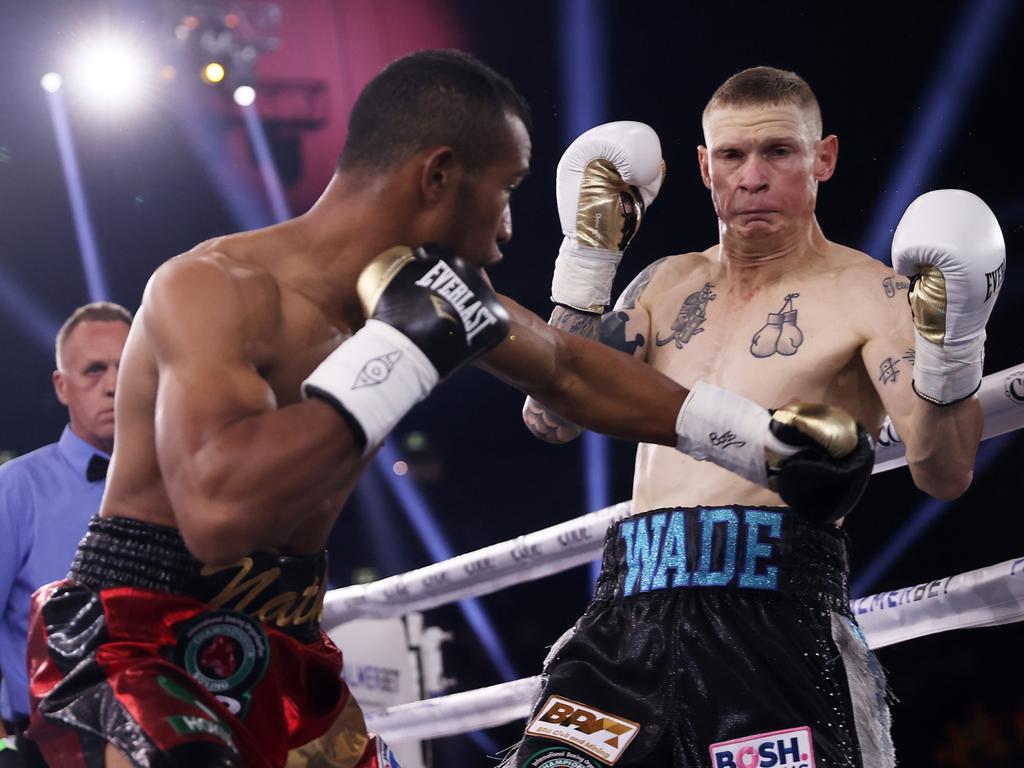 Wade Ryan (R) and Nath Nwachukwu exchange punches during the co-main event – the IBO International Super Welterweight title bout. Picture: Mark Kolbe/Getty Images
Dennis Hogan def. Tommy Browne via UD (60-54, 60-54, 60-54)
Two-time world title challenger Dennis Hogan bounced back from his loss to Tszyu in March with a one-sided decision victory over the veteran Tommy Browne.
It had been a tough few years full of setbacks for the Brisbane-based Irishman. He dropped a massively controversial decision in a super-welterweight world title fight with Jaime Munguia, before losing a WBC middleweight world title bout to Jermall Charlo.
"With what happened in Mexico (against Munguia) and against Charlo, then having a fight cancelled a few weeks out, breaking my nose in camp for Tim and snapping my meniscus before the last fight. It just felt like the finish line kept getting further and further away, but we finally got the win," Hogan said.
"Momentum is key and we've got that now."
Hogan says his win over Browne will propel him back into the rankings and he still hasn't given up hope of fighting for world titles again.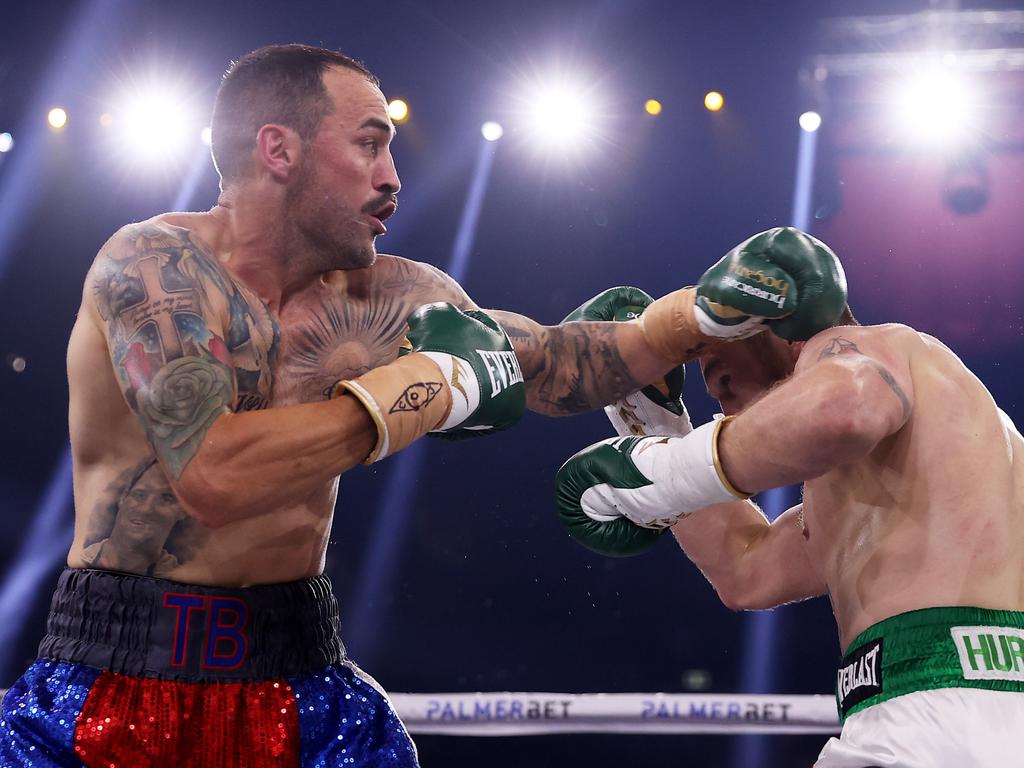 Dennis Hogan (R) and Tommy Browne trade blows in their super welterweight bout. Picture: Mark Kolbe/Getty Images
Koen Mazoudier def. Joel Camilleri via SD (78-74, 77-75, 74-78)
"Majin" Koen Mazoudier bounced back from losing a war with Wade Ryan in March to claim a hard-fought split decision win over the seasoned Joel Camilleri.
Camilleri started well, but the rejuvenated Mazoudier came back strong over the second half of the fight.
"Last fight, you saw I was tough, this fight I showed what I can do when I box," said Mazoudier.
"I was an underdog, and even Joel himself wrote me off. But that's the thing, man, I knew he was going to shit himself once he got in there.
"I crushed his soul. I was talking trash to him in there."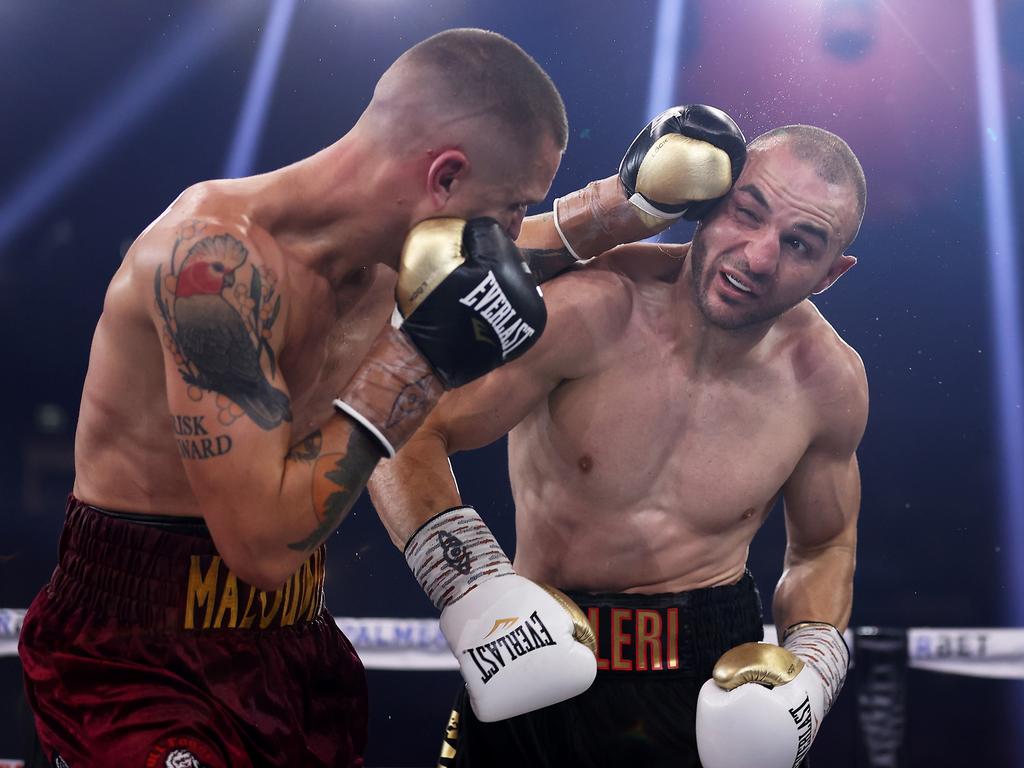 Mazoudier (L) proved far too strong for Joel Camilleri. Picture: Mark Kolbe/Getty Images
A personal trainer, Mazoudier schedules his own training around the four or five hours he spends taking clients every day.
"I've got two little babies and a beautiful wife who's put in as much work as I have for this," he said.
"That's where I'll be tonight. My boy's three and my boy's six months old, so doing this, working a full-time job, my family at home, they're working as hard as I am.
"I'm working all day, training twice a day, six days a week. I see my family one day a week, and maybe for half an hour at night. I'm on the grind."
Still relatively young in his professional career, Mazoudier's win improves his record to 9-2, and has a long list of opponents he wants to fight next.
"Wade taught me a lot of lessons on the night, and he was the better man on the night, but I'm the better boxer," he said when asked if he wants the rematch with Ryan.
"I'll take anyone in the division. Anyone. Benny Mahoney, he's getting talked about. He's a little pretty boy who can't box as far as I'm concerned.
"Wade Ryan, Luke Woods, I'd love those rematches too."
Koen Mazoudier celebrates winning the WBC Australasian Super Welterweight title after defeating Joel Camilleri. Picture: Mark Kolbe/Getty Images
Trent Girdham def. Alex Lual via UD (39-36 39-37 40-35)
A great fight to kick off the pay per view portion of the card. Girdham scored a first round knockdown, and won with wide scores, which didn't reflect the closeness of the bout.
"He landed some good shots, but I think I was out-landing him all fight," Girdham told Code.
"I was a bit patient, I wanted to make him throw those big shots, make him miss and hit him. Every time I did, I heard him suck in big breaths."
The result improves Girdham's professional boxing record to 2-0, but the Sydneysider has had 16 MMA bouts to his name.
And he wants to jump back in the ring immediately. He also wants to get paid.
"MMA doesn't pay enough in Australia," he said.
"Boxing pays quadruple the amount. I've had two fights, hopefully they've both been entertaining, and I hope they can get me on that December card."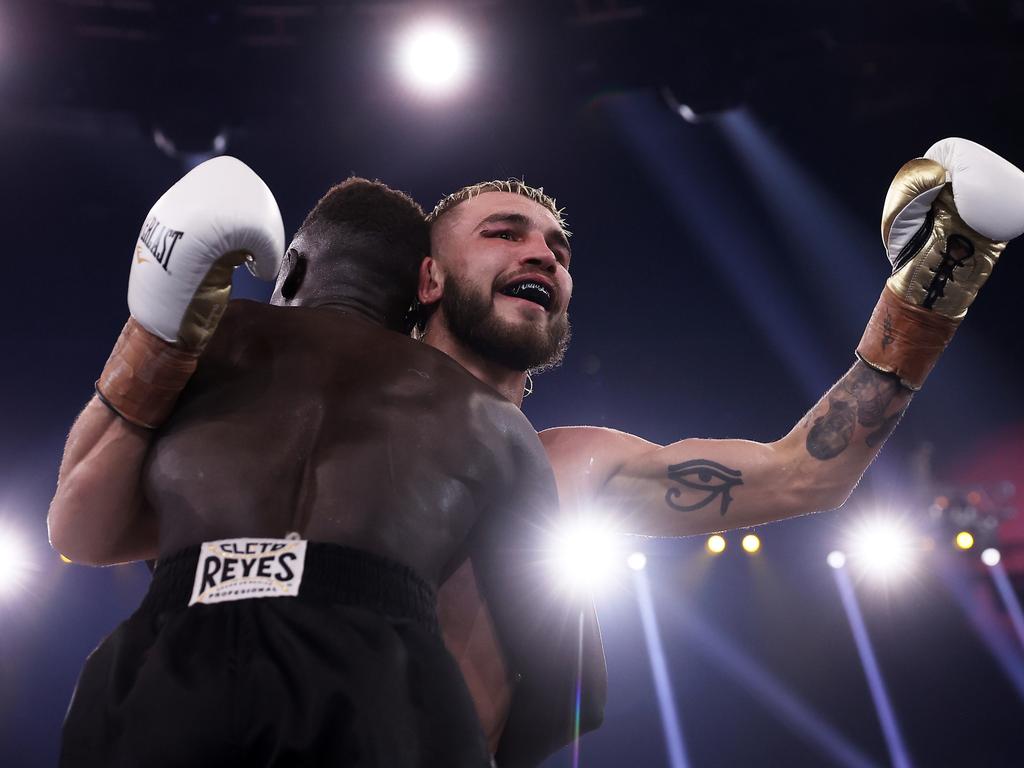 Trent Girdham (R) has improved his record to 2-0 after a unanimous decision victory over Alex Lual. Picture: Mark Kolbe/Getty Images
Tim Tszyu v Takeshi Inoue undercard reports
Benjamin Hussain def. Darwin Sagurit via UD
Hussain is Tszyu's main sparring partner, and was pushed in a four rounder by the wily Sagurit.
"He's short, tough and rides the punches well, but he was only fighting in patches," Hussain told Code.
"I just needed to control the rounds. He could throw hands, but each round, he was only winning 20 seconds. I controlled the rest."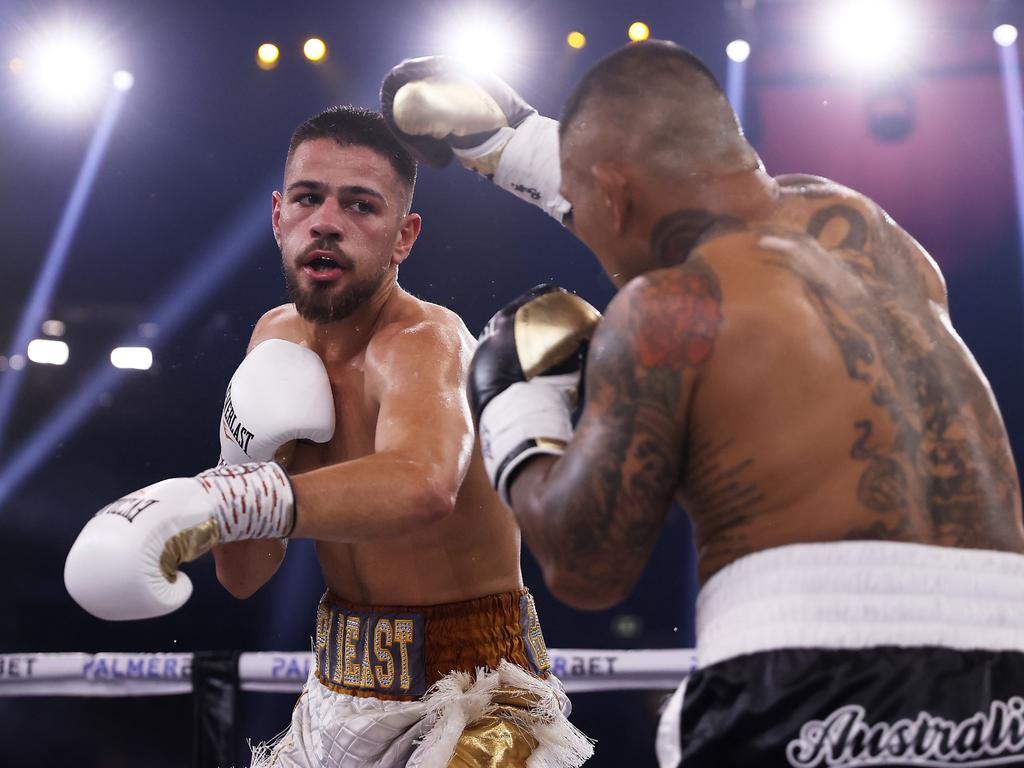 Hussain knocked down Sagurit and eventually got the win via a unanimous decision. Picture: Mark Kolbe/Getty Images
Jackson Murray def. Shant Nercessian via Rd 1 KO
One of Australia's fastest rising heavyweights, Murray made light work of Nercessian, claiming a second first round knockout win in as many fights.
"It was all over pretty quick, but it seemed longer," Murray told CODE.
Murray, who made his professional debut on the Paul Gallen vs. Lucas Browne undercard in April, will fight again in three weeks on the Andrew Moloney vs. Froilan Saludar undercard in Newcastle.
"That's what you've gotta do – especially when you're starting out," he said of his quick turnaround.
"I'm happy to get them in early on big events as well. When we start doing bigger fights, it'll just be second nature."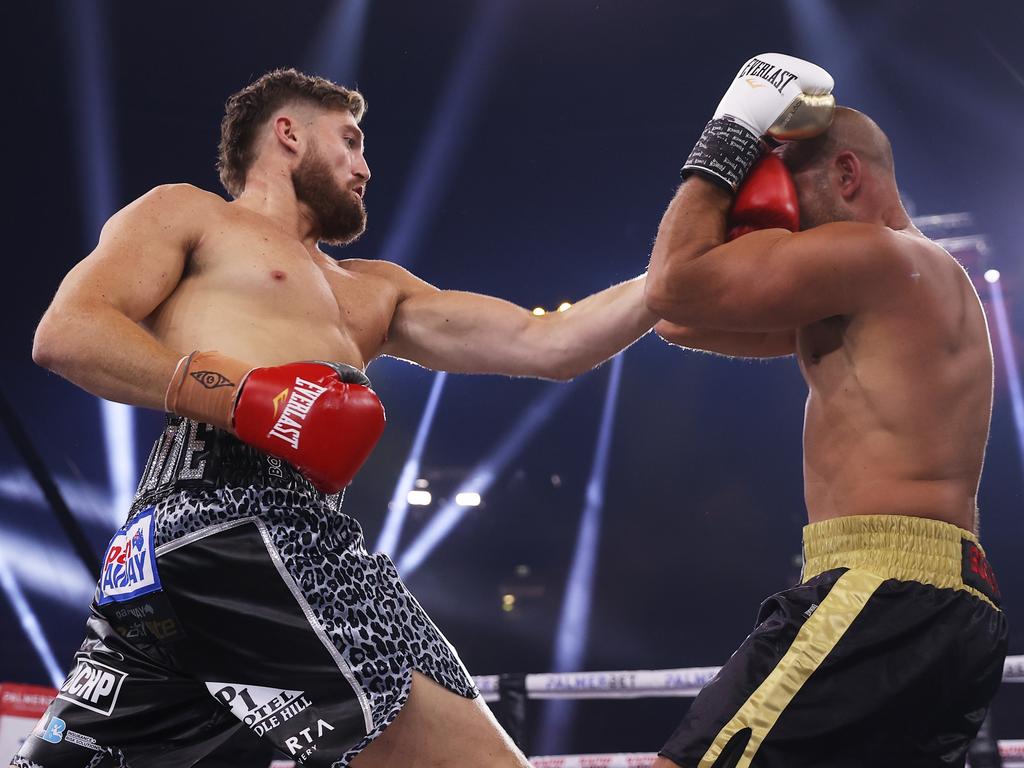 Jackson Murray (L) has continued his strong form with another first round knockout, this time over Shant Nercessian (R). Picture: Mark Kolbe/Getty Images
Jacinta Austin def. Viviana Ruiz Corredor via split decision
Austin scored a close decision win in her boxing debut, but has a long MMA background.
"It went how we thought it was going to go. We had to adapt each round, but everything my coaches thought was going to happen, happened," Austin told CODE.
"I felt like I did enough, you never know what the judges are going to see, but it's good get my name called."
Austin has signed a three-fight deal with Eternal MMA, with plans to crack the UFC within the next two years.
"UFC's the goal, but anything along the way that helps me become a better mixed martial artist – like boxing – I'll do.
"I'll do it all."
Jacinta Austin (L) secured a hard fought victory over Viviana Ruiz Corredor. Picture: Mark Kolbe/Getty Images